Of course we have podcast episodes about Universal Orlando! Being annual pass holders and having visited many times before we lived in Florida, we have lots of experience in the parks and staying at the many hotels around Universal. Our Universal Orlando podcast episodes dig into the tips and tricks of visiting, as well as highlight the things we love about each park.
If you have ideas or requests about a podcast episode you'd be interested in hearing, either about Florida theme parks or anything else, please leave a comment or send us a note. We're happy to record episodes to answer questions and share more ideas!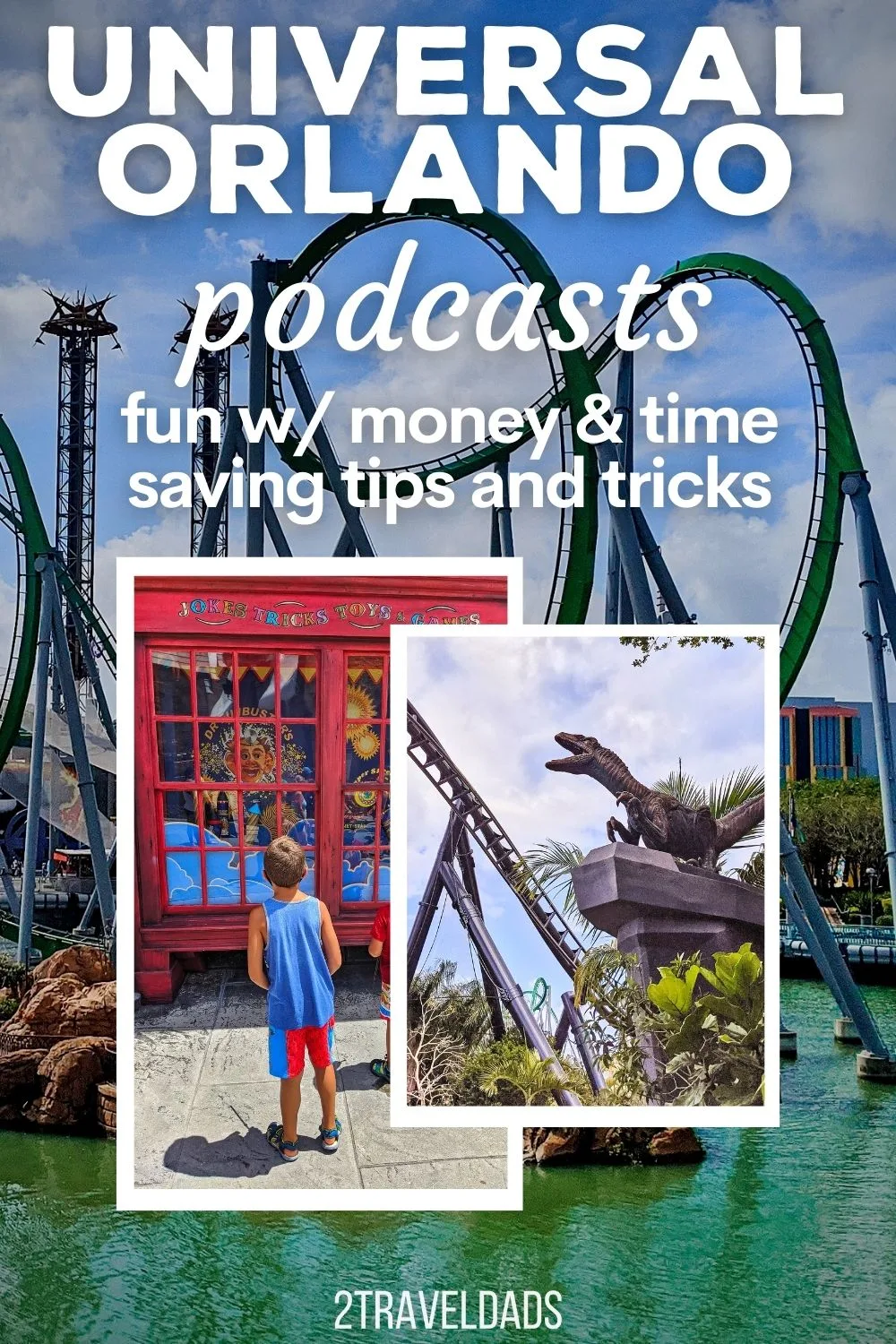 Universal Orlando Podcasts
I love getting to record podcast episodes because instead well planned out writing, it's much more of the unfiltered thoughts and things that really stand out to us about our travels. When it comes to our Universal Orlando podcast episodes I think that what we love comes through quite clearly. And pay attention to some of these tips we've got. We've collectively spent more than two months worth of days visiting Universal Orlando, so I would confidently say that we are experts!
All About Universal Orlando: Money and Time Saving Tips
The first of our Universal Orlando podcast episodes, here we're getting into the layout of the resort as a whole, including navigating Universal Orlando.
Universal Orlando Resort is one of the most popular Florida vacation destinations. But it's not at all like Walt Disney World. In this episode we break down how Universal Orlando is laid out, what there is to do outside of the main two parks, and how to actually have a more affordable visit. We've even got a hack that saves you both time AND money when you're staying at Universal Orlando.
Be sure to check out our other blog articles all about Universal Orlando also, because we've been more times that we care to admit and love it: Best 2 Days at Universal Orlando  or  Universal Orlando with Small Kids
Universal Studios Florida: Rides, Dining and Diagon Alley
Even though Universal Studios isn't my absolute favorite, it's still an incredible experience and is really fun. Here you'll find several different cityscapes, sound stages, concerts and events, and so much more.
Universal Studios Florida is one of the three theme parks at the Universal Orlando Resort. Some of the areas you'll get to visit include Springfield (the Simpsons) New York City, Chicago, San Francisco and London, aka Diagon Alley from the Wizarding World of Harry Potter. We really do enjoy speding time in Universal Studios, so we've picked what we think is the most awesome to share, and we've got some opinions about what to skip over. Also, give a listen for the details of how to ride the Hogwarts Express, because you can't just show up to the park to ride it.
Check out all this and more in our blog posts about Universal Orlando for Spring Break and our guide to choosing Universal Orlando or Walt Disney World for your Florida theme park trip.
Islands of Adventure: Everything You Need to Know
Hands down, Universal's Islands of Adventure is my favorite theme park, even in comparison to the different Disney Parks, Busch Gardens and others. It's got really incredible rides, each area is themed so well and overall, the experience is just the best.
We love visiting the Universal Orlando Resort, but our favorite part of it is Islands of Adventure! We dig into this fun and awesome theme park, from Seuss Landing to Jurassic World, hashing out our favorite rides and dining. We've got some big tips too for saving time and money, including the details of the Wizarding World of Harry Potter: Hogsmeade. All this and more in our Islands of Adventure episode.
If there are any aspects of Universal Orlando that you want to see us cover more or dig into more, just let us know. We're happy to record more podcast episodes or include a section in our weekly newsletter all about Universal Orlando or theme park tips in general. Leave a comment or send us a note and we'll get ON IT!