A trip to Kauai is a Hawaii bucket list item for many, and I get it: the Garden Island is gorgeous and fun, and so very unique. Staying at the Kauai Shores Hotel is a great option for getting to explore both the historic South Shore and the epic Na Pali Coast of the North Shore. This review includes what to expect and tips for booking a stay at the Kauai Shores Hotel, as well as plans for awesome adventures around the island.
If you have any additional tips or questions, always feel free to leave a comment or send us a note. We're happy to help you plan an unforgetting trip to Kauai and the rest of the Hawaiian Islands.
Check out our awesome 5 Day Kauai Itinerary!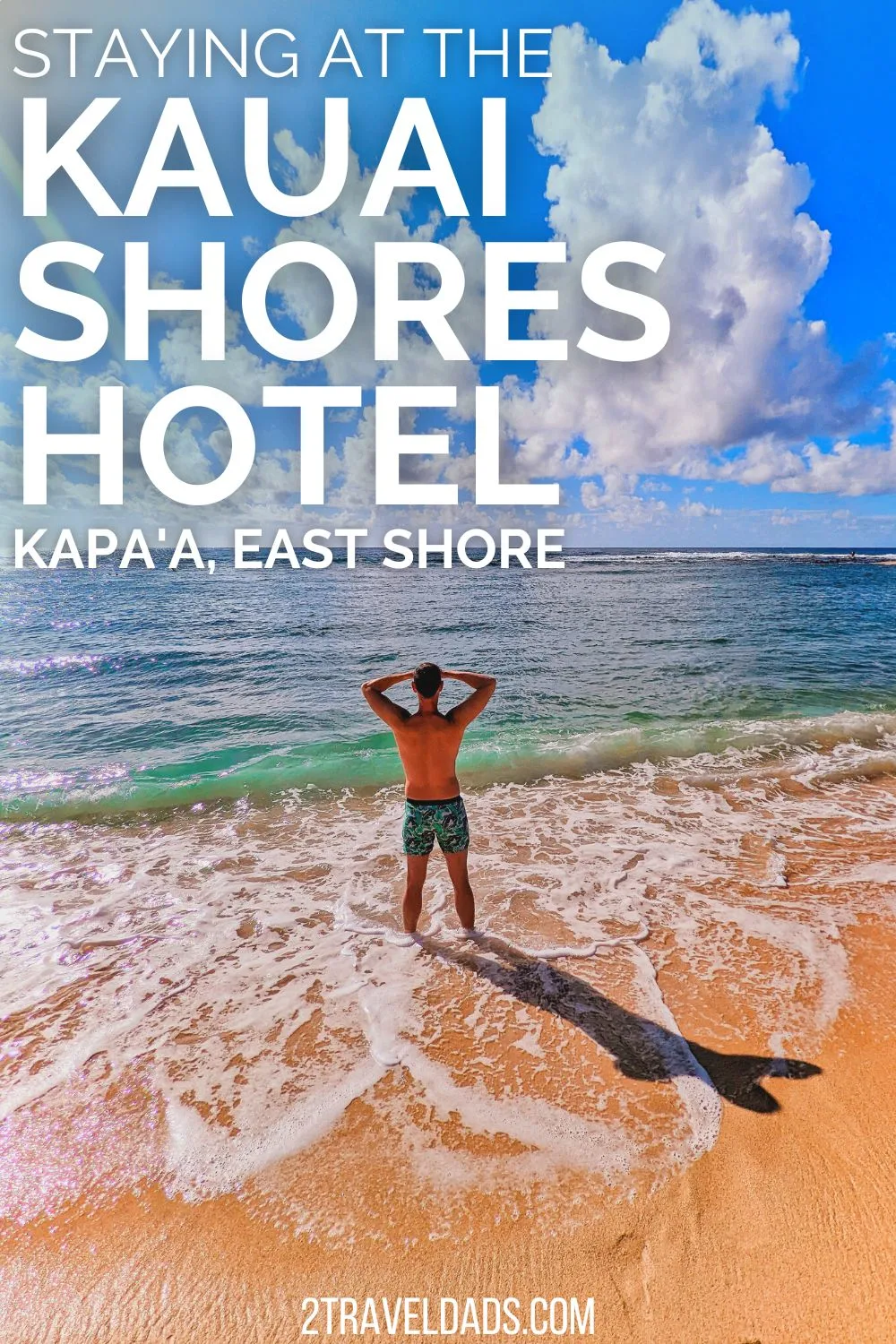 Staying at the Kauai Shores Hotel in Lihue
When we first got our reservation for the Kauai Shores Hotel, I was really glad to see the location, as it's right between everything we were planning to do on Kauai, and it's really close to the main town area of Kapa'a. Staying here proved to be just right for our active plans, as each morning and evening, coming and going was a breeze no matter where we were heading.
The property itself is brightly decorated, feeling very much like a late fifties early sixties Hawaii vibe; lots of citrus colors and chunky style. There is plenty of outdoor space (more on that below), beach access and the rooms are really spacious. We were able to see it easily from the air when we did our doors-off helicopter flight around Kauai.
Having said that, the Kauai Shores Hotel could use an update (written Dec 2022). While the overall presentation is very nice and the grounds are very well maintained, the hallways and public spaces of the hotel buildings could use a refresh, specifically the hallways and ice areas. As a whole, the property is great and I wouldn't be discouraged by the areas of opportunity I mentioned. I loved it.
Already know you want to book the Kauai Shore Hotel? Book it here!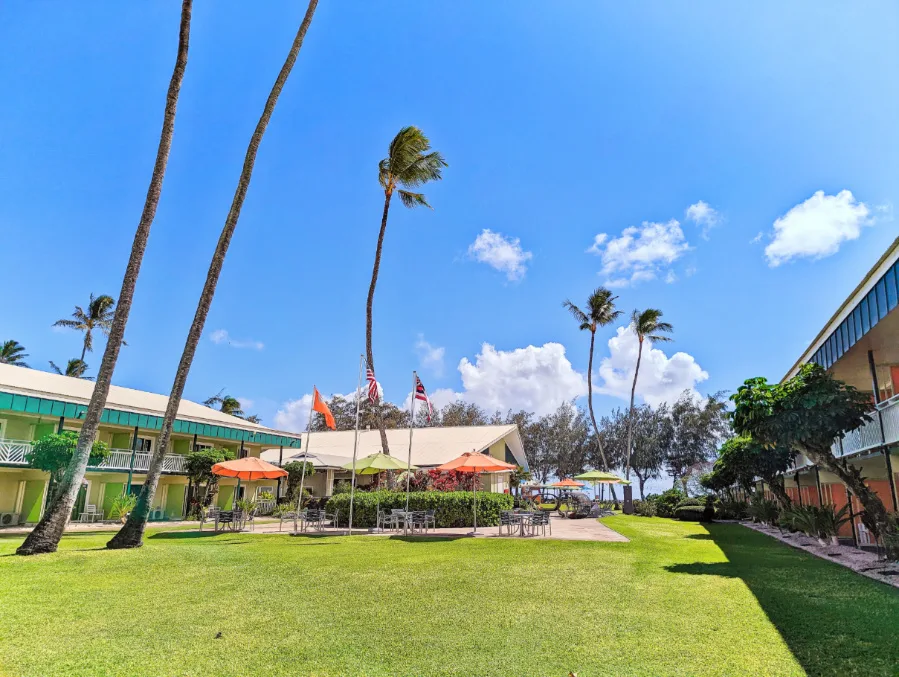 What Are the Accommodation Options at Kauai Shores Hotel?
As has become the standard with hotels in Hawaii and many other destinations, the room types at the Kauai Shores Hotel vary more based on location/view than room appointment and space. While for the most part, the view isn't going to be a big issue for many, if you're spending a significant amount of time at your hotel, a view can make all the difference.
The Kauai Shores Hotel is very close to another hotel property, and if you're on the south side of the property, you may be closer to the next building than you expect. There is a garden wall/hedge that separates the properties, but if you're planning relaxing evenings watching the sunset, you'll want a better view and it's worth the upgrade.
The room options at the Kauai Shores Hotel are:
Standard with one King or two Queens
Garden view w/ patio
Pool view w/ patio
Ocean view w/ balcony
Deluxe Garden view with Kitchenette
Because room types vary based on location or view, if you're traveling with a larger party that needs several rooms, I recommend booking the same room types to be able to be close to one another if you need that.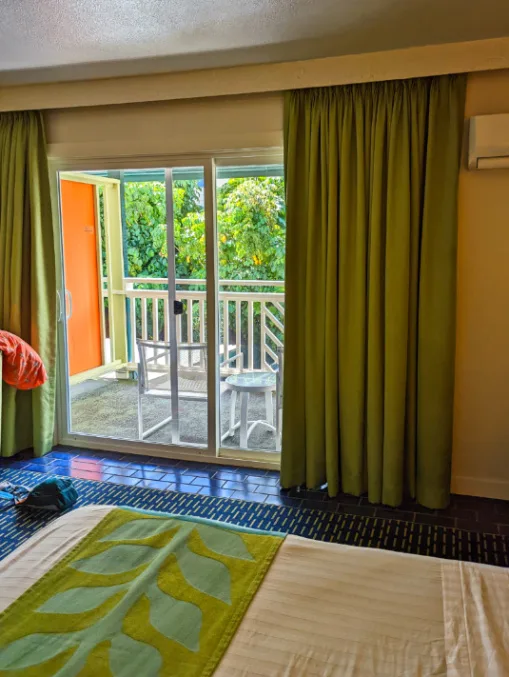 Top Pick: Ocean View with Balcony
We loved our view of the bay when we were staying at the SCP Hilo Hotel on the Big Island… We did not have an Ocean View here on Kauai, but wish we had. Our room looked at the large hedge separating the Kauai Shores Hotel from the neighboring property. We spent very little time in our room, so that was fine, but it would've been great to spend our mornings sitting on our balcony looking at the ocean while sipping coffee.
Try to book either an Ocean View or a Pool View with a patio for the best wake up experience. It's nice to look across the colorful property in the morning light or to walk out from your patio to the beach a few steps away.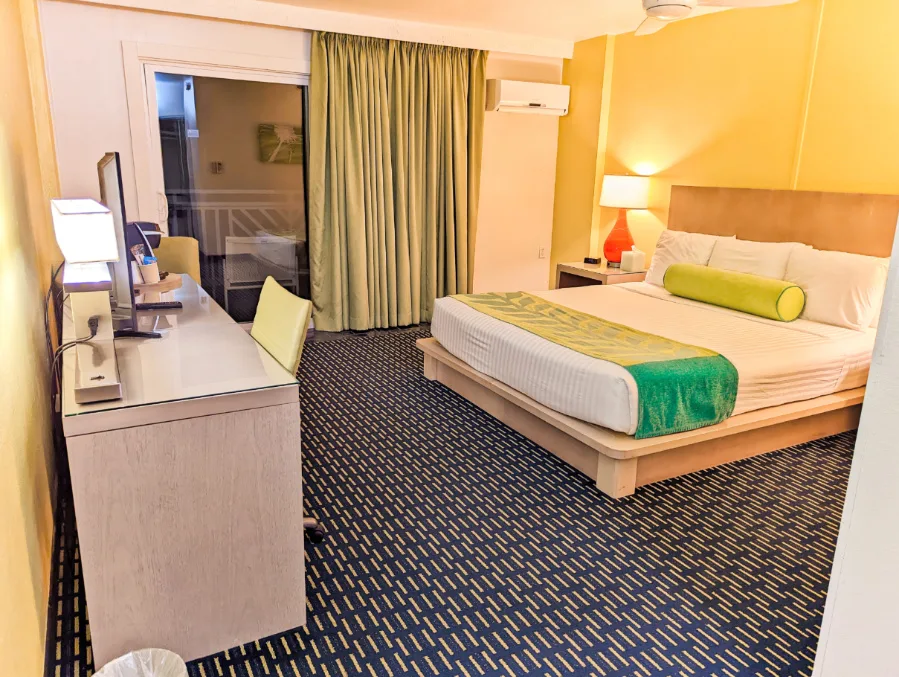 Check in / Check Out at Kauai Shores Hotel
The property is uniquely laid out, in that you have to drive all the way past parking and a whole hotel building before you get to the front office and lobby of the Kauai Shores Hotel. Upon arrival, there is a valet so you can either park right away or pop in and find out which building you'll be in and drive closer to your room.
There is a Resort Fee at the Kauai Shores Hotel (I know, resort fees are the absolute stupidest invention ever and they cover things that used to just be a part of your stay) which also includes your parking, so if you've booked online through a third party, even though you've pre-paid you will need to square the fee away before getting your keys.
It's a pretty simple property layout so once you're all set, head to your room and then go enjoy the beach or pools. 
Already know you want to book the Kauai Shore Hotel? Book it here!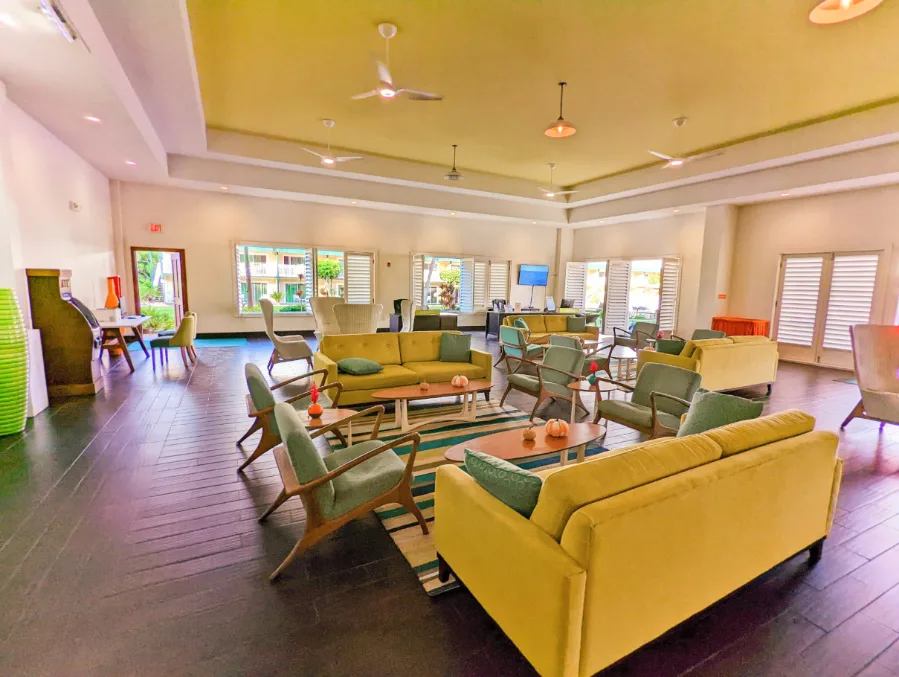 Parking Details at the Kauai Shores Hotel
As I mentioned, parking is included in the Resort Fee for the Kauai Shores Hotel. This can be either self-parking or valet. Strangely, there isn't a ton of parking at the hotel, so taking advantage of the valet service is recommended. We had one night where we got back kind of late and had to valet instead of self-park because we couldn't find a spot. It was easy and included in our costs, so why not?
Kauai Shores Hotel Amenities
The Kauai Shores Hotel is not a full service resort, but is very much a hotel with all the hotel amenities you expect. From pools to an onsite restaurant, it's ideal for where to stay if you plan on exploring the Island of Kauai vs just hanging out at the hotel the whole time. They do have a wonderful beach with easy, direct access, and if you ask me, that's the greatest amenity any hotel can offer.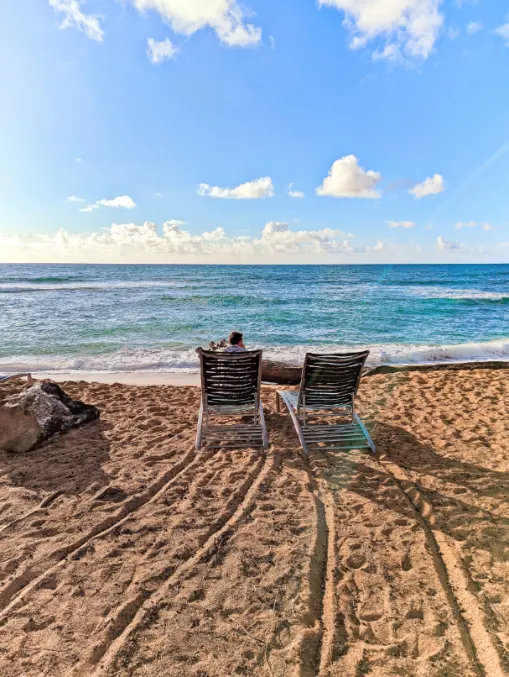 Pools at Kauai Shores
There are two swimming pools and a hot tub at the Kauai Shore Hotel. The main swimming pool is located near the lobby and the bar at Lava Lava, with a view to the beach. There are lots of lounge chairs around the pool, and towel service as well. There is a second pool between two two buildings furthest from the beach. This pool area is very quiet and much more relaxing, as the main pool area can turn into a bit of a party depending on who's staying at the Kauai Shores Hotel at the moment. This smaller, set back pool reminded me of our stay at the Wyndham Kona Hawaiian on the Big Island.
There is one hot tub on the property, which is located at the main pool. If you're an end-of-the-day hot-tubber, you'll love it, as it's centrally located, well lit at night, and you can hear the ocean or the live music from the restaurant.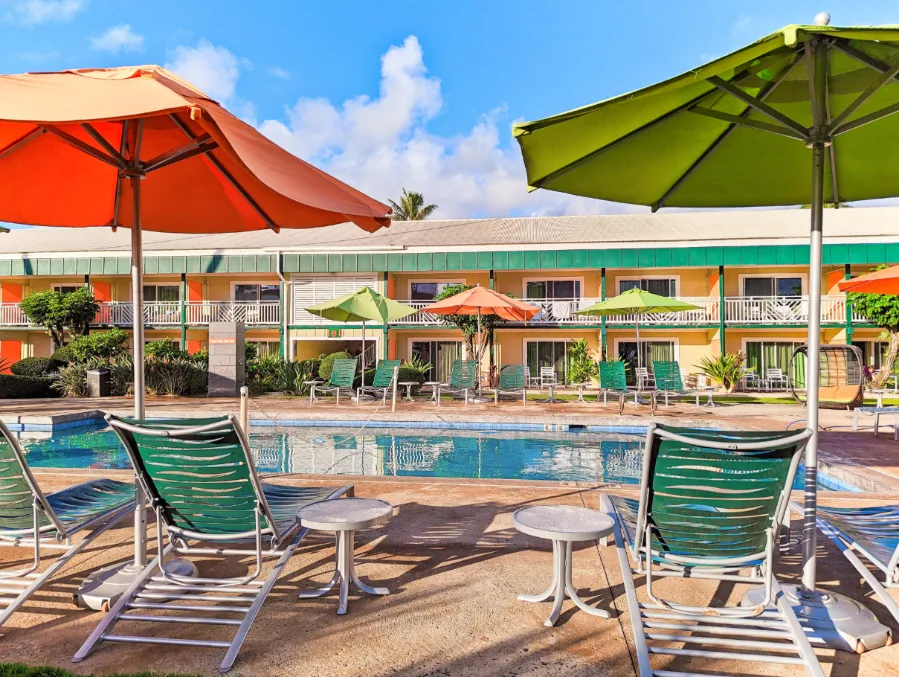 Fitness Activities at Kauai Shores
There is no fitness center or spa on property, but there are a few options onsite to help you stay active. Hopefully you'll be doing some hiking while you're on Kauai, but if not and if you don't want to go far from your hotel, there are complimentary beach cruisers (bikes) for guests to ride around Kapaa and pop into town. 
There is also yoga on the lawn each day (weather dependent) that guests can participate in. It's done beachside, so you'll have the crashing waves nearby setting the perfect yoga mood.
Dining Near Kauai Shores Hotel
Note anything interesting about dining at the hotel / resort. Is there room service? Any theme to restaurants?  NOTE: if there are not restaurants ONSITE, please provide two nearby options
Lava Lava Beach Club On Property
Lava Lava Beach Club is the restaurant on property at the Kauai Shores Hotel. Here is where you can find breakfast, lunch, dinner, cocktails and entertainment. There is both indoor and patio seating by the beach. From late morning until the evening hours you can get cocktails to enjoy on the beach or by the pool.
Lava Lava also has live entertainment many nights. Local performers range from traditional Hawaiian music to cover bands. The performances last until about 10pm on some nights.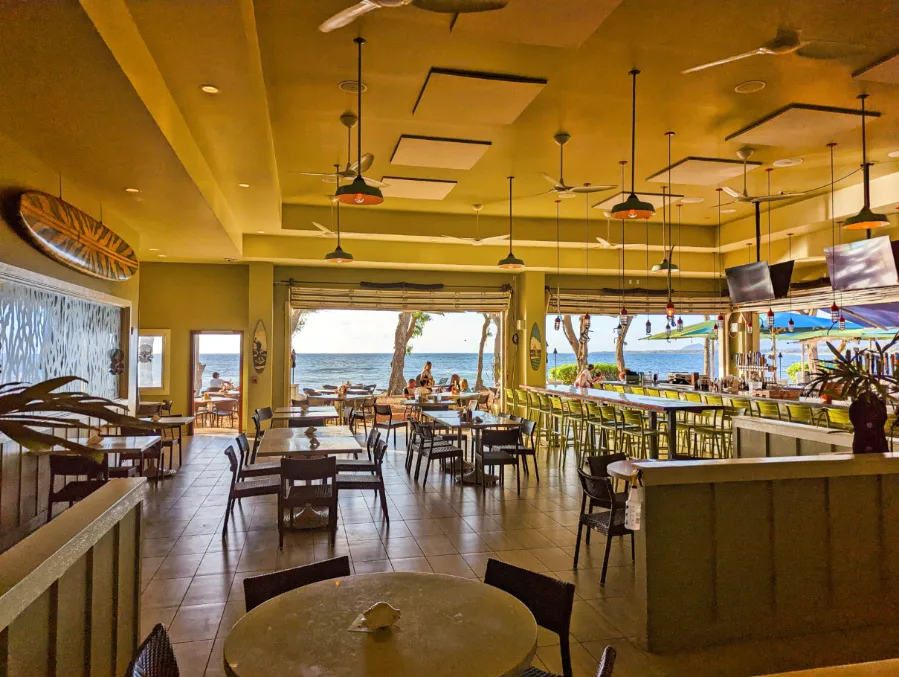 Easy Breakfast and Coffee at Java Kai (off property)
We love Java Kai and have been several times. Locally grown and locally roasted coffee paired with really delicious breakfast sandwiches and THE BEST coconut muffins ever, Java Kai is a total winner. Parking is easy behind the building and they have a small deck out front to enjoy your breakfast and drinks.
PS: get the nitro cold brew of Kauai coffee. It's the most delicious coffee in all the land.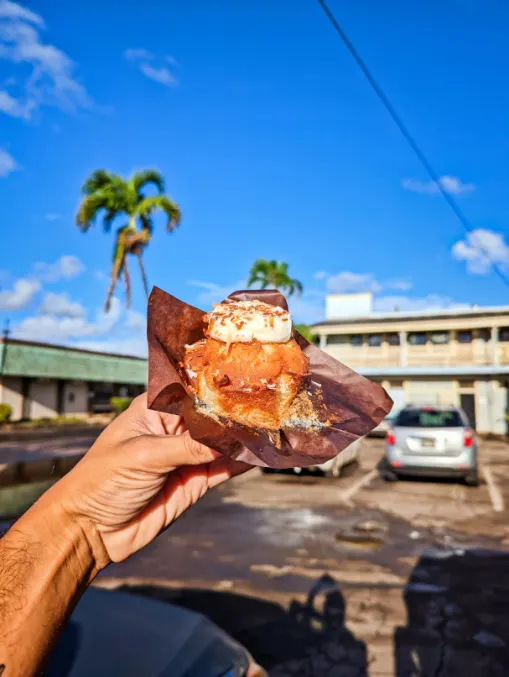 Best Breakfast Pastries: Malasadas from Passion Bakery
If you haven't had malasadas yet, your Hawaiian eating experience is only mid-journey. Malasadas are like donuts, but then they're also like cream puffs. They can be just doughy and tender or filled with a variety of creams and jams. The lilikoi (passionfruit) malasadas from Passion Bakery were the best we've had on any island. They even beat out the really delicious lilikoi malasadas from the Punalu'u Bakery on the Big Island, which was my favorite until I ate this one.
Anyways, great breakfast pastries, amazing malasadas, good coffee. It's right next to the Kauai Shores Hotel and is an easy walk or a stop on your way out of town for the day.
Dinner and Cocktails at Hukilau Lanai
I really like the atmosphere at the Hukilau Lanai, about 5 minutes from the Kauai Shores Hotel. If you make an advanced reservation (strongly recommended) you can sit in the lanai area, which really is beautiful. If you don't have a reservation you may get placed somewhere in the back… at a banquet table… by the serving station… like we did.
Anyways though, the dinner options at the Hukilau Lanai are great, with the poke nachos being the clear winner. They also have a really big cocktail menu, with a wonderful mai tai.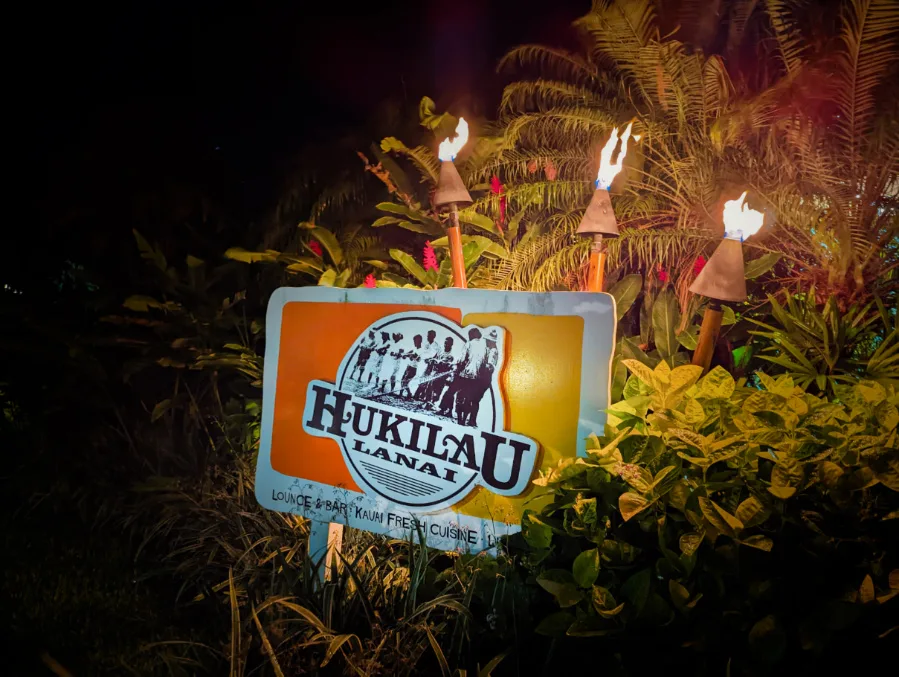 Where is the Kauai Shores Hotel?
The Kauai Shores Hotel is located on the eastern shore of the Garden Island of Kauai. It's about 15-20 minutes from the Lihue International Airport (LIH) in the town of Kapa'a. Kapa'a is cute and has lots of local restaurants and public beach access points.
To the North Shore and Na Pali Coast, it's about a 45 minute drive to Hanalei, and 15 minutes further to Haena State Park and the famous Kalalau Trail. From the Kauai Shores Hotel to Waimea Canyon State Park on the South Shore, it's about a 40 minute drive to the start of the canyon, then another half hour to the main overlook and canyon trail.
I think the Kauai Shores Hotel is perfectly located for having a diverse, all encompassing trip for exploring Kauai.
Transportation To and From Lihue Airport to Kapa'a
The Kauai Shores Hotel doesn't provide guest transportation to and from the airport (LIH) but it's a quick drive. You can pre-arrange an airport transfer or set up an Uber or Lyft, which are usually available, but I think having a car is key to exploring Kauai. If you don't want to rent a car, grab a ride-share or you can even take the bus. Kauai County actually has public transportation and there is a bus stop fairly close to the Kauai Shores Hotel.
Book Airport Transportation here!
Can I Walk from Kauai Shores to Anywhere Interesting?
You can indeed walk from the Kauai Shore Hotel to either Kapa'a Town or the Wailua River where you'll find lots to do. Kapa'a Town is 2 miles and about a half hour walk, and then the Wailua River and Beach are less than 15 minutes walk. For those trying to avoid having a rental car, this is about it for walking distance from the hotel, but because there is the Kauai County bus system, you can plan your exploring the rest of Kauai using their routes.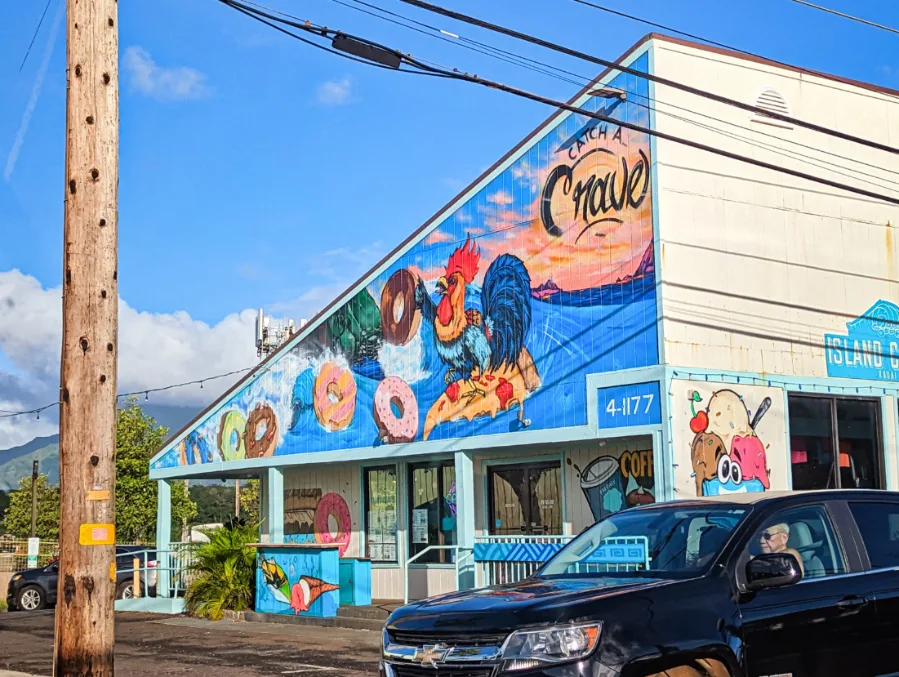 Ten Fun Things To Do Around Kapa'a, Kauai
The Kauai Shores Hotel is a great home base for exploring the Island of Kauai. If you want to keep it mellow and see some beautiful sights, but NOT do any intense hiking, we've got you covered. Here are ten fun things to do near Kapa'a that aren't too strenuous and are totally enjoyable.
Beach and pool time at Kauai Shores Hotel (duh)
Visit Wailua Beach and the mouth of the river
Visit the Fern Grotto and Secret Falls
Head to Komokila Hawaiian Village for some history and sights
Head south to Old Town Koloa
Visit Poipu Beach and the Maukawahi Cave Reserve
See the WHOLE ISLAND with a Kauai helicopter tour or scenic flight
Visit the Kilauea Lighthouse historic area
Do the Lydgate Farms Chocolate Tour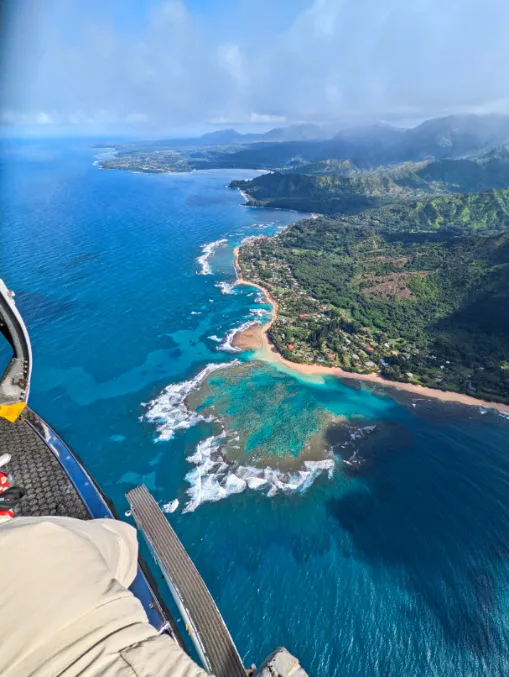 Already know you want to book the Kauai Shore Hotel? Book it here!
If you have any additional tips or questions, always feel free to leave a comment or send us a note. We're happy to help you plan an unforgetting trip to Kauai and the rest of the Hawaiian Islands.
And please check out our other Kauai and Hawaii articles too:
These Scenic Drives on the Big Island of Hawaii are not to be missed. Take in the best sights of the island, including Hawaii Volcanoes National Park, the Waipio Valley and the Kona Coast. Top picks for road trip stops and views of the Big Island.

---

This Hilo Travel Guide is the go-to resource for the best things to do in Hilo, Hawaii from waterfalls to where to shop and support locally. Where to eat in Hilo, tour recommendations and what to add to your Hilo itinerary.

---

Hawaii podcast episodes are so helpful for understanding the Islands and planning an unforgettable visit. Listen to podcast episodes about the Big Island of Hawaii, exploring Kauai and more. Travel tips and easy planning ideas.

---