Have you ever wanted to see what's happening inside the earth below your feet? Being a total geology geek I have always wanted to and Hawaii Volcanoes National Park was an amazing first experience with lava, volcanic morphology and geologic time. And if that's not your bag or you're like "Um, who cares?" just know that it's also crazy beautiful and one of the most unusual landscapes you'll ever see.
Hawaii Volcanoes National Park is a very unique place to visit. From hiking in lava tubes to watching the glowing, hot lava flowing through the dark, these are our top tips for visiting Hawaii Volcanoes NPS and having an unforgettable time on the Big Island. If you have additional things to do in Hawaii Volcanoes National Park that we didn't include here, feel free to leave a comment or send us a note!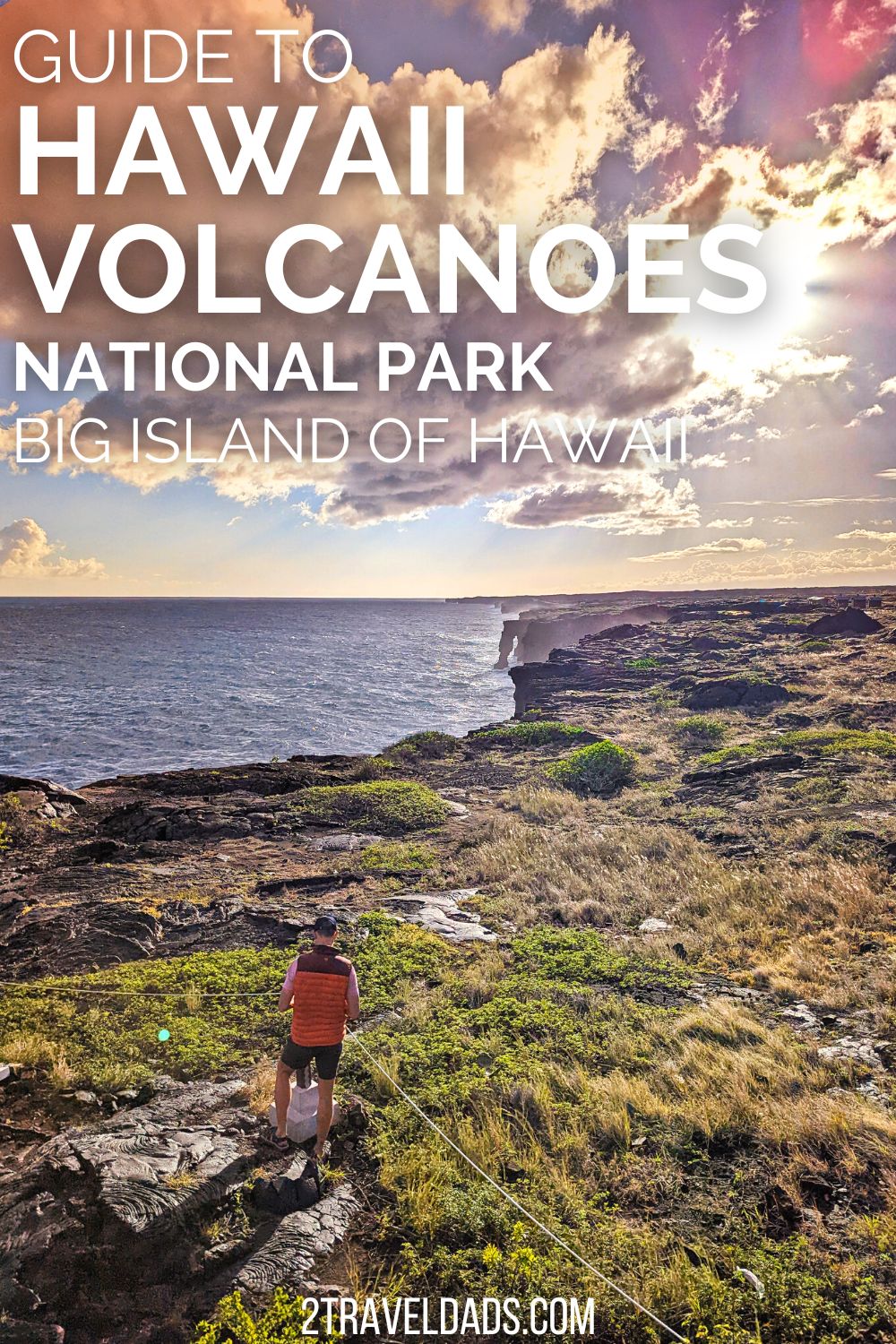 10 Things to do in Hawaii Volcanoes National Park
Something wonderful about visiting Hawaii Volcanoes National Park is how accessible it is. There is, of course, lots of hiking (it is a mountain park, afterall) but all of the options in our primary list of things to do in Hawaii Volcanoes National Park are both stroller and wheelchair accessible to a significant point.
Please take a moment to watch a short video showing the different in Hawaii Volcanoes National Park by Day vs by Night. I think you'll love the contrast and how beautiful each is.
Kīlauea Viewpoints for Crater Viewing
The main attraction of Hawaii Volcanoes National Park is for sure visiting Kīlauea, which is the most active part of the volcano. Visiting during the day, you can see into the crater of Kīlauea from several spots. Steam rises, you can see large sulfur deposits, and on a very active day you can also see the lava within the crater. Daytime lava viewing is less exciting than at night because it's not as vivid, but it's still cool if you have binoculars or a telephoto lens.
The best places to look into the Kīlauea crater in the daytime are:
Uēkahuna Overlook – the furthest along Crater Rim Drive
Kīlauea Overlook – visitor center here is closed due to seismic activity
Steaming Bluff – park at the Steam Vents and walk
Volcano House – visit the lodge and walk along the rim view trail
Keanakako'i Overlook – this is also the best nighttime viewing
While other parts of the park have seismic and geothermal activity, these are the best places to be able to see the most active parts of the Kīlauea crater. Taking in the views here really is one of the best things to do at Hawaii Volcanoes National Park.
Tip: want to see how active the many potential lava flows are? Check the National Park webcams!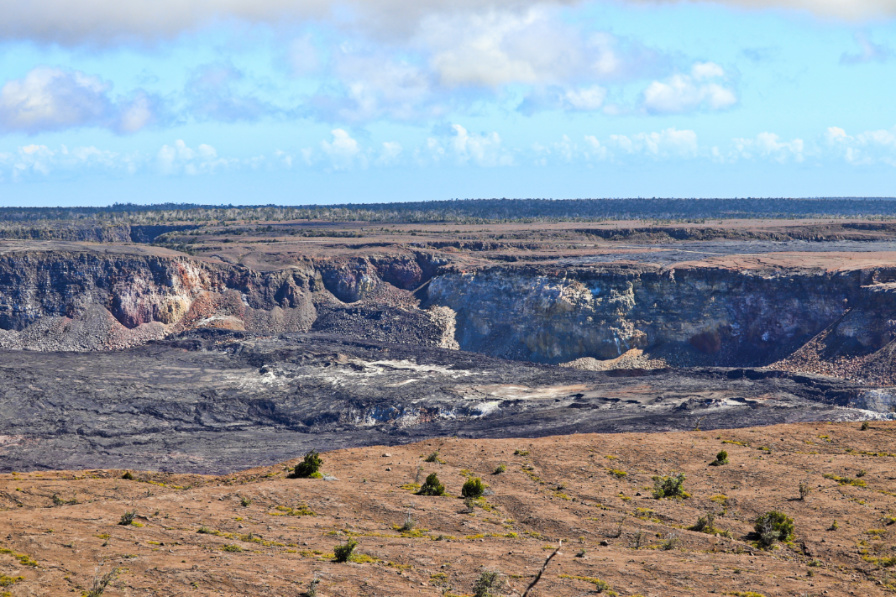 Where to Watch Lava Glow at Night in Hawaii Volcanoes National Park
Truth be told, before actually getting to Hawaii Volcanoes National Park, seeing the lava glow was the only thing we cared about. Yes, all of the other geologic features and unique things to do were great, but visiting the park at night and seeing the actual lava was the driving force of our visit. And it was amazing. We visited on a low flow day and it was remarkable.
To see the lava glow, there are a few things to know:
Visit after sunset (the park is open 24 hours)
Go to multiple viewpoints
Bring a tripod for your camera
Now, where to go to see the lava glowing within the Kīlauea crater; you have a few options, and each is a bit different. In general, for the overall glow of the lava in Hawaii Volcanoes National Park, you can see it from each of the overlooks listed above, but to see the lava flowing and glowing, the best spot is the Keanakako'i Overlook. This is a 1 mile walk along the old Crater Rim Drive, which is now closed due to seismic activity.
To get to the Keanakako'i Overlook, drive to the Devastation Trail parking area and head to the Old Crate Rim Drive road. It's closed to vehicles, but open to pedestrians. The walk is easy, but it's chilly. There is a fair amount of wind, and despite being in Hawaii, it gets very cold all around the Kīlauea crater when you visit at night.
Read our full article on Visiting Hawaii Volcanoes for Lava Glow at Night!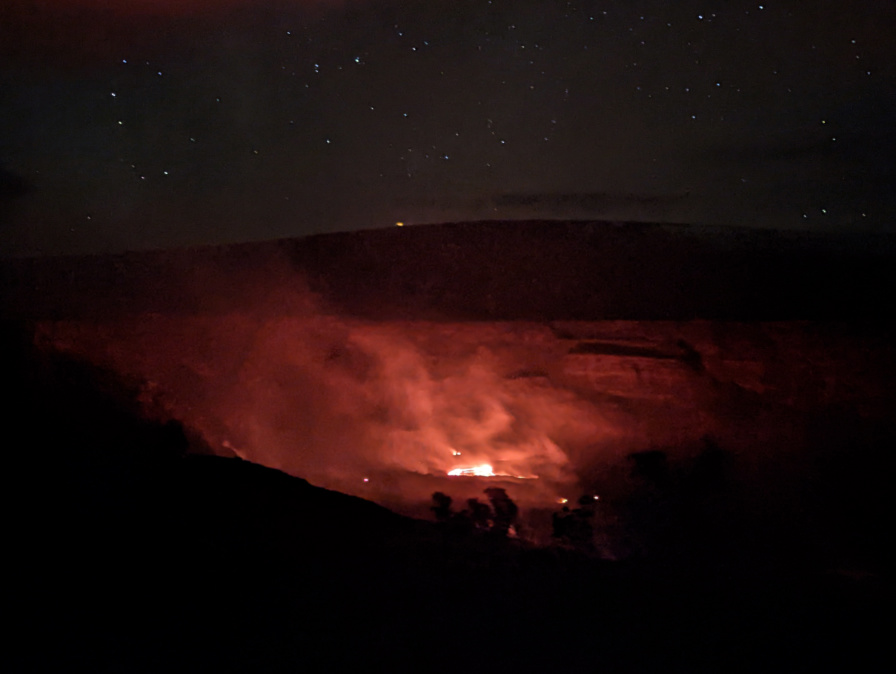 What to Bring for Lava Glow
Yes, you can just show up in Hawaii Volcanoes National Park after dark and visit the viewpoints to see the lava glow, but it's better when you've properly prepared. You'll need to dress warmly and have the right photography gear. Even if you're not a professional photographer, you'll want to capture the glow or the flowing lava for the best all-encompassing experience.
First of all, wear WARM clothes including a jacket and a hat. Wear long pants and if you have a sweatshirt, wear it too. Your body will be used to the warm Big Island air and then when you go up to the Kīlauea crater at night, you'll be freezing.
The next thing to bring is a tripod. You don't need a huge one, but just one that's stable enough to be able to set up your camera or phone for a long exposure. Once you're set up, try a few different settings on your camera. For the glow and how it illuminates the area around the crater, a really long exposure, such as an astrophotography setting, is good. For the lava itself, a shorter exposure that can capture a lot of light quickly is better. Try a few things!
Steamy Experiences in Hawaii Volcanoes NPS
Being an active volcano, Kīlauea has lots of steam vents and geothermal activity all around its rim. Along Crater Rim Drive, you'll be able to see steam rising from grassy areas and just off the road. Stop at the Steam Vents to do the walk to the Steaming Bluff and loop back along the trail for more steam rising from the earth.
Remaining parked at the Steam Vents parking area, cross Crater Rim Drive to the Sulfur Banks trail. This beautiful walking path leads you through a low volcanic forest tree tunnel, then through a barren area, resembling much of Yellowstone National Park, specifically the Biscuit Basin area, but without all the flowing water.
Note: there is a warning with this trail that there are poisonous gasses present. As the earth lets out the steam through the Sulfur Banks, there are moments with more visible gas than others. Don't linger and if you have sensitive lungs, make your visit quick.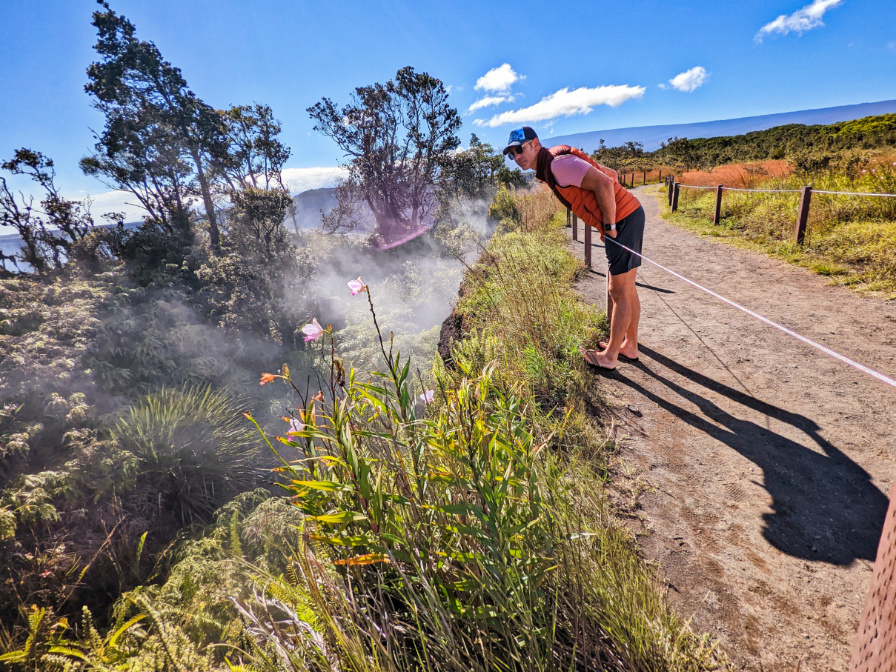 Driving the Chain of Craters Road
The Chair of Craters Road is one of my absolute favorite National Park scenic drives. I love the alligators lining the road in Big Cypress National Preserve and the Valley Floor of Yosemite National Park, but the Chain of Craters Road is wildly different. From Crater Rim Drive, head south towards the ocean. This stretch of road winds through lava flows and craters, some that are 10 years old and some that are hundreds of years old.
What makes the Chain of Craters Road such a great scenic drive, and one of the best things to do in Hawaii Volcanoes National Park, are the viewpoints. There are plenty of places to stop along the drive to see the craters as well as the lava flows leading to the ocean. You can see the many colors of the different lava flows, as well as the textures, from huge cracked bubbles to smooth swirling rocks. It's gorgeous and fascinating.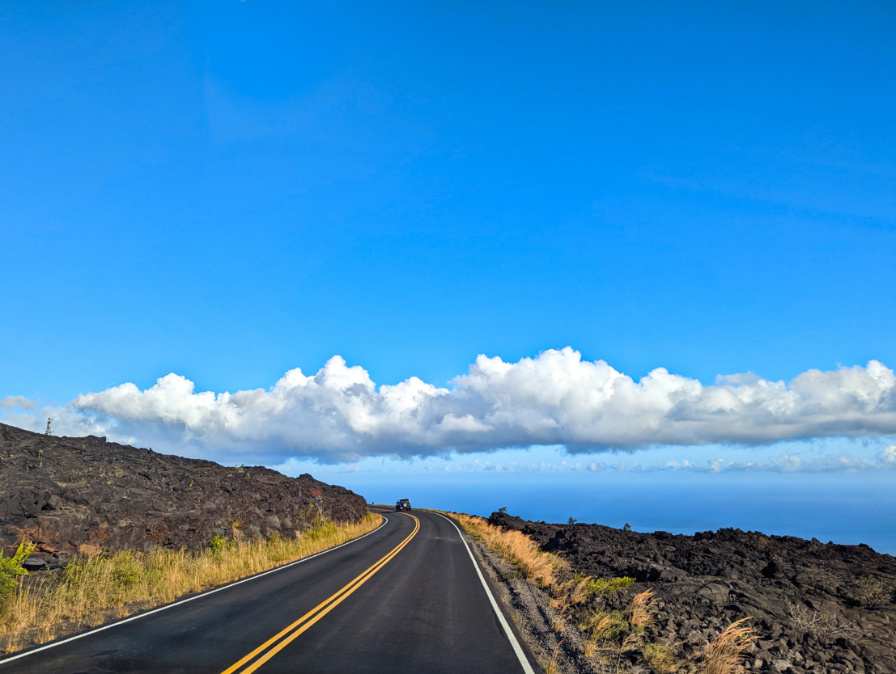 Hiking at Holei Sea Arch
I really like this area so much. The end of the Chain of Craters Road is one big lava flow. The deep blue Pacific Ocean crashes against it continually making the air thick and causing the most beautiful atmospheric distortion down the coast. Park your vehicle PER THE POSTED SIGNS and then start your journey along the old road. This part of the trail is very accessible and great if you have mobility issues or have kids in strollers.
To see the Holei Sea Arch, you do have to leave the main paved walkway and head through the lava flow. A beautiful stone column made from once flowing lava, the sea arch stands just past the lava cliffs, waves battering it and mist flying all around.
The lava here is really remarkable. You'll find both types of lava: Pāhoehoe and ʻa'ā. The pahoehoe lava is the smooth, swirly lava that looks like frosting, while ʻa'ā is the chunky lava rocks and boulders that's really rough and sharp. It's all otherworldly and beautiful.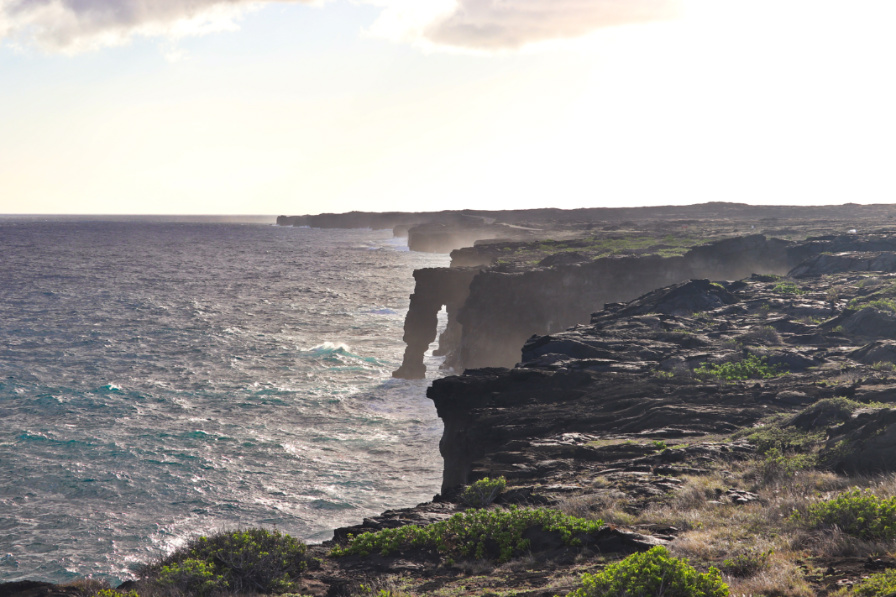 Should I Hike to the Kamokuna Flow to Sea?
If you have the time and energy, hiking the Kamokuna Flow to Sea trail is an unusual adventure. This is NOT an accessible thing to do in Hawaii Volcanoes National Park, but it's a bucket list activity for sure. This trail starts at the Holei Sea Arch parking area at the end of the Chain of Craters Road and it leads to where the lava flow meets the sea.
But here's the scoop: molten lava is not perpetually flowing here. While historically this is THE place to watch the red hot lava flow into the ocean, ever expanding the Big Island of Hawaii, it is not always active. There needs to be a major volcanic event happening to generate enough flowing lava to make it to the Kamokuna Flow to Sea area.
Here's a great article about the hike, what to expect and some how to plan for the hike.
Lava Tube Hiking in Hawaii Volcanoes National Park
There are two lava tubes you can access in Hawaii Volcanoes National Park: the Nāhuku (Thurston lava tube) and the Pua Po'o Lava Tube. While you need to book a guided tour of the Pua Po'o Lava Tube through the Friends of Hawaii Volcanoes National Park, the Thurston Lava Tube is open to visitors from sunup to sundown. It's a cool hike.
When you head into the Thurston Lava Tube trail area, it's like walking into Jurassic Park. The giant ferns and huge leafed plants are overwhelming. When you get to the entrance of the lava tube, you feel like maybe you're starting your own Journey to the Center of the Earth. It's awesome!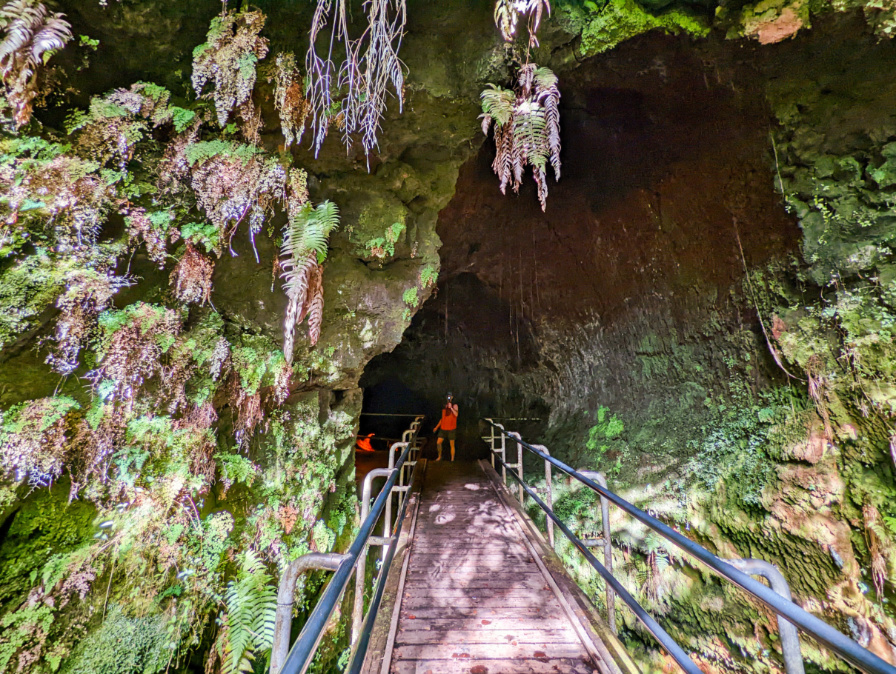 When inside the Thurston Lava Tube, it's very dark, but there is some built in lighting. It's not a long walk through the tube, and the whole round trip trail is only just over a half mile, but if you don't like caves this is NOT the trail for you.
The Thurstone Lava Tube trail is wheelchair accessible to the start of the tube itself. Once inside, the path can be uneven with small obstacles and is not recommended if you have mobility issues. Also, at the end of the lava tube there is an exit staircase, so you would need to go back out the way you entered.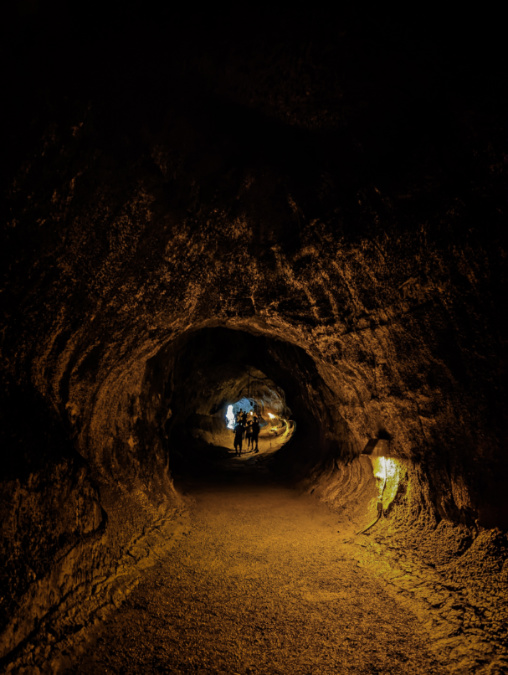 The Hawaiian Nene – Hawaii's State Bird
I'm not a fan of geese or waterfowl in general, but the Hawaiian Nene bird is so cool, and every single one we've encountered has a distinct personality that you experience from a distance. Between their movements and funny sounds, to the way they look at you or even try to approach you, they are one of the most curious birds I've ever seen.
We encountered Nene birds at several lookouts, several places along Crater Rim Drive and even in the lava flow areas heading down to Holei Sea Arch. If you also come across them, keep your distance, both for safety and because it's the law. The nene birds may approach you, but DO NOT FEED THEM or try to touch them.
If you see an area that's roped off or has a nene sign, you need to respect those boundaries and not go into that area. The nene birds have the right of way for nesting and living their happy, wild lives. They sure are cute though.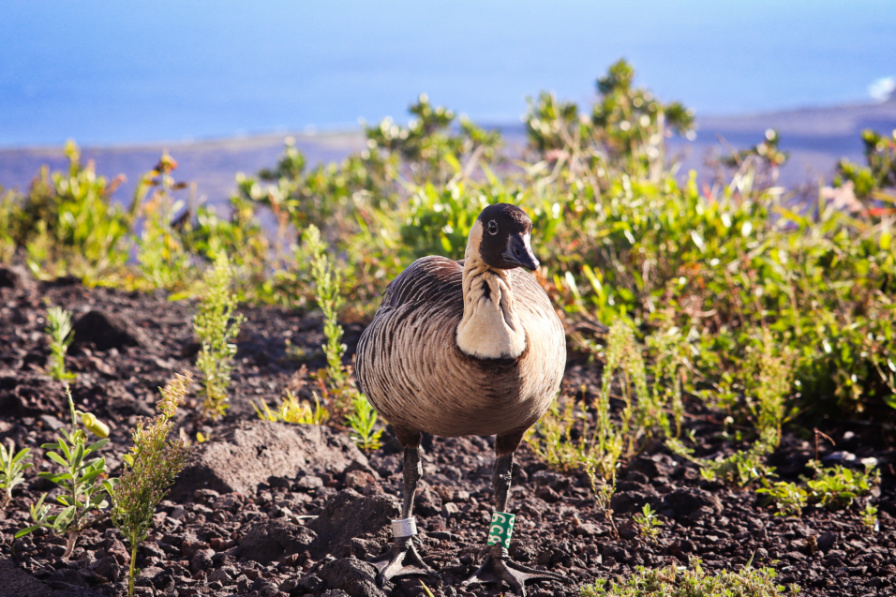 5 Unique Hikes in Hawaii Volcanoes NP
For people looking for things to do in Hawaii Volcanoes National Park over several days, there are some really cool hikes to do that can give you some insane views of the craters and the coastlines. If you don't have time to do the hikes, you can experience the park very well in one full day, but extra hiking time really is a bonus!
Here are our five picks for hikes in Hawaii Volcanoes National Park:
If you are visiting for just a day, arrive at the park early and add any of these hikes to your itinerary, but just make sure you have the right hiking gear/supplies and you keep an eye on the weather.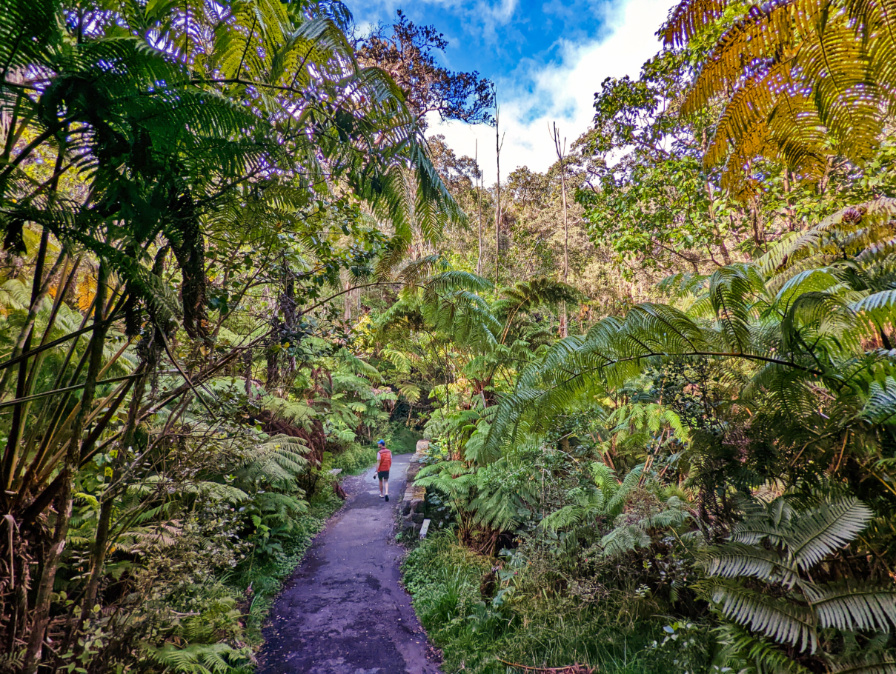 Hawaii Volcanoes National Park Visitors Centers
Currently (2022) there is only one visitors center open to the public at Hawaii Volcanoes National Park. The Kilauea Visitor Center is located just inside the main park entrance, across the street from Volcano House, the National Park lodge. Here you'll find some fascinating video presentations about the history of lava flows and the morphology of the Big Island of Hawaii, you can learn about the wildlife in the park (more than the nenes and wild pigs) and you can talk to rangers.
Talking to the National Park rangers is one of the best things to do in Hawaii Volcanoes National Park, both because it's fascinating and it's incredibly helpful. This is a very unusual park and given the continual seismic activity, conditions can change all over the place. Chatting with a ranger gives you and up to date insight about what's happening and what you might see when you're out exploring. Talk to them!
Tip: if you don't know what to do in Hawaii Volcanoes National Park (meaning that you've disregarded everything I've shared here) the rangers actually have itinerary plans for visitors based on the amount of time they have, from 3 hours in the park to a week.
The Kilauea Overlook visitors center is closed due to seismic activity, and then the Kahuku Unit doesn't have an open visitor center, but you can request a ranger orientation.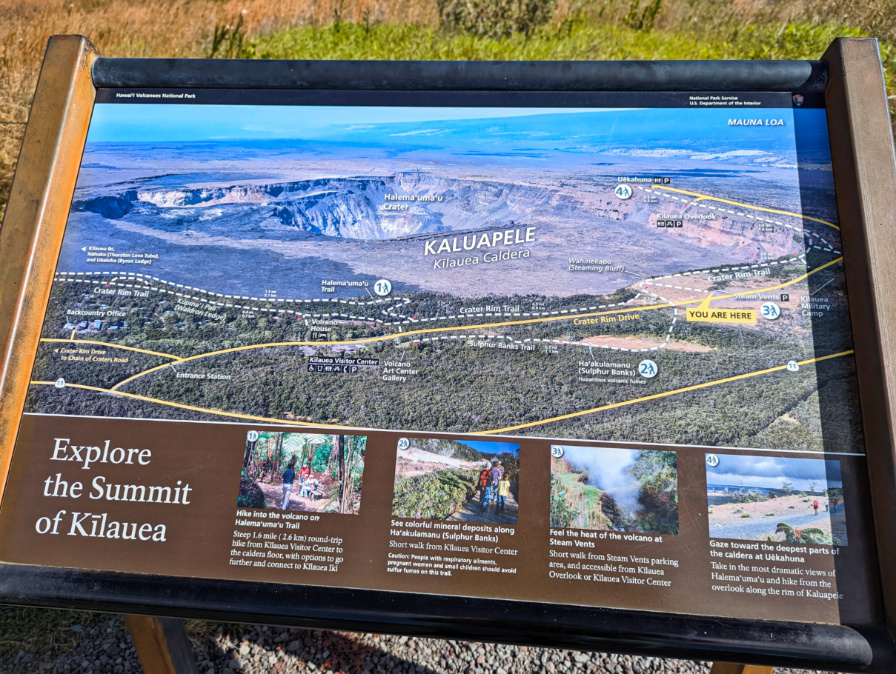 Visit the Hawaii Volcanoes NP Lodge
I've never met a National Park lodge I didn't love. Volcano House is the names of the lodge in Hawaii Volcanoes National Park and it's delightful. It's not a big fancy lodge like you'll find at Many Glacier in Glacier National Park, but it's nice and it's set in the most incredible location.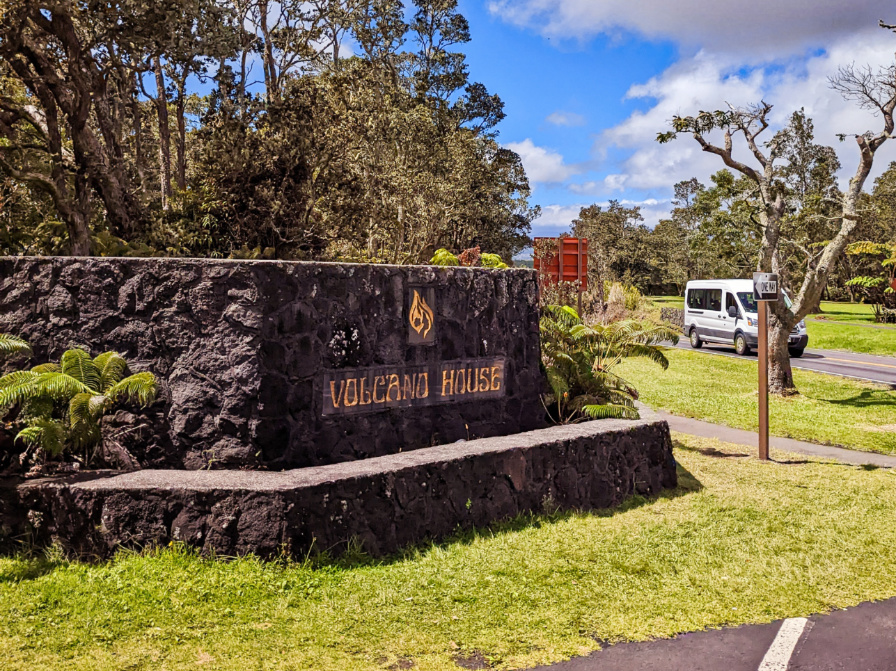 Volcano House Lodge
The Volcano House Lodge is open to the public for relaxing and enjoying the restaurant (more on that below). The large lobby has plenty of public seating, some displays about the park, an AMAZING fireplace with Pele built into it, and great outdoor space. It's located directly on the rim of the Kilauea crater, so you can actually see steam and lava glow from Volcano House.
The rooms are modest but updated with options for a king or two queens, with a standard view or a crater view. Volcano House books far into the future, so if you know you'd like to stay there, book it ASAP. They also manage the cabins in Hawaii Volcanoes National Park at Namakanipaio Campground. While these aren't located at the crater's edge, they're very nice and set in the eucalyptus forest, so it'll be an unusual stay as well.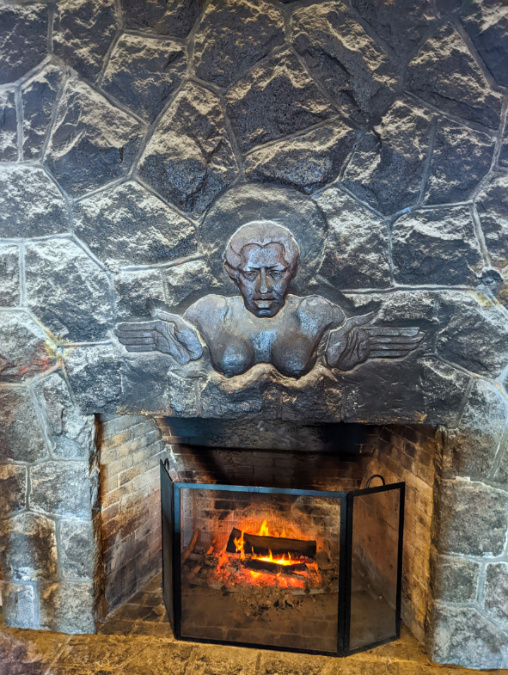 The Rim Restaurant
If you're not staying at Volcano House but still want to enjoy the historic National Park lodge, have a meal at the Rim Restaurant. You literally have a view into the Kilauea crater as you dine. The food is also actually very good.
The Rim Restaurant is also open until after dark for both dinner and drinks (if you don't want a meal) and you're welcome to visit, and then sit and observe the lava glow from inside. You also can exit to the deck seating or walkway along the rim.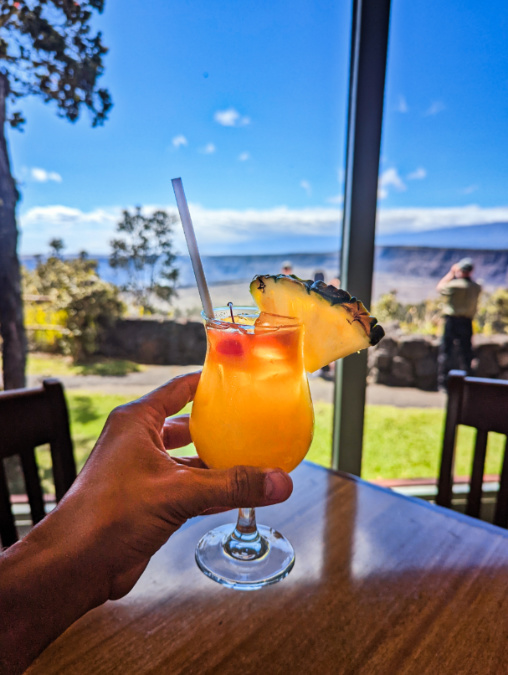 Other Hawaii Volcanoes NPS Units to Visit
Besides the primary section, there is more to do in Hawaii Volcanoes National Park if you'd like to explore the other units. There are two other sections to the park with different views, different environments and different activities.
The Kahuku Unit
The Kahuku Unit is located separate from the Kilauea section of Hawaii Volcanoes National Park, to the southwest about an hour's drive. This is near Punalu'u Beach, the black sand beach. Here you'll find cinder areas, green pastures, fissures in the earth's crust, and lush low lying forests. It's a completely different environment.
The Kauku Unit has LOTS of hiking options, as well as some biking trails, picnic areas and viewpoints. Spending an afternoon in the Kahuku Unit is a great idea when you're crossing the Big Island from the Kona Coast to Hilo.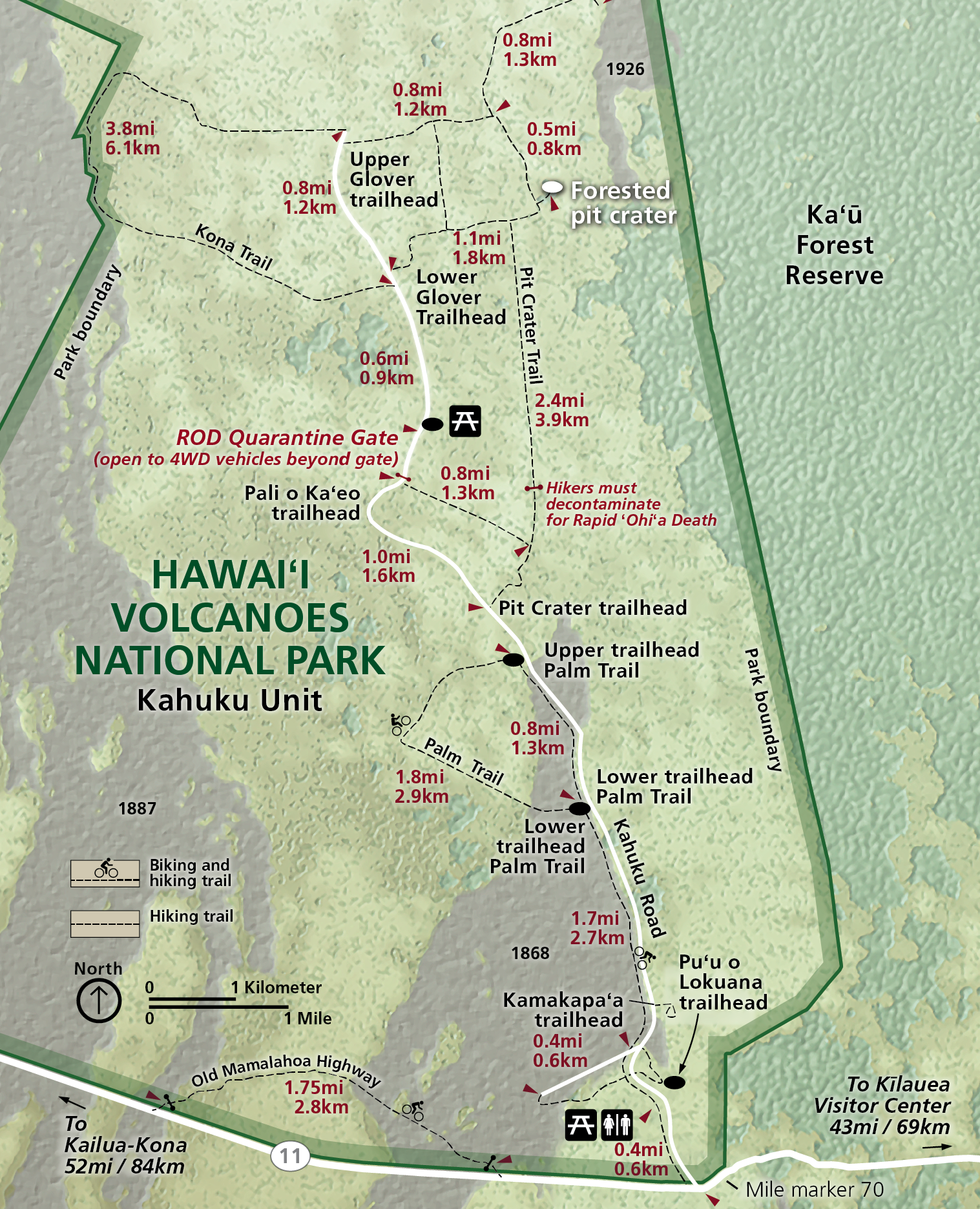 Mauna Loa Lookout Road
Very near the main entrance to Hawaii Volcanoes National Park is the Mauna Loa Lookout Road. This road is the way to the Namakanipaio Campground, as well as the 4WD road to backcountry trails, the Kipukapuaulu Trail (the rainforest) and the actual Mauna Loa Lookout. 
For a really unique thing to do in Hawaii Volcanoes National Park that's much more of a Sequoia NP or Mount Rainier adventure, you can actually hike to the summit of Mauna Loa. At 13,678 feet tall, Mauna Loa is actually one of the tallest points in the Pacific Ocean. Mauna Kea, another peak on the Big Island, is just a bit taller and located outside of the National Park boundary.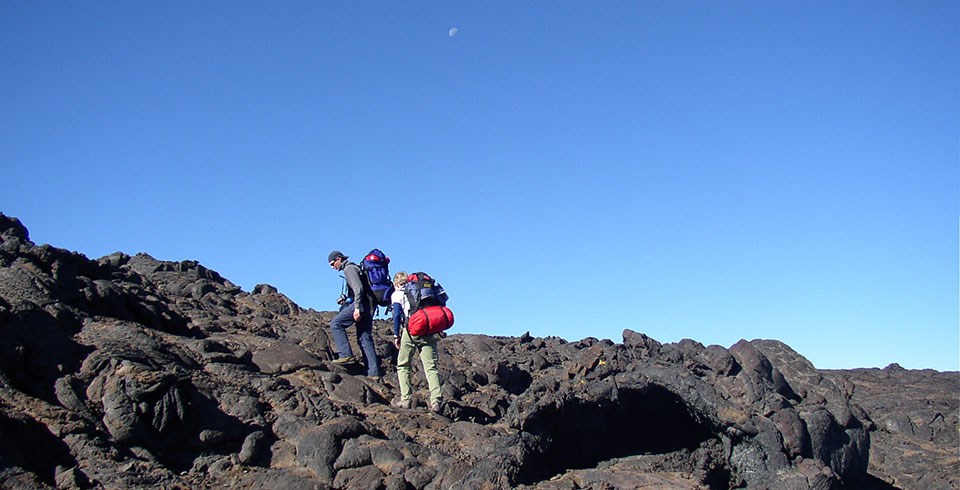 Where is Hawaii Volcanoes National Park?
Hawaii Volcanoes National Park is located on the Big Island of Hawaii, between the Kona Coast and the Hamakua Coast on the southern slopes of the island's volcanoes. While you can visit the park from either side of the island, the main entrance and the Kilauea creator are much closer to Hilo, at only about 40 minutes' drive. It's about a two hour drive from Kailua-Kona to the Kilauea visitors center. We stayed at the Wyndham Kona Hawaiian and made the drive, which was beautiful, but felt long after also visiting from Hilo.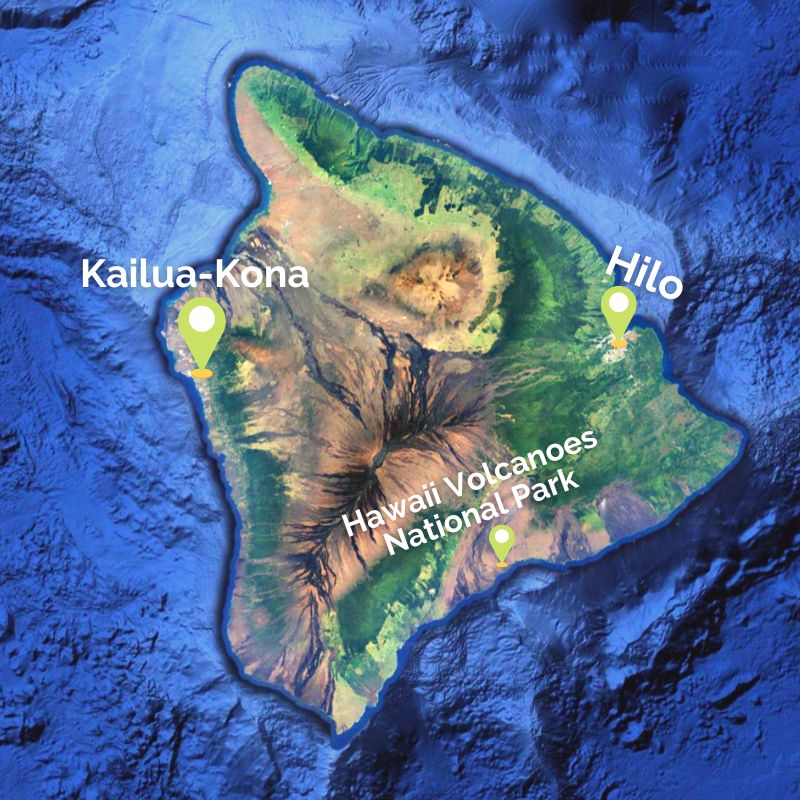 How to Get to Hawaii Volcanoes NP
The easiest and most flexible way to get to Hawaii Volcanoes National Park is to fly into Hilo International Airport (ITO) and drive into the park for your visits. If you would like to leave the planning and the transportation to somebody else, stay in Hilo (we loved staying at the SCP Hilo Hotel) and book a tour of Hawaii Volcanoes National Park. 
While it really is easy to tour the park on your own in your own rental car with an audio tour, a tour is nice too, especially if you don't have geology knowledge or would like to hear things from a Hawaiian local perspective (always recommended!).
Here are three vetted tour options from Hilo into Hawaii Volcanoes National Park:
Tours are really a great way to learn, gain perspective and even go outside of your comfort zone. Because the park is such an unusual place, it's a great spot to book a tour.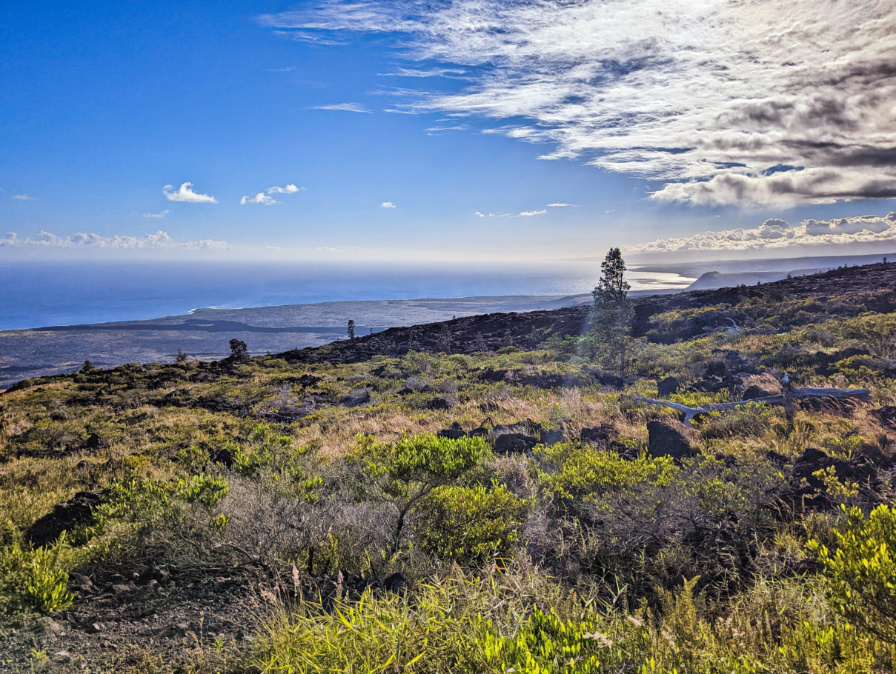 Where to Stay Near Hawaii Volcanoes
We're very careful about where we choose to stay when we go to remote or closed off areas. Hawaii has a history of housing shortages, particularly on Oahu, so hotels are our top recommendation, and Hilo has plenty of them. Our top pick is the SCP Hilo Hotel because it's quiet, in a great location, is beautiful and is an eco-conscious choice.
Check out our complete review of the SCP Hilo here!
Hotels in Hawaii, even when they aren't five-star resorts, are surprisingly expensive. Finding accommodations that meet your travel budget is a key element before committing to your trip. You can expect to pay from $250/night (that's low) to $389/night for a mid grade hotel room any time of year. If you want to book something exceptional, you'll pay more than $500/night and maybe even nearly $1000. It's wild.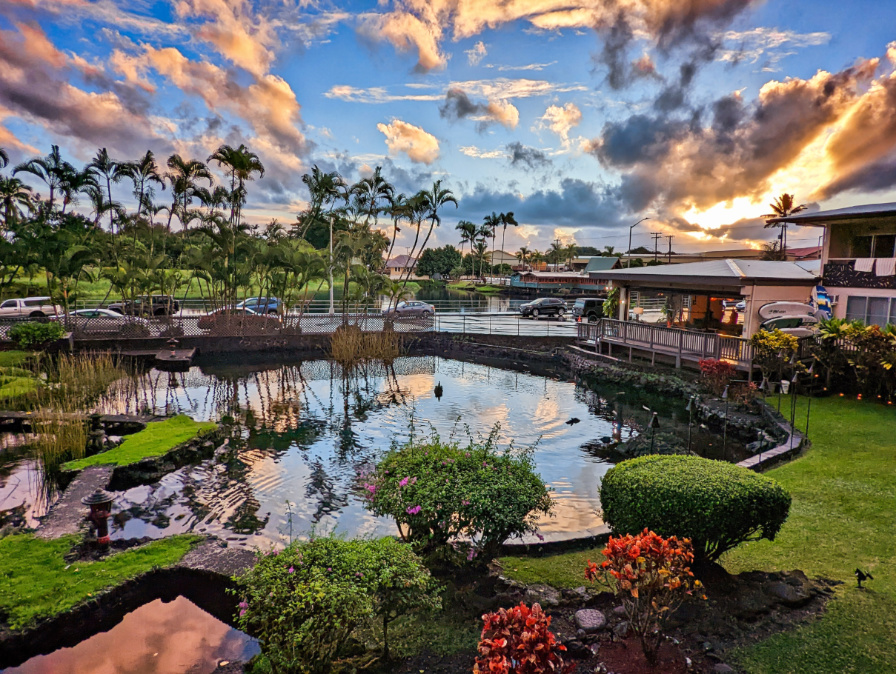 Check hotel prices in Hilo, Hawaii here:
Staying Within Hawaii Volcanoes National Park
The options for staying within Hawaii Volcanoes National Park are limited to the following:
Staying at Volcano House (National Park lodge)
Booking a cabin at the Namakanipaio campground
Tent camping at the Namakanipaio campground
Tent camping at the VERY SMALL Kulanaokuaiki campground – no water, vault toilets
That's it. Nothing else.
If you would like to camp, there are three campgrounds outside of the National Park that are close enough to be a good home base for exploring Hawaii Volcanoes. County park camping OUTSIDE of the National Park:
Isaac Hale Beach Park (SE of Hilo)
Whittington Beach Park (SW of NP)
Punalu'u Beach Park (SW of NP, Black Sand Beach)
Remember, if you're not a resident of Hawaii, camping and county/state park access is limited, must be planned/reserved, and it'll cost more than the posted Hawaii resident price. Also, you'll need to secure your own camping gear.
More Fun Things to do Near Hawaii Volcanoes NP
There are lots of cool things to do just outside of Hawaii Volcanoes National Park too, so add a few of these to your Big Island trip and you'll have an incredible time:
Punalu'u Black Sand Beach
Akaka Falls State Park
Mauna Kea Observatory
Mauna Loa Macadamia Farms
Kau Coffee Mill and Farm
Hilo Farmers Market
Beach days and more!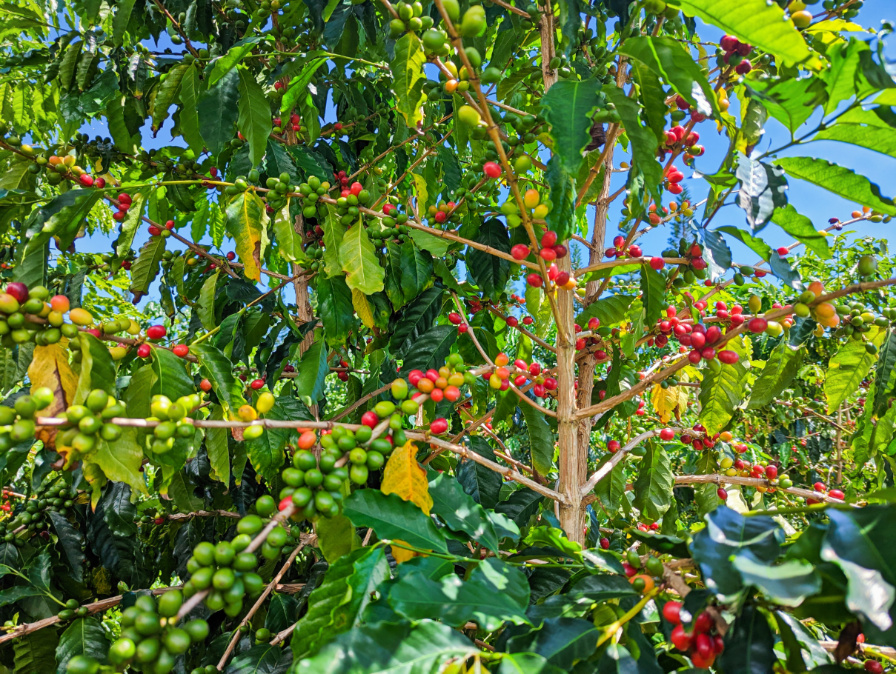 I hope you're excited to explore Hawaii Volcanoes National Park. It's one of the most unusual places we've been in the USA and is such a gem. Please always visit with respect, both for the earth and the Hawaiian people, and contribute to the local economy as much as possible, avoiding multi-national or out of state investment opportunities.
If you have any other tips for spending time at Hawaii Volcanoes, feel free to leave a comment or send us a note. We're happy to share others' tips as well!