Planning a Hawaii trip is a complicated and expensive thing to do, but there are a few activities that are absolutely worth it… like nighttime snorkeling with manta rays! When we headed to the Big Island of Hawaii we were most looking forward to exploring Hawaii Volcanoes National Park, but the manta rays really did take the cake.
Snorkeling with manta rays off the Kona Coast on the Big Island of Hawaii is an incredible experience, but is it kid-friendly? Is it a responsible wildlife activity? From where to snorkel with manta rays in Hawaii to information about the impact on the wildlife, find out more about this unique activity, one of the most popular things to do in Hawaii.
We are careful and thoughtful when we're choosing our vacation and tourist activities, especially when we know that things can have a negative impact on wildlife potentially. When we got the change to go sunset snorkeling with manta rays, we researched it immediately. We weren't sure if this was a responsible wildlife activity or if if was potentially hazardous to the manta rays. We didn't know if being in the water with manta rays was kid friendly or more daring of a thing to do. We've got all the answers now to help YOU make the right decision about adding it to your Big Island itinerary.
If you have questions we don't answer or additional tips or thoughts about snorkeling with manta rays, please leave a comment or send us a note. We're always happy to share more and help other plan their travels.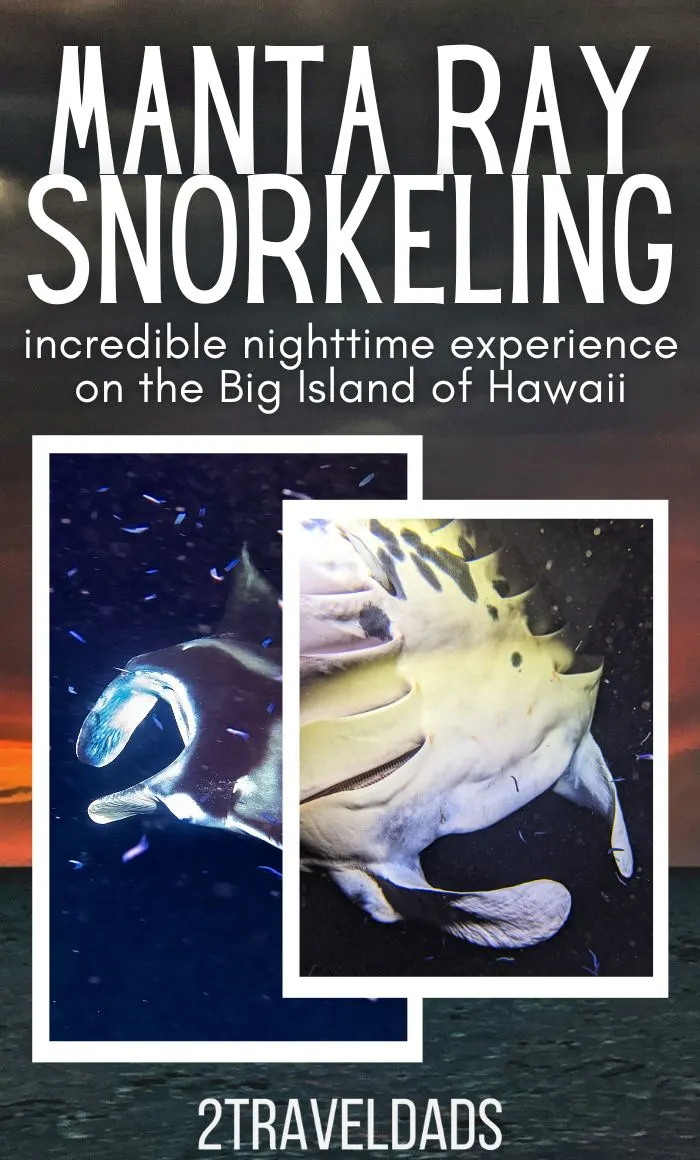 What Is It Like to Snorkel with Manta Rays?
The long and short of it is that snorkeling with manta rays is amazing. If you're scared of the water and being on the open ocean, this activity is NOT for you. While you're never too far off the coast of the Big Island, the darkness of being at sea after sunset can be frightening for some. I thought it was great.
The actual experience of being in the water and seeing manta rays swim close to you, doing roll after roll below and in front of you is incomparable to anything else we've experienced. We love kayaking with manatees and seeing them up close, and we do it all of the time here in Florida, but even snorkeling with manatees in Crystal River is nothing compared with nighttime manta ray snorkeling.
How it works: a floating light raft goes into the water and snorkelers hold onto it, peering into the waters below. The light attracts small fish and plankton which the manta rays feed on. The rays follow their food source, show up and then disappear into the ocean.
When you're in the water, in the dark, and the light is floating in front of you, the plankton and small fish start to congregate and swarm. This concentration of the manta ray's food brings them from the ocean floor up to where the plankton become dense. Because manta rays are filter feeders, they swim and roll and twist, capturing their food and then they return to the depths.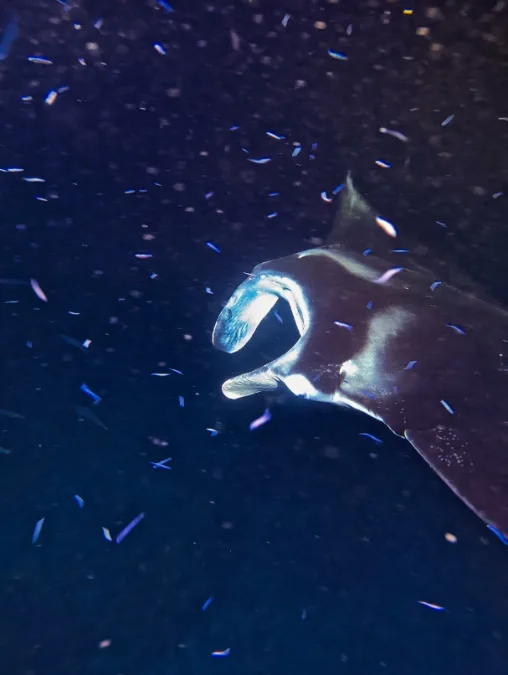 Are Manta Rays Safe to Snorkel With?
Did you know that manta rays are related to sharks? It's true! Does that mean that they can injure you the way a great white shark can? No.
Manta rays are filter feeders, meaning that they don't have teeth and actually strain out their tiny meals as they swim. They have huge mouths and continually are collecting food as the water flows over their gill rakers. There is zero chance of a manta ray mistaking a human for food or trying to play with a human appendage.
I understand that the size of a manta ray is intimidating though. Being up to ten feet across, they are huge and can be startling. But they are like butterflies. Manta rays glide through the water, flying smoothly and investigating what they want with gentle drive-by swims. Yes, they're big, but they are safe.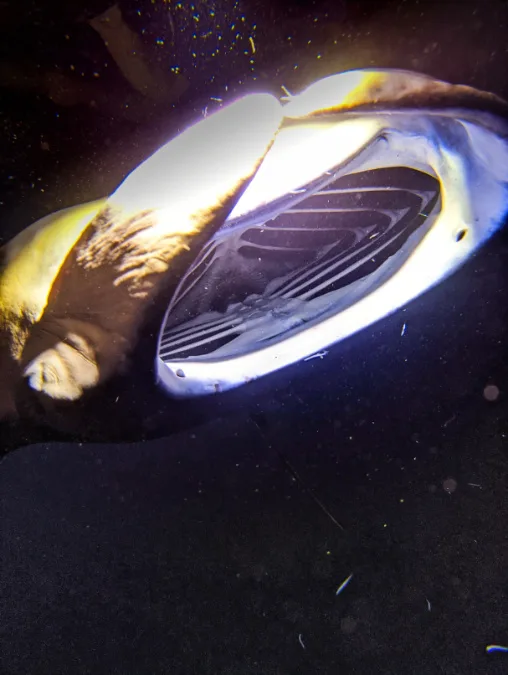 Nighttime Snorkeling Experience – Step by Step
So, how does nighttime snorkeling with manta rays actually work? Here is the step by step process for snorkeling with manta rays off the Kona Coast of the Big Island. It's highly unlikely that you'll be going out on your own, so this is how a guided tour for sunset manta rays typically goes.
Board your tour boat before sunset and head out from Kailua-Kona
Be fitted for a partial wetsuit and snorkel gear
Arrive at snorkeling site
Crew puts floating light apparatus in water
Snorkelers enter water one by one, holding onto light raft
Hang out in the water making gentle sounds
Manta rays swim around the lighted area feeding on plankton
After 40+ minutes in the water, everyone gets back onto the boat and you return to Kailua-Kona.
There are, of course, some small steps in the process too, including safety instructions and discussing the rules of snorkeling with manta rays. In general though, this is the process and you can expect this order of operations no matter who you're going on with.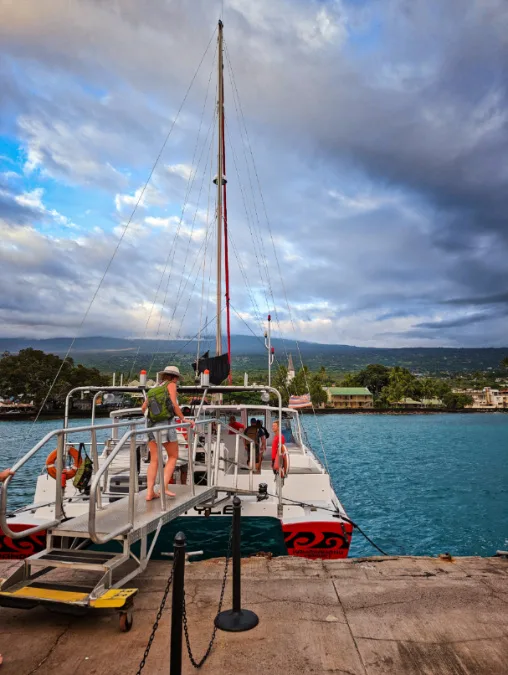 Is Snorkeling with Manta Rays the Same as Diving with Rays?
Something we were asked almost immediately after we completed our manta ray snorkeling tour was if snorkeling with manta rays is the same as diving with rays. No, it's not. The different between snorkeling and diving is that one keeps you at the surface and you're using a snorkel (tube) for breathing air from the surface while you observe underwater. Diving with manta rays, and diving in general, is done with air tanks, you can go rather far down for long periods of time, and you need to be certified to do it. Snorkeling is much easier and is available to newbies and veteran wildlife lovers alike.
Who Can Do Guided Snorkeling with Manta Rays
Because snorkeling with manta rays is a guided activity with staff on hand to ensure both safety and a good experience, nearly anyone can do it. I cannot speak to how accessible this sort of snorkeling experience is for someone who typically uses a wheelchair or other mobility devices, but if you swim normally or have experience with snorkeling in general, you can do a manta ray snorkeling tour.
Physically, you need to be able to maintain a bit of motion in the water (not super active) and you need to be able to remain calm through the experience. If you can keep yourself breathing peacefully and not freak out due to the darkness or the cooling water, you'll be fine. In the moment it isn't physically exhausting, but afterward you'll be tired from all of the micro-movements and the unusual sort of activity it is.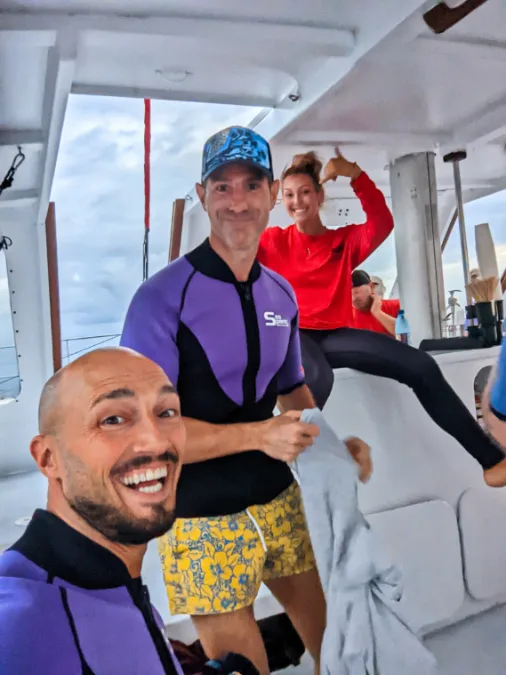 Is Snorkeling With Mantas Right for Kids?
I'll start by saying that YOU know your kids better than anyone else. Snorkeling with manta rays at night is a very safe activity and it's really amazing to experience. When it comes to kids though, if your child isn't normally adventurous or gets scare easily or nervous in the dark, a nighttime manta ray snorkel is probably not a great use of your travel funds.
Things to consider or ask your kids before planning a nighttime manta ray snorkel with them:
Are they confident swimmers?
Are they NOT scared of the dark?
Are they brave with new activities?
Are they hardy enough to stay in cold water (even with a wetsuit) for at least a half hour?
If the answer is "no" to any of those questions, a manta ray snorkeling tour probably isn't the best option for them. That doesn't mean everyone has to miss out though. Check if kids can ride along without going in the water, or break up your group to be able to do two different nights. You can make it work if you really want to.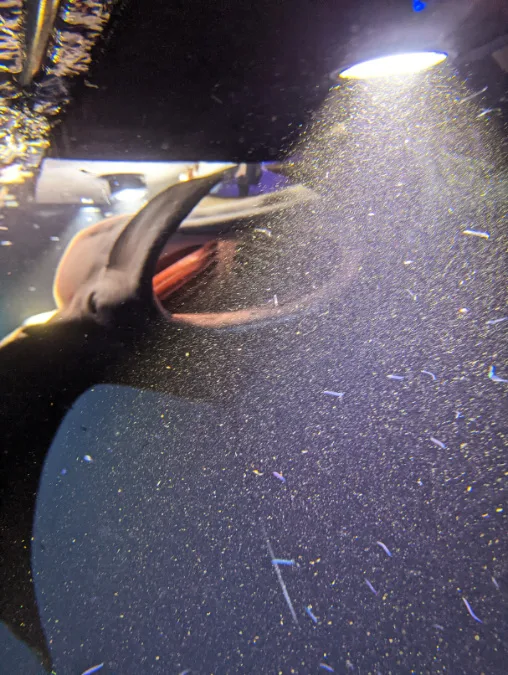 Is Night Snorkeling with Manta Rays Ethical?
Before we added a nighttime manta ray snorkel to our trip to the Big Island, we researched just what happens and what level of interaction humans have with the manta rays. We are careful to not promote certain types of animal tourism, such as swimming with dolphins or visiting specific "refuges" for exotic animals. We were worried that snorkeling with manta rays isn't ethical and that we could be contributing to a problem.
Disclaimer: we are not marine biologists and do no work in moral philosophy or animal activism, so our opinions and perceptions are the result of available information and statements from those working in these sectors. Here is a great article by a marine biologist that talks about the arguments for and against manta ray diving.
What did we learn or discover about nighttime snorkeling with manta rays?:
there is no physical interaction between humans and mantas
physical touch is prohibited because it damages the manta rays' skin
no feeding of any sort is involved in nighttime manta ray snorkeling
there is, seemingly, no negative environmental impact
Because of how nighttime snorkeling with mantas is done, there is no damage to the manta rays' habitat, and no damage to the animals themselves. There is potential damage when manta ray tourism isn't closely managed and the number of people in the water or bring foreign substances into the water goes unchecked, but when managed closely, snorkeling with manta rays provides an unforgettable experience that can inspire education and conservation for those who wouldn't normally get to see wildlife in this context.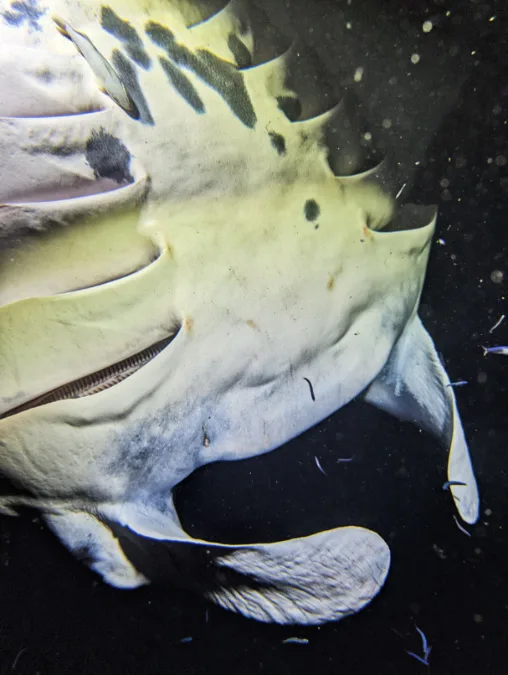 Rules for Manta Ray Snorkeling
Of course there are rules for snorkeling with manta rays, just like there are rules for wildlife safety in any part of the world, underwater or on land. The most important rule when you're going on a manta ray snorkeling tour is to LISTEN TO YOUR GUIDE. They are there to keep you safe AND protect the wildlife. If you're a confident diver and think free-diving is something you want to do, check with your guide, but it shouldn't be allowed on most tours.
The big three rules are:
Don't try to touch the manta rays
Limit your observation / interaction time (should be managed by your guide)
Listen to your guide
The manta ray snorkeling experience is really cool, but if you can't do it safely for yourself and others (and the animals) you shouldn't do it.
What to Bring for Snorkeling with Manta Rays at Night
You really don't need to pack a ton of gear or equipment for nighttime snorkeling with manta rays. Because you're out on the water, you'll need to bring a towel and warm clothes for after your swim, but not much else. We changed into dry clothes onboard when we were on our way back to Kailua-Kona, but it's not required.
Camera Gear for Nighttime Manta Ray Encounters
It's so very important in all things to enjoy your experience first and foremost. Take in the atmosphere and the phenomenal sight of flying manta rays in the sea… and then you'll want to snap some photos too. You do not need to invest in wildly expensive underwater photography gear to get great pictures of nighttime snorkeling with manta rays. Because the light raft is so bright and manta rays have a white underside, underwater photography is easy.
You can get good photos with a GOOD smartphone camera and a solid underwater phone case with a strap. WITH A STRAP. If you're not a professional or get into photo and video editing, you can just capture individual shots of the manta rays. For the best images though, set your video settings to the highest frame rate, highest quality and get footage of the manta rays. You can then lift individual frames from the footage.
Tip: record video at the highest resolution at the highest frame rate / slowest motion to get the most clear individual still photos. It works like a charm!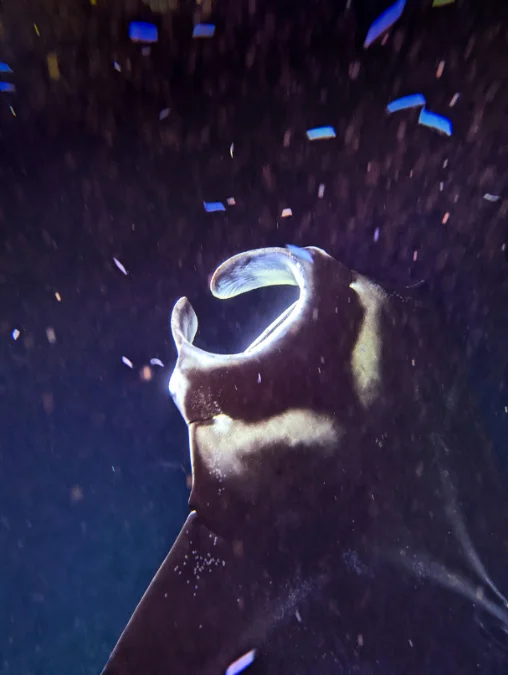 Do I need a GoPro from Night Snorkeling?
You do NOT need a GoPro for good nighttime underwater photography. Like when we did Hawaii Volcanoes National Park at night for the lava glow, our best manta ray photos came from the Google Pixel 6 Pro smartphone. The GoPro Hero 11 Black did very well too, but the Pixel out performed the GoPro for both individual photos and video clips.
Where to Snorkel with Manta Rays in Hawaii
While manta rays have free reign of the ocean and can be found all over, from the waters of St Augustine (where we live) to La Paz and Cabo San Lucas (read about snorkeling around Cabo here!), when it comes to the Hawaiian Islands, the Kona Coast is the best, most consistent place to see manta rays. The reefs and undersea valleys off of Kailua-Kona and to the south are a favorite haunt for the huge rays. We stayed at the Club Wyndham Kona Hawaiian to be close to our manta ray departure dock in Kailua-Kona.
Yes, there are manta rays off the coast of Kauai and Oahu, but they are much more rare and very few snorkeling guides will market manta rays as one of the main creatures to see of other coasts. The Kona Coast is THE place to see manta rays, particularly at night. Manta do swim off the Hilo side of the Big Island, but the west coast (Kona) is much more well known for them.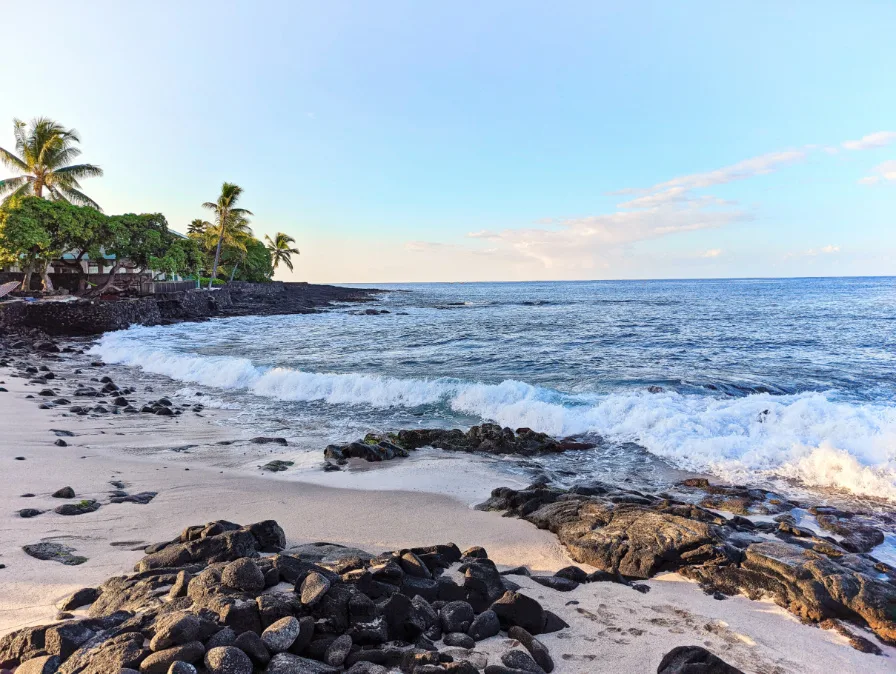 Nighttime Manta Ray Snorkeling Tours
We went with Kona Style directly out of Kailua-Kona. We did the sunset manta ray snorkeling tour, lasting in total about 2.5 hours. Our snorkeling gear, wetsuits and non-alcoholic beverages were included in our tour cost. The cost per person was about $130 plus taxes and gratuity (not required, but recommended).
Book our EXACT TOUR HERE! – Kona Style
There are quite a few tour operators on the Kona Coast who specialize in nighttime manta ray snorkeling tours. I would advise to read reviews of any tour before booking and also call and ask specific questions about the tour process and expectations. And remember, you get what you pay for…
Here are a few additional manta ray snorkeling tours that we can recommend but we HAVE NOT participated in. They all are on the Kona Coast going out of Kailua-Kona:
Find more fun things to do in Kailua-Kona here!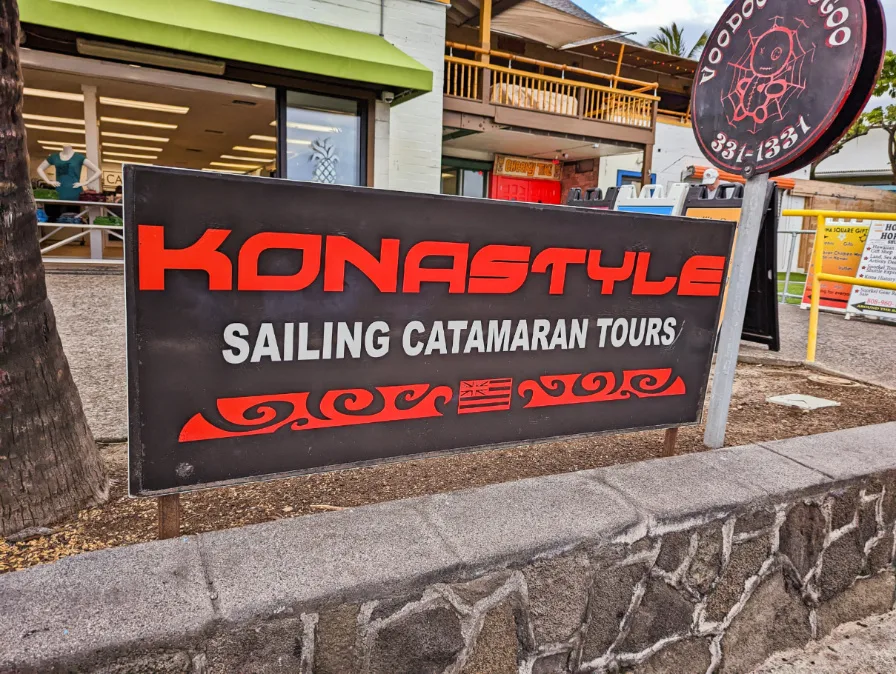 So what do you think? Are you interested in nighttime manta ray snorkeling on the Big Island of Hawaii? It really is incredible and we would for sure do it again, especially when we return to Kona with our kids.
If you have any additional questions or suggestions, please leave a comment or send us a note. We're always happy to share from others too!