After spending so much time up in the mountains and loving Yosemite, Kings Canyon and Sequoia National Parks, we really needed to get to the ocean.  At home we live across the street from the beach and can look at water whenever we want, so we're used to it. Being land-locked doesn't suit us so adding a trip along the Sonoma Coast and staying at the Bodega Bay Lodge was definitely an needed.
We'd normally opt for a more mellow, family style hotel or lodge, but the Bodega Bay Lodge was just so pretty and set in such a beautiful spot that we couldn't pass it up.
Do you know what though? The Bodega Bay Lodge was actually ideal for a family visit, which totally surprised us. And the town and surrounding area was wonderful too. If you're heading through Northern California, you might as well be enjoying the coast on the drive and you might as well plan on spending at least one night in Bodega Bay.
Book the Lodge at Bodega Bay here!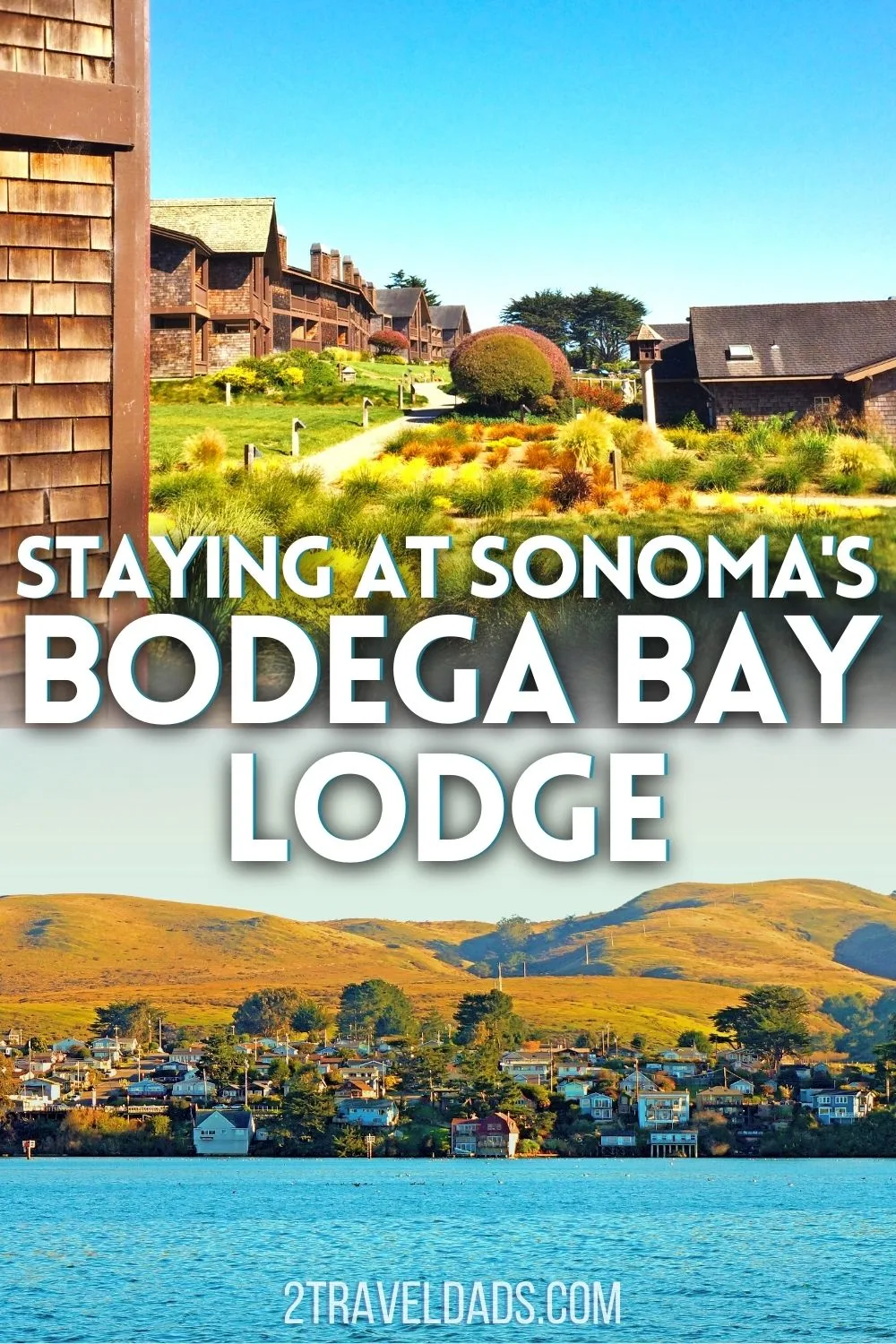 Staying at the Bodega Bay Lodge
Initially we drove up thinking that the property looked like some beach condos we'd seen up north once upon a time, which wasn't too thrilling.  But then we looked and saw the levels of detail around the property and realized that the Bodega Bay Lodge was much nicer and that we were going to be quite happy.  
We checked in and went to our room, which was at the end of the property.  It was so spacious and totally had its own fireplace.  Oliver quickly picked which bed he wanted while the rest of us wandered to the sliding glass door.  Our view was over our private lawn area and all of the way to the water.  There was a nice little garden around our porch.  Oh, and there was a wedding getting ready to begin.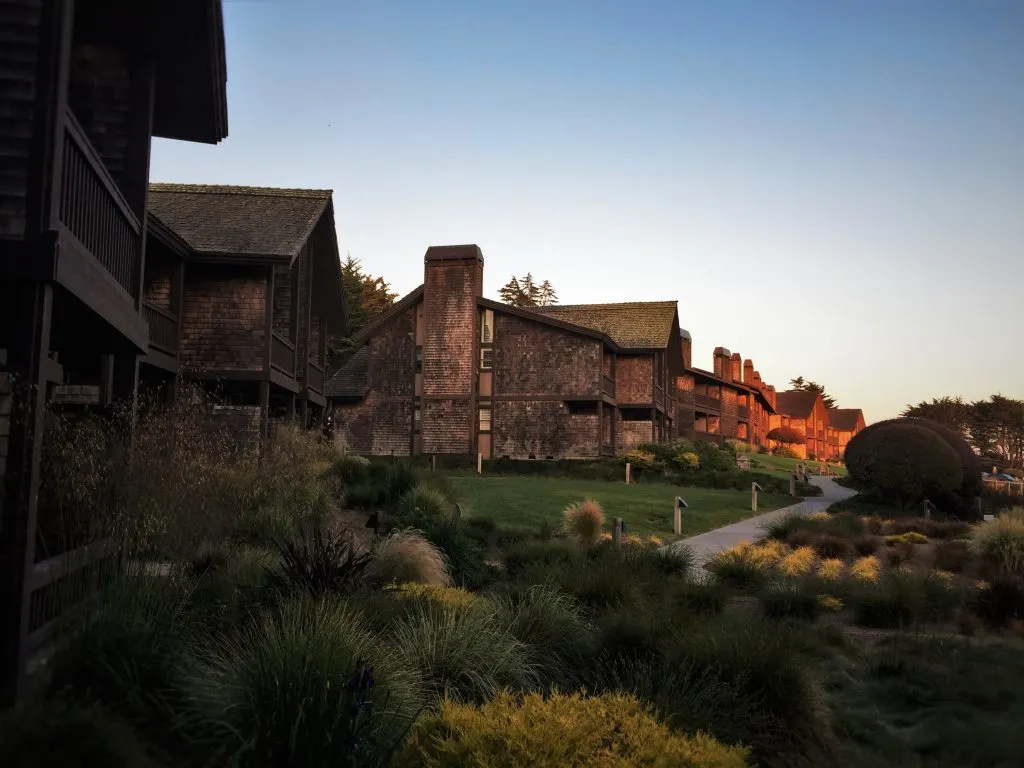 Tip:  if you happen to be in a situation where you may or may not disturb a celebration or ceremony at a hotel, ask if you might be moved or what the time frame for the ceremony is. Nobody wants a random baby banging on the window and screaming to join the celebration. In this case, we went and had wine in the lobby and then ran off to dinner.
The rest of the grounds are really gorgeous. The lobby has ample seating and a cozy side room for relaxing or playing board games. The pool and and infinity hot tub have a breathtaking view of the dunes and to the Pacific Ocean. And then everything else at the Bodega Bay Lodge is perfect too. You can tell the care and time that's put into the property's upkeep.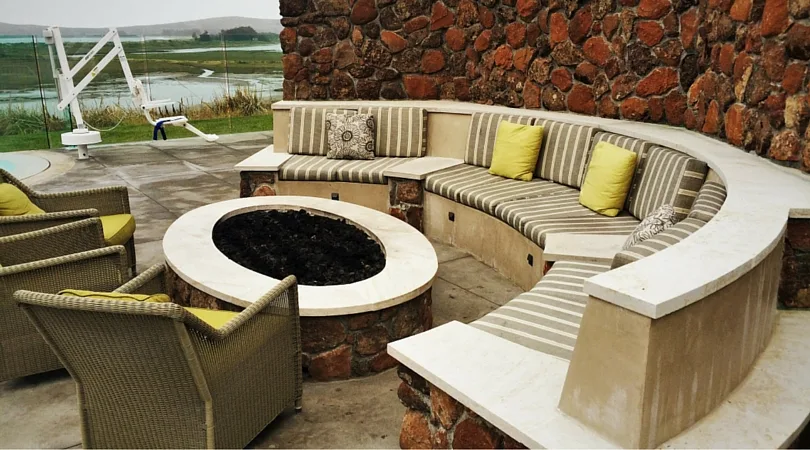 Accommodations at the Bodega Bay Lodge
We were in a deluxe family room and it was wonderful.  For an individual hotel room, it was by far the largest open space we've had.  At the Tenaya Lodge at Yosemite, we had a very large room that was partitioned into the master area and a living space.  
Here at the Bodega Bay Lodge, we had the bed area, coffee space, hearth zone and then a living space. This continued outside to the patio area and lawn.  Seriously, such an ideal place for a family of four to sprawl out and unwind.  If you recall, when we were at the John Muir Lodge in Kings Canyon National Park, we struggled to make a safe place for the crib.  That was NOT a problem at the Bodega Bay Lodge.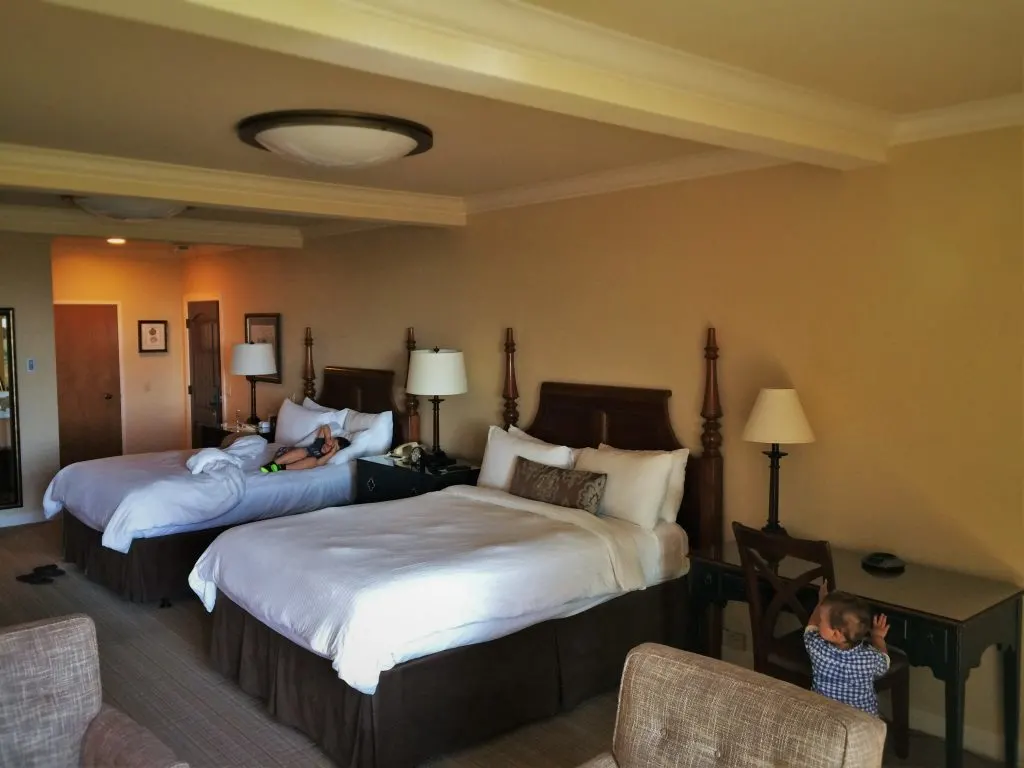 In addition to the fantastic space, we also took full advantage of and enjoyed the fireplace.  Our room came stocked with a presto log and matches, all ready to either create a romantic environment or just nice to share with the family.
Another wonderful aspect of our stay at the Bodega Bay Lodge was our bed.  The sheets were, of course, very nice, but the bed itself was awesome.  With the perfect cushion and firmness, you could tell that the beds were thoughtfully chosen vs just being hotel beds.  Bravo.  And it was the best night's sleep we had during our entire trip.
Tip:  we've said it a thousand times, but we'll say it again… It's totally fine to rearrange your hotel room a bit if you need to.  We had to relocate the living room chairs to sit in them by the fire.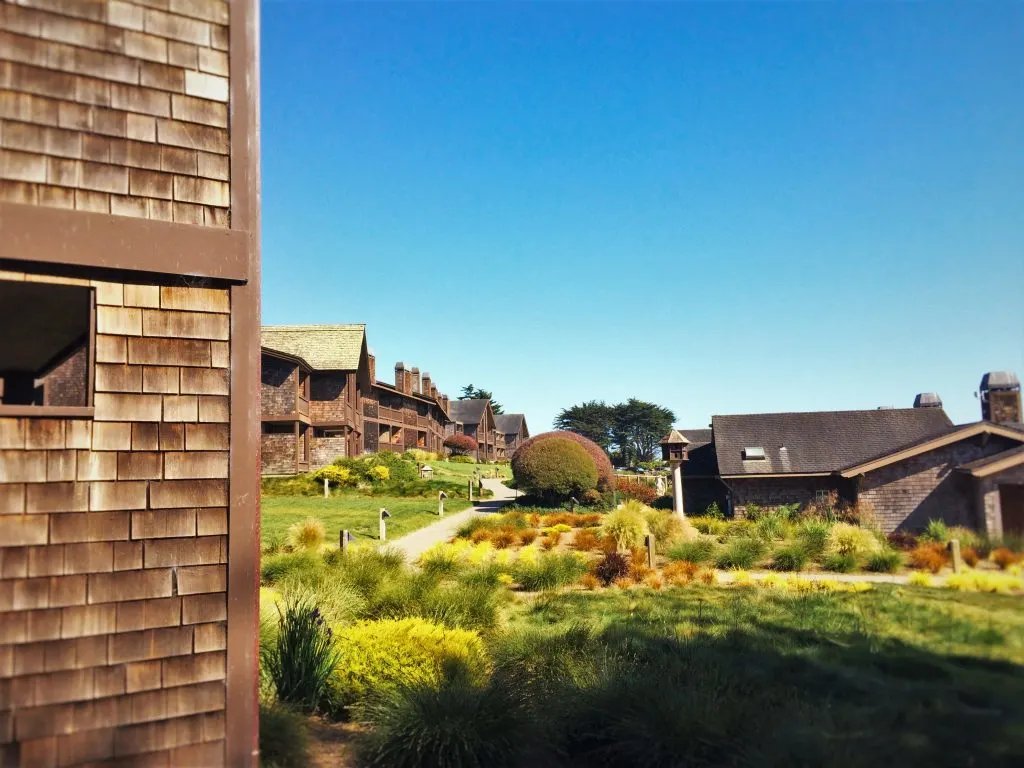 Sonoma County Wine at the Bodega Bay Lodge
What would a visit to Sonoma County be without wine?  The Bodega Bay Lodge does a really nice wine reception for its guests.  We enjoyed the local vintages and hanging out in the lobby, sure, but we really appreciated that they'd made wine hour kid-friendly.  
Our hostess was awesome and so sweet.  She took the time to connect with the kids and gave them sparkling cider… to go along with their generous helpings of fruit and cheese that they each had to have.  It really was great to be able to have an adult beverage in a comfortable environment while the kids were completely content with a top notch snack.  
Note to hospitality folks reading this: catering to families and being prepared to make them feel welcome, especially in a high-end establishment, is a great way to create repeat guests. Sometimes families feel out of place in nicer hotels and restaurants, so breaking that barrier really shows that you're in the game for hospitality, not just profit.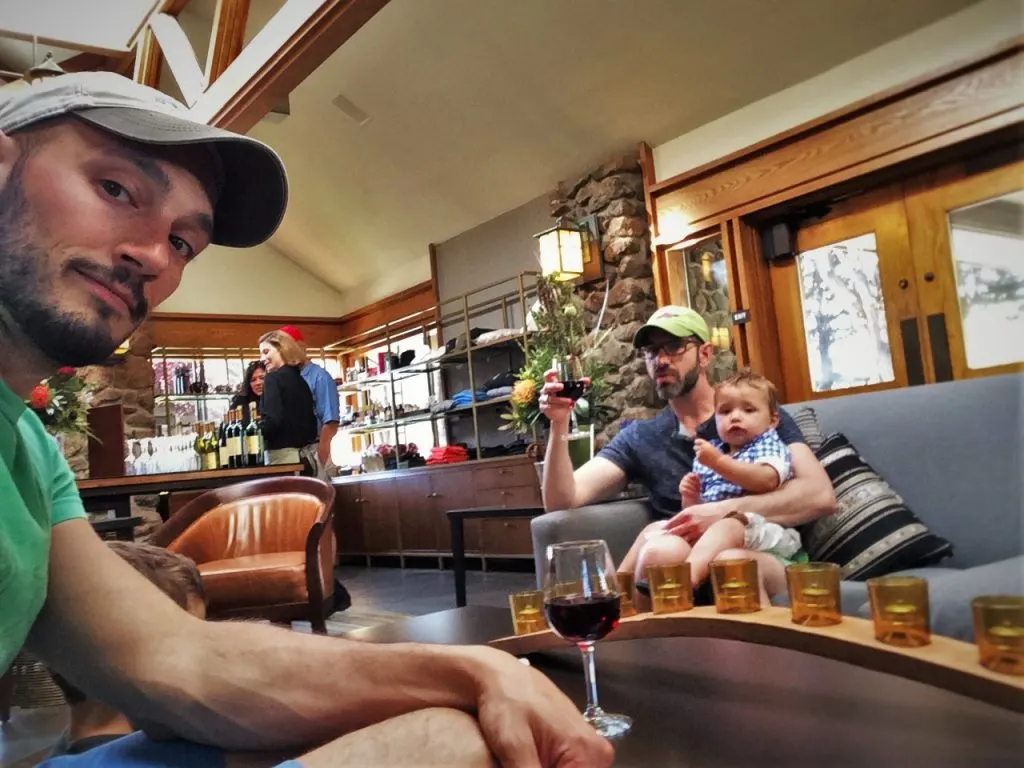 Things to do in the Bodega Bay Area
You need at least two days in Bodega Bay, we'll tell you that right off the bat.  One day and it just isn't enough.  The Bodega Bay Lodge is located just south of the main town area. There are so many fun things to do in Sonoma. 
We jaunted to the Fishertarian for dinner and it was really awesome, including the great locals we met who were just hangin' out.  That seemed to be the vibe everywhere we went:  just hangin' out.  At the restaurant next door on Lucas Pier they were just hangin' out too.  Seriously, Bodega Bay is the most chill town we've been to in a long time.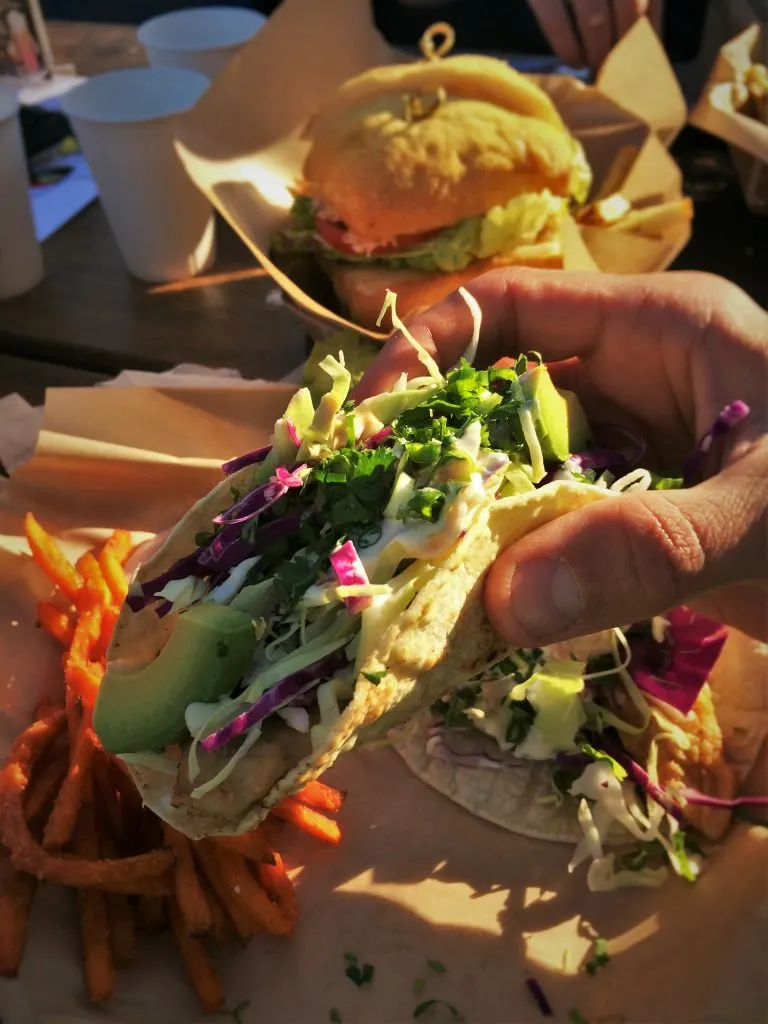 If you head through the town, you'll be able to circle Bodega Bay and drive up to Bodega Head.  We got there just in time to get a little while on the beach during sunset. Our kids love the beach and the sand of the Sonoma Coast made them feel right at home. The cliffs are a fun change to our beach in St Augustine, Florida where we live.
At Bodega Head you have to climb down on a wood and cable staircase to get to the sand and it's delightful. Oh yeah, once we got our shoes off and started to play in the sand, that's when we were quickly reminded that we were in Northern California, not Southern. Dang, that water was chilly!  
Beyond the beach and the Bodega Bay Lodge, the town is set in a great place to tour wineries and experience a good portion of the Sonoma Coast. The roads are winding, there are cows everywhere, the hills are green and almost every single sight you see is calming and beautiful.  Can you tell we liked it just a bit?
Note:  if you are going to be in the area for a few days, be sure to plan on lots of seafood, a little wine, some beach time and a visit to the big house from the Alfred Hitchcock movie The Birds.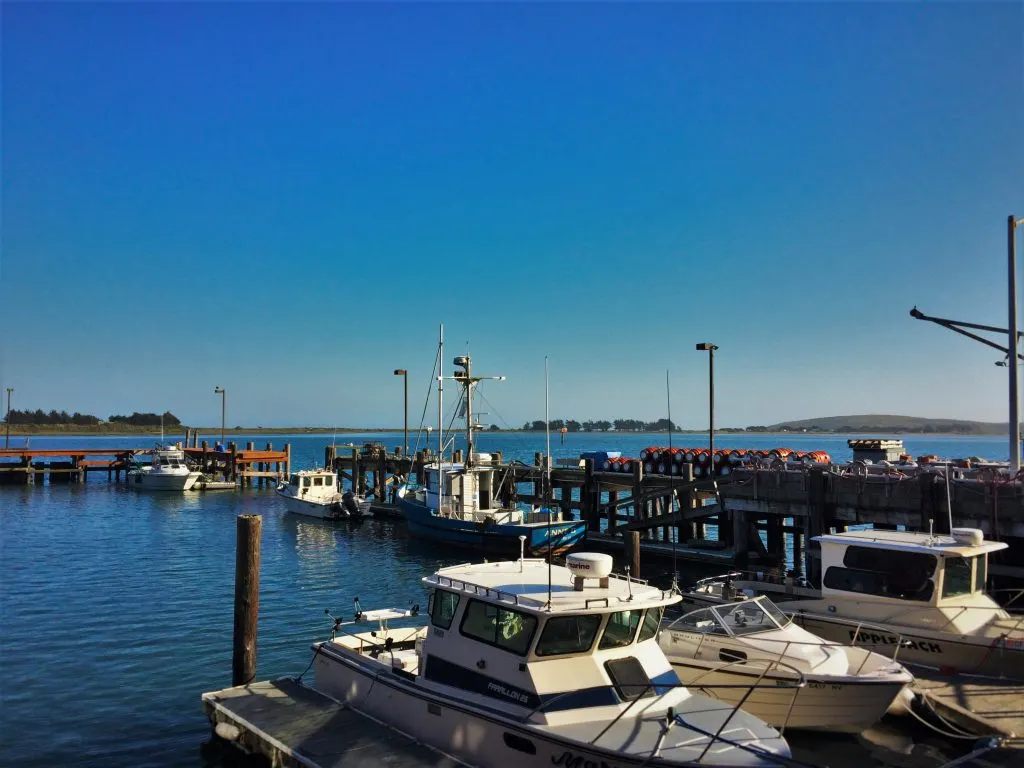 Staying at the Bodega Bay Lodge was perfect to give us a good sample of the Sonoma Coast. We enjoyed great wine and totally chill NorCal seafood. We loved our accommodations and we glad to be welcomed. For our next trip down the Northern California coast, and specifically the Sonoma Coast, we'll for sure be staying at the Bodega Bay Lodge for at least one night again.
If you have any questions about planning a California Coast road trip, about Bodega Bay or anything else travel related, feel free to leave a comment or send us a note!