Oceanside, California is easy to miss if you're driving the interstate on your way to San Diego. As the only harbor for more than 60 miles between San Diego and Orange County, Oceanside Harbor is a perfect place for paddlers looking to explore the coastal waters in San Diego's North County. Kayaking in Oceanside is an ideal break in a quiet town while the rest of the coast is bustling.
We try to add paddling to any road trip we do, and it's really easy when you're doing a SoCal trip and you make stops like Oceanside. Being a half hour south of San Juan Capistrano and an hour north of San Diego, you'll be going by anyways, so it's the perfect stop!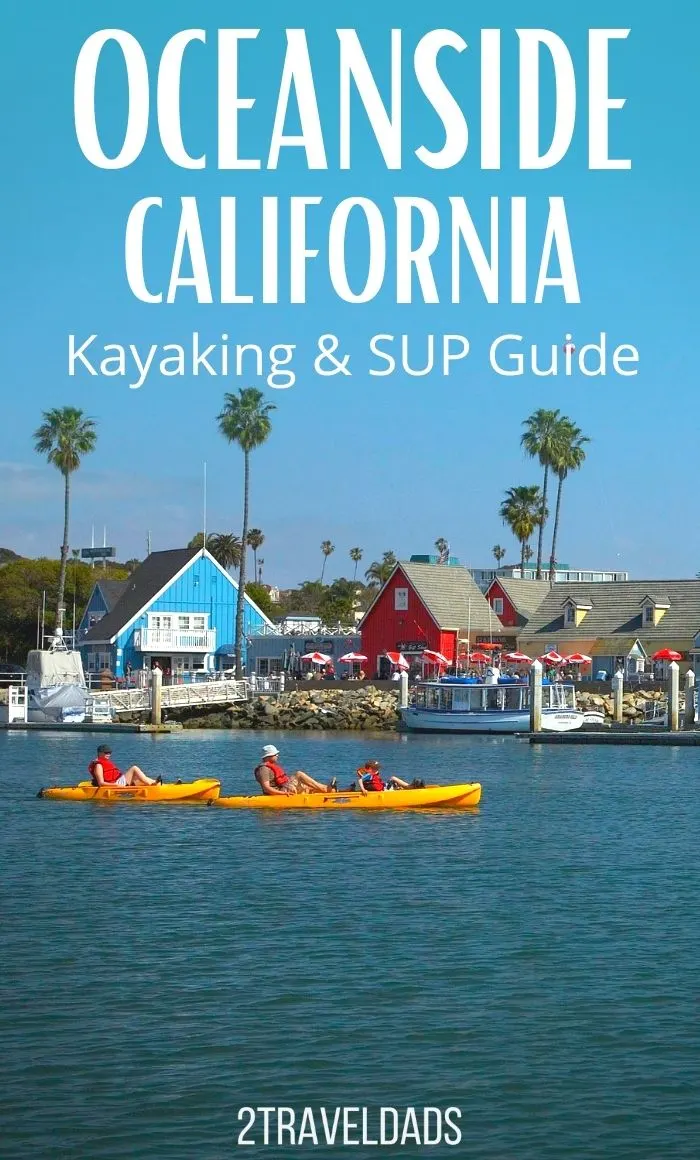 The 100-acre picturesque harbor offers easy launch access and plenty of space to explore by kayak or SUP. Oceanside can be added to your travel plans easily, spending some of your time on the water and a little more just exploring the area.
Renting Kayaks in Oceanside
If you arrive in Oceanside but don't have your own kayak or SUP, there are options to help get you on the water
Oceanside Boat Rentals, at base of the signature Harbor lighthouse, is a great place for gear and rentals. You can rent single and double kayaks, as well as SUPs, jet skis and even peddle boats.
The calm harbor waters create a serene environment for paddlers who enjoy views of the picturesque yachts and coastal landscape. This also makes the harbor a great place to paddle for beginners and children. Harbor paddlers have one of the best vantage points for viewing the iconic Oceanside sign that welcomes visitors. It's the perfect place to snap a kayak selfie.
Additional Kayak and SUP Rentals
Even though Oceanside Boat Rentals is directly on the harbor, there are a few other options around town for renting paddling equipment. As more rental services become available, we'll update this list:
If surfing is a goal for you on your California Coast road trip, you can plan surfing lessons in Oceanside. Book them with Oceanside Surf School here!
SUP and Kayaking Safety
Whenever you rent a kayak or SUP, you should be given the option of bring PFDs with you. You may not be required to wear them at all times, but it's always recommended, especially for children.
Because the Oceanside Harbor has large boats entering and exiting, be aware of vessels that may not see you. Part of being aware on the water is assuming that others aren't paying attention, so you should be extra alert. And remember, kayaking mean watching for the wake of large boats, not just staying out of their paths.
Traveling with your own gear? Be sure to have life jackets for all in your party. Child PFD Adult PFD – Our top pick here!
Wildlife While Kayaking in Oceanside
During your kayaking in Oceanside, keep an eye out for marine animals, especially the barking sea lions who often sun themselves on platforms in and around the harbor. You don't even have to paddle out to sea for this experience!
As one of the "birdiest" spots in San Diego, Oceanside Harbor lends itself to great bird watching. Kayakers can spot a variety of sea birds including pelicans, rocky shore birds, ducks, gulls and more.
Tip: when you're down in San Diego, be sure to visit Cabrillo National Monument for more awesome birdwatching!
More experienced paddlers can venture out to the open ocean, watching out for vessels entering and exiting the harbor of course. Out on the open sea, try catching a wave or spotting a dolphin, whale, seal and other marine life.
Remember: know your limits and be aware of weather. If you're paddling beyond the harbor, conditions may become rough unexpectedly. Ocean kayaking is for experienced paddlers.
Don't want to paddle but want to get on the water? Do a whale watching trip out of Oceanside, CA!! Book it here.
Unique On-the-water Activities in Oceanside
Even though just the thought of SUP or kayaking in Oceanside, CA sounds nice, there are quite a few unique activities available as well, both guided and independent.
Full Moon Kayaking Tours
For something unique, consider a full moon kayaking excursion. Typically, the City of Oceanside offers the experience as a guided excursion during summer months on full moon weekends (through Parks and Rec). These nocturnal paddling sessions allow visitors to revel in the beauty and romance of Oceanside's quaint harbor under a moonlit sky.
If you are taking out your own kayak or SUP, be sure to familiarize yourself with the layout of the harbor and have a plan for your time exploring. Moonlight kayaking is a wonderful experience, and a beautiful place like Oceanside will no doubt provide a memorable experience.
Fishing from a Kayak in Oceanside
Bring along a fishing rod and drop a line at one of the Harbor's prime fishing spots. Kayak anglers have been known to snag butterfish, halibut and kelp bass. While you won't want to land a huge cod or anything else that will provide a struggle from a kayak, there are quite a few species paddlers can set out to reel in from their kayaks.
Tip: be sure that you have the correct type of fishing license before setting out. Review California fishing license and reporting guidelines here!
Playing Tourist in Oceanside
Oceanside's New England-style Harbor Village is the perfect place to relax after a fun day on the water. Lighthouse Oyster Bar and Grill has a second story patio great for soaking up the views. For something lighter, grab an ice cream cone from Nana and Pop Pops Sweet Shoppe or a favorite coffee beverage from Nautical Bean. Any number of fun activities are great before or after kayaking in Oceanside.
Parking is easy! Oceanside Harbor has a variety of free parking available on a first come first serve basis surrounding and adjacent to the harbor.
For more about Oceanside and all of its fun experiences, please visit www.visitoceanside.org.
You ready to get out on the water? If you need other great places to kayak on the California Coast, check out Morro Bay (San Luis Obispo), Half Moon Bay (SF Bay Area) Bodega Bay and more up the coast. Doing a lighthouse road trip will bring you to Crescent City and other small towns, also great for kayaking!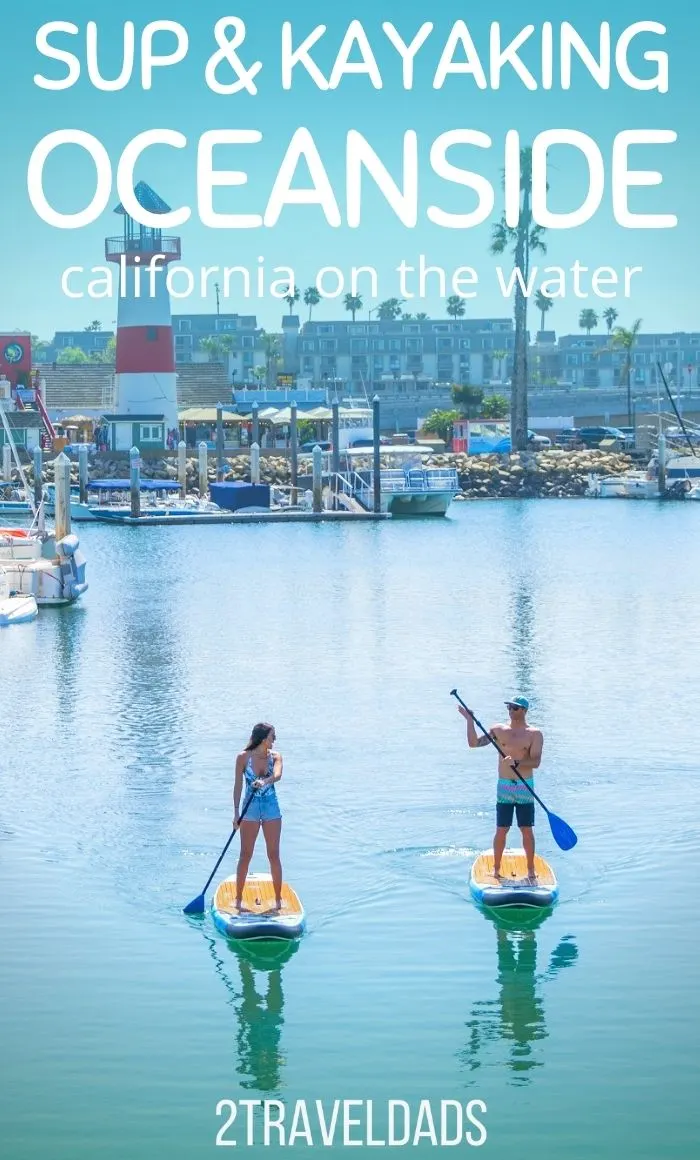 All images from VisitOceanside.org – url source