Kayaking in Florida never disappoints. We do it all the time. One of the most unique paddling experiences is clear kayaking, and in the Tampa Bay area the trip to the Shell Key Preserve is an incredible Florida adventure. See what to expect, what wildlife to watch for, and see that best tips for enjoying the clear kayak experience in Tampa Bay, Florida.
This is from our friend, Marcea of My Cornacopia: Living in Florida gives my family a lot of opportunities to be in, near, or on the water. It's our favorite place to be. Kayaking is a family favorite, so we decided to book a tour with Get Up and Go Kayaking Tampa Bay. The transparent kayak helps customers see the wildlife that exists below the water. It was a great way to get out and enjoy nature while social distancing. Here's how our tour went and some suggestions on how to make your experience even better.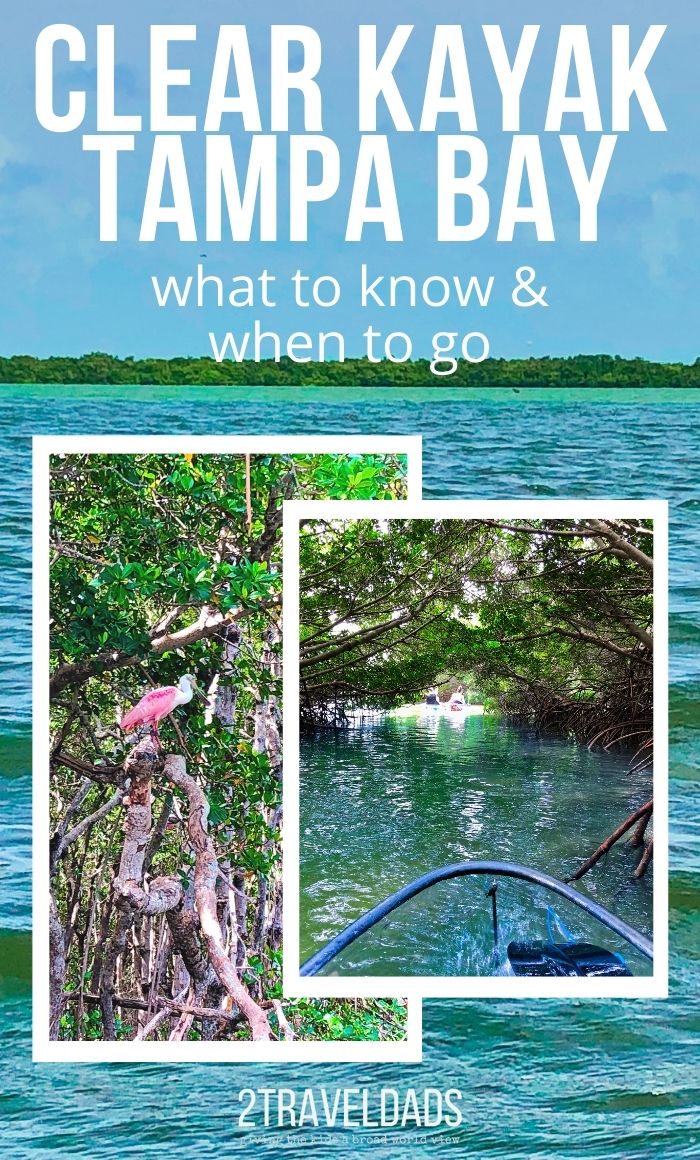 Choosing our Tampa Bay Clear Kayaking Tour
Open since 2019, Get Up and Go Kayaking Tampa Bay uses kayaks constructed of the same material as bulletproof glass and submarine portholes. Which means they're sturdy and let you see straight through them. Amber Buzzi, co-owner of the Tampa Bay branch, says that being able to see all the wildlife underneath the kayak is what makes it unique for her.
We did the Merritt Island Bioluminescence tour with Get Up and Go. Loved it!
"I never realized just how often wildlife from dolphins to cormorants would swim beneath me in a clear kayak," says Amber. "It opens the ocean up to a whole new view and experience for everyone who partakes. My favorite moment thus far was paddling over a grassy area and looking down and finding a tiny starfish!"
We started our tour at the docks on Tierra Verde, which is just south of St. Petersburg, FL right by Fort De Soto park, located at the mouth of Tampa Bay, where it enters the Gulf of Mexico, it gives lots of opportunities to see wildlife.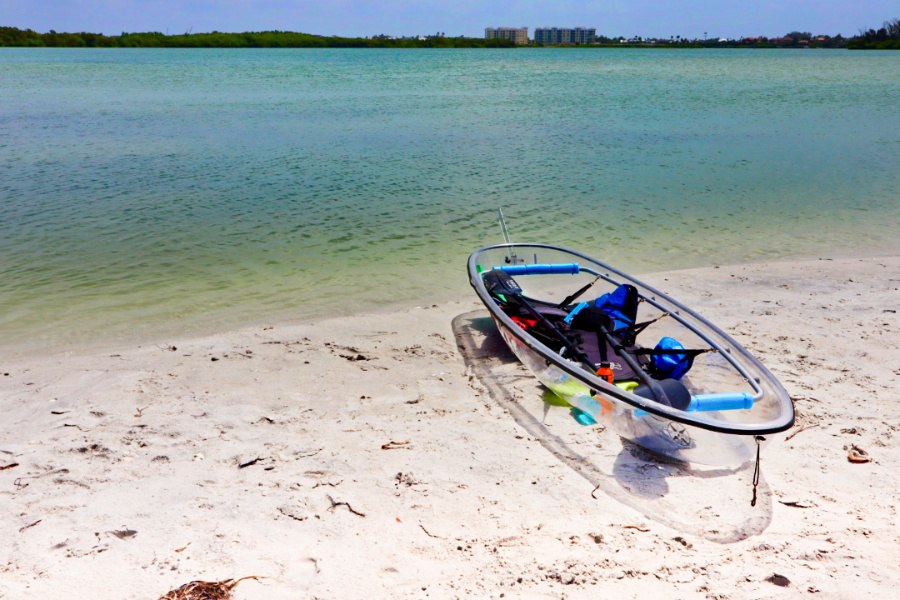 Our Clear Kayaking Tampa Tour Guide
Our guide Matt was a laid-back guy who said he has experience kayaking in Alaska. Matt was so relaxed we understood how he got his nickname Spicolli. Don't let that fool you, though. Matt was very professional and knowledgeable about the area, which we appreciated.
Since the clear kayaking Tampa tour was during COVID, our guide also wore a mask while checking everyone in and transferring people into the kayaks. Amber said that between tours, all boats, paddles and seats are cleaned and dried in the sun. They also had us sign waivers online and requested that we social distanced from people while on the beach.
The same company does clear kayaking tours at Silver Springs and the Rock Springs Run (two amazing places!). Book Silver Springs Clear Kayaking or Rock Springs Run Clear Kayaking here!
Once Matt gave us some tips on how to kayak and we removed our shoes (they can scratch the kayaks), he helped everyone in and we were off! You don't have to have kayaked previously to take this tour, but it helps if both you and your partner aren't novices. Matt gave us all a warning that kayaking can cause couples to need therapy. And he's right! It's because if you're not working as a team, it can be very frustrating. So bring your patience.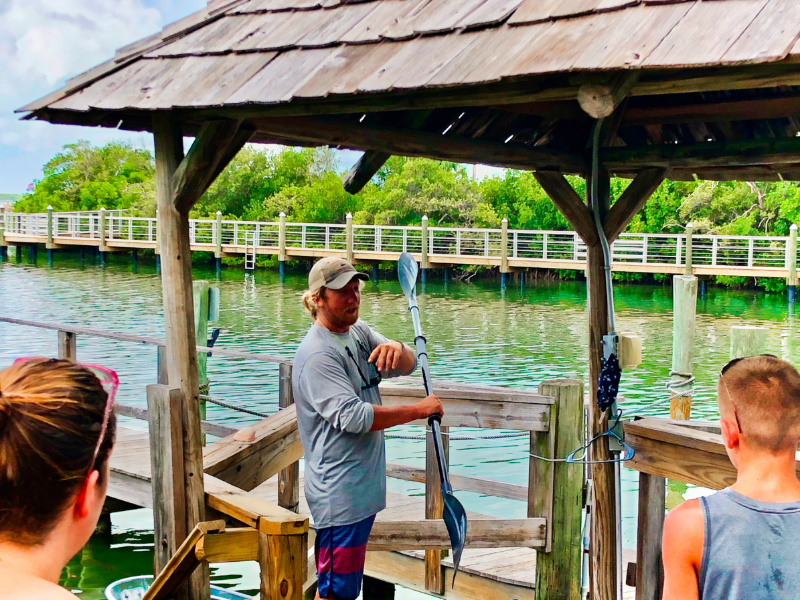 Highlights of Kayaking to Shell Key Preserve
The entire tour is about 3 miles. It was a little overcast and windy the day we went, which is common for clear kayaking Tampa Bay (not a bad thing though). The overcast skies were appreciated though – the average temperature in St. Petersburg in July is 91-degrees Fahrenheit with a lot of humidity.  
Check out more great Florida day trips from MyCornacopia here!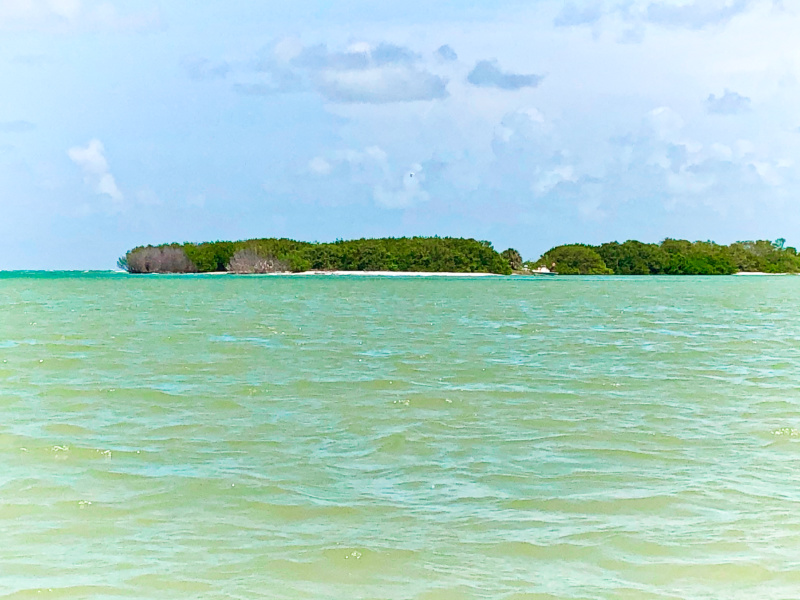 Wildlife and Paddling through the Mangroves
Our first stop was a mangrove island. If you've never seen a mangrove in person, they're fascinating. The mangrove is a salt-tolerant tree whose roots stick out of the ground. Mangroves are essential to Florida because they protect the mainland from storm surge when a hurricane hits. Kayaking in the Florida Keys includes a lot of mangroves too.
They're also crucial to the animals of the area. Fish will use the mangroves to lay their eggs. Once the eggs hatch, the baby fish live there for protection until they're large enough to go out into the Gulf.  
Another animal that uses the mangroves are the Roseate Spoonbill. While the Roseate Spoonbill wades in the water to feed, they also hang out in the mangrove branches. As we went around the bend of the mangrove island, we saw multiple spoonbills sitting on the branches. We were mesmerized by how pink they were. They're not related to the flamingo but get their bright pink hue in the same way – from the crustaceans they eat!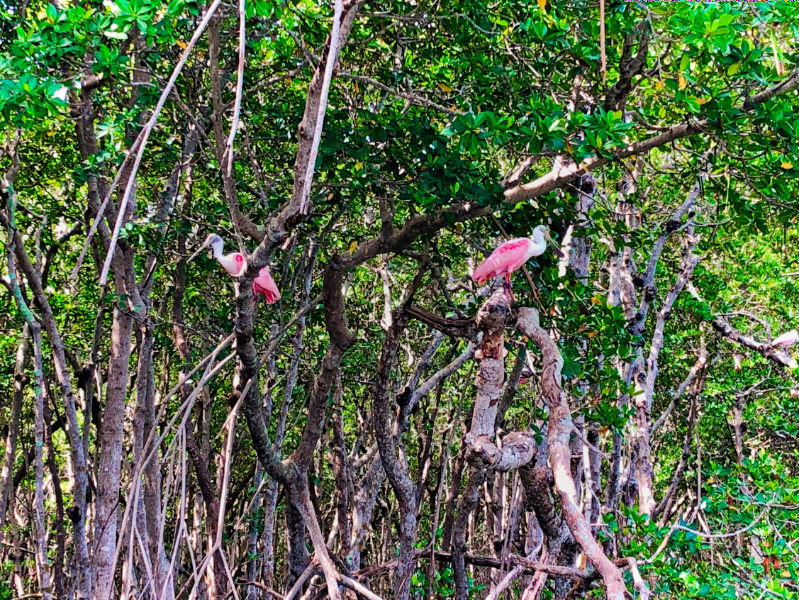 After leaving the spoonbill island, we paddled our clear kayaks through Tampa Bay towards another mangrove island. This one had a canopy of mangroves growing in an arch that we were able to paddle through. It was about 5 degrees cooler inside the tunnel. The tunnel was peaceful and let us forget that we were in the most densely populated county in the state.
As we were paddling around the mangroves we were visited by many cormorants that were fishing for their lunch. A small bird that has a long thin neck, it lives near the water and will dive for food. We saw a couple swimming under our kayak!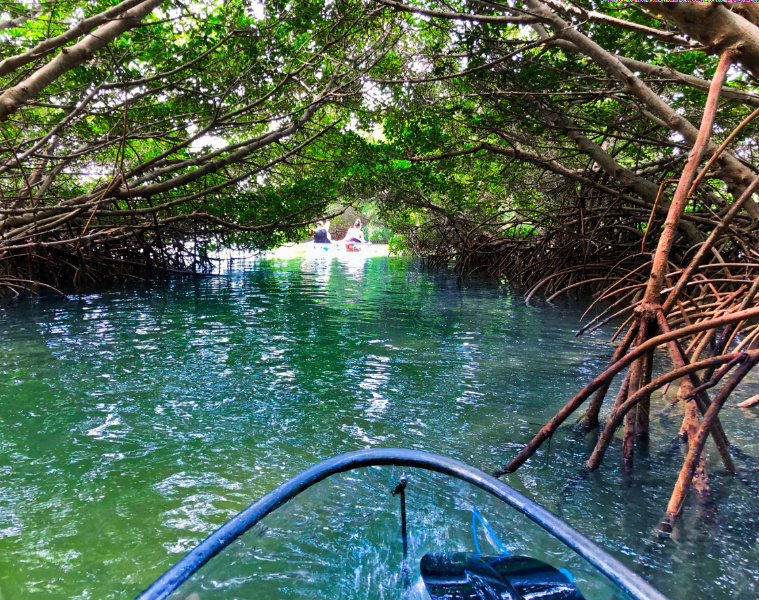 Visiting Shell Key Preserve Near Tampa
From there, we had to kayak out to Shell Key. Shell Key Preserve is undeveloped and sits at the tip of Tampa Bay. The barrier island of Shell Key is about 195 acres and is home to birds, fish and a wide variety of wildlife. And of course, shells! The only way to access Shell Key is by water making it incredibly peaceful.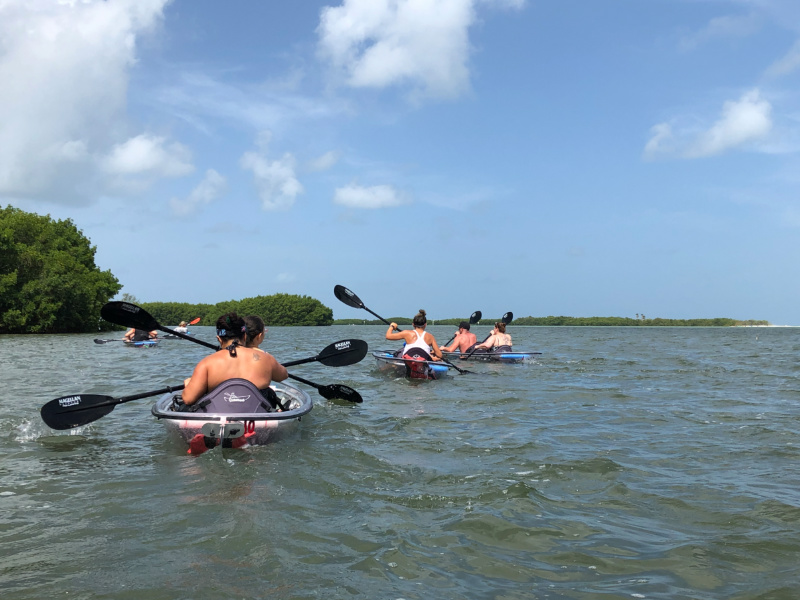 We pulled up to an unoccupied strip of Shell Key that had Tampa Bay on one side and the Gulf of Mexico on the other. The side facing the Gulf of Mexico had lots of waves due to the wind. The side on Tampa Bay was shallow and more peaceful. We got about 30 minutes to explore the beach and find shells.
There's a fascinating tradition of the shell trees. You'll notice trees on Shell Key that have shells hanging off of them. No one quite knows how they got started, but you'll see them on the Gulf side of Florida. Some say it's to honor a loved one who passed on. Others say it's just a fun tradition. No matter why you do it, don't forget to hang a shell on the tree when you're there.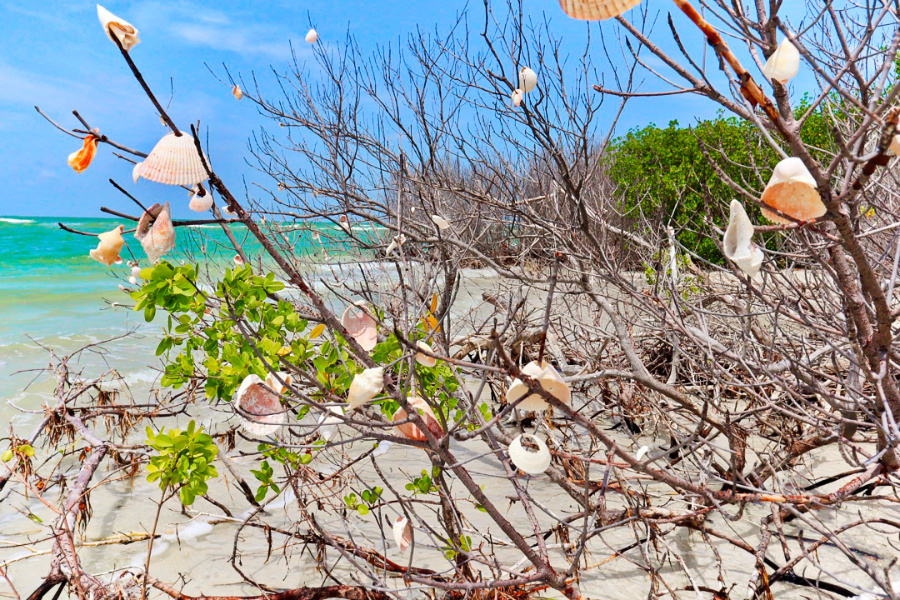 After our time was up, we lifted our boats back into the water and headed back to the docks. The trip back from Shell Key is the longest time you'll paddle. And by then you're relaxed from the beach and also a little tired. So it's not simple. My legs surprisingly were more like rubber when I got out than my arms. You definitely exercise your entire body while kayaking.
This clear kayaking Tampa Bay tour was an excellent way to get out of the house and into nature. We're excited to take Get Up and Go Tampa Bay's tour of Tarpon Springs to see the manatees in the winter!
Clear kayaking with manatees is also available at Crystal River. Book Crystal River Clear Kayaking or Rainbow River Clear Kayaking here!
What To Bring for Clear Kayaking
Remember that everything you bring with you has the potential to get wet. So be sure to be careful.  The following items are suggestions to make any kayaking trip more comfortable, safe and enjoyable (affiliate links included in some items):
If you are interested in this specific tour, please take a look at Get Up And Go Kayaking. They have a variety of tours in different locations and do a wonderful job.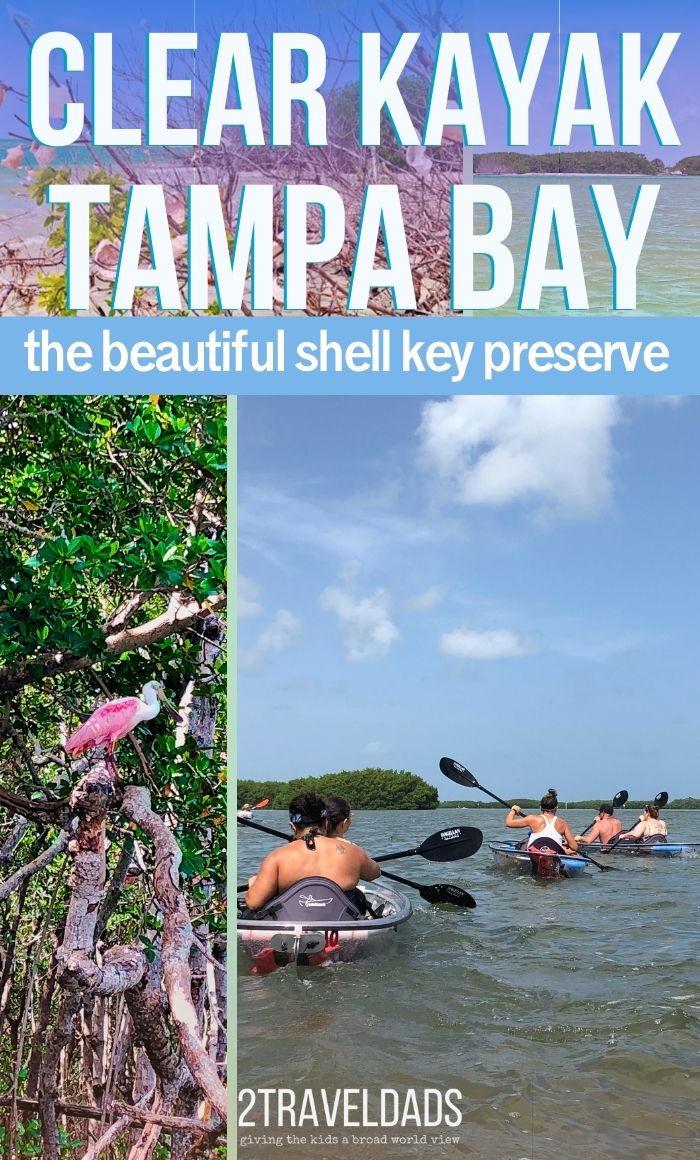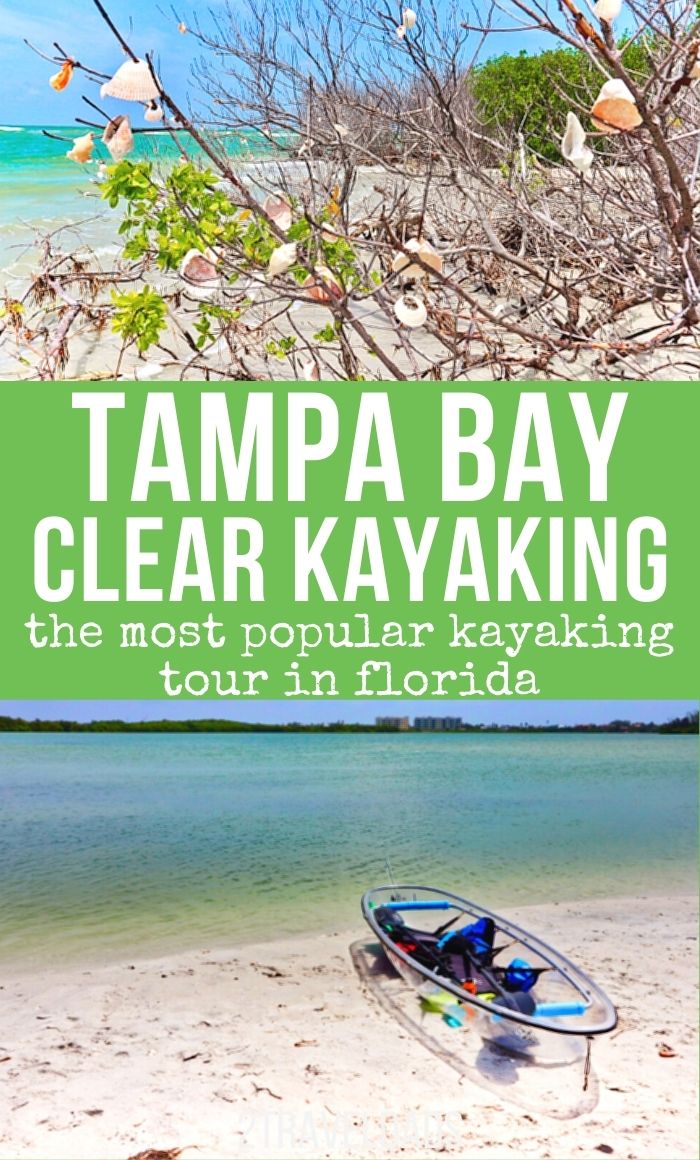 Be sure to check out more of Marcea's recommendations and tips over at My Cornacopia!