Even though our kids and many others are returning to school building and classrooms, a lot are still learning from home. We've perfected our virtual school setup for times when it may be needed, and these helpful tips and gear will be great for you too! And truth be told, our homeschool setup and learning space is also really great for working from home.
Do you have a dedicated workspace or learning space in your home or do you just set up at the dinner table? Either way, these tips will be helpful for making a distraction-free zone that makes virtual school or working from home much less stressful. From useful electronics to wall maps and furniture, this is our guide to making a fun and effective home desk space.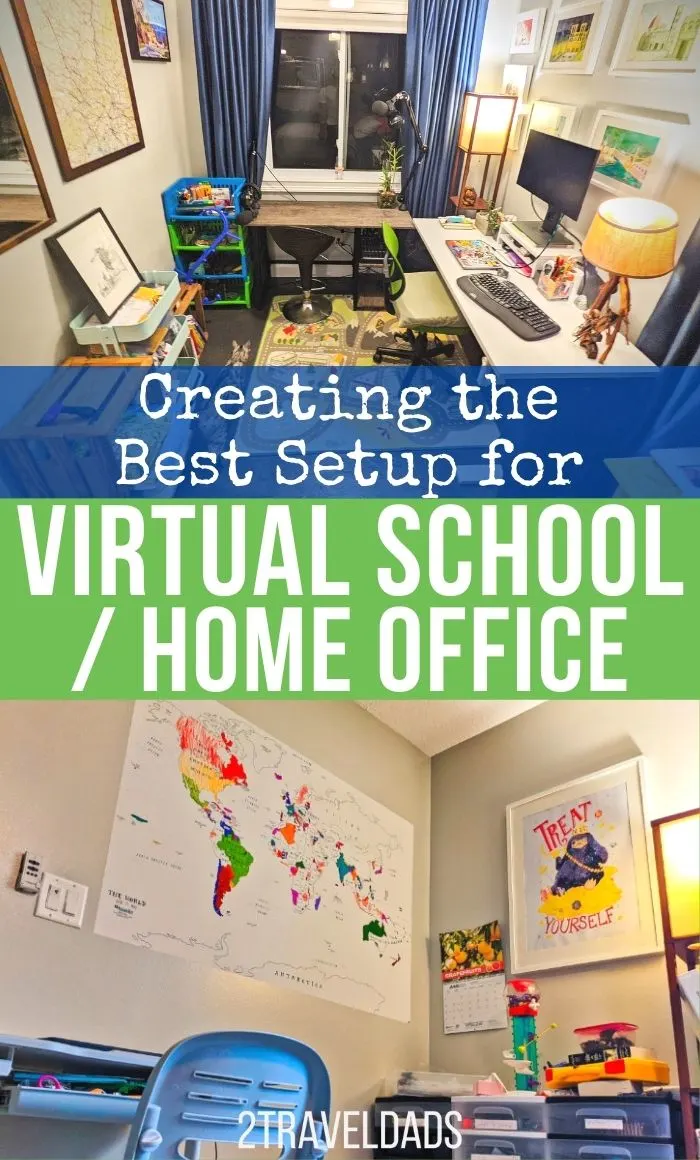 Creating a Distraction-free Workspace / Learning Area
I am so easily distracted, and I know that this is a problem for both of our kids too. When we're getting ready for the school year we dedicate space in each of their rooms, as well as nearby my office space for doing their school work. Yes, I know that both of our kids are still young, but between the uncertainty of when they'll be in school or not, we assume that they will need a fair amount of desk time at home.
Even with pandemic school world being over, we still know that having a good distraction-free workspace or learning area for each kid will come in handy. As kids get older, they need their own space for their personal project, organizing, or art time. You might as well design a virtual school space that supports all of this.
Making a Good Video Call Background
I really dislike having to do Zoom or Teams calls. Like, I really hate it. That's life though and that's been a big function of having a good virtual school space and a good work-from-home setup. I found that Room Rater was a big help for figuring out how to set up a good home office video call background. Even though sometimes there is heavy sarcasm in the ratings, the advice about space, décor and lighting is helpful.
It's less important for kids to have a great video call background, but I think still being able to show that they aren't doing their school work in squalor is important. A good video background for school just needs to be tidy, free from inappropriate views (into the bathroom, for example) and not too bright that the student's face can't be seen.
For an adult setting up a work-from-home video background, I think a realistic goal is to have the minimum baseline of the student Zoom background and then a little more depth. Working in travel, I love having a nice map behind me. I also have my book, The Road Trip Survival Guide, on display and some art. Nothing about my background is too distracting, but everything that's visible supports who I am when I'm working.
Make some simple canvass prints of nice travel photos for a simple, professional looking background.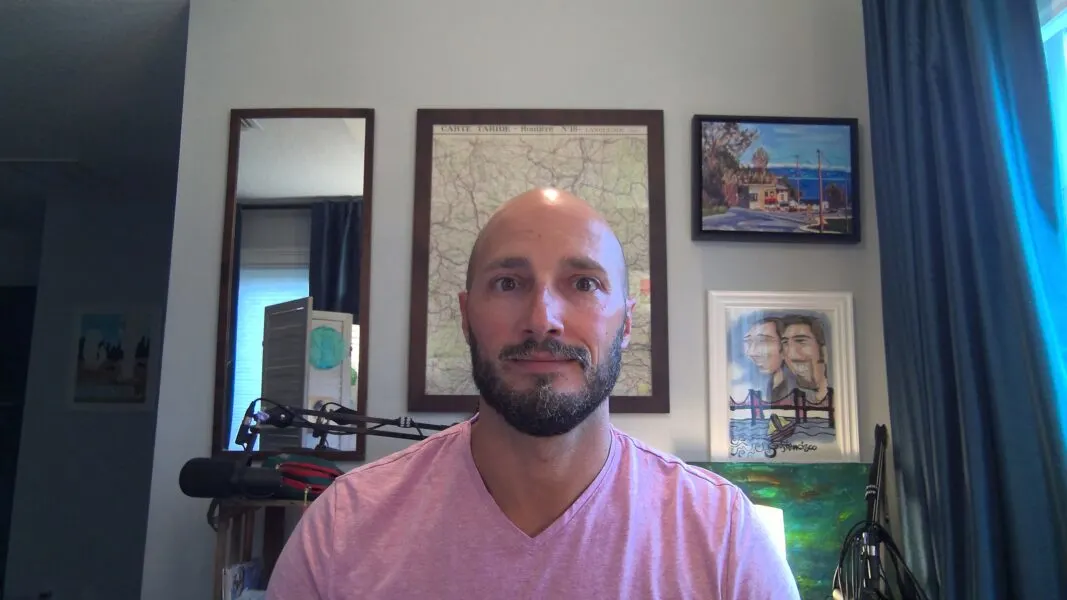 Easy Video Call Background Tips
Follow these easy video call background tips and you'll never have to use a ridiculous virtual background (that are so terribly unprofessional) ever again.
declutter the space in the camera's view – if it's a full room, at least tidy up before jumping on a call
turn off bright lights behind you – too bright of backlighting will make your face disappear into darkness
don't have a blank wall in the video call background – seriously, even a single framed photo and a bulletin board is better than a blank wall
prevent at-home traffic from coming into view – if you're working from home or doing virtual school, angle your computer camera away from where you family is walking constantly
turn off music and other distractions – having competing sounds around is disrespectful to the rest of the people on your video call and does YOU no good either
Since a lot of people don't have a dedicated office room, it's important to be able to have a part of the house video-call ready. I know that everyone works differently and functions differently, but giving the impression that you're distraction-free and ready to work to somebody you're meeting with remotely, whether it's a teach, a boss or a client, will only be a good thing.
Creating a Calm Workspace Peripheral
It's safe to say that preventing yourself or your kids from getting too distracted is a goal with setting up a good virtual school space or work-from-home area. Especially if you're short on space, you might not have a good spot you can go that's not full of stuff sending you off-task.
The best way to setup your workspace to be effective is to remove items that aren't related to why you need the workspace. If you are doing virtual school or office work from home, have a bin or box that you can easily put distractions into before you sit down for work time. If you're not in dedicated office space, clean up whatever is in your line of sight before you start working.
Example 1: your virtual school / work-from-home space is also your arts and crafts space. Before you sit down, place your paints, beads, construction paper… all into the box and set it out of sight.

Example 2: your workspace is the breakfast counter in your kitchen, do the dishes quickly before you sit down. Wipe off the counter around you and put an easily accessible snack for others far from your space but where somebody can grab it without bothering you.
The other step in creating a calm workspace is limiting your peripheral vision so you just focus on the immediate area. For some this may be easy because they use an alcove space or have a dedicated room for virtual school or work. For most of us though, we're making due with the dining room table or a part of the bedroom.
My office space, for example, is in our master bedroom, so I work in the same room where I sleep. My solution to make my desk area not feel like my bedroom is to have a simple room divider blocking the view from my desk so it's like I'm in an office. In other houses, I've also hung a curtain to create a temporary wall. Although neither of these things sounds exciting, both work really well to setup a distraction-free workspace.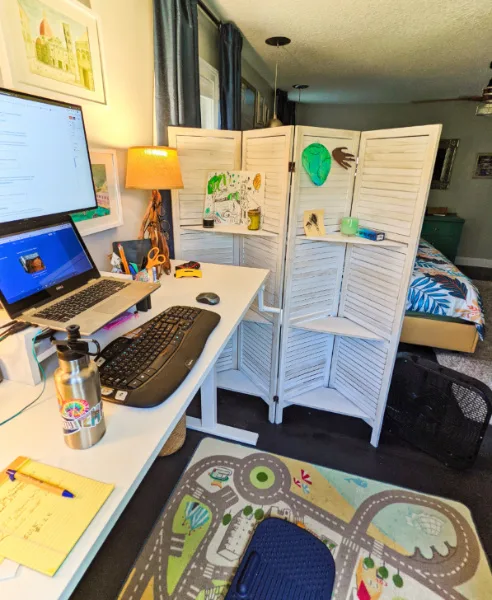 Making a Healthy Workspace
I wish we didn't need to spend as much time working or sitting down doing school work as we all do, but the reality is that a lot of our waking hours are spent in our workspace. So much time here means that it needs to be a healthy place to be. A school or workspace needs to be comfortable and undamaging.
Lighting That's Good for Your Eyes
Man oh man do we look at screens a lot! If you would've told somebody fifty years ago that screens would be so prevalent, I'm sure they would've laughed. I mean, even on the Jetsons they didn't have so much screen time.
With that, there are a few ways to be sure that your eyes are treated well and with care.
Don't let your screens be the ONLY light in your workspace
Use a lamp to light up the area behind your screen
Filter direct sunlight so you have a complimentary soft-glow vs a competing harsh light
Use blue-filtering glasses (even if you don't wear glasses normally) to keep your eyes fresh
Don't work late at night if you don't have to (let your eyes and brain chill before you sleep)
I know that some people, myself included, do great work late at night. If that's you, embrace it, but still treat your eyes well by working in good lighting where your computer screen isn't destroying you. Be kind to yourself, not matter what time of day you're working.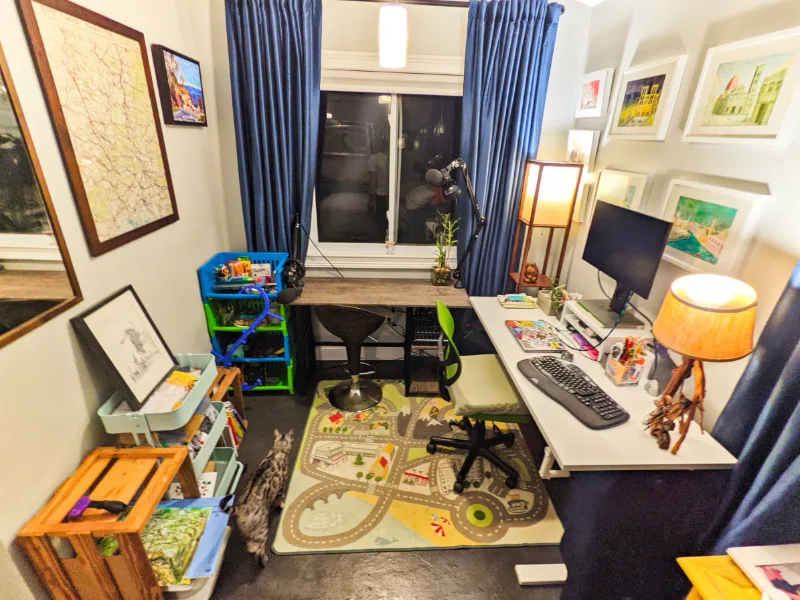 Ergonomics and Flexibility
I'll admit that having an ergonomically sound workspace at home is a luxury. As more and more adults choose the flexible work option, more and more office setup options are created. There are lots of adjustable desks and chairs these days, and finding the right combo for your space is important.
And it's just as important if you're setting up virtual school or homeschool space. Having an uncomfortable desk and chair that makes you slouch or keeps your shoulders tense is not good for anyone, especially kids.
I would say that investing in an adjustable desk was one of the best things I did during the pandemic. With working from home only I needed to be able to stand up and change my posture a lot since I wasn't walking everywhere and changing my environment constantly. We have adjustable desks for the kids too, but theirs are mainly adjustable to grow with them vs being stand-up desks.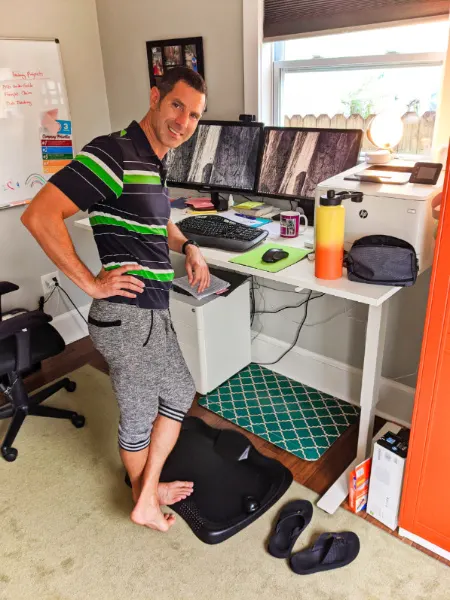 Anti-fatigue Mats
If you've chosen a desk that allows you to stand, you'll find really quickly that you need an anti-fatigue mat. This is just a mat or piece that you stand on and provides a bit of cushion underfoot. There are lots of different types of anti-fatigue mats for home offices these days, so how do you pick a good one?
I've got two and Chris and I seem to swap between them often. The first sits flat on the ground, is thick foam, and has a variety of humps and bumps on it. This one is great for fidgetty foot people and also is nice for rubbing your feet a bit.
The second one, which I prefer, is actually a bit like a balancing board. A hardwood rocking base with textured, foam, my mat actually keeps my whole body engages when I'm on it. It keeps me moving continually, even when I'm working hard at my desk. I love it.
Get an active anti-fatigue mat here!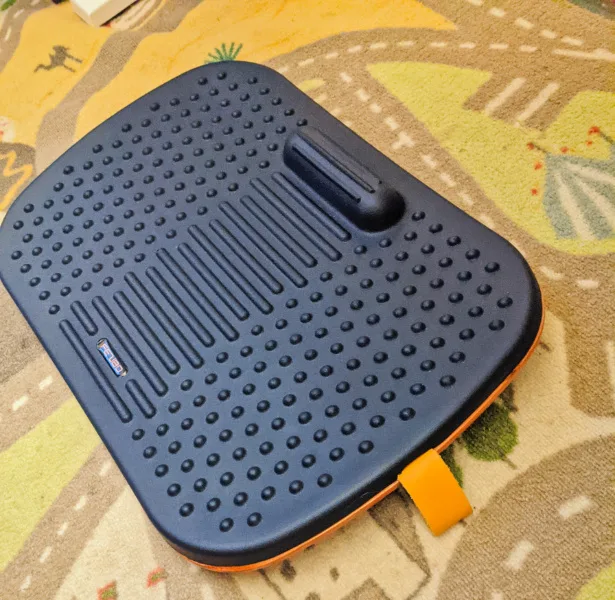 Keeping Your Workspace Clean
Clean means different things to different people. Keeping your virtual school or workspace clean is important, both to keep you from getting distracted and because cleanliness keeps you healthy. You don't want a filthy space that bugs, germs and mildew can call home.
Keeping it clean means actively cleaning surfaces, both when you have a spill of some sort and just everyday dirty stuff. Between sneezing, crumbs and dust, a simple surface clean each day will help to keep your homeschool or home office space clean and healthy.
Office Air Filters and Staying Fresh
One bonus way to keep your virtual school setup or home office clean is by filtering the air. Even if you're not really leaving the house, filtering dust, germs and pollen is always a good idea. We have small air purifiers in our workspaces that really make a difference.
Add to the air filter a nice scent and you basically have turned your workspace into a mini-spa. Okay, not quite, but we've taken the time to find good, calming essential oil diffusers to keep the air fresh. We use Neil's Yard Remedies organic products because there's nothing weird or toxic in them and they really are refreshing.
Get NYR Organics essential oil diffusers here!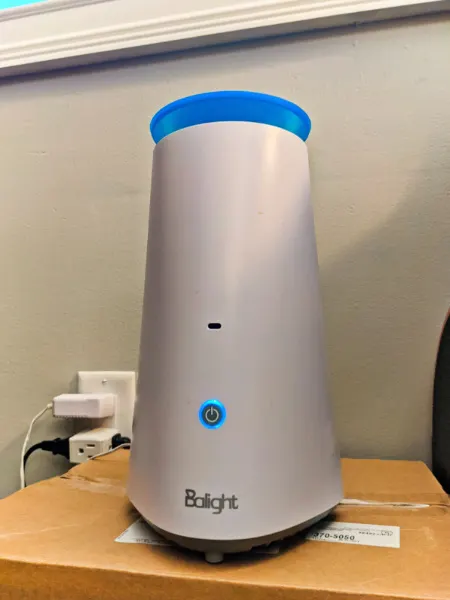 Best School Setup at Home
In addition to the elements I talked about above, setting up a virtual school space or homeschool space has a few more aspects to consider: educational elements, school supplies, and personality. Yes, these are also important for making a good work-from-home space, but to ensure successful school days as home, these factors are super important.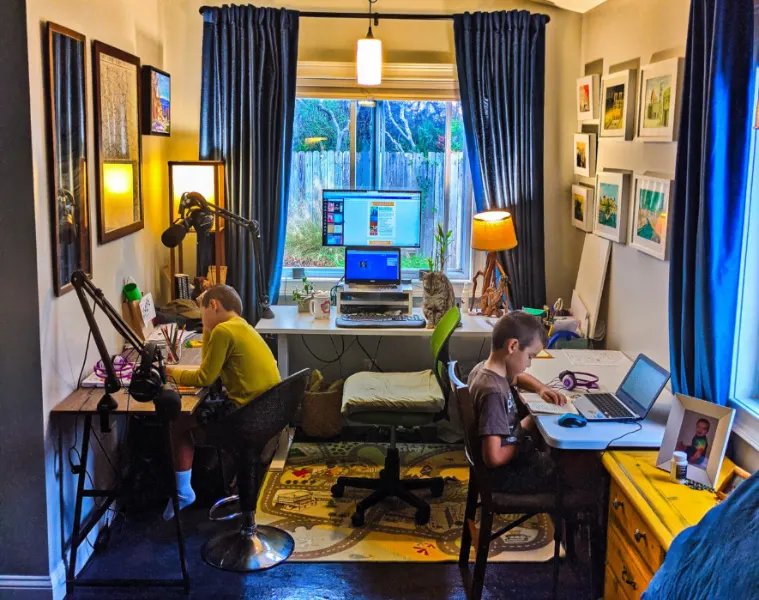 Best Educational Décor for Virtual School Space
Nobody has ever called me an interior decorator, but I do understand how to make a space fun or comfortable, especially for the kids. Decorating our homeschool / virtual school space has become a twice yearly thing for us. We mix it up to make sure we've got both age appropriate and helpful décor items around.
Wall Maps for Learning and Decoration
One of my favorite decorating tips I was ever given is "Maps are art." True story and I've lived with that view for a long time. With that, maps are also an amazing way to engage and inspire learning, and not just by memorizing borders and bodies of water. I've had a framed antique map we got at a Paris flea market framed on the wall for years!
Whether you think the Mercator Map is the be all end all or if you want a map that you or your kids can color in or work on, a wall map is the perfect addition to your home office or virtual school setup. So, where do you get the best wall maps for home? WORLD MAPS ONLINE. OMG. Amazing store.
Based out of Seattle, World Maps Online has the coolest wall maps that you can actually peel and stick to your wall. They are an interesting poly-blend fabric like the roll-down maps of 1990s high school classrooms, but the feeling is much softer and more durable.
We have two in our house, one for our shared home office space and one specifically for our eldest's homeschool setup. Oliver (our son) has the World Coloring Map above his school desk in his room. He chose to work on coloring it in as he researches different country or place, but if you have a world traveling family, you can wait and just color in places as you visit.
In our shared home office space, we have the Light Ocean World Political Map. It's both a great video call background and an amazing conversation piece. When we're doing home office work AND school work, having the map sets the mood for learning… and then when we're just hanging out, it's fun to look at and plan future trips.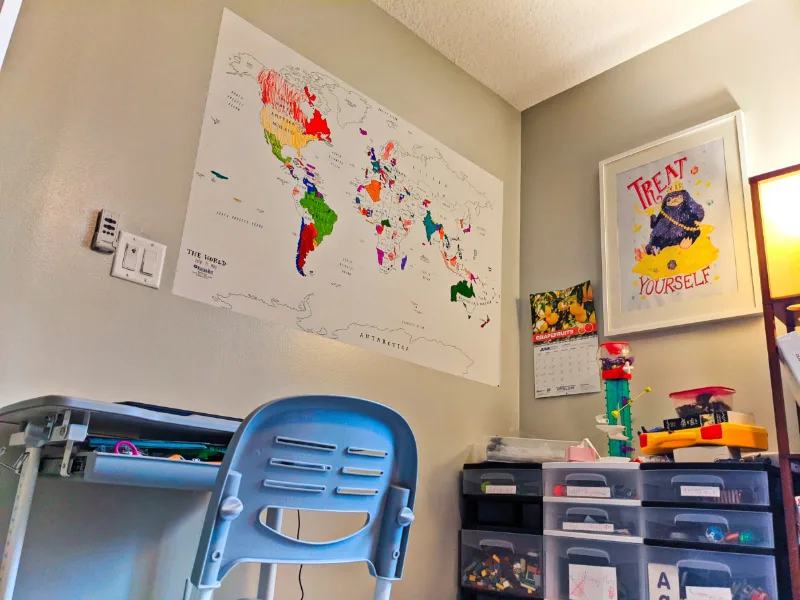 Art and Photography to Inspire
Is your child a photographer or artist? If so, spend $10 or $20 to frame one of their amazing works of art. If they aren't, maybe frame photos from a trip you've done together that they really enjoyed. Still not your thing? Do some simple photo canvasses.
Tip: use EZ Prints to do photo canvasses for home office backgrounds (or around the house).
If you feel like you need to go beyond your own art and photo archives to decorate the homeschool space, Etsy is an incredible place to find fun prints. We've found fun fan art of the kids' favorite stories, antique map and photo prints, and even custom paintings. When you're ordering prints and art through Etsy, know that it typically isn't framed or matted, so take that into budget consideration when you're setting up your homeschool space or home office.
One more great office art option is to buy some inexpensive pre-stretched canvasses and acrylic paints and do your own paintings. While that may seem daunting for some or maybe embarrassing to have in your home office video background, it's a great chance to exercise your creativity. Painting doesn't have to be fancy, but can just be abstract or geometric. Have fun with it!
Best Electronics for Virtual School Setup
I actually love talking about the electronics we use for both blogging and for virtual school. We use a combination of budget computers and really powerful laptops. Since we've got two kids in school and two dads who work from home, we have A LOT of needs to be met, especially when we're in a run of virtual school / homeschool time.
Budget Laptops for Kids
When your kids are really young and not doing a ton of computer work for school, you don't need a fancy computer that can do all kinds of things, but you do need one that can operate as a word processor, play videos and work with services like Google Classroom. For this, we are all about Chromebooks.
Both of our kids have their own Chromebooks, as they meet all of their elementary school needs and they're very affordable. I actually used a Chromebook for my first three years of blogging, so you know it's actually a really capable laptop.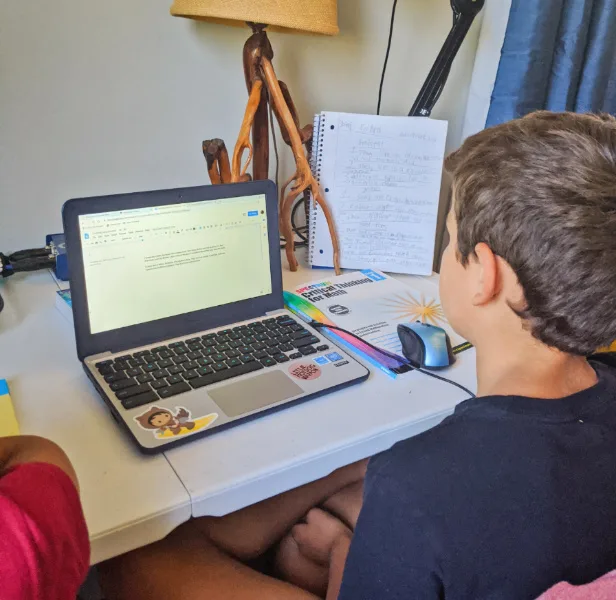 Flexible Laptops That are WORTH IT
There are so many laptops out there and we've got three different ones that we actively use. While each of these could be the sole laptop for blogging work or homeschool, since there are four of us, we use them differently for different tasks and projects.
Microsoft Surface Book 3
My favorite is my Microsoft Surface Book 3. This is the laptop that I do nearly everything on. It's fast, the screen is crisp with great black depth, and it's really light for transport. The most amazing feature of this computer is how it separates. Go with me here for a moment.
The Surface Book 3 has all of its computing power in the screen, so the keyboard section is just that, only a keyboard and mousepad. You can detach it all and it turns into the most highly functioning tablet I've ever used. I love it. I'm actually writing this on it via the tablet function right now!
I also like that the Surface Book 3 has 2 USB ports, an SD card spot and a USB C port. Since there's no HDMI and that's how I connect my extended display, I use the Surface Dock 2 to connect everything.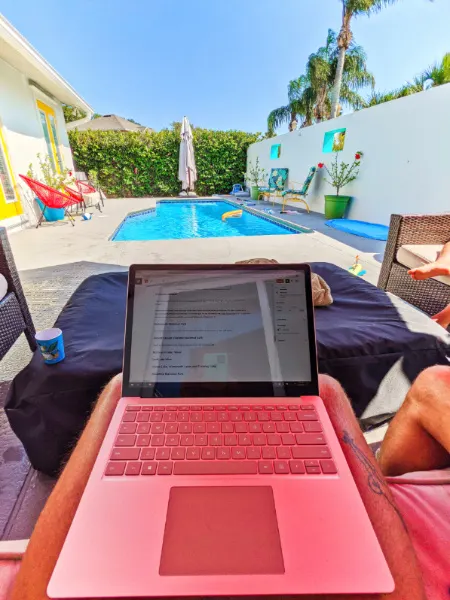 Microsoft Surface Laptop 4
The other laptop we use constantly is our Microsoft Surface Laptop 4. I love this device for its lightweight design and how cool it stays. Doing a lot of blog work on the go or on the couch, my computer sits on my lap a lot. The Surface Laptop 4 stays more temperature cool than any other laptop I've had. The screen is remarkable in clarity and responds with phenomenal precision to touch.
While we could use the Surface Laptop 4 for everything, we use it primarily for writing and as a backup when one of us is using the Surface 3. The 4 doesn't have many ports, just the USB C for connecting mainly, so using a small docking station hub works great.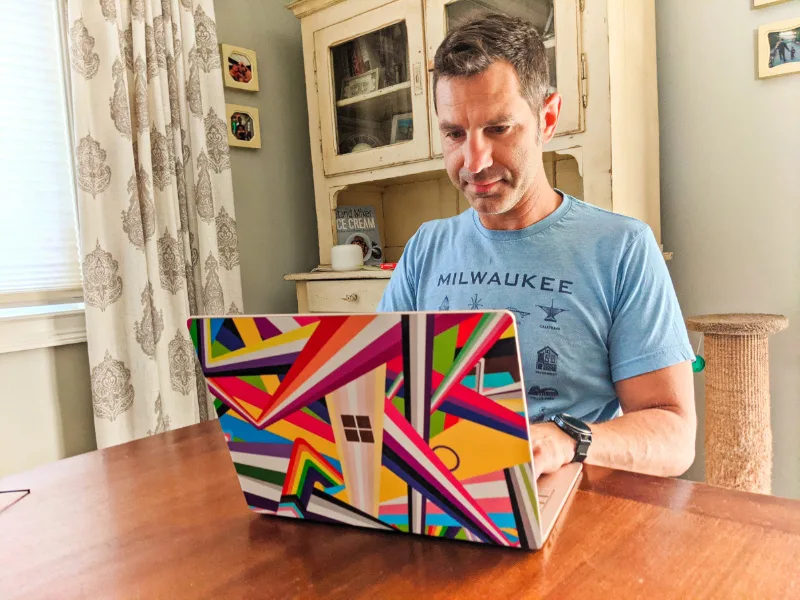 Surface Pro 7 2 in 1 Laptop
While this particular Surface has gone through some changes, I still love it and use my original Surface Pro 7. It's light, detaches from the soft keyboard, it's fast and, did I mention it's light? I've used this Surface 2 in 1 laptop for a lot of travel, particularly conferences.
I've found that it functions great as a tablet for doing face to face presentations in close quarters. While this might not be the ideal choice for setting up a student for virtual school, it's great if you work from home and need something really flexible for when you have to travel for work again.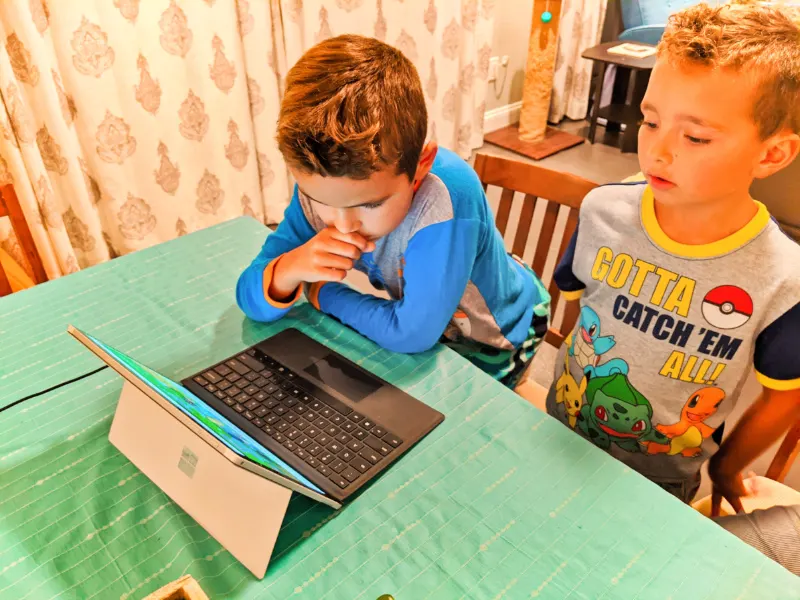 Dell Insperion 2 in 1 Laptop
I've had the Dell Insperion 13 2 in 1 laptop for years and love it, but it's heavy, gets hotter than other computers and isn't as nimble as the Surfaces are. What I love about the Dell Insperion is how it folds all the way to convert to a tablet (great for airplanes!) and that it has lots of ports for connecting all kinds of production gear.
I have used this laptop for photo editing, audio production (2TravelDads Podcast), video work, blogging, school stuff, I wrote two books on it… It's a work horse and I highly recommend it.
When it comes to travel, its weight and how hot it gets are the two downsides, but only in comparison with the Surface laptops. In comparison with other computers I've had or used, it still is WAY better.
Extended Display: should a virtual school setup have two monitors?
For homeschool or virtual school setup, an extended display may be helpful for older kids working on big projects, or who may need to do classroom presentations. Our kids are both young enough that we don't do it for them, but I can see how it could be an amazing upgrade for older students.
When it comes for setting up home office space, both of us dads have extended displays. Having an extra monitor is amazing. It allows us to be able to work across multiple programs easily, to see our documents when presenting, and to have one screen for important work and another for communications or personal stuff.
The greatest benefit of having two monitors for working from home is that I can manage personal and work tasks when needed. I can keep family requests and activities on one screen (including school stuff I'm helping with) while doing work on the other. It's awesome.
I recommend a 24″ monitor or larger if you have the space for it. While a bigger screen means you'll need a bigger workspace (think about how far back from the monitor you'll need to be) the payoff in ease of work is worth it. Also, adjustable monitor stand height is important.
Check out these extended displays I like. I have the 24″ Dell.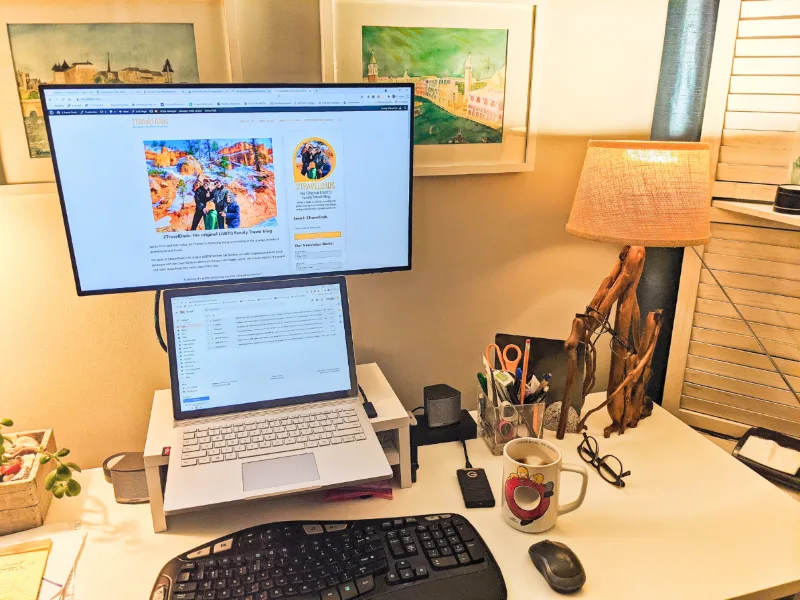 Desktop Speakers or Sound System
While it's by no means required, having a separate desktop speaker system is nice. For virtual school, you may find it helpful for hearing remote classes better, or for viewing required videos. For the home office setup, a desktop sound system is great for remote meetings when there may be distracting noise in the background.
I mostly use the desktop sound system for playing music and creating a sound barrier between my desk and the rest of the house. The other primary purpose is to have quality sound when I'm editing podcasts. My home office setup is great for doing work of all sorts.
I love my small Bose desktop computer speakers. I swear by them.
Gear and Accessories for Virtual School Setup
Other helpful things you may want to consider for a home office or virtual school setup include lamps, small shelving units, risers (especially if you're using an extended display), and desktop organizing items. Some kids do really well with notebooks for keeping themselves sorted, while others need something like a bulletin board or whiteboard. As you're setting up for homeschool, talk to your kids about what sort of things will help them stay focused or make their desk time easier.
For adults, it's the same sort of concept. Think about what you might have at your desk in an actual office, then replicate that at home. For me, the big thing I needed from my old office was a well stocked supply caddy. Between post-its, scissors and notepads, it's easy to start making a mess, and when I'm on a roll with work, I don't want to go searching for supplies. A caddy with commonly used items is a lifesaver for me.
Lastly, in the event you need to travel for work or your kids are actually heading back into school, it's good to be able to pack up the necessities on the fly. Choosing a good backpack or satchel that can safely transport a laptop and whatever other papers/book is important. I have both a laptop bag and a backpack with a laptop slot to keep things easy and flexible.
Workspace / Virtual School Setup Shopping List
I've set up two different home office / virtual school setup shopping lists. The first is NOT including products from Amazon, and the second is only from Amazon. The reason for this is because yes, Amazon is convenient, but their practices and policies have been exposed to really take advantage of workers and also edge out smaller product providers. I know that every company has its issues, but Amazon…
Also, being a blogger and getting commissions from certain sales, Amazon has repeatedly slashed their program while still relying on reviews and suggestions from bloggers and website authors. Anyways, I avoid Amazon and encourage others to as well.
Non-Amazon School Setup Shopping List
Here's a shopping list to put together an ideal home office or virtual school space. These items are available through a variety of sellers, including directly from the source. These are mostly affiliate links (commissionable), but they're all for items and products that we use and recommend.
Desk Setup Shopping List
Home Office Electronics Shopping List
Amazon Based School Shopping List
Because I know how easy it is to shop via Amazon, here is the same list with the same or very similar products. For all the unfortunate aspects of Amazon, their return policies are exceptional which makes shopping for a home office or virtual school space easy. You can see what works for your space and get it all just right.
Desk Setup Shopping List 2
Home Office Electronics Shopping List 2
I know that setting up a virtual school space or a home office that you like can be stressful, but hopefully this guide has given you great ideas and confidence. If you have additional thoughts, please leave a comment with your suggestions. Thanks!