We go to a lot of aquariums. I feel like I've started other posts about other aquariums that way too, but it's because it's true. Of all the aquarium's we've been to none have impressed us with their theming the way that the Downtown Aquarium in Denver has. Once you've worked for Disney you come to appreciate theming and how valuable it is. Even when it's not necessary, awesome sets and decor really do a lot for an attraction.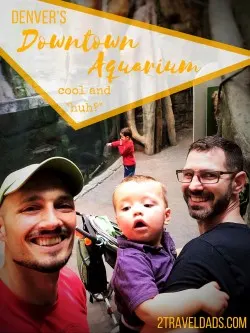 Each area and region of fish is clearly separated by the different landscapes you're walking through, and the collection of fish is vast and fun to check out, even though there's nothing truly stand-out vs other aquariums' collections. From touch takes to shark tubes the Downtown Aquarium in Denver is pretty darn cool though.
But then what is the"huh?" that we mentioned? You will just have to keep on reading and find out what shocked us about the Denver Aquarium, and I can tell you that it wasn't an awful dolphin show like we experienced in Atlanta. It's something much stranger and doesn't make any sense. There were actually a few things, so you'll have to see what gave us the blankest faces ever.
What's cool at the Denver Downtown Aquarium
We'll start by sharing what wowed us and what we appreciated. When you're aquarium aficionados like we are you learn to be picky with a positive aquarium recommendation. So as you read on, know that when were saying something good about it it's because it really is good and noteworthy. And when you get to the"huh?" section you will totally understand why we call it that.
The Atmosphere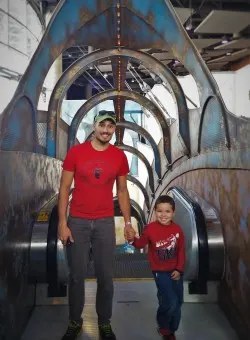 The Downtown Aquarium is actually really cool. When you first walk in it's like you are in the Nautilus from the novel 20,000 Leagues Under the Sea. It actually reminded me a lot of Space Mountain at Disneyland Paris and the Nautilus that sits in the lagoon just off of the Space Mountain ride. That's neither here nor there, but it was nifty and helped build excitement in some tired little travelers. We'll tell you more about this as you continue reading.
Kid Friendly Exhibits
That sounds like a no-brainer, but it's not. Denver's Downtown Aquarium has done a great job at building tanks and displays at kid level. This means that they start at the ground and don't go too far up. Some aquariums are just walls and walls of fish, but not here. The open feeling created by having the lower tanks with great settings all around them really made an impact on the kids ability to keep interest and energy as we strolled through. There were tunnels to crawl through, bubble windows to get under, stools to help see in different spots. Really, this aquarium has put good thought and time into making the experience kid friendly. Again, it sounds like a no-brainer, but in comparison to other aquariums…
Creatures of the Downtown Aquarium
North America and the Desert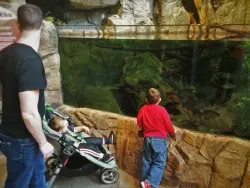 Once you're out of that section you move into the undersea caves and the maze of rocky outcroppings that guide you through the many fish tanks, starting with the North American section.
The North American river otters were particularly fun to watch and the kids really engaged with them. This is one of those areas though that gets a "huh?" due to an animatronic bald eagle… and we'll talk more about that at the end. In general, the exhibits and creatures were all well done but still your standard aquarium characters. There were some cool surprises though. There was a pretty neat desert area that broke up the continual flow of fish, and although a bit out of place, we enjoyed watching a rattlesnake shaking his tail at us.
Under the Sea: coral reefs and lagoons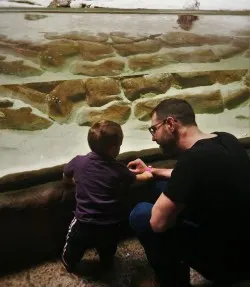 When you get to the tide pool area the murals and lighting are just like they would be for sunset at waters edge. Again, the Downtown Aquarium has done a great job making it seem like you're always in some sort of outdoors area, and in this case, an undersea cave at the edge of the tide. These areas were great for letting our tiniest marine biologist walk around and point and squeal at fish.
Like we said, Denver's Downtown Aquarium has done a great job at making exhibits kid friendly down to the smallest visitor. There weren't too many unique fish in these exhibits, which we say because we visit many aquariums and see them all frequently, but they did have several moray eels which were a treat!
Tip: if you're not used to taking photos in aquariums, you need to remember that the colors can get weird…including on your kids' faces. If something adorable is happening that you've got to snap, try to focus on the brightest white color in your lens to make the real colors as true as possible.
One of the other areas of Denver's Downtown Aquarium that the kids and we adults really enjoyed for lots of reasons was the undersea tube. I think most modern aquariums have them these days. You know, a huge tube to walk in that goes through an enormous tank. The Georgia Aquarium has a very impressive one with whale sharks and manta rays swimming over you. The tube going through the large tank at Denver's Downtown Aquarium is rather short, but it's cozy and beautiful. What we really loved about this particular tube was that on both sides there were many, I repeat, many moray eels.
A tropical rain forest at the Downtown Aquarium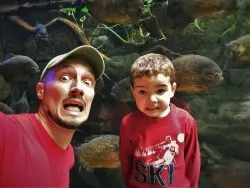 The tropical river and rain forest area was pretty cool. After leaving the darker sea caves, all of the sudden you're walking among aquarium tanks and cement mangrove trees like in the grandest of rain forest waterways. Oh, don't forget about the random animatronic characters that are strategically placed throughout the Downtown Aquarium. In this section you'll find an orangutan. It might creep you out a little but just walk past it quickly. Do you know what our favorite fish to see here was? Piranhas!! That's right, and there were plenty smiling toothy grins at us as we gawked at them.
Note: there was more to the tropical area than this. You'll see in the "huh?" section what other surprise we found here… and it wasn't cool.
The wharf and shipwreck
The coolest decor of all of the sections was the wharf area. It reminded us very much of Pier 39 in San Francisco but before it got a makeover. It genuinely looks like a vintage wharf, complete with fun signage and tanks full of the creatures you'd see climbing on the pylons supporting the wharf.
The kids really enjoyed the sections that were made to look like a shipwreck and an ancient temple. This is, of course, where most of the sharks and rays were found. Our oldest loved seeing the huge green sea turtle too. Overall each section of Denver's Downtown Aquarium was really well done in terms of theme and setting, and actually made the aquarium experience much more fun than your standard collection of tanks.
Note: we don't know a ton about sea turtles in captivity and how it impacts them and if this is an aquarium practice to be condemned. The sea turtle was one animal though that did get a very good exhibit display talking about the creature itself. Not every animal had something dedicated and with ample creature information. If you have a trusted resource to share regarding sea turtle captivity, please share it in the comments section.
Bravo, Downtown Aquarium, you're really doing a great job at selling an undersea story. We loved it (but you totally miss the opportunity of educating visitors. See below). Like we said the Denver downtown aquarium does have an amazing collection of fish, echinoderms, ray's, and many more interesting marine creatures, but their inhabitants still are quite standard when we're talking about what major US aquariums have to offer. The reason for the visit is the amazing themed atmosphere.
And then we get to the "huh?" section…
The "huh?" of the Denver Downtown Aquarium
If you read our article about the Georgia Aquarium you know that we're pretty sensitive to improper housing of animals and not using the opportunity of their presence to teach visitors for the good of the species and the children fascinated by them.
The Tiger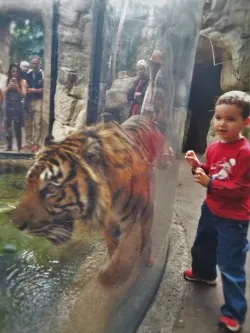 At Denver's Downtown Aquarium, um, do you know what we found? We found a tiger. That's right. A tiger in an aquarium. True story. This guy, while he seemed so happy to play in the water and entertain people, had no open-air space and not a ton of room.
I will give the Downtown Aquarium credit that of all tiger habitats we've seen in zoos, this was by far the most interesting and the tiger was the most active of any we've seen. Having said that though, there was no blatant display of information about this tiger's origins, his plight or why he was there. There also was no zoologist or docent anywhere near the enclosure to talk about the tiger.
I'm sorry, but having a tiger in captivity requires more than just glass for guests to watch him. This was a missed opportunity by the Downtown Aquarium and it's enough to to make us not return without some major changes.
Disclaimer: if there was valuable information somewhere that explained the origin of this tiger (rescue, bred in captivity, research…) we didn't see it. Visitors shouldn't have to try hard to find this information. When you have something so eye-catching and out of place as a tiger in an aquarium, you need to be able to speak to it and have your visitors understand the situation, both of that individual tiger AND the endangered species. Such a missed opportunity.
The Mermaids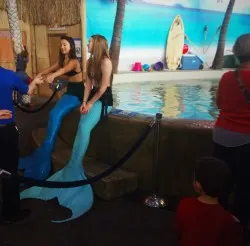 The other "huh?" moment we had was when we came around the corner into a carnival like setting, complete with cheap games and prizes, where aquarium guests were waiting in line to meet mermaids. Yep, there are mermaids at the Denver Aquarium. Why? Um, because they're endangered… just like tigers.
So, there is more to the story. There is a restaurant at the aquarium where mermaids swim and perform for people dining there. And there are shows with schedules posted apparently. And you can meet them, like you meet Santa. Again, a missed opportunity to educate about the plight of mermaids. I have nothing more to say.
Overall "huh?"s
The theming in the different areas was wonderful, like we said, but this also lent itself to being more entertaining than educational. If the educational aspect could be magnified and brought to the forefront, that'd be amazing. I mean really, the Downtown Aquarium has an engaged, captive audience begging to learn.
The other "huh" that we already mentioned was the animatronics. The North American river otter exhibit has an animatronic character. Maybe character isn't the right word. There's an animatronic bald eagle above the river otters that is downright creepy and kind of annoying. It's the one downfall of the theme and decor that the aquarium has done so well. Animatronics: why do they exist in an aquarium? Sorry, there's just no need, and again, it cheapens the atmosphere and opportunity to learn.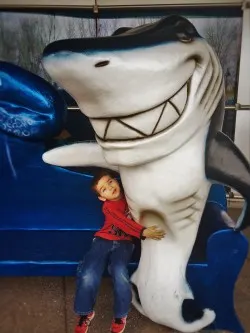 So, what do we think about the Denver Downtown Aquarium? We had an awesome time and loved how well put together it was. The detractors were the tiger, the mermaids, and the missed opportunities to teach. We see aquariums as a place to go with our kids and give them a view into the undersea world; to show them why we need to be conscious of the world around us and the decisions we make. Unfortunately Denver's Downtown Aquarium cheapened the learning experience and missed a few too many opportunities to educate the public and drum up support for struggling species… including the mermaids that are living on the brink.
Like we said, we won't be returning to the Downtown Aquarium next time we're in Denver if they continue to operate with a focus on entertaining the public. We'll stick with the Tennessee Aquarium and Seattle Aquarium as our favorites. They have great practices, ample staff and docents whose sole purpose is educating guests and they love to share the stories of their animals. These two aquariums are for sure 2TD approved and are a better investment of your time than Denver's Downtown Aquarium.
Our opinions are our own and we share them to help family travelers make informed decisions about the destinations and attractions they visit.