Bend, Oregon with kids is an ideal vacation plan. Seriously. We just returned from a week long fall trip to Bend and enjoyed the culture and outdoors of Bend so much that we're chatting about doing a return trip to consider and research moving there. We were based out of LOGE Camps Entrada Lodge on the Cascade Lakes Highway and couldn't have been more pleased how it added to our Bend itinerary.
Check out our really cool, perfect family accommodations at LOGE Camps Entrada as well as our family friendly Bend itinerary for taking advantage of the outdoors. It's the perfect vacation plan to make you fall in love with Central Oregon.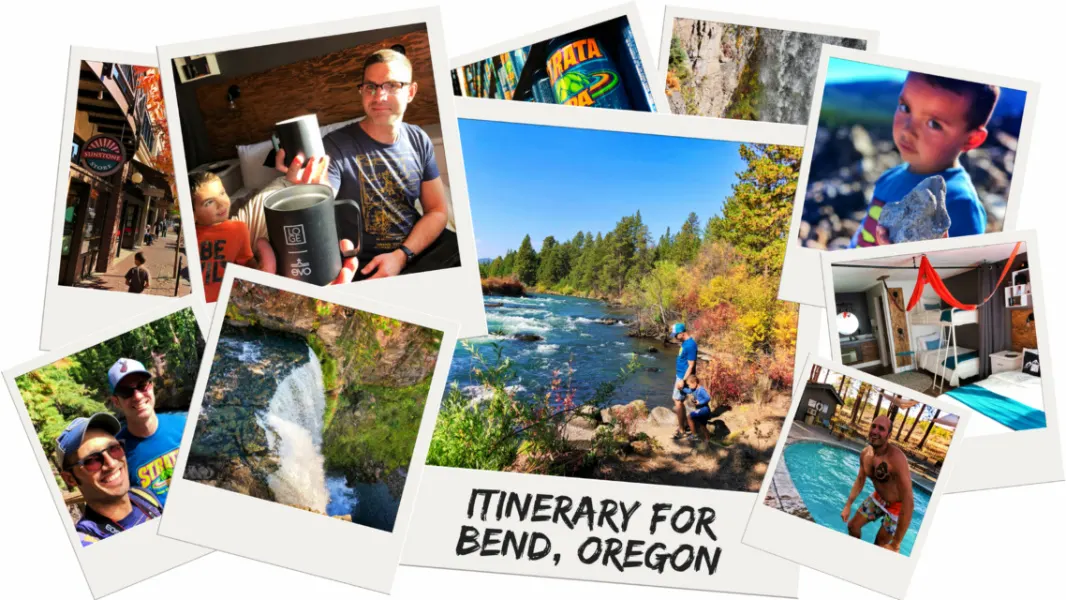 Where to Stay in Bend, Oregon
Bend has grown so much over the years, and with that, so have the lodging options. Our top pick is the LOGE Camps Entrada Lodge (see below) but there are lots of unique accommodations around Bend. Did you know you can even use timeshare points at different hotels and resorts around Bend?
And you can't talk about where to stay in Bend without mentioning vacation rentals. Catering to the outdoor enthusiasts, many vacation rentals are very close to biking trails and river put-ins. Just take a look and see what cool accommodations you can find in Bend!
Staying at LOGE Camps Entrada Lodge
We first stayed at a LOGE Camps location in Westport, Washington and we were hooked. LOGE Camps are the coolest compounds perfect for outdoor lovers and families. LOGE Entrada is the newest member to the collection of family-friendly hotels in the group. Located just outside of the main downtown area of Bend, LOGE Entrada is on the way out to Mount Bachelor and the Deschutes National Forest. The location was perfect for us and our outdoors-focused Bend itinerary.
The rooms at LOGE Entrada are super cool, as they've been updated to incorporate outdoor elements like rustic wood and hammocks. Some accommodations have bike racks in the rooms themselves, others have exterior storage lockers with locks/keys provided. In the event you're not prepared for the adventures, LOGE has everything you need for purchase, from Yeti coolers to metal coffee tumblers, charging cables to hammocks.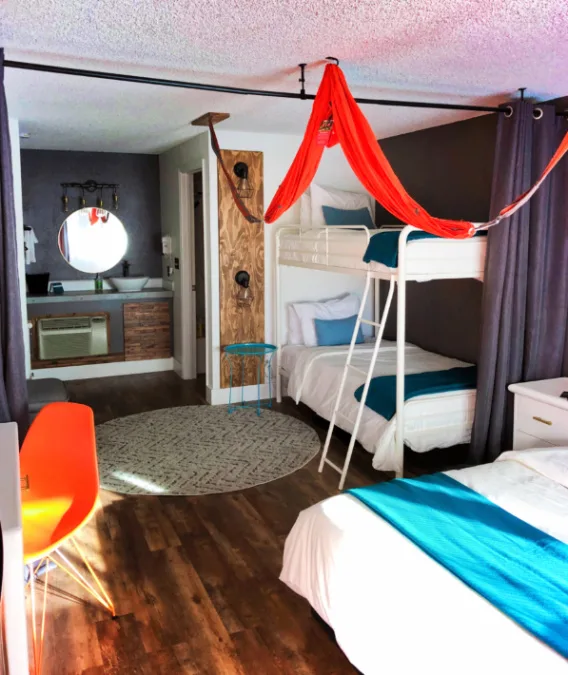 Since the LOGE Entrada is focused on mountain biking (OMG, so many trails all around Bend) they have bikes available for guests to use at no charge. Both cruisers and mountain bikes are available on a first come, first served basis.
Other highlights at LOGE Camps' Entrada Lodge include an outdoor heated pool, outdoor covered hot tub, outdoor kitchen space (including Traeger grills), play yard space with a jungle gym, cornhole and over-sized Jenga, and more. Our kids loved staying at both LOGE Camps properties; they feel completely at home there.
Note: a highlight for us, particularly as we focus on ways that we can be eco-friendly and love when hospitality brands are too, is that LOGE Camps do not do daily room refreshing. They understand that it's not necessary for responsible adults to be cleaned up after continually AND the impact additional laundry servicing has on the environment.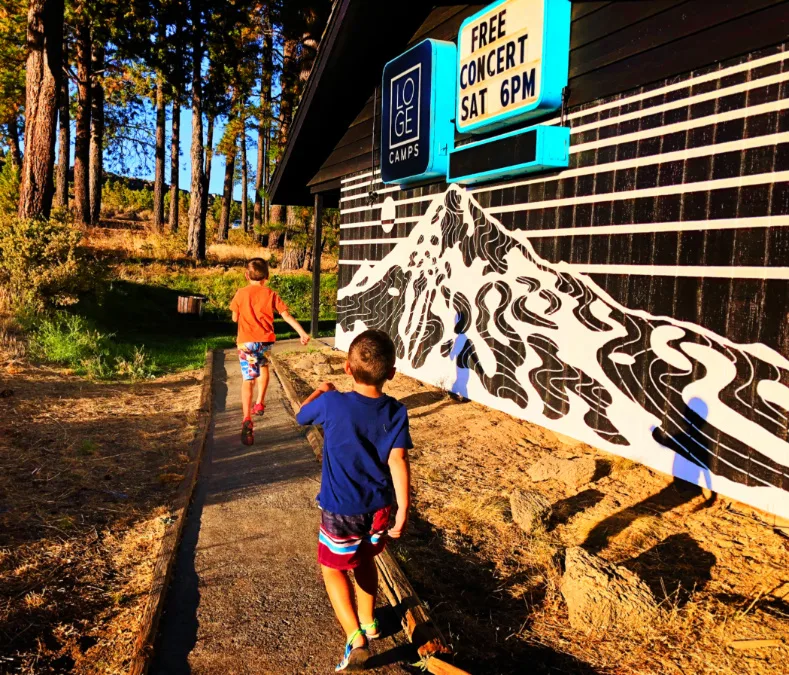 Bend Itinerary for Exploring the Outdoors
Before you read through our Bend itinerary, remember that we were only there for a week and didn't do every conceivable activity. As a family, we do as much hiking and educational fun as we can, so we built our itinerary for maximum enjoyment and opportunities to work the awesome nature of Central Oregon into our worldschooling plans.
Deschutes National Forest Hiking
The Deschutes National Forest is huge and is all along the west side of the town, so it's the top recommendation for exploring with our Bend Itinerary. Something to be aware of, National Forest sites and trail heads are typically fee areas, so you'll want to be sure you either have an America the Beautiful Pass or that you're completing the day use fee envelope each day.
Tumalo Falls and Double Falls
Not too far from the LOGE Entrada Lodge is Tumalo Creek, which winds through the Deschutes National Forest. Tumalo Falls is one of the easiest hikes and most gorgeous spots around the area, so to not include it in our Bend itinerary would be irresponsible. From Cascade Lakes Highway, it's about twenty minutes drive to the start of the dirt road to Tumalo Falls. Fifteen minutes on the gravel and you're there.
Tumalo Falls is a beautiful, perfectly shaped waterfall plunging 98 feet and continuing on as the mellow version of Tumalo Creek. It's one of our favorite waterfalls in Oregon. There is a viewpoint and an overlook you can easily walk to, so enjoying a picnic is an easy plan if you just want to get out into nature and not do too much hiking. But it's Bend, so you'll want to do more hiking!!
From the overlook at Tumalo Falls, continue on the hiking trail, following the creek upstream. After about 30 minutes (maybe less) you'll be to the Double Falls overlook. A pair of waterfalls cascading down, it's gorgeous and the perfect addition to your Bend itinerary. The hike to Double falls is mellow and beautiful. Google Maps link here to Tumalo Falls and trail head.
Note: the Tumalo/Double Falls trail is also a mountain biking trail so at times you do need to give way to the bikers as they pedal up the mountain. It's not dangerous for hikers on foot, but you do need to be aware and use proper etiquette.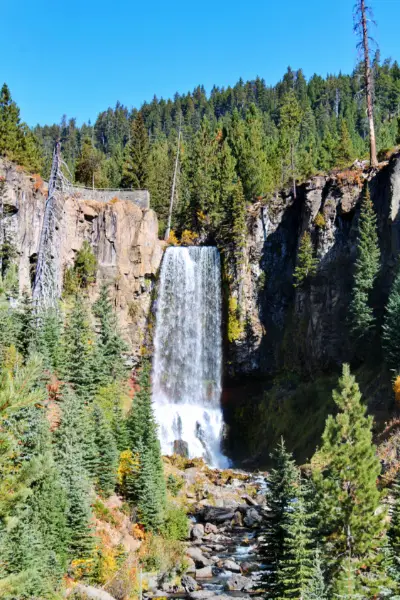 Hiking at Dillon Falls
A must-see stretch of the Deschutes River, you have to add Dillon Falls to your Bend itinerary. Part of the Deschutes National Forest, so a day use fee area, you'll need to get your pass either at the Cascade Lakes Visitors Center or at the fee station at the very start of Dillon Falls Road. You'll have a good portion of gravel road to drive on to the trail head, but there is a fair amount of parking once there, so you shouldn't need to walk along the dirt road at all.
Once there, walk with the flow of Deschutes River. You'll get the best of both worlds: calm, reflective water and raging rapids. It's a breathtaking stretch of water that you'll fall in love with. If you're up for a long hike, you can head either direction along the river to make a full day hiking journey. Google Maps link here to Dillon Falls trail.
Tip: get to the Dillon Falls trail head as early in the day as you can, as it's pretty close to downtown Bend and can get busy on a weekend.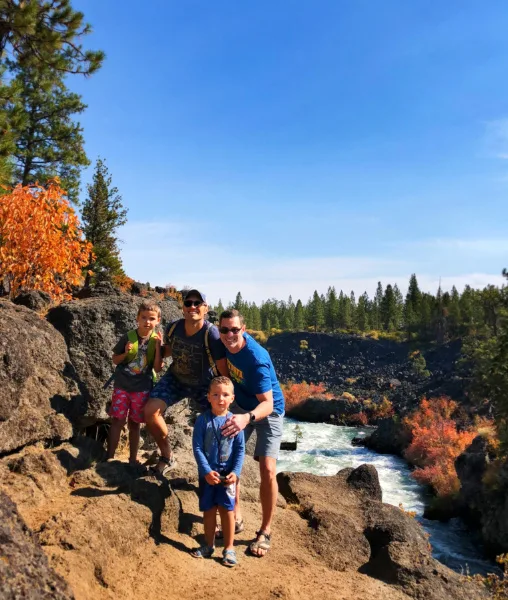 Beautiful Benham Falls
Another gorgeous waterfall/rapid to add to your Bend itinerary, Benham Falls is both an overlook, so a short hike, and a trail head. Enjoy the raging falls and beautiful forest and then do the short hike (1.5 miles) downstream to the Slough area. You'll get another taste of the wild river paired with perfect calm. The Deschutes River is just amazingly beautiful around every corner. Google Maps link here to Benham Falls.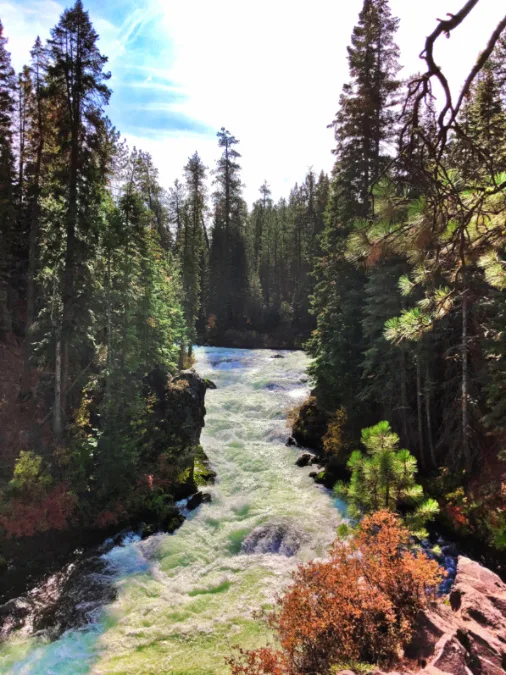 More Waterfalls to Visit Near Bend
Lava Island Falls, Big Eddy and more are all located on the Deschutes river and are all close enough to LOGE Camps' Entrada Lodge that you can either make a long day of biking to all of them (it's a distance and requires some prep) or that you can do the short drive in the morning before bigger activities or in the late afternoon to catch the wild Deschutes River in the golden hour.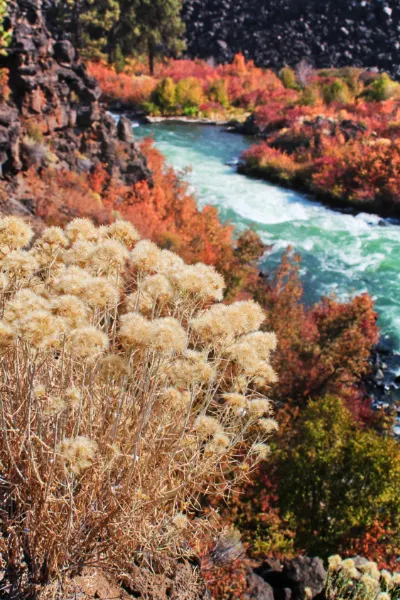 Newberry Caldera National Volcanic Monument
Our trip to the Newberry Caldera National Volcanic Monument was our only guided experience on our trip to Bend. We cannot recommend enough planning adventures like this when you're in a unique destination. Add a guided tour and hike with Wanderlust Tours to your Bend Itinerary and everybody will love it.
The benefit of doing guided hikes and official tours is that you get to experience the best sites with knowledgeable guides. Our guide with Wanderlust Tours, Jason, was an educated naturalist whose passion for conservation and volcanoes got the kids totally excited to tour with him.
Tour we did: we chose the Volcano Sightseeing tour since we've been learning about geology in our homeschooling program. Other options include lave tube hiking, canoeing, or even snowshoeing in winter.

Paulina Peak
We met our tour guide at the tour office and he drove us out to the Newberry Caldera National Volcanic Monument. Our first stop was Paulina Peak. The longest and worst gravel road in all of Oregon (maybe not) led us to the top of the caldera where we could see far to the north beyond Mt Hood and as far south as Crater Lake (nearly clear enough). It's amazing how being high above the volcano's rim we could easily tell that we were inside a crater.
We learned about the geology of the area, the many lava flows below us, the lakes, and the alpine animals and vegetation all around. The kids treated it like a scavenger hunt trying to find interesting rocks and questions to stump our guide. Really fun.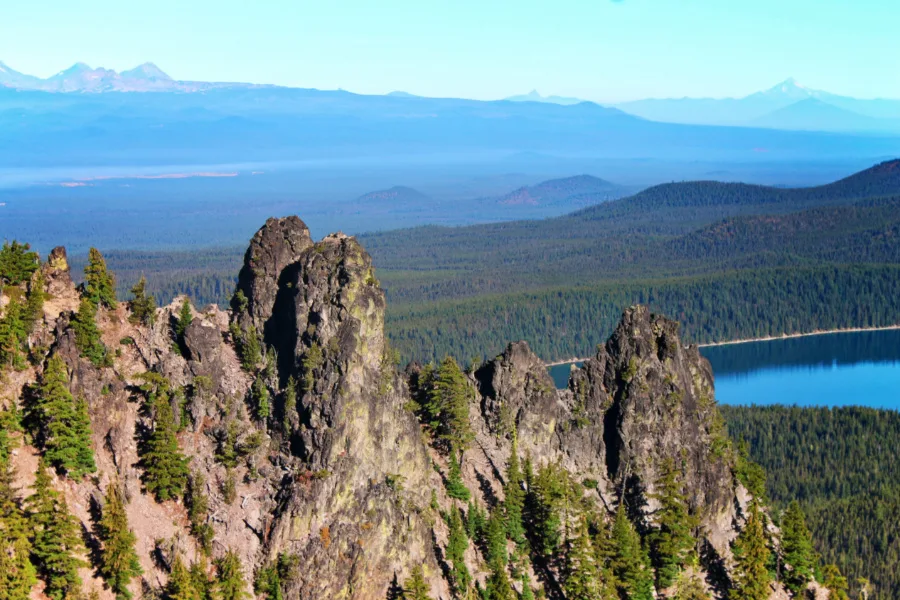 Unbelievable" Obsidian Lava Flow
We headed down Paulina Peak to the largest obsidian lava flow in North America. I didn't really know what to expect, but knew the obsidian would be black and sharp. We arrived at Big Obsidian Flow (really original name) and had to have the safety talk with the kids:
Obsidian is sharp like broken glass

Smooth rocks with a coating of volcanic dust are slippery

Damaging or taking obsidian from the flow is illegal
Once on the obsidian lava flow, it was like another world. The rocks were hot and weird. There were enormous pumice boulders and huge shiny boulders of obsidian. Hiking up through it we learned more about volcanoes and the particular lava flow we were exploring. I'm so glad we went up into Newberry Caldera with Wanderlust Tours, because we would never have known what to explore and anything about it. Really wonderful experience!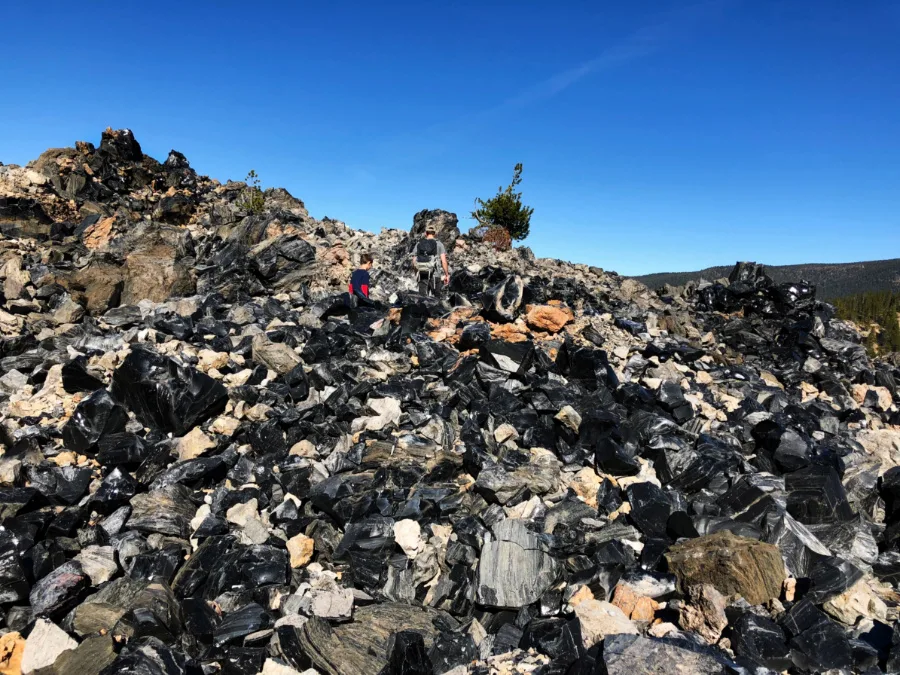 More sights at the Newberry Caldera
Within Newberry Caldera National Volcanic Monument you'll find several other cool sites to explore on your own. Paulina Falls is really pretty and offers some short hikes from the parking area. The lava caves are also an option; access is public but booking a tour to explore them is strongly recommended. There are several lakes within the Monument area that are beautiful and good for kayaking and canoeing too. All are easily added to your Bend itinerary.
If you want to head north a little, do the Broken Top Hike near Mount Bachelor and explore the Sisters area too!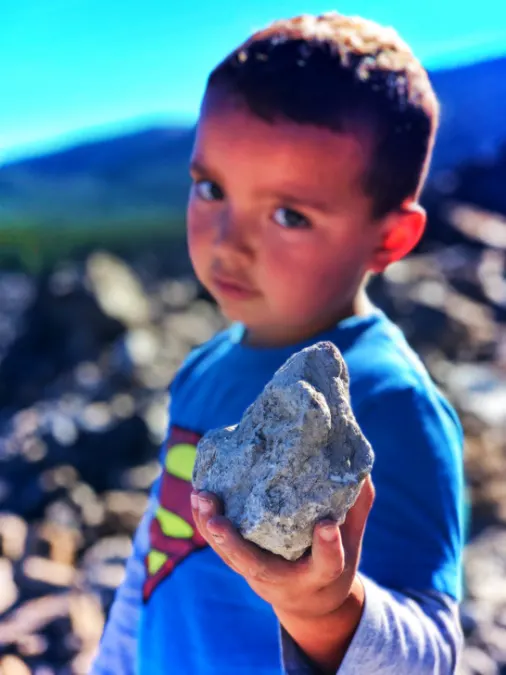 Biking in Bend
As we said, there are loads of mountain biking trails all around Bend, but the city itself is also designed to be bike friendly. Staying at LOGE Camps' Entrada Lodge we had bikes at our disposal, but there are also rental spots in the town. The Old Mill District has rentals so you can explore the bike paths that run along the Deschutes River, or if you travel with your own bikes, that's an easy option too.
Add biking to your Bend itinerary if for no other reason than to fit in like a local. The most bike friendly town we've visited, we will come prepared with our own bikes next time.
Tip: breweries also know that bikers like to visit them. If you bike to a brewery, like 10 Barrell Brewing, they'll be sure you can transport any takeaways (food, beer…) safely.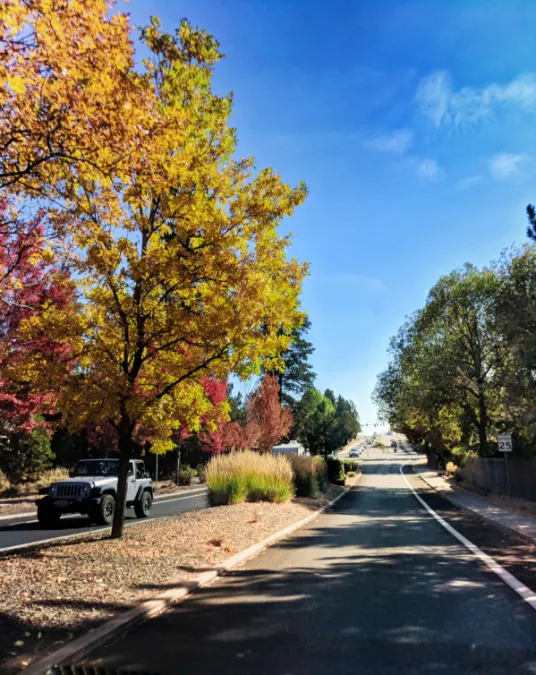 High Desert Museum in Bend
Part of worldschooling is always making time for museums, especially ones that are designed to teach kids, and the High Desert Museum in Bend is just that. For either a really hot or a really cold day, put this really unique museum on your Bend itinerary. The High Desert Museum is a combination of Native American history and artifacts, pioneer history, mining, nature and more.
The highlights for us at Bend's High Desert Museum included the habitat indoor playground where the kids could act like wild animals and burn off some energy, and the living history pioneer exhibit. We got to play old school pioneer games, pump water from the well, talk to the doctor and more. Pretty cool.
The High Desert Museum also is home to several species of animals found in the high desert areas of Central Oregon. We don't often direct people to visit zoos, and this isn't a zoo really, but the animal program at the High Desert Museum is really cool. All of the animals are rescues who have been injured or are unable to live on their own in the wild. Each has a placard explaining why they are in captivity and how they're a part of the local ecosystem when in the wild. It's very thoughtfully done and perfect for helping kids connect the dots with nature and humans.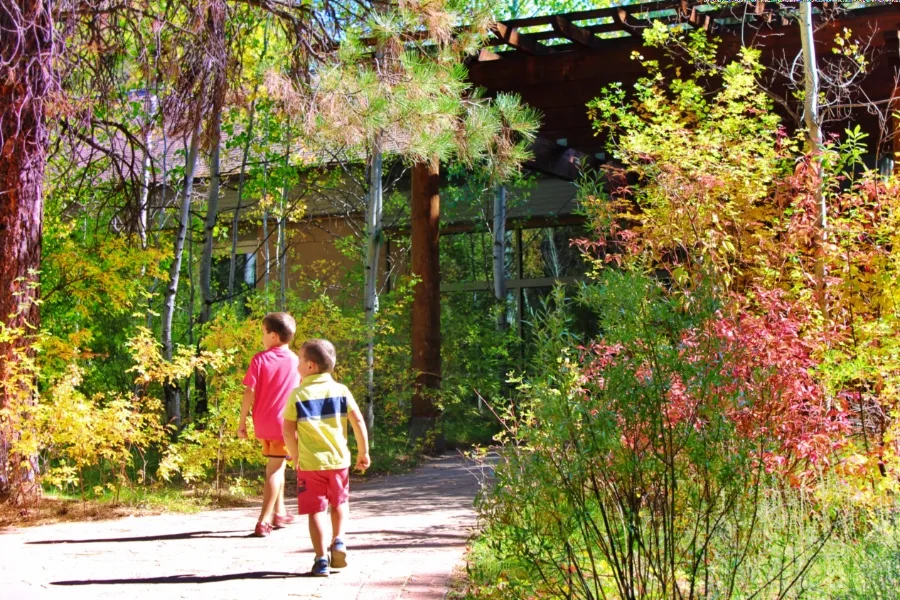 Hanging out around Bend
Thank the city planners or the historic preservation folks or somebody, but Bend, Oregon is one of the easiest cities to relax in. Between loads of walking and biking paths and plenty of public parks (including playgrounds) all around the city, you can enjoy a relaxing afternoon anywhere in Bend. Yes! Add that to your Bend itinerary: relax on a park bench and just enjoy the town. Our favorite park was Columbia Park right on the Deschutes River. Lots of open space, a great playground for the kids, and a footbridge for hanging out on the river.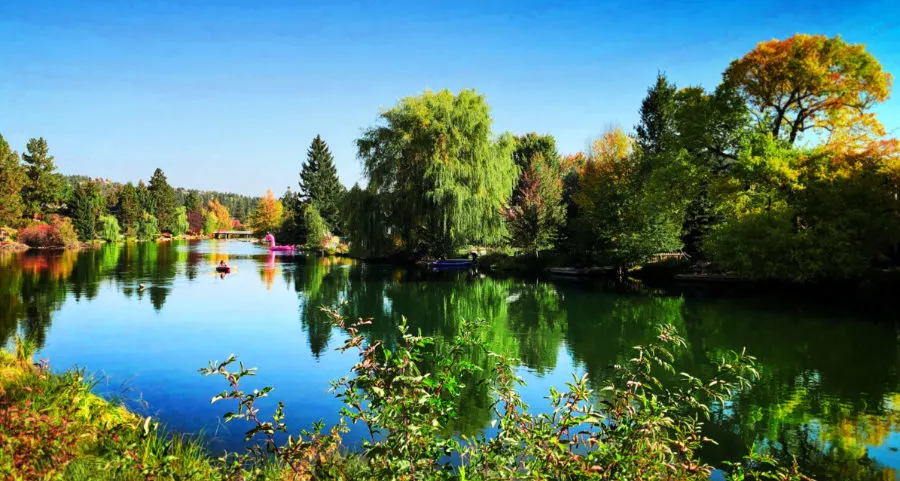 Strolling around downtown is another great idea. Bring your growler and your appetite for gelato and have fun. We did some window shopping, filled our growler at the Deschutes Brewpub, and got gelato from Bontà, all right downtown (Google Maps link for gelato here). We visited in fall so downtown Bend was extra pretty, but it's setup to be enjoyed in any season.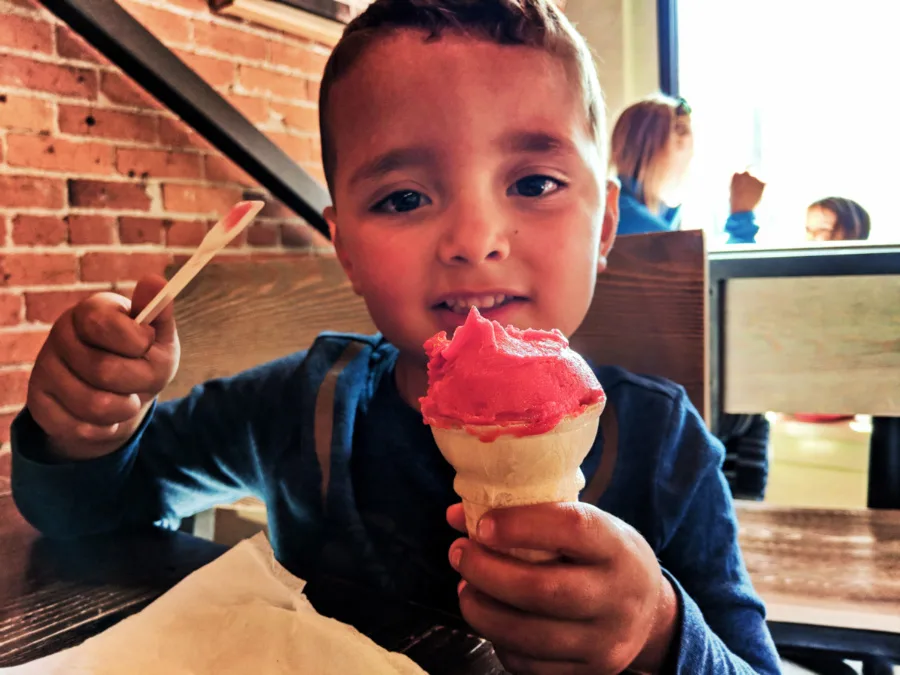 2 Must-Visit Restaurants for your Bend Itinerary
We had no bad food in Bend, which is kind of amazing given the number of places we dined over the course of a week, but these two spots really stood out to us as quintessential Bend dining experiences.
An evening at Worthy Brewing
Without getting too much into it and getting pumped for talking about breweries, Worthy Brewing has to be on anybody's Bend itinerary, including people that don't love beer. We enjoyed a brewery tour with the kids, and they loved it because they got to have lemonade and snacks, but then also the canyon of beer cans ready to be filled wowed us all. A hop vine garden, kitchen garden, outdoor performance space and an observatory rounded out the awesomeness that is Worthy Brewing. Yes, I said observatory. I mean Hopservatory.
Worthy Brewing has their own space observatory as part of the Worthy Garden Club. They open it up to the public on starry nights for an evening of star-gazing. We were really fortunate to be there on a night when Saturn was visible. As we talked with the Worthy Brewing team, they told us that the goal of having the Hopservatory was to give their guests epiphanies about the grand scheme of the world and universe. I thought that was a bit far-flung… until I looked at Saturn and everything I'd heard or read about the world beyond ours started to register in my brain. Beer and the cosmos = amazing combo.
Note: please check out our full article about what we consider the Best Breweries in Bend. We had to visit a lot of breweries and drink a lot of beer to do the research for that article…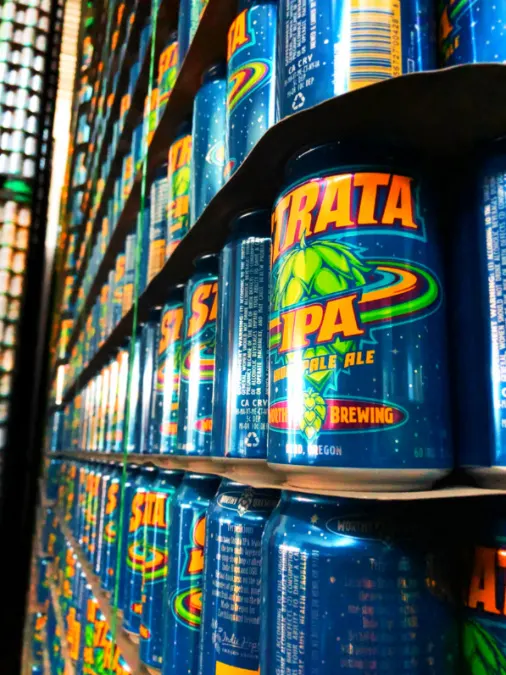 CHOW for breakfast
Yes, we had many breakfasts in Bend while there, but you need to add CHOW to your Bend itinerary because it's exactly what the town is all about. It was fresh ingredients, locals working there and knowing everybody that walked through the door, an inclusive welcome to everyone, outdoor garden space, and just overall warmth. We were glad to have found it. (Google Maps link here)
Between the stellar biscuits and gravy and the kombucha/vodka breakfast beverage (could you get more Bend than that?), it was perfect. The kids loved it, the Dads loved it, everybody around us was blissfully enjoying their food. Perfect Bend.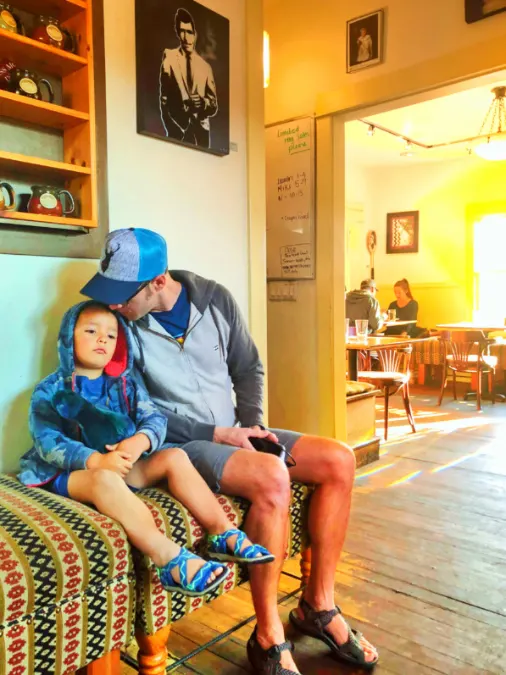 I know, we didn't talk about all of the breweries in Bend. Don't worry, we have a whole other article about craft breweries in Bend, Oregon that showcases our favorites in the works…
Now, are you totally ready to book a trip and run with our Bend itinerary to have an incredible time? Beyond what we've shared, there are countless outdoor opportunities in and around Bend, including Smith Rock State Park, the Ale Trail, all of the Cascade Lakes (canoeing and kayaking everywhere!), high desert hiking, alpaca farms and more. Go, plan a trip to visit Bend, Oregon. You'll be so glad you did!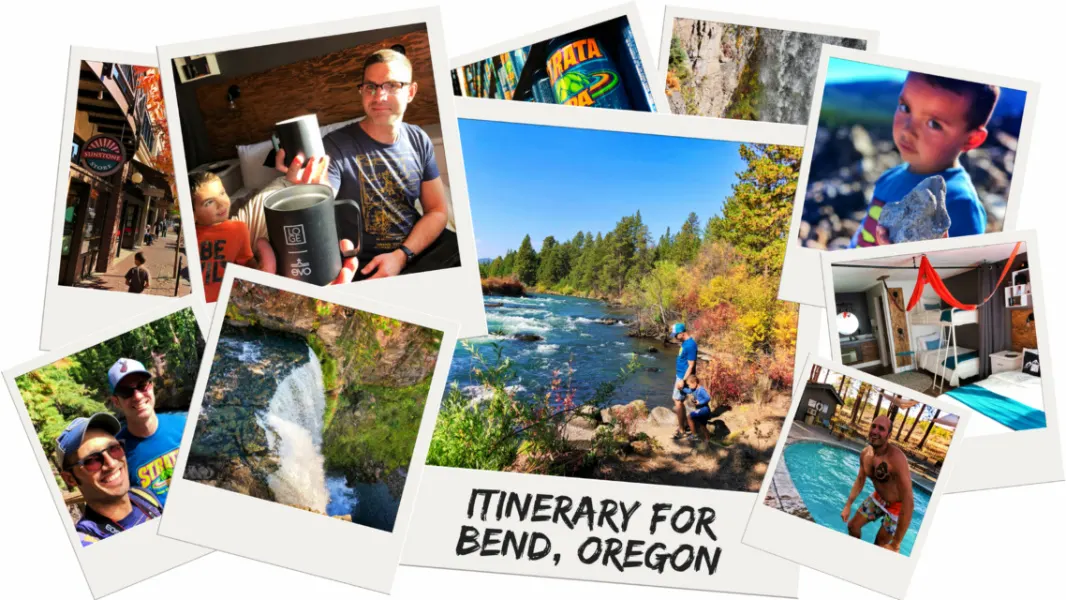 Want to pin this for your own travel planning? Go for it!!!