We love experiencing new adventures when we travel, and doing a Utah biking journey is pretty much as epic as they come. Much of our travel includes exploring a mix of both off-the-beaten-path destinations AND popular sights, like the Utah National Parks. Did you know that there are mountain biking trail systems all around Utah, and now you can even bike the backcountry, going from eco-hut to eco-hut?
The Aquarius Trail Hut System offers a backcountry mountain biking experience like no other in the region. A system of five huts furnished with beds, a bathroom, and a fully stocked kitchen has been strategically placed along a 190-mile route through some of Utah's most scenic backcountry – spanning from the peak of Brian Head at 11,307' to the beautiful town of Escalante at 5,820'.
This section of Utah is called "Color Country" and includes many well-known attractions such as Powell Point, Bryce Canyon National Park, Brianhead Ski Resort, Red Canyon, Aquarius Plateau, Dixie National Forest, the Hogback, Escalante National Monument and much more.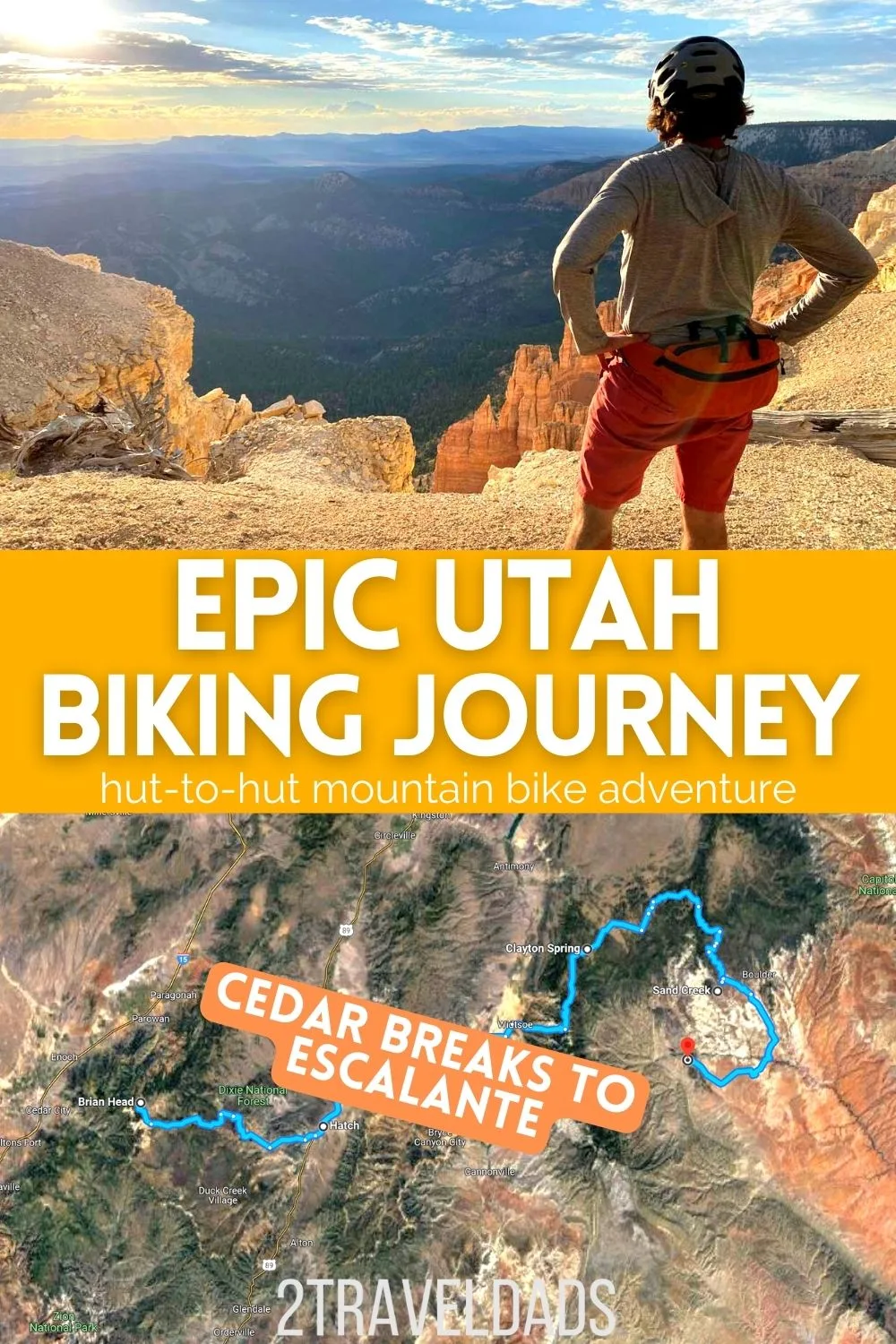 What is the Hut-to-Hut Utah Biking Experience?
Even though it might seem like an epic Utah biking journey wouldn't have conveniences or comforts, that doesn't have to be the case. True, the eco-huts on the trails aren't as fancy as staying at the Hoodoo Moab Hotel or the Capitol Reef Resort, but they're a HUGE step up from roughing it in the wilderness.
Riders enjoy singletrack, challenging jeep tracks, dirt roads, hidden lakes, and spectacular views as they complete their epic Utah biking journey through Color Country. While this touring route is designed for a mountain biking group, E-bikes are allowed at each hut so groups of mixed abilities can enjoy the same adventure.
When it comes to the accommodations, and really what makes this Utah biking journey so unusual, the Aquarius Trail Hut System is amazing, and not what you'd expect to find in the Utah wilderness. The Trail Hut System provides a luxury bike-packing experience, complete with showers, solar power for charging electronic devices, fully stocked kitchens with a refrigerator and freezer, lighting, hammocks, large decks, bathroom facilities, bicycle repair tools and stands, playing cards, fire pit, cozy sleeping arrangements, and more.
"These unique huts were built using repurposed high-top shipping containers," said Jared Fisher, Founder & Director of Escape Adventures. "They are spaced approximately 30 to 40 miles apart and accommodate 12 to 14 riders."
Check out the video to get a good sense of the Utah biking adventure.
The Full Hut-to-Hut Utah Biking Journey Itinerary
From Escape Adventures, who guides people on this incredible Utah biking adventure, here is the plan for the 6 day biking itinerary, going from outside of Cedar Breaks National Monument to the start of Grand Staircase Escalante.
Bikers will ride to Brian Head Peak, down Proctor Canyon and into the quaint little town of Hatch. They meander past the Tropic Reservoir and into Red Canyon, home of the infamous Thunder Mountain Trail and the Red Canyon Bike Path. The route explores all the Dixie National Forest has to offer, including a big climb up to the scenic Powell Point where John Wesley Powell surveyed Southern Utah. Days average between 35 to 40 miles of riding and 3,500 feet of elevation gain.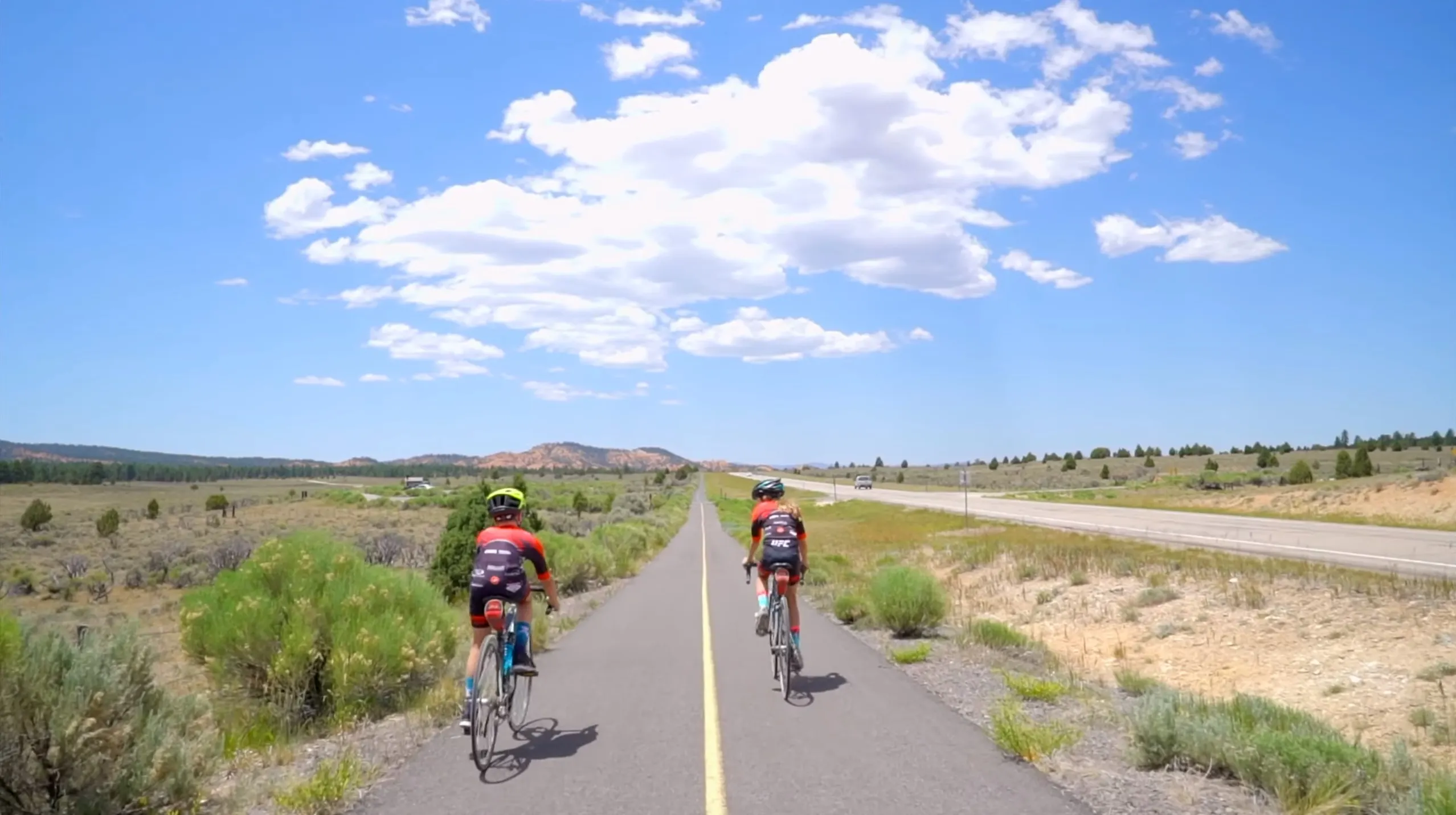 Day 1: Brian Head to Hatch, Utah
Your adventure begins at Brian Head Peak (11,307), where you will descend the exciting Bunker Creek Singletrack. Mountain Bike Action Magazine rated this Singletrack as one of the top 10 best trails in America. It descends 2,885 feet over 12 miles to Panguitch Lake where you will catch an exciting and fun 15-mile route through ponderosa and juniper forests—dappled with ancient lava beds and rolling meadows—to the Hatch Hut in Hatch, Utah. The perfect way to start this amazing Utah biking journey!
Note: Brian Head, Utah is also where you'll find Cedar Breaks National Monument. This is THE BEST place in Utah to watch a thunderstorm.
Day 2: Hatch to Red Canyon
Energize with a hearty breakfast for this morning's invigorating eight-mile, 2,500-foot climb through Proctor Canyon to the top of Sunset Cliffs. This is the mountain border for the Bryce Canyon Valley. After viewing the stunning scenery, you'll descend eight miles to Tropic Reservoir, and take a plunge in the crisp (yet refreshing) waters. Cruise a 19-mile section of the Great Western Trail to Red Canyon. Once you get to the hut take a little time for hiking or opt for the Cassidy Loop in Red Canyon. Enjoy the sunset over beautiful Red Canyon.
Day 3: Red Canyon to Pine Lake
Get ready for some of the best single-track in Utah–Red Canyon. From the hut, ride down Thunder Mountain Trail through the beautiful hoodoos of Red Canyon. From here cross Highway 12 and ride up to the Casto Canyon trailhead, passing many amazing views of Slate Mountain and Powell Point. Casto Canyon crosses a small creek bed up to 44 times before eventually meeting up with jeep roads that cross the high planes of Bryce Canyon country to Pine Lake Hut. Pine Lake is a nice relaxing lake where you can fish or swim and cool off for the evening.
Day 4: Pine Lake to Clayton Springs, Utah
Today you will climb to the top of the Aquarius Trails namesake – the Aquarius Plateau. Get ready for the BIG climb -2,200 feet over 10 miles to the top of Barney Top 10,577 feet. On your way to the top, don't forget to ride out to Powell Point (an optional 8-mile out and back ride to a vista overlooking southern Utah). Once back on route, continue onto Barney Top and across spectacular high meadows to the Aquarius Hut at Clayton Springs. If you are still thriving for another ride, opt to ride down to Barker Reservoir and back. The ride drops 500 feet to the reservoir so don't forget you have a climb back to the hut. Utah biking is a challenge, so feel out the day and if you want to add any spur trips before getting back on the trails.
Day 5: Clayton Springs to Sand Creek
There are two different ride options from the Aquarius Hut to the midpoint at Posey Lake. Take the non-technical ride on Hell's Backbone Road or choose the backcountry singletrack ride on the Great Western Trail. Each is vastly different. The dirt road option is across big open meadows with antelope roaming freely while riding along the mountain singletrack, you will be challenged to technical riding and more climbing (climb 2,500 feet and descend 3,300 feet over the first 15 miles).
Choose to stop at Posy Lake where, time permitting, you might have the opportunity to do some hiking around the lake. From here choose dirt road or then ride cowpuncher 5-mile singletrack to Cowpuncher Guard Station and Blue Spruce Campground. From here both options collide into the ride up to Hell's Backbone Bridge and across Box Death Hollow Wilderness and then finally descending to Hell's Backbone Hut at Sand Creek.
Day 6: End in Escalante, Utah
Passing through various vegetation zones, today's ride borders the Box Death Hollow Wilderness. Continue riding along Hell's Backbone Road until you reach Scenic Highway 12. From here it is a beautiful ride along the Hogback back to Escalante. Along the way, stop at Calf Creek and cool off in the crystal-clear waters. An optional 3-mile hike to Calf Creek Falls is a great side trip as well. This 128-foot waterfall is nothing shy of amazing! One big climb on the road after Calf Creek is followed by a gradual descent to Escalante to conclude your 190-mile adventure. The Utah biking journey ends with a bang!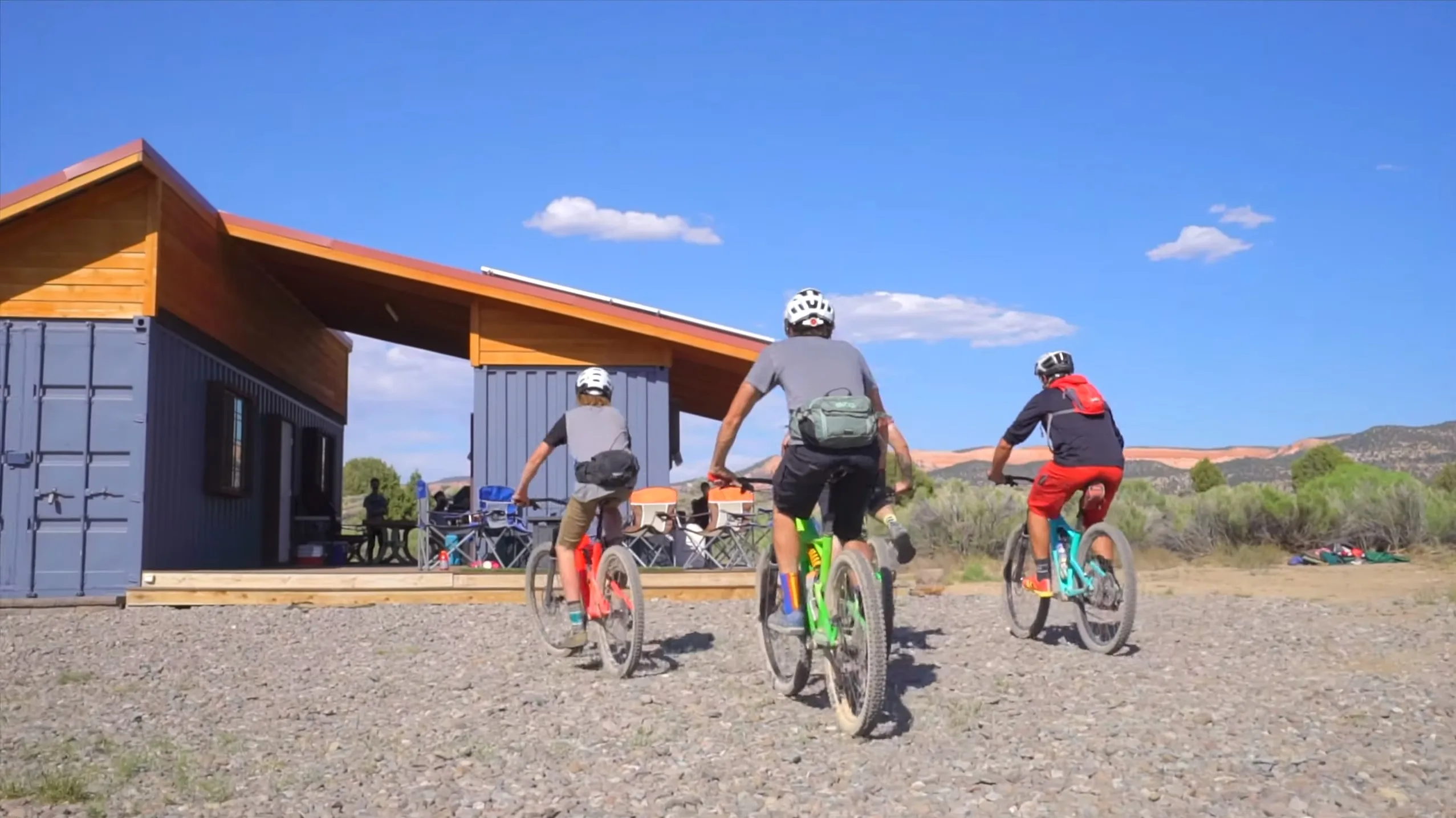 How Much does the Hut to Hut Bike Journey Cost?
Great question. Since you're doing most of the work to have this amazing Utah biking adventure, it's actually one of the more affordable Utah experiences of this sort. Self-guided tours are available July-October and start at $819 per person for 5-days/4-nights. Note: when you go to look at availability and book, it will only show GROUP pricing. Contact the Aquarius Trail System folks for options if you are not part of a group.
If you are planning to do the self guided option, you'll have access to the huts that you book in advance, and they'll be stocked with food and comfort items for you. You won't have your own cook though, so you'll need to use your own skills for that.
Escape Adventures offers a guided tour starting at $1,899 per person. Shorter trips are also available. For more information, visit https://aquariustrail.com/. If you book with Escape Adventures, the cost provides access to the Huts along the Aquarius Hut to Hut Trail System, well stocked provisions at each hut, meal preparation, snacks and beverages (non-alcoholic), permits and park fees, a guide, and your transportation to and from the start and end of the trail.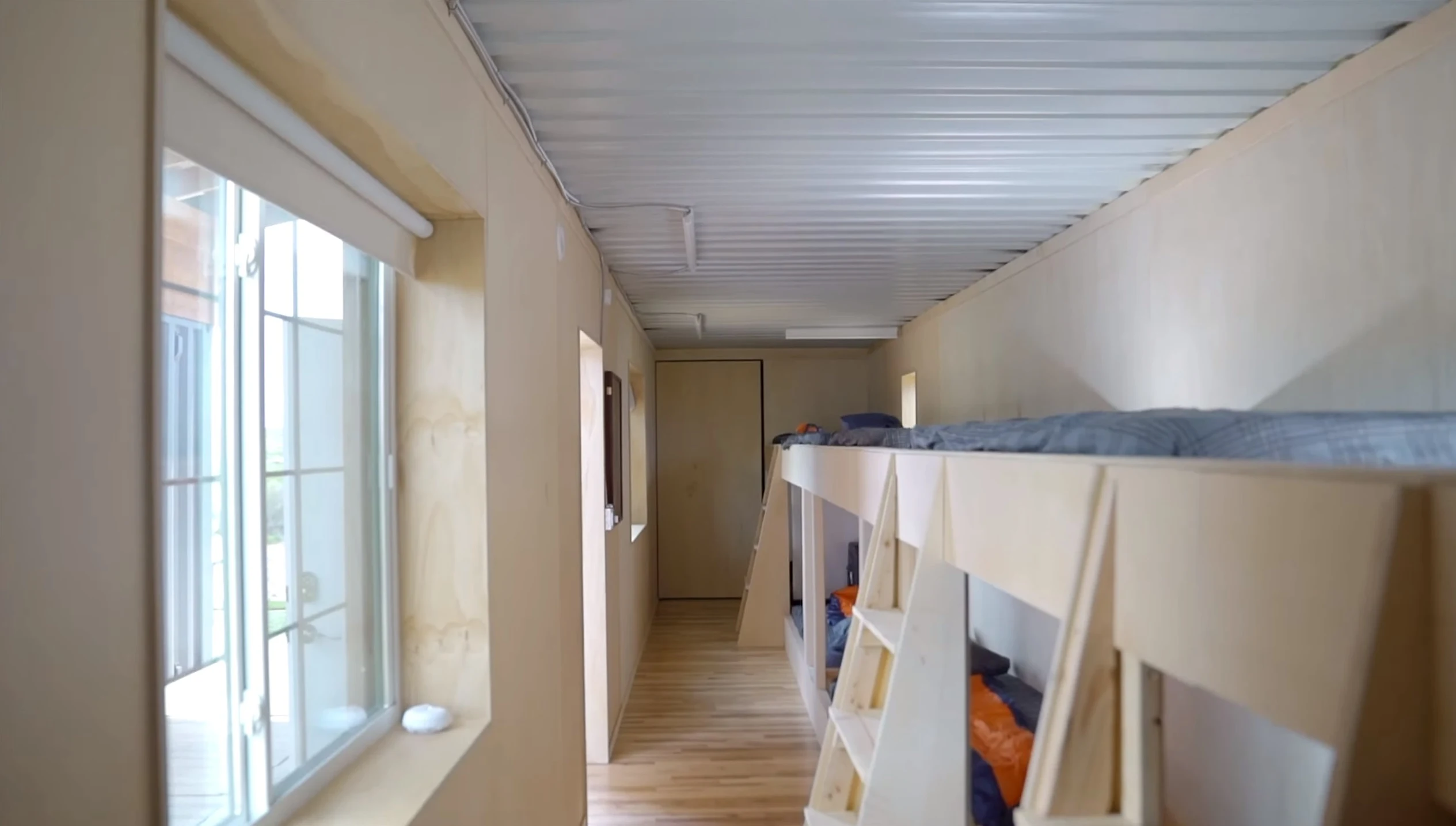 More Epic Utah Adventures to Consider
I totally understand if doing a Utah biking journey like this sounds daunting or maybe not exactly your thing. There are other adventurous options you can plan for a trip, or you can do the Utah biking journey AND add some of these elements:
There are so many ways to enjoy Utah's amazing landscape and the adventures it holds. Be sure to read up on all of our own trips through the state to find the right travel plan for YOU. And if you need help, please leave a comment or send us a note. We're all about assisting others in creating epic adventures!