As we made our way through Northern California and explored the beaches and National Parks, we stayed in all kinds of hotels and lodges.  When we left the Bodega Bay Lodge and headed north along the coast, we landed in Eureka, CA and were welcomed by the Carter House Inn.  This was such a nifty place.  We'll try to do it justice.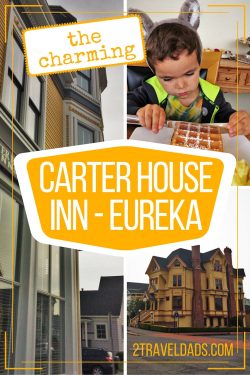 If you've not explored the Redwood Coast of Cali, know that every town is totally different and there's an odd spattering of hippies, yuppies and down-to-earth folks.  Eureka is the perfect blend of this.  Eureka also has a beautiful historic district that's loaded with Victorian homes and buildings.  The Carter House Inn is a collection of some of them.  
We were thinking that it would've been great to spend a few more nights there to experience each of the houses, but oh well.  Next time…
The Locale of the Carter House Inn
Back in the good ol' days of Northern California logging and development, Eureka started to boom and became a fancy little city.  The historic district is a snapshot of what it was like and is worth taking a stroll through.  The Carter House Inn is located in the heart of the historic district, so looking out your window, you'll no doubt see some beautiful architecture that is wonderfully out of the ordinary.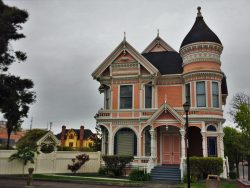 Our oldest, Oliver, really loved the cool houses up the street, the Pink Lady House and the Carson Mansion.  Both are amazing examples of Victorian craftsmanship and design.  Oh, and so is the Carter House!  While a good portion of the Carter House Inn is located in the 19th century hotel building, there is also the three story Carter House and then two Victorian cottages next door.  They're all equally quaint and impeccably maintained.  We kinda are thinking that maybe we need to go full-Queen Anne on our house up in Suquamish… or maybe not.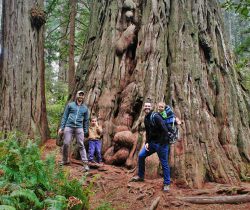 In addition to the cool neighborhood, the northern end of the city of Eureka is a prime place to stay if you're looking to visit the Redwoods, both State and National Parks.  The main Visitors Center and the Lady Bird Johnson Grove are both about 40 minutes north of the Carter House Inn, so it's kind of perfect.
Tip:  if you've been traveling a bunch with kids, Eureka also has some cool public parks that you can stop at.  We took the boys to the Carson Park and let them expel a ton of energy before a drive north, and you could tell that they appreciated the stop.  Also, the park has a dinosaur themed playground.  Awesome.
Our accommodations at the Carter House Inn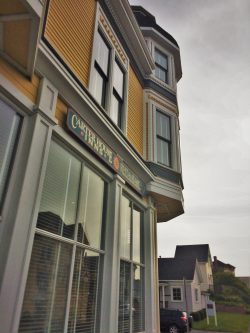 We got to stay in the hotel building of the Carter House Inn.  It genuinely felt like a Victorian-era hotel complete with sitting room style lobby.  When we first arrived, I went in (me, Rob) while Chris hung out with the kids.
Tip:  if you're traveling with another adult, just one of you go in to check into your hotel, that way if the room isn't ready or if the kids are wild, you can be efficient getting your keys and whatever information you'll need.
I check out the room before collecting the family and was thoroughly surprised and happy with our suite.  Separated by a wall but open on one side, there was both a master bedroom and a living room.  The living space had a pull out sofa and plenty of room for a crib.  The master bedroom was also plenty spacious with ample storage space for our luggage.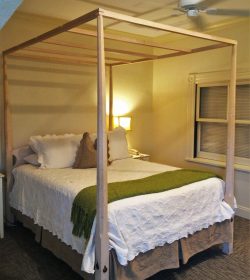 One of the coolest things about our suite was the two fireplaces.  We didn't really need them because it wasn't crazy cold out, but we still used them for atmosphere.  Oh, and the huge jetted tub was nice too.  By the end of our epic #2TDgoparks2016 road trip the kids were quite accustomed to jetted, bubbly bath time… but eventually we had to come home and have boring baths again.
Anyways, our suite was awesome and the Carter House Inn as a whole was very quiet and perfect for family travel.  They let us check out the actual Carter House across the street even though we weren't staying in it and it was equally cool.  No, it was even more cool.  The Carter House itself has tons of shared space and is decorated as you'd expect a Victorian mansion to be decorated.  There is also a communal kitchen for minor guest needs.  Really, such a fantastic inn/hotel.
The service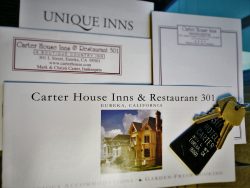 When I checked in I was escorted up to our suite by one of the inn keepers and he was very polite.  He gave me the history of the Carter House Inn and the told me the philosophy of the owners and inn keepers.  Basically, the difference between and inn and a hotel is a fine line between guest service and genuine, invested, personal service.  It was really evident with each of the Carter House Inn staff that we interacted with that they cared greatly about their jobs and the importance of inn keeping.
They were all exceptionally thoughtful and even prepared a map and info packet of things we may want to do with the kids.  Like we said in our article about the Bodega Bay Lodge:
"catering to families and being prepared to make them feel welcome, especially in a high end establishment, is a great way to create repeat guests.  Sometimes families feel out of place in nicer hotels and restaurants, so breaking that barrier really shows that you're in the game for hospitality, not just profit."
As a gay family, sometimes we get weird looks or treated awkwardly when we arrive at a hotel, but the Carter House Inn was amazing at making us feel like any other family and got us ready for a fun and adventurous three days on the Redwood Coast.
Dining at Restaurant 301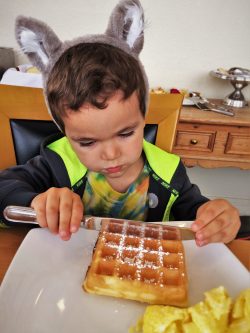 We love love loved the breakfast set up at Restaurant 301 in the Carter House Inn.  It's included for the guests of the Carter House Inn and it's really unique.  So here's the scoop:  there's a set main breakfast dish and then you can order some other breakfast items if you like, but then there's also a small buffet-style table to self-serve fruit, pastries and coffee.  Really, taking the thought out of picking what's for breakfast is kind of awesome.
Tip:  when you're dining with kids or have somebody with an allergy, you might think this sort of dining style is weird or a pain, but restaurants are always ready to be helpful and they're typically pretty flexible when it comes to helping kids have a good meal too.
Dinner at Restaurant 301 was quite tasty too.  The amuse bouche was a perfect sample of some super tasty pork belly with an apple gastrique, which completely set the mood for dinner.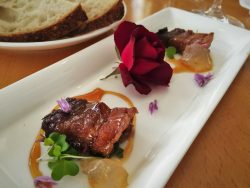 While I ended up ordering a larger portion of the pork belly, Chris opted for a Wagyu Brisket Bolognese over pasta.  Mine was yummy, but gosh do I wish I would've ordered the Wagyu Brisket Bolognese .  It was mouth-wateringly good and between the meat and complex flavors, it really elevated what could've been the most boring meal selection ever.  Stellar job.
Note:  there is no kids menu here.  This may change in the future, but when we dined there was no kids menu and to put together the pieces for our 1 and 4 year olds to have dinner, the total for their meals alone was $37.  If you're not familiar with kids' options, typically dinner for two children runs at a total of $12-15 for both.  Just a note about budgeting meals…
What to do on the North Coast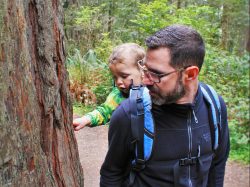 Ooh, where to begin?!?!  Our purpose in Eureka was three-fold:  historic Carter House Inn experience, beaches/lighthouses and visiting the Redwoods.  Exploring Eureka could be its own article, but we didn't do much of that.  We mainly used Eureka as a place to stay and enjoy the Victorian architecture.
We did get to do some lighthouses though.  We hiked to the Trinidad Head Lighthouse and had a fun stop at the beach in Trinidad (to the north).  We also got to stop at the Point Arena Lighthouse on our way to the Carter House Inn.  Point Arena Lighthouse is located between the Sonoma Coast and the Redwood Coast.  It's an easy stop just ten minutes off the main road.  We didn't climb the lighthouse because it was just about nap time on our d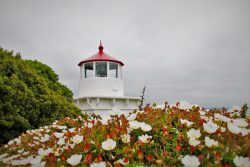 rive, but it is open to the public for a fee and they don't have height restrictions for visitors to climb it.
Note:  some lighthouses do have height restrictions, such as the St Augustine Lighthouse.  If you want to be sure everybody can climb, check a lighthouse's website or call in advance to plan properly.  Point Arena doesn't have a restriction though, so go climb it and have fun!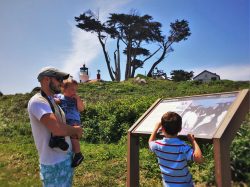 We also stopped at the Battery Point Lighthouse in Crescent City, CA as we left Eureka, but you'll have to see our upcoming post to hear about that (so much fun!!).
And then there is, of course, the Redwoods.  We loved exploring the beach at Redwood National Park and getting our National Parks Passport stamps at the Kuchel Visitors Center, and then going up into the hills to the Lady Bird Johnson Grove.  The trees were enormous and the forest was dense.  It was very different from Sequoia National Park which we'd just left.  Gosh, there's so much to do on the Redwood Coast!!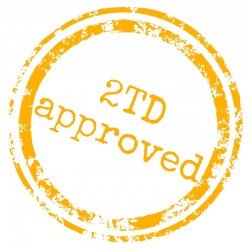 Spending two nights at the Carter House Inn was perfect for us.  It gave us a change to explore Eureka and Redwood National Park, as well as let us see the difference between hoteliers and innkeepers.  We felt right at home and loved having such a nice home base to return to each night.  If you're traveling through on Highway 1 and exploring California's Redwood Coast, take at least a night to relaxing in a comfortable, Victorian inn and see what we're talking about.