Sometimes family travel is so tiring that all you want to do is check into your hotel, take off your shoes and sit on a balcony. With the door closed. With no children needing you. We found that. After going non-stop for two weeks we finally arrived on the Oregon Coast and were welcomed by the Pacific Reef Hotel in Gold Beach, Oregon.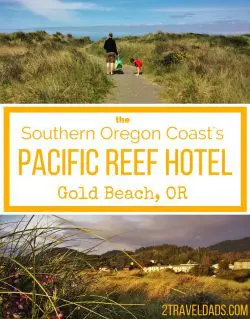 It was so nice to get our keys and discover that we had been blessed with a two story condo unit looking out at the sunset over the Pacific Ocean. And that there was ample room for the kids to play and be wild and we could not hear them. Okay, now we sound like bad parents. What I mean is that they had their own play space and we had our own space where we could unwind.
Okay, there's no way for it not to sound like we checked into the Pacific Reef Hotel and checked out of parenting, but I promise we we responsible and just were able to chill. You know what, just read on and you'll see why we were so relaxed at the Pacific Reef Hotel.
Where is the Pacific Reef Hotel?
If you've been down in the Redwood forests of Northern California and you're thinking about a change of scenery, not too far up Highway 1 is the Oregon Coast. They call it the People's Coast. Gold Beach is one of the first towns, so it's an easy two hour drive from your Redwood home base. We had been at the Carter House Inn in Eureka, California so the drive was simple for us.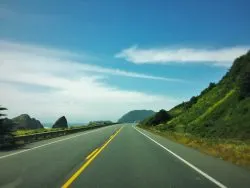 Gold Beach is a nice little town that falls between the rocky areas of the Oregon Coast. Most people think of the Oregon Coast as lighthouses and huge rocks just off shore, mist rolling in, sea lions everywhere… Gold Beach is quite different, with the town being set up away from the beach a bit, separated by sand dunes and beach grass. Truthfully, it felt a bit more like Long Island, NY than the Oregon Coast, but it was also much less touristy and more chill than the more commonly thought of areas like Newport or Cannon Beach.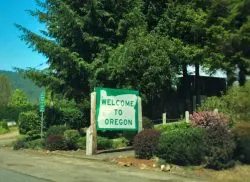 If you've been up exploring Coos Bay or Florence, Oregon, Gold Beach is a simple drive south, again just about two hours+ to get to this wonderful vacation spot… away from vacationers.
Travel planning tip: if you have the time, it's worth it to plan a few days mid-trip that are set aside solely for relaxing. You'll be glad you did and you'll be refreshed.
Our accommodations at the Pacific Reef Hotel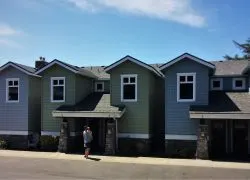 Like I said, we were so excited to walk into a two story condo unit at the Pacific Reef Hotel. We loved the charm of the Carter House Inn. We loved the peaceful setting of the Bodega Bay Lodge. We were in heaven in the woods at the Evergreen Lodge… but we were relaxed beyond relaxed at the Pacific Reef Hotel.
We enjoyed a full living room with adjoining dining area and full kitchen. We loved having two full bathrooms. It was magical to have an upstairs with two queen beds. There was a Murphy bed in the living room. And there was a patio AND a balcony. It was pretty awesome.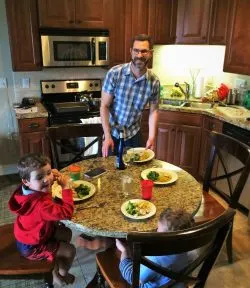 Idea: if there are extra beds take advantage of that and as adults, get your own bed with your own covers. Sleep like bear in a cave and enjoy the solitude.
The thing that made our unit at the Pacific Reef Hotel so perfect for complete relaxation is that we were set up from the start to feel at home. When you're in a hotel and you don't have the comforts of home but you've got a nice bed, well, that's great but it's not completely relaxing. We were able to get groceries and prepare our own meals, and reinforce nap-times. We got to play in the grass and the on the patio. It felt like home.
What we appreciated most as far at the amenities of our accommodation at the Pacific Reef Hotel was the balcony. I know, that's a little thing, but it was our place away from wild kids where we got to watch the waves. Also, there was a nightly film they played on a big screen to recap the sights of the Southern Oregon Coast (more info below).
In the morning, the balcony was where we sat together to watch the clouds roll past. The balcony was a great place for snuggles and calming the kids down.
Tip: learn from our experience here. When booking a hotel, seriously consider finding one with a full balcony if you can. We never realized how useful and fantastic it is to have one until we were here and used it continually.
Coolness without ever leaving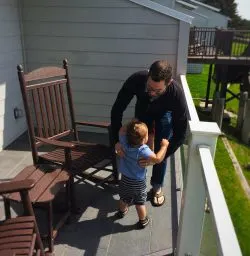 Most hotels have amenities that you just come to expect, such as coffee in the room and free wifi. The Pacific Reef Hotel also had some rockin' bonus features. Of course we enjoyed the cabana with the hot tub but they also had a wonderful lawn and beach trails to use.
And there were rocking chairs (I think I already said that) and a chowder house on property. To recap, we took full advantage of the rocking chairs on our patio and balcony. Truly, a wonderful amenity for relaxing your guests.
The hot tub was in a cabana between the hotel units and the condos, so it was available for whomsoever wanted to use it. It was stocked with towels and chairs so it too was set up for relaxation away from the ocean wind.
Gay dad travel story: we took the boys to the cabana for some hot tub time, as it was cool enough for them to really get to play… but there was a man just hanging out in the hot tub. We'd seen him and his wife earlier, and she was super nice. This dude though just wanted to leer at us and it was really uncomfortable. He wouldn't talk or move or anything. Even though there was no obvious problem, we left pretty quickly just because of his vibe. When you're two dads traveling with kids, you are extra alert and sensitive to situations that might turn unpleasant or impact your family time. **this was no reflection on the Pacific Reef Hotel, but just a general story of guest interaction.
At the entrance to the Pacific Reef Hotel was the Chowder House. While its own restaurant and not directly attached to the hotel, it was the place for breakfast (with a discount for hotel guests) and other meals. The vibe is so chill. It's not fancy, but the food was good and the service was super friendly.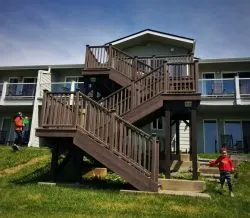 The movie screen was a pretty cool feature too. Initially I thought it was really weird, but it was great to relax after dark and listen to nice music and get ideas about fun things to do in the area. After the video tour and fun facts, there was a Disney short. While the initial impression was a bit cheesy, we actually really enjoyed sitting in our rocking chairs with blankets and relaxing with the show.
Tip: listen to the recommendations of the locals and staff. We were told to watch the film and chill and initially giggled at the thought, but it was great… and we watched it our second night too.
Ideas for a great visit to the Southern Oregon Coast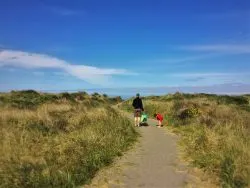 The Pacific Reef Hotel is a great home base for experiencing the Southern Oregon Coast. Directly at the property is beach access, which is perfect when you're talking about family travel and what makes a hotel attractive. We loved being able to stroll off our patio and down to the waves.
The beach here, and around there in Gold Beach, was a great combination of soft sand, medium sized rocks and driftwood. It's an ideal playing and walking beach, but not great for beach combing if you're looking for shells. There is a fair amount of wind, so it's also an ideal beach for flying kites. If you're a dog-parent, check out this awesome article about dog-friendly Oregon Coast fun!
Not too far to the north is the Cape Blanco Lighthouse (which we didn't visit on this trip) and then a bit further north are the Coquille River and Cape Arago Lighthouses. These three are all an easy day trip to the north. You can tour the Cape Blanco and Coquille River Lighthouses, but can only hike and appreciate the Cape Arago Light from afar.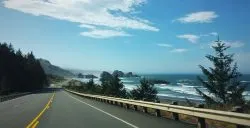 If you head south from the Pacific Reef Hotel and the town of Gold Beach, you'll find some beautiful beaches and dune. Pistol River State Park is a bit south and worth a visit. It's quite windy, but between the huge rocks in the surf, the pristine river and perfect beaches, it's a great way to spend a day experiencing the Southern Oregon Coast. The landscape here is more similar to what you'll find up in the Cannon Beach area, but still is truly unique and beautiful in its own way.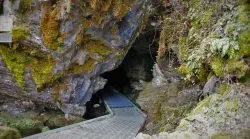 If you are staying in Gold Beach and want to get a non-beach experience, do the two hour drive to Oregon Caves National Monument. There are hiking trails, a beautiful chateau, a great Visitors Center and the actual Oregon Caves to tour. It's a drive, but worth it for a great, unusual experience.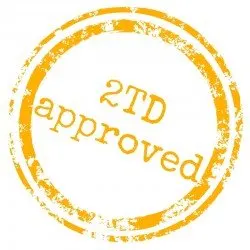 What do you think? Would you be cool just relaxing for a few days and watching the ocean? Would you explore beyond the totally chill Pacific Reef Hotel? Yeah, we would totally go back to Gold Beach and try to stay here again. It's in an ideal spot and not busy and touristy like the northern parts of the Oregon Coast. We fully approve the Pacific Reef Hotel and look forward to returning in the summer!
Want to book it? Click here!