We've just returned from our first family trip to Disneyland with all four of us and it was incredible. We were so fortunate to get to experience not just Disneyland and California Adventure, but then also the Cars 3 Premiere and an unforgettable Cars Land experience with the kids. And we've learned a lot about taking a family Disneyland vacation so how to make it (nearly) stress-free.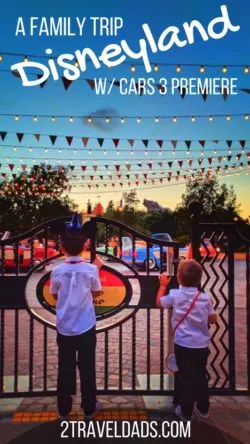 Day packing for family Disneyland Vacation
Chris and I have spent countless hours in the Disney Parks since we used to live in Anaheim and I worked for the Disneyland Resort, but it's a completely different ballgame with kids. Instead of showing up with just our sunglasses we had to cart in supplies, like tissues and wipes, to be sure we were staying clean and healthy in the Parks. Easy-peasy though and totally worth carting some extra supplies.
Here's our list to make it super simple in Disneyland and California Adventure with kids:
1 spare outfit per kid

1 light jacket per person

Self-filtering water bottle

Stack of folded Viva towels – way better than napkins

Small snack bags (cheese & crackers)

2 apples per kid

wet wipes of sorts

Kleenex

/ tissues

Hand sanitizer
Boom. All of this fits in one small backpack that's easy to take with you on rides or hang from a stroller. The combo of ready-to-go snacks and clean up supplies prevented all kinds of hangry breakdowns and stressed out messes.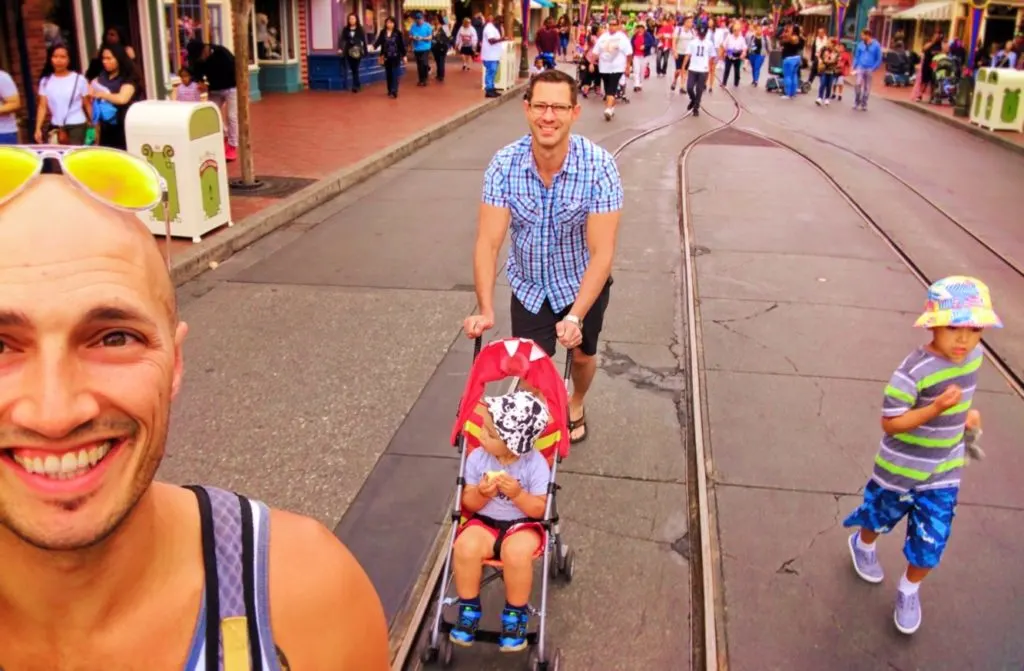 Travel tips for an easy journey to Disneyland
Just take our list above and add to it coloring supplies, a Kindle with your two favorite Disney movies (for us it's Moana and Finding Dory), and you're all set. We've also learned that it's okay to check our bags for flights. Airlines have gotten worlds better with luggage handling so there is minimal risk and if you've got the branded credit card of your preferred airline, chances are you have no checked baggage fees.
Tip: if you're hesitant to bring your own car seat on your family Disneyland vacation, know that the airlines will check them for free and usually they'll help you wrangle them following your flight.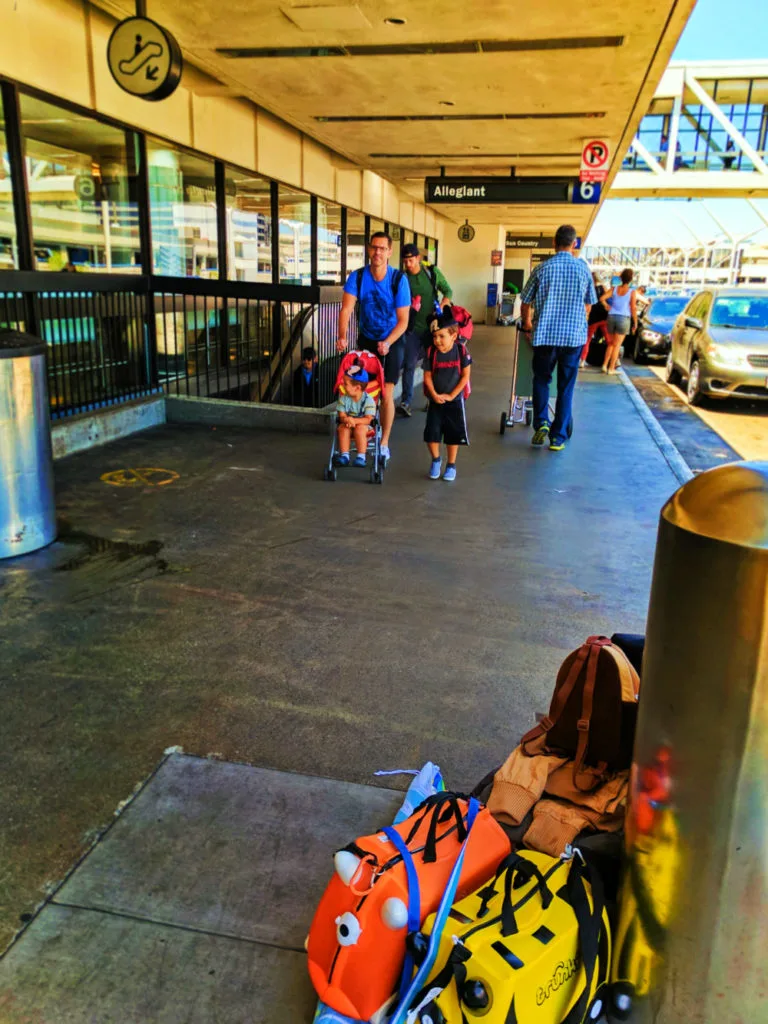 Since we typically travel as 2 dads with 2 kids we always have a second backpack which we're not shy about loading up with extra supplies. We always start our trips with a full packet of wipes, particularly as kids on a plane is a messy situation. We used to have Pull-Ups at the ready too, but we've since conquered potty training (yeah!!!) and now flying with kids is even easier. The last thing that we're sure to have in our plane packs is headphones.
Tip: even the best, most engaging learning games on tablets have a lot of sounds that could drive passengers (or you) a bit nuts. Bring headphones your kids are familiar with so they'll be comfortable using them on the plane.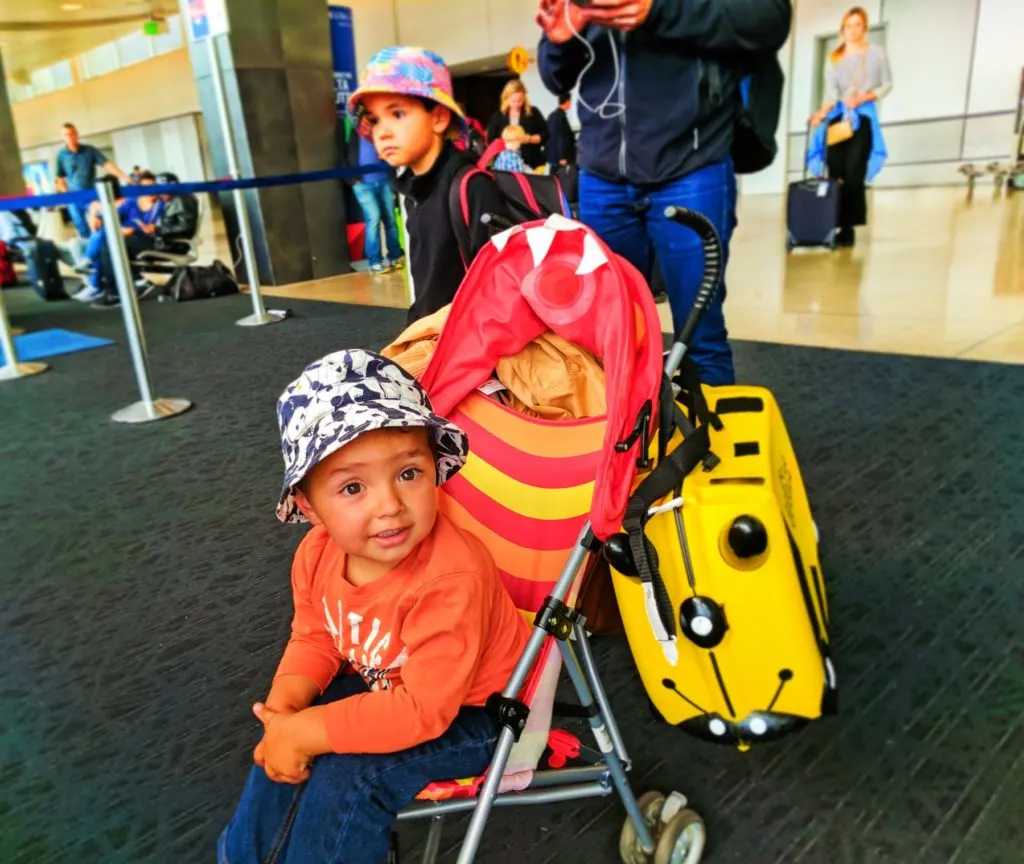 First Impressions of Disneyland with Two Kids
It's way different getting to Disneyland and anticipating your arrival when you've got little people involved. We didn't tell the kids we were going to Disneyland, let alone the Cars 3 Premiere, so when we got to the Grand Californian Hotel they thought we were just at another nice resort… and then the Guest Services cast member kneeled down and told the kids where we were. Silence. Then it was "Naht auh. Really?!" It was perfect and then the energy level and excitement went up from there.
We enjoyed the Craftsman's Club at the Grand Californian before we even went into the Parks, giving the kids their first experience with fireworks. They pump the music into the Club so our experience was almost as good as being in the Hub of Disneyland for the show. Following the fireworks we gave the kids a wet wipe faux-bath and got them to sleep. We were starting early the next day.
Tip: if it's in your budget and they have space available, see about getting Craftsman's Club (Grand Californian) or E-Ticket Club (Disneyland Hotel) access when you're doing your family Disneyland vacation. It was great for having meals and snacks between parks, as well as having cast members available for any questions and making special reservations for us. If you're at Disney World and staying at Disney's Contemporary Resort, they have a similar experience for watching the Magic Kingdom's fireworks.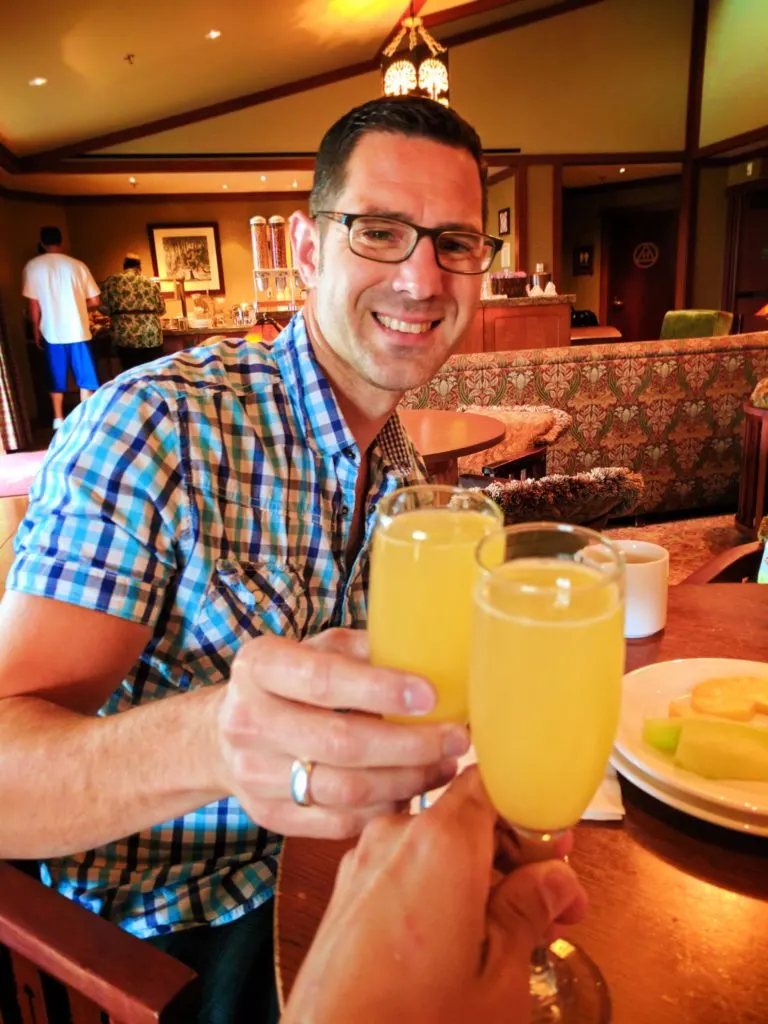 Basics to Exploring Disneyland and California Adventure
First off, let's just say that if you've visited Disneyland without kids and then all of a sudden you are there with little people, your experience is going to be different. It's not just that you're doling out Kleenex every five minutes, but you're limited in the attractions you can do. And just because your kids may be tall enough for a certain ride, it doesn't mean that it's right for them.
Tip: download the Disneyland app prior to starting in the Parks to have access to height requirements and wait times for the different attractions. You can also see where different characters are in the Parks making it easier for kids to spot familiar faces. For Disney World in Florida, this app is referred to as My Disney Experience.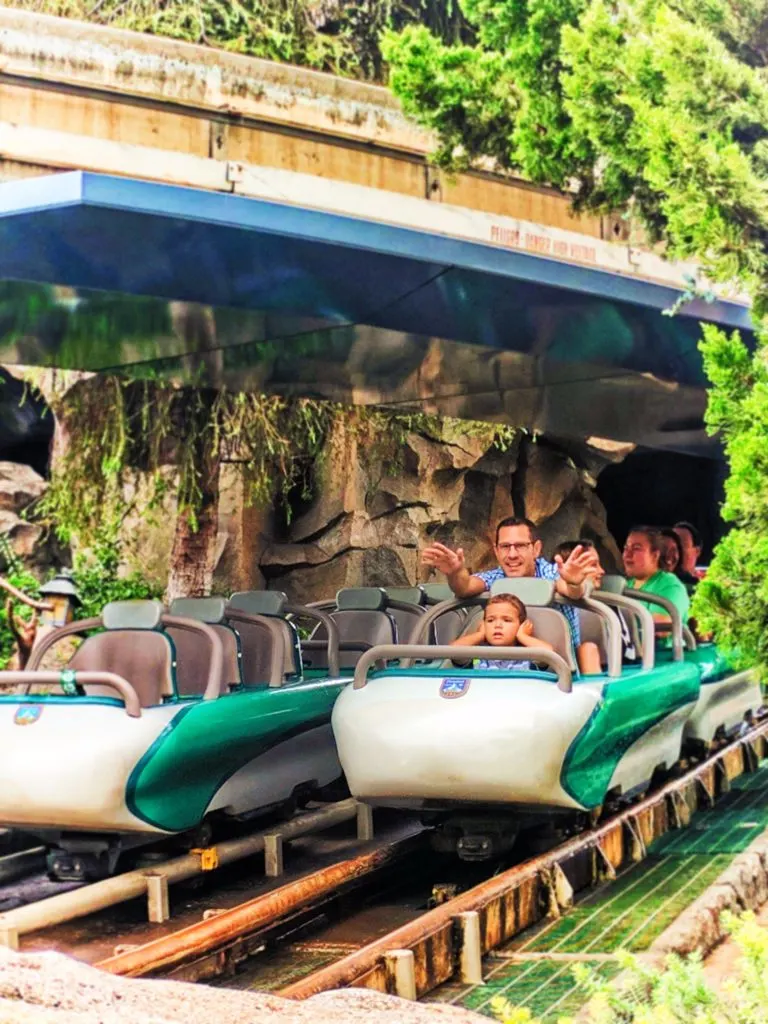 Another thing to keep in mind when you're doing a family Disneyland vacation is that your kids don't have the same memories you do or have the same priorities as you. While you might think it's terribly important to wait for a certain ride or experience your kids may really want to do something else that you "know" isn't as cool… so be prepared to shift your way of thinking and make the family Disneyland vacation about their first memories.
Tip: kids dig spinning rides and adults know they're tough on the equilibrium. Suffer through one or two knowing that your kids will be to the moon about the fun and you'll seem like the extra cool adult who's willing to be adventurous.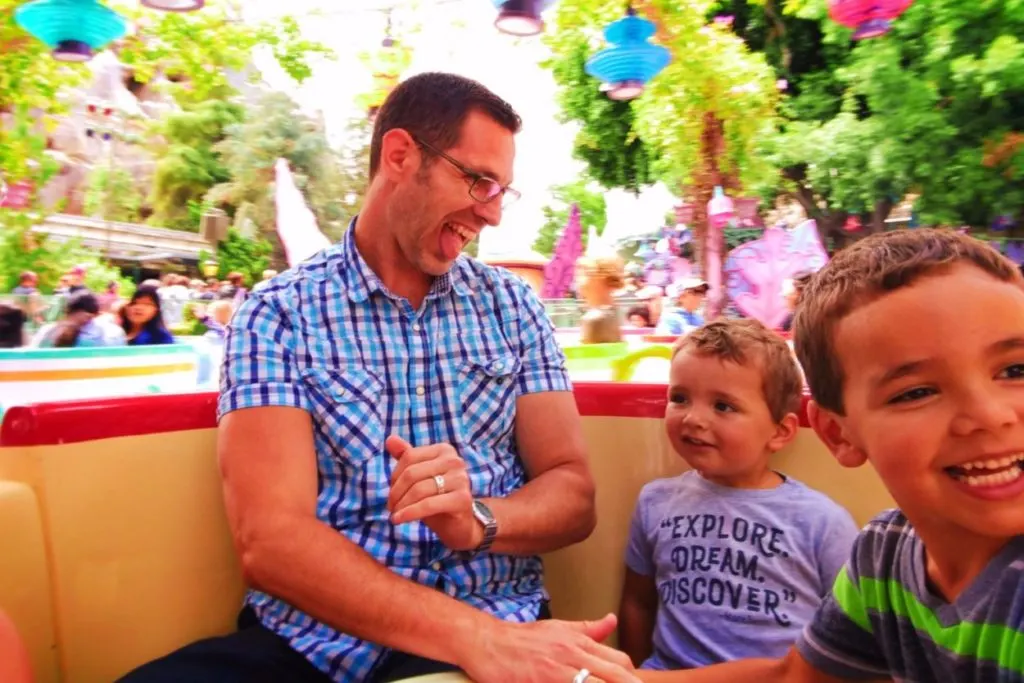 The last big tip to make the most of your time in the Disney Parks is to pick the shows/parades that you really want to see and plan around them. It was really important to us that the kids experience the Main Street Electrical Parade and the Pixar Play Parade (both of which are NO LONGER in Disneyland).
We had help from the Guest Services cast members to get great seats for the Pixar Play Parade, but then for the Main Street Electrical Parade we plotted our dinner in a prime place to finish eating, and then headed to Main Street in time for the parade to start. It took some help and planning, but we did it and the kids loved it! The entertainment is half of a family Disneyland vacation.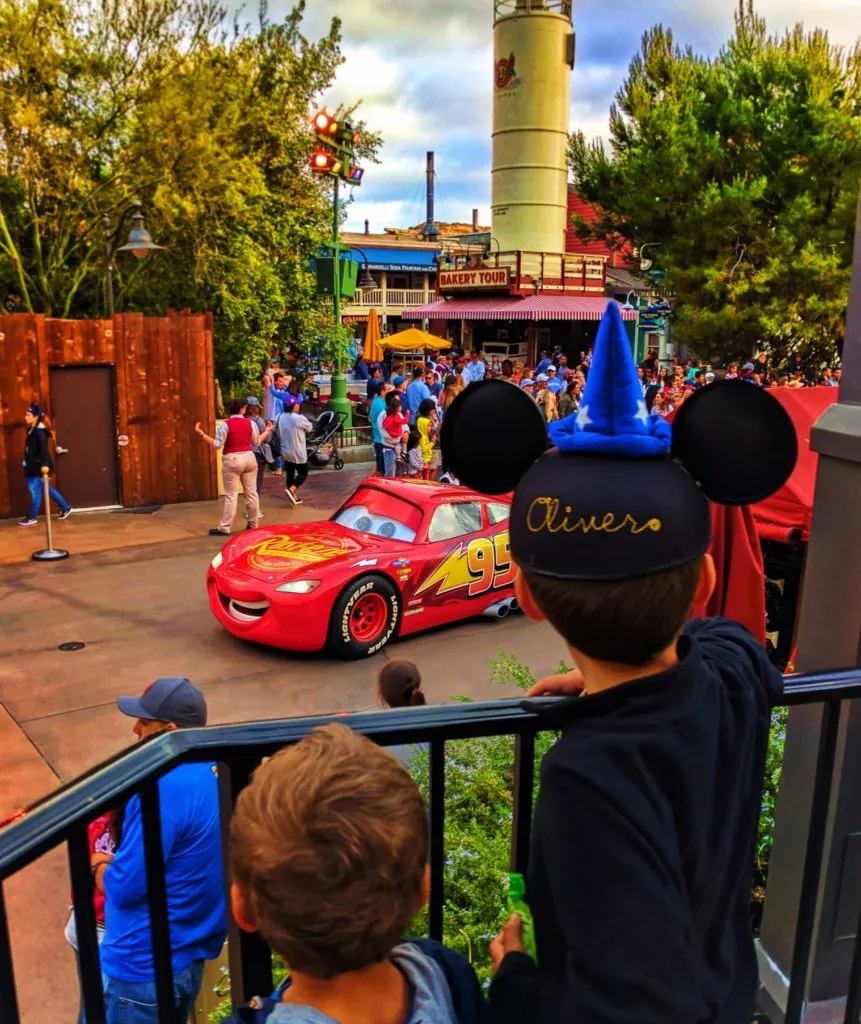 The Main Event: Cars 3 Premiere
FYI, there are no spoilers here (now that the movie has been out for years). We arrived at the Anaheim Convention Center for the Cars 3 Premiere and were greeted by Lightning McQueen and friends from afar and all the way onto the red carpet. Once we had our credentials we got to walk the red carpet like pros, the kids stopping in all the right spots to check out the entertainment, to get airbrush tattoos, take pics with the stars of Cars 3…
The kids were the very definition of poise. Also Oliver, our oldest, had a heyday taking pictures and being even more cute and excited, doing every fun Cars 3 activity available all the way to the end of the red carpet.
Tip: if you're ever doing a red carpet event, be prepared with comfortable shoes, breath mints, and a quick introduction of who you are. Unless of course you're Kerry Washington and are capable of navigating the red carpet seamlessly, then just do your thing.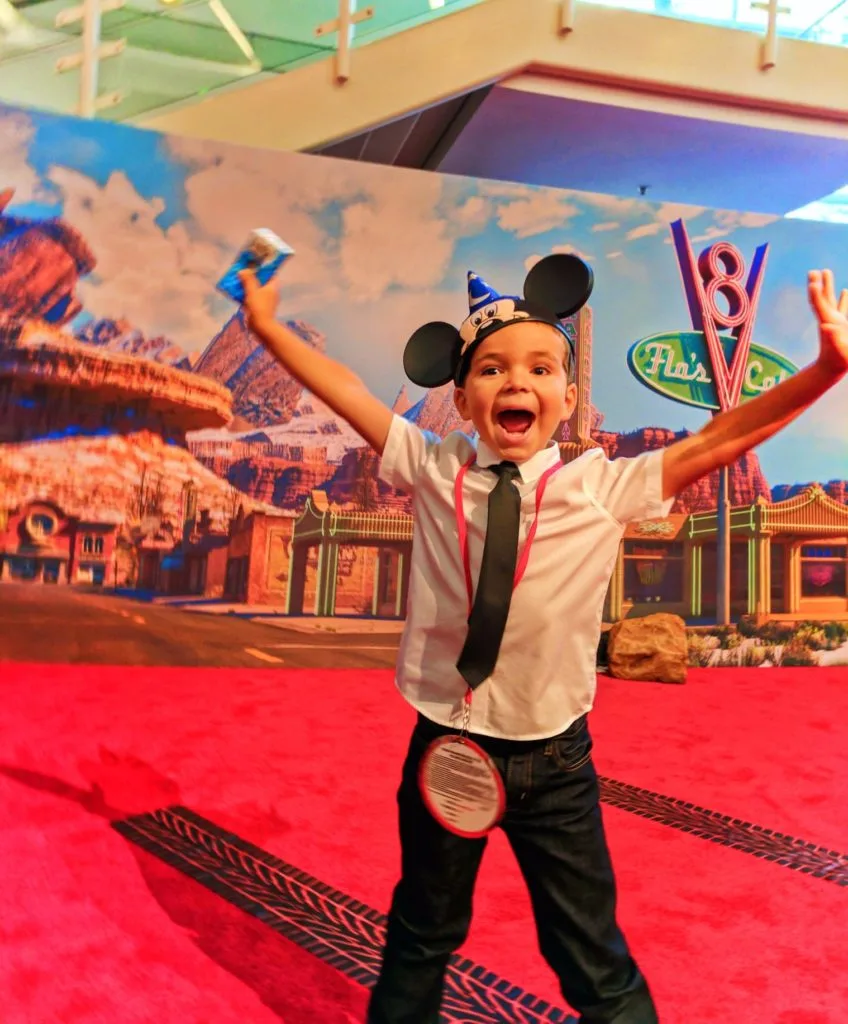 Being the one who writes most of our articles, I (Rob) got to hang out on the red carpet and meet all kinds of awesome people from Owen Wilson (Lightning McQueen) to Armie Hammer (Jackson Storm); others, like Kerry Washington, were super busy and I didn't get to shake hands with.
The best moment though was getting to chat and take a selfie with Jennifer Lewis (Flo) and sharing with her why she's Oliver's favorite car. Quoting Oliver: "She's my favorite because she's the one with gas." We all got a kick out of it.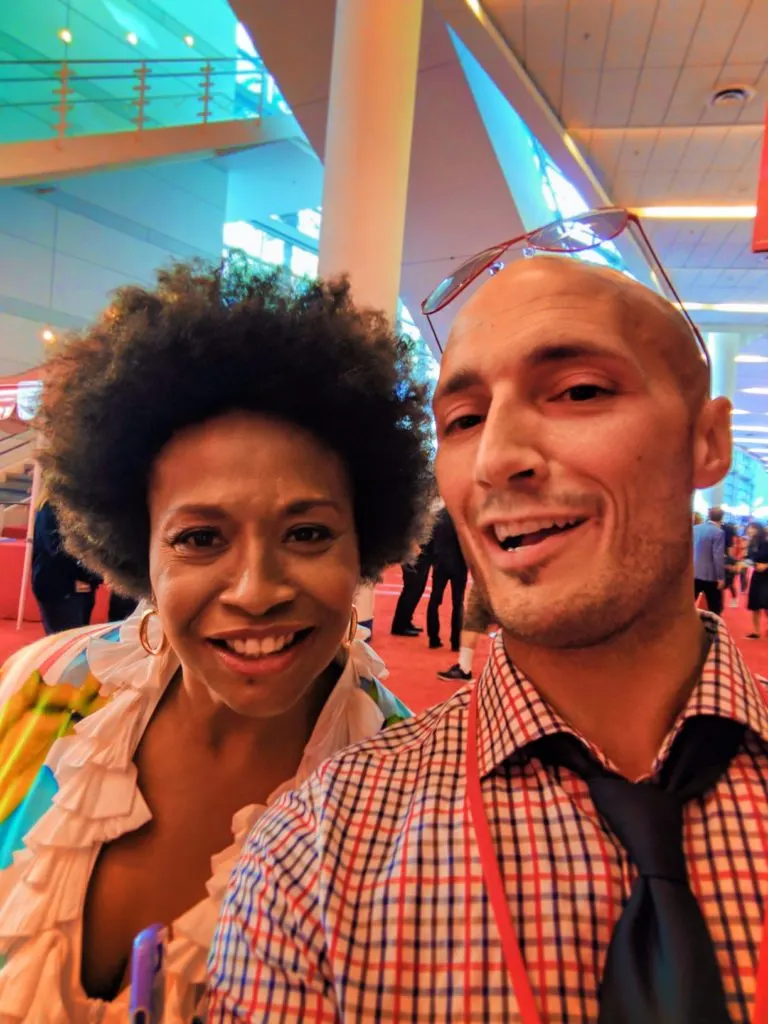 And the movie was really perfect. Both kids and both dads loved it. The characters, new and old, were spot on; the story was meaningful; and visually Cars 3 was worlds beyond the first two films. And you know what? Being an adult watching a movie for kids is the best thing ever, especially when you see how much your kids enjoy and connect with it.
The Afterparty: Tips for enjoying Cars Land with kids
Following the Cars 3 Premiere and all of the cool things happening on the red carpet we got to head to Cars Land in Disney's California Adventure for a private event to celebrate the evening. Amazing bonus for our family Disneyland vacation! Dinner at Flo's was a must, particularly since the kids hadn't been into Cars Land yet and were jaw-droppingly shocked when they discovered that Radiator Springs is a real place, and Flo IS their favorite. Armed with our Huggies One & Done Wipes and Viva Paper Towels from the red carpet stations earlier, we got the kids fed and cleaned up and headed for the rides.
Tip: even when it's not an afterparty Flo's is our favorite dining in Disney's California Adventure. Their options are great and their allergen menu has more choices for the sensitive peeps (like in our family) so it makes dining easy and stress-free.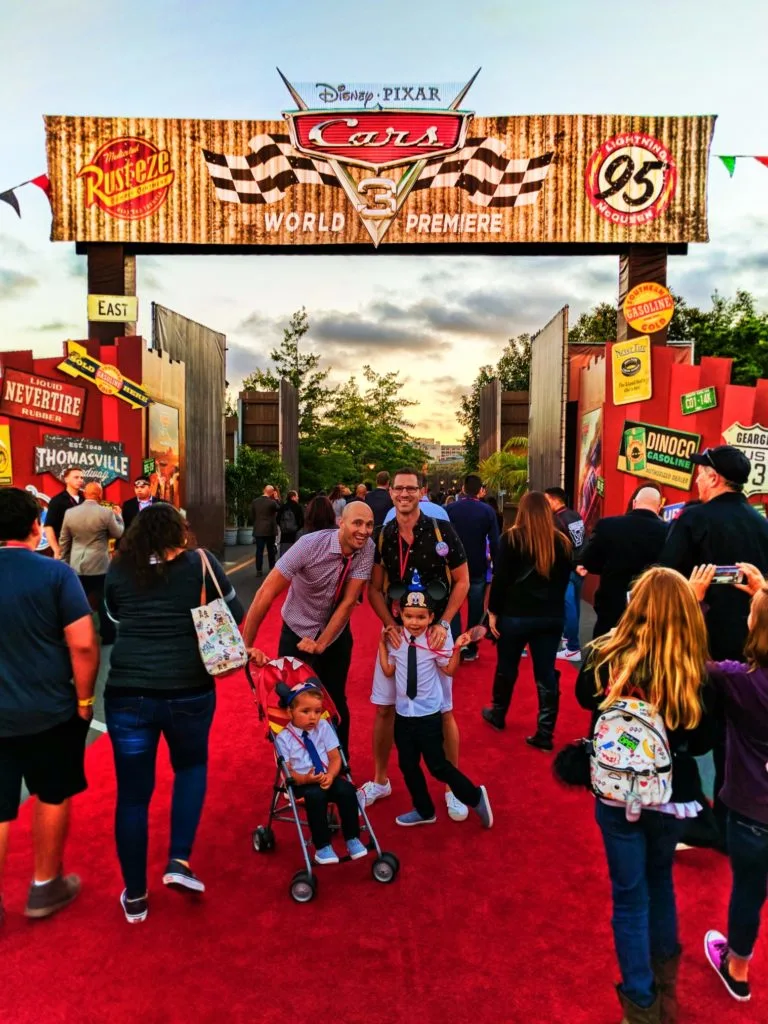 The first attraction we hit up was Radiator Springs Racers because you know, Lightning McQueen and all. Since our youngest was too small, we waited at the exit for Papa and Bro and got to have a star-sighting party, including Larry the Cable Guy, half the cast of Glee, a few musicians and Olivia Pope. I mean Kerry Washington. It was smiles all around.
Tip: know your children's' honest heights before seeing if they will be tall enough for an attraction. Sometimes being turned away can be heartbreaking for a little person, even if it's for their safety. Thank goodness for Kleenex when those crocodile tears come. 🙂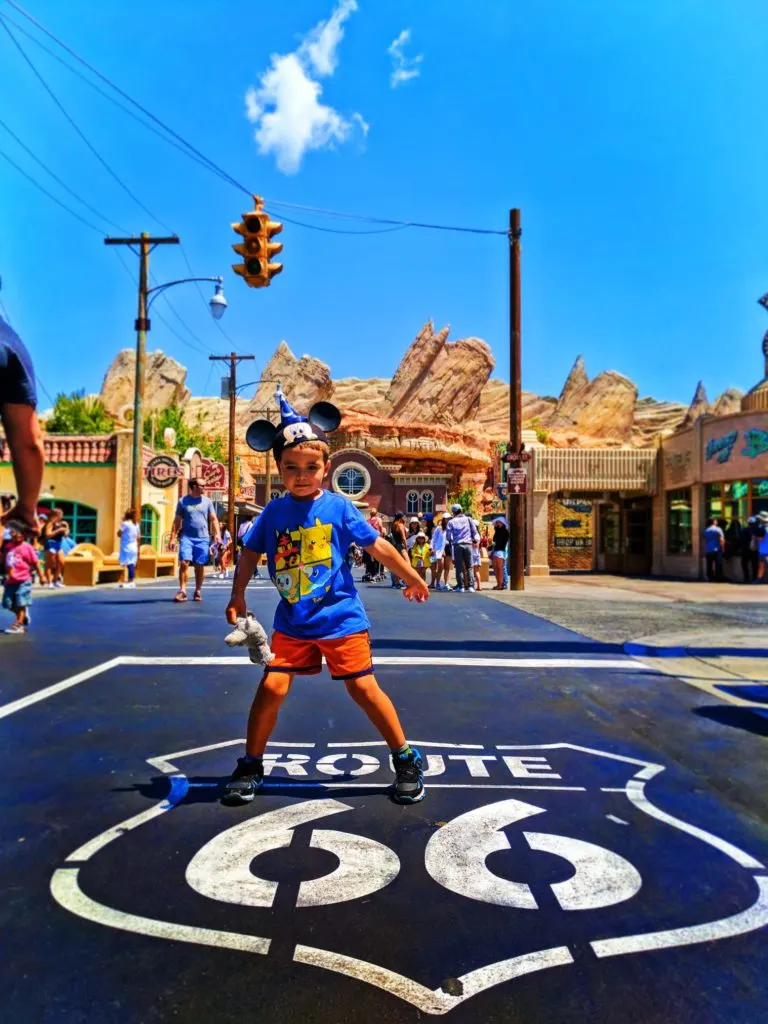 Second on the docket was Luigi's Rollickin' Roadsters which we've decided is pretty much the most fun ride in Cars Land. Both our kids loved it and we got to sing along and be crazy in our magnetically controlled cars. Over the weekend this became our go-to attraction when we needed to bribe the kids to go along with us for something they weren't totally sold on. Genius, and so much fun!
Tip: take a look at the awesome Piston Cup and Lightning McQueen memorabilia inside Luigi's when you're going through the queue. The attention to detail and fun saga that plays out in the display cases is really cool.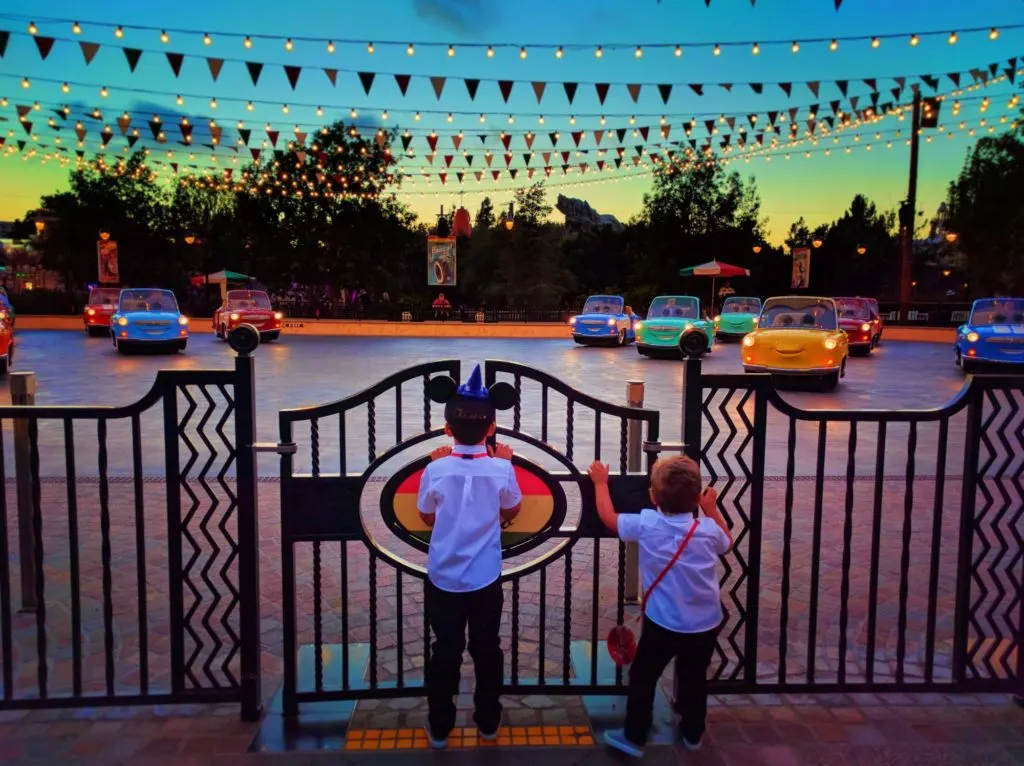 Finally, Mater's Junkyard Jamboree. If you have enough adults to help your kids make the requirements to be able to ride one of the tractors, feel confident sitting it out and watching them have a blast (kids under 7 years old must be accompanied by somebody 14 or older). Our little dudes LOVED Mater's and this dad couldn't deal with the slingshot action of the ride. At night with the colorful backdrop of Cars Land, there's a lot to take in and while it's tractor-loads full of fun, it's a bit more wild of a ride than you might expect.
Tip: if you don't have a bonus adult with you, be cool with doing rides with your littles that are outside of your comfort zone. They'll remember the fun they had with YOU.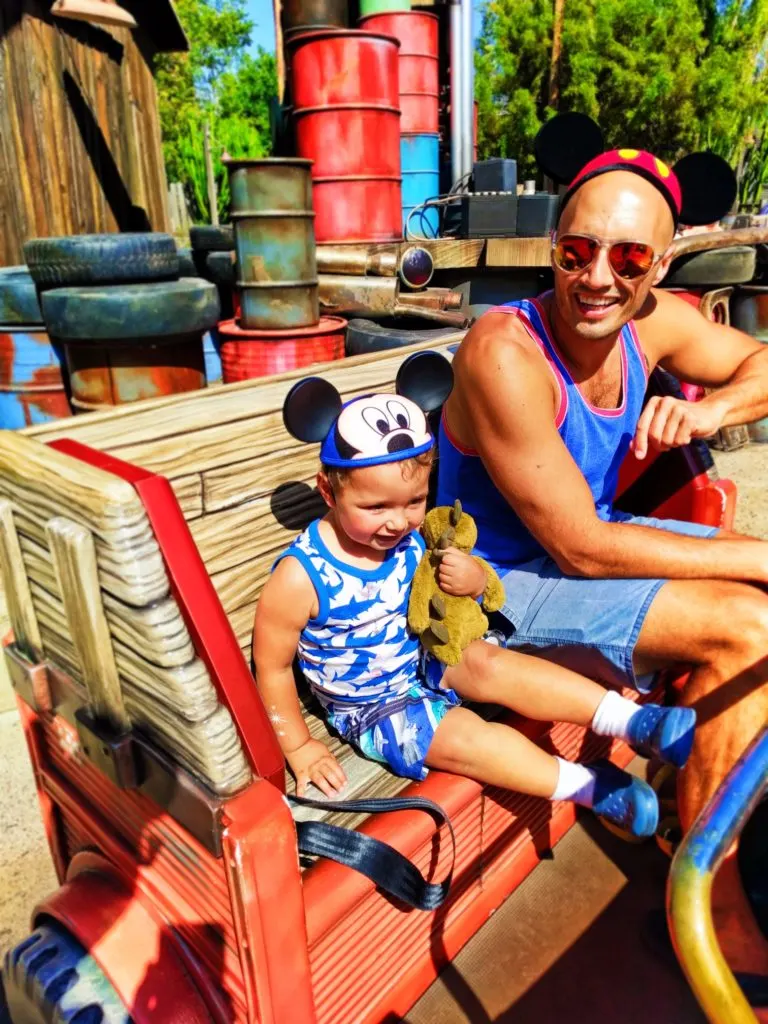 There was more to our first family Disneyland vacation than our unforgettable first day and Cars 3 Premiere experience, but that first day really took the cake. Being prepared with our standard products like snacks and Huggies One & Done Wipes at the ready made the day a breeze from start to finish line. Lightning McQueen is now the prime topic of 80% of conversations in our house and the question keeps coming up when we'll get to do another family Disneyland vacation. The kids and the dads had more fun than we could've dreamed and hopefully we'll get to be a part of such an awesome event and family experience in the future! Ka-chow!