Planning Rome with kids feels like a daunting task, right? It's not if you know the best things to do and get recommendations for how to plan a trip! The top sights to see with kids in Rome make for an epic visit to the Eternal City.
From where to stay in Rome, what to pack for a trip to Rome with kids, and sights and activities to put on your itinerary, this is your one-stop article for making visiting Rome with kids easy and fun.
Europe is filled with a rich history, wonderful cultures, stunning architecture, fantastic food, incredible languages… The list can go on and on. When we travel all together as a family, we like to introduce ourselves to different cultures, foods and historical sites.  That being said, one of our favorite countries to visit in Europe is Italy. It's right up there with Croatia!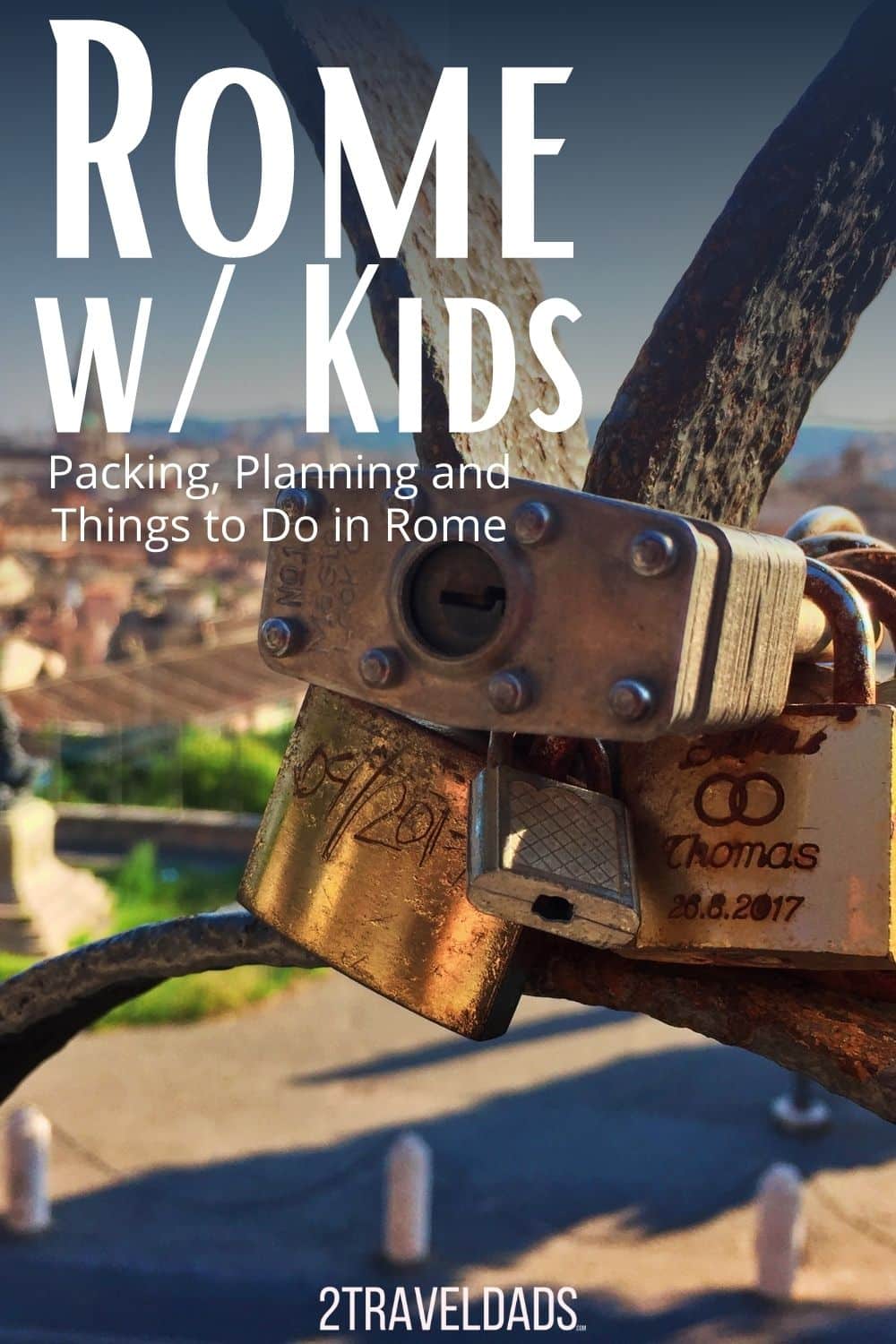 What to Pack for Rome With kids
When travelling anywhere with kids whether it's for a long period of time or even just a few days, it's important to pack light, and smart! When you visit Rome with kids, you really need to be practical and bring along only the essentials.
It's easy to think that you'll need lots of changes of clothes or items to keep kids entertained, but that's not the case when you visit Rome, or nearly any place in Italy.
Clothing and Shoes for Visiting Rome
If you are going to Rome in the summer, I think the number one thing to pack is light, breathable, comfortable clothing. It gets hot and you will sweat, so make sure to pack cool clothes.
Clothing Packing Tip:  yes, packing light includes tank tops, but remember that many sights to see in Italy include churches of all sorts. You may be required to cover your shoulders or décolletage before entering.
Shorts and thin pants are perfect for Rome, and unless they are SHORT shorts, will be acceptable for entering most religious spaces. You'll see many Italians wearing jeans or white pants (how do they keep them clean?!), but that's not what we recommend when you're packing for Rome. Choose pants/shorts that will keep you cool and will be easy to clean.
And also make sure you have comfortable walking shoes for yourself, but also your kids. Rome is a big city, and is very walkable. Public transit exists, but you'll enjoy walking almost everywhere because there is just so much to see. And if you're visiting Rome with kids, they will want to walk many places too… including endless stairs. 
Something to consider when you're packing shoes for Rome:  walking on stone wears on you. Shoes with a good, thick sole are very important for anti-fatigue. To be sure you all can enjoy Rome, which for many is a once in a lifetime trip, it could be worth it to invest in some new walking/running shoes prior to departure. Break them in and enjoy the comfort as you explore the city.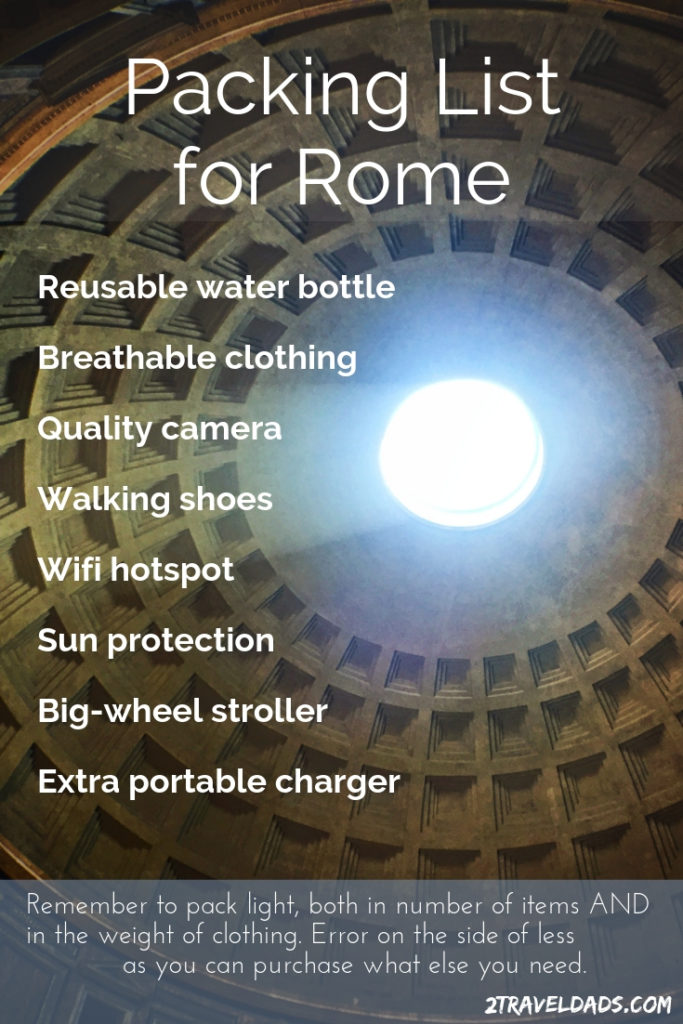 Daily Packing List for Rome with Kids
The absolute essential to pack along when visiting Rome with kids is a reusable water bottle. Not only are you being mindful of the environment (yay for low impact travel!), but there are thousands of water fountains all around Rome. Literally thousands.
There are about 2800 of them that have potable water flowing out of them.  The kids will love filling up their bottles and it can become a game who can spot the "nasoni" or "big noses" as they are called in Italian, first. It's a never-ending scavenger hunt.
Don't forget to pack your sunscreen or preferred sun protection when visiting Rome with kids. The Roman sun gets hot. You will sweat and have to reapply sunblock often. Make sure you are and your kids are protected from the sun's rays with cool, breathable hats and UV blocking sunglasses.
If you're visiting Rome with kids, a stroller may be a great idea (kids 3 and under need this for sure). There is so much to see and explore, little legs will tire out quickly. It's key to bring along a stroller that's big enough that your kids can nap in it, and that is strong enough to battle the centuries old cobblestone streets. A stroller in Rome really is a life saver because you can still be out wandering around while little ones nap.
That being said, Rome is not the most accessible city, so be prepared to carry your stroller up or down stairs.
Tip:  strollers with large wheels that can handle bumps are the best. Smaller, umbrella strollers can be tricky with cobblestone streets and in some cases can be dangerous should wheels get stuck.
Whenever travelling, whether you are doing Rome with kids, or even your hometown, packing along snacks is probably one of the most important things. We've learned this the hard way over many previous outings. A hungry child makes for an angry child. Pack along a small insulated food bag that you can store fresh fruits and vegetables in. There are plenty of supermarkets around where you can purchase fresh food.
Tip:  to save a little money, you can make sandwiches/snack at your hotel room and then go sit in a piazza and eat lunch and just watch everyone go by. It's budget friendly and makes it so you don't miss out on the vibrant city life of Rome.
Cameras and Electronics for Visiting Rome
Rome is the perfect backdrop to take amazing pictures and make wonderful memories, so don't forget to pack your camera. There are stunning views from every corner and you don't want to miss them. Remember that morning and late afternoon light are best for taking great pictures when you're in a city like Rome.
This is a tough thing to say out loud: you don't need to bring a ton of camera equipment with you if you're visiting Rome with kids. Your energy and storage space is better suited for other things and chances are, unless you're a professional photographer earning a living by the photos you'll take, your smart phone will take incredible photos.
Tip:  check out our article all about taking the best travel photos possible. Great tips for getting good shots and capturing family travel memories.
Europe has different outlets and voltage than that of North America, so be sure to pack along a converter and/or adapter. We also bring small power packs with us for charging our phones after a long day out and about.
The final thing we found very useful when visiting Rome with kids was a portable travel wifi hotspot. It acted as a cell phone charger when out and about and it gave us WiFi so we could connect to the internet while out on the go if needed, or upload pics throughout the day.
Tip:  be sure that each night when you're traveling that your phones back up their pictures. If you are on wifi during the day or just as soon as your back at your hotel, get the photos uploading so you don't run out of memory space.
Where to stay in Rome with kids
When choosing where to stay in Rome, you want somewhere that is central to the major sites and also in a great neighborhood. If you're not familiar with the city, you may end up quite a ways away from your main touring focus, and if you've got kids with you, that can add a whole new level of complexity to your travels.
Before choosing a hotel:
choose the area that is most convenient to your travel goals/sights

price out available hotels based on your budget
weed through the potential hotels by amenities
lastly, check reviews on 3rd party sites, such as Yelp or hotels.com
We recommend staying within Municipio I, and in particular, at the Westin Excelsior. Not only is it in an ideal location to historical sites, restaurants, malls, grocery stores, but it also has a pool which is the perfect way to cool off after a long day of exploring hot, sunny Rome with kids. Staying at a hotel with friendly, helpful staff can really make a tiring trip a lot easier. 
And while it can be great to stay in a small, boutique pensione or inn, staying at a hotel that's fully staffed for all levels of guest service is really nice. 
Here's a handy tool for finding places to stay in Rome, including pensiones, private rentals and hotels. You'll find that there are a number of vacation rentals and apartments throughout the city. As we said above, be sure you're booking a place to stay in Rome that really does enhance your visit and add an element of ease to your day.
Best Sights with Kids in Rome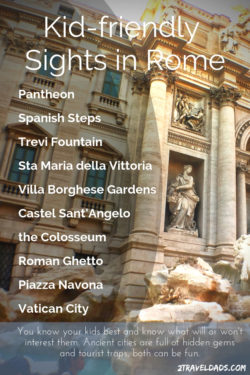 As I mentioned, choosing a hotel location for its proximity to the sites on your Rome bucket list is important. Many of the best sights with kids in Rome are found within Municipio I. It is a short walk to some of the most famous sites in the city from this neighborhood, and most of these are kid friendly and ideal for ensuring the most Roman of experiences:
the Colosseum

Countless churches nearby, including Sta Maria della Vittoria.
Although these are just a few of the hundreds of historic and beautiful sites to visit when you do Rome with kids, these are some of the most iconic and easily accessible landmarks. Of these, our top recommendation for both enjoying Roman life and experiencing the beauty and history of the city is the Villa Borghese Gardens.  
This is one of the best things to do when visiting Rome. You are able to sit down and relax while kids play a bit. The gardens are an ideal place for kids to unwind, run around and have fun. There are bikes to rent to ride around the grounds under the shade from the canopy of trees that line the paths.
You'll also find a small arcade area if it comes to that, a playground, a zoo, an outdoor theater, restaurants, fountains… And you cannot forget the spectacular views of Rome from the westernmost point of the park. You'll get goosebumps when you round the corner and have the city before you. The Villa Borghese Gardens are awesome with kids.
Another great activity to do in Rome with kids is to book a private tour of the Colosseum. It is not in walking distance from the Municipio I, but still close enough to easily take either the subway or grab a taxi there. It is worth the effort and time, and having a private tour allows for seeing the best sights within the Colosseum with custom interpretation. It is perfect for a family. 
Easy Day Trips from Rome (or extra days)
Vatican City is very easy to add onto a trip to Rome with kids. While it may not be the right addition for every age group, it's incredible. Vatican City is full of art, museums, gardens and historic sites. If you're visiting Rome with kids, it may be good to add it to your plans if you have older, very interested children, but I wouldn't advise young kids visit.
Another spot for next time doing Rome with kids: Trastevere. It's considered one of the coolest neighborhoods in Rome and one of the best places to visit in Italy.
To the south, you'll find Naples, Salerno and the Island of Sicily. And a bucket list activity for travel around Italy: hiking Mount Vesuvius! There are several active volcanoes in Italy to visit, but Vesuvius and the city of Pompeii are at the top of our list.
Florence, Pisa, Venice, and Cinque Terre are all to the north of Rome and each is very different.  True, by train or car each city or region is several hours away, but proper planning or adding a few days to your trip to Italy will allow for proper exploring.  Considering what destinations in Italy kids will enjoy the most: Cinque Terre is full of fun, maze-like colorful towns; Venice is unique among cities of the world for the canals; Florence is grand in ways different from Rome; Pisa is iconic and so very easy to visit.  
Travel Tips for Rome with kids
Going on a grand adventure to Rome is much different than enjoying a country vacation with kids. As incredible and beautiful as the city is, it can be overwhelming on many levels, including for little ones.  These are our top travel tips for ENJOYING Rome with kids:
Wherever you travel, you need to be alert and aware of your surroundings. Rome is a very busy city, and especially around the tourist areas you need to keep an eye on your valuables and keep them hidden.  We kept our valuables in a fanny pack. It's easy to carry and no one can access what's inside.
Tip 1:  stay alert with your valuables
There are many fountains around the city, so bring along lots of coins for your kids to throw in to make a wish, but also remind them that they cannot remove money from the fountains.
Tip 2:  bring coins for fountain wishing
If you are like me, then you will be in souvenir heaven! I collect magnets from all the places we travel to. I think we need a bigger fridge to keep them all on actually. There are tons of little souvenir stores to buy a memento or two from. Just don't spend your money all in one spot as there will be another one just a few doors up the street. And remember, enjoying Rome with kids is more completely captured in photographs, not stuff.
Tip 3:  DO hunt for a special souvenir, but don't sack Rome in the process.
Italy is known for its food, and Rome is a melting pot of different flavors. Our favorite dish to eat there is pasta (duh). We can make fresh pasta at home, but nothing tastes like it does there. The ingredients are fresh, the flavors are robust, and for some reason while on vacation we can eat more. Take advantage of Roman cuisine and find new ways to enjoy the world's greatest carb.
Tip 4:  eat all the pasta and try new styles
On every corner, in Rome you will find gelaterias. These are shops that sell Italian ice cream called gelato. There are so many varieties to choose from. My favorite is pistachio or Nutella, and we all loved the lemon. It's a great way to cool down from the heat!
Tip 5:  enjoy gelato whenever you can to cool down in the heat
Lastly, look up. Rome with kids is magical. Do not get sucked into your phone while experiencing the Eternal City. Download an offline map of the city, put your phone in airplane or battery-saver mode, and just enjoy exploring with your family. Take pictures of YOUR people enjoying playing tourist. Do all the cheesy tourist things. Get lost on a side street and find a quiet place for dinner together. Unplug and have the time of your life.
Tip 6:  look up and unplug from your phone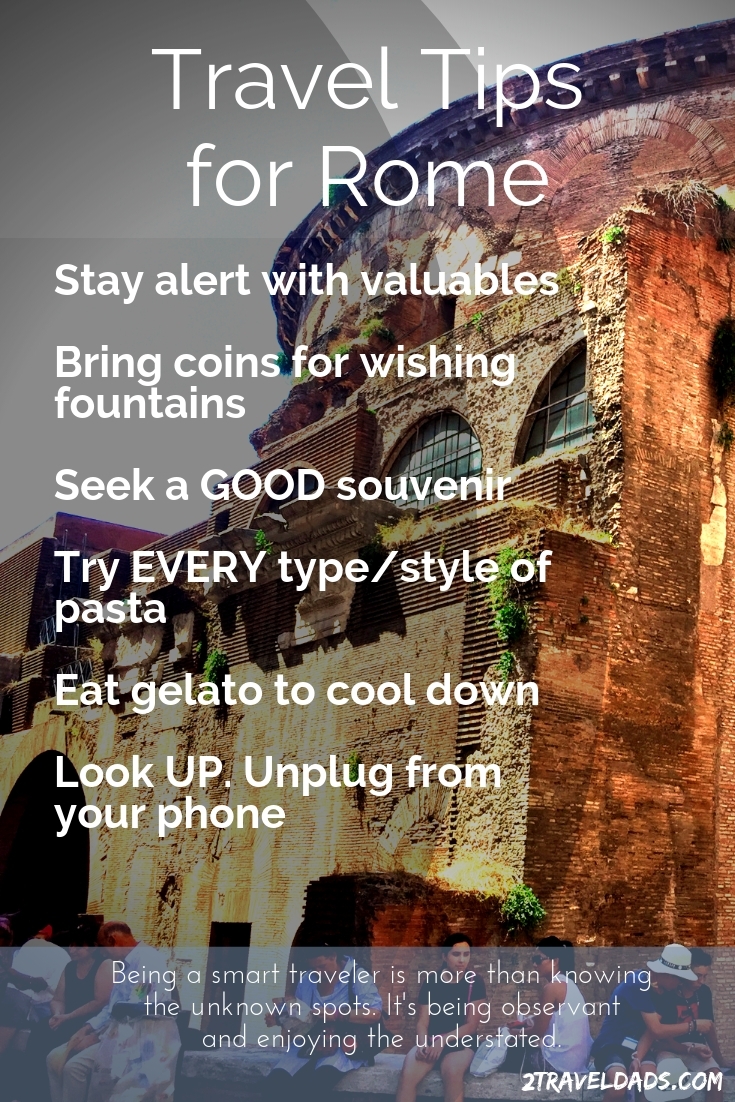 There is so much to do and see while in Rome with kids, but remember don't over do it. Rome wasn't built in a day, so don't worry about not seeing everything it has to offer on your first trip. Hopefully you can return and enjoy another Roman holiday!
If you have more tips or questions, please leave a comment or send us a note. We're happy to provide more recommendations and advice, and to add useful tips from you!
And feel free to pin this for planning your own adventure in Rome with kids!