Having gone on countless road trips as a family we love finding new places to explore together. It's so easy to do the same trip you've done in the past or to go the route you know best, so mixing it up can be a challenge. We were sent The Open Road: 50 Best Road Trips in the USA and asked to consider it as a tool for our next family trip. Easy!
When we plan USA road trip routes, we usually think about the final destination and then add must-see sights along the way. As we sat down with the kids to figure out our next big vacation, we found some of the most scenic drives in the USA that we'd never even considered. The kids are loving this family process since they can browse an actual book. Why did we never consider that before?
Note: this article is sponsored by Hachette Book Group who published The Open Road… but all opinions and experiences are our own.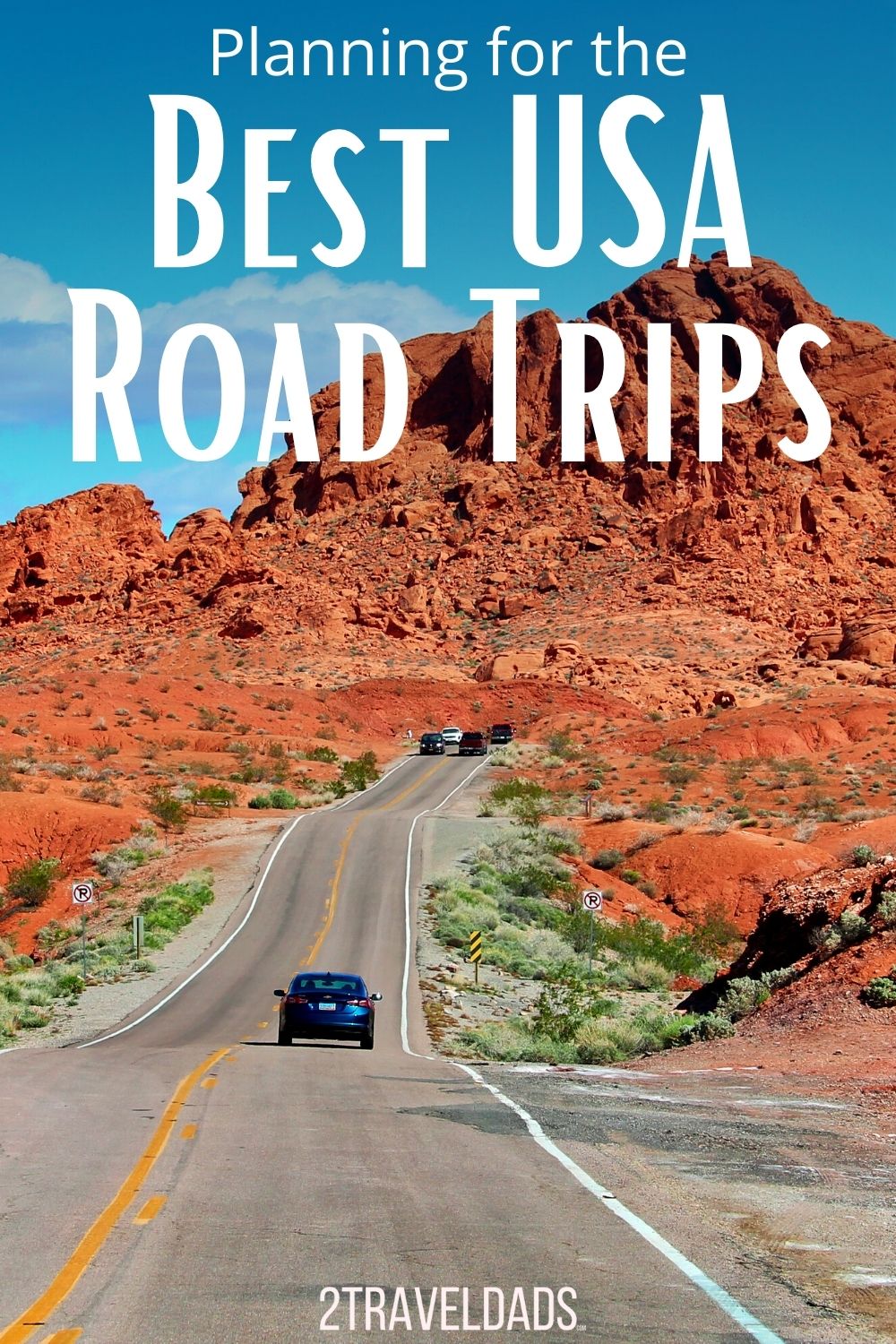 How to Choose a Road Trip Plan
We love to talk about the "great American road trip" in sweeping discussions about what are really the best drives in the USA or what routes include the most iconic sights. For most people, the best road trips in the USA require some travel to get to the starting point of the planned route. 
Flying to Drive: traveling to the beginning of your route
We used to think road trips could only start at home, using our own vehicle, and then one day we decided that we could fly and THEN travel by car… and that too is a road trip! This change of viewpoint really opened doors for how we travel and the diversity of experiences we get to have.
The most scenic drives in the USA don't usually start just outside the airport, but you'd be surprised what you'll see after landing in DEN (Denver) or the views from SFO (San Francisco) to Monterey.
Tip:  When you're considering road trip ideas, if the budget allows, be open to a short flight to get to a different region.
A great example of our family flying to be able to complete one of the best road trips in the USA was hopping on a plane from Seattle, Washington to Bozeman, Montana. This short flight was inexpensive and gave us more than three extra days to enjoy exploring Montana and Wyoming since we didn't have to drive the extra leg between Seattle and our starting destination.
Another time we opted to fly somewhere and then road trip, was our first trip to the Florida Gulf Coast. We flew into Fort Lauderdale and picked up a campervan so we could enjoy a camping style road trip without having our own equipment. So many options when you allow yourself to fly to a road trip route starting point!
The point of all this: don't limit your road trip vacation to just what's beyond your driveway. Pick someplace exotic to you and make IT into a road trip!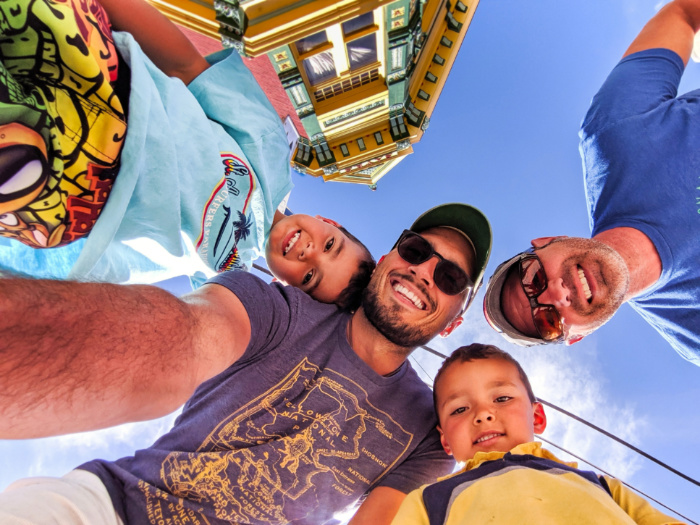 Road Trip Routes Leaving from Home
There's a lot to be said for being able to pack up for a great American road trip from your own home. For most families this is by far the most economical option since you don't have the need for flights or renting a car. This is also an opportunity to go beyond your comfort zone.
Growing up in the Seattle area, both Chris and I are very familiar with Washington State, so hopping in the car and just traveling within our own borders was easy, comfortable. A no-brainer really.
Venturing beyond our standards of Washington Wine Country or the Columbia River Gorge, we got to visit places we had never considered in the past, including Idaho and rural Oregon. Wow! Inspired by a coffee table book, our first trip through the Sawtooth Mountains was remarkable and never on our radar until we flipped through that book. Come to think of it, we STILL haven't written about that remarkable adventure [adds to list of articles to write].
That's why we're sharing The Open Road: 50 Best Road Trips in the USA. This is the exact sort of random inspiration we and others need to get us finding new adventures, both far away and close to home.
Note: release date for The Open Road… is November 2020. We were given an advanced copy for the purposes of reviewing it and testing it out.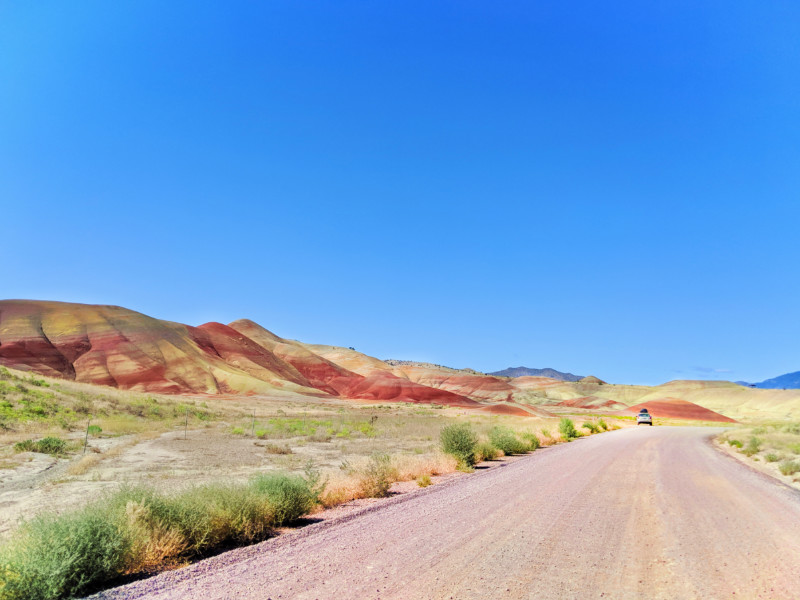 Getting Kids Involved in Vacation Planning
We actually get a lot of questions about having the kids help us plan our vacations and work trips. Yes, the boys (6 + 9 years old) have opinions and interests and it's extremely important that we consider those when vacation planning. The best road trips in the USA will no doubt have lots of points of interest, but some will be more exciting than others depending on your family.
If you've got kids, you have an opportunity to show them that you value their opinions and interests by getting them involved with planning a trip. When we got our copy of The Open Road… we told the kids to browse through and each pick a trip they thought would be the most interesting to them.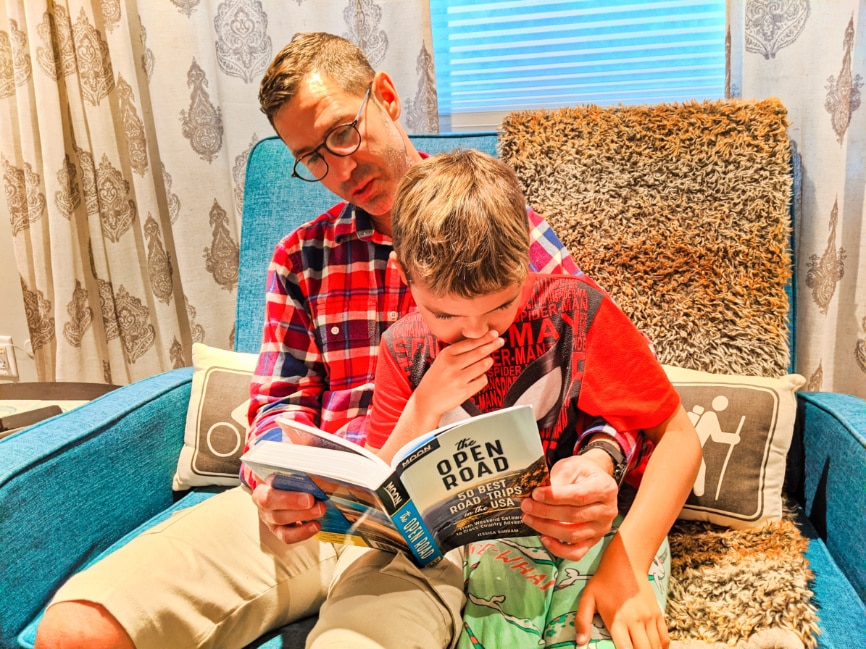 Our Top Kid Picks for Road Trips
So yes, we did let our boys pick a trip each and hopefully we'll get to complete both in the next year.
Oliver picked South Florida and the Keys since we live in Florida and he's been super interested in driving, what may arguably be, the most scenic drive in the USA. And he knows how much I love kayaking and SUP, so I'm sure he was thinking about what I love too. We've done the Gulf Coast portion of this route, but not the southern pieces. I'm sold.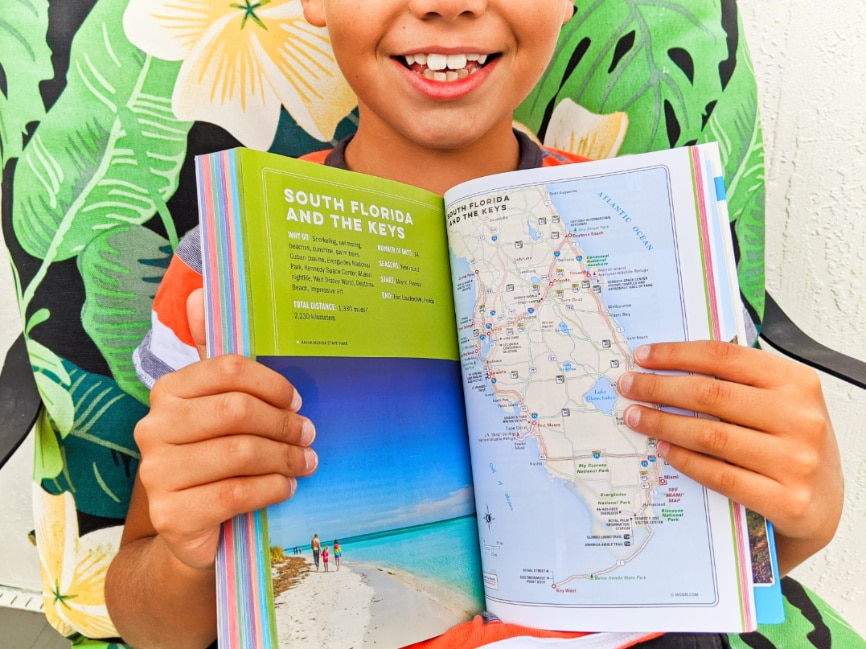 Elliott picked the Alaska Parks Highway. I used to live in Alaska, both on the Kenai Peninsula and right outside of Denali National Park. I get why he picked this trip. He saw photos of bears, colorful Alaska sights and he knows that we all love National Parks.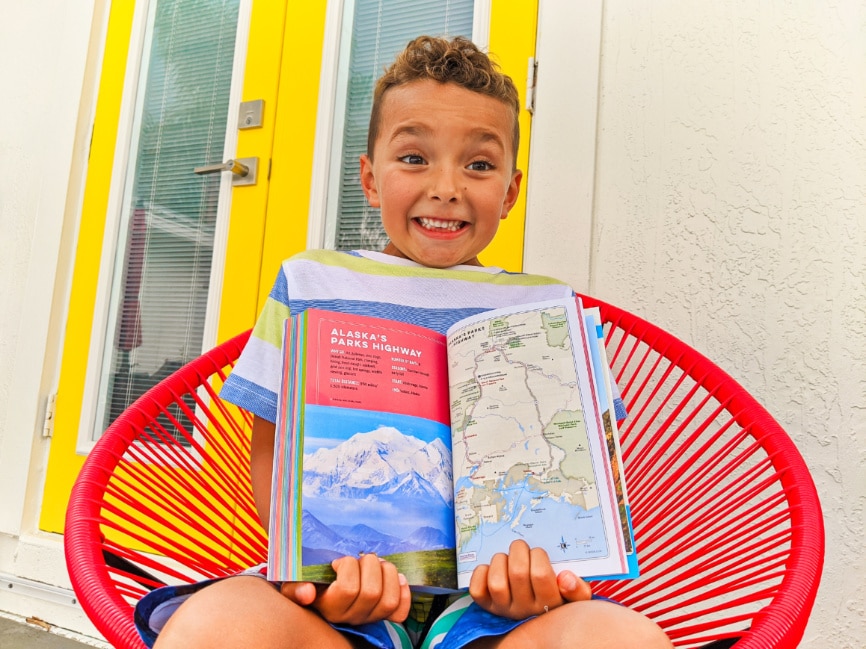 What we Love about

The Open Road
I've always been a sucker for travel books. As an author myself, I love holding a book and reading deeply or browsing. I love when I get sucked into great photos that lead me to reading more about the pictures. The Open Road: 50 Best Road Trips in the USA is both a beautiful book and a great tool.
Within each section which is organized by region, there are a selection of the best road trip routes in the area. The most incredible scenic drives we've ever been on are detailed, as well as plenty that we've never done, in whole or in part. I appreciate the extra information of travel time, must-see lists and quick tips.
I consider us well-traveled, especially within the United States, but as I look at some different routes, particularly the California road trip ideas, I realized that we have missed some incredible sights. The 20 Day Northern California Loop blew me away, and I've done a lot of this route across many different trips. I really would love to take three weeks for this amazing California road trip route.
Note: we have written about our own California road trip routes, including the complete coast, El Camino Real, the National Parks of California and more, but have never put together so intense of a travel plan as the 20 Day Northern California Loop. I'm itching for it now.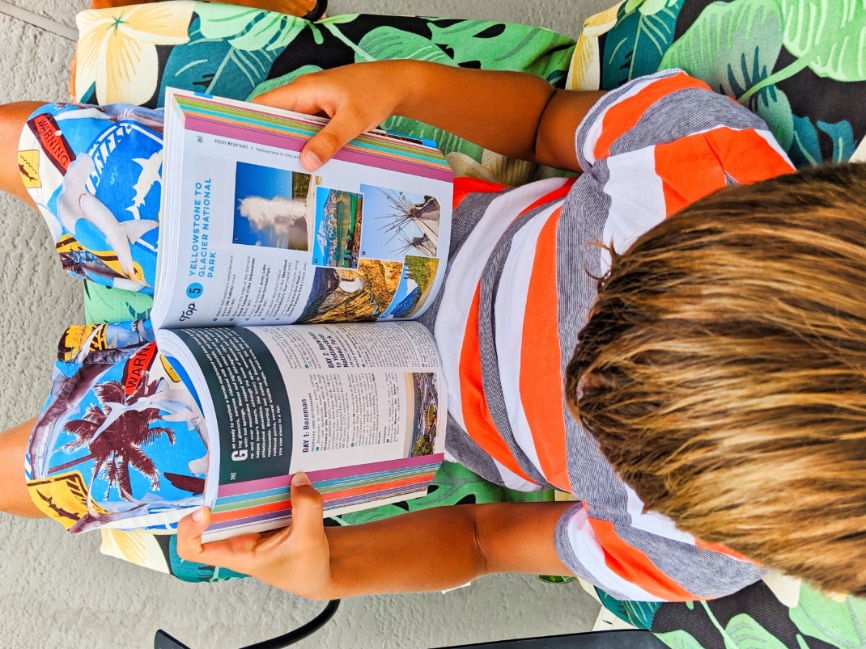 Bonus: removable map with road trip routes!
After we'd been looking through The Open Road… for a few days, we discovered there is a removable map at the back of the book. Super cool. I shared it with the kids and they really loved seeing the many USA road trip routes we'd been talking about. When you're travel planning with kids, having a good map with minimal information (like this one) is really helpful. It made explaining sights and logistics to the kids much easier.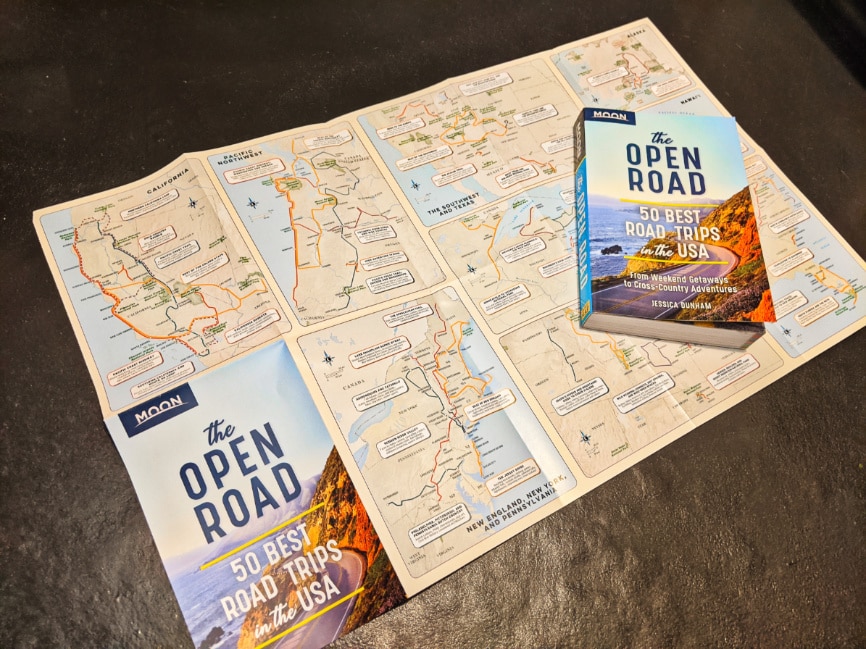 Favorite USA Road Trips to Consider
Clearly road tripping is our passion. The best road trips in the USA are both lengthy and super short, such as weekend getaways. After spending lots of time pouring through The Open Road… we have made our official USA bucket list of road trips. They are as follows:
20 Day Northern California Loop – can you tell it's my top pick?
The Pacific Crest Trail: Washington & Oregon – because I love the PNW
Idaho's Rivers and Mountains – done it and it's incredible!
Minneapolis to Voyagers National Park – we need to explore Minnesota more
The Appalachian Trail – we've done part of it and would love to do the rest!
The Adirondacks and Catskills – so beautiful, want to do as a couples road trip
The Blue Ridge Parkway – perfect for fall colors in National Parks!
Road to Hana – we've never been to Maui and have read amazing things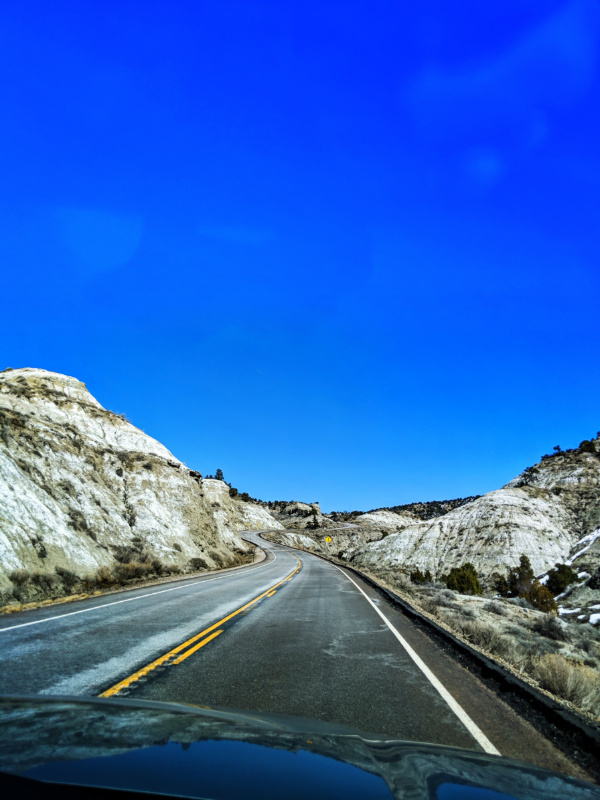 Our Top USA Road Trip Ideas for 2021
I'm no scientist, but I feel like with the coronavirus impacting travel so much in 2020, that 2021 is very likely to be a road trip focused year for many people. I know it will be for us. Since it's unlikely that we'll be doing much international travel in the coming year or two, these are the trips we've already started adding to our calendar:
South Florida and the Keys

Alaska Parks Highway

Wisconsin's Door County

Santa Fe, Taos and the Enchanted Circle and

North Carolina's Outer Banks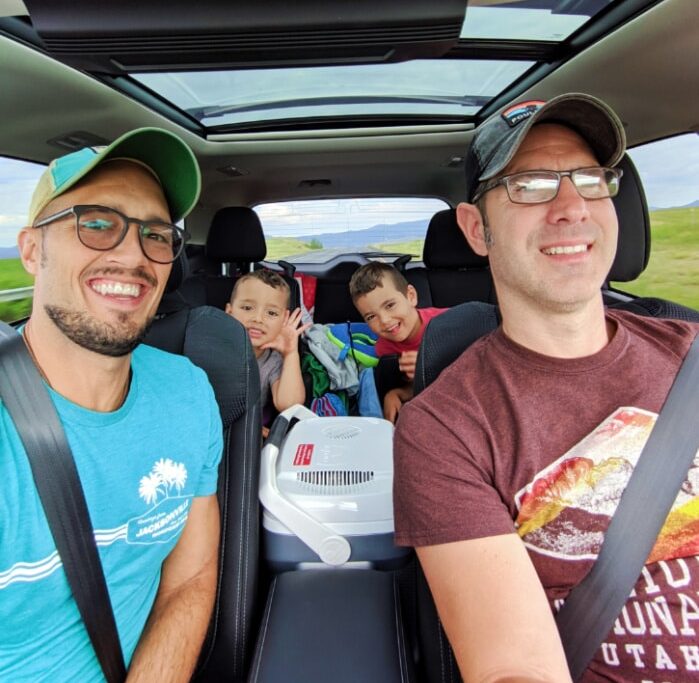 We've got a lot of planning to do, and we're so excited to share our adventures as they unfold. Follow along, as we try out these incredible USA road trip plans and share our experiences!
Get a Copy of The Open Road: 50 Best Road Trips in the USA
We were lucky to be sent a copy of The Open Road… before it's available to the public since we partnered with Moon Guides/Hachette to share our opinion, but you can pre-order! It's available for pre-order now and for purchase October 20, 2020.
Would I buy this book had it not been sent to me? Yep. I found having a tangible book for both inspiration and travel planning to be very beneficial. As we've been outlining our upcoming Florida Keys trip, not having to use ten windows on my computer has been a nice, less-stress experience. So yes, I absolutely recommend getting the printed version!
The Open Road: 50 Best Road Trips in the USA  —  paperback
The Open Road: 50 Best Road Trips in the USA  —  kindle edition
If you have any questions about the book, about road trip planning as a family, or travel in general, always feel free to leave a comment or send us a note. That's what we're here for. Happy traveling!