Winter in Canada is not for the faint of heart, but if you know how to do it right and where you can find charming warmth, it's not so bad. Canada from coast to coast is a treasure trove of mountain getaways and historic cities. Here are six beautiful places to embrace the Canadian winter (and they're pretty great in summer too!).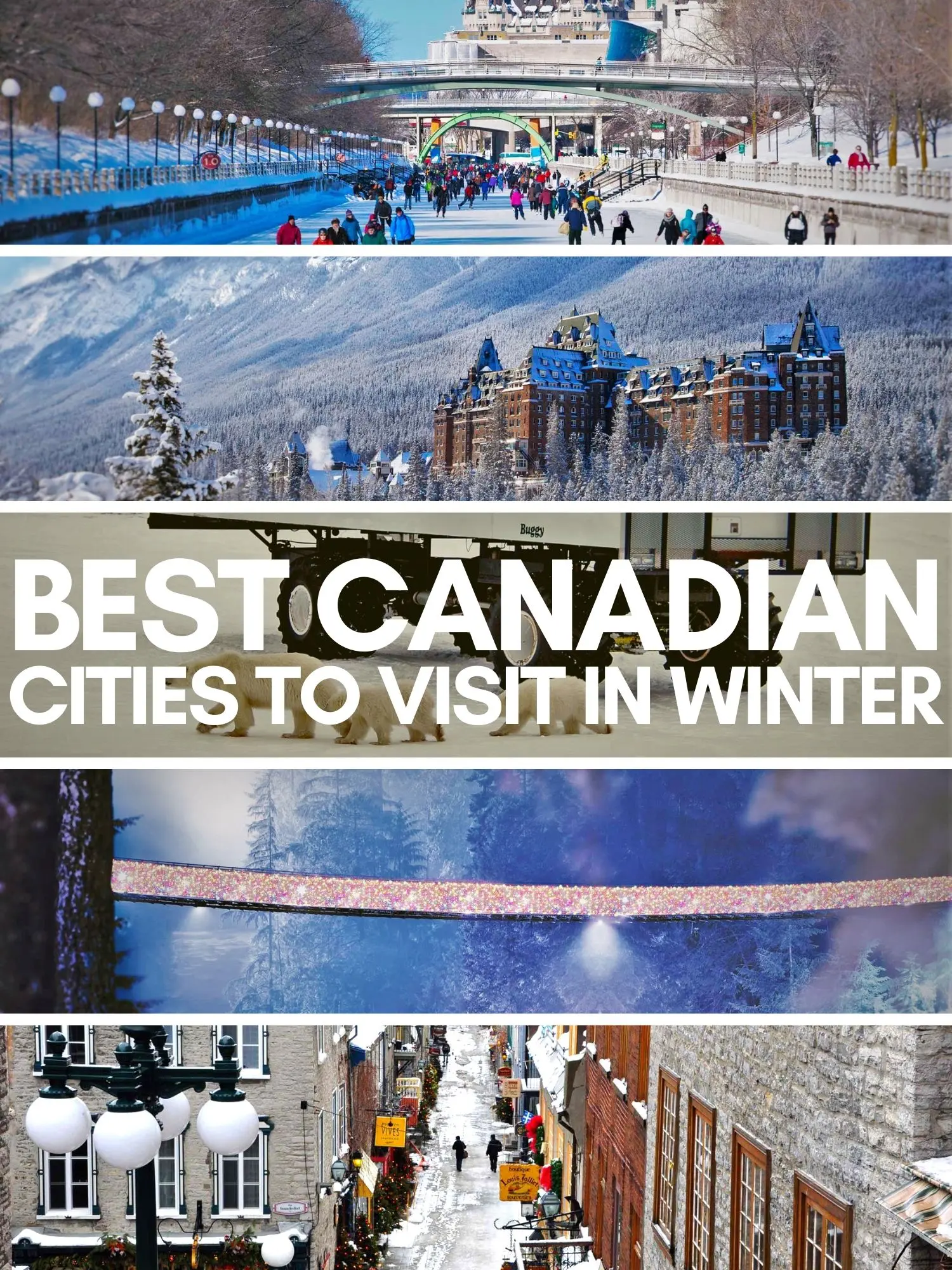 Banff, Alberta in winter
I could just say "the Rockies" as the whole mountain range between Alberta and British Columbia is an outdoors-man's paradise in the winter, but Banff has a special place in my heart so I'll focus on that location.
Banff National Park is home to the stunningly beautiful Banff Springs Hotel – one of Canada's most iconic buildings. This luxury hotel was built during the 19th Century in a cross-country effort to make the vastness of Canada more appealing to tourists, and it worked. The hotel offers suites anywhere from $300 to $1,000 a night, but with over 300 rooms available, there's always a place for you! There are also many cabins in Alberta around Banff these days, so finding a more affordable option is easier than ever. We had a wonderful stay at the Mount Royal Hotel in downtown Banff.
Tip: plan a day that you can head out of the town of Banff early to check out Lake Louise too, because it's a Canadian landmark not to miss!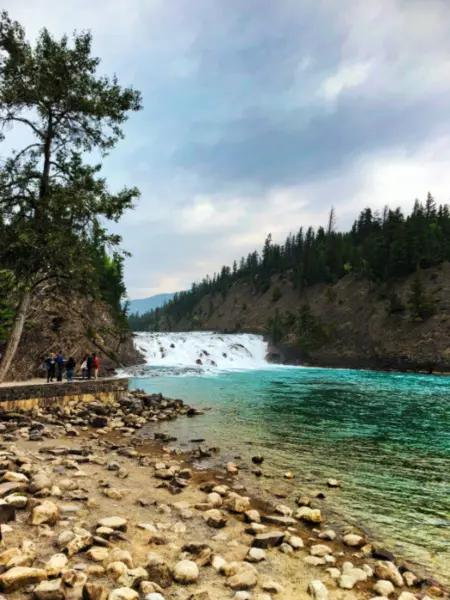 Besides the gorgeous hotel, the town of Banff also boasts quaint shops and incredible shopping. Throw all that in with the downhill and cross country skiing, snowboarding, curling, skating, ice fishing, hiking and plethora of hot spring in the area, it's a perfect winter getaway. We've been in summer and fall also and find that there are plenty of hikes and sites to explore in Banff without crowds, you just need to know where to look.
If you want to stay outside of Banff, Canmore is a beautiful town very nearby. It's just as beautiful but it less expensive and is much more mellow. We stayed at the Holiday Inn Canmore and loved its location and gigantic room sizes. Search for Banff area hotels here!
Tip: visiting in summer you'll be among thousands of tourists everywhere in Banff. Visiting in the off season ensures unique, personal experiences, including hiking in the snow.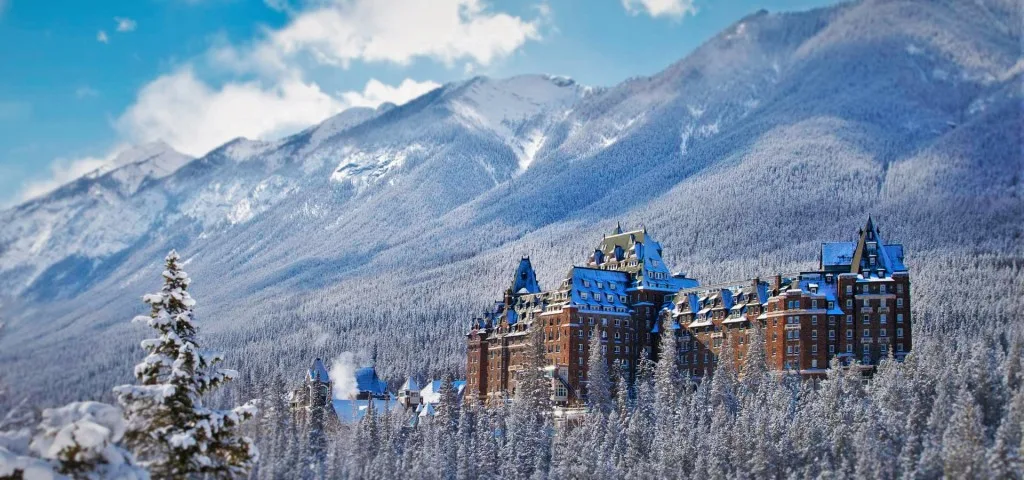 Ottawa, Ontario and Winterlude
My only trip to Ottawa was in late October, but I've always wanted to go back in the winter. The main reason is to skate (or attempt to) on the Rideau Canal Skateway, a 7.8 kilometer long outdoor skating rink, making it the largest outdoor rink in the world. The canal was built for military purposes in the event that the United States invaded, in which case there was a lifeline between Montreal (the then capital of Canada) and Kingston (the then headquarters of the British military).
You can also go to Winterlude and take part in fire and ice sculpting (or just watch somebody else do it!) or visit the Snowflake Kingdom – the biggest snow playground on the continent! You can also go downhill and cross country skiing in Canada's capital, if you didn't get enough of that in Banff. And you cannot miss skating on the Rideau Canal when it freezes over: one of the most Canadian winter activities you can imagine.
And if you're hungry, swing by ByWard Market Square and grab yourself a Beaver Tail – a classic Canadian treat that US President Barack Obama had to try! (It was our treat since they never invaded us again!). The best Beavertail combo is Nutella with Reece's Pieces. You'll love it.
Tip: people flock to Ottawa for the fun, so book your hotel as soon as you know you'll be visiting.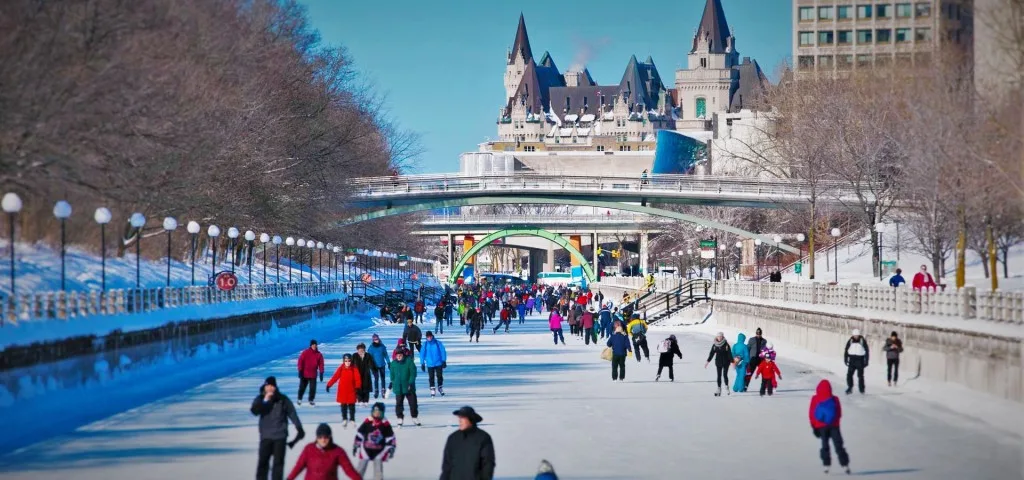 Quebec City, Quebec: European Canada
If you love shopping but can't afford Paris, Quebec City is the next best thing. From cobblestone streets and French architecture to a YEAR ROUND Christmas store, Quebec City is one of the best places in Canada to spend your winter. Historic sites abound as do small cafes and warm nooks to grab a glass of wine or poutine.
But this city isn't just good for shopping and architecture gawking. Quebec City is also home to the world's largest winter festival, Carnaval of Quebec, featuring things such as snow baths, night parades, snow slides, giant foosball, snow sculptures, shows, sleigh rides, and skating.
Tip: smaller, quaint accommodations are available near Old Quebec, the original oldest part of Quebec City.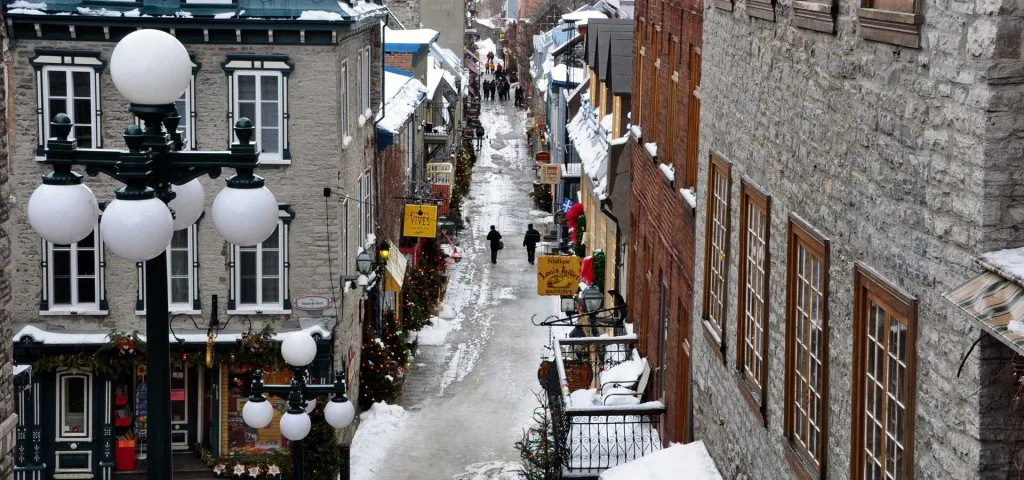 In years past in November they also close off some of the streets and Red Bull puts on "Red Bull Crashed Ice", a high-paced downhill ski tournament through the winding francophone streets of the only walled city north of Mexico. With major changes to group gatherings and sporting events, Crashed Ice in Quebec City has been placed on hold (2021).
If you need a place to spend the night, be sure to check out the Hôtel de Glace, a 100% ice hotel, the only of its kind in North America. The hotel features a beautiful Great Hall, Chapel, ice slide, exhibitions and Ice Bar, as if you needed any more convincing. You could also stay at the Fairmont Le Château Frontenac, the most photographed hotel in the world, if you're looking to splurge. Book the Chateau Frontenac here!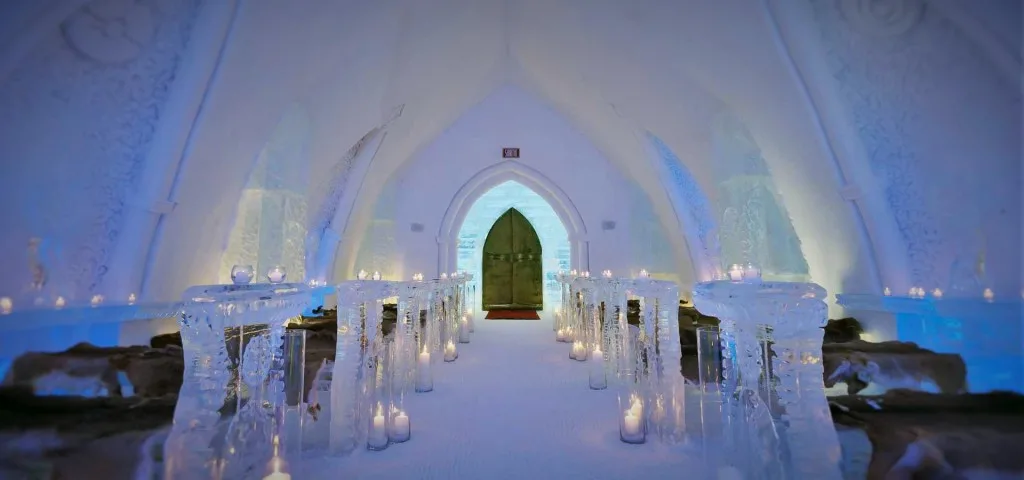 Churchill, Manitoba for Polar Bears
Not nearly as big as Ottawa or Quebec City, Churchill is a nature lovers dream come true. Isolated from the hustle and bustle of Canada's main cities, this community boats a population of only 813 people. Why head here? One reason in particular: Polar bear tours! While it's a costly activity, taking the Tundra Buggy out into the wild to observe polar bears is a bucket list activity for many, and is best done in the Canadian winter. Book the Tundra Buggy Polar Bear tour here!
Nestled on the edge of Hudson's Bay, this community not only offers tours to go out and see polar bears up close, but it also has a problem with polar bears wandering into the city. On Halloween the police use helicopters and patrol the community to protect the kids from overly curious bumbling, snuggly snowy teddy bears. (Okay, maybe not so snuggly. Seriously. Don't get too close.)
Tip: for the full run-down on experiencing the polar bears, check out our friends Dave and Deb's guide to polar bear viewing and booking a trip up to the ice.
Besides polar bears, you can also see the majestic beluga whales, go ice-fishing, cross country skiing, kayaking and camping out in an igloo and watch the mesmerizing northern lights!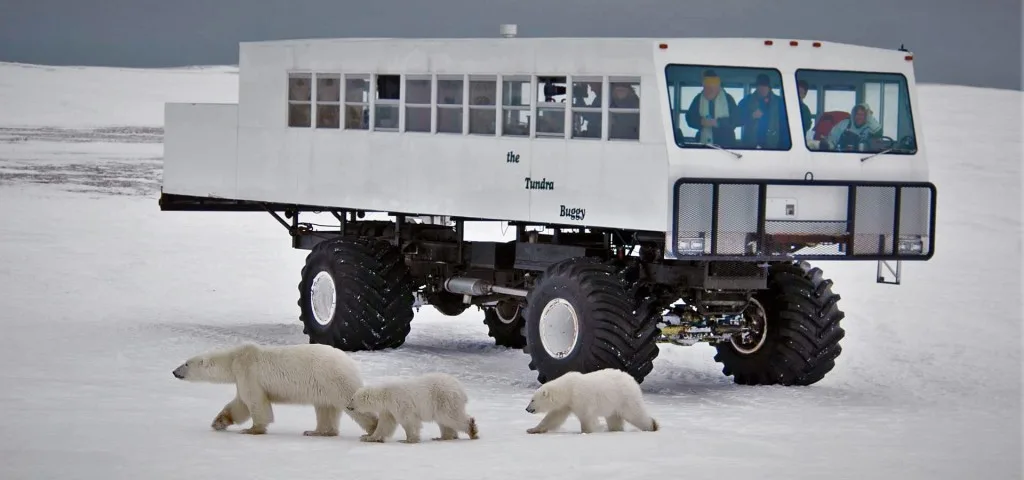 Exploring Regina, Saskatchewan
While winter in Saskatchewan is rough and intense, that doesn't mean there isn't anything fun to do in the winter, particularly if you're visiting Regina.
Regina offers a unique shopping experience at their annual Wintergreen Fine Craft Market where you can buy a variety of locally made crafts, such as dishes, artwork, jewelry, ornaments and – oh my god! – the fudge! If you miss Wintergreen that's okay because there's more awesome shopping experiences, such as the Christkindl Markt and local craft fairs.
If you're feeling outdoorsy, you can go skiing, skating, curling, roller blading, kite surfing or ATVing outside the city. You're also welcome to catch a flight with the Regina Flying Club and view the city from above (what an amazing experience in Regina SK!). Additionally you can go on a sleigh ride through the majestic Wascana Park, drop by a Regina Pat's hockey game or catch a performance at the Regina Globe Theatre, with shows from Shakespeare to on-stage radio dramas.
If you're hungry, there's always the dozens of excellent restaurants popping up downtown like Malt City, the Capitol Jazz Club and Tapas Bar, Slow Food Pub, the Cathedral Freehouse, Leopold's Tavern or Bushwakkers Brewery that will leave your mouth watering for more!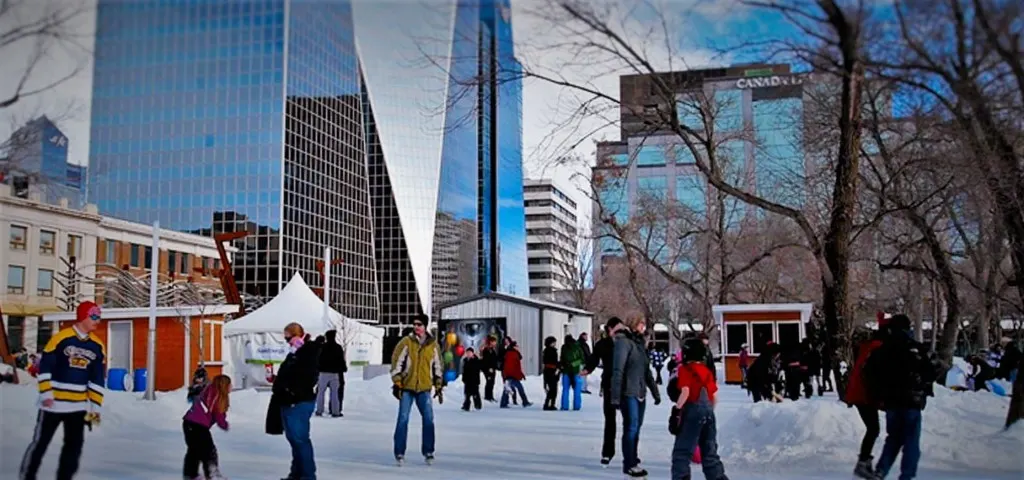 Vancouver, British Columbia: west coast winter fun
Being next to the Pacific Ocean, Vancouver is spared the cold that the rest of Canada gets – and the snow. Instead, Vancouver trades it for rain, as November to March is their rainy season. Don't let that deter you though; a warm, rainy day in Vancouver is a vacation from the blistery coldness on the other side of the Rockies. Check out our guide to an awesome weekend in Vancouver BC!
When visiting Vancouver, you can check out the Bright Nights Train and Plaza at Stanley Park, an incredible display of over three million (one for every 11 Canadians) lights. If that doesn't make you say "Merry Christmas/Happy Holidays/Whatever", the Canyon Lights at Capilano Suspension Bridge Park is host to the world's largest Christmas tree; a tree that is over 150 feet tall! There are lots of tours in Vancouver you can book if you don't want to get lost driving yourself around seeing it all.
If that isn't enough sparkly stuff for the holidays, the people of Vancouver are known for their incredible Christmas decorations, so taking a quick walk around any section of the city will lead to an incredible display of lights, snowflakes, Santa Clauses, elves and nativity scenes. Celebrate Lunar New Year (also called Chinese New Year despite being celebrated by many Asian countries) and see the best display of Chinese and Asian cultures (dragons and all) anywhere in Canada!
Once you're done staring at the lights, throw on your bathing suit and take part in the annual Polar Bear Swim on January 1st where all Vancouverites take a dip in the English Bay on New Year's Day! Swimming in subzero temperatures not your cup of tea? That's alright; you can warm yourself up with Vancouver's Hot Chocolate Festival, Wine Festival or Beer Festival. You can also indulge in some incredible dishes at the Stake Restaurant and snuggle up with some felines at one of the many cat café's popping up across Canada.
My favorite restaurant in all of Vancouver: Chambar. They have the best drinks and apps in the whole city. Prove me wrong.
Also, staying at the Fairmont Hotel Vancouver is a great winter splurge. It's beautiful and in a great spot. If you're looking for a more budget-friendly option, the Coast Coal Harbour Hotel is great too. One more recommendation for both quality and location is the Sheraton Hotel Wall Centre, but the city is full of great accommodations, both international chains and boutique local.
You can also take an hour and half bus ride to Whistler if you miss skiing and snowboarding from your time in Banff! You can never have too much fun with a fresh layer of snow!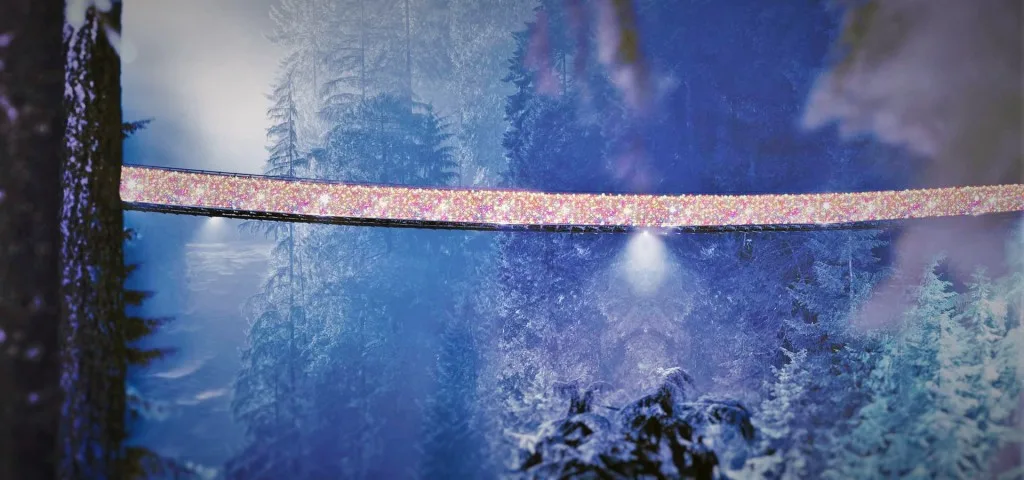 Holidays in Victoria, BC: Butchart Gardens in Winter
We've been to Victoria, British Columbia countless times and always love to visit over the holidays. Whether you want to wander through downtown and enjoy the Victorian era carolers roaming the streets or if you want to find a nice B&B for a romantic winter getaway, Victoria is perfect in nearly any weather, but Christmas in Victoria is magical.
The highlight of visiting Victoria BC November through January is seeing the Butchart Gardens lit up for Christmas. Of all the lights displays we've seen, from Christmas in Atlanta to holidays in Disneyland, the Butchart Gardens at Christmas takes the cake. An ice skating rink, holiday music, and a glowing forest make for the perfect Canadian winter getaway.
We also love the food scene in Victoria. We've documented all of our meals over the years and put together our picks for the best places to eat in Victoria. Never a bad meal, guaranteed.
And if you're not familiar with how to get to Victoria, BC you'll find that there are actually six different ways to get there, or at least to Vancouver Island. Once on the island, we have several great hotel recommendations in Victoria too. Our top choices for where to stay in Victoria include:
Be sure to check out our MANY blog posts all about Victoria BC!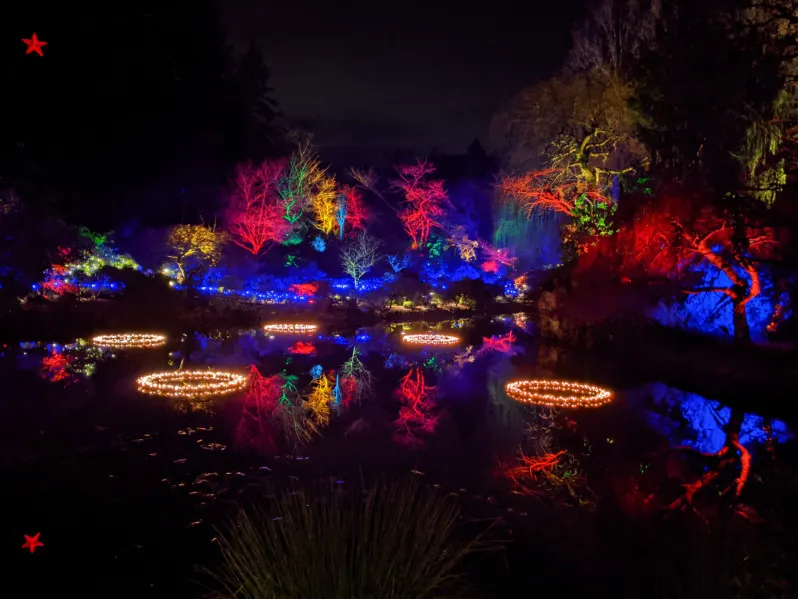 We'd love to hear where you think the best place in Canada to embrace winter is! Let me know in the comments below! Want to Pin it for planning your own winter trip to Canada? Go for it!!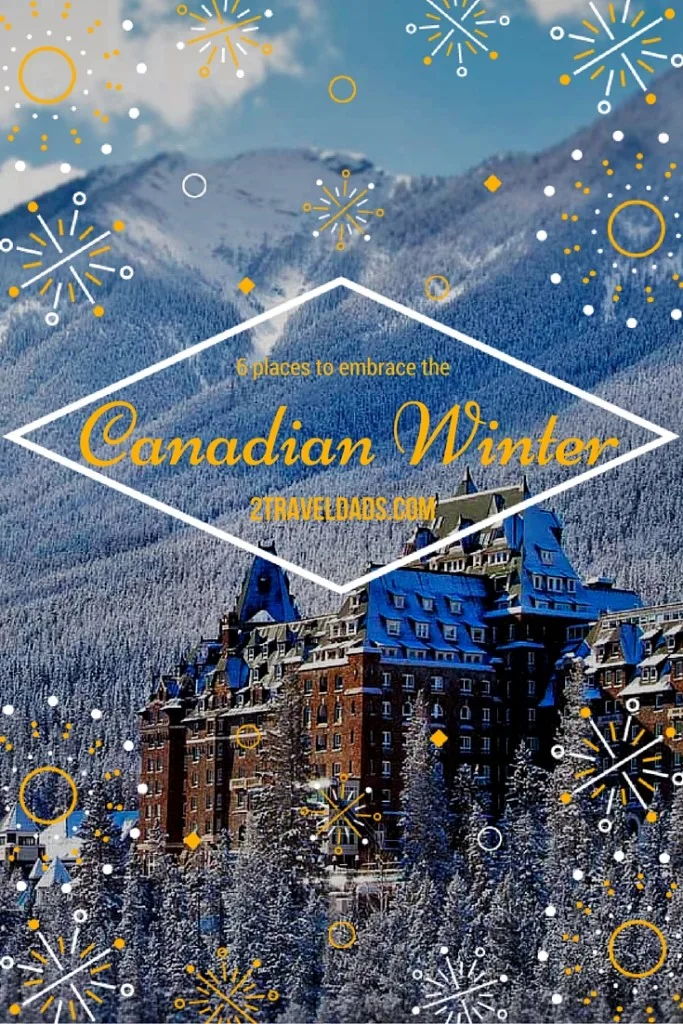 Cover image of Quebec City was taken by Chensiyuan, taken from Wikipedia; Image of Banff Spring Hotel taken from Banff Lake Louise.com; Image of Rideau Canal Skateway in Ottawa taken by RoadTripper.ca; Image of Hôtel de Glace taken from the official website; Image of Churchill Polar Bear Tours is from Ataryan.com; Image of Regina taken by JavaPost; Image of Canyon Lights at Capilano Suspension Bridge Park taken by Good Life Vancouver.
Thank you to Kenton De Jong of kentondejong.com for this great article highlighting some of the most fun and fascinating activities and sights in Canada, all meant to help embrace the Canadian Winter…