Hahaha. Baoji. Oh my, this place is hilarious. Don't get me wrong, I loved walking around Baoji at night and I loved getting to experience the nature surrounding this cute little town but I do have countless chuckles. Baoji is definitely off the beaten path China. From the Hot Springs Resort to Taibai Mountain National Park to awesome food and traditional Chinese massage, Baoji is the place to get away from tourism in China. Don't get me wrong, there are tourists, but they're Chinese people enjoying their own country. No Americans around these spots, let me tell you.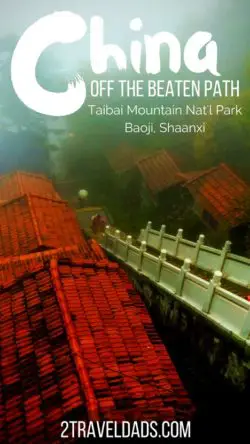 If you're going to be doing the cycle of cities and towns in central China, specifically Shaanxi province, then you need to plan some time in Baoji. While the main part of the city is quite populated and is home to the Famen Temple and other sites, Taibai Mountain National Park is far from the center and is also close to an amazing hot springs resort. And there's a town built all around the hot springs resort. Like I said, you'll chuckle, but it's all worth it for an off the beaten path China experience.
What makes Taibai/Baoji off the beaten path China?
When we're traveling and looking for a destination that shows our kids the real version of a place vs the touristy version, we're looking for a few things: remote location, nothing written in other languages (for visitors) and a place that we've not been told about too often. When we had to drive way outside of Xi'an for a few days' visit to Taibai Mountain National Park we knew we were heading to off the beaten path China… and then when we arrived and practically nothing was written in proper English anywhere we knew we were in a place that saw few foreign visitors. And it was awesome.
The Taibai Mountain Hot Springs Resort
We'll start here because it was awesome. Here in Washington State on the Olympic Peninsula we have the Sol Duc Hot Springs, which is pretty popular. It's got pool and a small hotel. It's remote. It's nice. The Taibai Mountain Hot Springs Resort puts every other hot springs resort to shame. OMG. It's so grand and fun, I don't even know where to begin, and even being so ornate it's still very much off the beaten path.
Well, the locker rooms were beautiful and well attended, including helpers to explain how to properly use the sauna. From there you head out to the actual hot springs pools. From rocket jets that I'm sure are meant to strip the skin from your body to luke-warm wine pools, the Taibai Mountain Hot Springs Resort has everything. And we tried everything.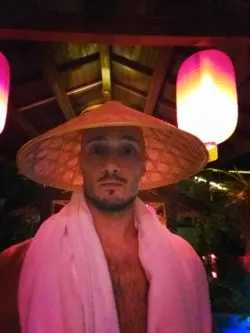 My absolute favorite feature within the hot springs resort was the rock bed. In the rock beds, well, you sit or lie down and then start to cover yourself with smooth, medium sized black rocks. At a certain point, other people start helping you and using huge scoops to cover your whole body with rocks. You can't move. The pressure is funny and you just kind of lay there. Then you decide to move or get up and you struggle. Once you're free you sit for a second and realize that your whole body is throbbing. OMG. Once you chill out then it's time to rinse off the dirt and go relax in a hot spring pool. (no pictures because I was incapacitated by the rocks on me)
Tip: don't do a springs/spa treatment like this alone. While it's fun and partially relaxing, it's also a bit startling when you realize the weight and your inability to move.
The wine pool was wonderful and smelled incredible, but the coconut pool was just the best! Between the heat and the sweet coconut smell, it was something out of some weird dream. I loved it. We tried all sorts of other pool including apples, tea, hot minerals and more. The area that was the most relaxing though were the internal pools, designed with elements to help people's' insides. The liver-pool was perfect for us because it was just the right temperature (about 105 F) and had minerals and sandalwood in it. Other similar pools focused on the stomach, kidneys, heart and lungs. It was wonderful to see this aspect of Chinese medicine meeting tourism/spa travel. We need places like this in the USA!
Note: we were the only non-Chinese people we saw/met during our time here (3 days) so I think that for sure qualifies this as off the beaten path China.
Taibai Mountain National Park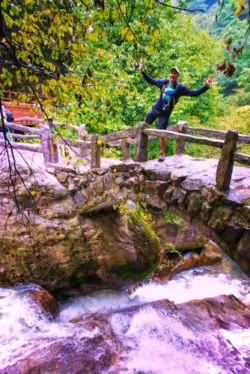 We didn't just end up in Baoji and find this cool hot springs resort. We were there with a purpose. One of the reasons we were there was to see pandas. The southern part of Shaanxi province is very mountainous and is at the tail end of the Himalayas and their foothills. It's also getting close to Chengdu, which is where the panda recovery program is run. We were excited to potentially see pandas in the wild! Taibai National Park is also home to golden monkeys, which were going to be so cool to see as well…
Um, it was freezing cold once we were up in panda territory and they were hiding from us, no doubt someplace warm. We got off our bus at the end of the road up Taibai Mountain, had some lunch, and then ascended the never ending staircase up into the trees… which actually led to a cable car which took us even higher up Taibai Mountain. By the time we were at the top the thermometer read -5 C. Yeah, we were cold. We were good sports though and rode the cable car to the tip top, but we didn't have the strength or gumption to go for the hike we planned. Next time we'll hike to the temples and watch for pandas.
Note: Chengdu is known for its panda program and population, but if you're looking for an off the beaten path China experience AND a panda sighting, this could be just the way to do it!
Tip: enjoy the noodle bar in the hub area at the middle of the mountain prior to heading on. You'll be glad for the warmth and the food was delicious. Even cafeteria style dining in China is genuine, quality food.
Even though we didn't get to meet any pandas, we still had a wonderful time within Taibai National Park. The bus that takes you from the park entrance to the mid-mountain rest area makes stops all of the way up. Each stop is for a different point of interest and each is equally beautiful.
We saw enormous Buddhist carvings in cliffs, trees changing color in the middle of the river, Buddhist temples on the hillsides and more. The bridges and art were gorgeous and harkened back to the Imperial Gardens of the Tang Paradise in Xi'an. Really, with the weather we had in front of us, had we know what was in store we would've spent all day hiking the river trail and seeing what other beautiful sights lay before us.
Note: the temples here are very similar to the ones you find when climbing Huashan, but these are in a forested setting, so offer a very different feel or photo op.
Downtown, or the the Las Vegas of China (not Macau)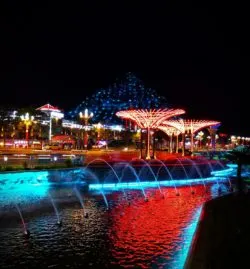 After a cold day up in Taibai Mountain National Park it only made sense to enjoy the warmth of the hot springs resort and that town. Yes, there is a neighborhood feel to parts of the downtown Baoji area but come nighttime you feel like you're in another world, a Las Vegas style world.
Baoji is the only town besides Las Vegas that I've visited where the sidewalk glows and sparkles. And where the fountains that run through the center of town do a show on a schedule. And where there are lights moving all around you… except when you step off the main drag and it's just dark.
Baoji during the day was fun, although not so strange. We walked all over the town and even found the older area that was really cool and totally different. We started to stroll up in to the hills towards Taibai Mountain National Park where there were several lookouts and fantastic old buildings, but then we got to a gatehouse where the keeper wanted to charge us to proceed. Even though it would've been about $2 USD we didn't go for it because we were limited on time. It was pretty cool to find an older area with no people, visitors or local Chinese people, that was characteristically colorful China. Perfect for an off the beaten path China sort of stroll.
We did have fun walking through the town and enjoying the light shows alone (because there was nobody else around), and then of course, experiencing traditional Chinese massage. Luckily, we had two people with us who spoke Mandarin (which is very important when you're in off the beaten path China) and were able to find us a good place for traditional Chinese massages. Um, yeah. Never experienced anything like that before.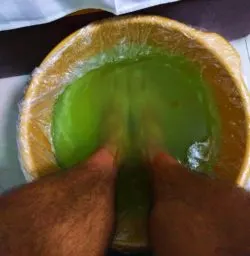 In Portland there was the amazing Finnish sauna with therapeutic massage. In the Columbia Gorge there was the intense Swedish massage… and then in Baoji I laid there while I heard my friend yell "Oh god, Rob!!" and then had a really strong lady jump onto my back and pull my legs over her shoulders. Wow.
Note: if you've never experienced a traditional Chinese massage, you need to do it at least once in your life. Yes, it's totally scary but it's also amazing and bizarre how well relaxed you are afterwards. If you're not familiar, it's basically a very aggressive melding of massage and chiropractic methods. Awesome. And scary.
So there you have it. Baoji, China in Shaanxi province is a really cool, fun destination to seek out. It's very much off the beaten path and you're guaranteed to have an unusual experience. Taibai Mountain National Park is a day trip or an overnight from the city of Xi'an, but we'd recommend being there for at least two full days. Two days in Baoji will allow you a day on the mountain and a day of relaxation. What do you think? Going to add it to your China itinerary? You should!
For more fun adventures from the awesome bloggers I did off the beaten path China with, check out Coffee With a Slice of Life, Holy Smithereens, and Adventures around Asia