If you live in Seattle you know that you'll never be bored and that there are 10,000 day trips you can take in and out of the city.  Well, do you know what the best day trip just outside of Seattle is?  It's actually a trip to Snoqualmie, both the falls and the town.  Snoqualmie Falls is incredible, either for an easy day-hike with kids or to go be romantic and stuff.  Knowing us though, you know we're sharing what a visit with kids is like.  More in the future about a romantic visit maybe.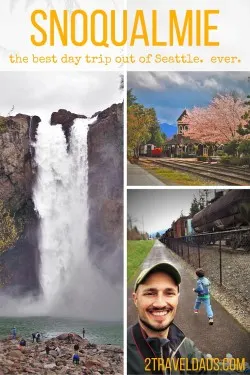 Snoqualmie is about a half hour outside of Seattle.  It's close enough that you can head out there on a whim, but it's far enough that a trip feels like you're making a genuine effort to get away from city life.  If you want to spend a weekend you totally can, but you can easily head east from the city in the morning and still get back home or to the hotel in time to have a relaxing night.
What to do in Snoqualmie?  We have some awesome suggestions, and you know what?  They are good for any traveler, close to home or visiting from a faraway land.  Oh, and every activity we're recommending below is totally free (except having wine/beer in town) which makes all of this fun stuff to do even better and gives you one more reason to visit.  
Snoqualmie Falls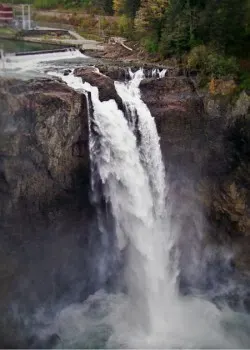 We cover a lot of waterfalls in our travel blog.  We've told you about the Waterfalls of the Columbia Gorge and the Waterfalls of Mt Rainier National Park… Well, there's one more waterfall that we'd be fools not to share.  Snoqualmie Falls is the grandest of all of the waterfalls of the Pacific Northwest.  We have so many falls that it's almost funny, but Snoqualmie Falls takes the cake.
Snoqualmie Falls is fed by the… Snoqualmie River.  It's a site that's managed by our local electrical entity, but it's very much accessible and very well protected and preserved.  There are two different parking areas, so even on a sunny day you're guaranteed a spot and can visit without stress.  Or you can know that you'll be able to visit.  Just like Multnomah Falls is the most visited spot in all of Oregon, besides Pike Place Market, Snoqualmie Falls is the most visited site in Western Washington.
The Falls is really impressive.  In winter and spring, the water flows so freely that it's intimidating and a little scary.  So much water.  In the late spring and summer it's a lot lower, but still beautiful.
You can make this either a quick stop and just go to the upper viewpoints or you can pack a picnic and do the hike/walk down to the lower area.  The difference in view and experience is drastic.  From the top, you have an unobstructed view of the cascade and it's breathtaking.  From the bottom, you're able to go beyond the trail and onto the river rocks.  You can peer into the area behind the falls and be wowed by the power above you.  Both are great choices and which one you choose as your primary purpose is totally based on the time you've got.
Tip:  when the water level is high, it's worth it to carry an umbrella for going to the lower view point, and we're not even talking about all of the way to the bottom of the falls, but just the lowest viewpoint of the main area.  The mist is so intense when the water is high that you'll get… soaked.
The Hike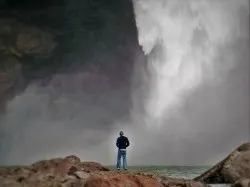 Getting to the lower falls is easy.  It's about twenty minutes to the base of the falls and then maybe 35 minutes back up.  You're hiking through the lush, Pacific Northwest woods for most of it, so it's cool and beautiful.  When you get to the bottom, you need to use your best judgement as to whether or not you'll remain behind the wooden rails or go onto the river rocks.  
Confession:  we tend to go beyond the rails, which is indeed the norm.  The rules may be that you stay in the viewing area, but we give into peer pressure in this one situation and do get closer to the falls than suggested.

Tip:  never underestimate the power of a good hiking pack to carry a child in.  A lot of parents will opt for the Ergobaby Carrier

 but we're all about the Kelty Kids Hiking Pack… even for short, easy hikes like this one at Snoqualmie Falls.
Snoqualmie, the town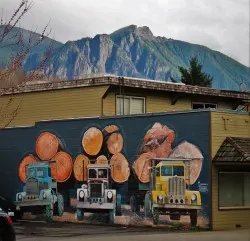 There are small towns and then there are tiny towns.  Leavenworth is a small town.  Snoqualmie is a tiny town.  You can spend an hour window shopping and getting coffee.  You can enjoy a nice bite to eat.  The real attraction though is truly the strolling.  We're big on strolling (check out St Augustine and our day strolling there), and this is a great spot for it.  There is an awesome boardwalk with placards giving great information about the town, the huge trees and the art that's strategically placed.
Care to learn about logging history?  There's a bit about that, with the main attraction being an ENORMOUS preserved stump.  Interested in native culture?  There's a vibrantly colored totem pole on the boardwalk, complete with its own story.  There is also a huge picnic area (and you know we love picnicking) set amidst the train museum.  Snoqualmie has a train museum?  Totally. 
Northwest Railway Museum
The Snoqualmie Depot is now a cool little museum all about trains and the Pacific Northwest.  It has awesome old photos and equipment and is housed in the oldest operating train depot in the state of Washington.  Oh, and it has trains.  Lot's of different sorts of cars and engines, including a shiny passenger car and a military hospital car.  The depot itself is a beautiful old Victorian train station that has looked the same for the last 120 years.  
Tip:  visit in the spring and you'll totally score with the cherry blossoms.  They are beautiful and they're everywhere in town!  Also, kids LOVE to chase blossoms that are blowing in the wind.
Snoqualmie's Railroad Graveyard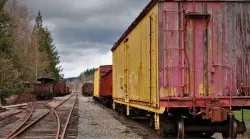 It's exactly as it sounds.  Welcome to the coolest collection of rusted old locomotives, boxcars and other types of train vessels.  This was the highlight of our time because, well, kids love trains.  Not only did we see the old, dilapidated versions of some Thomas the Tank Engine characters, but we saw the Rusty old Engine that was too tired to help the dolls and toys in the Little Engine That Could book.  Truly this was an amazing sight to see.  
Tip:  you can visit the railroad graveyard by parking in the main lot for the town and then walk 200 feet.  There are informational displays about the types of cars and it's a great (short) stroll for any age of visitor.  It's the coolest thing in Snoqualamie.
Wine and beer tasting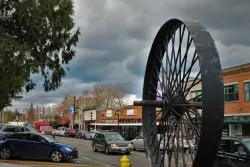 It wouldn't be a Pacific Northwest town if Snoqualmie didn't have its own microbrewery and winery.  Right downtown (ha ha, one main street in Snoqualmie) there is a tasting room for Sigillo Cellars.  A block away (on the back side of the main street) is Snoqualmie Brewery and Taproom.  There you go.  Two easy stops for a day trip without kids.
Tip:  if you're looking for wine tasting, Woodenville is only 20 minutes away and it's loaded with wineries and fine dining.  And Red Hook Brewery is there if you're looking for the beer side of Western Washington.
Where to stay for Snoqualmie
The obvious choice for a weekend at Snoqualmie Falls is the Salish Lodge.  It's located directly above the Falls and is a picturesque hotel.  It's got the views, the romance, the dining (Chris actually cooked there once upon a time) and a spa.  Sounds like the ideal getaway, huh?  We've not stayed here yet, but hope to soon.  We'll update this as soon as we can share our thoughts on the hotel from the perspective of guests, with or without kids… we'll see.
Another option is to stay someplace in the city, either in Bellevue or Seattle, or anything between.  That's why Snoqualmie is such a great day trip:  you don't have to schedule/plan specifically to be able to enjoy a day up at the falls, but you could make a weekend out of it if you really wanted to.
Tip:  if you're planning on staying at the Salish Lodge, that will actually require some planning as it's a very popular destination and you probably won't be lucky booking it on a whim.
As you can see, if you need an easy day away for Seattle, boom.  Snoqualmie is your go-to place.  Also, if you're visiting Seattle and want to catch a moment of what we all consider the quintessential Pacific Northwest sight, you just have to visit the Falls and get a little small-town exposure while you're at it.  
Snoqualmie is ideal for filling a day in your itinerary and you won't be disappointed, even on a rainy day… which you'll probably have anyways, so why not make the most of it and have a gazillion fantastic photo-ops while you're at it!