I'm really starting to love writing reviews of gear, and the Goosehill Inflatable SUP gets a glowing one! The WOW Rover has been my steadfast SUP choice through 2022 but we've recently added the 10'6″ Goosehill Sailor Inflatable SUP to our collection and I will say, it wins for being the most stable paddleboard I've ever used. This is my favorite standup paddleboard of 2023. Keep on reading for the full details of both what's included in the gear package and what sets this inflatable SUP apart from others.
Need-to-Knows About the Goosehill Sailor Inflatable SUP
I think the defining elements of a good inflatable paddleboard are its rigidity and stability. Next is the ability to track straight when you're paddling, and then how easy storage and transport are. The Goosehill Sailor inflatable SUP gets top marks for each of these things.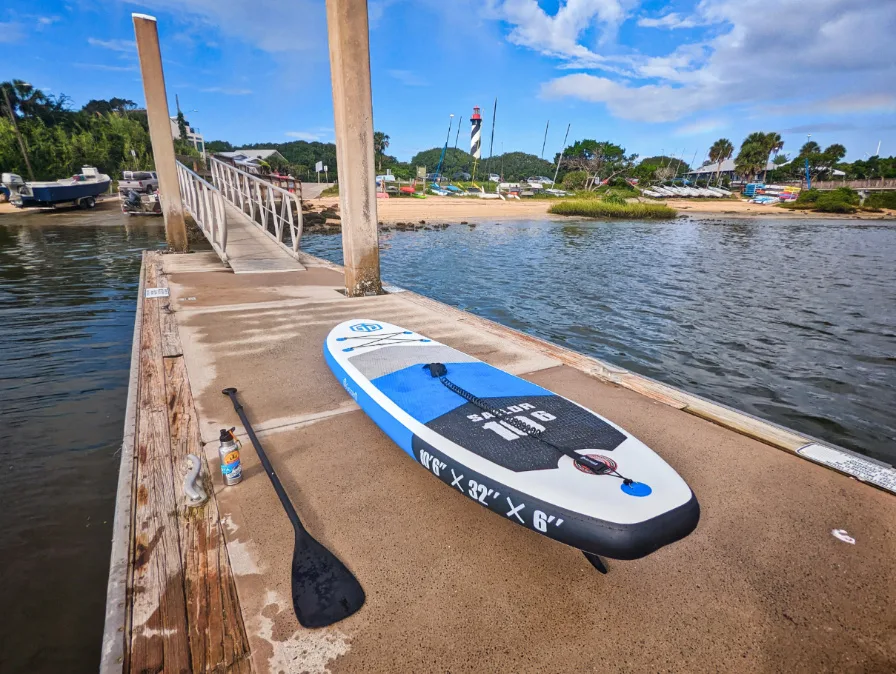 How Sturdy is the Sailor Inflatable SUP?
The Sailor inflatable SUP is the most sturdy paddleboard I've been on that wasn't a touring fiberglass board. At 10'6″ long, it's average in length when it comes to inflatable SUPs, and is average width as well (32″ across) making it wide enough for newer standup paddlers to get comfortable pretty quickly.
Time for my standard statement about any and all inflatable paddling gear: "Like with any inflatable product, the Goosehill Sailor does require that it's pumped up properly." If you're not going to pump us this or any other SUP properly, you'll not going to enjoy the paddling experience, and it could even be a safety issue.
The Gooshill Sailor should be inflated to 15 PSI, but it's firm enough to support a large adult at 13 PSI. What's interesting about this board is that, even though it looks like many other inflatable SUPs, the Sailor inflates easily using a manual pump. What I mean by this is that with most boards, when you're nearing those final PSI you really have to have strength and stamina in that last stretch. Something about the structure of the Sailor makes the last few pumps very easy. I don't know.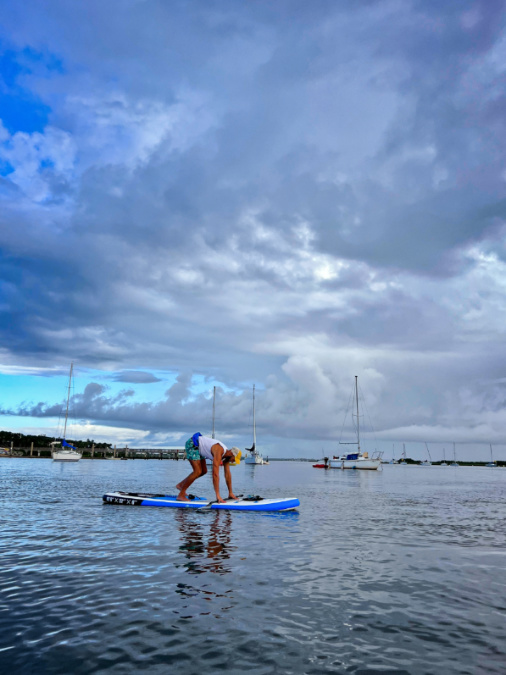 Is the Sailor Inflatable SUP Easy to Setup?
The air capacity on this board is standard for most inflatable SUPs. Setup is really easy as it's just removing the Goosehill Sailor from its backpack, unrolling it, pumping it up and going. We use an electric one to do most of the work (12v portable), but a fully charged battery operated pump will work too. We then finish it off with the manual two-way pump that comes with the board.
Complete setup takes less than 5 minutes, as does putting it away. If you're putting your board away somewhere sandy, like we do when we paddling in the Florida Keys, you'll want to have a towel and broom to clean it up, which adds a few seconds to the process.
Don't forget to add the central fin! The detachable fin on the Goosehill Sailor Inflatable SUP has a different setup than many paddle boards:
insert fin at front of the horizontal slot

slide fin ALL of the way to the back of the slot
insert cotter bar (plastic rectangle attached to fin) through the base and fin holes.
It's really easy to do, but if you don't slide the fin all the way to the end of the track, you won't be able to fully insert the cotter bar. While the fin will feel very secure still, to ensure you don't lose it if you encounter an underwater obstacle, be sure you do this correctly.
Note: the first time you insert the plastic cotter bar it will be difficult. Once it's been installed for the first time though, the ridges will be smooth and it's much easier to insert the piece.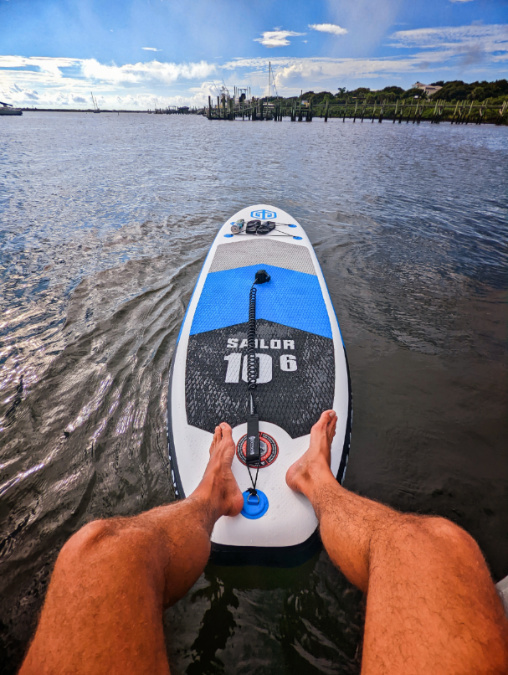 Highlights of the Goosehill Sailor Inflatable Paddleboard
I think the most noticeable highlights of the Goosehill Sailor SUP are two things: its EXTREMELY lightweight and it has three fins. The Sailor is only 20.5 lbs which, in comparison to to the Tahe Wing which is 30 lbs, is super light and actually makes it a functional hiking SUP. It's shocking how light it is to transport as a backpack.
The other feature I really like is the triple fin set up. With two small fins permanent to the SUP and then one large detachable fin, this makes it a very stable board that also tracks very straight against the current. It's great in any sort of water, including chopping paddling conditions.
The last feature, and this is a standard for inflatable paddleboards, is the backpack for storage and transport. With solid construction, it's very easy to carry and pack the Goosehill Sailor inflatable SUP back into. There are additional straps in the pack that make it extra easy to pack up the board.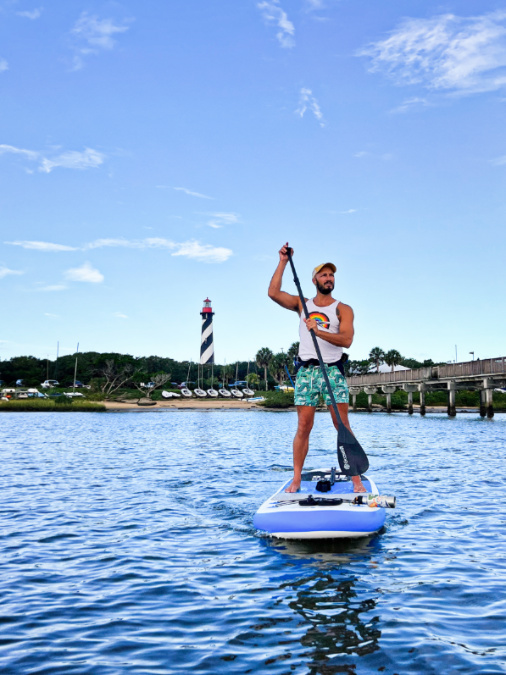 What's included with the Goosehill Sailor Inflatable SUP
The Goosehill Sailor inflatable paddleboard comes with everything you need to get on the water. The complete kit has:
the 10'6″ Goosehill Sailor SUP
detachable fin
ankle cable
three piece paddle
standard size two way manual air pump (really smooth though)
patch kit

storage backpack
It all fits easily in the backpack, and to make sure, it also has a cinch strap to keep everything together if you like. It's really easy to setup and put away.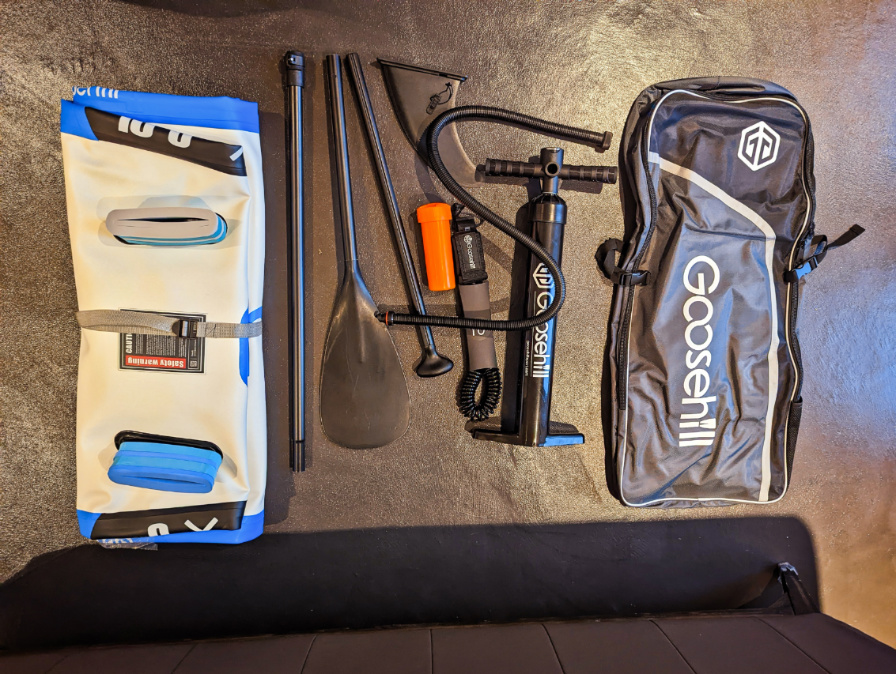 Comparison to Other Inflatable SUPs
What I like about the Goosehill Sailor, like I mentioned, is how light it is and how stable. Its performance on the water is the most solid of all of our SUPs, including being stable enough to go out with kids on the front comfortably.
It's quickly become a favorite in our family being both easy to use and great on rough water. Not that we ever rate gear with stars, but this is a 5 star inflatable SUP.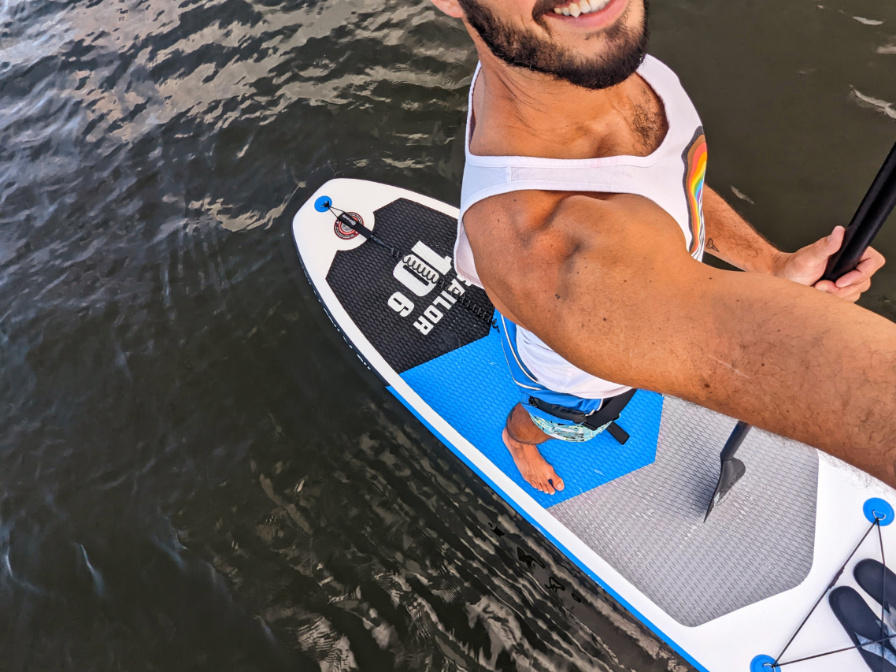 Where can I get a Goosehill Sailor Inflatable SUP?
The Sailor SUP is available directly through the manufacturer, or several other retailers. Here are links to check pricing and availability:
If you have any questions about the Sailor inflatable SUP or any other gear or SUP destinations, please let us know by leaving a comment or sending us a note. We spend a lot of time on the water and are always down for providing our recommendations. Happy paddling!