Kayaking in Skagit County is so much fun. We love spending time here, just north of Seattle because it's got the small town vibe and rural sights and it's only a short drive from the city. It's absolutely gorgeous, being a mix of both flat floodplains and mountainous areas with epic lakes. Skagit County is a popular tourist destination, thanks to its Tulip Festival in spring and the many waterways, which have some excellent kayaking opportunities.
Skagit County is located in the northwestern corner of Washington State. It is a rural county that is known for its forestry industries and agriculture, particularly the tulips and daffodils of the Skagit Valley. If you haven't done the Skagit Valley Tulip Festival YOU NEED TO! Plan a spring trip for tulips, fruit wine and kayaking around Skagit County.
If you have any questions about visiting Skagit County or planning a day of kayaking and tulips, please leave a comment or send us a note. We're always happy to share more!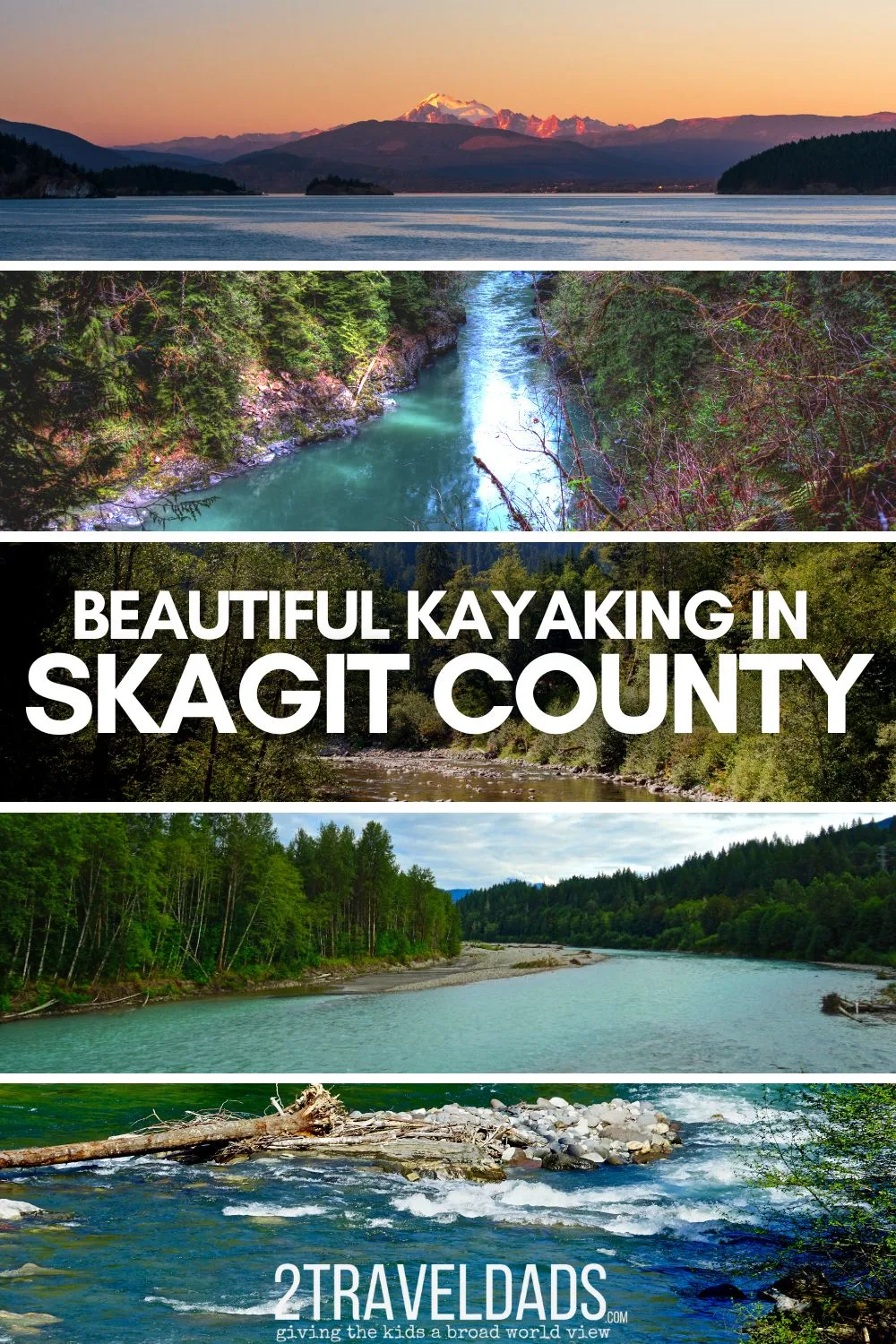 Wildlife to See When Kayaking in Skagit County
Truth be told, my favorite thing about kayaking in Skagit County is the wildlife. From bald eagles lining the shores of the Skagit River to seals and otters in the lowlands of Puget Sound, it's pretty amazing. This is one of the best places for wildlife viewing paired with kayaking near Seattle. At just an hour north of the city (without traffic) it's an easy trek that's very worthwhile.
Skagit County's most popular kayak destinations include the Samish River, the Sauk River, and Ross Lake. These are great places for wildlife viewing. Some of the most frequently seen wildlife in Skagit County include:
Bald eagles – Skagit County is known for having one of the largest populations of bald eagles in the continental United States.
Salmon – Several species of salmon, including Chinook, Coho, and Pink, spawn in the rivers and streams of Skagit County.
Snow geese – Thousands of snow geese migrate to Skagit County every winter, making it a popular destination for birdwatchers. – DO NOT APPROACH if you see a flock. Thousands of geese will take off all at once and it's terrifying.
Black-tailed deer – These deer can be seen throughout Skagit County, particularly in rural areas and near forests.
River otters – These playful mammals can be found in many of the rivers and streams of Skagit County.
Great blue herons – These majestic birds are commonly seen along the shores of Skagit Bay and other waterways.
Harbor seals – These marine mammals can often be spotted in Skagit Bay and other coastal areas of the county.
Coyotes – These elusive predators are present throughout Skagit County, but are most commonly seen in rural areas.
Red-tailed hawks – These birds of prey can often be seen soaring above the fields and forests of Skagit County.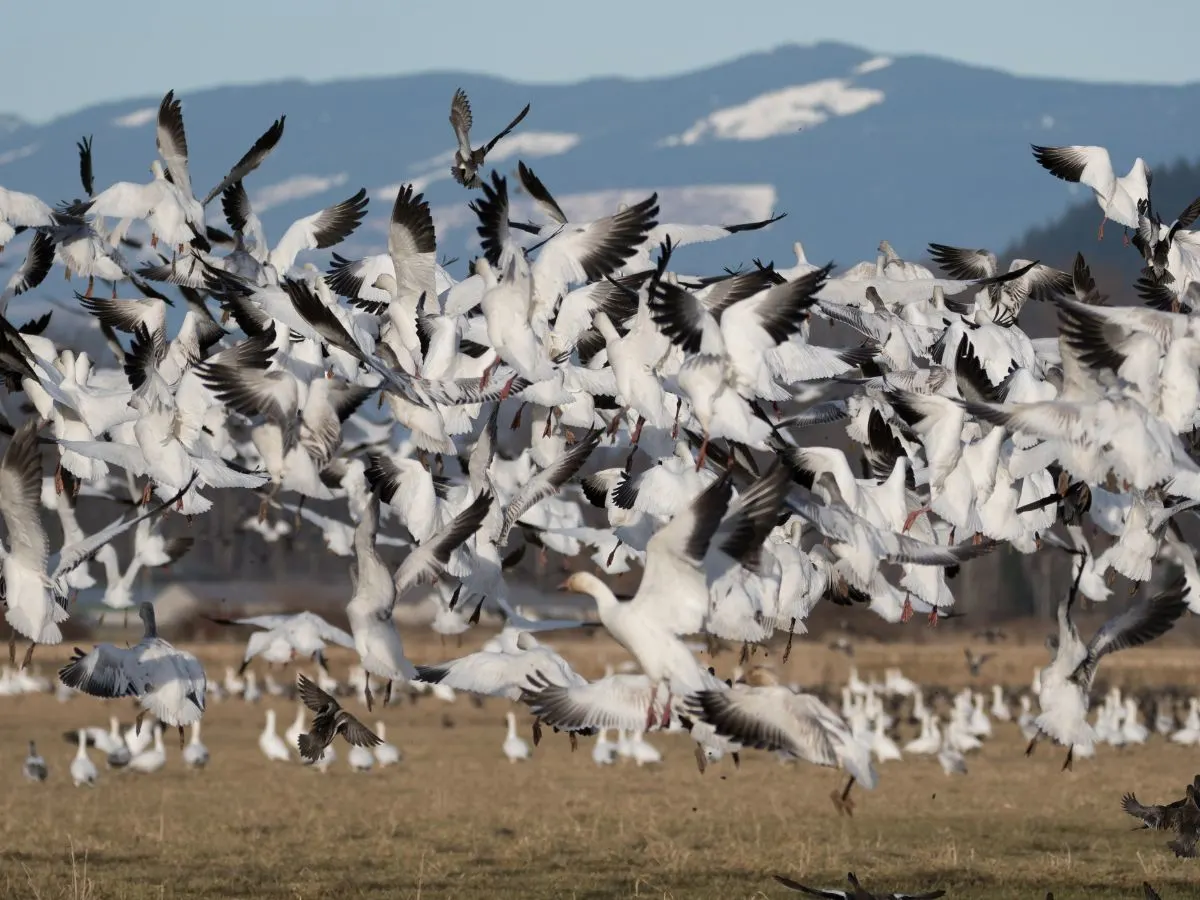 Easy Kayaking Spots in Skagit County
So many people love kayaking in Skagit County, given the numerous level-appropriate sites. Calm waters can be found on lakes, in gentle bays, and on slow-flowing rivers. Here are a few of our recommendations, some of which cross over into Whatcom County also, but that's fine. We're all friends here in Washington and especially when we're on the water together!
Ross Lake, North Cascades
The Ross Lake area in the North Cascades National Park is a popular spot for kayaking. The lake is large and has many areas that are good for kayaking. There are also many opportunities for hiking and camping in the area. There are many different places to launch your kayak in Ross Lake. You can put in at the Ross Lake Resort or the Hozomeen Campground. You can also put it in at Cascade River Road. Note the water is frigid here, and you should dress appropriately. Wind conditions can sometimes be intense, so check local conditions before going out.
Where to launch: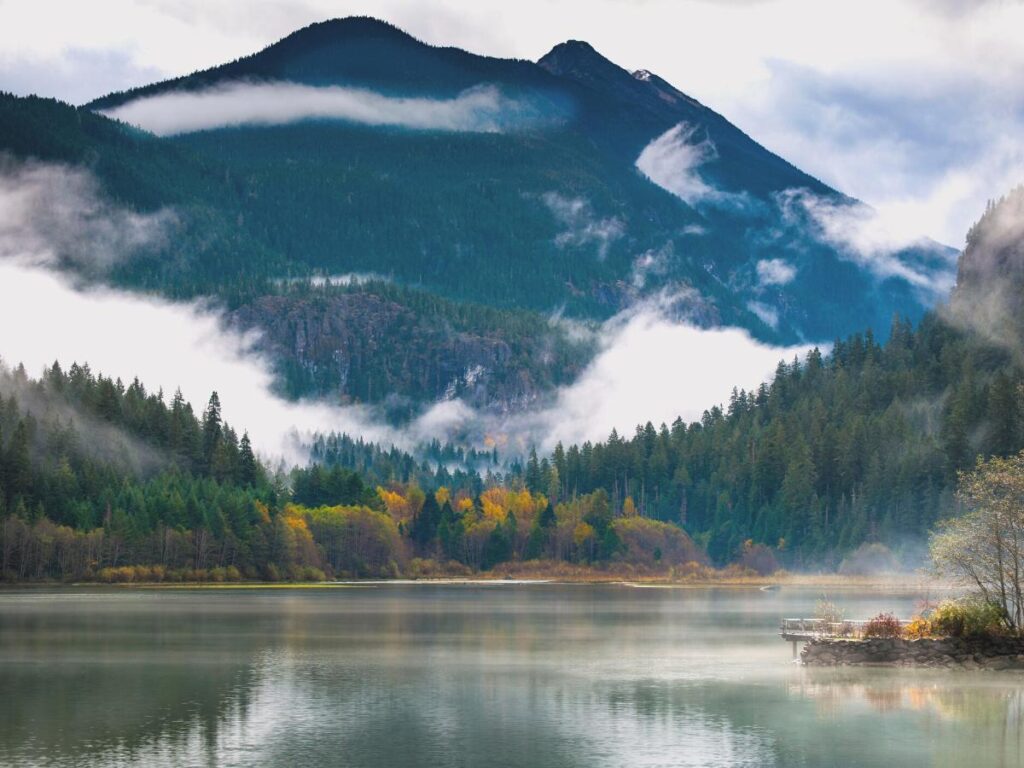 Lake Shannon
Lake Shannon is a beautiful location for kayaking, as it's a reservoir so is well controlled. The waters are calm and clear, providing a peaceful experience as you paddle around. There are also plenty of trees and other vegetation surrounding the lake, making it a great place to spot wildlife. For those seeking a quieter experience, try Lake Shannon… but the road to the boat launch is rough, so be ready for some bumps and maybe some mud.
Where to launch:
Skagit River
The Skagit River is a popular spot for kayaking, thanks to its scenic views and gentle currents. And OMG, the bald eagles and amazing! There are several kayak rental companies in the area, so getting started on the river is easy. The Skagit is also an excellent place for beginners, as there are plenty of sites that are calm and easy to navigate.
If you're looking for a more adventurous kayaking experience, the Skagit has plenty of rapids that are NOT suitable for beginners. Do research before heading out on the river, as some sections can be pretty dangerous. With so much to see and do, the Skagit River is an excellent spot for kayakers of all experience levels.
Where to launch: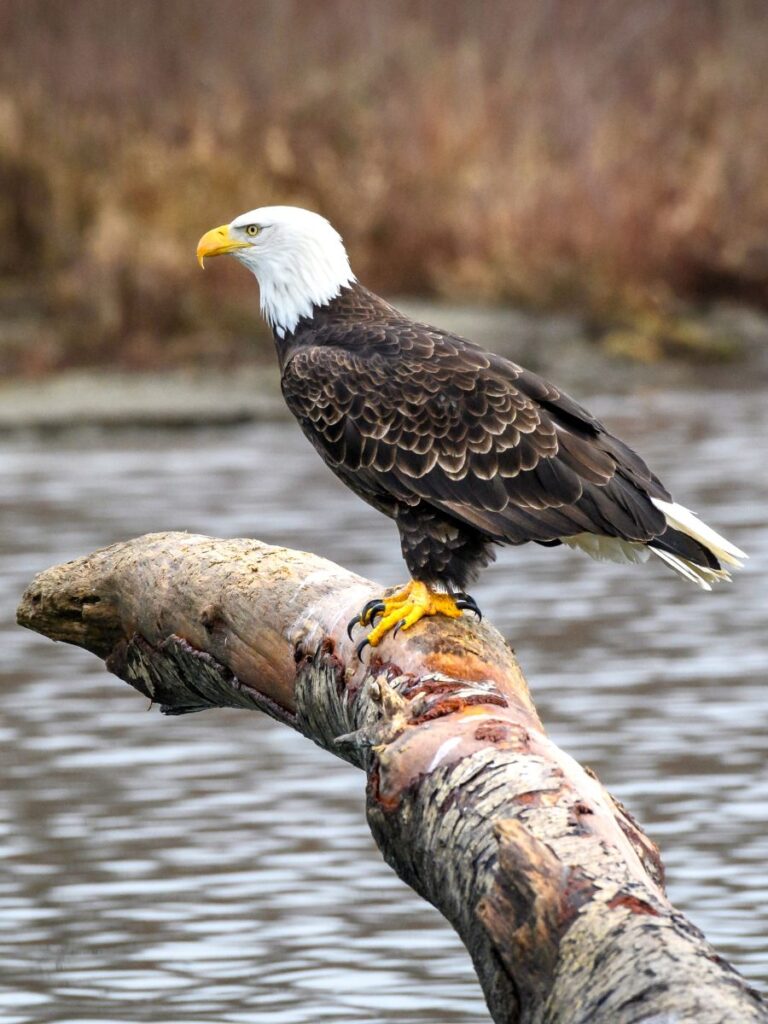 Padilla Bay Reserve
a kayaker's paradise Padilla Bay Reserve is abundant with wildlife and stunning scenery. The reserve is located in Mount Vernon and offers several miles of flat water paddling and gentle waves. Wildlife enthusiasts will love Padilla Bay Reserve, as the area is home to harbor seals, river otters, bald eagles, and more.
This reserve is a part of the same network of conservation spaces as the GTM Research Reserve in St Augustine, which is one of our favorite spots in North Florida to both paddle and get immersed in wildlife science. If you can add some time for learning and speaking with a naturalist at the reserve, I highly recommend it!
Where to launch: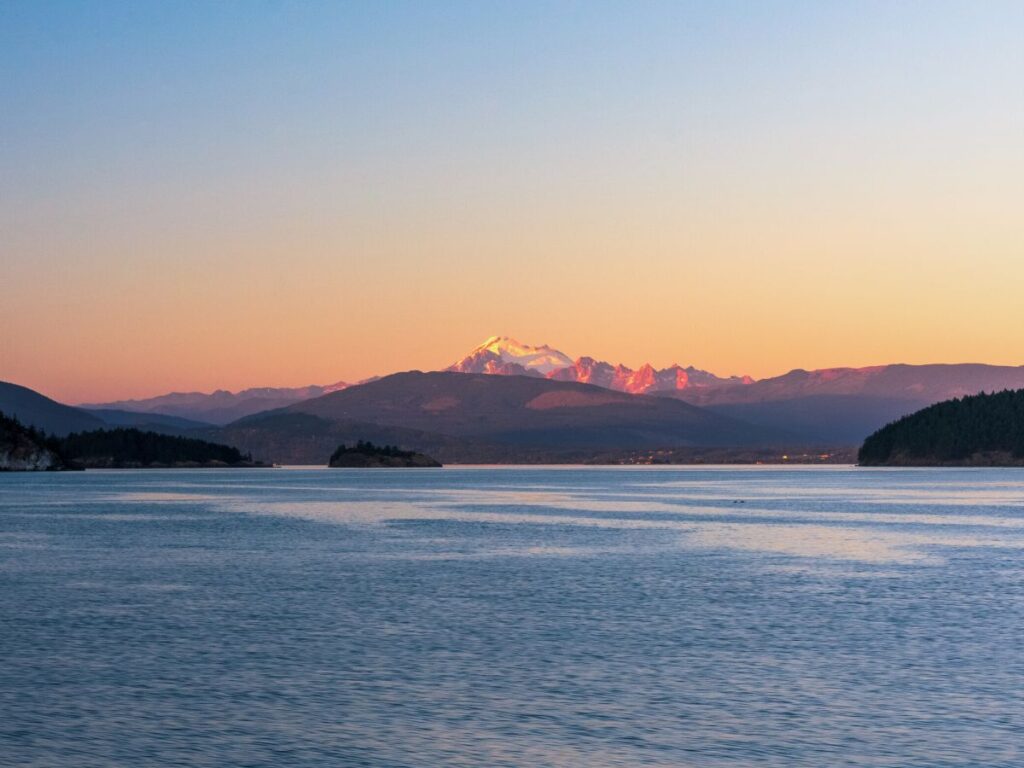 More Technical Kayaking in Skagit County
Washington State is home to many styles of kayakers and levels of interest when it comes to endurance paddling and unusual waters. Finding a challenge, whether sea kayaking or on one of the many rivers, won't be a problem in Skagit County. Experienced paddlers LOVE the confluences found here, particularly where the many rivers meet the Puget Sound.
Due to the many islands, including Whidbey and Fidalgo Islands, there are lots of great protected bays for kayaking in Skagit County. You still need to be wary of changing tides and large ship wakes, but there are some beautiful and interesting routes here.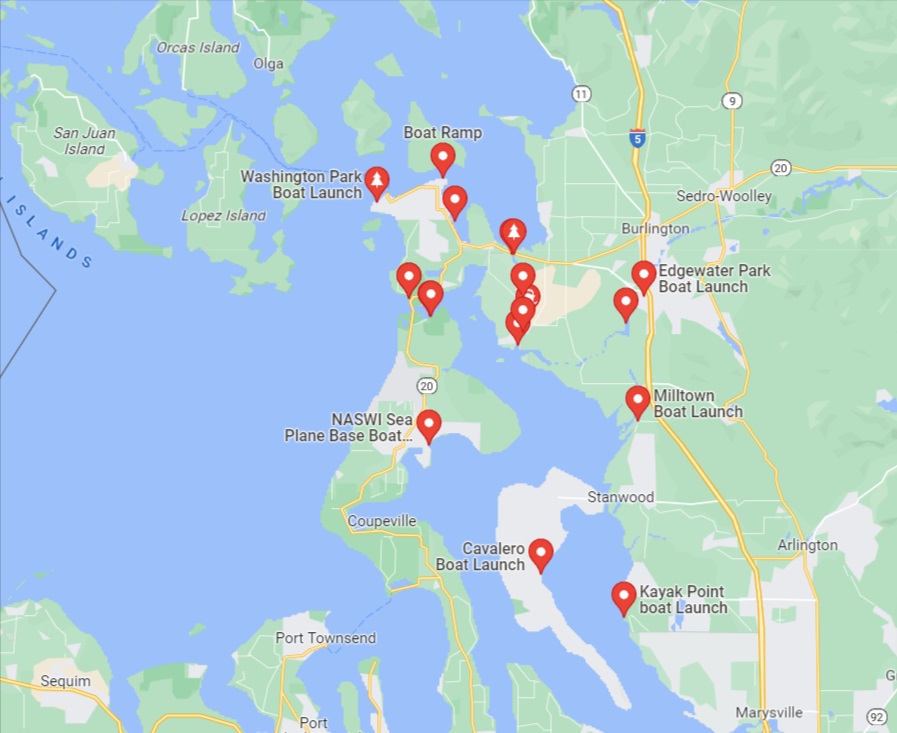 Swinomish Channel, La Conner
The Swinomish Channel is a popular kayaking spot in Skagit County. The water is calm and has beautiful views, making it a perfect place for a relaxing paddle. Several launches near La Conner make it easy to access the channel. Check the tide tables before you go, as the channel can get very shallow at low tide.
You can take many different routes when kayaking in the Swinomish Channel. One popular option is to paddle from La Conner to the nearby town of Anacortes. This trip takes about two hours and gives you a chance to see some of the beautiful homes and boats that line the channel. Another option is to paddle around Cypress Island, which is home to a variety of birds and other wildlife. Whichever route you choose, you're sure to have a great time kayaking in the Swinomish Channel.
Where to launch: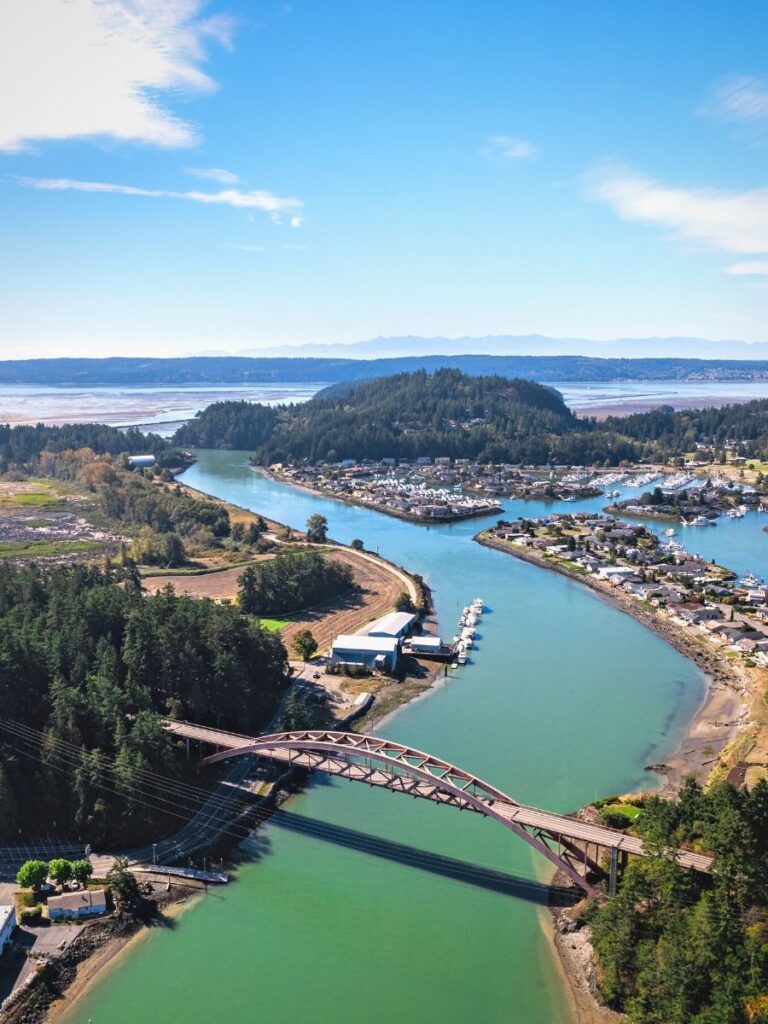 Skagit River Estuary, La Conner
The Skagit River Estuary is a great place to kayak, with plenty of scenery and wildlife to enjoy. The estuary is a large, flat area where the Skagit River meets the Puget Sound, and it's home to various birds and animals. It's also an excellent place for beginner kayakers, as the water is calm, and there are plenty of places to stop and rest along the way. Head towards the open water for a challenge.
Though, there are a few things to keep in mind when kayaking in the estuary. First, be aware of the tide – it can rise and fall quite quickly, so it's essential to know when high tide is. Second, there are a lot of logs and other debris in the water, so be sure to watch out for them. And finally, be prepared for some wind – it can get pretty gusty out on the Sound.
Tip: I've been stuck on a mud flat a few too many times. As the tide gets lower and lower, you may be surprised that you've high-centered in the middle of the tidal flats.
Where to launch:
Stillaguamish River
Stillaguamish River is the fifth largest river in the state and empties into Puget Sound. Birders will love this trail, filled with numerous birds, including mallards, trumpeter swans, tundra swans (rare), and pintails. The waters need some planning as the tides will considerably impact your paddle. Check local conditions before heading out. Alex Sidles gives a personal and detailed account of her trip on the Stillaguamish River here.
This is also one of the great places to kayak in Skagit County where you'll see a significant number of bald eagles. The Stillaguamish is really cool to paddle on during the salmon migration for spawning! Whether you're at the mouth or you're actually kayaking upriver, you'll love it.
Where to launch: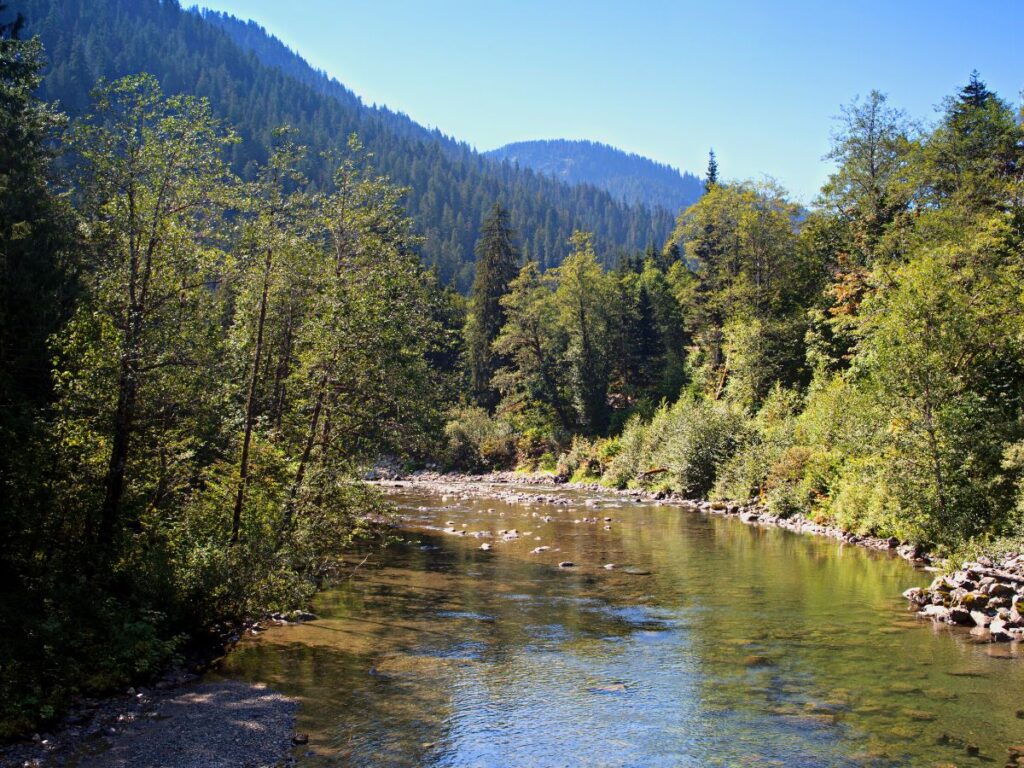 Kayaking to Similk Bay
The Similk Bay area of Skagit County is a great place to kayak. There are plenty of calm regions to paddle in and some more challenging routes if you start to paddle west. The scenery is beautiful, and plenty of places to stop and enjoy the view. The bay is characterized by its eelgrass beds, which provide habitat for various fish and other aquatic creatures.
Similk Bay is just to the east of Deception Pass, so be aware of the CRAZY strong current. If you launch at Cornet Bay and head east you should be fine and can easily manage your safety, but do NOT get close to Deception Pass because the current is vicious and dangerous. As you paddle east you'll come to Skagit Island Marine State Park, Hope Island State Park and others. This can be an all-day epic paddle, so be prepared!
Where to launch: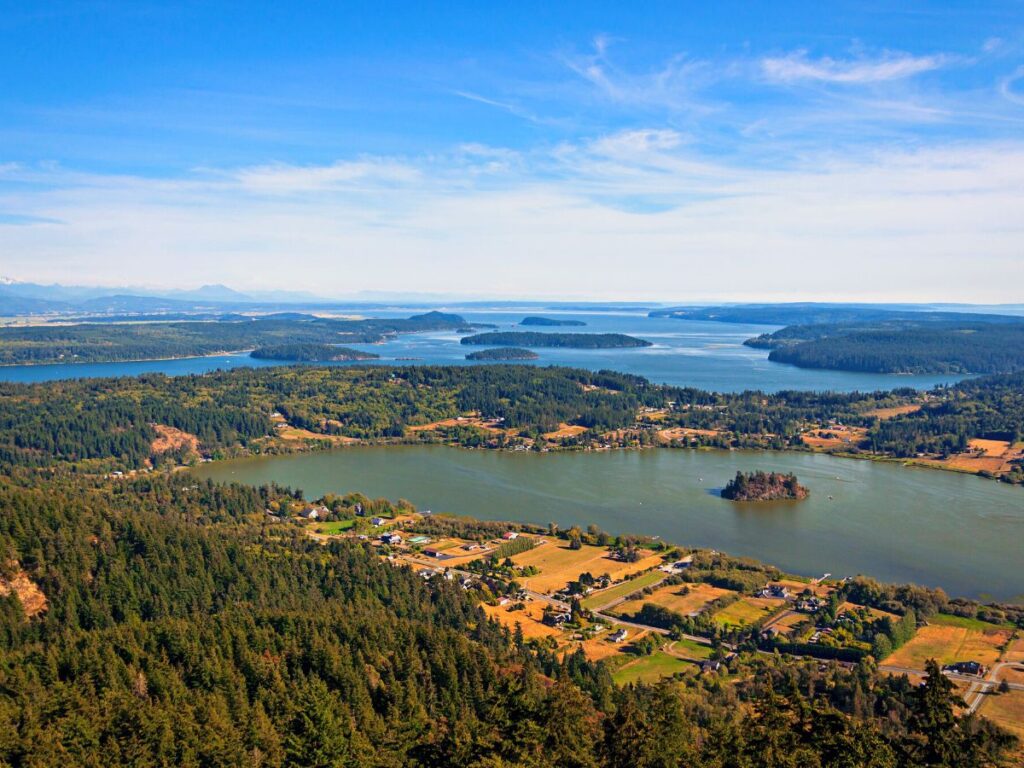 National / State Park Kayaking Spots in Skagit County
Skagit County is home to some of the most beautiful scenery in Washington State. The county is known for its mountains, forests, rivers, and waterfalls. Visitors can enjoy boating, camping, fishing, and bird watching in Skagit County parks. The county is also home to the Mount Baker-Snoqualmie National Forest and North Cascades National Park.
North Cascades National Park
The North Cascades National Park is a beautiful and rugged area in the northwest corner of Washington state. The park contains steep, snow-capped peaks, pristine valleys, and rushing rivers. Kayaking opportunities abound in the park, with numerous Class III-IV rapids to challenge experienced paddlers. Some of the best kayaking can be found on the Stehekin River, which flows through the park's heart. Other great options include the Sauk River and the Skagit River.
These are all for very experienced river kayakers. If you're less adventurous, the lakes of North Cascades National Park are just as beautiful and for sure much more navigable if river kayaking isn't in your wheelhouse.
Where to launch: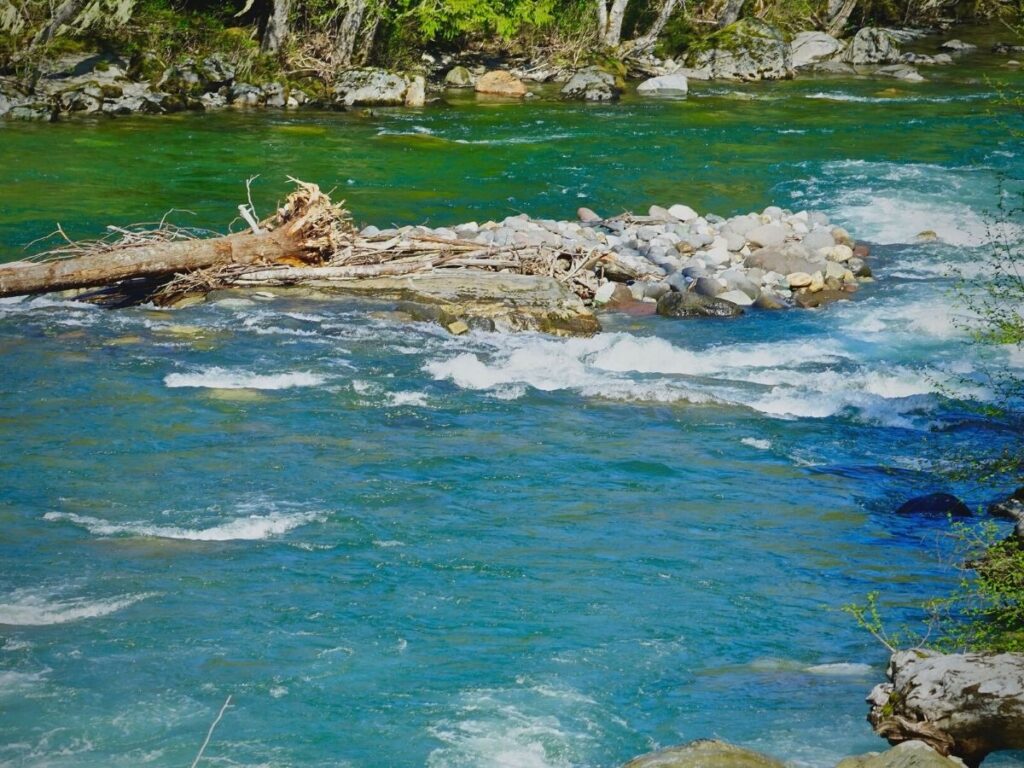 Skagit Island Marine State Park
The Skagit Island Marine State Park is a beautiful place to kayak, with plenty of opportunities for exploration. The park is home to a wide variety of wildlife, including bald eagles, seals, and porpoises. There are also several small islands in the park that are perfect for exploring. You can find plenty of kayaking opportunities in the park, including calm waters and narrow channels that provide a bit of excitement.
Where to launch:
Hope Island State Park
Hope Island State Park is a beautiful park located in La Conner. The park offers stunning views of the surrounding bay and the Cascade Mountains. There are several kayaking opportunities available in the park, including paddling around Hope Island, exploring the coves and inlets, and crossing to Waldron Island. The park is also a great place to birdwatch, with several species of birds such as eagles and ospreys.
Where to launch:
Mt. Baker-Snoqualmie National Forest
The Mt. Baker-Snoqualmie National Forest is a beautiful place to kayak. There are several different lakes and rivers in the park that offer great kayaking opportunities. Some of the best kayaking spots in the park include the Skagit, Sauk, Suiattle, and Cascade rivers and numerous lakes. Each offers a variety of difficulty levels with something for everyone.
Where to launch:
Recommended Tours in the Skagit Valley
I wish I could say that there were lots of kayaking tours in Skagit County, but there really aren't. In summer months there are some opportunities for whitewater rafting, but not many guided kayak tours. There are lots of wonderful Tulip Festival tours though, so if you want to visit in late spring and enjoy those, go for it!
In the meantime, here are two whitewater options for getting on the Skagit and Sauk Rivers. These tours are dependent on water levels and the operators may change. If you're interested, copy the bold title of each and google it to see who is currently running these trips.
Upper Skagit Whitewater Rafting Trip
If you want to immerse yourself in the spectacular North Cascades scenery with a moderately challenging whitewater experience, this tour will take you paddling through the upper Skagit River. Class III rapids won't be a problem even if you aren't the most experienced paddler, as professional whitewater guides will ensure your safety. Those with families will appreciate this tour.
Sauk River Whitewater Rafting (Class 3-4)
For an escape out of the urban setting of Seattle, check out the Sauk River, which has Class III and IV rapids with flowing waters from the North Cascade runoff. Expert guides will help you navigate this challenging run.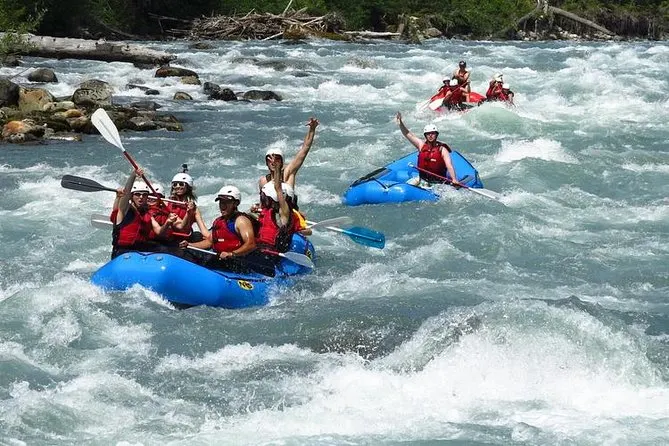 Need to Know for Skagit Valley
The Skagit Valley is incredibly diverse, with everything from the Cascade Mountains to the tulip fields to the Puget Sound. The Skagit River winds through the valley, making for some beautiful kayaking opportunities. There are also plenty of hiking and biking trails to explore and vineyards and orchards to visit. Skagit County has something for everyone, whether you're looking for a quiet weekend away or a fun-filled vacation. It's easy to fly into SeaTac (SEA) or even into Payne Field (PAE) to start your North Puget Sound trip!
When to Visit Skagit County
There are a lot of fun events that happen in and around Skagit County every year. Some popular annual events are the Swiftsure International Yacht Race in May (out of Victoria BC via the Strait of Juan de Fuca), the Skagit Valley Tulip Festival April through May, the Skagit Valley Balloon Rally in July (not announced for 2023 yet), and the La Conner Quilt Show in October.
Other events in the area include the Burlington Northern Santa Fe Railway Train Days, and the Anacortes Arts Festival. The Skagit Valley Tulip Festival is a three-day event celebrating the tulips and daffodils that grow in the Skagit Valley and are world-famous. The Burlington Northern Santa Fe Railway Train Days is a two-day event celebrating the railroad's history in Skagit County and is great with kids. The Anacortes Arts Festival is a three-day event that celebrates the arts and culture of Skagit County.
Weather in Skagit County
The climate in Skagit County is temperate and mild. The average temperatures for the winter months are in the 30s and 40s, and the average temperatures for the summer months are in the 60s and 70s. The climate is ideal for visitors who want to enjoy outdoor activities such as hiking, fishing, and camping.
The weather in Skagit County is unpredictable and can change quickly. Visitors should be prepared for rain, wind, and cold weather during the winter months and for heat, humidity, and sun during the summer months. The best time to visit Skagit County is from April to October, when the weather is warm and sunny. However, visitors can enjoy the beauty of the county year-round.
Heads up, "smoke season" has become a thing. For the last ten years or so we've be inundated with smoke from wildfires in the Cascades and up in British Columbia. Some years it's worse than others, but it's nearly a guarantee that summer will have several smokey weeks.
---
I hope you're excited for kayaking in Skagit County. It's one of the prettiest places in Washington and I know you'll love it. If you have any additional suggestions or questions, feel free to leave a comment or send us a note. We're happy to share more and help others plan their travel!