Wisconsin is a beautiful state and with each trip back we find new, fun things to do. Kayaking in Door County and the Green Bay area are great activities for spring through fall. The peninsula of Door County, along with the city of Green Bay, contains endless nature sights to be enjoyed from the viewpoint of a kayak. Calm waters, lots of wildlife, and breathtaking coastlines are just a few of the many reasons that loyal paddlers continue to visit every year. And lighthouses, but you probably know that's why I fell in love with Door County.
Ideal for families and novice paddlers, this northern section of Lake Michigan is perfect for any kayaker looking for a memorable day on the water. To get you started, we've compiled the fifteen best kayaking spots in Door County, Green Bay and nearby State Parks. If you're looking for a week of paddling or just a fun afternoon on the water, this list is guaranteed to have something to make your trip to Green Bay or Door County one to remember. We're confident that you won't regret making this pristine section of Lake Michigan your next kayaking destination.
If you have any questions or want to shout out your own recommendations for kayaking in Door County, please leave a comment or send us a note. We've got lots of tips for the best food in Door County, Wisconsin road trips and more, so are always happy to share a little extra!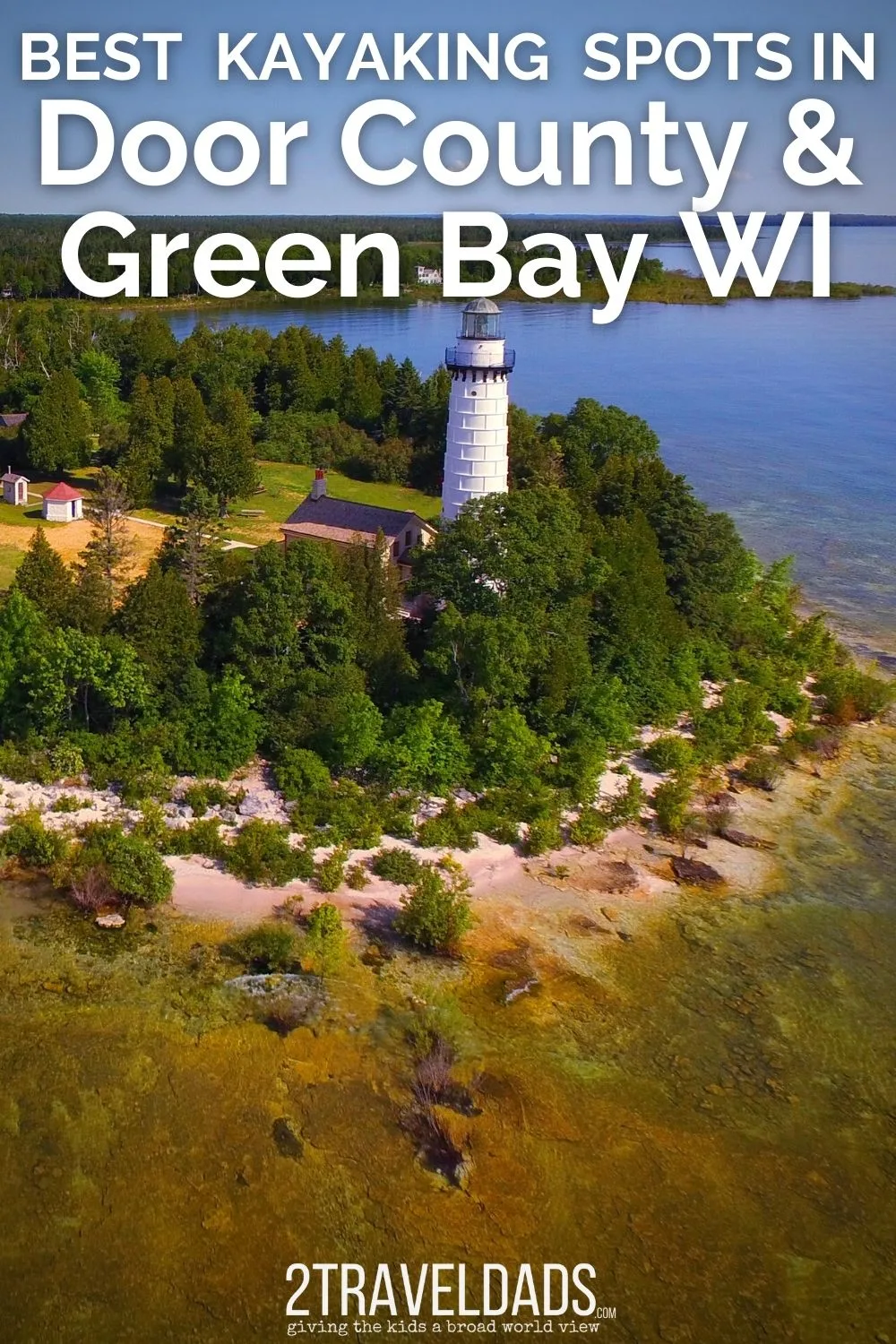 Best Kayaking Spots in Door County
The peninsula of Door County, dividing the waters of Lake Michigan and Green Bay, has recently adopted a reputation amongst paddlers as one of the most peaceful kayaking destinations around. The region hosts many interesting and exciting features that paddlers can spend days exploring. With caves, shipwrecks, cliffs, wetlands, and hidden swimming holes, Door County is quickly becoming a kayaking hotspot.
Cave Point for Intermediate Kayaking
After conquering the open waters of Lake Michigan, Cave Point rewards paddlers with a unique opportunity to explore some stunning sea caves. You'll quickly understand why the geographical features at Cave Point have attracted so many kayakers. For paddlers with little open water experience, we recommend that you join one of the many Cave Point tours offered at the park in order to safely navigate the crossing.
The reason this is considered an intermediate kayaking spot is because of the nature of open water kayaking on Lake Michigan. The winds and currents can be surprising, including the waves that are often created. Summertime storms can also present a challenge.
Launch Site:
Bailey's Harbor for Shipwrecks
For kayakers looking for a once-in-a-lifetime experience, Bailey's Harbor is a mandatory stop in Door County. While paddling throughout the waters of the harbor, kayakers can witness some of the 250 shipwrecks littered throughout the bay. Numerous outfitters offer clear-bottom kayaks for rent as well as guided tours to point out some of the best wrecks.
Launch Site:
Kangaroo Lake for Fall Colors
Nearby Bailey's Harbor, paddlers can find the beautiful inland Kangaroo lake. For a quiet paddling experience, we recommend exploring the north end of the lake as it is a designated "no motor zone". The calm waters provide the perfect conditions for exploring the lake and its wildlife.
*SUP Friendly Paddling
Launch Site:
Gills Rock (Difficulty: Novice)
If you only have time to visit one spot in Door County, we recommend the historic area of Gills Rock. This spot has everything. Starting from an old fishing village, kayakers have the opportunity to see jaw-dropping bluffs, forgotten shipwrecks, incredible caves, and historic pictographs believed to be over 350 years old!
This is a bucket list kayaking spot for the State of Wisconsin, and is best in early summer before summer storms really start up and before Door County tourism is at its annual peak.
Launch Site:
Moonlight Bay to Rieboldt Creek
Perfect for beginners, this area between Lake Michigan and Mud Lake is the ideal spot for wilderness exploration. The waters contain an assorted collection of wildlife and waterfowl that can be seen while paddling throughout the passage's calm, tranquil waters.
There's also the Cana Island Lighthouse just to the east, so paddling around the small peninsula will not just show off the beautiful shoreline and wildlife, but adds a historic stone lighthouse.
*SUP Friendly Paddling
Launch Site: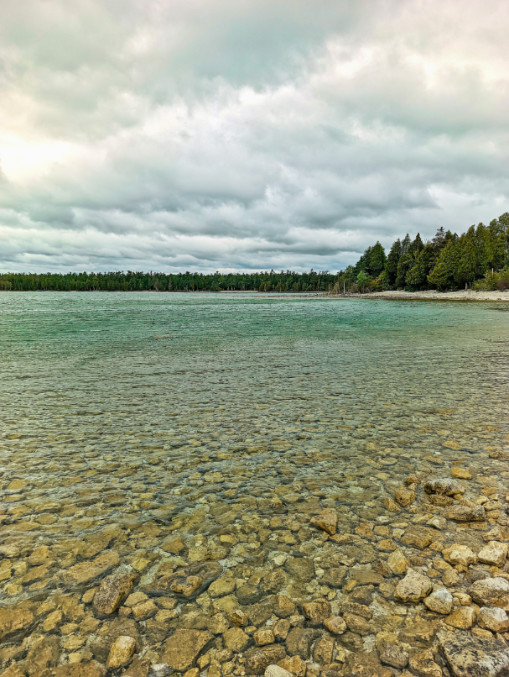 Best Kayaking Spots in Green Bay
One of the best spots to start exploring the western arm of Lake Michigan is the city of Green Bay itself. Many of the rivers branching off of Lake Michigan offer calm waters and rich scenery while paddling throughout the city's downtown area. In addition to the urban landscape, every river features a magnificent collection of remote wilderness to be discovered. And, after exploring the calm creeks and rivers, paddlers can either venture into the open waters of the Bay or challenge themselves with some exciting nearby whitewater runs.
Kayaking on the Calm Fox River
Located in the heart of downtown Green Bay, Fox River is an urban paddler's dream come true. Since Fox River extends all the way from Lake Winnebago up to Green Bay, kayakers are in for a combined urban and rural paddling treat. In some areas, you'll be surrounded by dense woodlands while other parts of the river will drop you right in the heart of the historic city. This is great, SUP friendly water to paddle on in Green Bay.
Launch Site: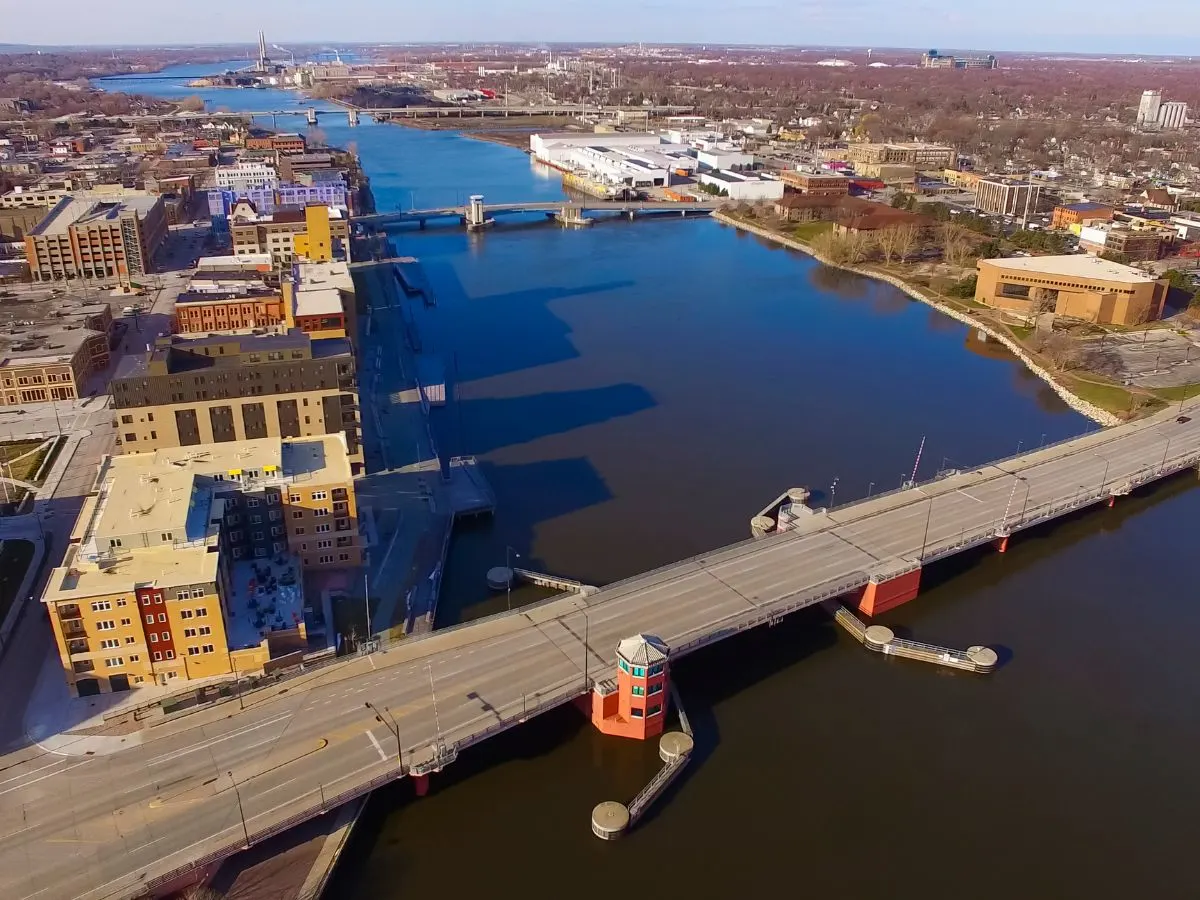 Green Bay's East River Kayaking
Often overlooked, even by local paddlers, the East River offers another fantastic opportunity to combine urban and rural kayaking. With so many launch sites, paddlers can pick the exact type of adventure they want. Launching in the city of Green Bay will feature many of the same urban sights as the Fox while putting-in further South in Allouez allows for complete immersion in Green Bay's wilderness. Some of the many species of birds known to live in the area include blue jays, cardinals, and kingfishers.
*SUP Friendly Paddling
Launch Site:
Easy Paddling at Deerfield Docks Park
For a great all-around family day-trip, Deerfield Docks Park is one of the best spots for kayaking in the Green Bay area. This 3-acre park features a boardwalk trail, picnic area, and offshore fishing. Also, from the boat launch, kayakers can access both the marshy Duck Creek and the gorgeous Peats Lake. Countless smaller passages and ponds make this kayaking launch a great place to explore.
*SUP Friendly Paddling BUT this area has a lot of lake weeds so your fin may drag a bit from time to time.
Launch Site: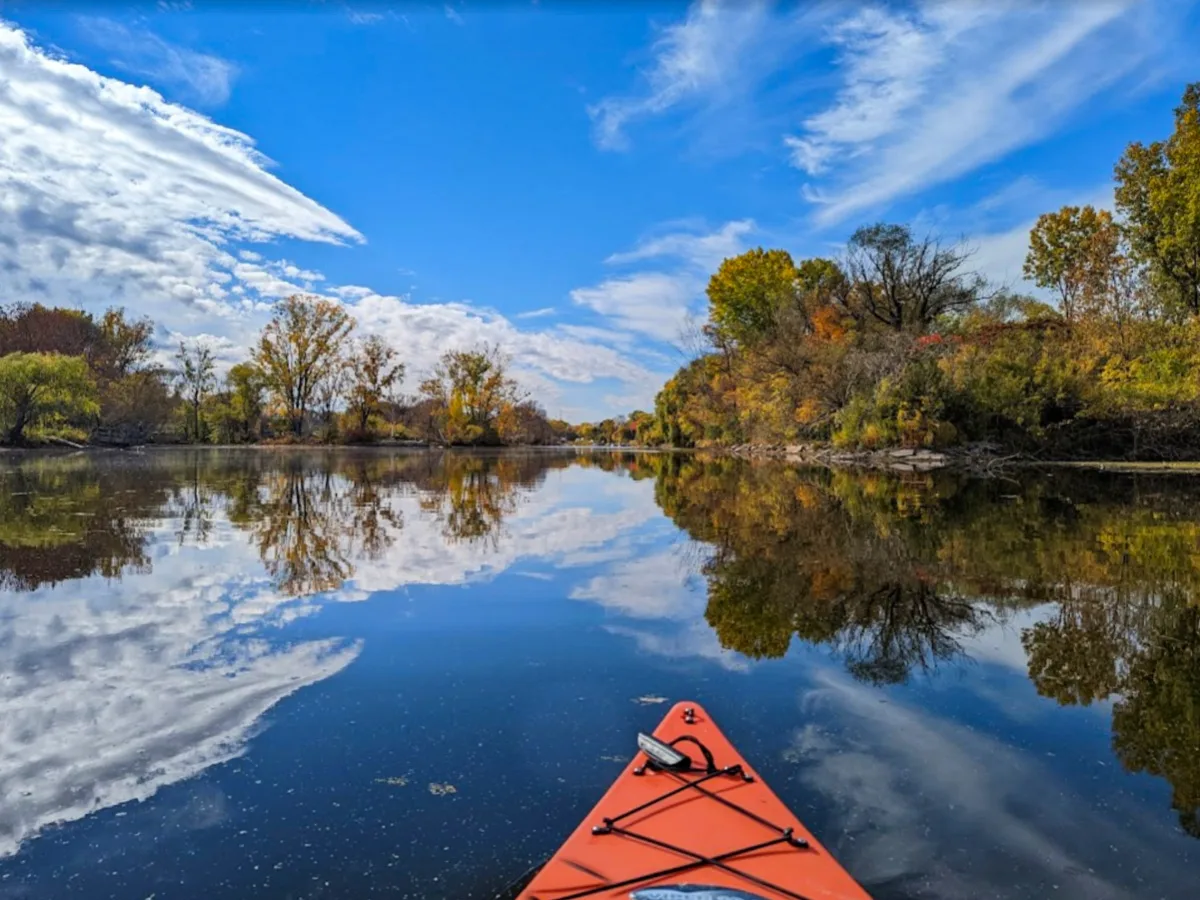 Peshtigo River (Difficulty: Experienced)
For paddlers looking for the best whitewater run in all of Wisconsin, that's gonna be the Peshtigo River. This exciting 5-mile run features continuous rapids ranging from Class II to Class IV with lots of fun waves, chutes, holes and eddies. During the calm parts of the run keep an eye out for beavers, otters, and white-tailed deer that live in the area. This is NOT for novice paddlers and it's HIGHLY RECOMMENDED that you plan to go with a guide or another experienced kayaker.
Launch Site:
Pick-up Site:
Barkhausen Waterfowl Preserve (Difficulty: Novice)
One of the coolest spots for kayaking near Green Bay and Door County is Dead Horse Bay. Here you can launch and paddle south to Long Tail Point Beach and then continue by checking out the Long Tail Point Lighthouse. Built in 1847 and since abandoned and all but destroyed, the lighthouse ruins stand on the sandbar in the lake, perfect to see from a kayak. It's pretty cool
After kayaking visit the 920-acre Barkhausen Waterfowl Preserve which is located on the western shore of Green Bay and has some of the best wildlife viewing in the area. The Park features over nine miles of hiking trails throughout wetlands, forests, and meadows creating an unparalleled wildlife viewing experience. You can't kayak within the preserve, but you can go birdwatching from the platforms, which is just a different sort of enjoyment.
Launch Site: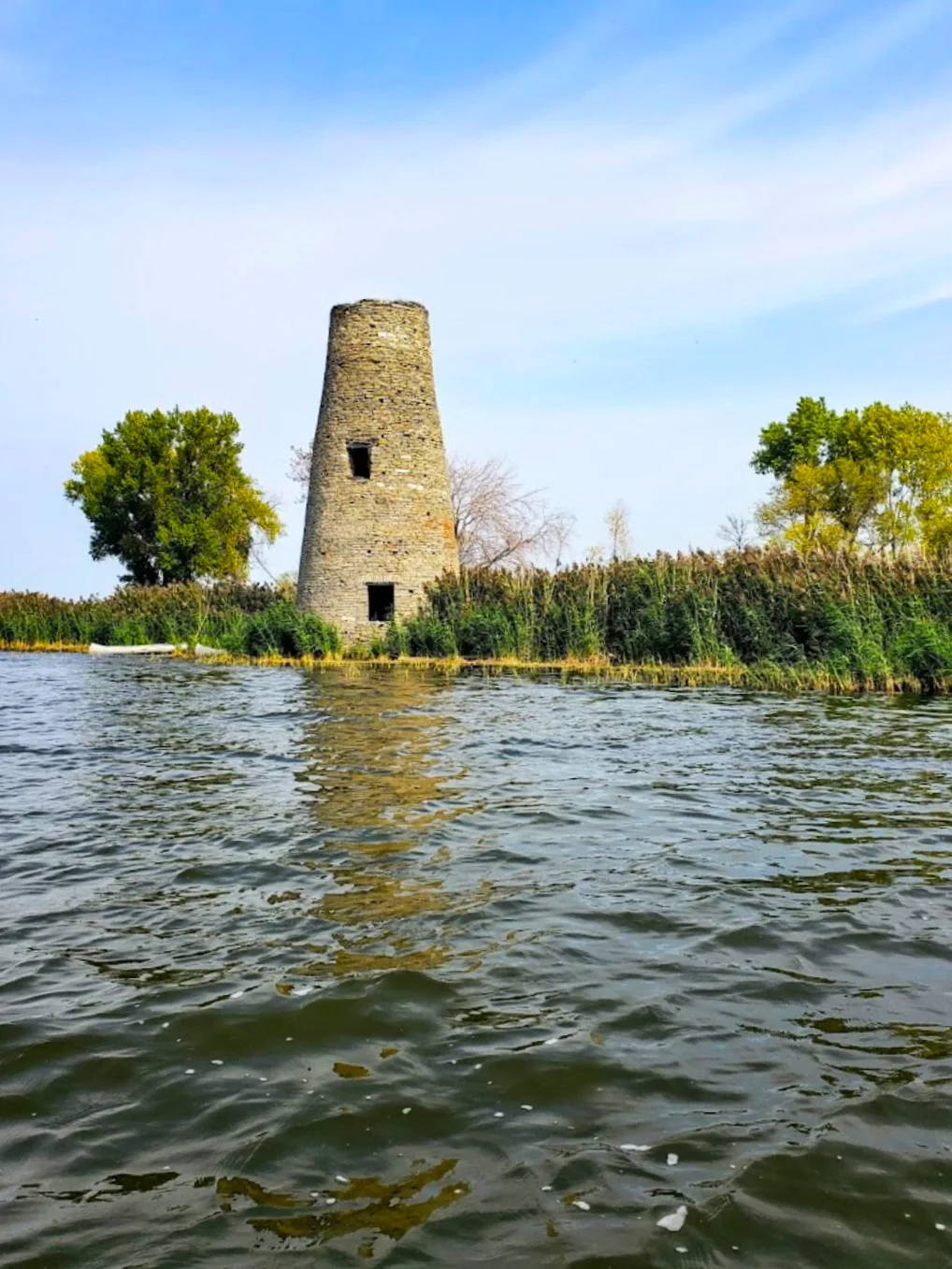 Wisconsin State Park Paddling
Wisconsin State Parks are beautiful, and you'll find such different sights than other state parks in places like Florida parks or in Washington State. Here, you'll find cliffs and freshwater bays, with wetlands, historic structures and so much more.
Peninsula State Park
In the heart of Door County, Peninsula State Park is not only beautiful but also easily accessible. During a trip to Peninsula, paddlers can make day trips to a number of popular spots including Chambers Island, Horseshoe Island, Eagles Cave, and the Eagle Bluff lighthouse. Kayakers should also be on the lookout for bald eagles as there are many nests throughout the park.
My favorite thing to do at Peninsula State Park isn't actually kayaking, but it's going up on the skywalk. This incredible boardwalk leads to the treetops and brings you to an awesome view of Lake Michigan / Green Bay. There's a ton to do at Peninsula State Park, so after kayaking explore more!
Launch Site: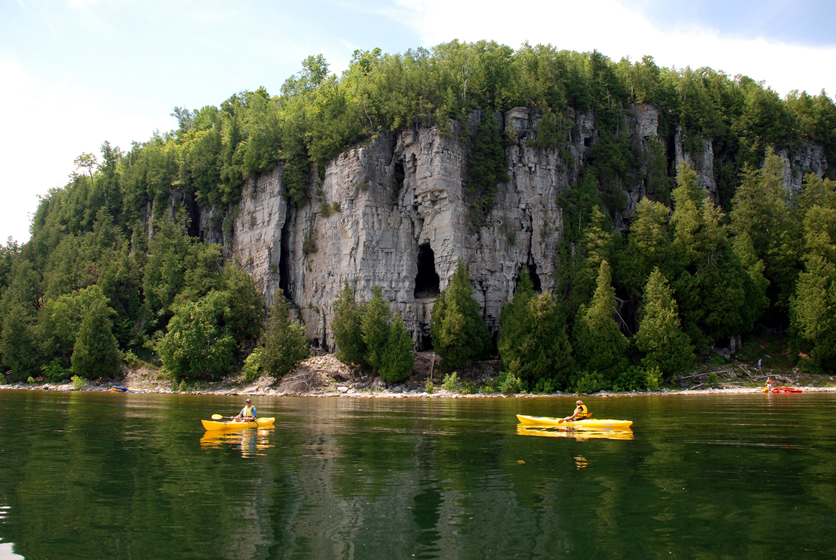 Newport State Park
Also in Door County, Newport is another park that can keep paddlers busy for days. The park is located on the border of the Mink River Estuary, Lake Michigan, and Europe Lake offering countless spots to explore. Many of these spots can be easily tackled in a day-trip but for the more adventurous kayakers, the availability of campsites and world-renowned stargazing at Newport makes the recipe for an incredible multi-day adventure.
*SUP Friendly Paddling
Launch Site: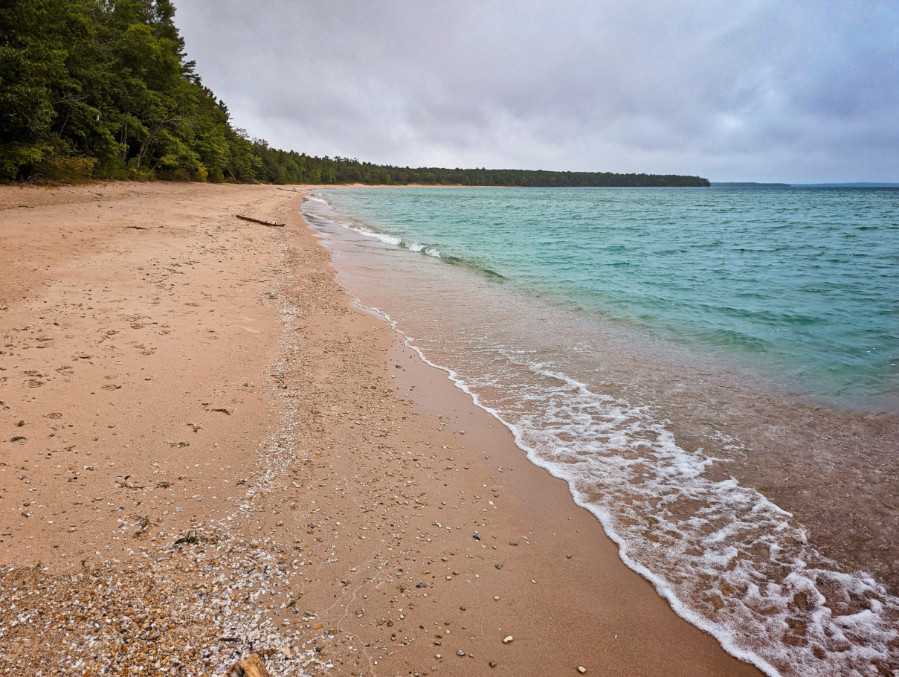 Peshtigo Harbor State Wildlife Area
Found on the western side of Green Bay, Peshtigo Harbor State Wildlife was established in order to, "enhance wildlife habitat, protect natural communities, and provide nature-based recreation". Kayakers can explore this rich wildlife area on their own or choose to follow one of the many established self-guided water trails.
Following established paddling trails is a very good way to ensure that you're having a minimal impact on the wildlife and environment when paddling. Also, if you're new to kayaking in an area, following the set kayaking routes ensures you have a more safe experience.
*SUP Friendly Paddling
Launch Site:
High Cliff State Park
For paddlers searching for a calm day of kayaking away from the waters of Lake Michigan, High Cliff State Park is a must-visit. On the calm waters of Lake Winnebago, kayakers can spend a few hours leisurely exploring the lake at their own pace. Features of High Cliff include a 40-foot lookout tower, 200-foot bluffs, and incredible cliff ledges.
*SUP Friendly Paddling
Launch Site:
Potawatomi State Park
One of the larger state parks with a staggering area of 1200 acres, Door County's Ponawatomi State Park is an optimal spot for wilderness lovers. The park is known for its mighty limestone cliffs, rolling hills, and diverse collection of wildlife. While on the water, kayakers could spot herons, bald eagles, deer, raccoons, and much more.
Launch Site: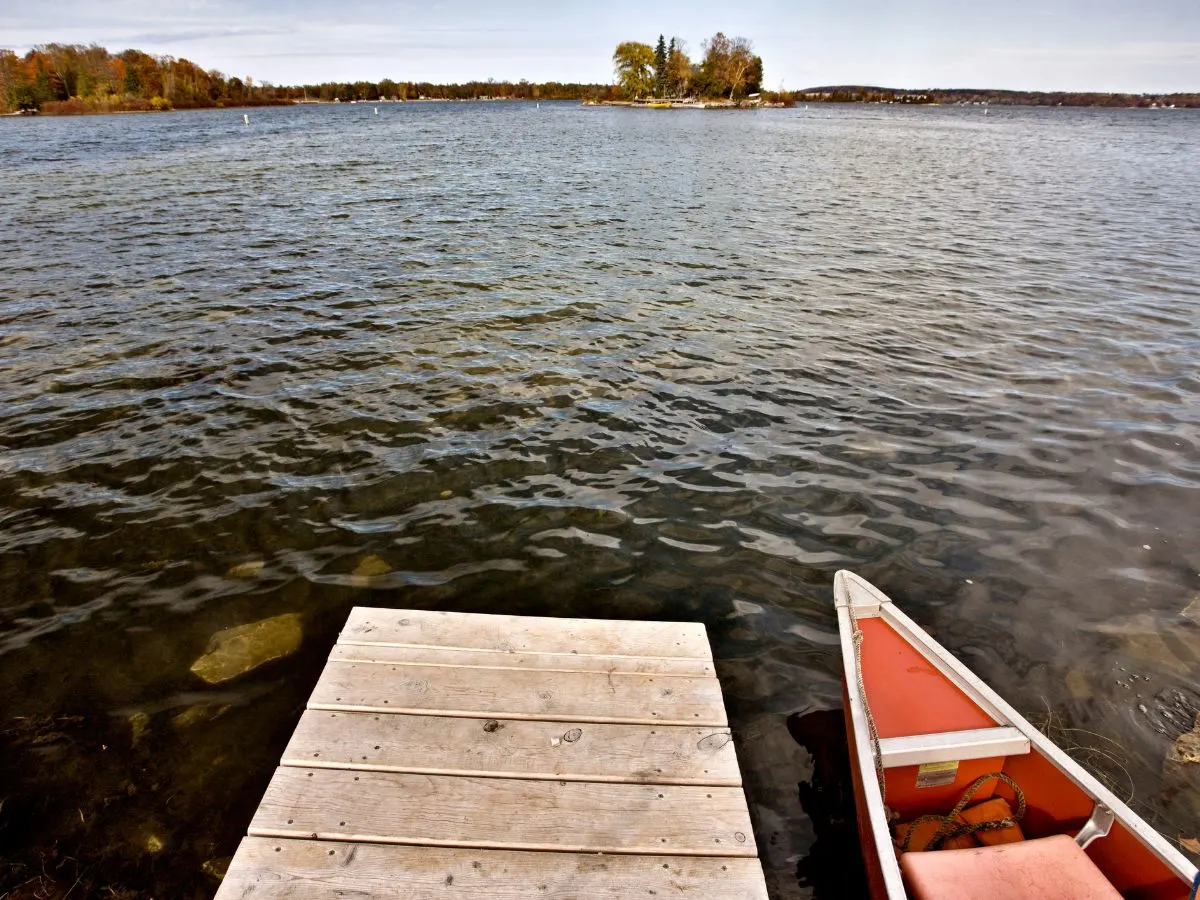 Tours for Kayaking in Door County and Green Bay
Even though many of the best places to kayaking Door County and Green Bay are pretty mellow, there are some more technical paddles, and also routes that can confuse unfamiliar visitors, especially in wetland areas. Booking a kayaking tour is a great idea if you're not well versed in a region, even if the difficulty level is appropriate for beginners.
Cave Point Kayak Tour
This is the perfect tour for kayakers who want to experience the majestic cliffs and caves at Cave Point but might be uncomfortable with the open waters of Lake Michigan. Paddle with confidence as experienced guides navigate the crossing and lead you to the famous spot.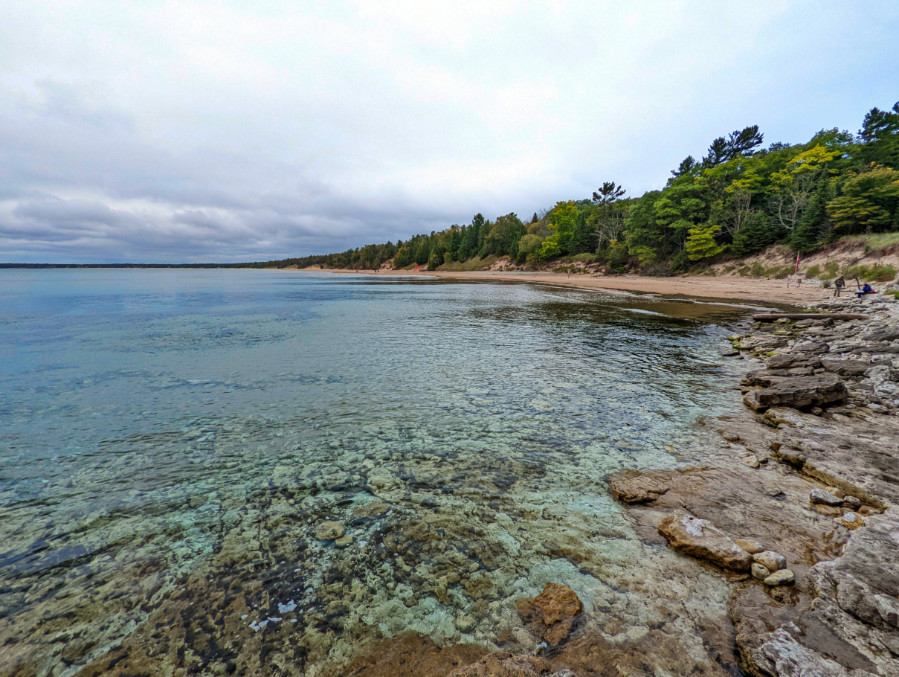 Death's Door Bluff Kayak Tour
With scenic bluffs, shipwrecks, rock cairns, and historic pictographs, this combined hiking and kayaking tour offers a fantastic adventure in Door County. In addition to certified guides, the tour includes everything from meals to paddling gear.
Door County's Wetlands Tour
This family-friendly paddling tour will guide paddlers throughout the wetlands of Door County led by an expert guide with knowledge of the area's wildlife. There are many species of wildlife to see in the area including swans, bald eagles, and blue herons. Overall, a great trip for learning about the wetland ecosystem.
This tour is only bookable when the season starts: Door County Wetlands Kayaking Tour
Weather and When to Visit Door County / Green Bay
Like most of the paddling spots in the Great Lakes, the best time of the year to plan your kayaking trip is in the warmer summer months. However, the waters take a while to warm up with temperatures still ranging between 40-50º F in June. That means hypothermia can still represent a serious risk if submerged for extended periods of time. On the other hand, July and August are the warmest months of the year with water temperatures in the 60s.
While planning paddling trips in the area, it is always important to check wind speed and direction before every launch. Offshore winds can make it difficult to paddle back and high speeds can whip up potentially hazardous waves. Kayakers should always wear their PFD in case of changing weather conditions.11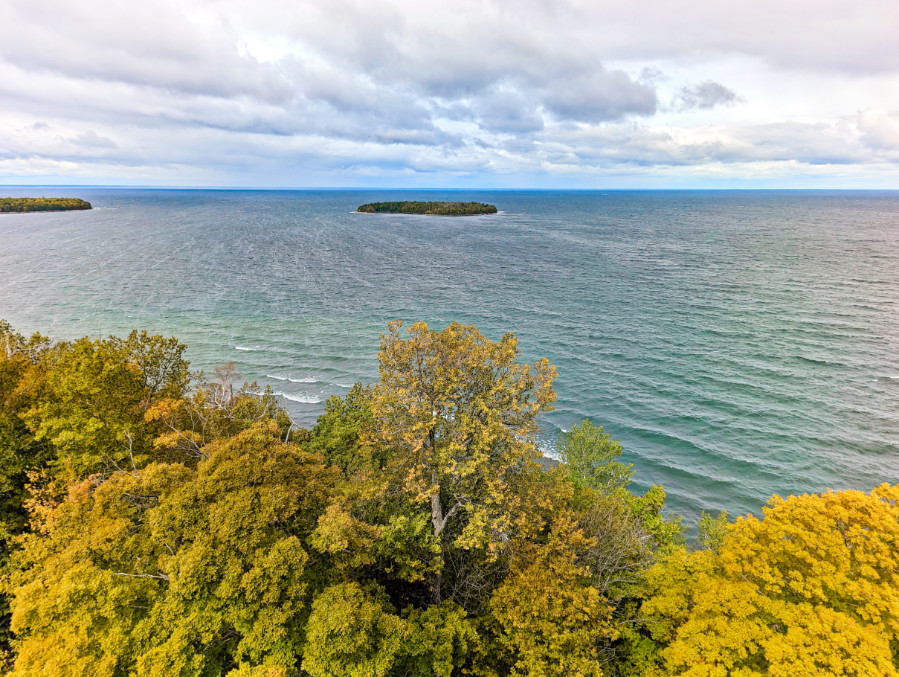 Annual Door County Sea Kayak Symposium
To join one of the most inclusive kayaking communities in Wisconsin, don't miss the Sea Kayak Symposium in Door County. This year marks the 19th annual Symposium and on the weekend of July 8th, paddlers from all over convene to experience these majestic waters as a family. With tours, classes, group seminars, and evening bonfires, the weekend's events have been designed to provide an unforgettable paddling experience for kayakers of any experience level. Click the link below to learn more about joining a kayaking community like no other.
With Green Bay and Door County quickly gaining popularity through word of mouth in kayaking circles, it's only a matter of time before the waters are filled with paddlers from all over North America. Don't wait for another season to take advantage of these extraordinary paddling opportunities. There are few places in the world where you can find shipwrecks, pictographs, urban river paddling, and whitewater runs all in the same place. We can't wait to be back out on the water and we hope to see you there!