Every state has several different road trip options you could plan for. The western Wyoming road trip is great to do with kids and shows a very diverse side of the state. Whether you are interested in science or indigenous history or cowboy history, you'll find it all on our Western Wyoming road trip itinerary.
So many people, myself included, plan trips to Wyoming with the sole purpose of going to Yellowstone National Park or the Grand Tetons. We were invited to have our own Western Wyoming road trip that wasn't focused on the famous national parks and had an amazing time. It was wonderful to get to show the kids a different version of a place we have been to so many times.
Take a look at our road trip plan and please let us know if you have any questions. Feel free to leave a comment or send us a note if you need any help. Planning or want to make your own suggestions to add on to our Western Wyoming road trip plan.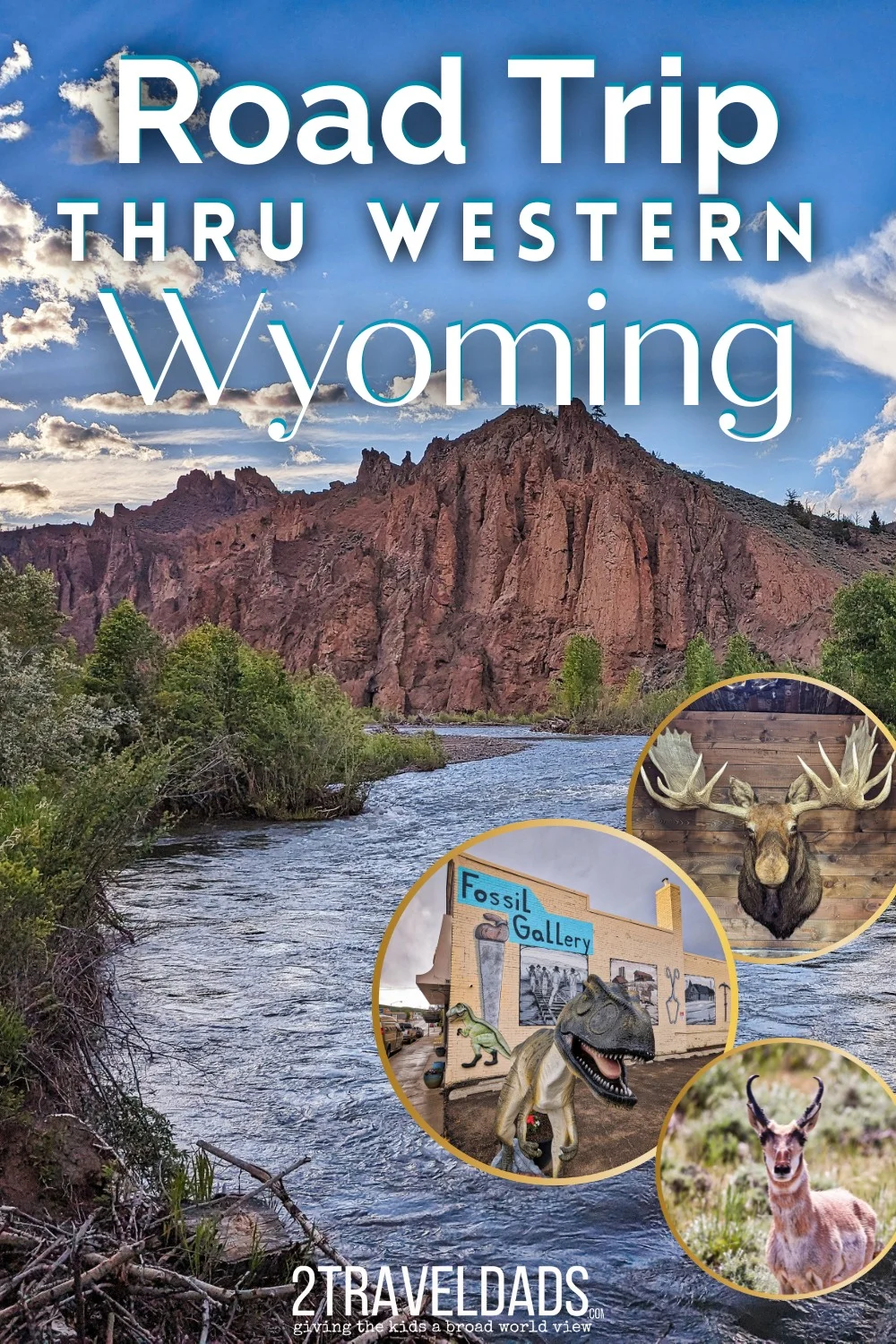 Why Choose Western Wyoming for a Road Trip?
The thing that makes Western Wyoming such an interesting place to do a road trip is that the science and history of the area appeal to nearly any type of traveler. If you're big into dinosaurs and fossils, you've got all kinds of dig sites and protected areas to explore. If geology is your thing then you will have incredible mountains and hot springs.
Something we were excited for is to learn more about the indigenous nations of the west, as Wyoming is the ancestral homeland of the Shoshone, Lakota (our family), Blackfeet and more. With the Buffalo Bill Cody and cowboy part of Wyoming history, this road trip gives a well rounded approach to learning about the past. And at the end of the day, this journey is just beautiful and fun.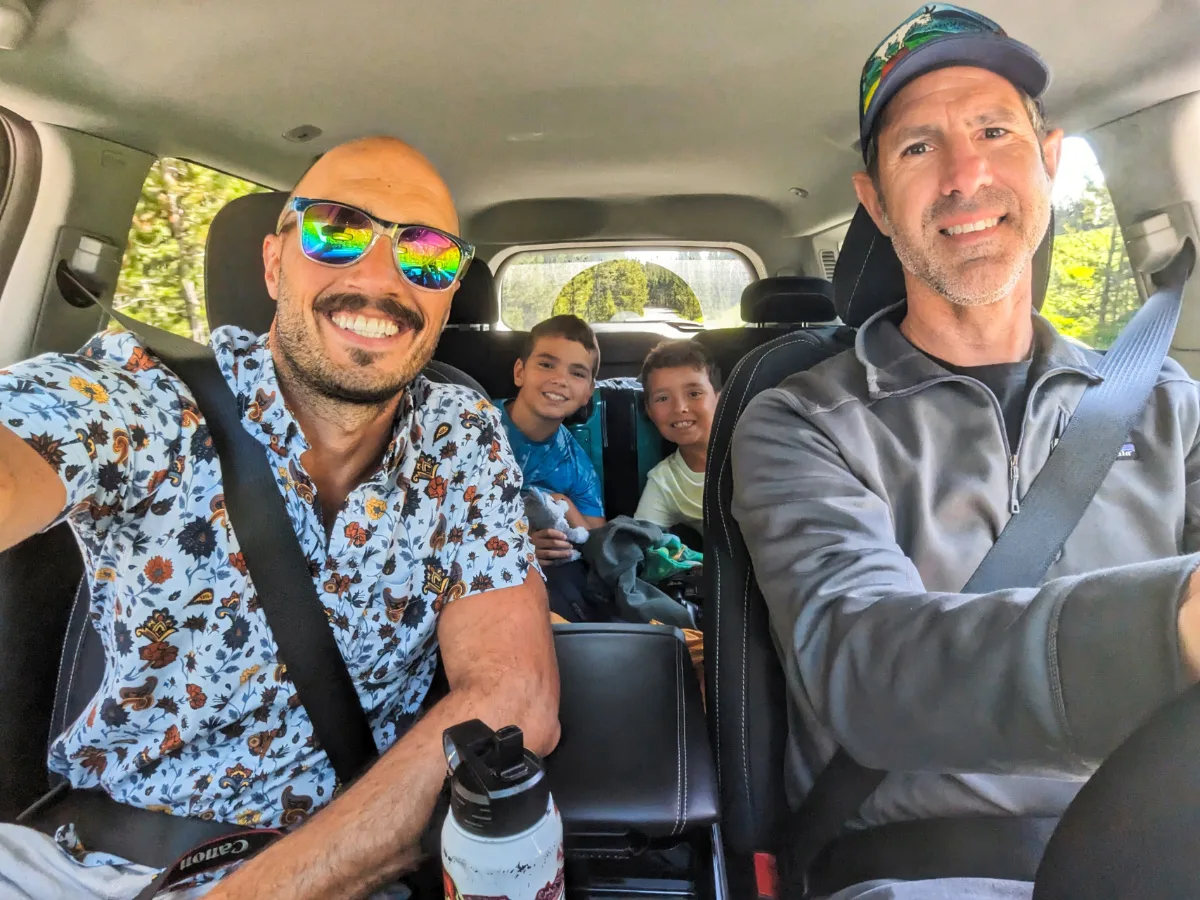 Our LGBTQ Family Impression of Western Wyoming
I know this might not be interesting or apply to everyone planning this sort of trip, but I think it's important to share how our two-dad family experienced Western Wyoming. A state that is known for being very conservative and very firearm-forward, and NOT known for being liberal and progressive, Wyoming surprised us. Yes, the conservative markers of loud patriotism and public prayer were very present, but also we came across MANY LGBTQ welcoming places, with Pride flags and stickers, and genuine joy to see our family.
Something else that we noticed, because unless you're a family like ours you might not even think about it, which is why I call this out, is that we were only asked if our dining should be two checks once. This might not seem like a big thing, but you can tell how people feel about you and the internalized judgements about the LGBTQ community by whether or not they are comfortable assuming that two obviously married men with their kids belong on one check or not. Sure, some people might "not want to assume" but that goes back then to there being a phobia in some form. In Wyoming we didn't face this most places, which is always nice to experience.
Overall, with many trips to Wyoming over the years, we've found the people to be kind and not make a big deal about our family, which is why we keep going back!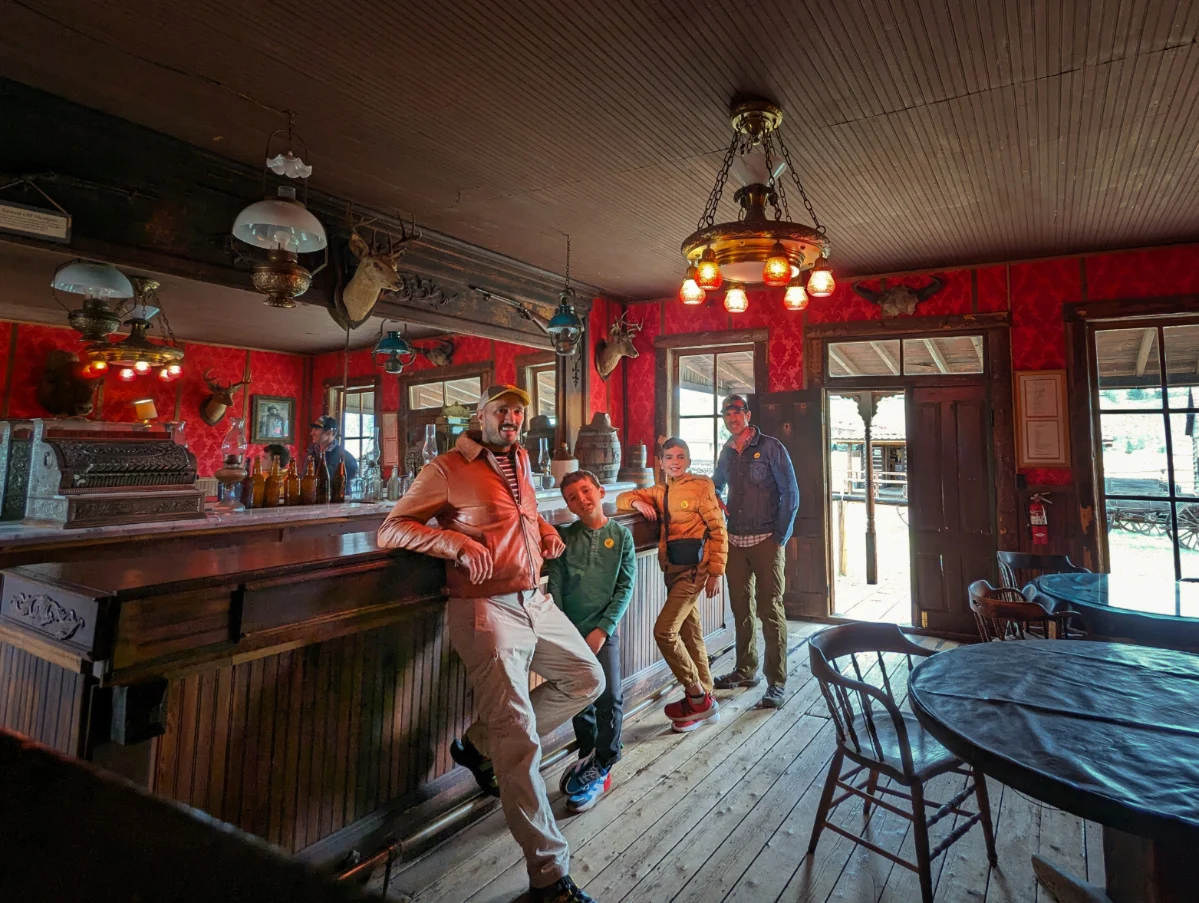 Getting to Western Wyoming
When you're planning your road trip, the first thing you need to decide on is where you want to start. Having done lots of travel in Wyoming we've entered the state via Utah, Idaho and Montana. Each entrance gives you a different view with such different features and points of interest.
For this Western Wyoming road trip plan, entering from Utah allows you to start in fossil country and end in Yellowstone. You can easily fly into Salt Lake City (SLC) from nearly anywhere in the USA, making it the easiest beginning point. This also makes it easy to pair with a Utah National Parks road trip.
For the reverse itinerary, fly into Bozeman (BZN) or Billings (BIL) and start your trip in Yellowstone National Park. The Beartooth Highway from Billings is so beautiful and brings you into Wyoming with some of the most epic views you can imagine.
There is one other route you might want to consider, which is ideal if you're also doing Badlands National Park, Devil's Tower National Monument or Custer State Park, and that's coming to Western Wyoming via the Nez Perce Highway. From Bighorn Canyon National Recreation Area you'll wind through hills and canyons, falling in love with the views the whole way there.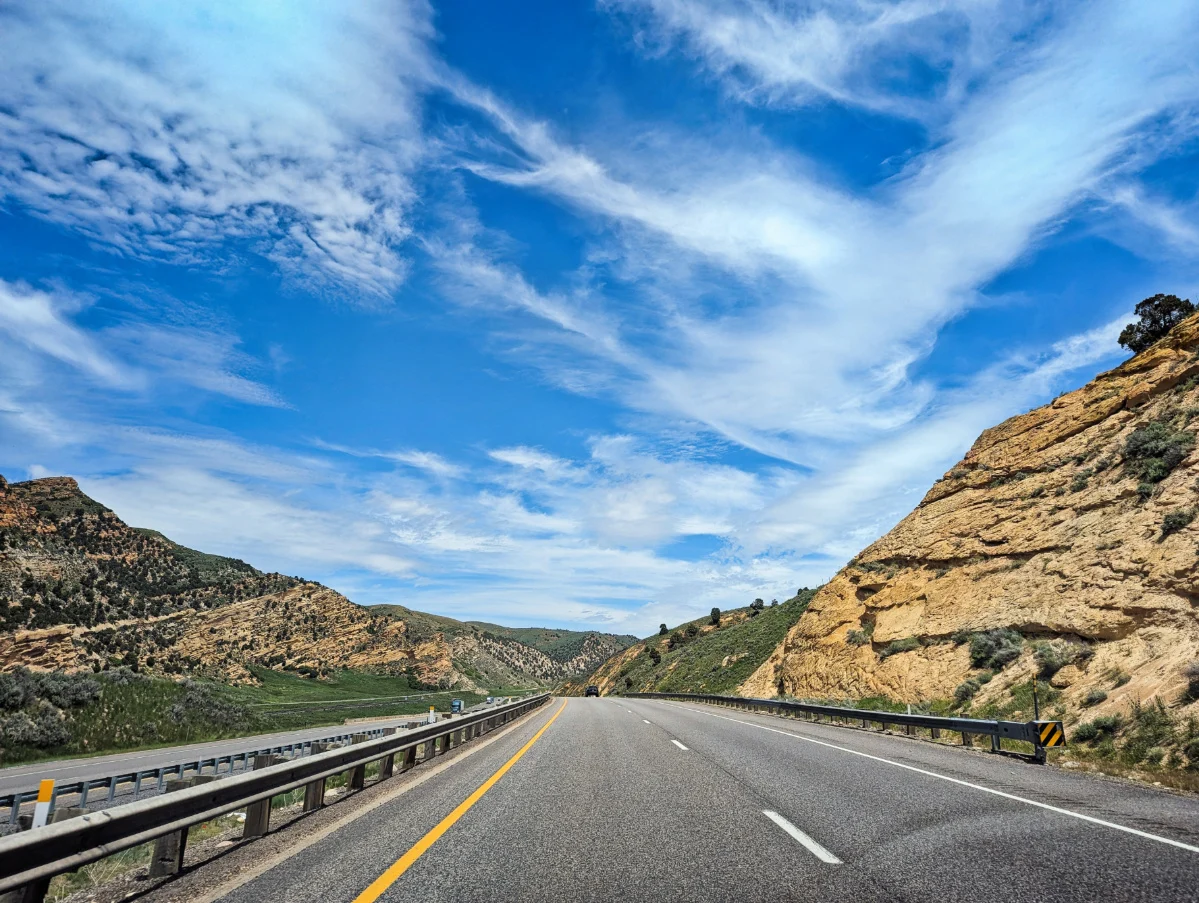 When to do a Wyoming Road Trip
Considering that Wyoming is pretty high in elevation and gets a significant amount of snow, late spring to early October are for sure the best times for a Western WY road trip. June is the prettiest, for sure, as Wyoming has some of the most gorgeous spreads of wildflowers and they seem to peak in June. The benefit of visiting in September/October is that you get the tail end of summer weather and the start of really brisk days, as well as far fewer visitors wherever you go. The downside is that there are lots of businesses that start to close for the season, so you might miss out on some activities.
Summer is awesome. It can be hot, but then there are amazing thunderstorms too. Wyoming is such a wonderful mixed bag!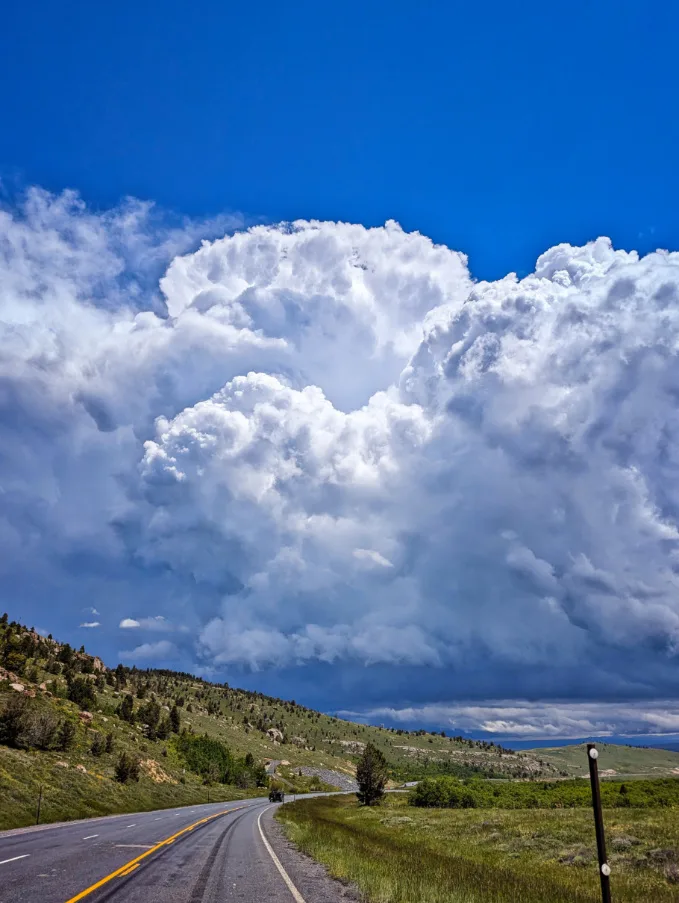 How Much Time is Needed for a WY Road Trip?
Oooh, when people ask about roast trips and how much time they need, the answer can vary greatly. Use our road trip planner to determine how much time you should take, but I'm my eyes, 8 days is ideal for this Western Wyoming road trip plan. You can easily add onto it or take away to make it fit your time off, but 8 days or more gives you plenty of time to enjoy Wyoming to the fullest.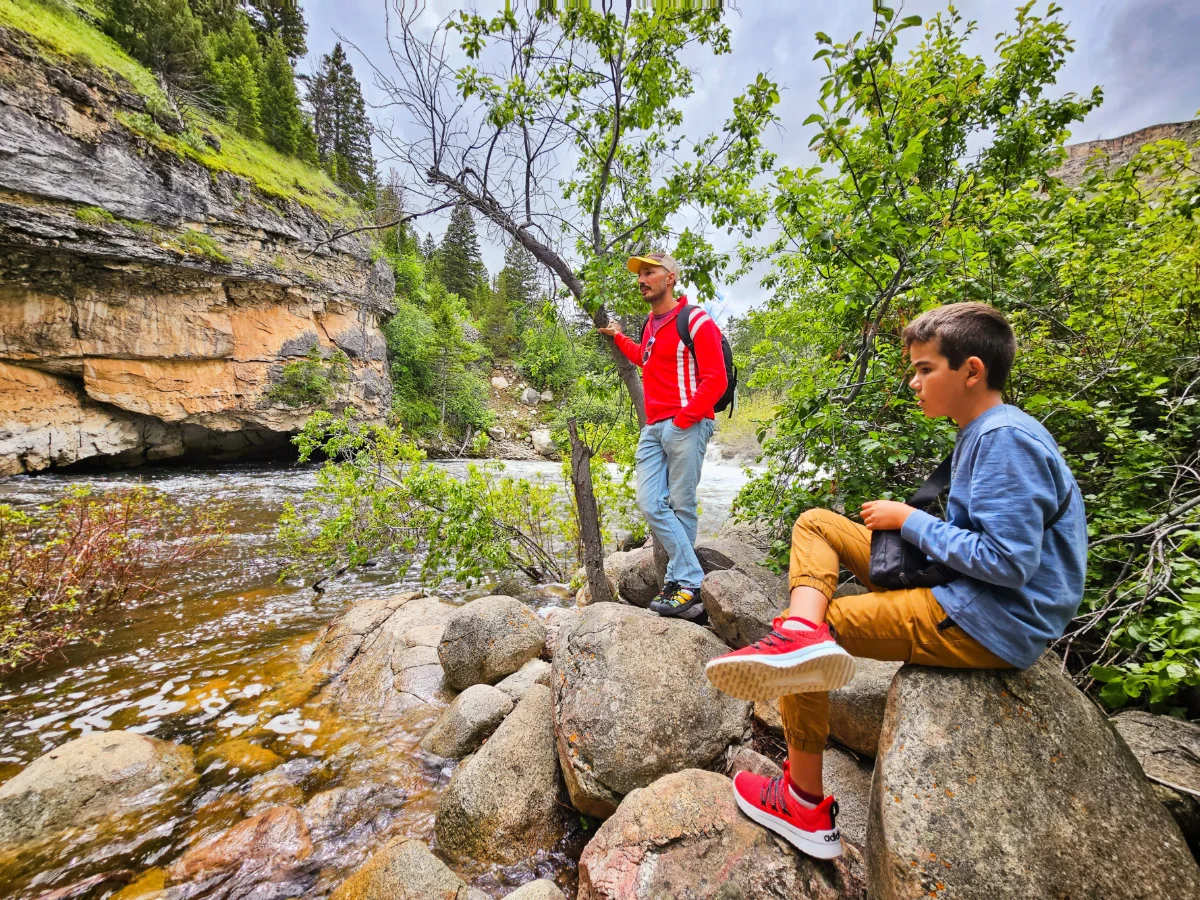 Western Wyoming Road Trip Itinerary
It's time to see what fun we have in store! Remember that you can do this Western Wyoming road trip plan in reverse too. The possibilities are endless and if you need suggestions for what to add beyond what we've noted, just ask. Road trip planning is quite literally my favorite pastime.
Day 1: Fossils and More in Kemmerer, Wyoming
We've been to so many amazing fossil places, full of paleontology and geologic history. The fossil lake basin in southwestern Wyoming is so much cooler than we expected. With small towns, fossil quarries and beautiful hikes, this will start your Western Wyoming road trip with a bang.
We stayed at the Best Western Plus Fossil Country Inn and Suitesam and it was perfect for us. Good location, very well maintained, we earned rewards points for our stay… all things we love!
Visit a Fossil Quarry to Find Your Own
The American Fossil Quarry was our first stop in Wyoming's fossil country. We didn't know what to expect and we're just hopeful to find something. Wow! Because of the geologic history of the area being a large lake basin, prehistoric fish, reptiles and plants can be found at the quarry with little to no effort. After just a short time, we had more fossils than we could've dreamed. And they weren't lame, difficult to make out fossils, but very well preserved skeletons, beautifully aged over millions of years.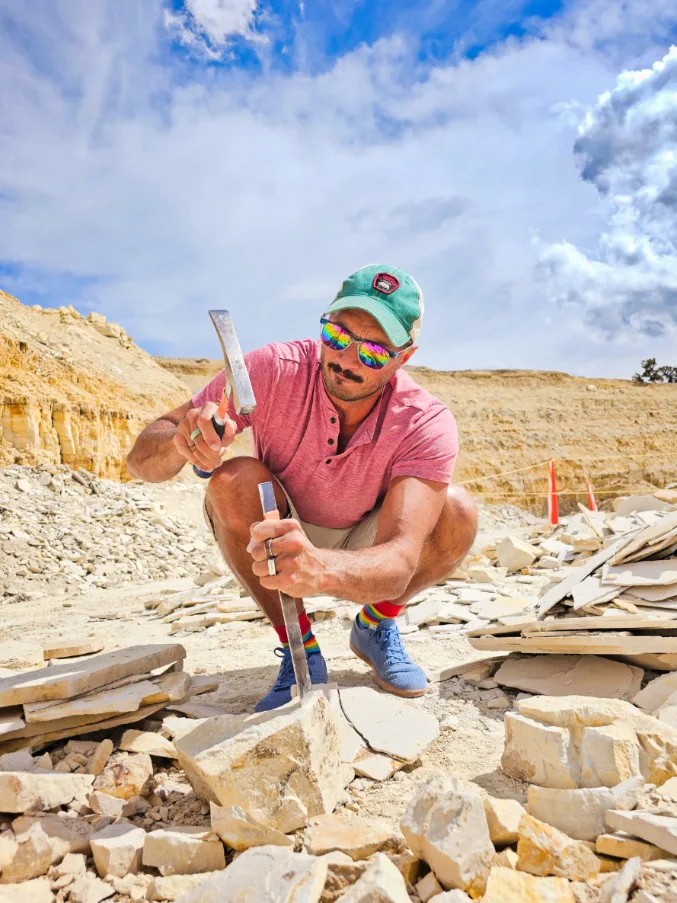 How it works is you pay for access to the quarry, then they provide you the tools for chiseling away the rocks. A few taps later and you'll no doubt uncover something amazing! There are really knowledgeable staff all around to help you hone your fossil finding skills, to identify species, and help you cut the limestone into the right size pieces to transport home. Hands down, one is the coolest souvenirs we've ever gotten.
2 Hour Dig – 4 Hour Dig – Private Dig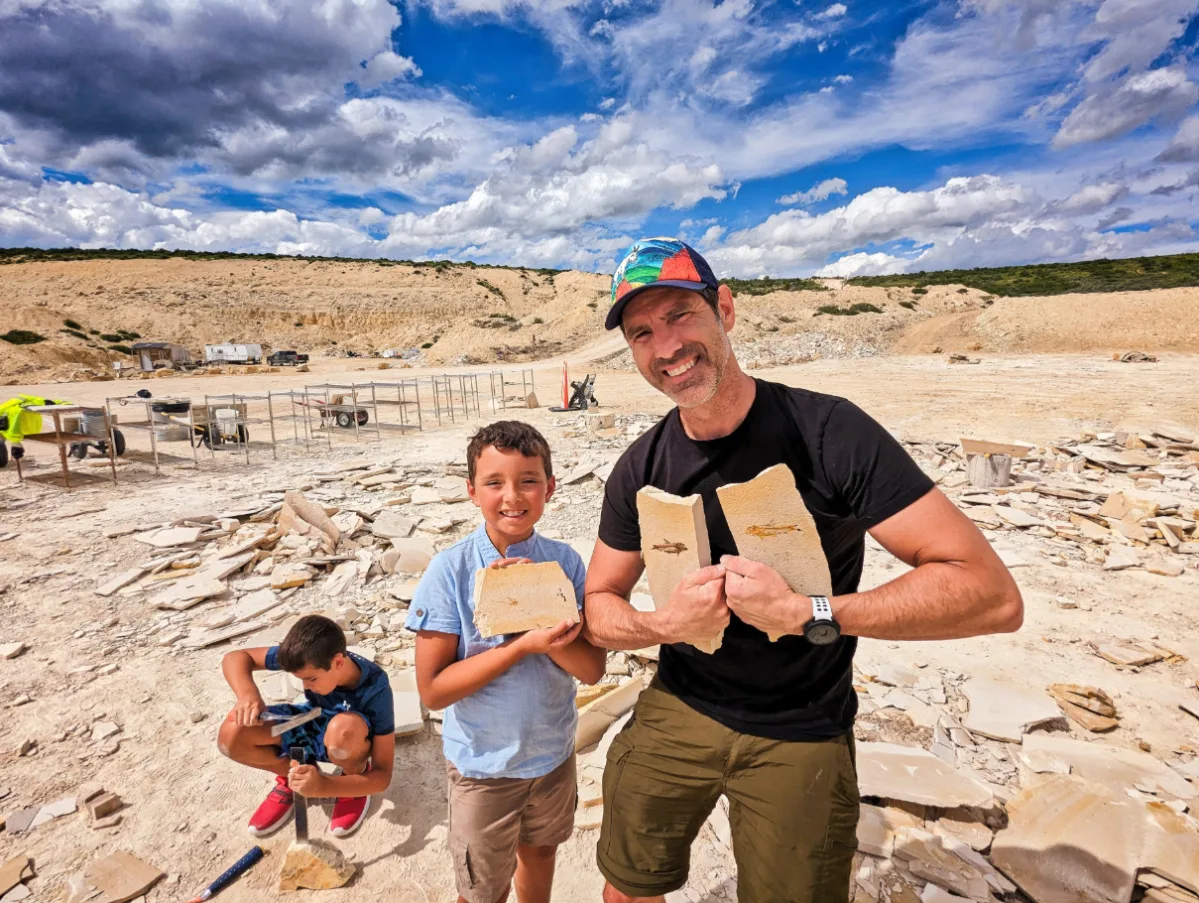 Explore Fossil Butte National Monument
We will always make time for National Park Service sites, whether it's for hiking at Mount Rainier NP or visiting our neighborhood fortress at the Castillo de San Marcos National Monument. Fossil Butte National Monument is going to be one of your favorite stops on this Western Wyoming road trip. If you're into science or not, it's a great place to visit.
The first stop at Fossil Butte NM is the visitor center. This is much more than a visitor center, but a great place to learn about extinct species, the geology of the area, and to see an absolute ton of really amazing fossils. They've got some great videos too, which makes the learning element easier.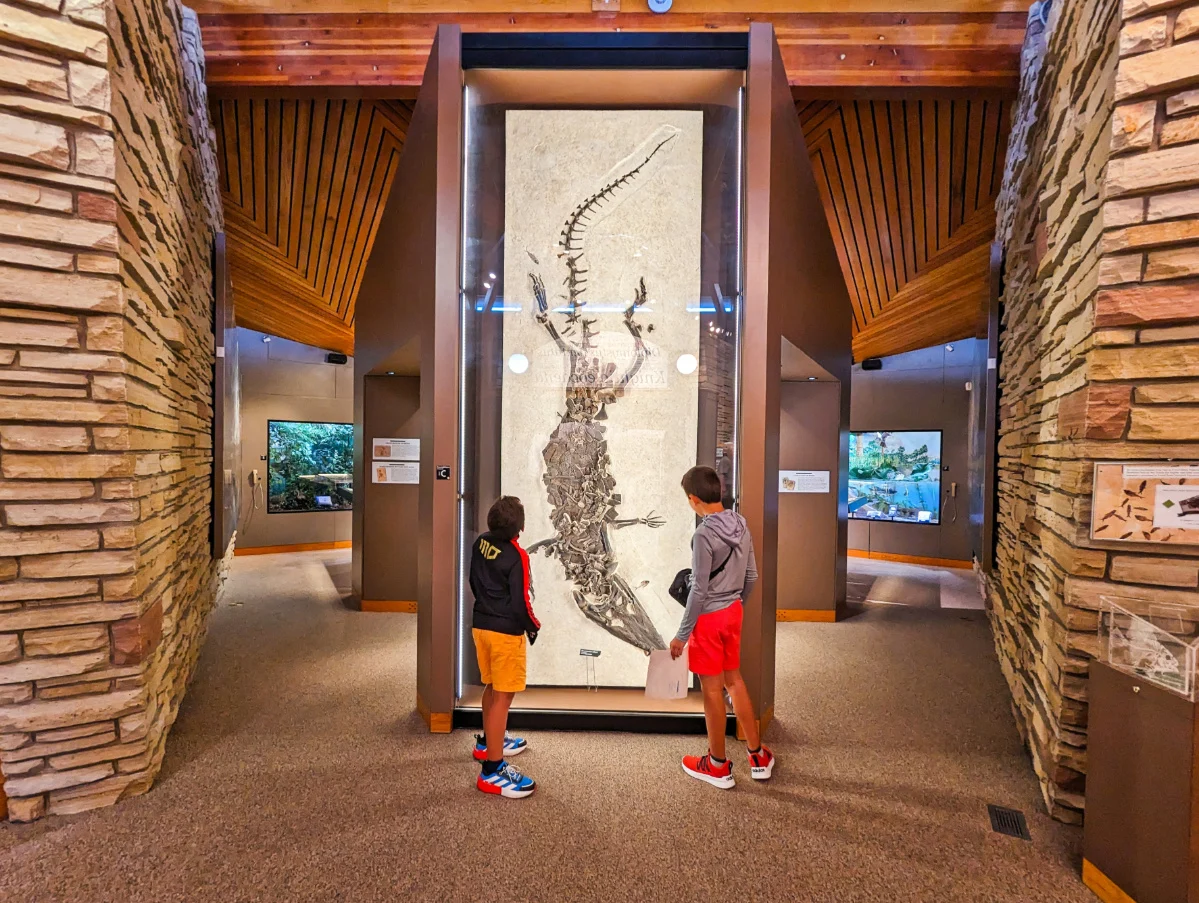 The next activity is to do the scenic drive through Fossil Butte National Monument. Yes, you do a lot of driving on a Western Wyoming road trip, but this short trek through the park is really beautiful and puts everything you saw in the visitor center into perspective. Watch for living wildlife along the way and take in the views. It's similar to the Painted Hills of Oregon in John Day Fossil Beds National Monument.
If you have time and weather permits, do the hike to the cabin and the old fossil quarry. This 2.5 mile loop isn't too difficult, is full of wildflowers and historic markers, and it's great exercise. The hike also brings you to some views and unique sights, so if you're able don't skip it!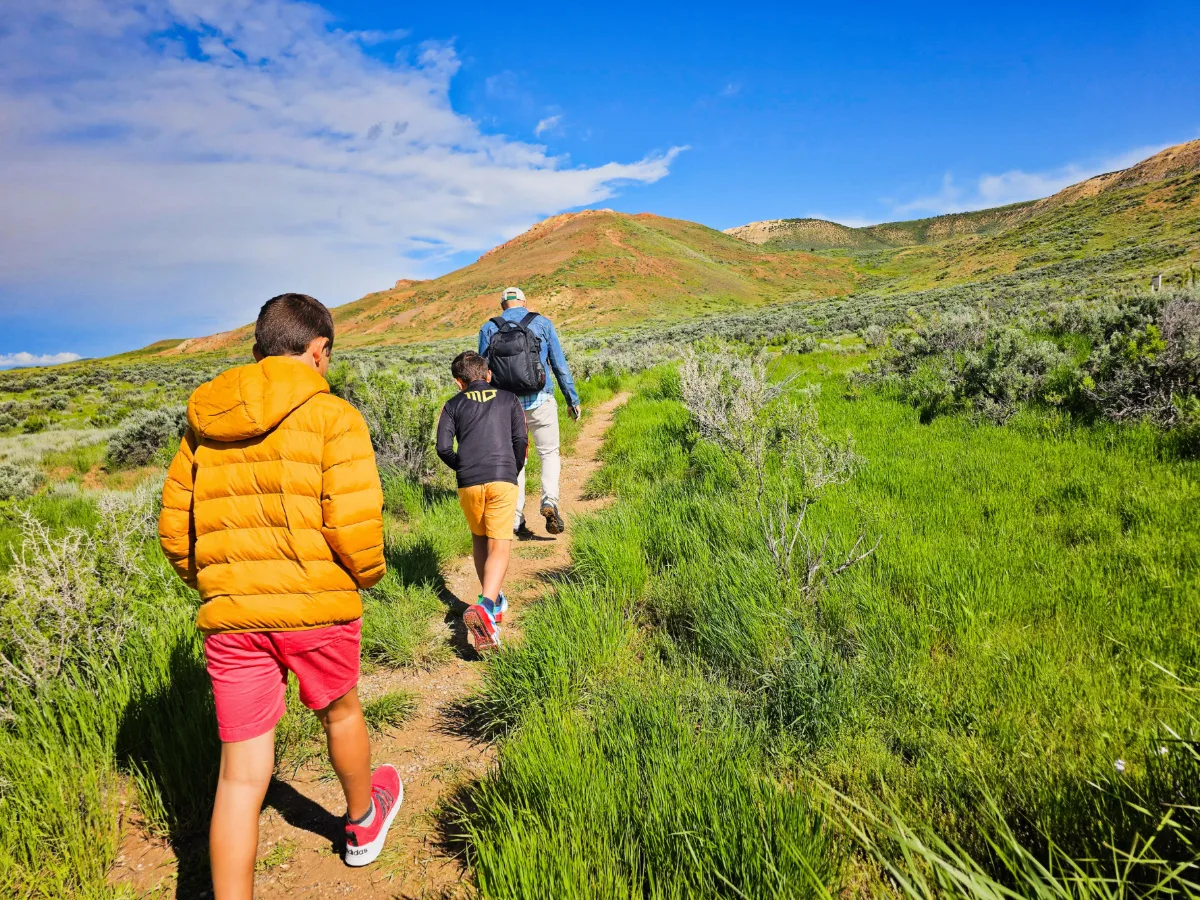 Enjoy the Vintage Town of Kemmerer
Kemmerer is an interesting town for a few reasons, but what makes it a uniquely vintage stop is the old downtown area. It's not an "old town" like you'd think, but is just a snapshot of Western Wyoming from the early 1900s. You've got cool old storefronts, lots of fossil shops, a town square and… wait for it… the original JCPenney store. They call it the mother store, and while a lot of retail shopping around the country has gone the way of online, the mother JCPenny is still there.
This might not seem exciting, but it's truly nostalgic. If you're just outside, you can see the context of the original JC Penny and how its spot as a primary mercantile in Western Wyoming was so important. If you don't go in but do check it out, you'll see the original JCP wrought iron vent grates and even hear the sound of vintage transactions playing in the distance. Pretty neat.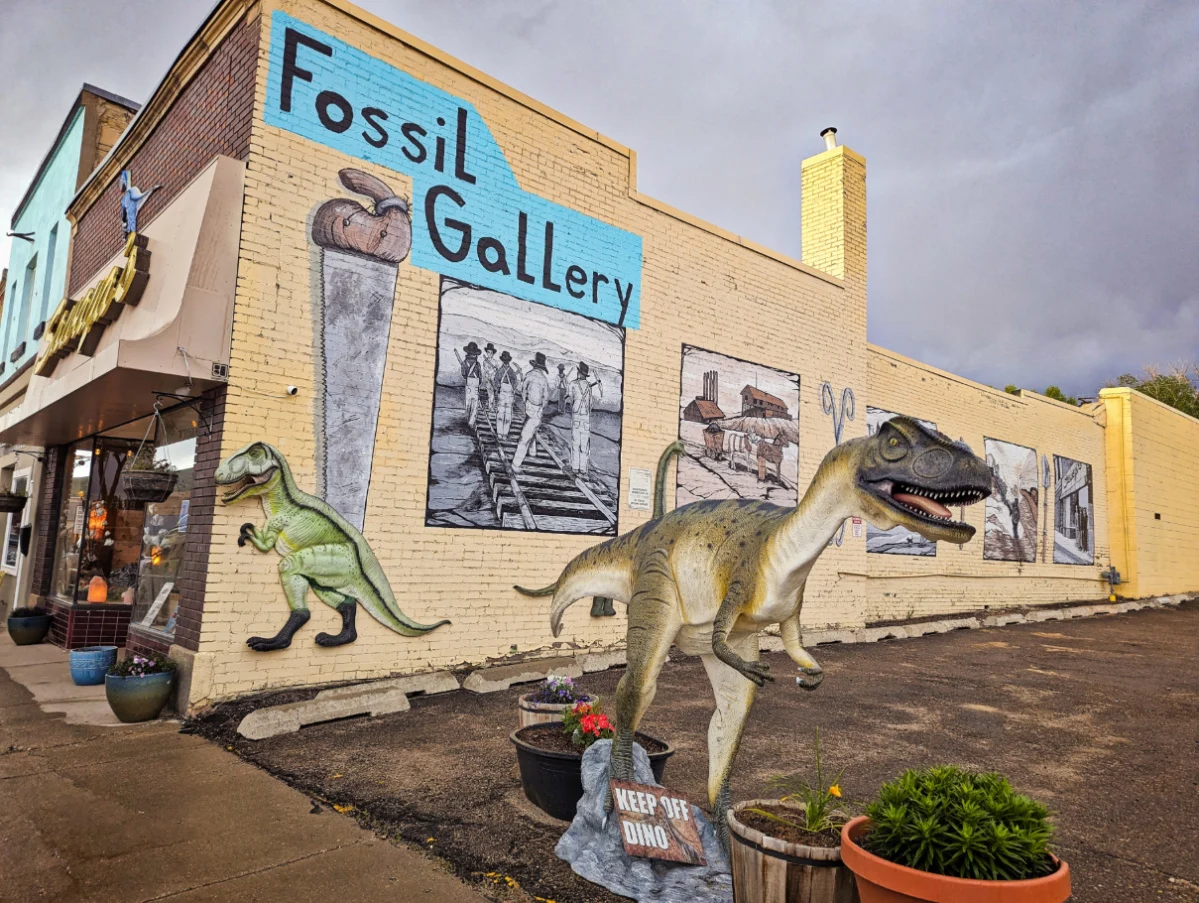 Day 2-3: Lander, Wyoming for Nature and History
We were so surprised as we rolled into Lander on our Western Wyoming road trip. This town is a mix of both Western history and modern restoration. What I mean by that is that here in Lander you'll find interesting historic sites and lots to learn about, but then you've also got trendy local restaurants and bakeries, art spots, murals, restored historic buildings… It's pretty cool and is a great base for a few days.
You can read about our really unique, fun stay at the Mill House below!
Sinks Canyon State Park for Hiking
We've seen lots of geologic wonders in our travels, and some are easily explained by science and others baffling. Sinks Canyon State Park in Lander is a must-stop on a Western Wyoming road trip. The sinks are a phenomena where the Popo Agie River flows both above and below ground, like through sink pipes, and when the water from below shows back up, it's taken 90 minutes longer to travel underground than the surface water. They don't know where it goes, but it's just a cool mystery.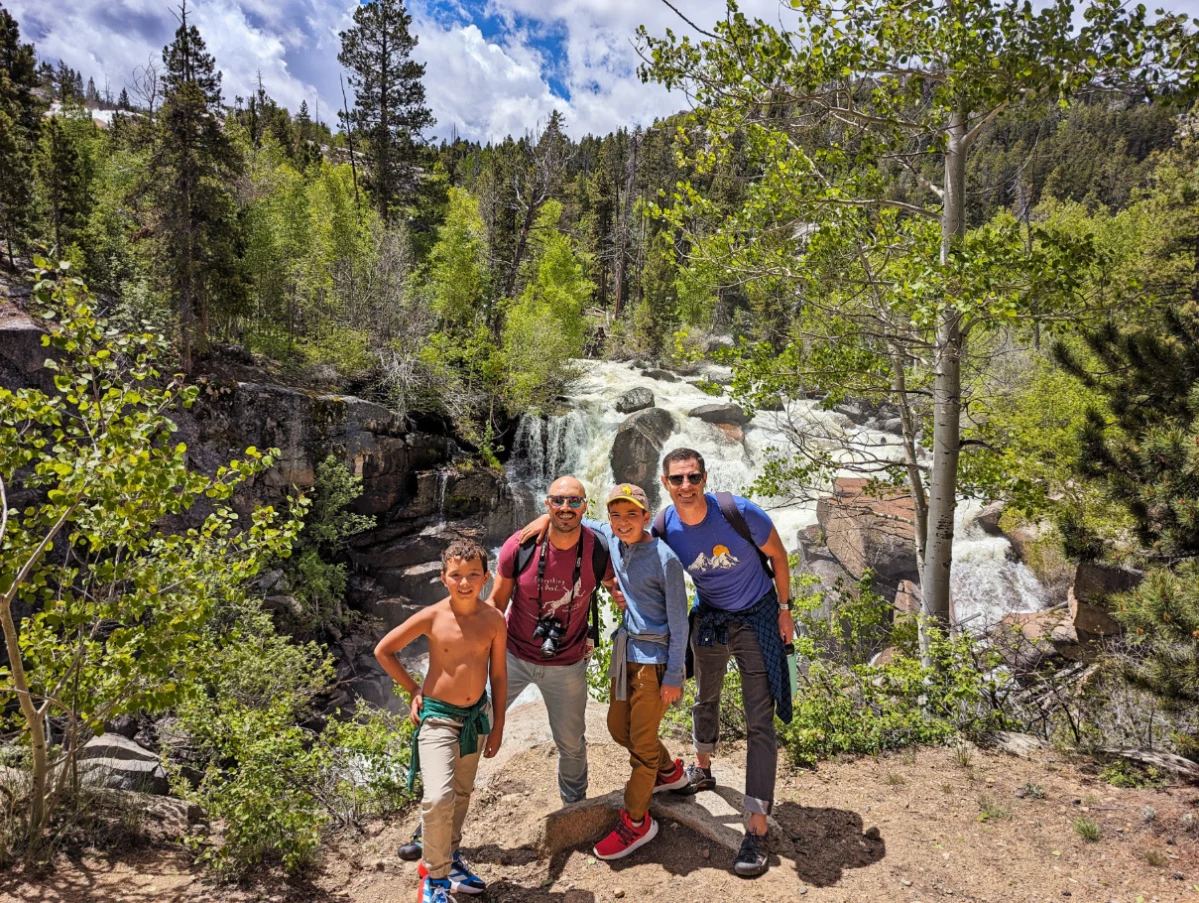 In Sinks Canyon State Park you'll find some beautiful sights, including the canyon itself, which is impressive. The Rise of the Sinks is a cool stop, as that's where the underground river resurfaces and it's actually a calm pond where the rainbow trout conregate and are easily visible from above.
The best hike here in Sinks Canyon State Park is the trail to Popo Agie Falls. It's three miles round trip and not too difficult. The view at the end is remarkable. Popo Agie Falls is very unique, canscading across several outcroppings and churning hard into the canyon. It's absolutely worth the hike!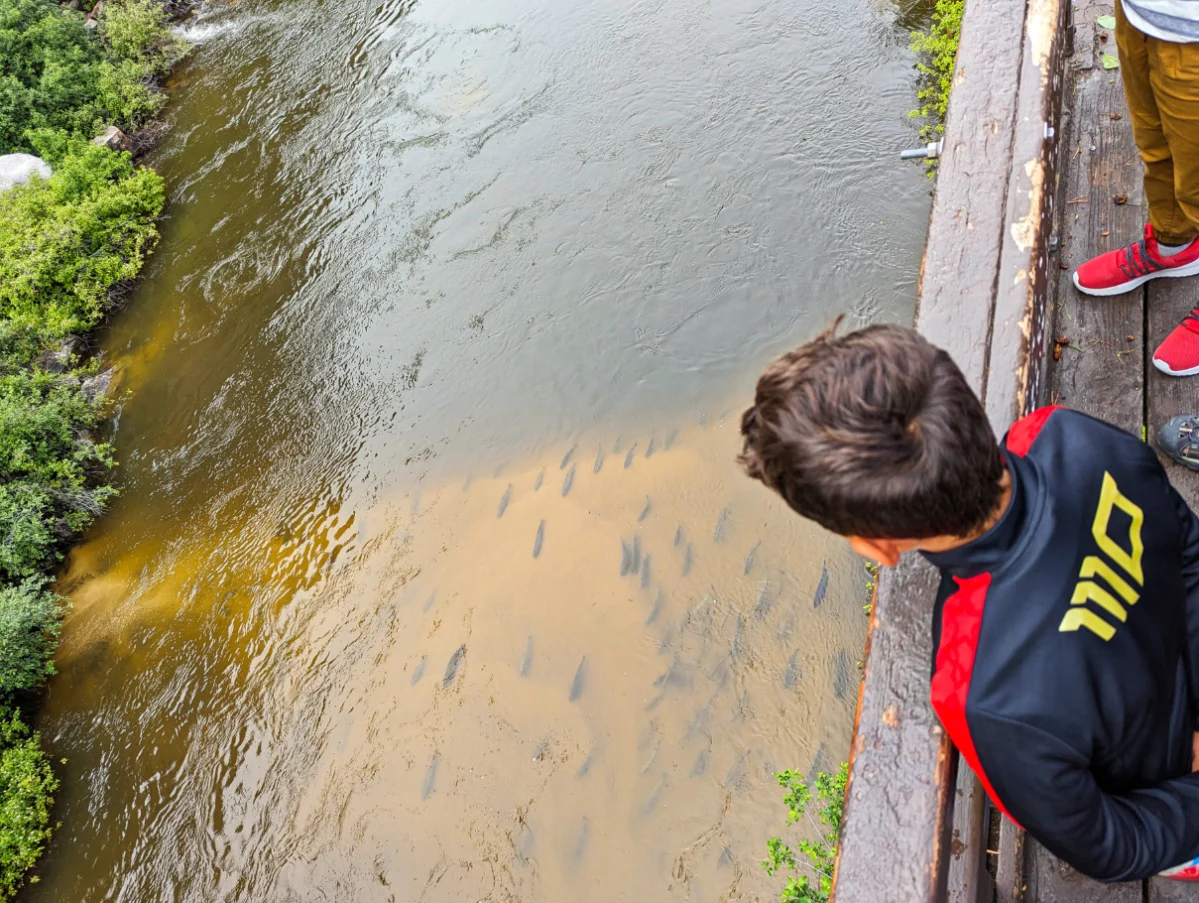 Eastern Shoshone Indian Days Powwow
I know this is a very specific even that needs to align with timing, but if you're able to be in the Lander area in June, hopefully you'll be able to observe or participate in the Eastern Shoshone Indian Days Powwow. This gathering is big celebration of the Shoshone Nation and includes competition for fancy dance, friendly dances and processionals.
The Shoshone Nation invites other American Indian communities to participate, and people come from all around. I've been to many powwows, including in our old hometown of Suquamish WA, and the Eastern Shoshone Indian Days has been one of my favorites. Everyone was welcome, and if you don't understand what's happening there are lots of people willing to share their knowledge. It's amazing!
Tip: if you haven't been to a powwow before and are worried about participating appropriately, it's very easy to visit and be a respectful observer. The MC is great at explaining the competetitions and sharing stories of who is in the cetral arena. Follow the examples of those around you regarding removing hats and when to cheer. It's fun and is a wonderful way to support the local indigenous community.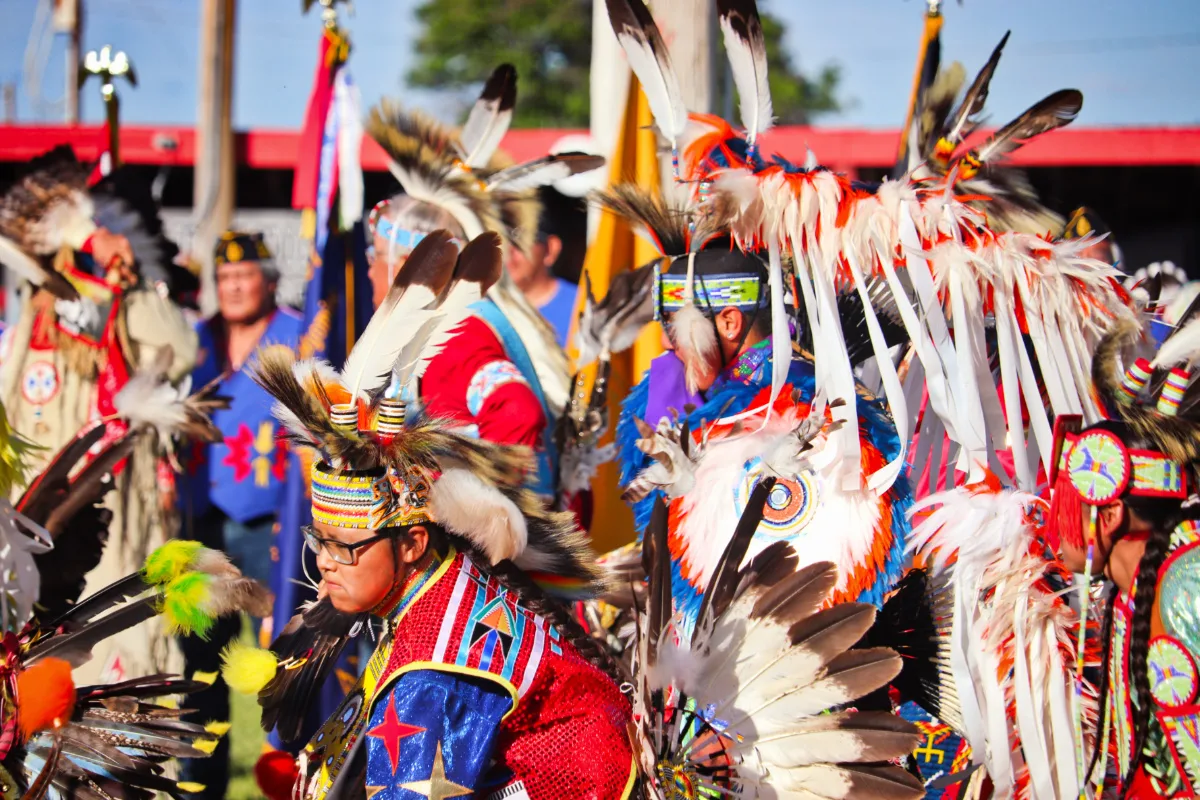 Wind River Wild Horse Sanctuary
It might sound a little strange to visil a wild horse sanctuary, because then they aren't wild, but let me explain. Ove the centuries, the horse population of Wyoming and the Great Plains has grown and fluctuates based on winters and horse health. Wildlife management sometimes has to relocate some of the wild horse population of Western Wyoming, and the Wind River Wild Horse Sanctuary hosts populations as they need to be redistributed.
If you want to just stop in, there is a small visitor center where you can learn about wild horse history in Wyoming as well as what the Sanctuary does to help the relocated horses. You can also do a tour of the propery on an off-road cart (like a Polaris) to see the wild horses up close and hear all about them in detail. For those into photography, this is an amazing opportunity to see mustangs of every color and pattern up close.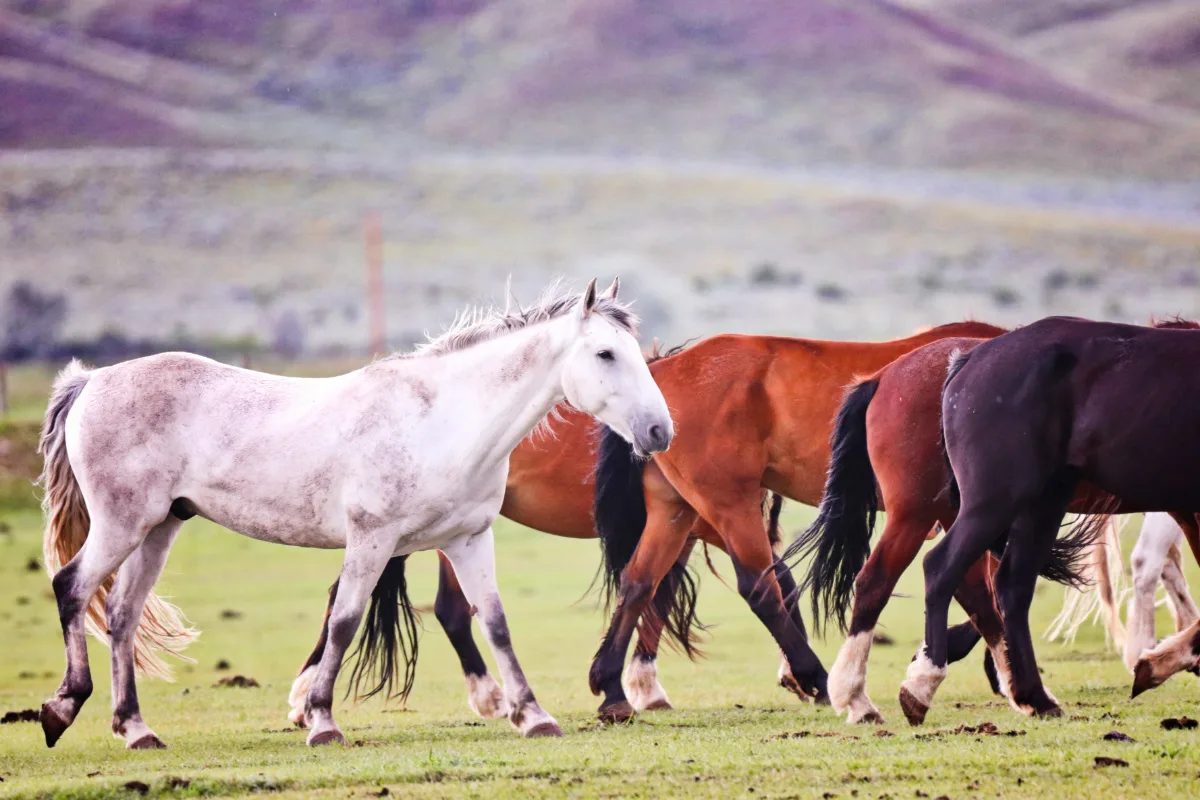 Unique Stay in Lander WY: the Mill House
While it may not be a thing to do for everything on their Western Wyoming road trip, if you're able to book it, the Mill House in Lander, WY is a great home base for exploring the area. Located just off the river on Main Street, the Mill House is actually the first industrial building in Wyoming to have electricity. Ultimately, this building was responsibly for the rest of the town getting electricity and being the first fully wired town in Wyoming.
The accommodations themselves are spacious and beautiful. A combination of industrial chic and western culture, this was a wonderful place for our family for three days. Decorated with western paintings, wildlife taxidermy and lots of different areas to hang out in, it's kind of a dream Wyoming stay!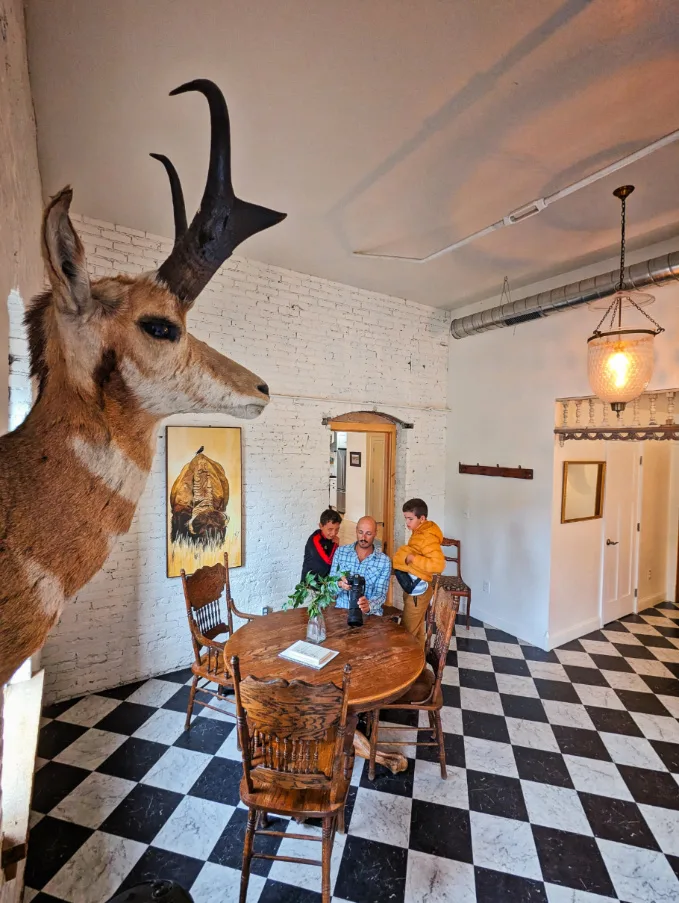 Day 4: Hot Springs and Dinosaurs
Thermopolis, Wyoming is a cute town with a wide variety of cool things to do. And while it might seem like a town to breeze through on your Western Wyoming road trip, it's worth its own day so you can fully appreciate the health benefits of the town.
Top Pick: Best Western Plus Plaza Hotel that is IN the State Park. It's in a great location, has a wonderful pool space and is walking distance to the hot springs.
Hot Springs State Park
This is where you start and end your time in Thermopolis. Beginning early in the morning, visit the public bath house of Hot Springs State Park to take a dip in the indoor and outdoor mineral hot springs. These very well maintained pools are free to the public and you can visit all through the day. They limit your time to 20 minutes of soaking every two hours, but this means you can visit and relax, then go do things, come back for another soak, leave again for lunch and sightseeing, and visit again…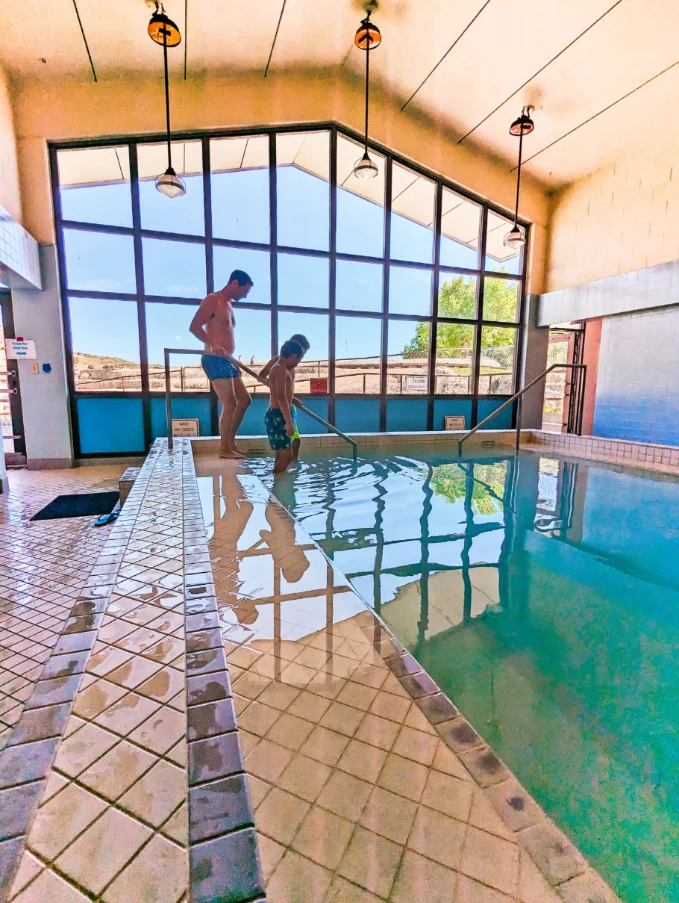 There is a lot more to Hot Springs State Park in Thermopolis, Wyoming than just the soaking pools. Being along the same fault as Yellowstone and the hot spring areas of southwest Montana, Thermopolis actually has quite a few terraces and springs at the state park. You can do the boardwalk trail from the bath house or drive up to the main spring and walk around. There's a fair amount to see.
Don't miss the bison pastures. Hot Springs State Park has its own healthy herd of American Bison. They get to roam the range above the hot springs and honestly, they have one of the prettiest views in Wyoming. DO NOT APPROACH the bison, as they are wild and unpredictable, but enjoy seeing them from your vehicle or the Spirit Trail that winds through the state park.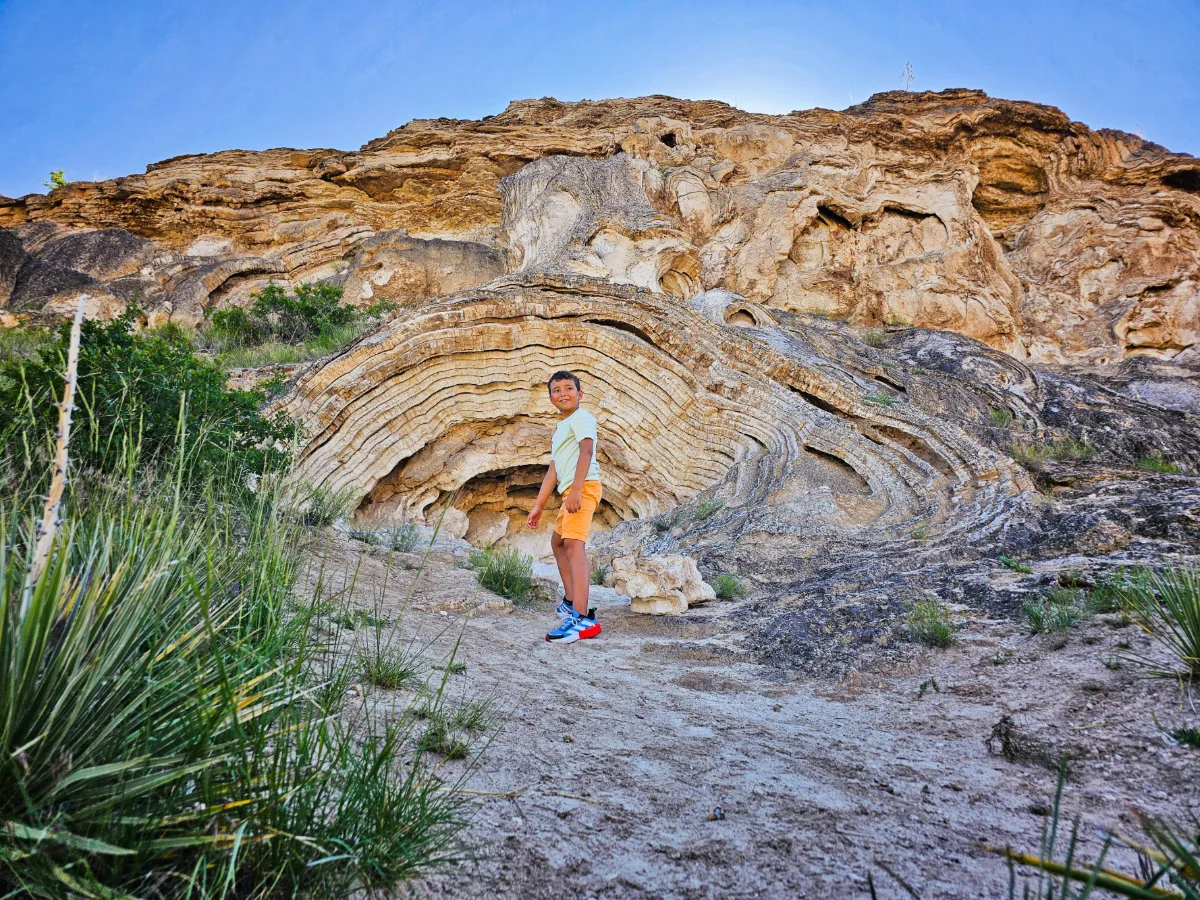 Wyoming Dinosaur Center and Dino Dig
For all of the times we've been through fossil country or visited places like Utah and Montana that are known for the high volume of dinosaur remains, the Wyoming Dinosaur Center was the first time we've been able to visit an active dig site. Dinosaur Ridge outside of Denver, CO has a stale dig you can visit and some other cool fossils, but not an active site that they're still uncovering. The journey to the dinosaur dig site is really cool and visiting the allosaurus feeding ground is a fascinating lesson in paleontology.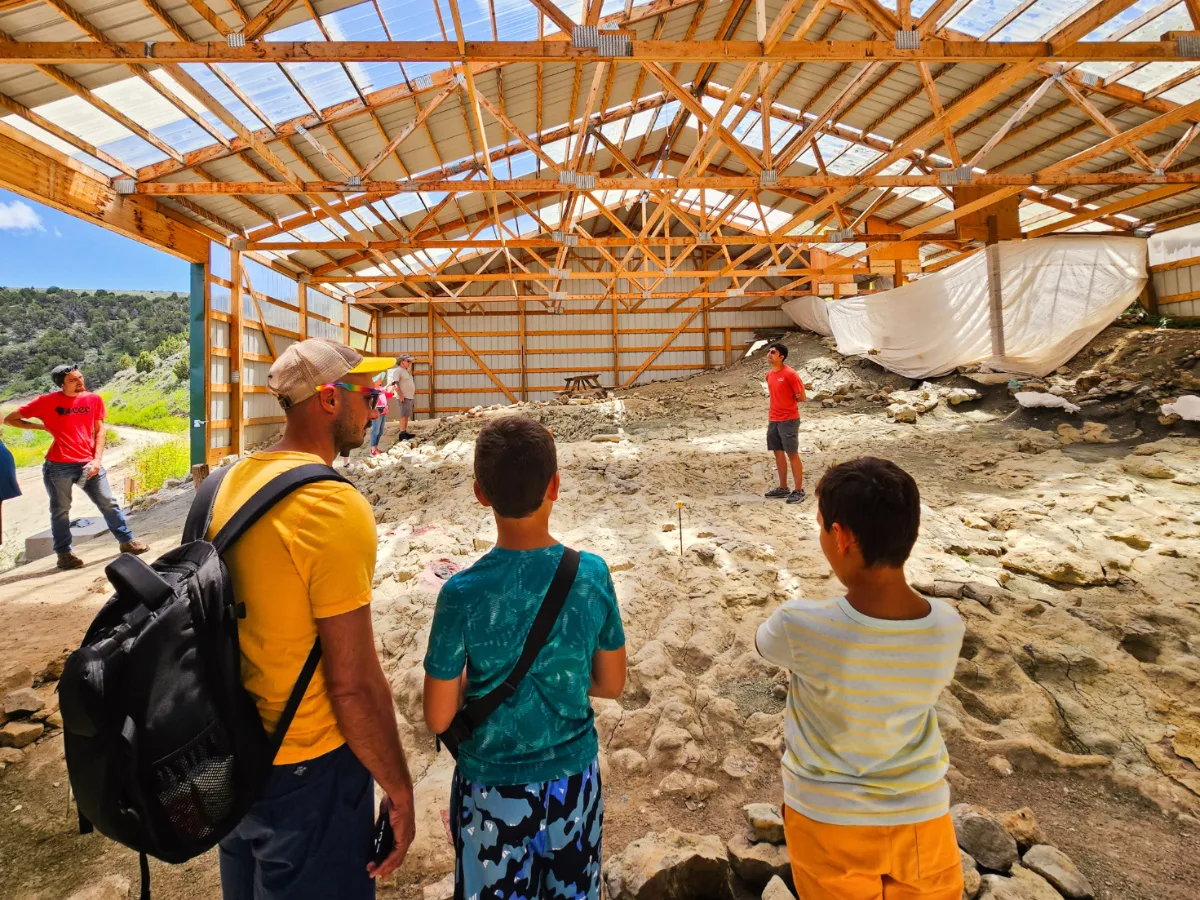 The museum at the Wyoming Dinosaur Center is also worth spending time going through. Both real and replica dinosaur and pterasaur fossils make the collection and displays really unique. T-Rex, Supersaurus, archeopteryx and more make it an awesome dino-scavenger hunt for kids (and adults).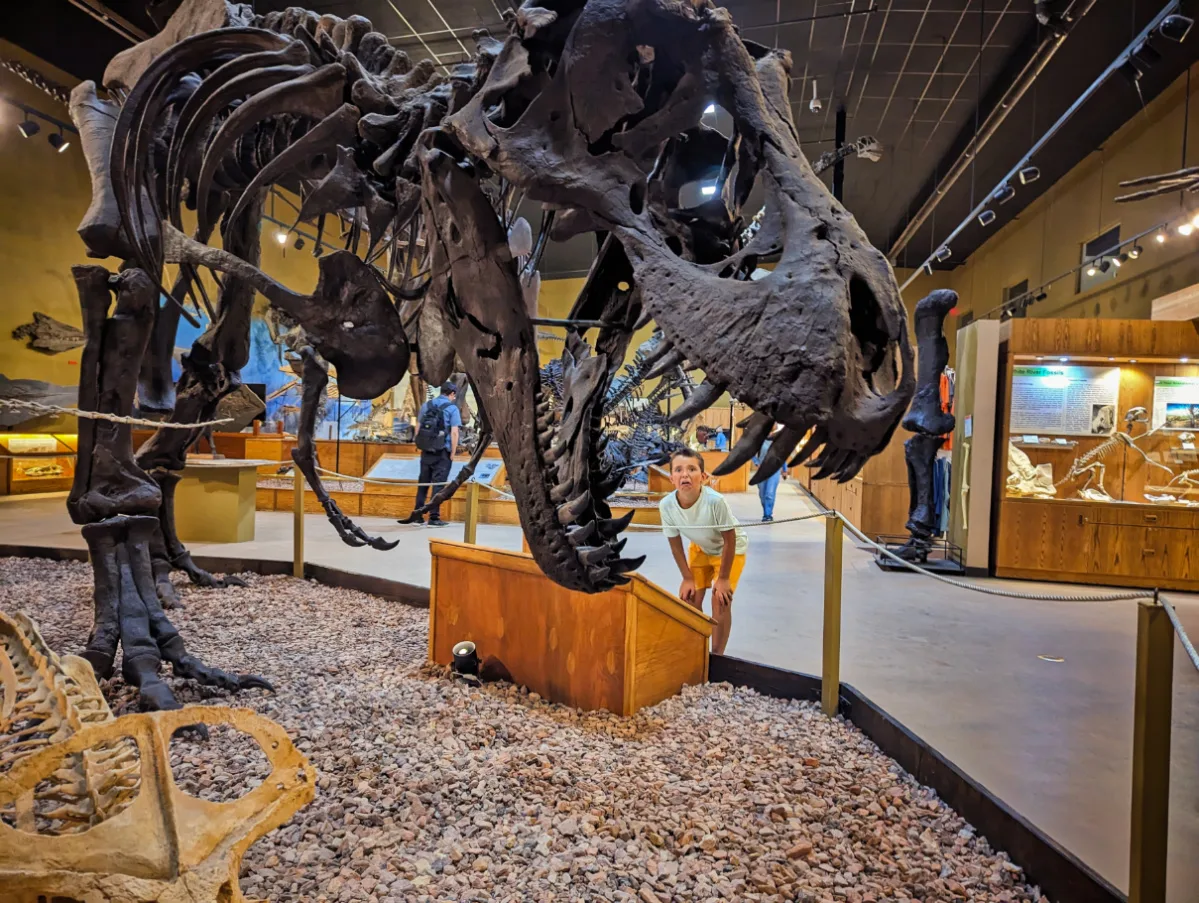 Rafting the Wind River Area
The Wind River Canyon is so beautiful and very unique for this part of Wyoming. With Class II – IV rapids (sometimes Vs) there are a few options for getting on the river, but our top pick is to go with Wind River Canyon Rafting. They're a 100% Indian Owned business and going out with them is a great way to support the local economy. They're based in Thermopolis, so if you're staying here on your Western Wyoming road trip, this is a great morning or afternoon activity during your stay.
Boysen State Park for Kayaking
Between Lander and Thermopolis you'll spend a good portion of the Western Wyoming road trip driving through Boysen State Park. At the south it seems like just a large lake surrounded by a plain, but as you head northeast the landscape changes and there are opportunities for some unique Wyoming kayaking. Put in at Brannon boat ramp (near the campground) to paddle through some narrow bays and between the rocks.
If you want to paddle on the west side of the reservoir, head to the Cottonwood Creek boat ramp or the Trout Bay campground. And if you need a kayak rental, they're available!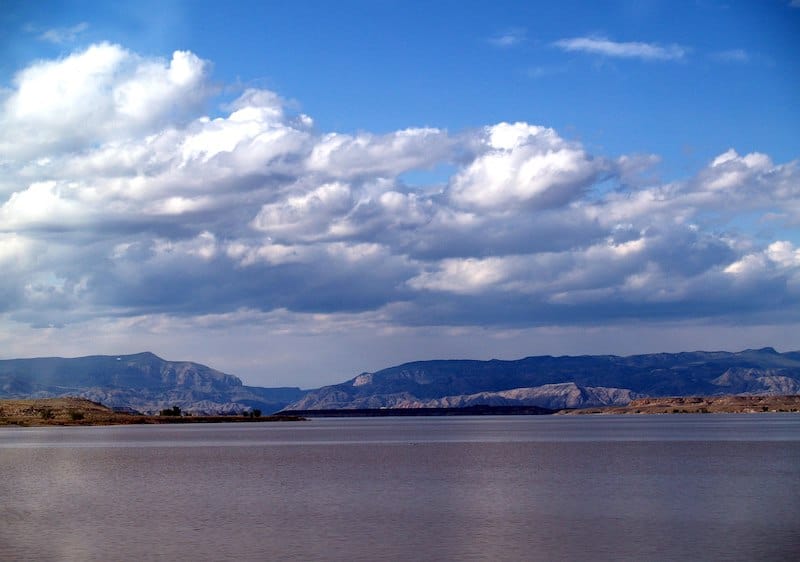 Day 5-6: Western fun in Cody WY
I think Cody, Wyoming is one of the coolest western towns. It's full of activities of every sort, and whether you're feeling adventurous or just want to chill and stroll, this is a great place to spend two or three days. Cody is the eastern gateway to Yellowstone National Park, so keeping that in mind, visiting Cody's museums and seeing how nature and the Old West intersect here, you'll have a wonderful visit.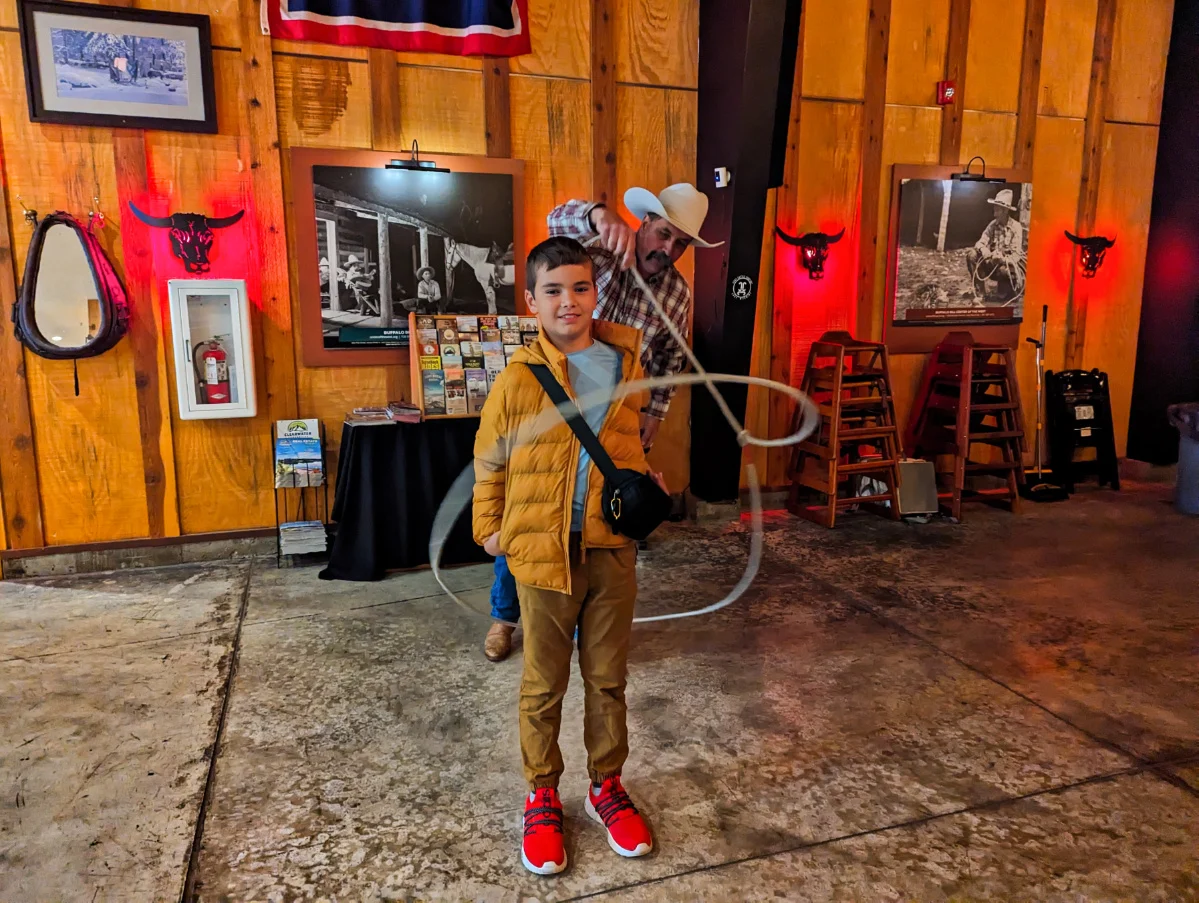 We recommend two solid days in the Cody area so that you can get the full experience, but if you're short on time and exploring Yellowstone National Park is a bigger priority for you, cut a day from Cody to create the perfect Wyoming road trip itinerary for your family.
We enjoyed a family cabin at the Bill Cody Guest Ranch between Cody and Yellowstone National Park. So quiet and beautiful!
Buffalo Bill Center of the West
It's always an internal struggle for me when I'm planning an itinerary to decide between time outdoors and museum visits. The Buffalo Bill Center of the West is HUGE and actually has five museums in one. When you get your admission tickets they are actually good for two days because there is so much to see.
Into Buffalo Bill and western history? Spend a few hours in the Buffalo Bill Museum. Want to see the most amazing and beautiful collection of Western Art and painting of Yellowstone? Get lost in the Whitney Museum of Western Art. Traveling with kids that want to do wildlife stuff? The Draper Natural History Museum is all about animals and the ecosystem of Wyoming. They also do outdoor raptor shows to teach about local birds of prey.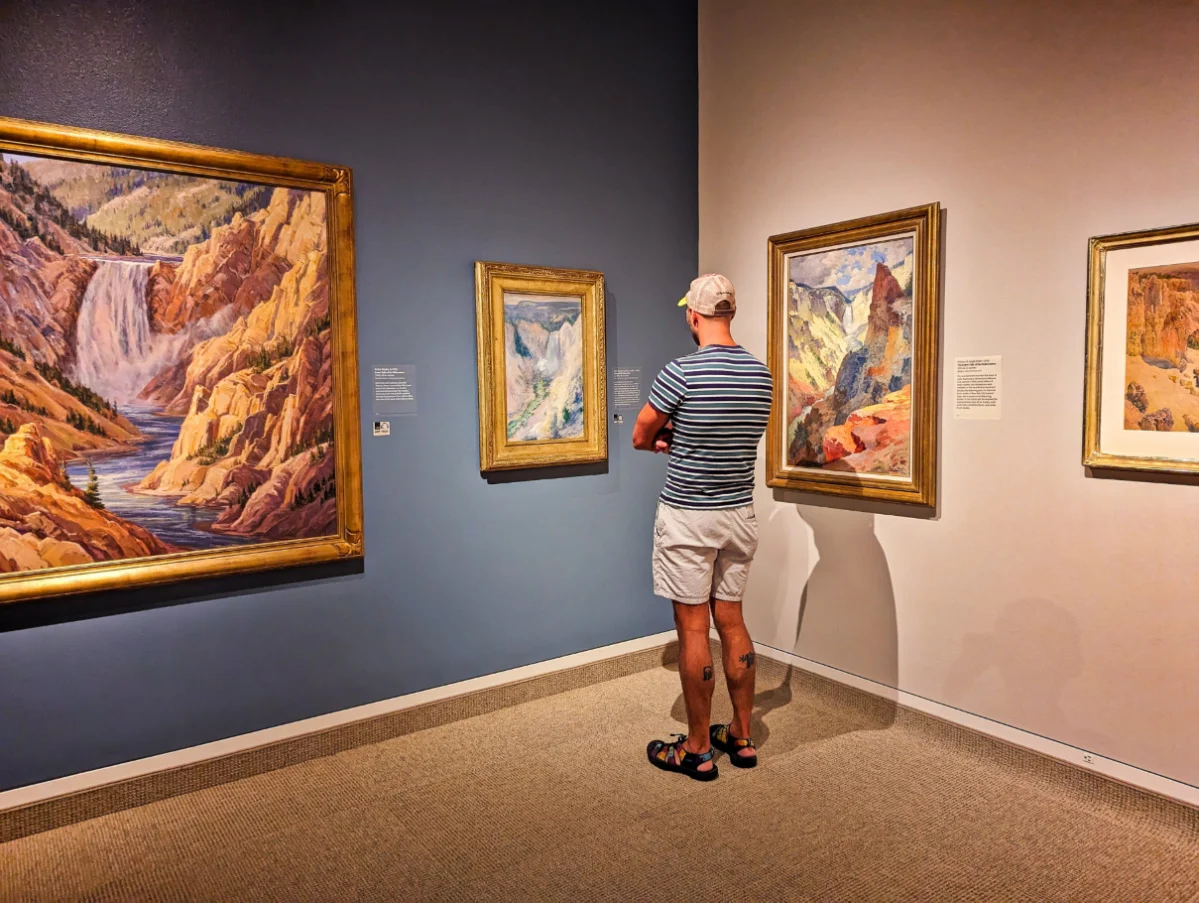 My favorite part of the Buffalo Bill Center of the West is the Plains Indian Museum. Here you'll find countless exhibits about the Shoshone, Lakota (that's us!), Blackfeet Nation and more. The Plains Indian Museum is a collection of photographs, first hand accounts, regalia, everyday items and all sorts of presentations for the purpose of educating visitors about the original inhabitants of Wyoming and the Great Plains. I loved it.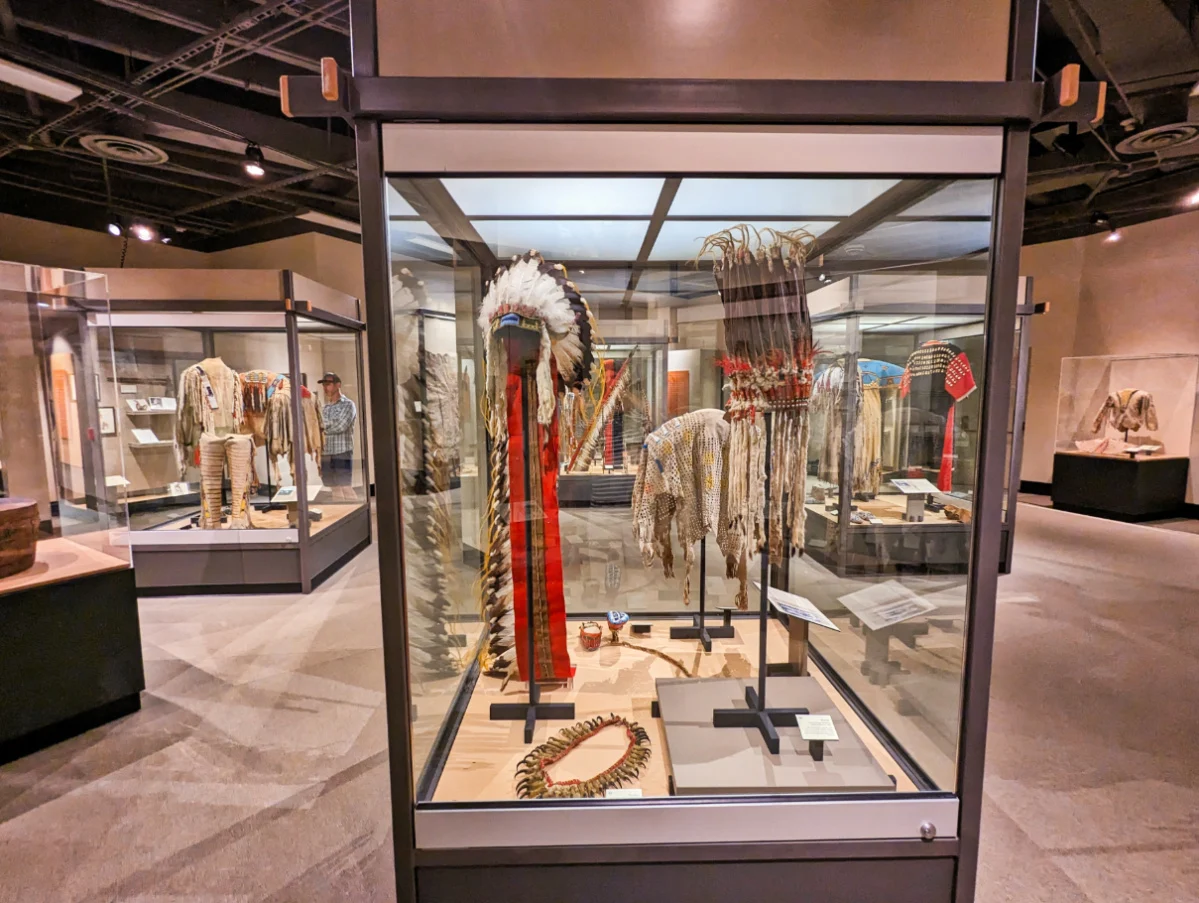 Old Time Western Photos at Way Back When in Cody
Our family does an old time photo every year, whether we're here in Wyoming where history happens, or in Leavenworth, WA where it's just a fun activity and not a part of the town's history, we love doing it. Way Back When Photography in downtown Cody is a great place to do an old west photo shoot.
Check out our article all about old west photoshoots!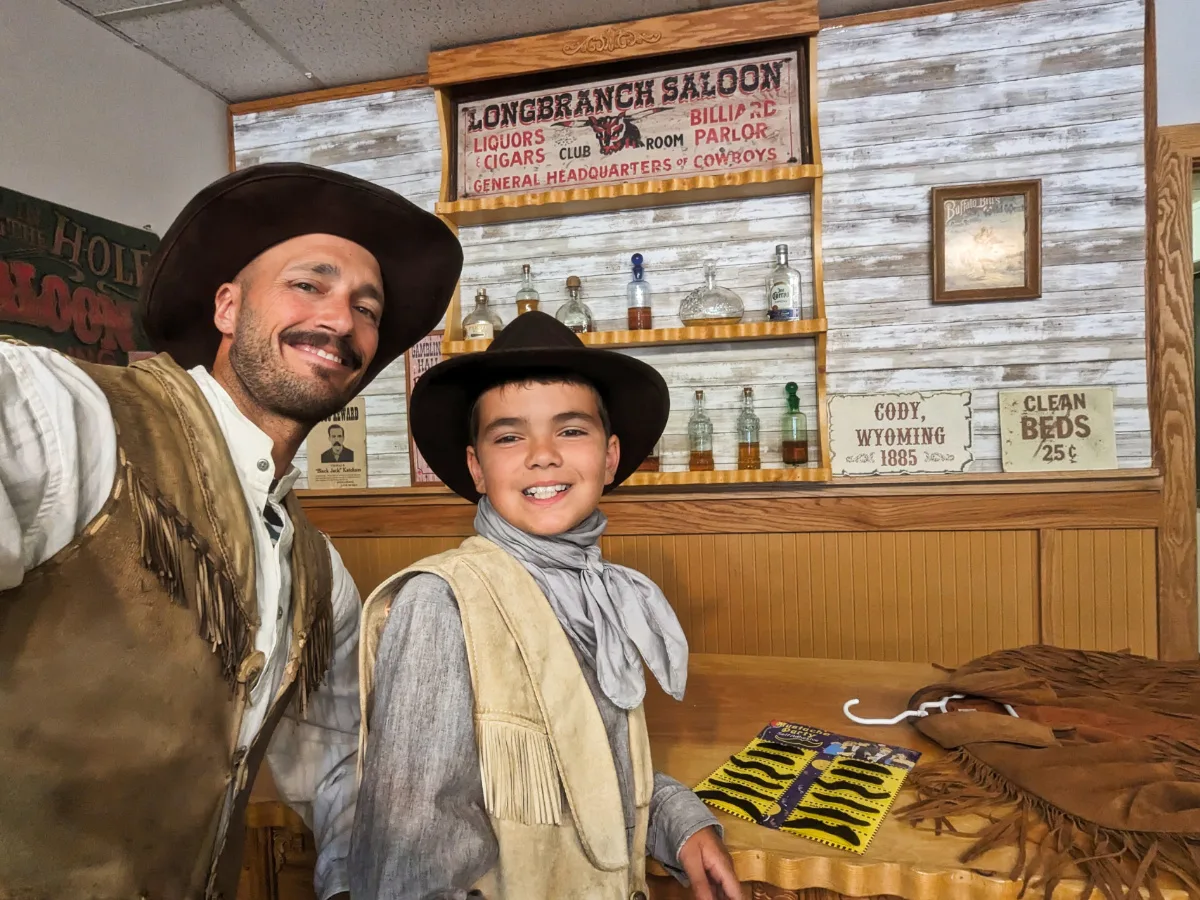 We like to mix it up and sometimes be cowboys or sherrifs, or every now and then get really fancy. The studio has a wide range of costume pieces for all ages and sizes. You get to dress up and then try different backdrops and props to come up with the perfect western photos. This is always our favorite souvenir when we're doing a western road trip.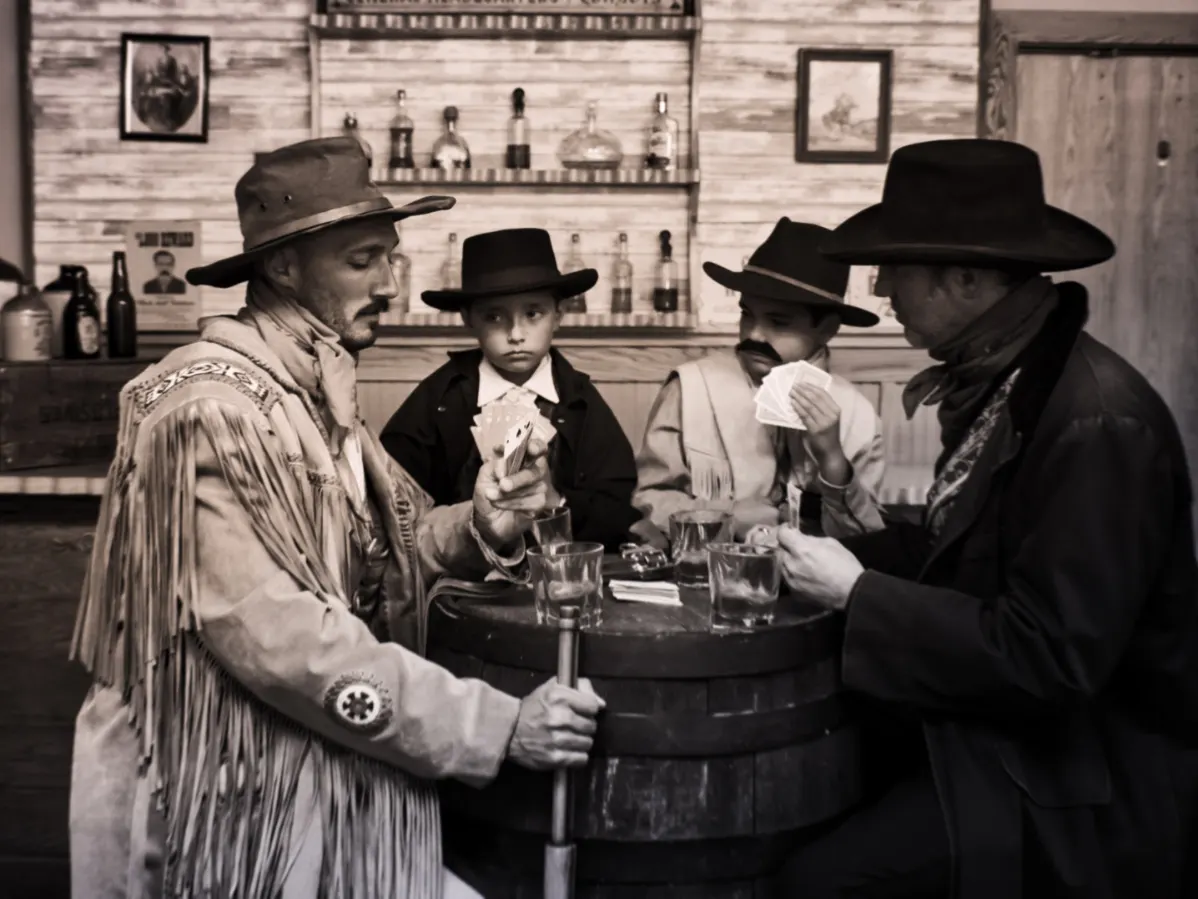 Old Trail Town – the Original Cody
Cody, Wyoming really is a must when you're doing a Western Wyoming road trip. It's the quintessential western town and it's full of history. Old Trail Town is where you can really walk through the history, and it's fun with kids. While it's not all original buildings from when Buffalo Bill Cody laid out his town plan, the buildings and cabins of Old Trail Town are all authentic and from around the area.
Most of the buildings are set up to show their original function, whether that be a saloon or the actual cabin of Butch Cassidy and the Sundance Kid (complete with bullet holes). There are museum buildings as well with arrowheads, taxidermy and old carriages. It's a fascinating place to explore, especially with kids.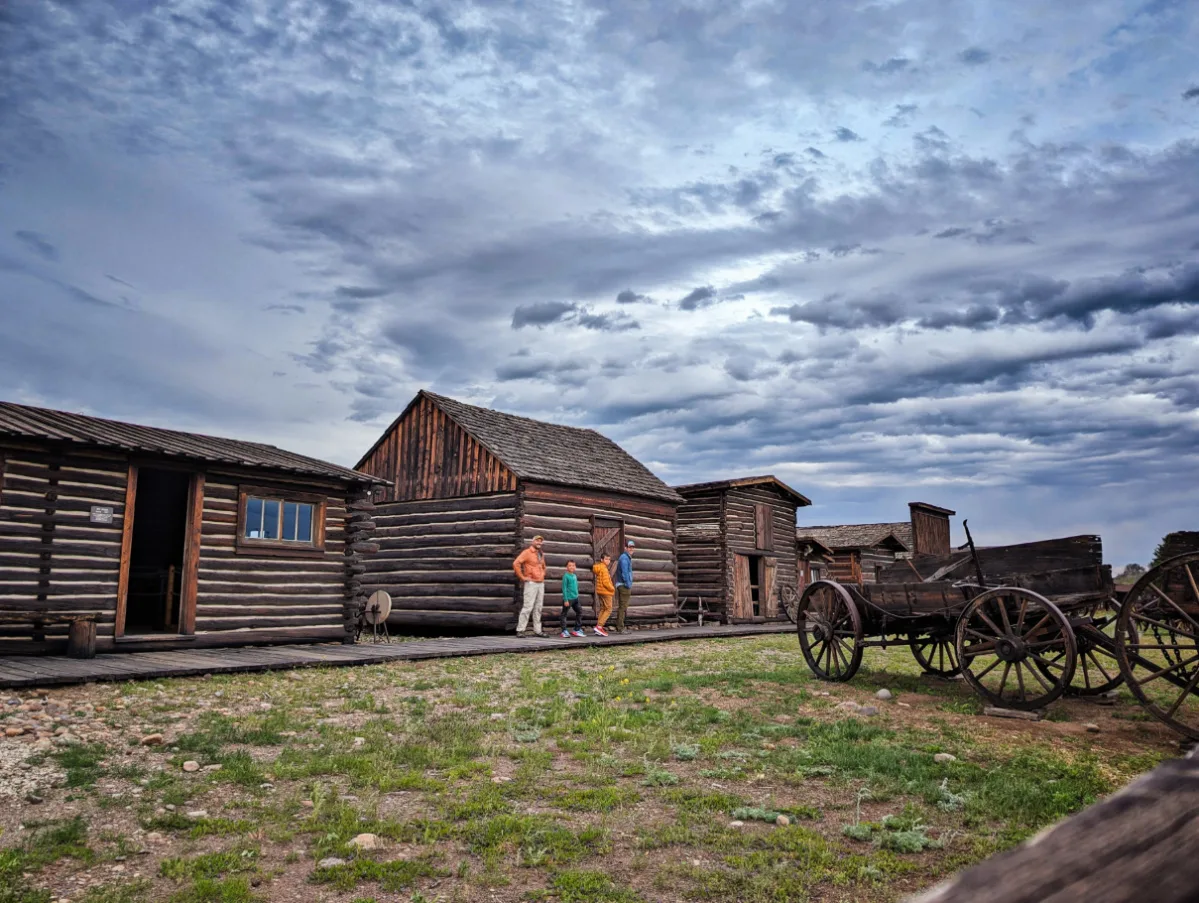 Dinner Show at Cody Cattle Company
If you know me in real life, you know that I don't like live music and the kids struggle with it too, but we had the best time at the Cody Cattle Company dinner show. Truly a western experience, it's a great addition to a Wyoming road trip. Dinner is served up buffet style with western favorites (brisket, chicken, corn bread…) and then the performers do their thing.
The show is a fun combo of tributes to country western musicians and then modern rock and grunge TURNED country. Not too loud, not too wild, totally clean and great for families or anyone else. We would be happy to do this show again!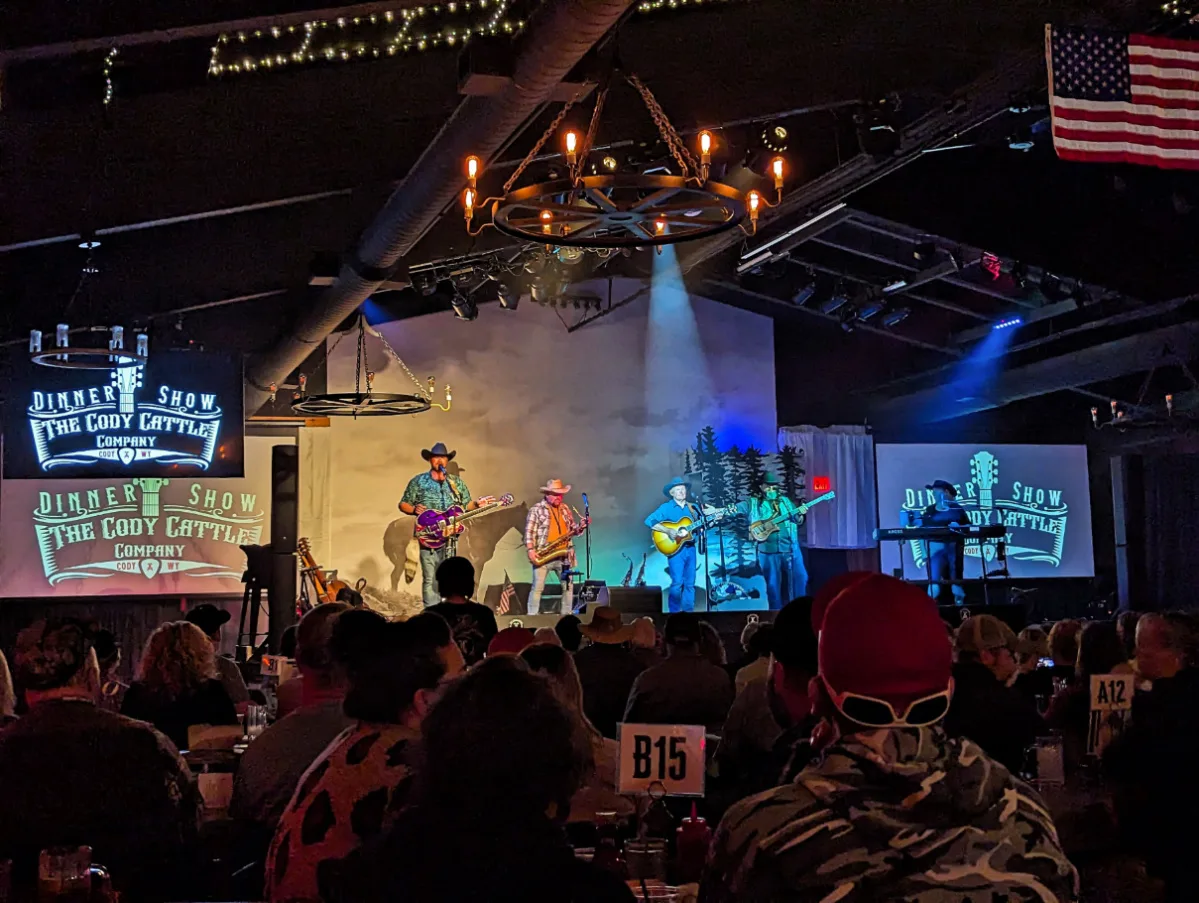 Cody Nite Rodeo
Another awesome experience, the Cody Nite Rodeo really was fun for everyone. We do a lot of farm visits and horse activities, but not many horsemanship sports. The Nite Rodeo was both fun and a learning experience. I think it really does capture a part of the culture of Wyoming that you might not easily find anywhere else. Even though the highlight for our family was watching our oldest participate in the rodeo calf chase (trying to be the first one to pull the ribbon off a running cow's tail), the other events were cool to watch.
I don't know a ton about the different events, whether it's the calf roping or the bronco bucking, but it was interesting to observe from the stands.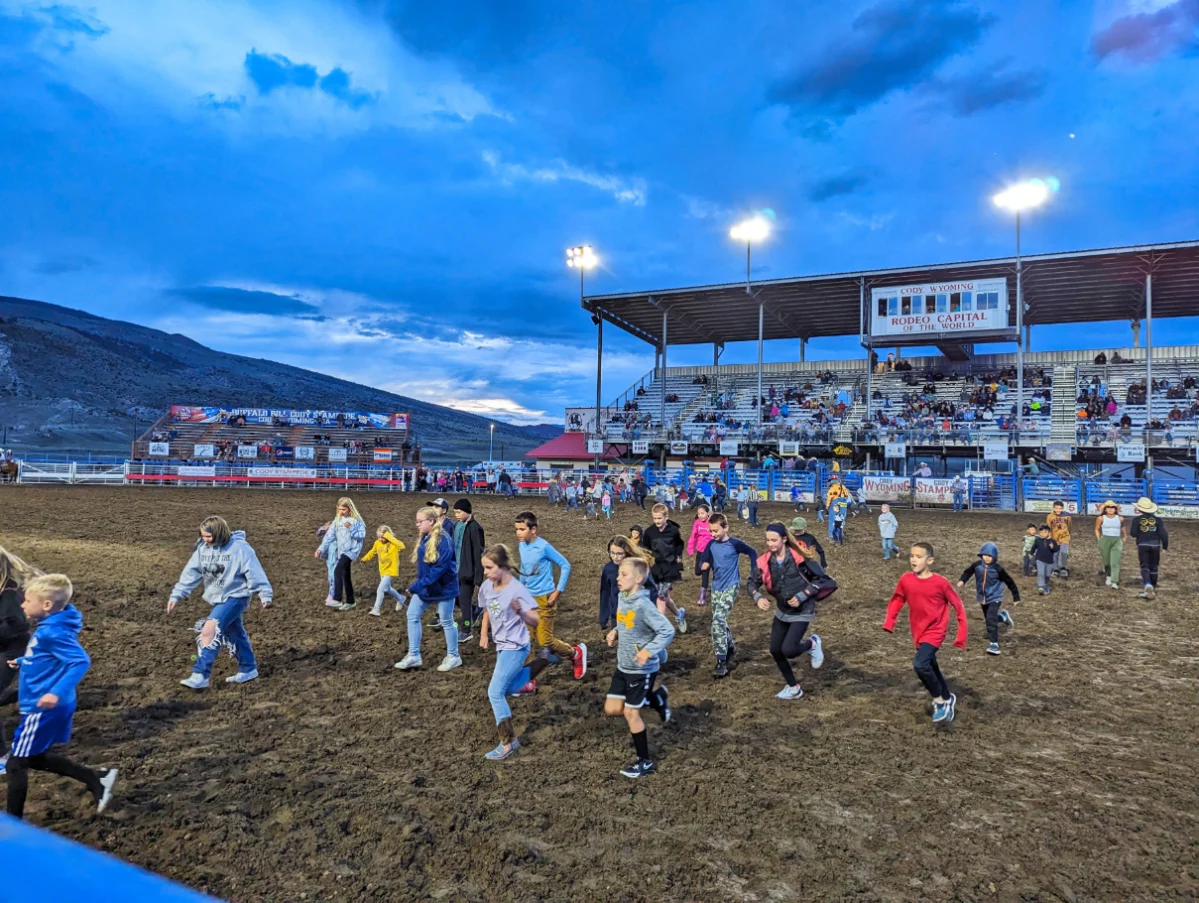 Our rodeo experience: The Cody Night Rodeo was the only experience during our Western Wyoming road trip that we did feel uncomfortable for a bit. Rodeo culture is very "God and Country" forward in many aspects, including group prayer, prayers by the MC, propaganda messaging about standing for the flag vs protesting and free speech, and gun sponsors and toting. We stayed in our lane and didn't interact with anyone around us because it was so in-your-face and we were NOT there to get into any of the topics with others. This is just something to be aware of, as it's a very different cultural experience than you may have ever had.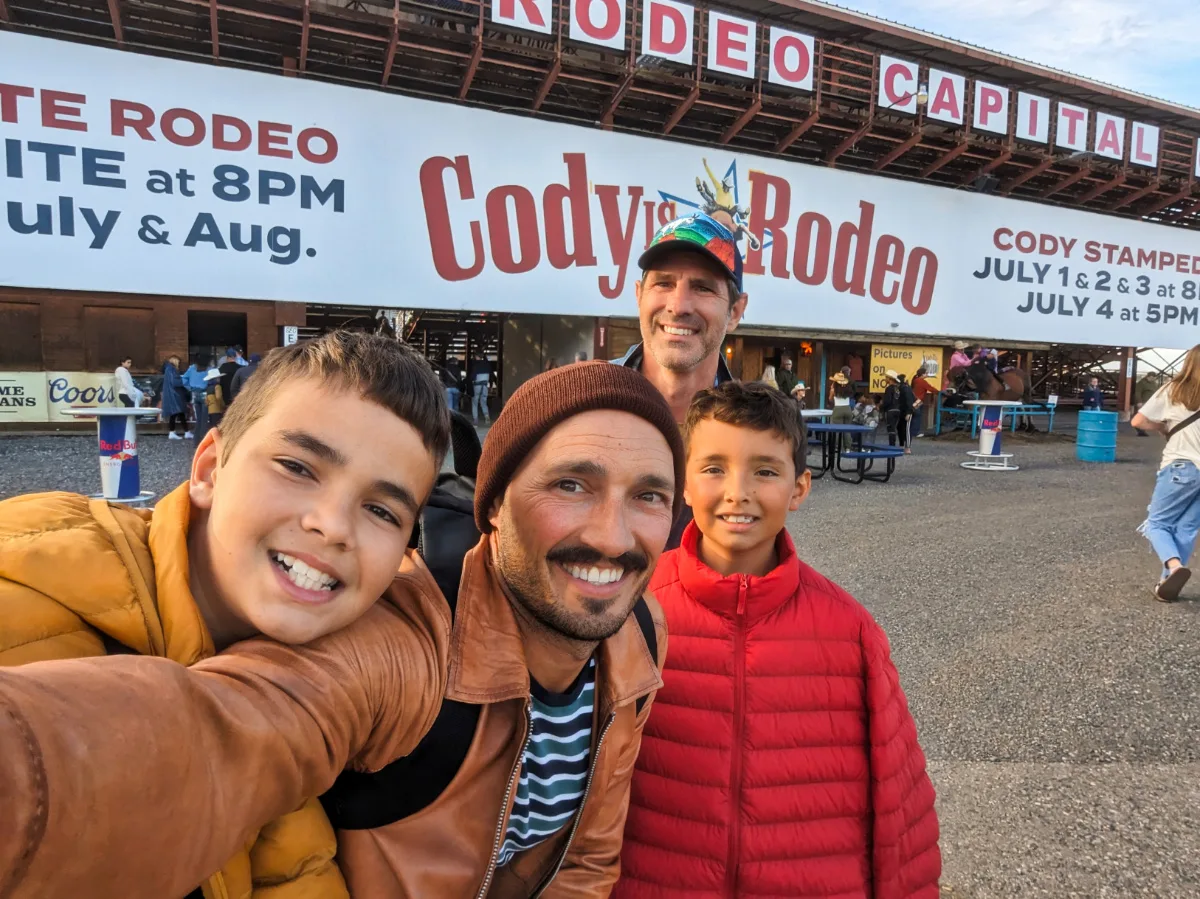 Horseback Riding in Cody
We've been so fortunate to get to do a lot of horse activities with our kids over the years. This has led them to grow into confident horsemen and opened up frontiers and adventures for us. Horseback riding in Cody is a great item to put on your itinerary, and if you have lots of experience and want to be on horseback as much as possible, Cody is a beautiful place to really expanding your riding.
We went out from the Bill Cody Ranch, just west of the town of Cody, and did an intermediate ride up into the mountain canyons of the Shoshone National Forest. The views were pretty epic, with craigs and cliffs, lots of streams to cross and vistas across the Shoshone River Canyon.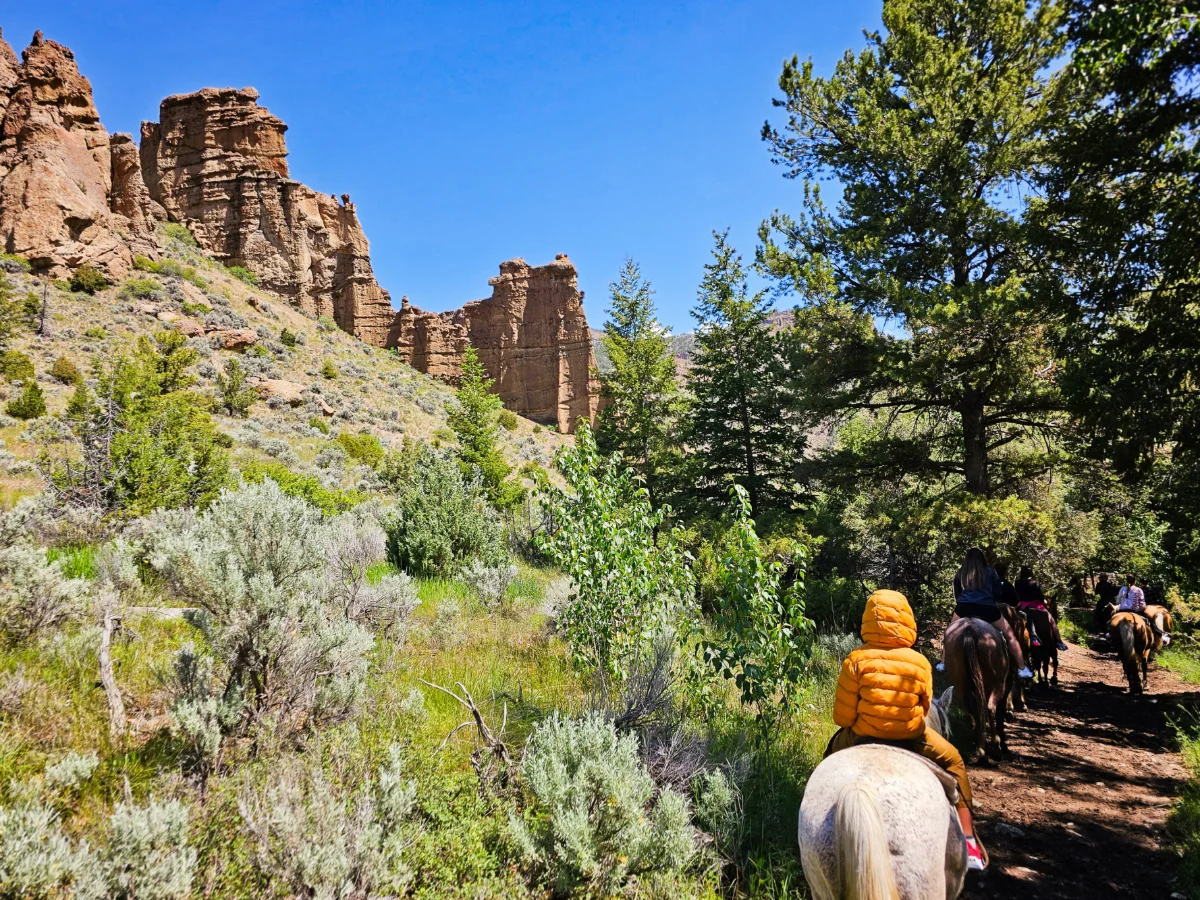 Tip: when you're booking horseback riding in Cody or anywhere else, be sure that you're both confirming the skill level of the ride AND the number of riders per horseman. You don't want to accidently be on a ride that's too far above your skill level or with a ranch that has too many people on a ride. Both of these things can create an unsafe horseback riding experience that can ruin your trip really quickly. Also, in Wyoming kids 14 and under must wear a helmet when riding a horse.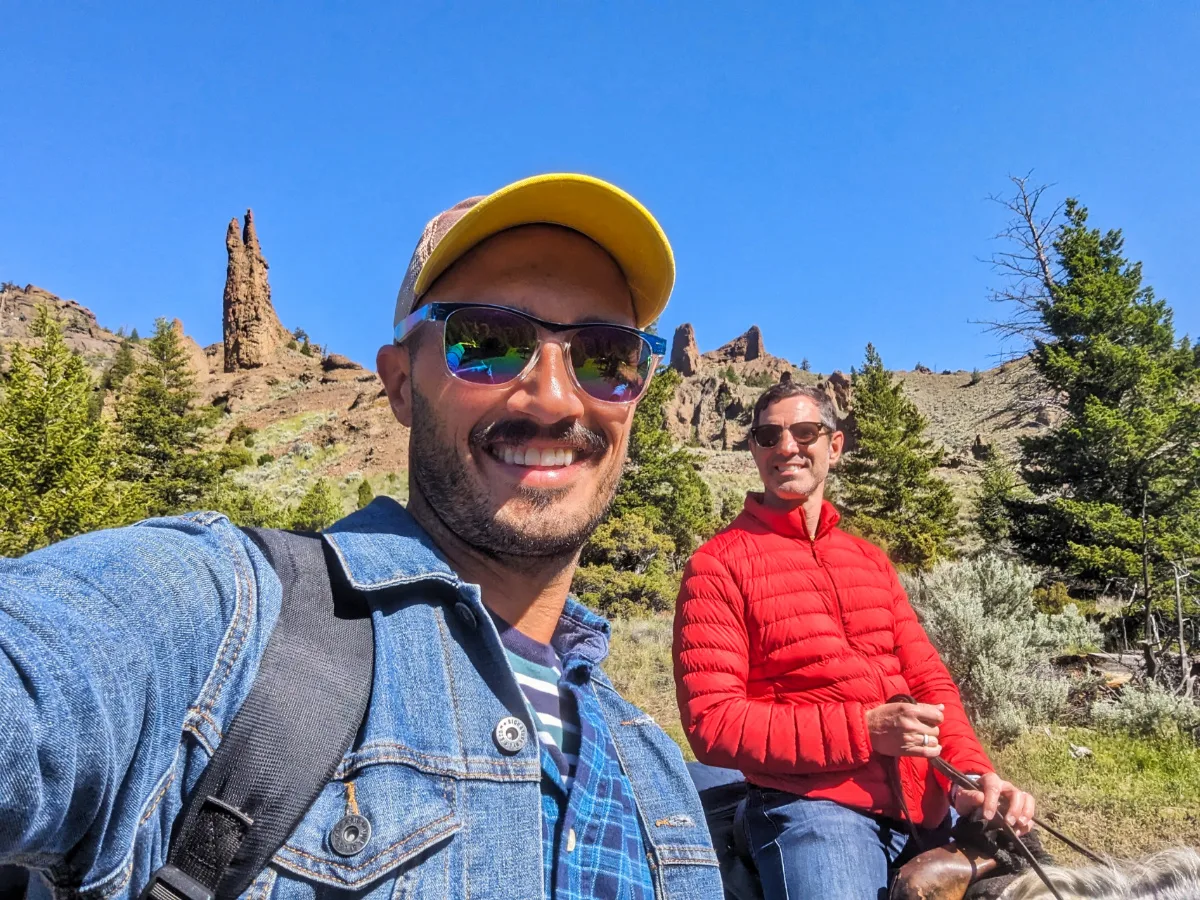 Visit the Buffalo Bill Dam and Visitor Center (National Park stamp!)
I love when we get surprise National Park Passport stamps. On the drive from Cody, WY to Yellowstone National Park you'll be driving through the Shoshone River Canyon, and here is where you'll find the Buffalo Bill Dam. Creating the Buffalo Bill Reservoir, the dam is really tall and fun to check out with kids. In the visitor center you'll find historic displays, a cool view over the spillway and the National Park Passport stamp station.
Be sure to walk out across the dam. Depeding on the time of day, you'll see rainbows in the canyon below and see some amazing rocks. This is also a good bathroom break if you've been driving for a while.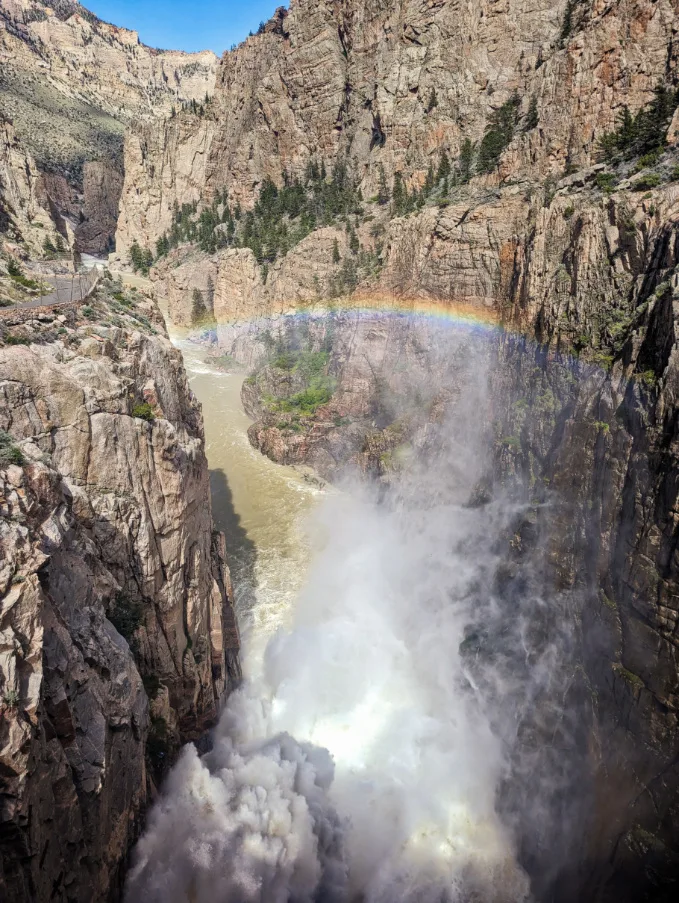 Days 6-8: Yellowstone National Park
I don't think Yellowstone National Park needs an introduction. I would say that most people doing a road trip through Wyoming are probably heading to Yellowstone, but as we've learned, it can be either its own trip or can be the icing on the cake of a Wyoming adventure. You've got lots of ways to approach this part of the journey, and if you are only able to do one day because of your timing, that's okay, you'll still love it.
Each of the day plans below are great to do on their own or as a combined multi-day Yellowstone National Park itinerary. Pick and choose what works for you considering where you're staying each night and how much driving you want to do each day. This is an incredible way to finish off a Western Wyoming road trip!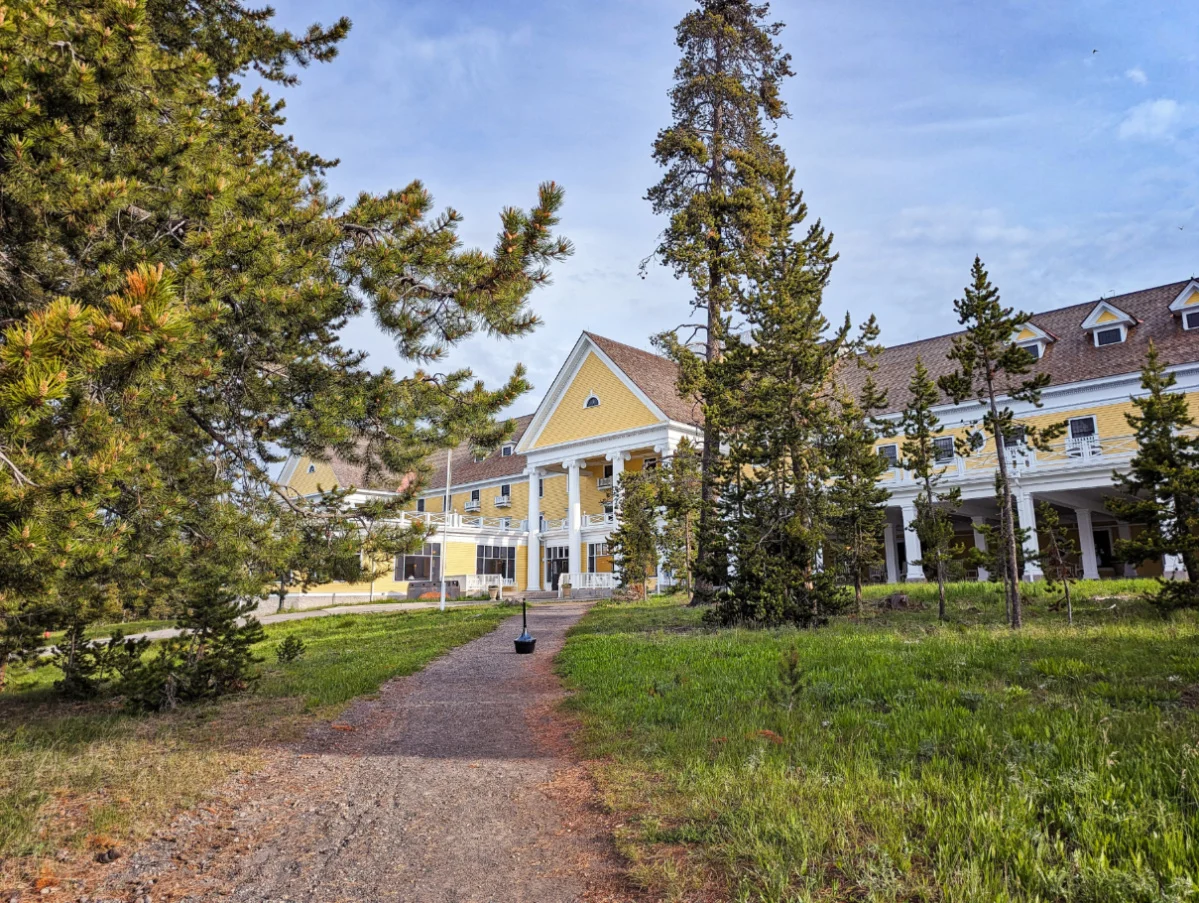 If you want to stay inside the National Park boundaries, you have to plan that pretty far in advance and be ready to pay a pretty penny. The hotels/lodges are very pricey but are kind of epic considering the locations. Old Faithful Inn – Old Faithful Snow Lodge – Yellowstone Lake Hotel – Canyon Lodge
Other accommodations inside Yellowstone National Park besides camping include the Roosevelt Lodge Cabins and the Cabins at Mammoth. Grant Village near the West Thumb Geyser Basin is also a less expensive option, and if you actually can find dates when it's available, the Old Faithful Lodge and Cabins are rustic but delightful.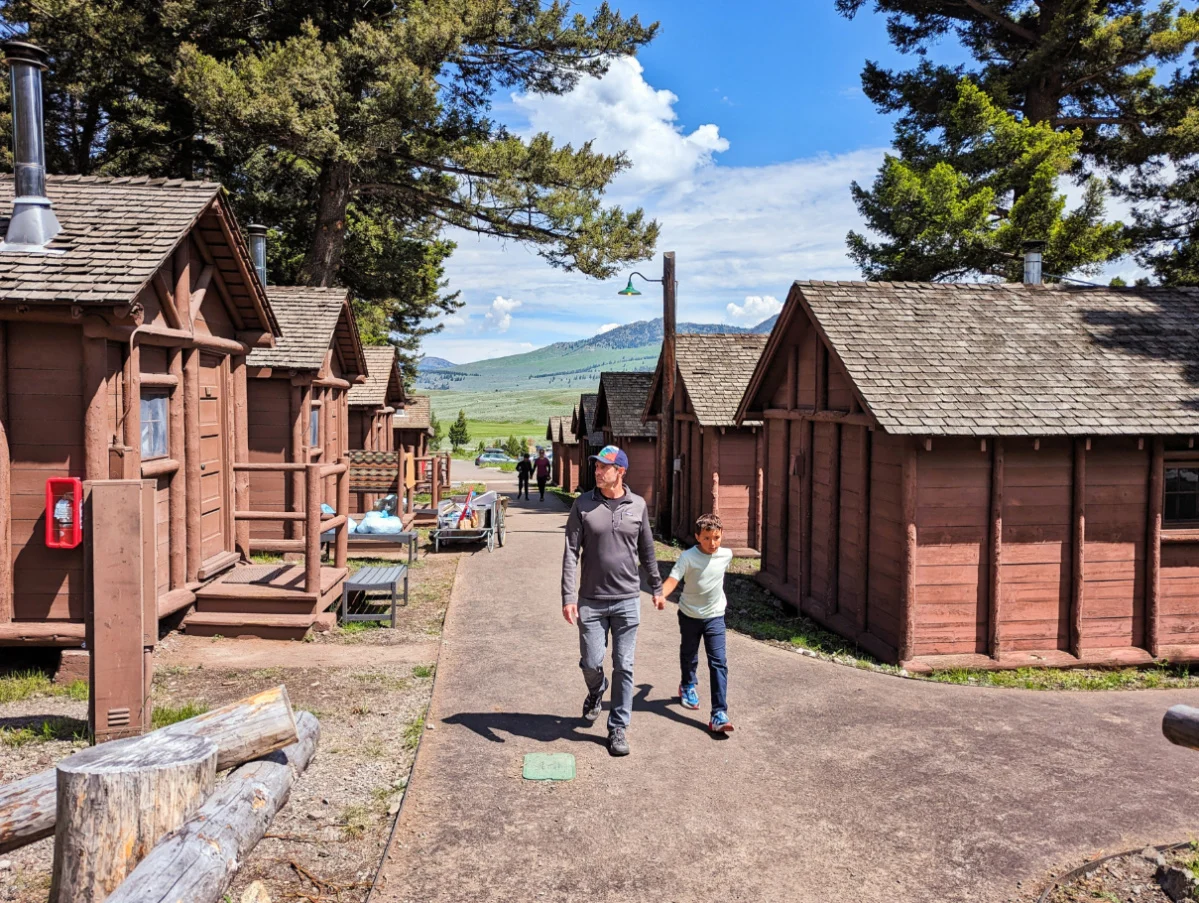 Yellowstone Lake Area – Bridge Bay, West Thumb and Wildlife
The entrance into Yellowstone National Park from Cody, WY is not as busy as the Gardiner or West Yellowstone entrances from the Big Sky, Montana area. This part of the park offers a very different view into Yellowstone's geology and wildlife, starting by climbing through the canyons up to the humongous Lake Yellowstone. Watch for wildlife as you go, as moose and bear are frequently seen in the area between the park boundary and the lake.
Staying in the Lake Village or Bridge Bay area makes it easy to explore this part of the park. From here, you can either head north through the Hayden Valley and Mud Volcanoes, or you can head south past Fishing Bridge to the West Thumb Geyser Basin. Spend a day doing the stretch from West Thumb up to the Grand Canyon of the Yellowstone. You'll have lots of easy (and difficult) hikes you can do, you can enjoy the geysers and thermal pools of West Thumb, see exploding mud at the Mud Volcano area, and watch enormous herds of bison roaming the Hayden Valley and crossing the Yellowstone River. You can enjoy a whole day in this part of the park and end with a nice dinner at the Lake Hotel.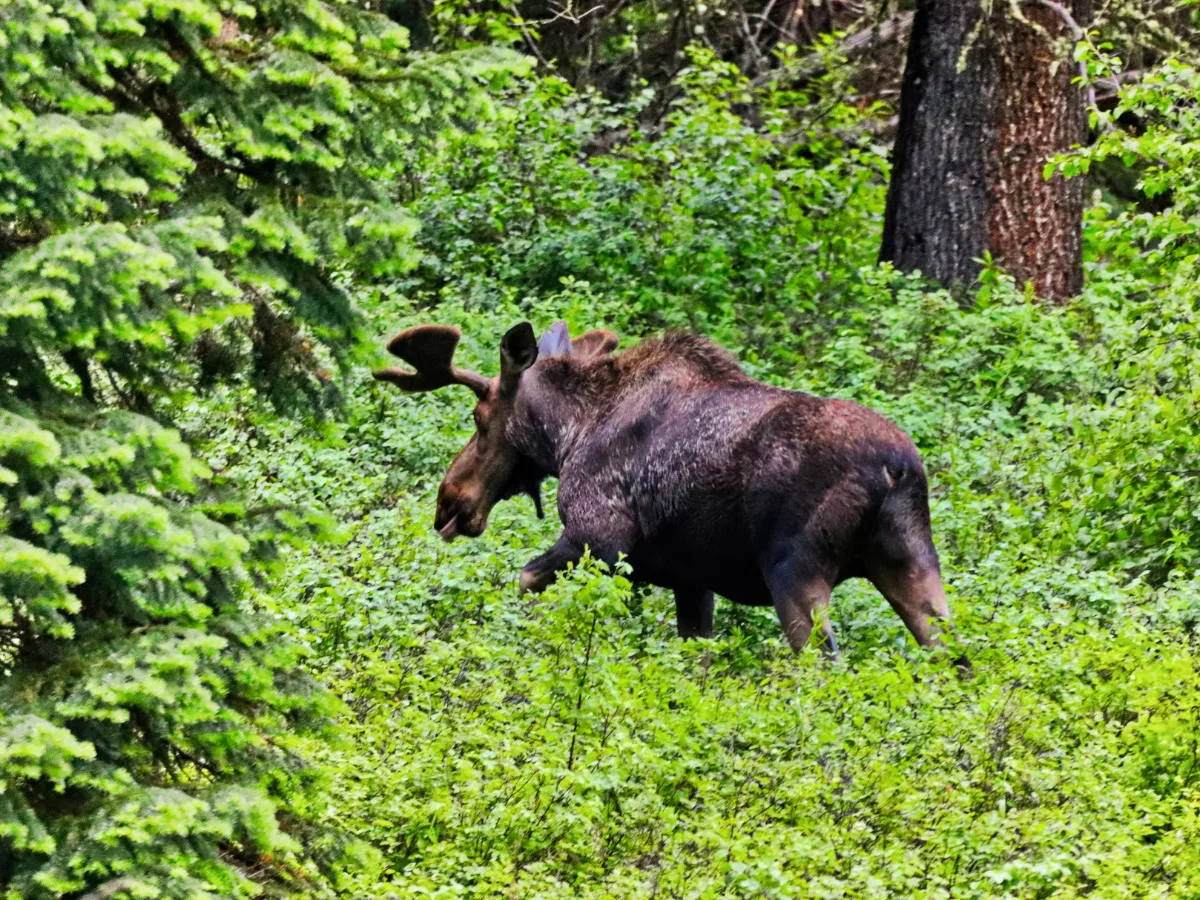 Old Faithful and Norris Geyser Basins
For day two, or if this is why you wanted to visit Yellowstone National Park in the first place, head over to Old Faithful (Upper) Geyser Basin. Get here early for extra steam in the air and to beat the crowds. There's an easy, albeit long, loop to explore the whole Old Faithful Geyser Basin, and then grab lunch at the Lodge or Snow Lodge.
Your next stop is the Biscuit Basin, which is small but beautiful. The Sapphire Pool and Mustard Spring are the gems of this stop, so do the easy loop and watch for wildlife off the trail. On the way from here to Norris Geyser Basin, do the Fairy Falls Hike to the overlook of the Grand Prismatic Spring. Stop at Artist Paint Pots and see the sights along Firehole Lake Drive.
End your day of geysers at the Norris Geyser Basin. There are some cool geysers and hot springs here, but the really cool part of the basin is the walk through the Porcelain Basin. This area is fll of colorful pools, thermophile mats and a desolate landscape all around. It's amazing and one of my favorite places in Yellowstone National Park.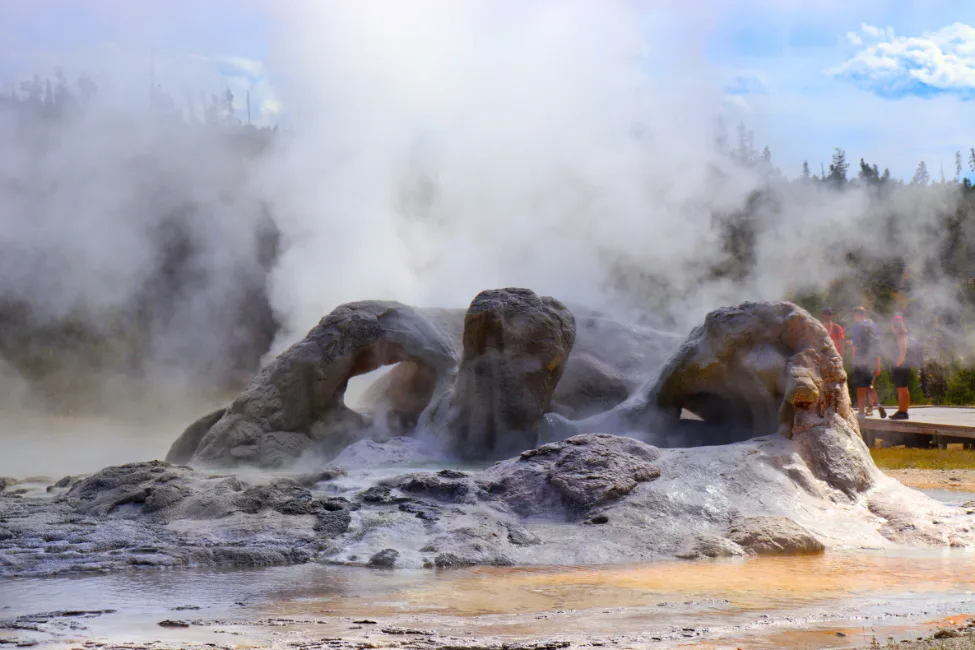 Hiking and Sights from Canyon to Mammoth
The Western Wyoming road trip has brought you to lots of epic sights and unique spots, but this part of your time exploring Yellowstone has, I think two of the most remarkable views in the park: the Grand Canyon of the Yellowstone and Calcite Springs. When you're at the canyon, you can either do hikes along the north and south rim (we prefer the South Rim Trail) or just drive to the many viewpoints along the way. Canyon Village also has one of the best visitor centers in Yellowstone National Park, as well as quite a few dining options, a store and fun gift shops.
Continue north towards Mammoth for wildlife viewins as you go. Mount Washburn is a great spot to look for grizzley bears, Tower Falls is a short hike to a unique waterfall view (and ice cream in the gift shop), and Roosevelt is where you can do some of the most beautiful horseback riding in the national park. Just after Tower Falls, there's a pullout for a place called Calcite Springs. We always stop here as it's got a totally different view of the YELLOWstone part of the park, including steaming springs along the river below you. Gorgeous!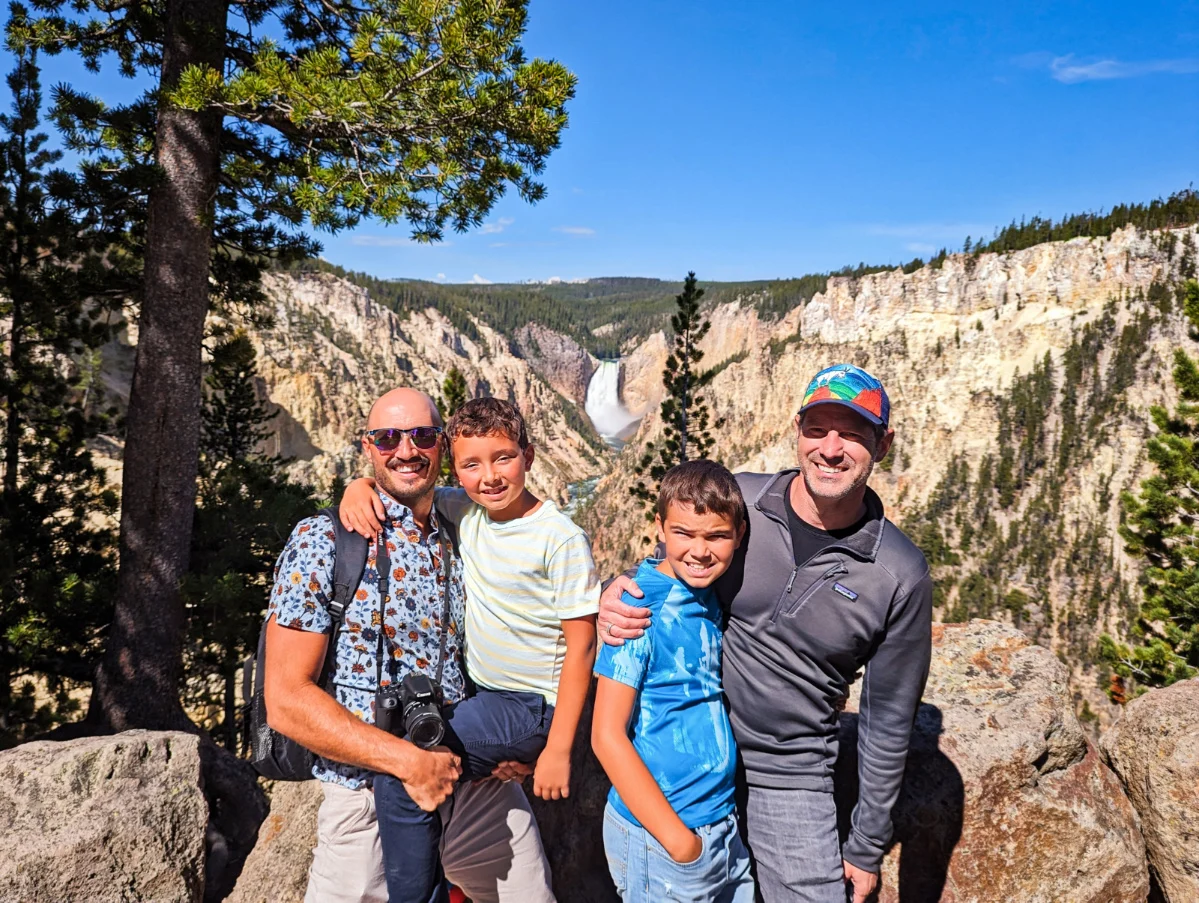 Mammoth Hot Springs is your last stop before leaving the park. There are walking trails, hiking trails, or a portion of the area you can drive through. With lots of geologic moment over the years, the hot springs don't flow like they once did, but the Canary Spring on the south side never disappoints, so be sure to check it out.
Tip: if you're at Mammoth Hot Springs during or just after the rain, that is when they are at their prettiest. The pools fill up and flow like they use to, and while it doesn't last forever, this is the best time to see the splendor of Mammoth Hot Springs.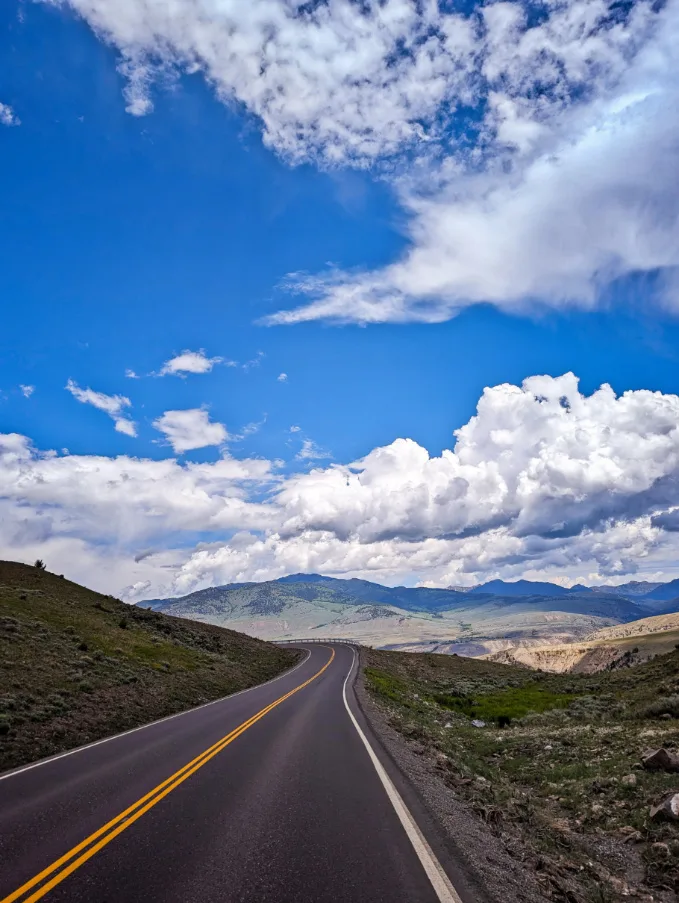 Wrapping up a Western Wyoming Road Trip
Wow! We've covered so much ground on thes Western Wyoming road trip! No matter how many times we visit, we always have new experiences and find places to come back to on our next trip. At the beginning we talked about how you can start this road trip from a variety of places. If you're planning an epic journey that keeps going, here are the destinations we typically add to this (or similar) trips we've done:
Eastern Wyoming along the Chief Joseph Highway to Bighorn Canyon and Devil's Tower National Monument, continuing up to Custer State Park and Mount Rushmore in South Dakota
The Beartooth Highway and Central Montana, visiting Red Lodge, Billings, Choteau and more. This is the cowboy side of Montana, so you'll see how different it is up in MT versus what you've experienced in Wyoming.
Big Sky and Yellowstone Country, which takes you through ghost towns, luxury mountain resorts and ultimately to Bozeman and Butte. Montana mining country is another side of western culture to learn about, and it's very different from what you saw in fossil country. You can also grow this leg of your trip into a road trip to Glacier National Park.
Utah road trip to five more National Parks and red rock country. If you've done this Western Wyoming road trip as a loop, continue onto Utah for flying out of SLC or do the loop down through Dinosaur National Monument, Arches and Canyonlands National Parks, Bryce Canyon and Zion NPS, and finish with Capitol Reef National Park before flying out of Salt Lake City.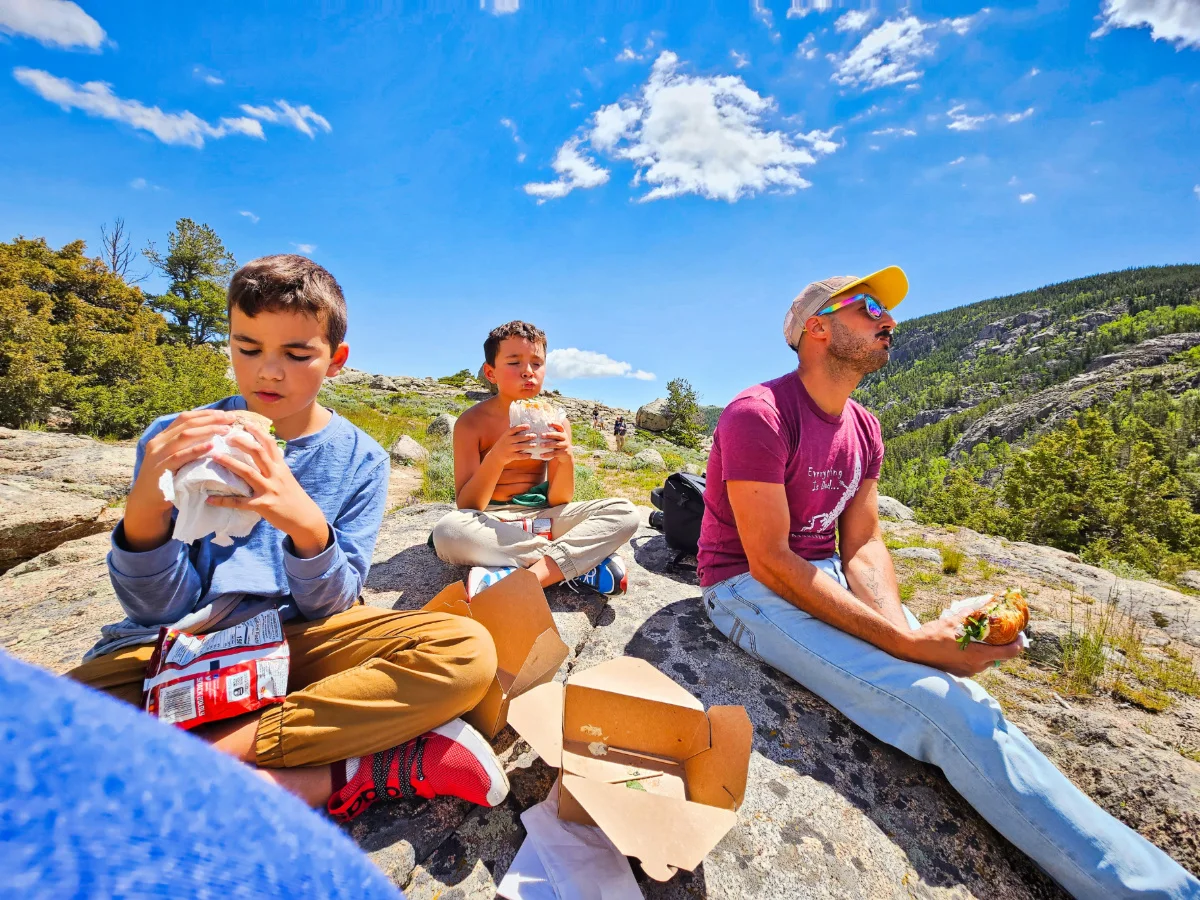 The possibilities are endless and each is so unique. If you need any help or feedback on a road trip plan anywhere in the West, always feel free to ask us. Leave a comment or send us a note. We're happy to help other plan amazing adventures, through Western Wyoming and beyond!