A dream vacation is this:  a nice hotel, hiking, beaches, great food, fancy drinks in non-fancy cups, well behaved kids, an art museum or two, sunshine and massages everyday.  An actual vacation is this:  a nice place to stay or camp, hiking or chill walks, a beach that you might put your feet in the water at on a HOT day, good food, boxed wine, tired yet wild kids, a visitors center, rain and playing cribbage quietly while kids sleep close by.  Recently we were treated to 80 minute massages while we were traveling… and the experience was as good as we dreamed it would be.  Waterleaf Spa at the Skamania Lodge in Stevenson, Washington made us realize that we NEED to do massages whenever we travel.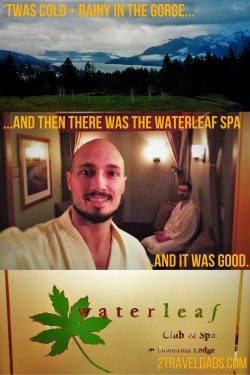 Previously we interviewed a well traveled LMP, Kelly Blanchard, regarding the health benefits of travel.  Our biggest takeaway from this was that taking time to relax while you're traveling helps you recover and recharge your whole body for the world you return to:  family and work.  Well, we got to recharge and now will share the experience with you, as we've got solid proof that we were more chill, happy and ready to play parent once we let go of our stress for a while.
The Waterleaf Spa Experience
The Waterleaf Spa is located in the Skamania Lodge in the Columbia River Gorge.  This is about 3.5 hours from Seattle, Washington or an hour east of Portland, Oregon.  The Lodge is settled on the hill above the Columbia River (the WA/OR border) and has a sweeping view to the east towards Hood River, Oregon.  The spa doesn't have the view, but it has something better:  LMPs and soft music.
The only downside of the Waterleaf Spa's location is that you must walk through it to get to the Skamania Lodge's pool and hot tubs, so the initial waiting room is a bit of a Grand Central Station.  Once you're checked in though, things change.  Almost instantly.
Dressing Rooms
We are calling them dressing rooms because the term "locker room" sounds like we're getting ready for some basketball or kickboxing.  Yeah no.  The dressing rooms are quiet spaces with some teak benches and storage cabinets for you real-people clothes.  They are clean, quiet, softly lit and the perfect first step towards a fully relaxing experience.
Tip:  the bathrobes are perfect and you should plan on spending a bit relaxing in one of the quite zones (see below) between sauna/hot tub and massage time.
Waterleaf Sauna
The sauna within each dressing room is single-sex, so you can feel comfortable just chillin' out and not worrying if anybody is uncomfortable about being a sweaty body with other people.  We know, that sounds weird, but a sauna is a personal experience and a lot of people don't feel comfortable dripping sweat just for the heck of it, so knowing that it's just you and other like-minded guys or ladies, you can release some stress and just relax.  And then take a quick shower to rinse and move to the hot tub.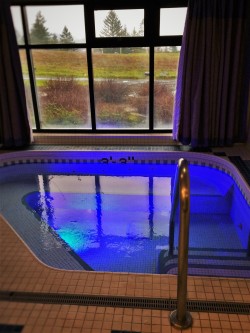 Tip:  always check the rules to see if a sauna, even when in the privacy of a locker room, is clothing optional or not.  Not that somebody is going to tell you to put your pants back on, spa rules are there for everyone's comfort.
Private Hot Tub
How did we not see a private hot tub in the four times we'd been to the pool before our massage appointments?  The Skamania Lodge has four hot tubs apparently.  There is the disco hot tub outside that's like a little bit of Miami Beach meets Aspen, Colorado.  There's the hot tub by the pool that has kids jumping in and out of it.  And then there are private tubs in each of the dressing rooms at the Waterleaf Spa.  They were quiet.  And calm.  And we relaxed.  And then we were ready for our actual massages.  While they finished prepping the room for our couples massages, we waited in a quiet, dark cushy area outside of the therapy rooms.  It was a nice transition before lying on the table.
Tip:  be sure to give yourself five to ten minutes from when you're done with a form of heat therapy before starting your massage, as you (or at least I) don't want to be sweating when you lie down on a table.
Aromatherapy at Waterleaf Spa
When we first arrived at the Waterleaf Spa the hostess asked us each to choose an aromatherapy scent to aid in our relaxation.  It was clear that the Mandarin offering was the most popular as the sample smeller was just about obliterated, but there were four other options which all were more calming than invigorating.  I selected "fresh" and Chris chose "oolong".  I don't know a lot about scents and their impact on the psyche, but I do know that we each chose one that spoke to us…and they were drastically different.
Tip:  if you're offered a scent before receiving a massage, listen to the recommendations or information from the massage therapist, as they know the way certain scents impact the body's ability to relax and can guide you to choosing the most beneficial scent for YOU.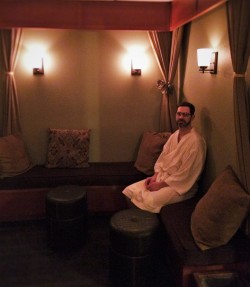 80 Minutes of Bliss
Do you know what phrase I hate? "Dress down to your comfort level, please."  Don't make me worry about if I should be more comfortable or if I'm too comfortable (naked).  Tell me how undressed I should be.  There.  I said it.  Tell me if I'm supposed to be completely nude or not.  The Waterleaf Spa's LMPs were very courteous about it, but… Anyways, getting past that and laying down, it was back to relaxing and releasing tension.
If you've not had a professional massage, let us enlighten you:  every single one is different.  You may be expecting the rough, dig-deep style of a tall blonde woman named Helga like in a cartoon, or you might be thinking that you'll just fall asleep.  Ya know, it can go either way.  Chris and I had very different experiences.  His massage was much more calm and addressed surface tension.  He holds a lot of stress everywhere, so he really needed a 943 minute massage.  
My massage was deep and involved some techniques I'd not experienced before.  What I appreciated most was the vibration method with very quick motion AND pressure while my limbs were shook, rather vigorously.  I know, it doesn't sound relaxing at all, but it was and was just what I needed.  I thanked the LMP from the bottom of my heart, as he really helped me let go of some tension in my mid-back that was slowly eating away at my soul.
Both of us really enjoyed the Waterleaf Spa's use of hot towels.  While it is customary to have a warmed table and pleasantly temped room, the varied uses of hot towels partnered well with the aromatherapy to encourage deeper, more calm breaths.
Also, it should be noted that we were booked for 80 minute massages and they truly lasted the full 80 minutes, from on the table until off the table.  There was no skimping on time.  Bravo!
Signature Foot Scrubs
This was a nice surprise.  Again, hot towels make an appearance to shock and awe.  Our feet were prepper for the scrub midway through the massage, with the heat directly working on the muscles and tendons while our LMPs worked on other areas.  By the time they got to the foot scrub, well, I know my feet were practically jelly.  The scrub was very nice and finished off the experience by releasing that last bit of stress that I think everybody holds in their feet and calves.
Tip:  if you're offered an additional service at no cost or highly discounted, go for it.  Are you going to give yourself a foot scrub or a scalp rub at home?  Not likely.  Well, maybe.
What do we think of a Couples Massage?
This was our first time getting massages in the same room.  Initially it seemed weird, like "you lie there and somebody will rub you while somebody rubs me over here." But then you're on the table and you basically forget that there's somebody else there for the most part.  Did we prefer it to having a solo massage experience?  No.  
Being in a private room, you're completely unaware of what the other person is experiencing during their massage.  You don't hear the questions of "does this feel okay" or "how's that now?".  While overall being in room together didn't severely impact the massages at the Waterleaf Spa, it did add a small amount of distraction that we could've done without
Overall impression of the Waterleaf Spa:  it was wonderful, beautifully executed, and served its purpose of giving us a break from the world and helping us relax as fully as possible.  
Would we go back?  Yes!  

Couples or Solo Massage?  Solo, but definitely both of us getting one.  

Best part besides the massage:  the calming atmosphere of the dressing room (can't say enough about how great it was).
Leaving the spa was sad.  We had to put back on real-people clothes and head back to our room.  Sad face.  But boy were we feeling better.  We'd had a stressful few days of family travel and the kids had been wild.  Getting to spend 2+ hours in peace and quiet, only focusing on, well, nothing…that was amazing.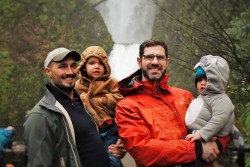 Thinking back to what LMP Kelly had told us previously, adding massage into our travel really did elevate the overall experience and made us feel much better and ready for the world at home.  Waterleaf spa provided us with a way to recharge and be ready to be the dads our kids need:  less stressed, more chill, and ready to have more fun.  And to go see waterfalls, but that's another post for another day.
This is just one of the ways to relax when you're touring the Columbia River Gorge.  Other great ideas for family, couples or solo fun in the Gorge include wine tasting, hiking and exploring the Columbia Gorge Waterfall Area, spending time in Hood River, and checking out many of the other sites along the Columbia River.  We have loads of ideas, so if you need a recommendation, just ask!