We have so much travel planned in the next few months, but we're also looking at our next potential trips too.  We may be hitting the UK in September.  We'll definitely be in Mexico in October.  We've been talking about Italy. Last time we were in Italy we just wandered through the country, hiking as we found it, swimming when we could, visiting the random museum…  And we totally skipped over Rome.  We've been thinking about the top things to see in Rome with the kids.  There are countless resources and services for choosing what to see and how to see it, and now that we're visiting with kids, we want to be sure to do Rome and anywhere else well.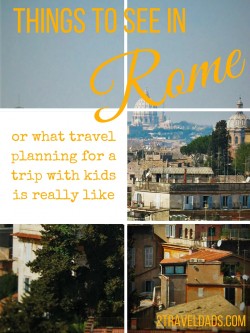 There really are so many things to see if Rome.  At the top of our list is touring the Forum and Vatican City.  We also love fountains.  And we love to just wander, but don't love to spend a ton of money getting back home for the night.  Something we've considered is booking a tour or hiring a guide, but then there's the chance we'll not want to follow somebody else's itinerary.  Either way, there is a lot to consider and a lot of planning for making something like this worthwhile with kids.
Hypothetically, here are the things to see in Rome that we really don't want to miss… and then we'll write about what we can't miss in London and Amsterdam and Dubai and…  Maybe I shouldn't start sharing how my travel planning brain works.  This could be quite the can of worms.
Also, since we skipped Rome last time, I called on some of our other traveling friends to give some life to our excitement via their awesome pictures, so thank you to all of them, particularly Wyld Family Travel, Wherever I May Roam and the Wandering Wagars!!
Our Grand List of Things to See in Rome
The Big Three – Colosseum, Pantheon, and the Forum
Even though these are going to be the most touristy of sights, they're at the top of our list.  Having studied art history and had every other friend go to Rome except us, the accounts from everyone say that we need to go either because each one is just a must-see or because the history is fascinating.  We love to visit places like this, ones that have been written off as solely for the tourist, because there's a reason that they're thought to be incredible.  
The Pantheon might not seem like a place to wander around in for hours, but I'm pretty sure that we can visit and be thoroughly impressed… and the kids will be captivated by the oculus.
Going with that thought, touring the Forum with an archaeological expert or with a guide that can gear the tour towards kids would be perfect and something we'd really be excited for.  The Pantheon would also be great with a guide who could pique the kids' interest.  I know a lot about history and art, but am by no means an expert in any one of the sites we'll be visiting… and I think sometimes my family gets tired of hearing me talk.  I talk a lot.
The Roman Forum seems like a place to just wander (which we love) but there are so many great stories and little things to learn about.  I don't know:  is touring the Roman Forum with young kids a good idea?  Will they actually be intrigued?
And then the Colosseum.  I've heard such mixed reviews about taking kids here, but I think we still would really enjoy it.  We have toured a good many forts in our travels.  We've done Castillo de San Marcos in St Augustine, Florida and gone in and out of the dark tunnels at Fort Worden locally.  I think visiting the Colosseum with kids would be great and would have a lot of similarities to sites the kids have already enjoyed.   So yes, these three touristy tourist spots are a must for us.
Vatican City
Besides the Sistine Chapel, what else is there to see in Vatican City?  So much!!  There are the galleries and all of the St Peter's Basilica complex.  And there are also the Vatican Gardens.  Even though the Gardens are private, they can be toured and we would love to do this.  Our kids love gardens and green spaces, and although the Vatican Gardens are structured and not at all like what they have encountered in the USA, I'm sure they'd be a hit.
Totally unrelated tip:  the Jardin du Luxembourg in Paris is an amazing place to take kids and play or just relax.  We'll have to figure out a good spot like that in Rome.
I also think climbing to the top of St Peter's Basilica would be incredible.  Our kids are used to hiking in the mountains or climbing lighthouses, but is climbing a dome that much different?  I do recall that by the time we got to the top of the bell tower at Santa Maria del Fiore in Florence that we were pretty tired, but I think the kids would have the energy to get to the top.
We also would need to tour the Vatican museums.  I'm not sure why, but we've been hesitant to do art museums with the kids.  They do great touring historical sites and other adult-type places.  Why wouldn't they enjoy art museums?  Our oldest has the best questions and says the funniest things about art, so I can only imagine that the entertainment value of touring the Vatican museums would be worth it.
Fountains
We have one fountain locally that the kids enjoy.  How much they love spurting water is adorable.  Now, take that joy and put it into all of the things to see in Rome.  Imagine how excited the kids would be at the Trevi Fountain, or visiting Le Quattro Fontane, or any of the gazillion other fountains.  
Fountains are something I would also attempt to find a tour for.  While I'm sure that wandering the streets would show us a whole world of piazzas and courtyard fountains, it'd be nice to get a broad sampling of them.  You know we love waterfalls when we travel in nature, like at Mt Rainier or the Columbia Gorge, so if we're playing tourist in a city, fountains would be our closest option for a similar experience.
Tip:  talk to your kids about fountain etiquette.  It's not always okay to throw coins in or splash in a fountain, so be wary of the rules and don't be that tourist that gets arrested or gives other travelers a bad name.
Churches
Where to begin…?  Um, let's see:  Santa Maria Maggiore, Santa Maria Sopra Minerva, San Giovani Laterano, Santa Cecilia, Santa Maria del Popolo…  I'm sure that visiting all of these sites in a few days would be a bit much when we're talking family travel, but they're all on our list of churches to visit.  We're not religious, but touring sites such as churches or mosques are great ways to teach kids about other cultures.  
We know that prior to heading to Rome we'll need to have a lot of conversations about history, tell some stories about the city and people, and then also talk a bit about religion.  We had an experience at Stone Mountain in Georgia that was a bit odd where all of the sudden we were in the middle of hearing the nativity story.  We learned from that and now prior to doing any major visits we'll need to talk to the kids about the crucifixion, the structure of the Church and perhaps a little about Catholicism.
Tip:  it really is worth it to prep your kids to be exposed to religion if they aren't normally at home.  Imagine being a kid and walking into a Catholic church and seeing a body bleeding up on the wall.  Seriously, take ten minutes and prep them.
Food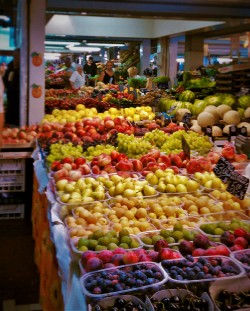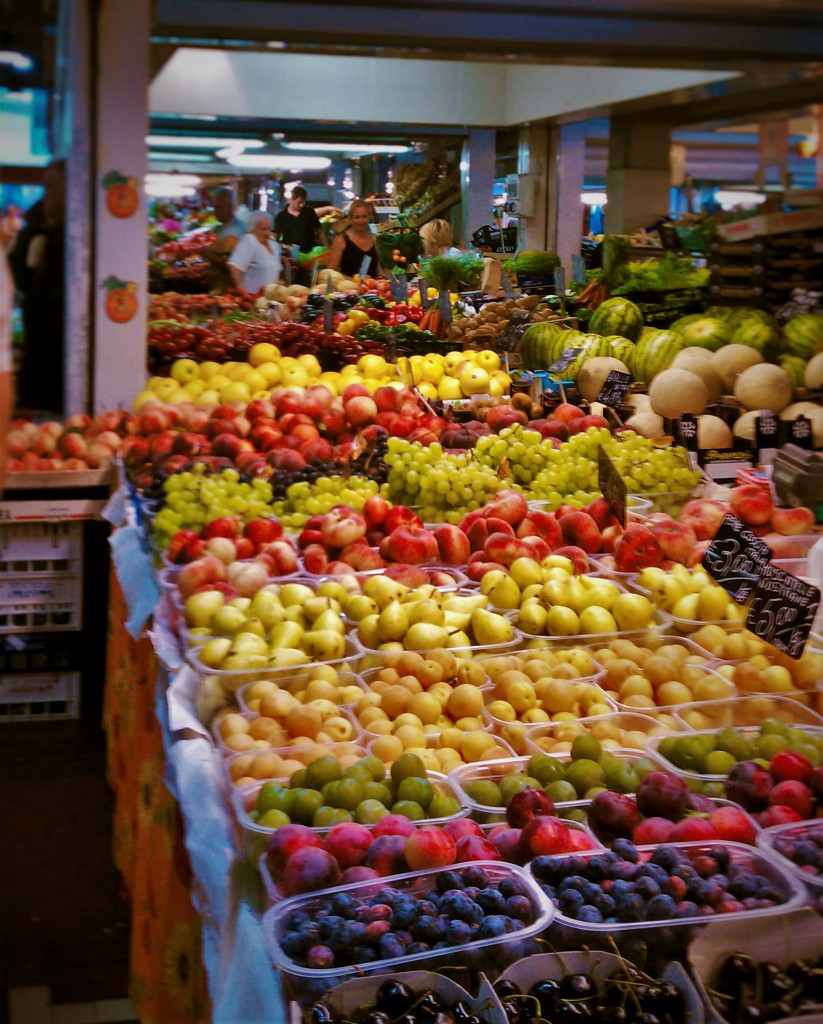 When we camped and hiked in Cinque Terre we were fortunate enough to have pesto around every corner.  What is the standard Roman fare?  I read an article by another blogger about doing food tours with kids and I have to say, I think we'd be up for that.  We, of course, are great about exploring and finding our own dining options and we LOVE street food, but when in Rome… I think we'll need to eat what the Romans eat.
The other consideration we have with visiting any place beyond our own kitchen is being wary of egg products.  We're not vegan, but we've got a really strong egg allergy in our house.  My impression of Italian cuisine, both from traveling in Italy and frequenting Italian joints in the USA, is that noodles are everywhere.  All types of pasta in any type of restaurant.  Everywhere.  Most pastas have egg in them, so we'll need to be careful.  We don't want to spend a day in an Italian hospital (even though I'm sure they're nice).
Tip:  read up on options and things to look for if you're facing a food allergy and traveling overseas… especially if you don't speak the language.  Also, be sure you travel with Epipens if you or somebody in your family might need one due to an allergic reaction.
So there you go.  That's my thought process for planning a trip and picking through things to see in Rome.  It comes down to this:  we want to maximize our time, see the coolest things but then also get some form of an authentic experience.  We have seen how difficult it is to find authentic experiences in tourist areas, but like when we got lost in Venice, we're confident in finding our way and loving Rome with the kids.  
So many things to see in Rome…  If you have strong opinions or recommendations about what we should be hitting up, please leave comments below.  We're flexible and care more about having an incredible, memorable time than just crossing things off our list.  We can't wait to visit though!!!  
We've been given some great inspiration, loads of things to think about, and a few options for how to approach this whole visiting Rome business, so as soon as we've locked down an actual trip, we'll let the world know… and then start spamming you all with awesome pics of kids splashing in fountains (or not splashing).
Special thanks to Wyld Family Travel, Wherever I May Roam and the Wandering Wagars for filling in our photographic gaps.  Take a moment to check out their travel blogs too, as they are each adventurous in their own ways.