We are always trying to find ways to share our trips and pictures of the kids with family, especially since they rarely get to join us on our travels. We've finally found the easiest online photo book maker and it's awesome. We're going to share about Confetti books, how simple photo books can be to make, and of course share cute pictures of kids… cuz it's so easy the kids can do it.
Note:  we were engaged by Give Confetti to try out their platform as an alternative to other ways we've been creating photo books. Our opinions and tips are our own.  And they gave us a discount code to share at the bottom!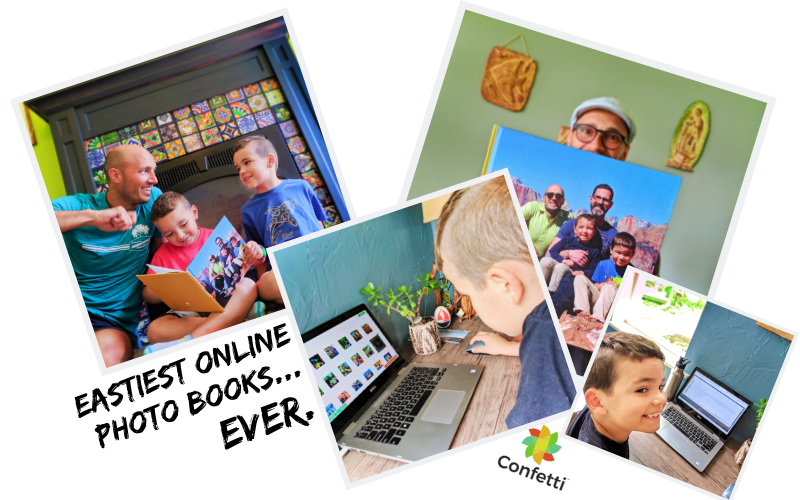 Guide to making the easiest online photo books
Personalized photo books have grown in popularity and in recent years, there are more and more options. The problem we've found with many online photo album services is that there are a lot of design variables you've got to work with, and for me that can become stressful. When Confetti asked us to try their platform I was like "Sure, it can't be more difficult than X (insert whatever frustrating photo book experience you've had)".
We've now used it twice to create lay flat photo books and love the outcome. The kids actually even did one… without help.
Step by step photo book creation
This is all you have to do to create the easiest online photo book ever:
Create a Give Confetti account

Upload as many photos as you want

Link your Instagram or Facebook to add more photos

Invite others to add their photos

Look everything over and remove what you want
It literally is that easy.
Online photo album options
You saw above in the steps to creating an easy picture book, that Confetti has three different ways to add photos: upload yourself, link social media accounts, or invite others to add photos. If you're like me and you like to edit all your photos, then using the standard local upload option is perfect. It's easy photo album making at its best.
Tip:  check out our article on our best travel photography tips for getting some great shots, both on the road and at home!
The second option, pulling photos from everyone's favorite social media,Instagram, is also a nice tool. I know that Instagram serves so many as their own portable or online photo album, so it makes sense just to link it to your Confetti online photo book maker. It can pull the highest quality images from the Instagram server, creating great quality upon upload. And while you're at it, follow us on Instagram!
The third option, Facebook, is great if you are good about upload a bunch of photos after each event or trip. I used to be good about that but rarely do it now, so for me I didn't have much to pull. What is great about uploading from Facebook for me is that when I do actually upload there, it's a really great photo that I want to save or remember. It helps me keep track of my best shots… which is exactly what I want when making a custom, personalized photo book.
Creating collaborative photo books
One of the things that makes Confetti the easiest online photo book maker is the collaborative option. While you're adding your own photos to your Confetti album you can invite others to add to the project. This is perfect for getting great pics from others you did a family reunion with or that you just went backpacking with. They get to share their favorite shots and you get to pick and choose what you include.
Tip: since the invite to collaborate with the photo album maker goes through email, take the time to write a short note to your friends or family explaining why you're asking them to share their photos. Don't just say "Gimme your best shots!" Also, you can share the finished photo album with your collaborators as a slideshow.
Creating your flat lay photo album
Now that you've got your photos added into the photo album maker, you can put them in whatever order you like. If you're not picky, just choose your cover photo and be done. If you want the photos to tell a defined story, drag and drop them around until they are just how you like.
Confetti: simple design print photo book
What makes Confetti the easiest online photo book maker is that the design is pre-set and zero-frills. With other picture book maker platforms you have options for selecting layouts, colors, adding text and getting things "just so." With Confetti, once you've chosen your photos all you do is put them in the order you want (or not) and then you're done. 
Confetti is the easiest custom photo book maker because there is only one photo per page, the image IS the story, and the minimalist style keeps the process stress free. If you prefer to spend hours making online photo books and like things to have crazy designs and stuff, then Confetti is not for you. If you want something to be quick, look and feel like a professional photo book, and let you enjoy more time doing ANYTHING else, Confetti is the online photo book maker for you.
Note: you do need at least 30 photos to cover 30 pages. You can do more, but 30 is the minimum.
If you REALLLLYYY need to add some text, or perhaps you're creating photo books for a project (see below) there is the option to add text pages or limited captions. The text pages are TEXT ONLY, so again, keeping it simple makes the full picture book creation process very easy.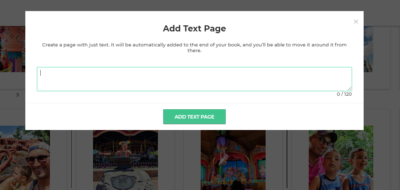 One thing you do get to customize with a Confetti photo book is the cover. You can either leave it plain or upload a photo for it. You can have the photo be the full cover or you can have a border. That's it.  For me and my over-complicated mind, Confetti really is the easiest online photo book maker ever. 
Completing your online photo book order
Also keeping it simple and making Confetti the easiest photo book maker, completing your order is very basic. There are three options:
paperback 6″ x 6″ photo book
hard cover / lay flat 8″ x 8″ photo book
hard cover / lay flat 12″ x 12″ photo book
Depending on what you intend to do with your custom printed photo book, you can choose which option is best for you. We tend to do photo books for holidays, birthdays and random occasions that we think the grandparents would enjoy getting a new coffee table book. Check out the Confetti FAQ for any other questions you might have.
Ideas for how to use a customized photo book
Clearly, creating online photo books are great ways to give gifts, but there are other uses for only photo books. Here are just a few ideas for personal use and gifts (great zero-waste, long lasting gift!):
holiday gifts  – collaborate with family to create a family album
school year in review – perfect for involved parents that want to save school memories
vacation books – create easy photo books of vacation highlights
graduation gift – compile photos over the years
wedding album – invite attendees to collaborate to make a fun wedding album from all perspectives!
Photo books as a business tool
And now this is where I think using Confetti for business solutions is genius. Because of its standard minimalist design, you can easily create a photo book that's either a portfolio or process book. What do I mean? If you're an artist or a design consultant or something, you can create a sleek, compact, professional portfolio showcasing your work. If you're meeting with clients or pitching your services, a simple book can tell your story visually. Genius! My cousin is an awesome artist and she needs to turn her portfolio into a photo book!
Confetti Discount Code for you
When you're doing your order, use discount code 2TRAVELDADS for 10% off your order. 
I hope this is helpful. I know that for our family, since photo books are probably our most common gift to friends and family, Confetti has already made things easier for us. If you have any questions, let us know. We're happy to provide tips for either creating a photo book or providing our best travel photography tips for your own awesome photo memories!
And feel free to pin this so you can make easy reference when it's time for gift giving or scrapbooking!