Picking a destination for solo or family travel
Every day we see more and more photos of interesting places.  We see mountains and lakes, beaches with crystal blue water, art collections and incredible architecture.  It's so difficult to decide what to visit next.  How do you choose?  Check out our four criteria for picking a destination before we take the plunge and see if this is a good approach for you.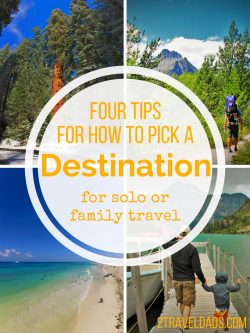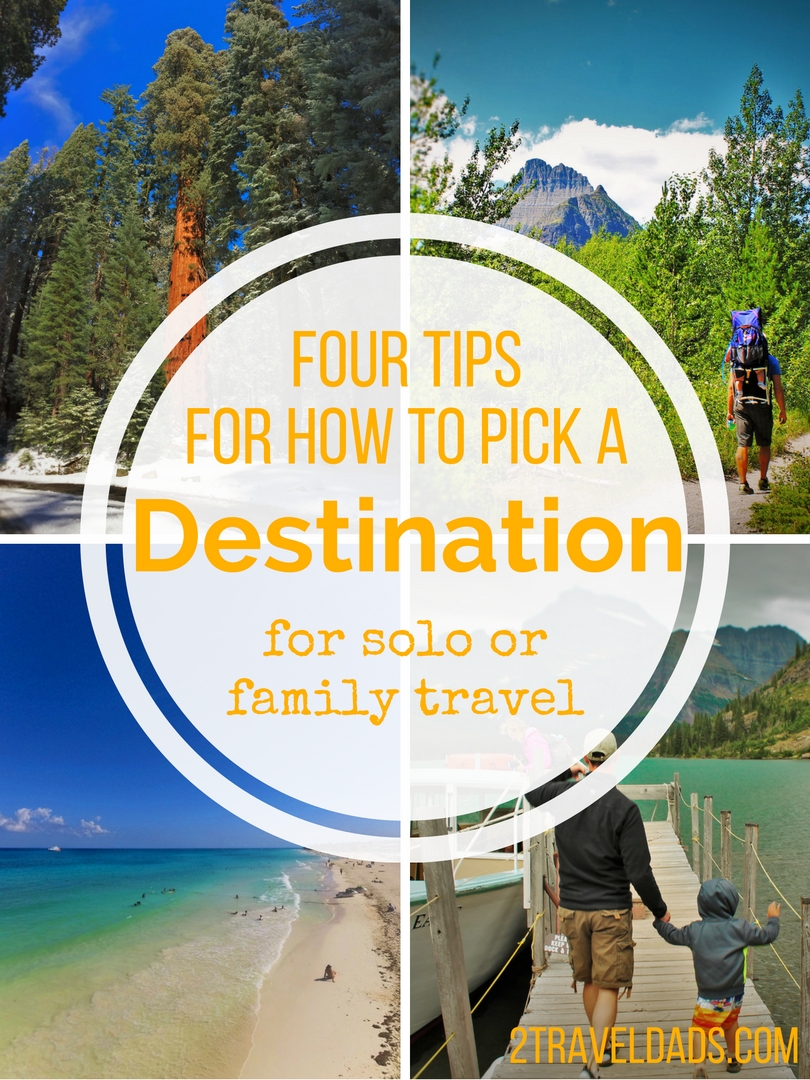 Beyond what we're sharing, we have other small factors that influence us when picking a destination, but these are the main factors and weighing our decisions against these criteria has helped us create some amazing vacations as a family.
Great Activities
When we arrive in a place, we immediately start surveying the area to see what there is to do, especially what is close to where we're staying.  Even when we arrive at our timeshare in Cabo, we don't just plan how much time we'll spend by the pool; we check out what's new and if we need to plan to jaunt up to La Paz or if there's a festival in town we need to check out.  When we're choosing a camping destination, we figure out what is nearby so we don't spend half of each day in the car instead of in the fresh air.  Basically, available activities are important when picking a destination.
Tip:  if you're going someplace for the first time, maybe pre-purchase an excursion or two.  This way you'll have one set thing you know you're going to do and it can be a jumping-off-point for other fun activities.

Tip 2:  If you're working with a travel consultant (this is our friend, Claudia, who's an amazing traveler and consultant), listen to their advice, for realz.  They want you to have a great experience and give them a positive review or shout-out.  They're not going to steer you wrong just for a commission.
Picking a destination based on our history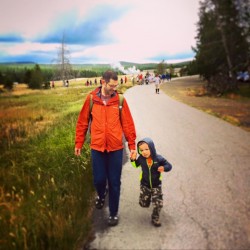 Have we been there before?  If so, what would we do again?  Did we feel that we needed more time last time we were there?  We often return to our favorite places, not because we feel like we were cheated out of a good time last time (cough cough, Cabo 2009 w/ swine flu and a hurricane), but because it's great to make new memories and relive some old ones.  This has become more and more true now that we want to make memories WITH kids, and it's helpful to involve them in picking a destination.
If you're interested take a look at our article about how travel impacts kids, including what kids look for when declaring what they'd like to do.  And there's even a cute interview with our oldest so you can hear it from him directly.  (Check out the video here.)
True story:  as we drove into Yellowstone National Park with kids for the first time, I couldn't keep myself from crying because I'd been there so many times growing up, and I never ever thought I'd get to take my own kids there.  New memories.  Boom.
Tip:  if your kids or travel partner really enjoyed something so much as to want to do it again, listen to them.  It'll show that you value their opinion and want them to have just as good of a time as you.
Seeking the weather you want
If the weather will be equal to or better than Seattle, Washington, we'll go.  If we know that we're in for a blizzard or hurricane, we won't consider it.  That seems totally shallow, it's true…but for us, that's one of the great attractions of picking a destination in the sun:  to escape the cold.
For example, we know that heading south in the summer is going to give us better chances of sunshine, and Lord knows we can't really swim in the ocean here in the Pacific Northwest.  And even if it's not super hot, we know that Georgia in November is still going to be warmer than Seattle in October.
Tip:  if you're a timeshare type of person, check warm weather destinations for extra inventory anytime except the last two weeks of the year.  You'll be surprised at the "extra vacations" that are available.  We use the RCI platform to score extra weeks or try new places.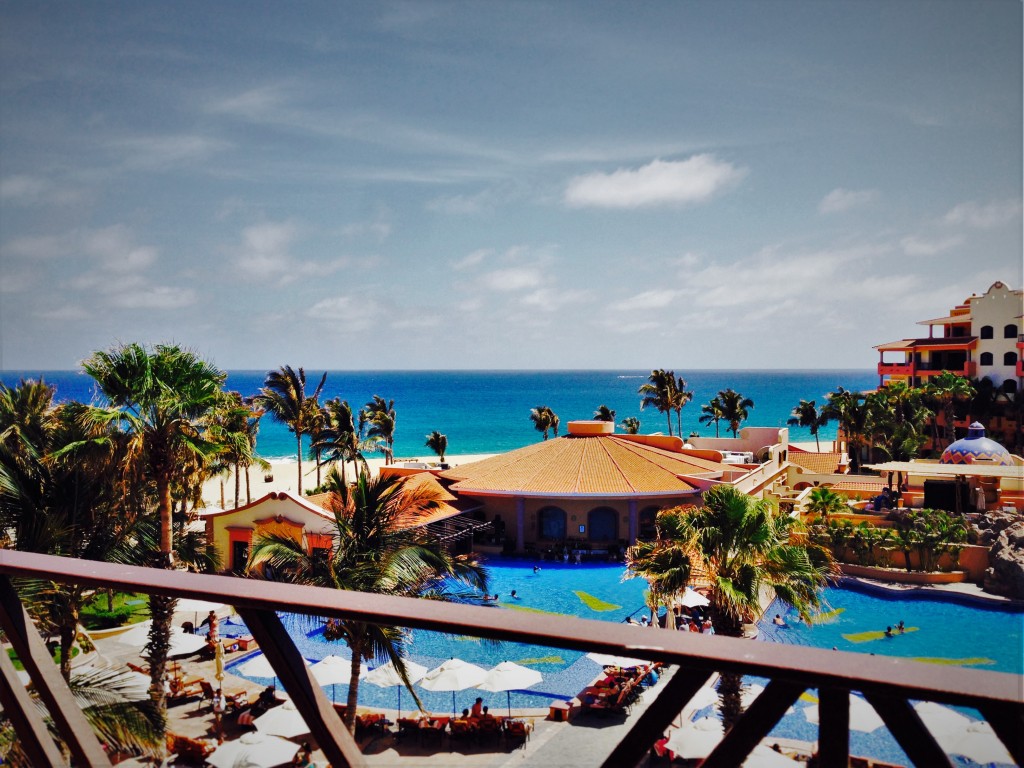 Basing travel decisions on cost
Before we had kids we'd consider the cost of travel and often show preference to destinations based on up-front costs.  Now, traveling with kids who have to have an airplane seat, it's quite an influence on our decisions, from destinations to dates to length of stays.  If it's going to be $120 more per plane ticket to go to New Orleans than San Diego, chances are we're going to take option #2.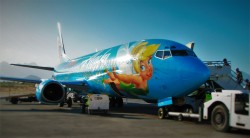 Tip:  some airlines don't allow their inventory into larger flight services, such as Orbitz.  Check out Frontier (in the USA) or EasyJet (in Europe) directly through their own sites to get otherwise unseen fare results.  Also, Virgina America… which is our favorite.

FYI:  some budget airlines charge for anything additional (including a carry-on or non-alcoholic beverage service).
One last thing to know about flying with kids is mileage.  Be sure to enroll kids in frequent flier programs as soon as they're old enough for their own seats.  Unfortunately, airlines don't let you combine all of the miles of a household, but if kids can accrue miles starting early, picking a destination in the future might be easier if you've got miles everyone can use.
For more ideas:  our friends over at Learning Escapes have also shared their method/tips to picking a family travel destination.  Take a look!
These are our travel tips for deciding where to go next.  Sometimes there are other factors, like if we can piggyback on a work trip or need to visit family, but for just straight up vacation, these factors guide us to awesome family travels!