A New Approach to Venice: relax
Originally written for Tourists By Chance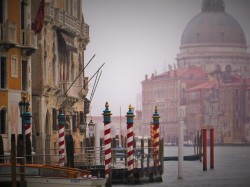 When you live in the United States and you think about taking a trip to Europe, your mind darts so quickly from place to place and you start to create an enormous to-do list of sights and experiences you MUST cross off.  Living on the west coast of the USA, the oldest structures we have anywhere are barely 150 years old, so immediately any fascinating architecture must go on the travel list.  And then there is art.  In the Seattle area we are inundated with local art (orca whales, boats, produce, modernism…), so the chance to visit every single museum filled with historic pieces in every city cannot be missed.  Oh, and food.  I can't even begin to talk about that.
Well, this was the approach we took to Paris .   It wasn't practical and left us tired.  As we headed south we were getting foiled at every turn.  In Nice , there was a beach that just had to be swum at and nothing else mattered because we were still tired from Paris.  In Florence , we arrived during a week where everything but the Uffizi was closed.  In Pisa, nothing was accessible due to renovations.  By the time we got to Venice, we had no choice but to drop all expectations and just see what happened.  That was the key to enjoying the magic of Venice.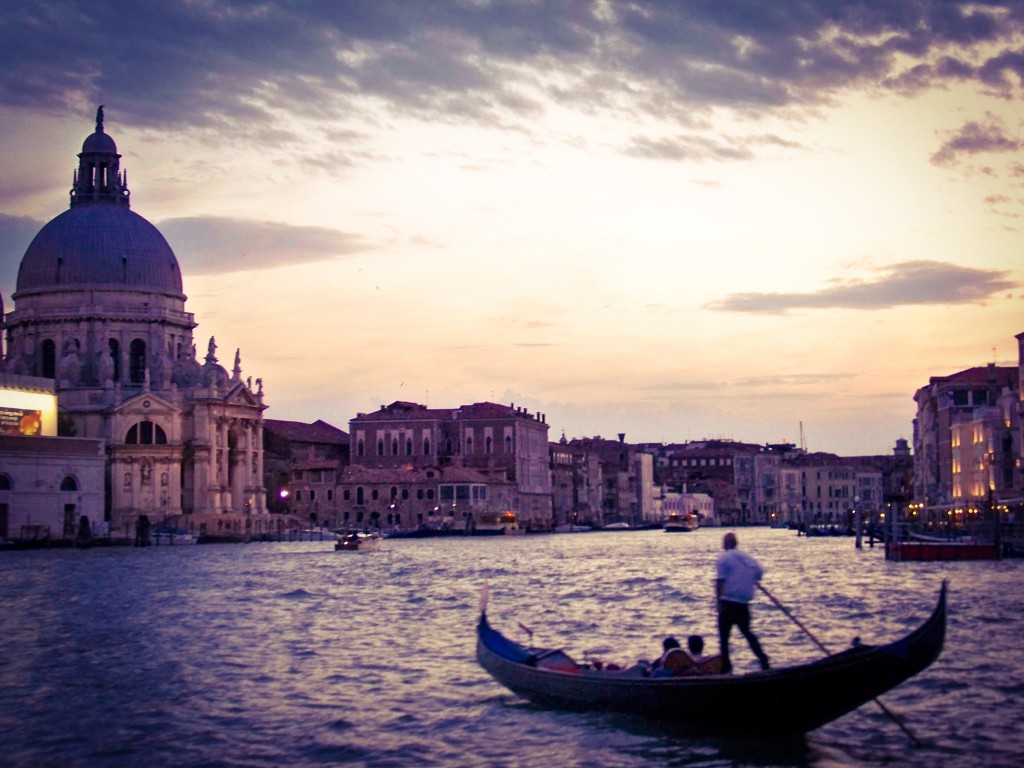 Clichés exist for a reason.  It's clichéd to say that Venice is magical, but it's true.  We arrived in Venice via the train.  First thing we noticed was that the station was less than thrilling and needed an update.  As we wandered out, we were already tired and in the mood of "just get us to our hotel."  And then we exited Santa Lucia station, looked up and stopped in our tracks.  Until you have arrived in Venice yourself, it's difficult to understand how quickly you're transported into a completely different world.  Boats were zooming by, some just floating by.  Tourists were silent, but Venezians were yelling and just going about their lives like we weren't there.  Besides the motors on the boats, it was like nothing had been updated in the floating city for hundreds of years.  Truly, it was the best first impression of a city that I've ever had.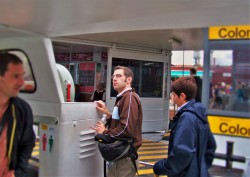 Once we snapped out of it and realized that we had places to be, we figured out the Vaporetto system (water busses) and made our way down the Grand Canal and across the lagoon to the Lido, one of the outlying islands of Venice.  We chose to stay here because the price was right and it seemed like a good way to experience the non-tourist side of Venice.
Once on the Lido, we saw that it had canals too and residents had boats too, but that the homes and buildings were no older than the 1920s it seemed.  There were a few actual streets and there were a few cars here and there.  The Lido was a pleasant contrast to the actual city of Venice and we welcomed it.
Tip 1:  the Vaporetto system is genius for quick transportation and helps a novice easily navigate the city.  You can purchase passes that make it even easier than you expect.
Tip 2:  staying on the Lido was not as convenient as being in a pensione in the city, but it afforded us extra spending money and provided easy access to a fantastic swimming beach on the Adriatic Sea.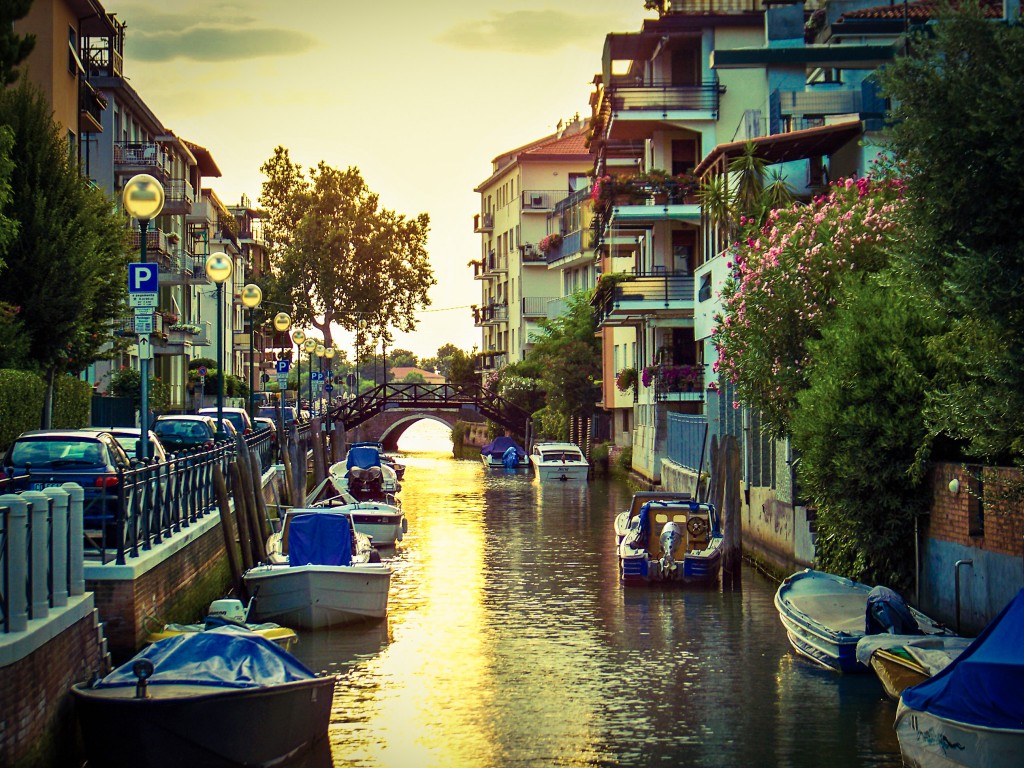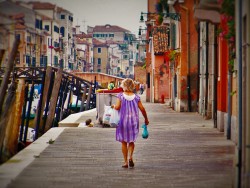 The tourist attractions of Venezia aren't as many as you'd think.  There are the big ones of St Mark's Square and the Doge's Palace, but the real attractions are the city "streets" themselves.  While touring St Mark's Cathedral and the Palace are required sites to visit, the rest of the city is best just being discovered.  We learned this immediately upon exiting the Palace.  One wrong turn and we were in a maze of old women with laundry and steps that lead into green water.  There is no shame in wandering the streets until you find food.  There's no shame in using poor Italian to connect with a local and get a recommendation.  Getting off the beaten path in Venice is as easy as making a wrong turn and discovering something new.
Tip 3:  save St Mark's Square and Cathedral for the late afternoon or evening.  The light at that time is so very golden as it reflects off the gold leafing and the square.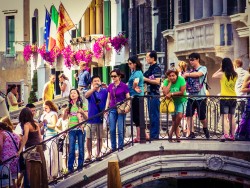 Maps only help so much…and it's not a lot.  Once we were sufficiently lost in the back alleys of the city, we started noticing old, faded signs pointing us towards "RIALTO".  Great!  We could just follow the signs!  Yeah, no.  If there's one thing we learned about finding your way in Venice it's that you should just follow the people, not the signs or any map.  Following the people takes you either to a tourist space or local gathering place.  If you're following people with backpacks or matching shirts, you're going to find a landmark such as the Naval Academy.  It's a beautiful sight to see, but you can't go in.  We followed a couple of local
folks and landed in a market space full of local treats and some of the best people watching in all of Europe.  I have no clue what it was called; it wasn't on any map that I could see.
Tip 4:  the Rialto area does have amazing markets to purchase snacks and more from, but if you're lost or on the other side of the city, ask for directions to a market place.  You'll find what you need and probably a café to sit in too.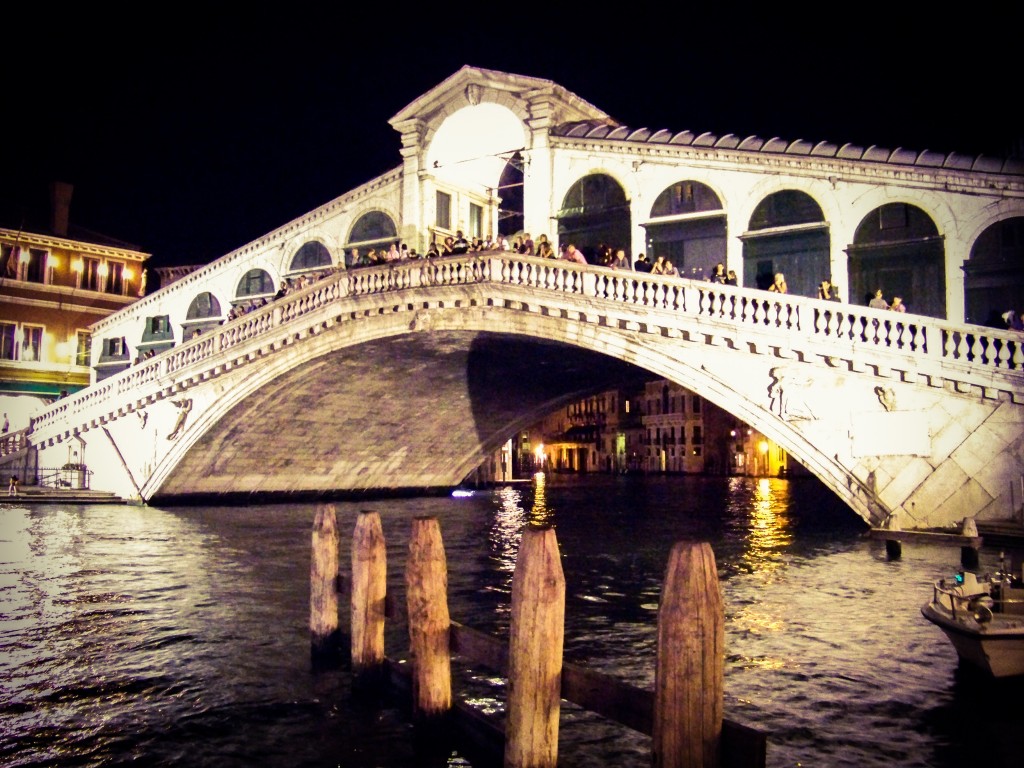 Glass.  So much glass.  It is impossible to visit Venice and not notice the amazing blown, twisted glass everywhere.  Of course there are shops to purchase glass and trinkets, but why not venture to where it's made.  Besides the main city area, there are several production islands close by.  Murano is the home of the glass blowers.  It too is all canals and colorful homes, but there aren't grand palazzos around every bend.  It's the home of the workers and the feel is much different than the main city.
Tip 5:  there are other islands to visit too.  Burano is the island for lace and interesting handiwork.  Torcello is the original island with the oldest architecture.  Cemiterio is also amazing.  It's the cemetery island and provides fascinating sights and creepiness.  Vaporettos are available to all of these.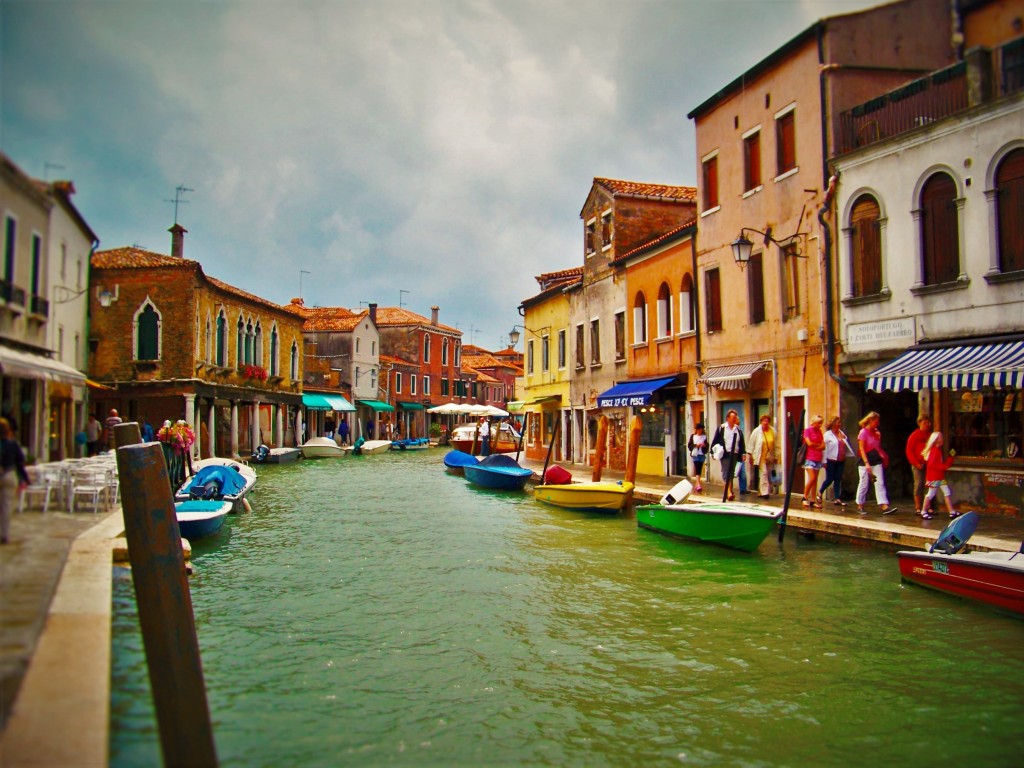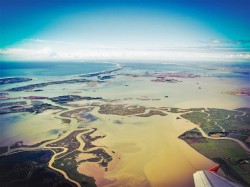 The final big thing we learned about visiting Venice is that it's the most inconveniently located place.  True, it's a short train ride from a few northern Italian cities, but if you want to head anywhere else from Venice, the train isn't the way to go.  Despite having Eurail passes, we purchased inexpensive flights back to Paris out of Marco Polo airport.  It was worth it to see Venice from the sky and not have to spend 24 hours on a slow train.
Tip 6:  EasyJet or Ryan Air provide affordable flights that are bookable same-day.  Take advantage of these if you're pressed for time.
Before you venture down the Grand Canal, take some time to watch a movie or two that's set in Venice.  Read some books that lead you to or through literary Venice.  I'll keep my recommendations short: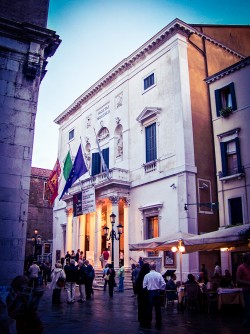 Watch:
Summertime, Katherine Hepburn – perfect to inspire you to just wander and relax in Venice.
The Tourist, Angelina Jolie – watch it for the sights and mood, not the storyline.
Read:
City of Falling Angeles, John Berendt – a non-fiction written in a fictional style.  It's captivating and makes you feel like you know the city like a good friend.

**Fun anecdote:  the book centers around the Fenice Opera House, its demise and reconstruction.  One night while walking through Venice, just wandering, we heard La Traviata echoing off every wall and alleyway.  We followed the music until it led us to the Fenice.  It was just as I imagined and completely sated my literary wanderlust.
Do you have any more tips to making Venice more enjoyable and relaxing?  Feel free to add them in comments or email to share!