We are blessed to live in Seattle, Washington. It's close to the ocean, mountains, countryside and several other metropolitan areas.  One of our favorite cities to visit is Victoria BC.  The city touts itself as being more British than Britain.  Well, I can't agree for certain, but it does a fine job of trying.
If you're visiting either Seattle or Vancouver , Victoria BC is well worth at least one day out of your trip.  Here's why: Beer.  No, I'll save that. Flowers. No, I'll save that too.  Basically, you'll see that there are so many reasons to visit Victoria BC.  Someday we'll share details about the rest of Vancouver Island, but for now…
If you want to book a hotel in Victoria BC…
The Victoria BC Inner Harbour
The Inner Harbour is beautiful. It is small with cute little water taxis bustling about. From sailboats to seaplanes, everyone makes port here.  The harbour also has stunning architecture surrounding it.  Even if you never get off a boat or enter a building, pulling into the harbour is worth it on its own.
Immediately you are greeted by the Parliament building and the Fairmont Empress Hotel.  Both are prime examples of grand Victorian architecture. In the immediate area there is also a notable collection of totem poles (integral to the Pacific coast experience).
We've been to Victoria in all four seasons and every time there's been some sort of festival or event happening around the Inner Harbour.  The coolest (har har har) was the street hockey tournaments that took place directly in front of Parliament in the street.  Really cool and oh so Canadian.
Tip:  the Inner Harbour is one of our favorite places to have lunch, especially on a beautiful day.  Carve our some time to enjoy watch the boats… and the tourists.
Transportation in Victoria BC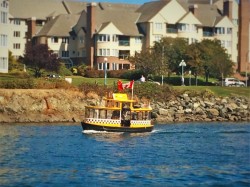 As I mentioned, once in Victoria there are water taxis that if they had cheeks, you'd want to pinch them, they are so cute. There are other boat options for getting to other parts of the island too, especially if you're venturing beyond the main harbour area of Victoria BC.  Depending on the time of year you're visiting, you may be wise to have overnight accommodations set up in another part of the island… if you are leaving Victoria proper.  You don't want to get lost or stuck in a random town and be unprepared, just sayin'.
Note:  if you do head northeast, you'll find that there are small car ferries that go between the small port towns.  Be sure if you head this way that you've made a good plan about getting back, as ferry service is limited.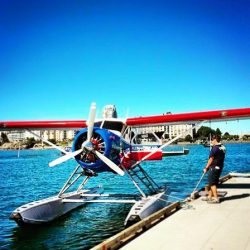 And seaplanes.  Oh the flights.  Our most recent visit to Victoria was via seaplane from Seattle on Kenmore Air.  The views were amazing from the air as well as when we were taxiing through the harbour.  Until you've arrived at a destination via seaplane, you don't know how special that form of transportation is.  It's mildly adventurous and really is memorable, offering stories that not too many people can replicate.
The best transportation in Victoria though is most definitely the bikes. Bicycles can be rented from vendors or borrowed from hotels.  The city is very bike friendly and has a vast network of off-street bike paths to get to the major sights.  The Galloping Goose Trail, paired with a few others, allowed us to safely bike from our hotel out to the Butchart Gardens and Brentwood Bay.  It was more fun and exercise than we planned on getting.
Tip: there is a bike rental shop directly adjacent to the Inner Harbour, making it easy to start your day with a bike and return it before you catch your boat or plane back to the mainland.
Amazing beer on Vancouver Island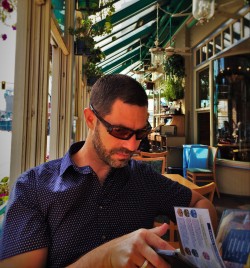 Being on the Pacific coast, Victoria BC joins its sister cities of Vancouver, Seattle and Portland in creating fine beers. For ease of experience, just head to the Swan Hotel and Brewpub for complex tastes that run the whole beer gambit.  There are microbrews from all over at almost every restaurant, but the Swan is our go-to establishment.
There are several other options, especially if you're leaving downtown Victoria BC, and I doubt any would disappoint.  We will be heading back up to Victoria soon, so if you have a suggestion for a new brewery to try, please leave it in the comments below!
Tip:  seek out a beer shop if you're really into it.  There are several options for purchasing local microbrews in bottles or growlers.  Check with the shop or customs office by the Inner Harbour to get the details about what can or cannot be taken back into the USA.

Tip 2:  if you're flying somewhere, find out what the current restrictions are on flying with fluids or alcohol.
Sailing and boating out of Victoria BC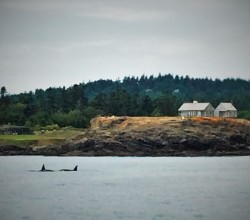 This is, of course, easiest if you have arrived via sailboat or have friends with a boat, but you can also hire sailboats for a day or a few hours.  If you would like to spend a day on the water, this is a great way to do it.
If you head east out of the harbour towards the mainland, there is a beautiful lighthouse to see.  And don't forget whales!  There are resident and transient orca pods that move around Vancouver Island and down into the San Jaun Islands (USA).
You can book excursions out of the Inner Harbour if you want to experience something more thrilling (like a jet boat) and some tours guarantee that you'll see whales, but anyway you roll, your time on the water will be magical and relaxing.
Tip:  check with the tour companies for whale watching conditions, such a Prince of Whales, prior to planning a day around seeing whales, as the season typically runs from early May to mid October and there are times when the seas aren't super calm and you may not love the experience.
Flowers and gardens of Victoria BC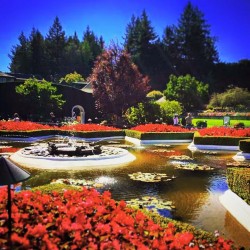 Butchart Gardens and Beacon Hill Park are two of the most amazing collections of botany I've ever seen.  Butchart is sprawling with blossoms and stunning landscape architecture.  The cost per person is a bit up there for a garden ($30+ USD) but the gardens
Beacon Hill has ornate, antique gardens as well as the tallest totem pole in the world and views of the Straight of Juan de Fuca that will make you lose yourself. In addition to these collections, Victorians know how to dress their streets and building facades with blooms.  The city is forever stunning.
Tip:  flowers will bloom until the end of September, so from March until the end of summer, you're good to enjoy them all across the city.

Tip 2:  Beacon Hill park is free to the public, and in addition to the incredible gardens, it is also home to the world's tallest totem pole.  It's really quite the sight to see.  The best time to visit the park is before sunset so that you can enjoy the grounds AND catch the sun setting on the Strait of Juan de Fuca.
Can you tell that we love Victoria BC?  It's true, which is why we keep on returning.  If you do feel like venturing out of the main city, it's quite easy to get to several smaller towns via bicycle or other means.  And if you're really up for exploring Vancouver Island, head north and spend a week camping or at a remote resort on the Pacific Ocean.
Beyond these Victoria BC sights there is much more to do, but this taste is enough to last you a day or longer, especially if you'd like to spend time in museums or just relaxing.  It cannot be stressed enough that Victoria has more sights and surprises than can be captured in a day, but don't let a short trip length discourage you.  Have a great time experiencing the city that's more British than Britain!
Ready to head to Victoria BC?  Book a hotel now!
Originally written as a guest post for the Aussie Flashpacker.