You need cold treats and desserts in Savannah. I'll be the first to say that Savannah is the summer is a blistering, moist, stank city, but I LOVE IT. The humidity and often stagnant air is tough to make it through if you're not used to it. On a hot day in Savannah, there's nothing better than cooling down in some AC with a delicious dessert.
Thankfully, the historic city has no shortage of ice cream and dessert shops. From iconic Southern staples to modern takes on classic favorites, there and awesome desserts in Savannah. Most of the best things to do in Savannah are in the historic core, so that's where we'll focus for our top picks for desserts and ice cream.
Like I always, these are our top picks, but if you have your own favorites that you want to share, leave a comment or send us a note. We're always updating articles and including new finds!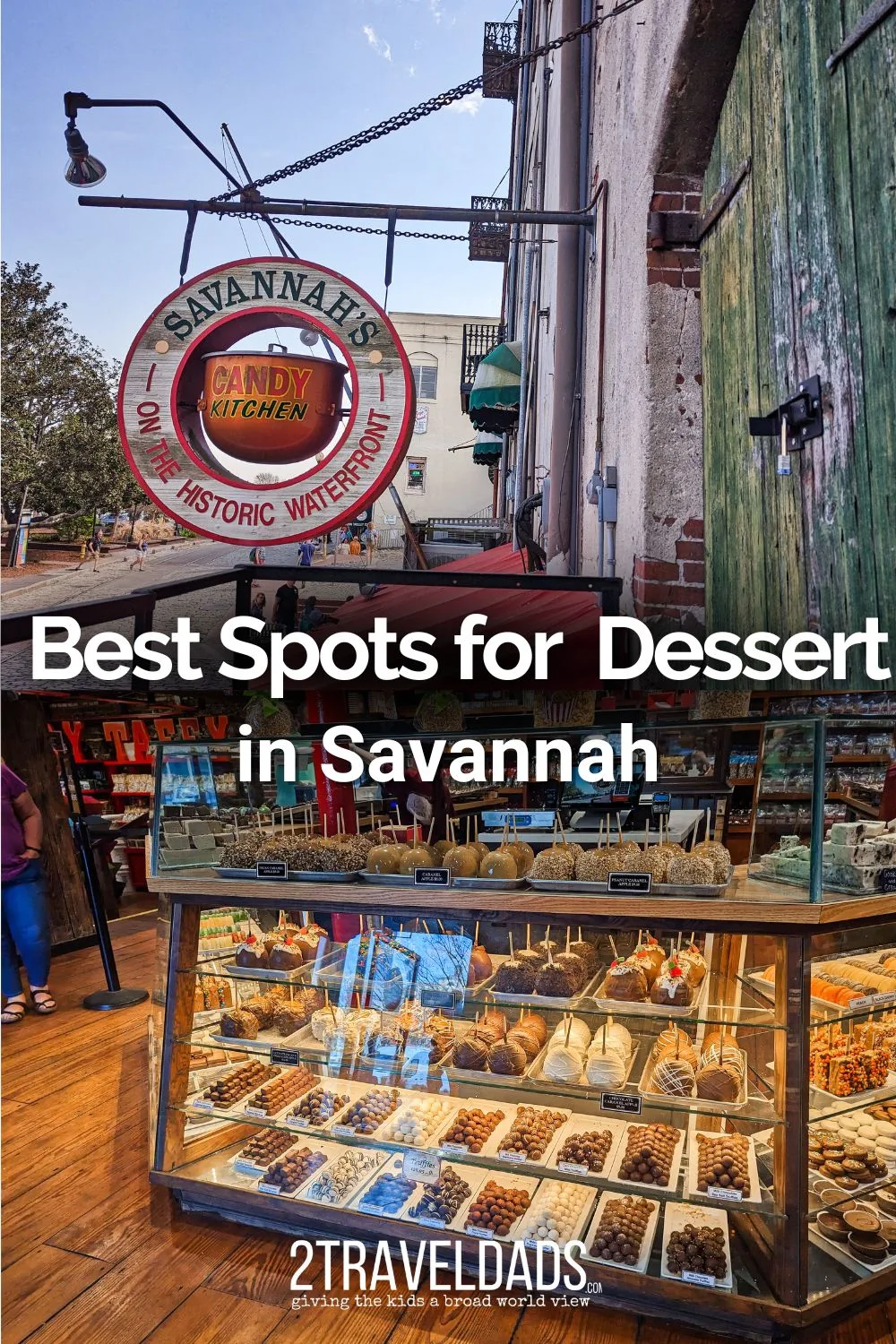 Savannah Ice Cream and Cold Desserts
I'll start here because if I'm talking about desserts in Savannah I have to go with with my kids always ask for, so what we enjoy the most. We're more into the cold treats that the delicate and fanciful desserts, but don't worry, I've got those to share too.
Leopold's Ice Cream
Let's start with the most famous dessert in Savannah: Leopold's! Leopold's is a classing when it comes to desserts in Savannah. It opened its doors in 1919. This old-fashioned ice cream parlor is a must-visit for anyone with a sweet tooth. Be sure to try one of their classic flavors like butter pecan or lemon custard, which I think are both southern dessert gems. Heads up, even on mellow, not-hot days there is a ling at Leopold's Ice Cream. I think it's worth a 20 minute wait.
Tip: there is a walk-up window to get Leopold's ice cream at Collin's Quarter in Forsyth Park, just in case you need it…
Leopold's Ice Cream is located on Broughton at Abercorn, next to the SCAD Theater.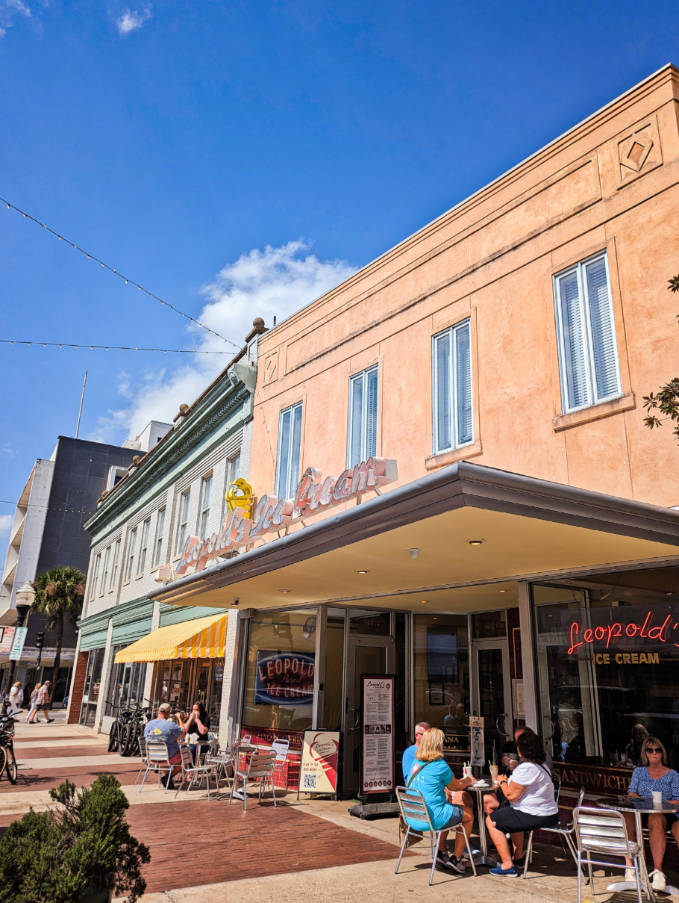 District Gelato in Plant Riverside
District Gelato is a must-try when visiting Savannah's Plant Riverside area! They offer a unique and unparalleled experience, with delicious gelato that is made fresh daily. The bestsellers are the chocolate and strawberry flavors, but many other great options rotate through the menu which all are displayed in the traditional Italian gelato shop style. The store is also very unique, with a fun and inviting atmosphere. It's the perfect place to enjoy a sweet treat!
We like to sit at the outdoor counter with crazy mirrors. This is the perfect stop after you've toured the museum style lobby of the JW Marriott Plant Riverside next door. It's a great summer afternoon plan and some of the best desserts in Savannah.
District Gelato is located just a few feet off the Savannah River in the Plant Riverside complex. It's very near Graffito Pizza, one of our favorite Italian restaurants in Savannah.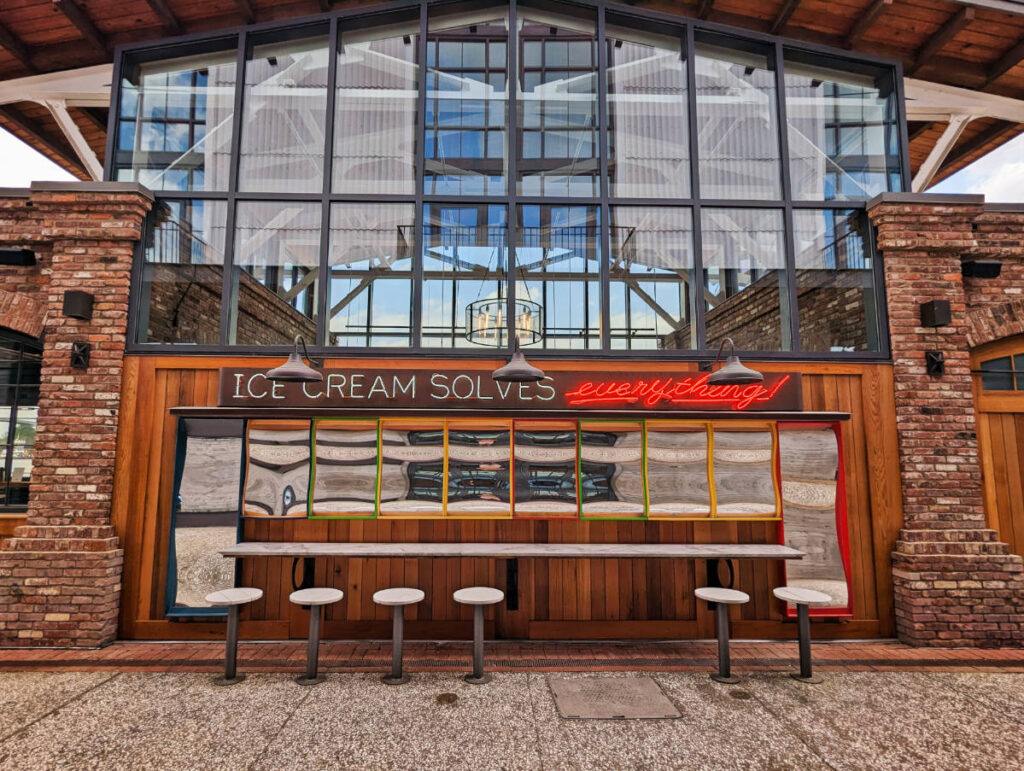 Ben & Jerry's Ice Cream
At Ben & Jerry's in Savannah Downtown, there is a focus on giving their customers the best ice cream experience possible. There is also a location in Key West and St. Augustine that are favorites! They have a wide array of incredible flavors for you, including some all-time bestsellers like Chocolate Chip Cookie Dough and Phish Food. What makes their store unique is their commitment to using only the highest quality ingredients in their products. The restaurant believes that ice cream should be enjoyable for everyone, so visit and check out what all the fun is about!
NOTE: Ben and Jerry's has been a consistent supporter of the LGBTQ community, women's rights, and continually speaks up about important social and political injustices. For that, we we ALWAYS support them and their delicious ice creams.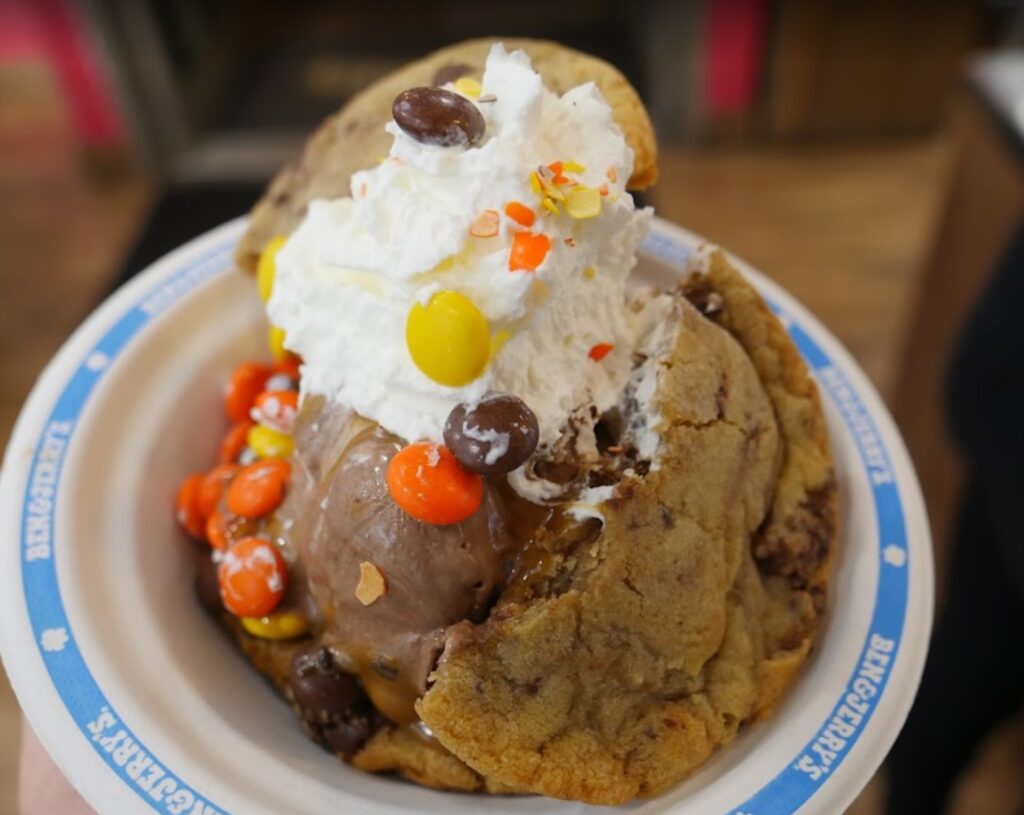 Hokulia Shave Ice – Hawaiian Stye Savannah Dessert
Who doesn't love Hawaiian shave ice? While the best place to get this famous dessert is for sure either on Oahu or on the Big Island of Hawaii (Hilo is my favorite!) Hokulia Shave Ice does an awesome job. On a hot day, this is one of the best desserts in Savannah. And don't worry, you can get ice cream here too.
Located on Broughton Street at the east end of the main downtown Savannah strip, this is an easy place to cool off if you've just walked the Riverfront and have climbed back up to the level of the rest of the city. This is also really close to the Davenport House and Museum.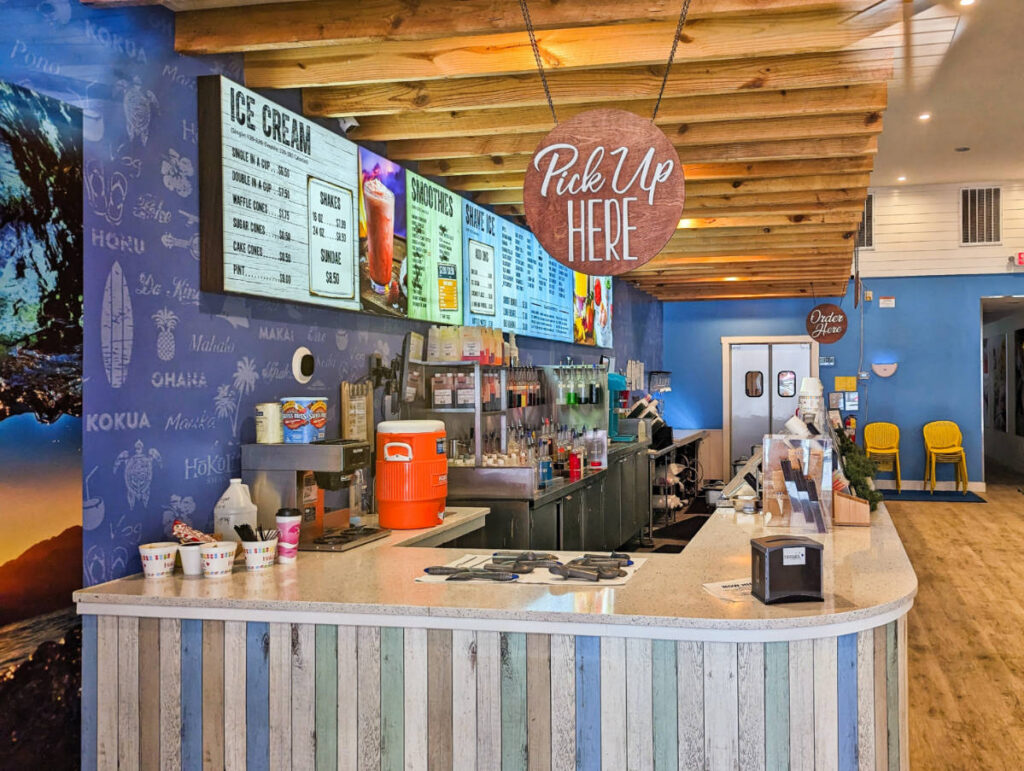 More Desserts to Try in Downtown Savannah
Since not everyone is into ice cream and cold stuff, we've got plenty of other spots to share for awesome desserts in Savannah. Remember, because bakeries and sweet shops are dining establishments, their offerings may change from time to time, but either way, I'm sure you'll still find delicious desserts with menu changes.
Savannah's Candy Kitchen
This spot is aptly named as it specializes in both candy and Southern-style desserts like pralines, fudge, and pecan pie. In addition to packaged desserts, Savannah's Candy Kitchen also offers samples! Here's a fun task: stop into the Candy Kitchen and get some praline samples, then go to River Street Sweets and get samples… then eat them all and try to decide which is your favorite. The pralines from Savannah's Candy Kitchen are one of my favorite desserts in Savannah.
I struggle to pick which treat is my favorite, but the I think the pralines will always win if I'm rushed. Their candy counter is overflowing with sugary delights, making it hard to choose just one (or two…or three…), but we recommend their dark chocolate sea salt caramels or handcrafted chocolate truffles.
Note: there are actually several Savannah's Candy Kitchen locations – City Market, Riverfront, and then other cities throughout the South, including two locations in ATL.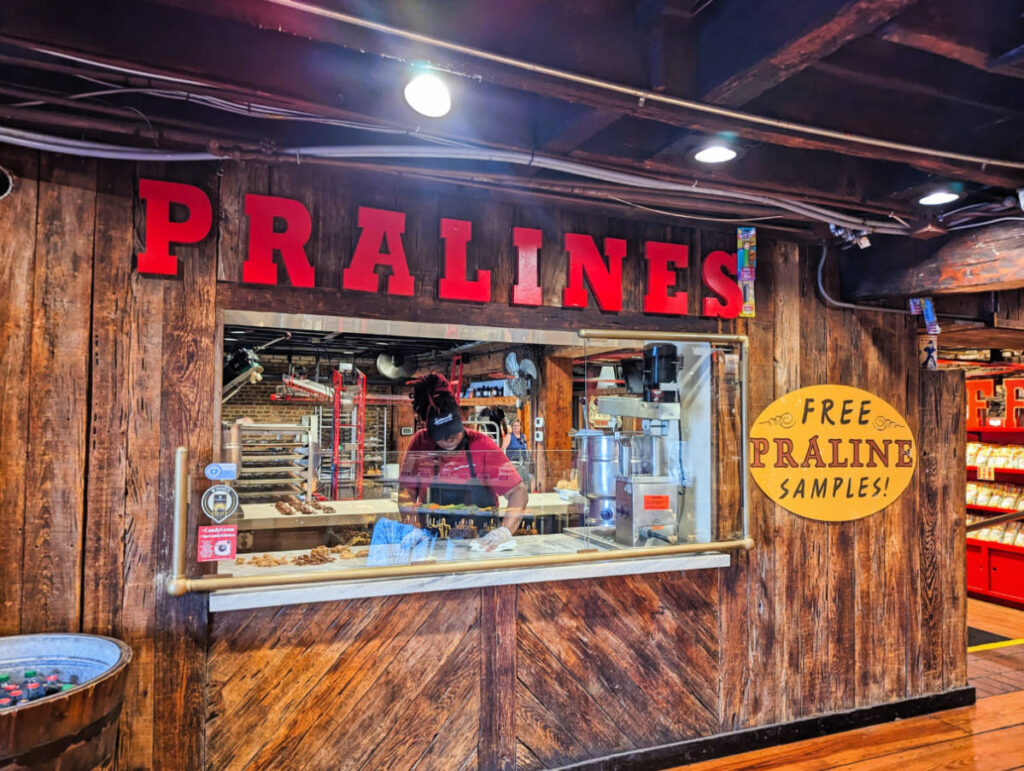 River Street Sweets
If you're looking for a uniquely Southern candy experience, look no further than River Street Sweets in Savannah Downtown. This famous shop is known for its delicious pralines, fudge, and other sweet treats – all made fresh daily. In addition to its eat-right-now sweets, River Street Sweets also offers a unique shopping experience and you can get all kinds of good stuff packaged up to take home or ship.
When you visit, you'll feel like you've stepped back in time – and you'll be able to sample some of the best candy in the South! Like I said above when I was talking about the Savannah Candy Kitchen, you should try praline samples for River Street Sweets AND the Candy Kitchen side by side and see which you prefer.
Note: there are a few River Street Sweets locations in Savannah: Broughton Street, River Street, Habersham and then also the production facility. And then if you're up in Charleston…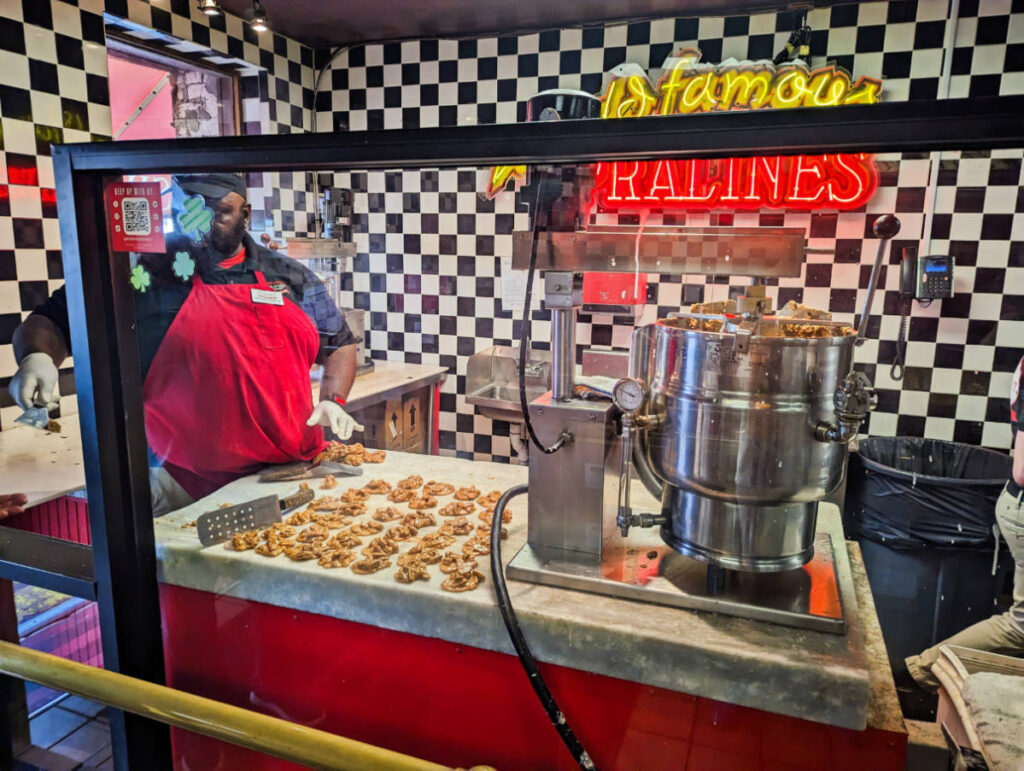 Le Macaron French Pastries
Le Macaron French Pastries in Savannah Downtown is known for its delicious macarons and unique atmosphere. We also noted it as one of our favorite bakeries in Savannah. The store is decorated with fun antique furniture, color pops and photos of Paris. The macarons are handmade and come in various flavors, such as raspberry, chocolate, and vanilla. The store also offers other French pastries, such as croissants and eclairs.
Yes, Le Macaron is a chain and you'll find them all over; there's one in St Augustine too. Their desserts are still delicious and we still stop in for treats quite often.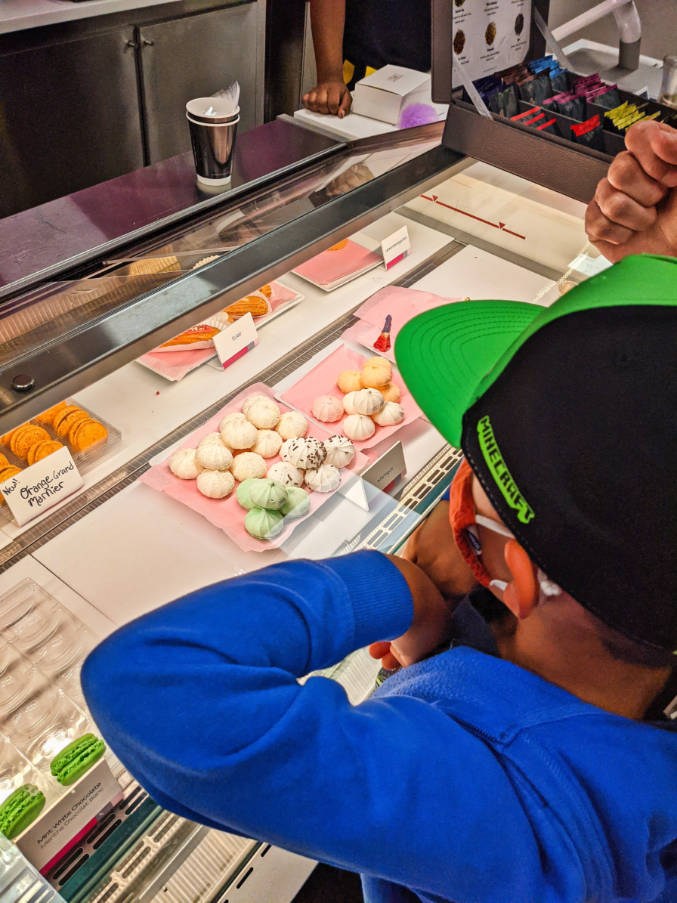 Goose Feathers Café and Bakery
I know, we've featured Goose Feathers in our favorite downtown Savannah restaurants, Savannah coffee shops, Savannah bakeries, and now desserts. It's for good reason! Goose Feathers consistently has the best sweet baked goods, both to enjoy in the café or to take with you. They make a coconut cream whoopie pie that I can't NOT get each time we visit. I love it! I may need to attempt something similar using my whoopie pie recipe.
Goose Feathers Café and Bakery is such a Savannah staple. It's our go-to for breakfasts also, and when we leave on a road trip, we always stop in for breakfast sandwiches for the road. If you're here looking for the best desserts in Savannah, besides the cookies and sweet breads, you'll be able to get pie, cakes and whoopie pies. Enjoy!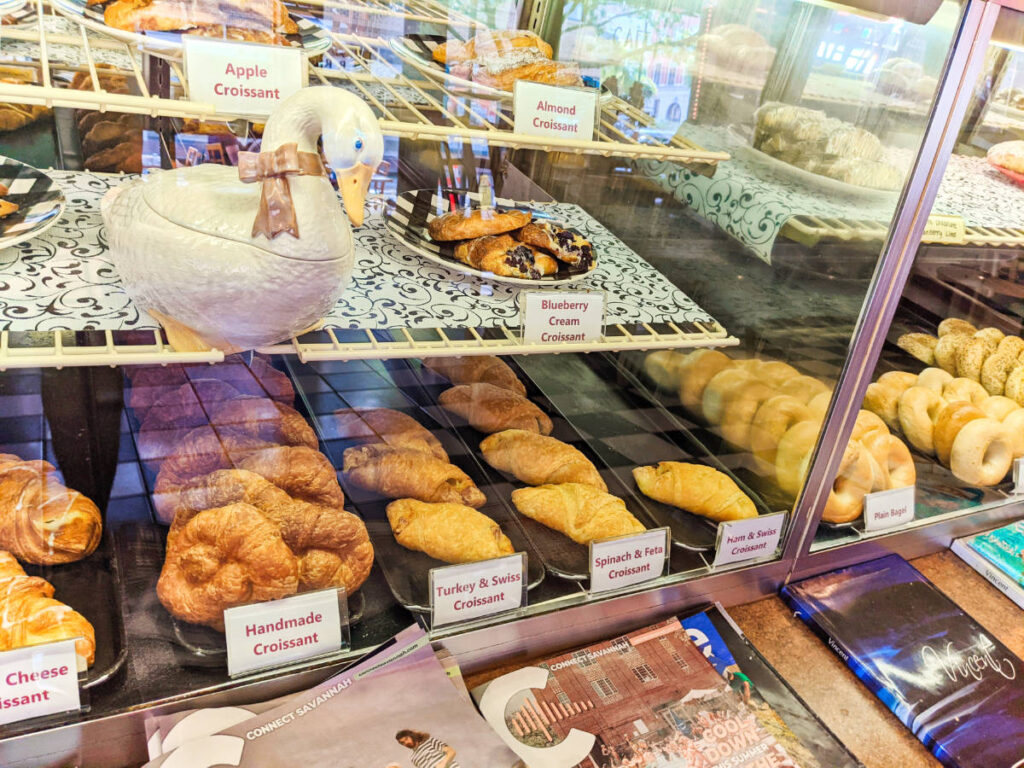 Lulu's Chocolate Bar
Lulu's Chocolate Bar is Savannah's premier destination for artisan chocolate and confections. They offer a wide variety of chocolatey treats, including truffles, tortes, cakes, hot chocolate, and chocolate cocktails. They also have a selection of gluten-free options, so there's something for everyone to enjoy. The cozy restaurant is perfect for relaxing and enjoying a sweet treat.
Lulu's is located on MLK, very near the Georgia Railroad Museum and Coreleon's, which is one of the best Italian restaurants in Savannah.
The Peach Cobbler Factory
The Peach Cobbler Factory in Savannah Downtown is a must-visit for anyone looking for something cobbler themed. This unique dessert café specializes in peach cobbler, but then things spiral into milk shakes and other sorts of cobbler. I think of cobbler as a southern dessert… or what you find in Montana, so if there's an option to stop in and get a serving of cobbler with ice cream on top, do it!
The Peach Cobbler Factory is located on Barnard between Broughton and Congress.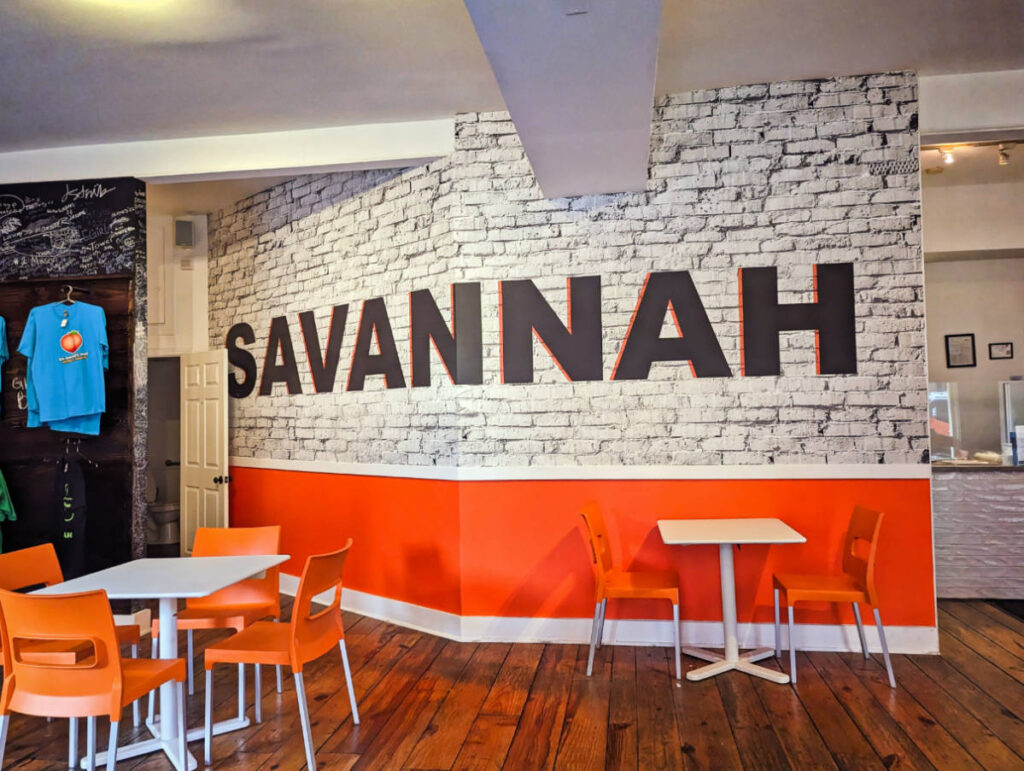 No visit to Savannah is complete without treating yourself to some delicious desserts (and we'll have our favorite cocktails coming soon). If we didn't include your favorite dessert spot in Savannah, leave a comment or send us a note. We try to go everywhere and try everything, but we can easily miss hidden tasty treats, so share what YOU love!