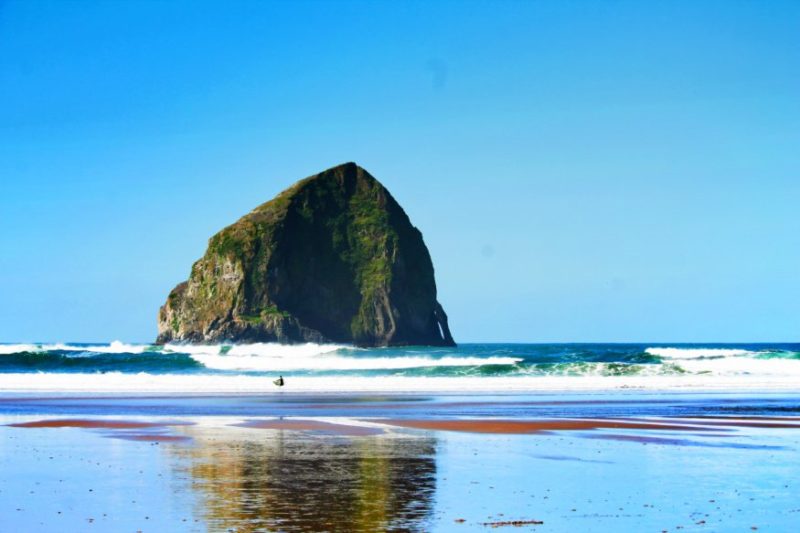 Oregon Coast Road Trip: Oregon beaches and sights from north to south
With so many ways to do a road trip you can take almost any approach. We just did it with two kids so we are ready to share exactly how to get the most from the Oregon Coast. Doing an Oregon Coast road trip is really fun and very easy. There are zero chances to get lost and 1000 opportunities to fall in love with the nature and nautical sights along the way as you explore Oregon beaches.
Have you done the Oregon Coast with kids? Want to see what we did to keep them entertained as well as give us parents things to look forward to with each stop? Here's how you do an Oregon Coast road trip with kids that's good for the whole family no matter the season.
Complete Oregon Coast Road Trip Itinerary
Like with any itinerary, take this one with a grain of salt and update it for your own family. We like to visit the Oregon beaches, breweries and lighthouses, so this Oregon Coast road trip itinerary has a healthy mixture of nature and culture. And like any jaunt through small town America, you'll be tempted to stop in places we don't mention and to find your own foodie spots. Go for it! Road tripping is all about fun and new experiences and the Oregon Coast is no exception!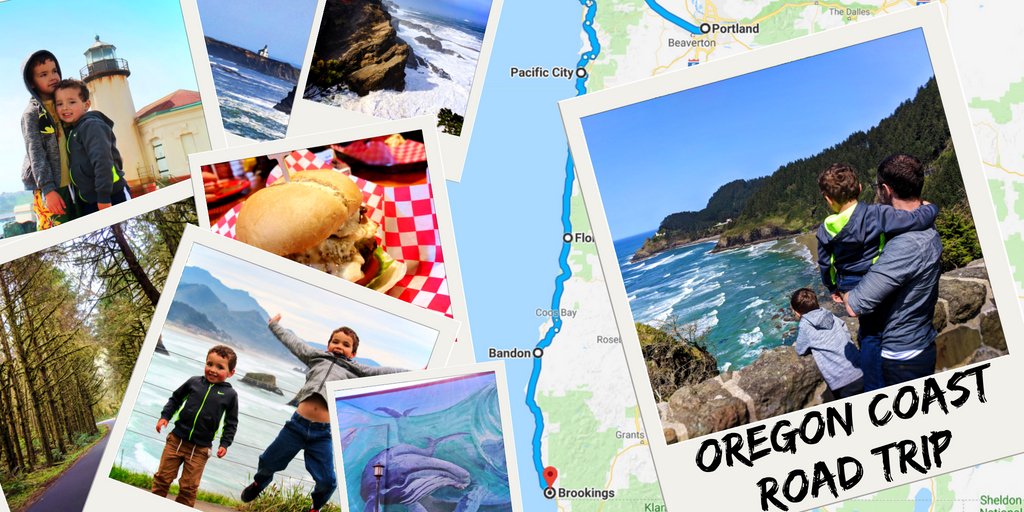 Portland, Oregon to start the road trip
In the last few years Portland, Oregon has really grown in popularity. Is it the food or the beer or the wine or the hipsters? I don't know, but we love it for lots of reasons. Portland is an ideal place to start your Oregon Coast road trip. Before you head out to the beaches, spend a day or two exploring the city and enjoying Portland's food scene. FYI, there's more to Portland than Voodoo Doughnuts.
If you're all about the city, Portland's downtown has a nice shopping core and lots of great dining (loved Bamboo Sushi), but the neighborhoods is where it's at! Check out northeast Portland for more great food, neighborhoods you can stroll through and even book a spa day at the local Finnish spa (without kids though).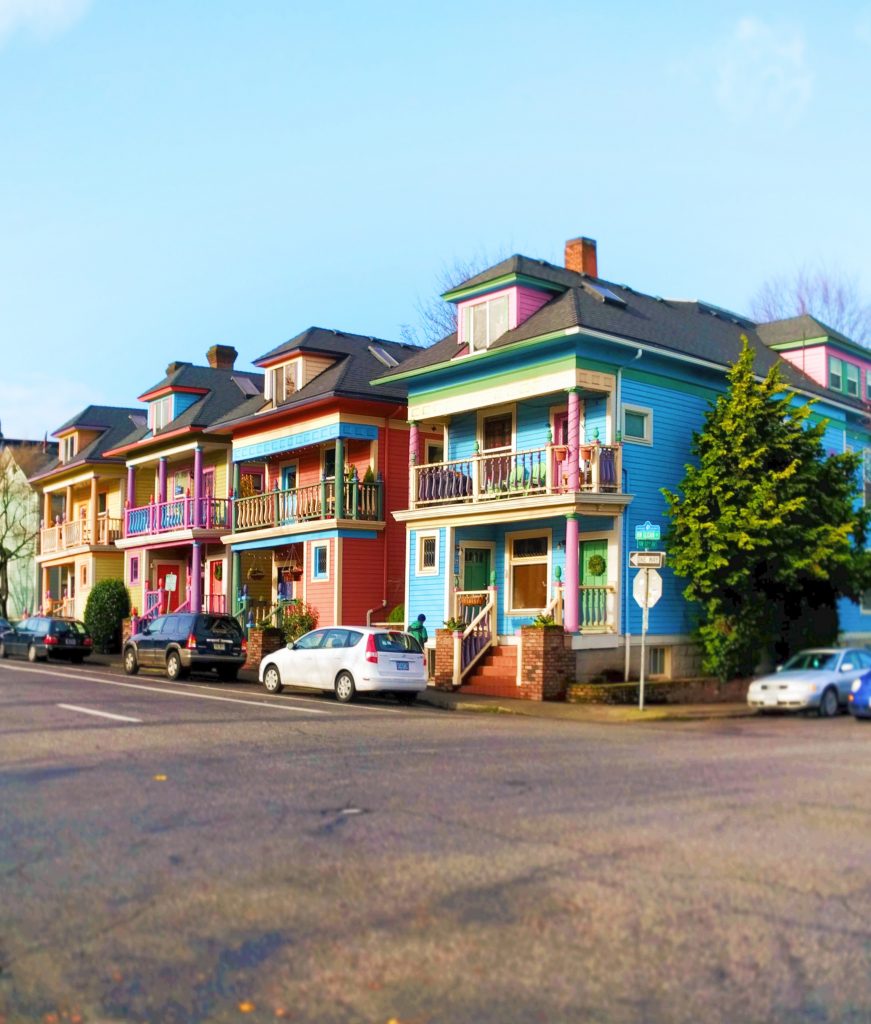 Family friendly Portland activities include the Oregon Zoo and Portland Children's Museum (right next to each other), exploring the Pearl District and markets in Old Town, and hiking in MacLeahey Park.
Hiking idea: The Witch's Castle hike is really fun and beautiful and it's just outside of downtown. Easy 1.5 miles round trip and full of moss, streams and the ruins of what looks like a forgotten fortress. Trail-head is in Macleay Park from the UPPER trail area.
Note: you don't see us recommend a lot of zoos because many are not up to date and have exhibits that don't give the animals much space. The Oregon Zoo has made many improvements over the years, including a lot of construction right now, and boasts some of the best habitats we've seen in any zoo. Also, the Oregon Zoo is a part of several conservation programs, including the California Condor breeding program and the Pond Turtle release program, both of which are a huge part of re-establishing species back into their native territory.
There's more to Portland, but these ideas will get your Oregon Coast road trip off to a great start!
Bonus plan: for some extra time and beauty in the Portland area, do the Columbia Gorge Waterfall Area. This mini-road trip takes you along historic Route 30 and and is full of waterfalls, including Multnomah Falls, and lots of great hikes.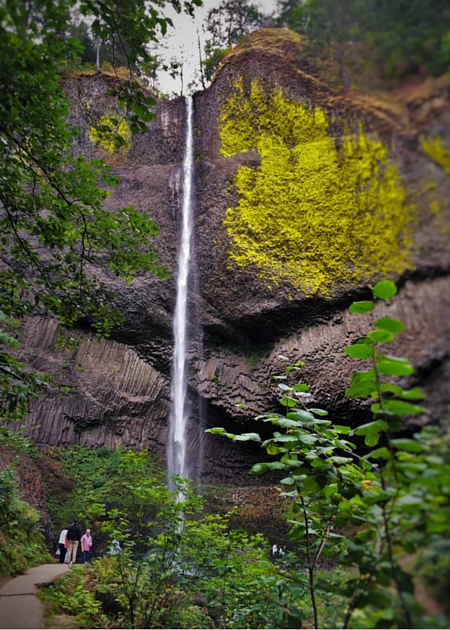 Exploring Oregon's North Coast
We're diving into where we hit the coast on our most recent trip, but you can also alter our route and head to the very northern tip of the Oregon Coast to visit Astoria, Lewis and Clark National Historic Park and Seaside, Oregon. There are some great spots to stop for getting your Goonies fix and enjoying the sleepy side of the coast.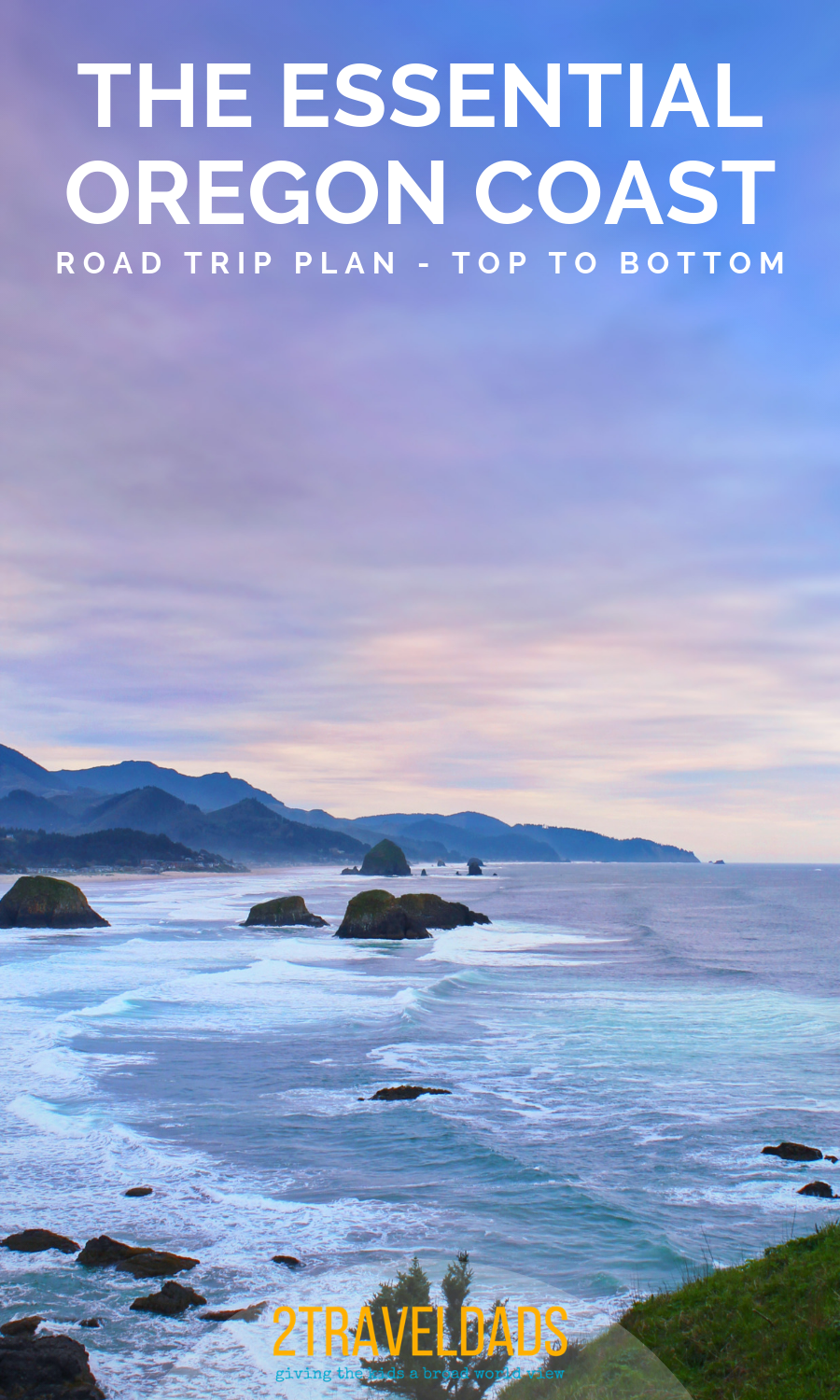 Astoria: Goonies, shipwrecks and Oregon beaches
Leaving Portland, you'll come to Astoria and it'll look really familiar. Goonies, Kindergarten Cop and other films have used the town as their backdrop. A combination of shipping and timber history means there are some gorgeous Victorian homes and a fun feel to the town. Highlights in Astoria include the Oregon Film Museum, Flavel House, and having a seafood lunch on the Astoria riverfront.
From there, hit up Fort Stevens State Park and Fort Clatsop in Lewis and Clark National Park to add an extra dash of history (and costumes at Fort Clatsop). Fort Stevens has some wonderful dunes to hike and it's also got one of the Oregon beaches you can drive on. Check out our full article about Oregon Coast camping with KOA Astoria!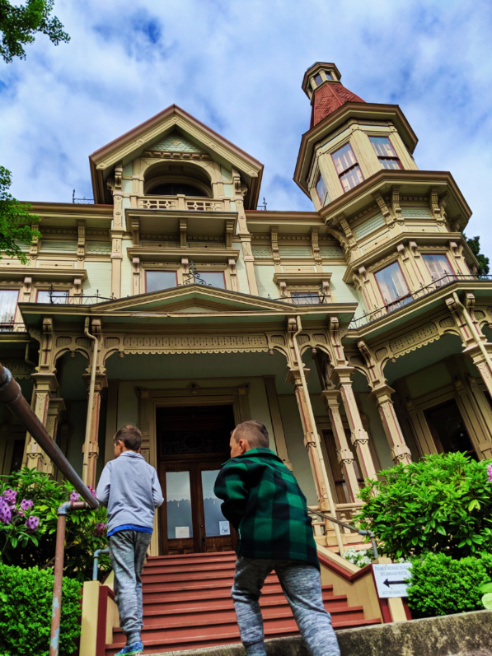 Seaside, Oregon: the Coney Island of the west
The town of Seaside is just what you'd expect of a west coast beach town: lots of seafood, pizza, carnival games and expansive Oregon beaches for relaxing. Parking can be a bit tight in town, so plan to either park a ways away from the beach or get there early. Highlights in Seaside include the best Bloody Mary in Oregon at Big Kahuna Pub and Grill, the Fascination ball game shop (it's a MUST!), and of course the beach! The town reminds me of Ocean Shores or Westport, WA, but it's got its own flare.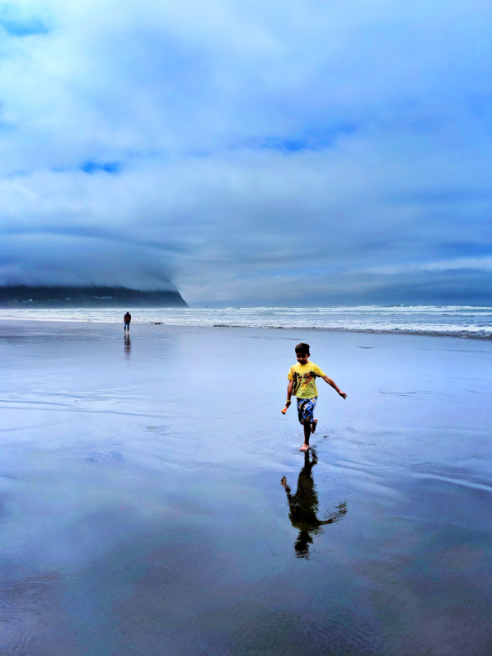 Cannon Beach, Oregon: views and brews
We always think of Cannon Beach as the place where One Eyed Willy's boat set sail at the end of the Goonies, so naturally that's where we started. Ecola State Park is just north of downtown Cannon Beach. It's a must-visit.
In addition to the beautiful view of the sea stacks off Cannon Beach and beyond (epic sea mist for photos), there are some awesome hikes and beautiful beaches. While the weather erosion on the point at Ecola State Park has damaged many of the trails to the end, there are still hiking opportunities out of the Indian Beach area. And Indian Beach is actually our first beach stop on our Oregon Coast road trip.
Beach stop: Indian Beach at Ecola State Park in Cannon Beach is at the end of a two mile winding road through the coastal forest. You can hike the trails to other beaches or just head down the boardwalk trail to the beach. It's full of driftwood, shells and a few streams, so it's beautiful and perfect Oregon Coast. The sand is gorgeous and the cove makes for a great kid-friendly beach.
Note: if you see what looks like thousands of plastic pieces on the beaches of Oregon and Washington, know that they are actually dead jellyfish, not trash. They will sometimes swarm and get washed ashore, drying up and dying. It's gross and cool at the same time.
Views not to miss: from the main viewpoint area at Ecola State Park watch the sunset facing south to see the shadows the sea stacks cast. Also from the same area, veer to the north a few hundred yards and sneak a view of the Tillamook Head Lighthouse 1.2 miles off shore (sorry, you can't visit it).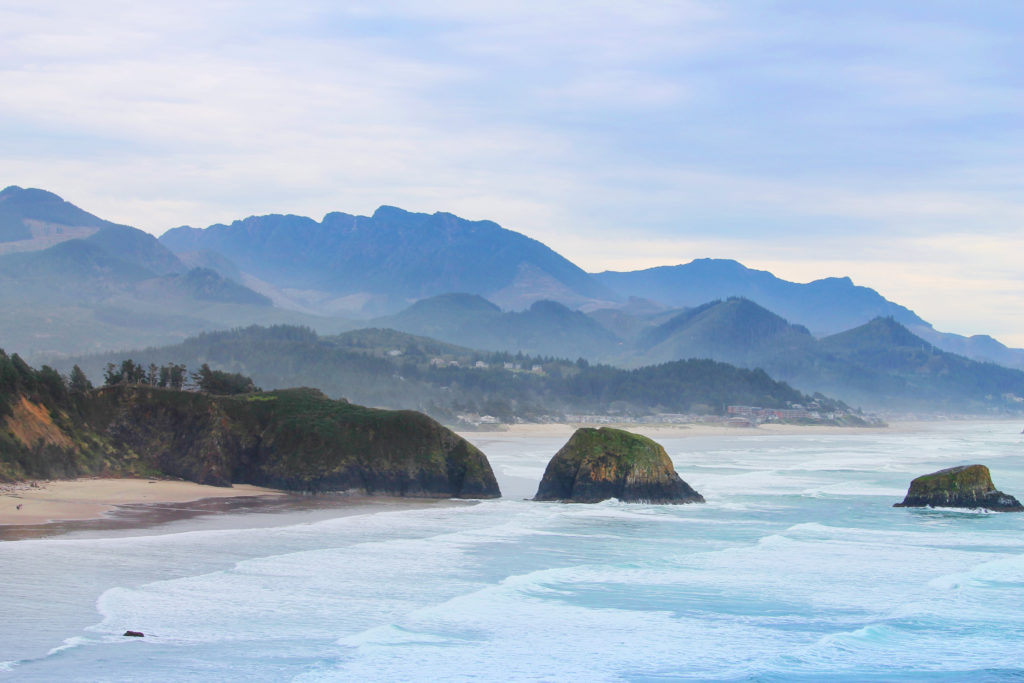 Public Coast Brewing in Cannon Beach
Every town in Oregon has a brewery, I swear, and some have ten. Our pick for great micro brews in Cannon Beach is Public Coast Brewing. It's just outside of the main touristy area of Cannon Beach, but not too far. Walk the block and a half to enjoy their IPAs and burgers.
FYI, dining in Cannon Beach is more expensive than you expect because it's the closest beach town to Portland, but most places will make sure the value matches the cost. At Public Coast Brewing we had $13 hamburgers that came with nothing but the burger on its own was worth every penny.
Recommendation: the Sitka Burger and an Imperial IPA. Delicious combo and a perfect example of Oregon Coast brew houses.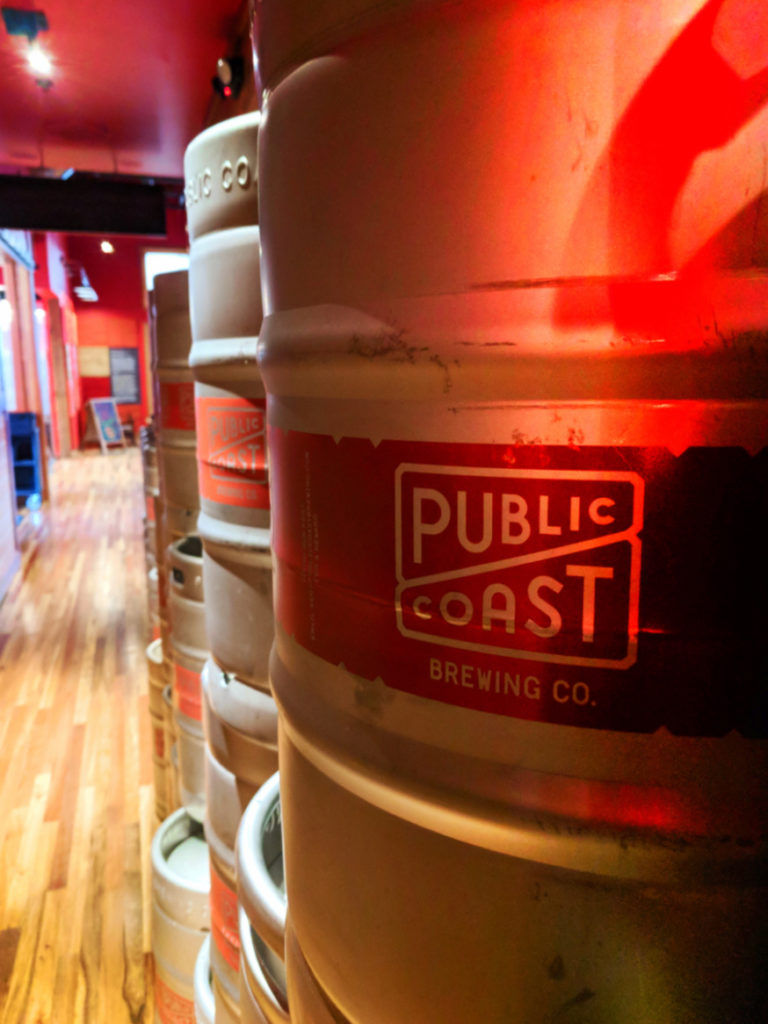 Cape Meares Lighthouse
Heading out from Cannon Beach on our Oregon Coast road trip, our next stop is the Cape Meares Lighthouse. If you're looking at lighthouse stats and features comparing them all around the USA, you'll not think twice about visiting Cape Meares Lighthouse. Here's why you need to make the stop: you can get right up close to the beautiful, intricate first order Fresnel lens. It's awesome, especially with kids that like to see how things work. And the view of the Oregon beaches from the lighthouse is awesome.
Also to check out: the tiny town of Garibaldi has some great little seafood shops and places for nautical knickknacks.
Local activity: whale watching out of Garibaldi is ideal in the spring and fall when the grey whales are going past. If you're lucky, you might get to see minke whales, transient orcas or even the random blue whale (with crazy good luck!).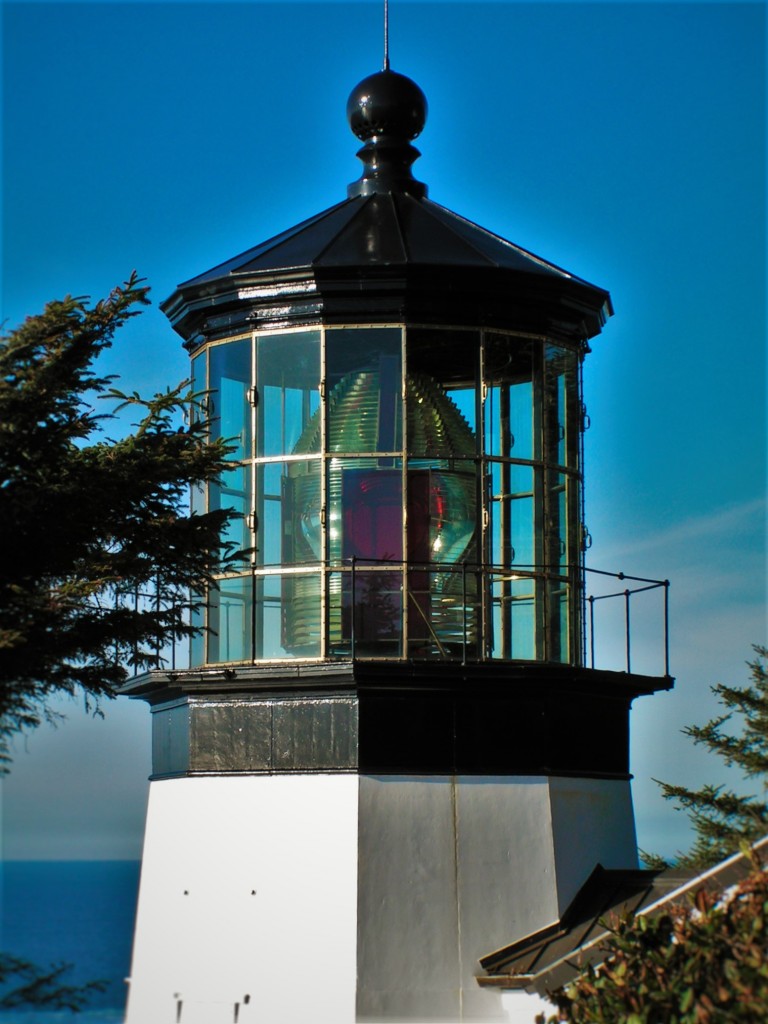 Tillamook and all the cheese
Find me somebody that grew up on the West Coast and you can bet they've been to the Tillamook Cheese Factory. Tillamook Cheese and ice cream and butter and everything else are staples in West Coast homes. They are delicious and pretty darn wholesome. And you can visit the factory for bottomless samples! #cheesedork
Our favorite thing to try and buy (every time) are the cheddar cheese curds. When we went to Wisconsin the cheese curds were always fried and served with dipping sauces. On the Oregon Coast (and up in Washington too) we like our curds fresh, squeaky and cold. Delicious. On our most recent trip we got to try a new cheese, the first new cheese offering from Tillamook in many years: Cape Meares Cheddar. It was like a tangy Gruyere and for a cheese lover, it was to die for.
Note: there is a new visitors center at the Tillamook Cheese Factory. You NEED TO VISIT to see how it all works and… because cheese.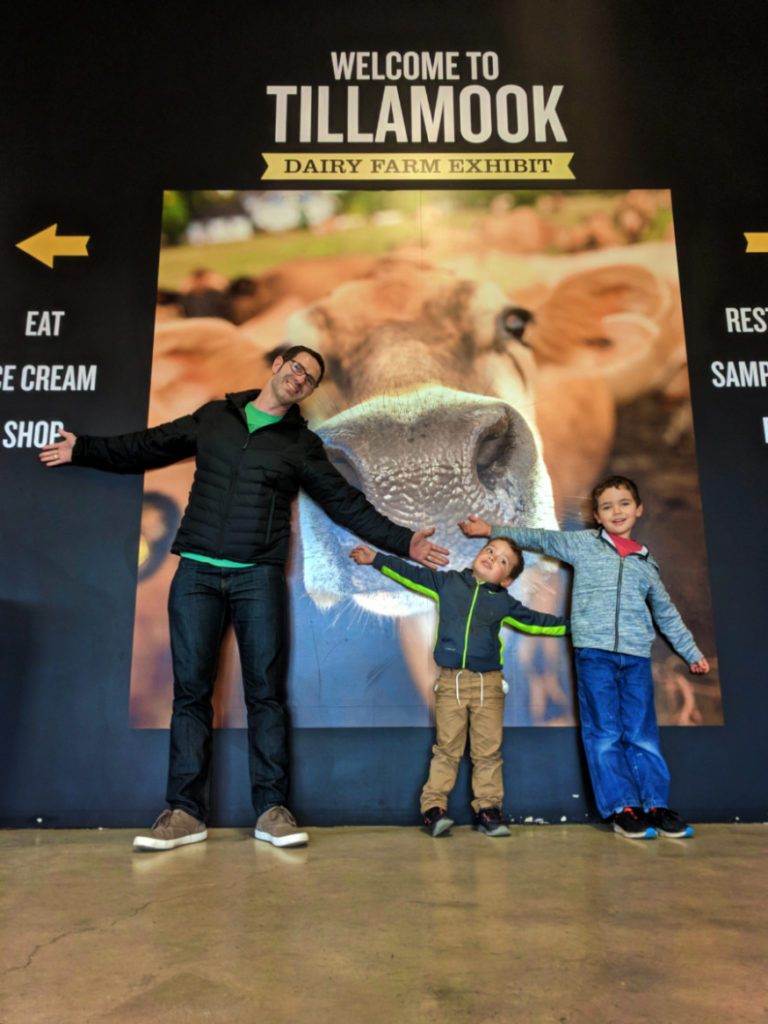 Pacific City: the gem of the Oregon Coast road trip
Once upon a time in my teens I thought it would be cool to take a little detour on my own crazy Oregon Coast road trip and drive on the beach when I got to Pacific City. It was perfect! Designated areas for driving, very flat beach area, gorgeous view to enjoy… and then the tide came in and I sank and had to wait, full of anxiety, as the winch truck drove from an hour away to rescue me… as the waves lapped at my Blazer's tires. Everything turned out okay, but I ended up staying in Pacific City.
Fast forward twenty years and Pacific City, Oregon is the perfect Oregon Coast destination with kids! We like to break up our road trips with downtime and having a home base, so Pacific City served for that on our most recent Oregon Coast road trip. We rented a VRBO right downtown and enjoyed beach time, tide pools, kite flying, and sunsets.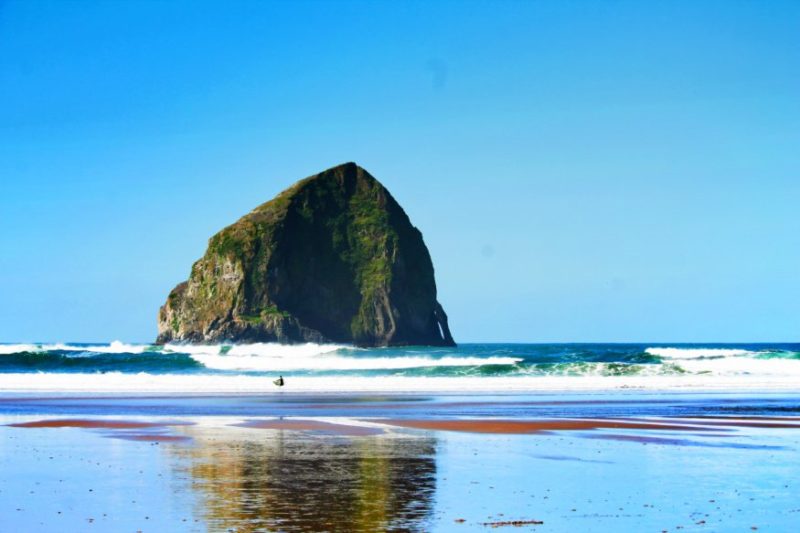 Cape Kiwanda and picturesque Oregon Coast views
Pacific City is located just to the south of Cape Kiwanda, a breathtaking cape jutting out into the Pacific Ocean. It is a protected area, but you can climb its dunes, hike its trails and explore the tide pools all around the base. The best time to sit and appreciate this perfect site is at sunrise. With the sun coming up behind you, Cape Kiwanda glows orange unlike any other piece of coast we've seen. It's beautiful and romantic (if you're into that).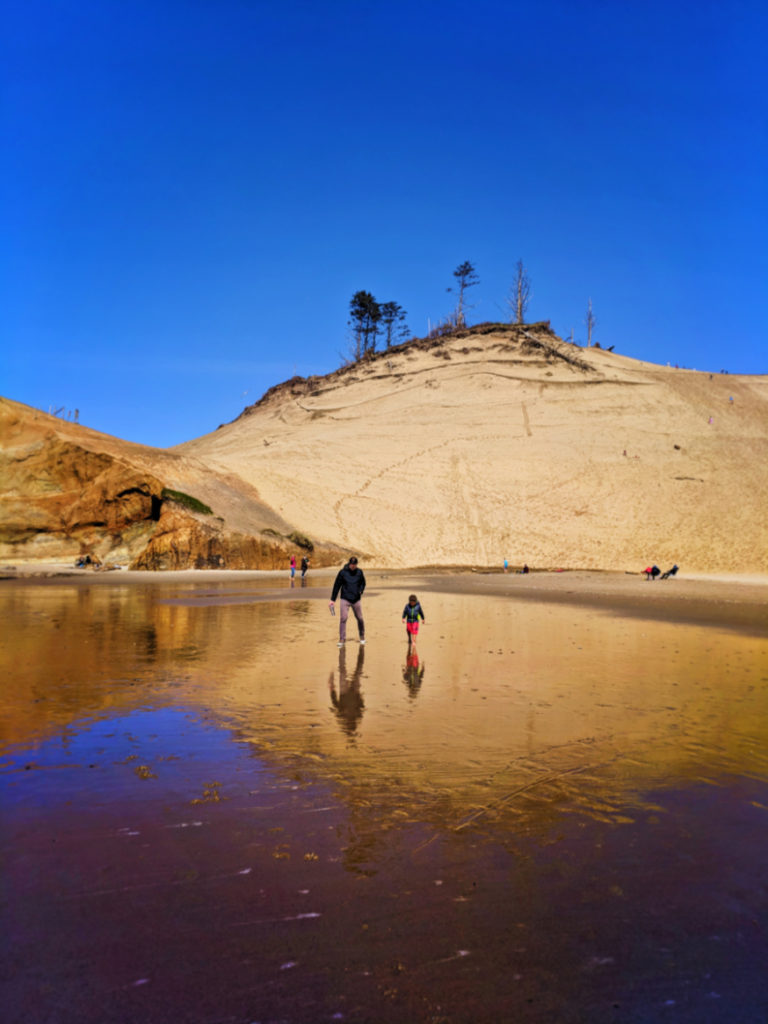 Brews at the Beach in Pacific City
Of course we enjoyed the local brewery in Pacific City! Our VRBO was less than a block from the Pelican Brewery so we took full advantage of it for our weekend of relaxation. With more than 15 beers under their label, Pelican Brewing Co has some great standards and seasonal options at all times. The Umbrella IPA was our favorite.
Tip: if you stop at a brewery you love, get a growler of your favorite beer on tap to enjoy at your place or the beach (confirm open container laws before drinking in public). You can reuse your growler as you continue on your Oregon Coast road trip! NEVER DRINK AND DRIVE.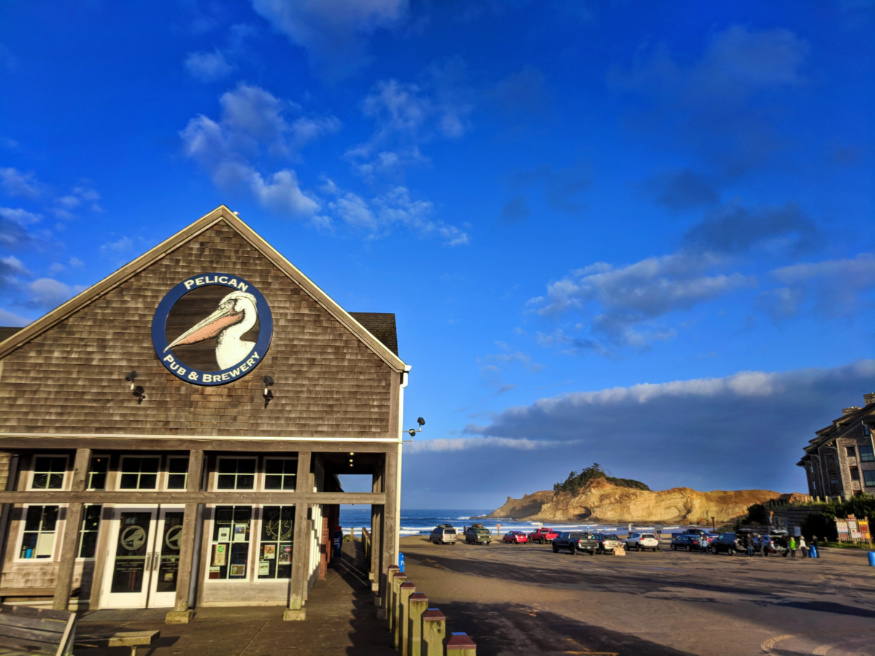 Central Oregon Coast road trip highlights
You're now at what we think of as Oregon's Central Coast. Here is a perfect mix of lighthouses, Oregon beaches, hiking and fishing villages. If you're flying into Eugene, OR, this is the part of the coast that's easiest to get to and also makes for a great home base if you want to stay one place for several days.
Zoom out on the map below to check out hotel options along the Central Coast and some of the best Oregon beaches.



Yaquina Head Lighthouse
As you leave Pacific City you start to head down into the more rugged parts of the Oregon Coast. The Yaquina Head Lighthouse is a state protected area inclusive of hiking trails, cliffs, tide pools, an interpretive center and, of course, the tallest lighthouse in Oregon. A stop into the visitors center is required to get the lowdown on Oregon's lighthouse history as well as to learn about the wildlife of the area, including the migrating whales.
Tip: you MUST stop into the visitors center if you want to get onto one of the lighthouse tours. The Yaquina Head Lighthouse is only open to the public via tour. They do have a height restriction of 42" to participate (small kids can't go up). This is common with tall lighthouses (check out our visit to the St Augustine Lighthouse).
Even without going up into the lighthouse, stopping at Yaquina Head is really cool. Watching for whales, visiting the tide pools and observing the harbor seal colony below all make it a great stop with kids. Make sure you bring your binoculars to spy whales both up close and on the horizon.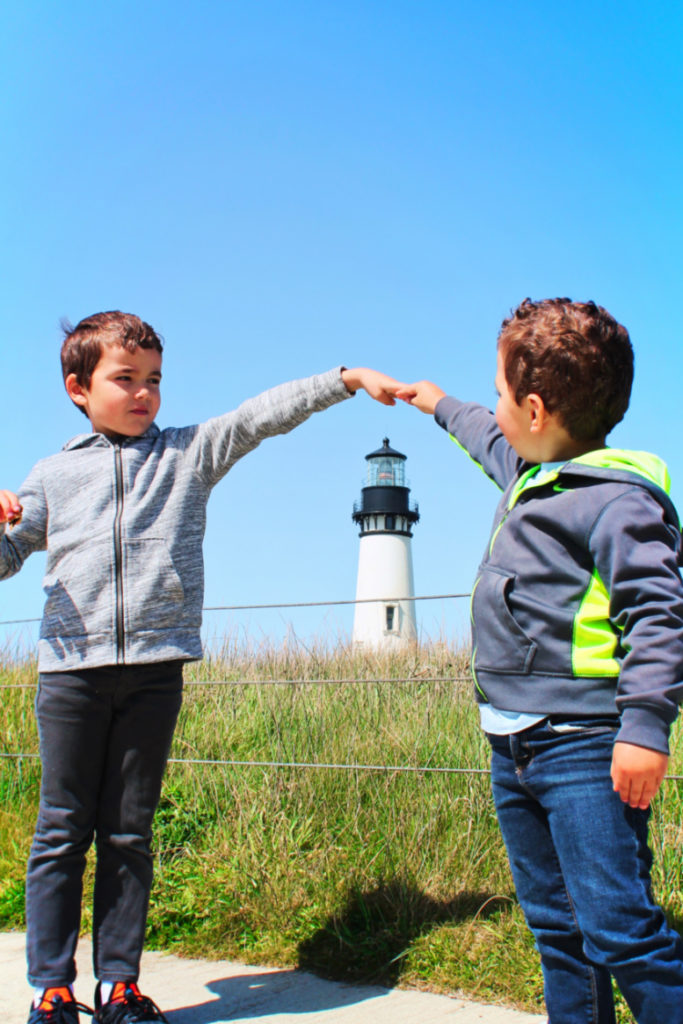 Newport, Oregon
Newport, Oregon is a pretty large town and has a cute bayfront area to explore. It's another great option for a homebase on your Oregon Coast road trip (but we'll share a different one) as it's close to beaches, shopping, lots of dining, the Oregon Coast Aquarium, the Undersea Gardens, a few tourist traps (Hello, Ripley's…), and it's own lighthouse.
If you're into festivals, Seafood Fest takes place in February each year and is the place to experience Oregon Coastal Cuisine, Oregon wine, and more. Newport also tends to have a bit better weather than some of its northern neighbors, so plan on hitting the beach and festivals with your classiest Oregon summer fashion (aka socks and sandals) and sunblock.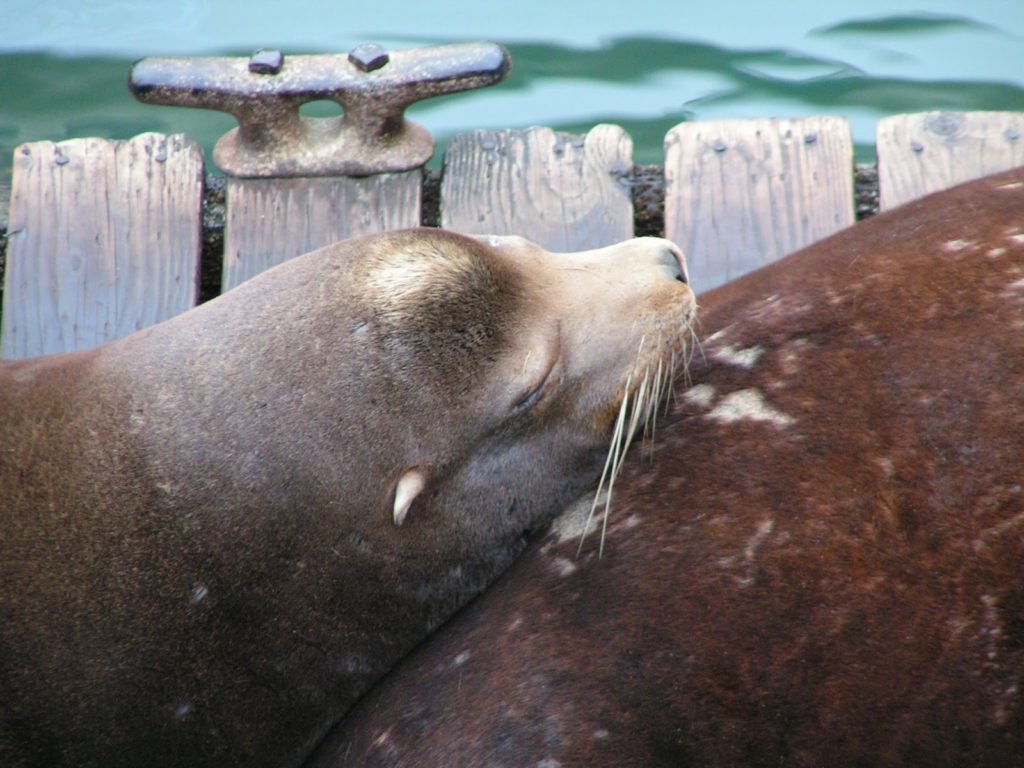 Yaquina Bay Lighthouse
It's easy to miss the Yaquina Bay Lighthouse if you're just driving right through Newport on your Oregon Coast road trip, but stopping is actually a great use of time. Built in 1871, the Yaquina Bay Lighthouse is cute, wheelchair accessible (around the grounds) and not far off your course. It is open to the public most days, but you'll want to confirm online or locally before making it a part of your primary road trip plan.
Cape Perpetua, Thor's Well and Devil's Churn
Rock formations and crashing waves are a big part of what an Oregon Coast road trip is all about. Driving south on Highway 101 from Newport you'll notice that the road starts to swerve and wind. That's because the coastline went from jagged mixed with sandy beaches, to rocky and untamed. If you're easily distracted have somebody else drive so you can enjoy the views.
THE stop you have to make in this stretch of the drive is at Cape Perpetua. Part of Oregon State Parks, you have a few ways to enjoy the area. If you head up the hill you have several hiking options to get breathtaking views up and down the coast. Pulling into the Devil's Churn area, you can see some intense coastal water features including the churn, more tide pools, Thor's Well (a hike around two points) and even a spout/blowhole.
Tip: to see the spout you don't have to do the big hike to Thor's Well, but can simply head down the trail to the tide pool area and watch across the cove. A big wave will make a burst of water across the way just like a whale spout.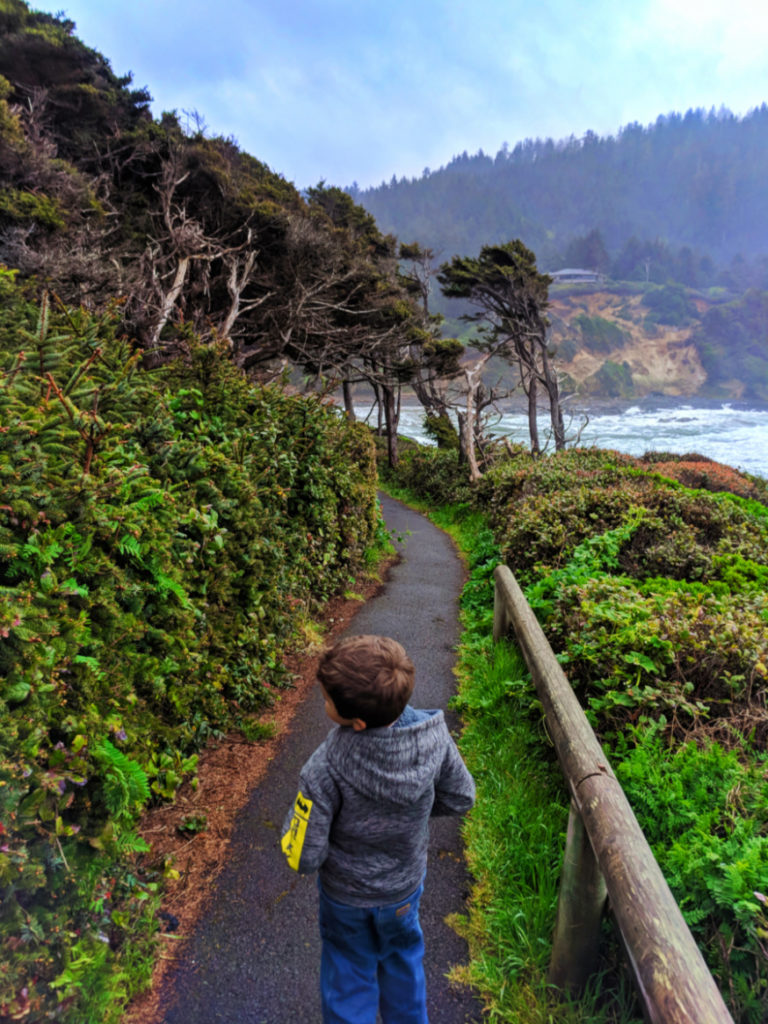 Haceta Head and the best view on the Oregon Coast
We're suckers for beautiful views. I mean, who isn't? Just past Cape Perpetua there are several pull out areas to admire the picturesque Haceta Head Lighthouse and beach below. Really, it's the most beautiful view on the whole Oregon Coast. Be sure to stop and enjoy the crashing waves and sea lions below.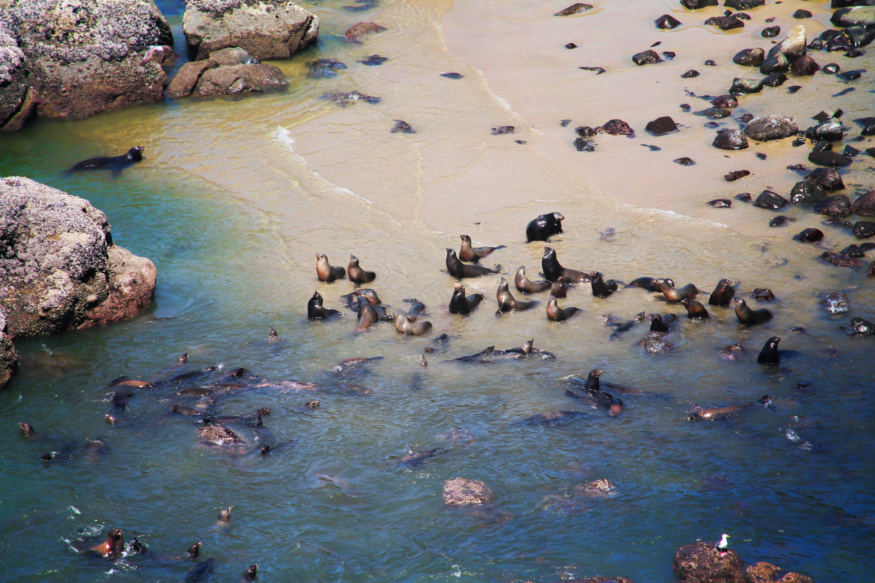 Haceta Head Lighthouse
There are two ways to enjoy a stop at the Haceta Head Lighthouse: 1.) relax in the beautiful cove area and have a beach/tide pool day OR 2.) do the ~0.5 mile hike up the hill to the actual Haceta Head Lighthouse and check it out up close. You can even stay in the keepers quarters at the lighthouse. This is one of the most beautiful Oregon beaches on a sunny day!
Tip: if you do want to stay in the keepers quarters, be sure to make the inquiry and reserve it the second you know you're interested. Such cool and unusual accommodations book far in advance.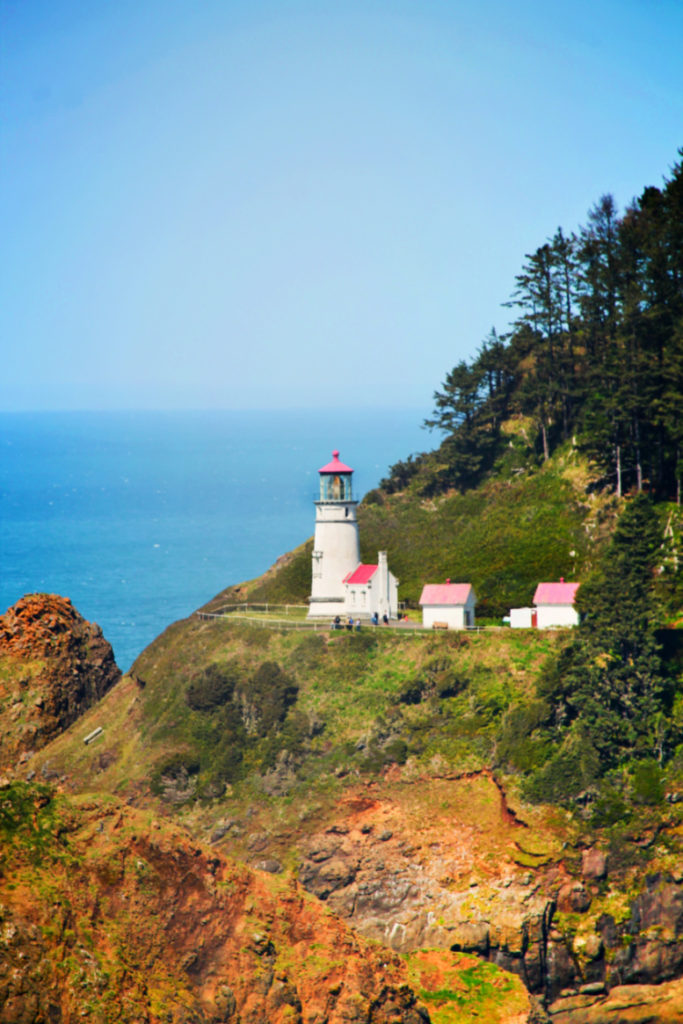 Florence: perfect Central Oregon Coast
Upon first approach or even driving through, Florence doesn't seem like the dream Oregon Coast road trip stop or homebase. Rethink that right now! The town of Florence is set directly between the most jagged and beautiful parts of the Oregon Coast, it's directly adjacent to the Oregon Dunes National Recreation Area and it has an adorable Old Town area that has lots of cute shops and some great dining options.
We stayed at the Old Town Inn just off Highway 101 and it was great for our family of four. It was clean and quiet and located right next to the Old Town area and riverfront. Really, staying someplace small and unique made for a different travel experience and it felt good to support a small business.
Tip: the Oregon Coast, including Florence, doesn't have many well known or top rated hotel brands. That said, "Inns" and seaside motels are actually quite nice sometimes and most are family run. READ REVIEWS of lodging before booking, but feel confident going off-brand for your road trip.
Easy road trip stop: going between Florence and the southern destinations, make a stop in Reedsport and check out the Umpqua River Lighthouse. It's your stereotypical lighthouse, set nicely at the mouth of the Umpqua River and looks both charming and extra historic when it's the afternoon golden hour (perfect for photo ops).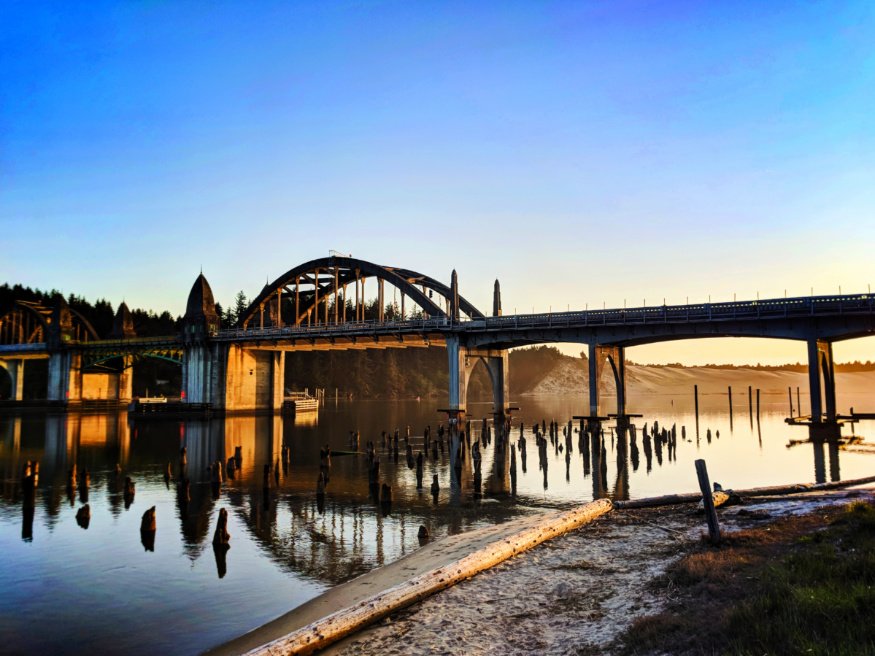 Activities near Florence, Oregon
We really had a great time all around Florence, Oregon. We took advantage of the town's close proximity to beaches for fun relaxation in the sun paired with beach combing. We also had a great time kayaking the freshwater lakes and hiking the dunes at Honeyman State Park… and then the dune buggies! There are several tour operators around Florence to take guests out on the epic sand dunes (we had a great time with Sand Dunes Frontier).
And if dune buggies aren't your thing, there is also the option to ride horses through the dunes and to the beach. Due to weather and our littlest's age, we just stuck around C&M Stables for a fun cow poke ride but there was another crew totally excited to head out for a full ride, no matter the weather.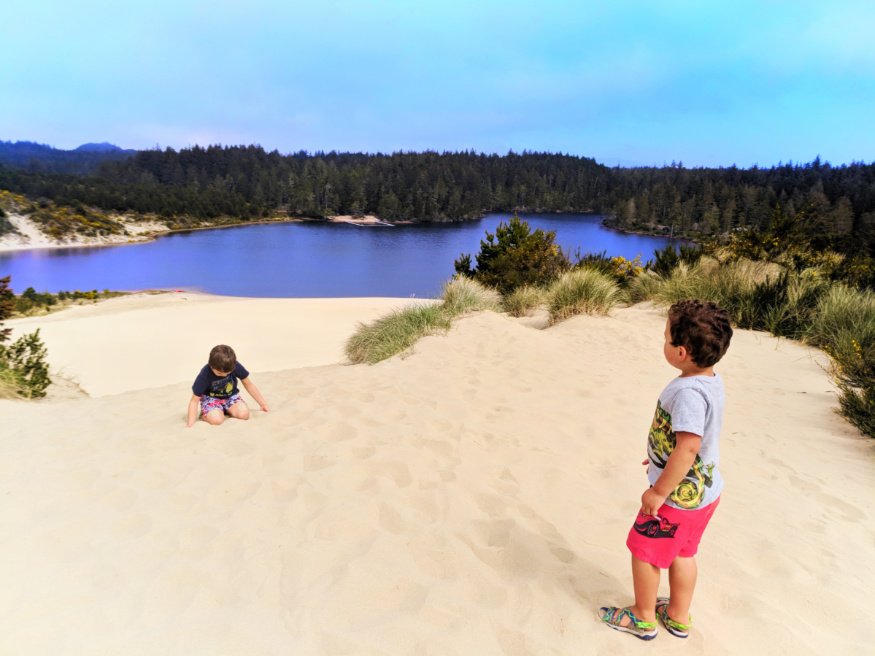 Visiting Sea Lion Cave
One last spot that's pretty cool and worth checking out if you're interested is Sea Lion Caves. The largest sea cave in North America, it's the go-to spot to observe hundreds of sea lions and beautiful sea birds. There is an admission fee per person, so families will have to fork out around $50 or so (depending on group size) and it really is pretty neat, but if you are doing your Oregon Coast road trip on a budget, you can observe sea lions lots of other places along the coast.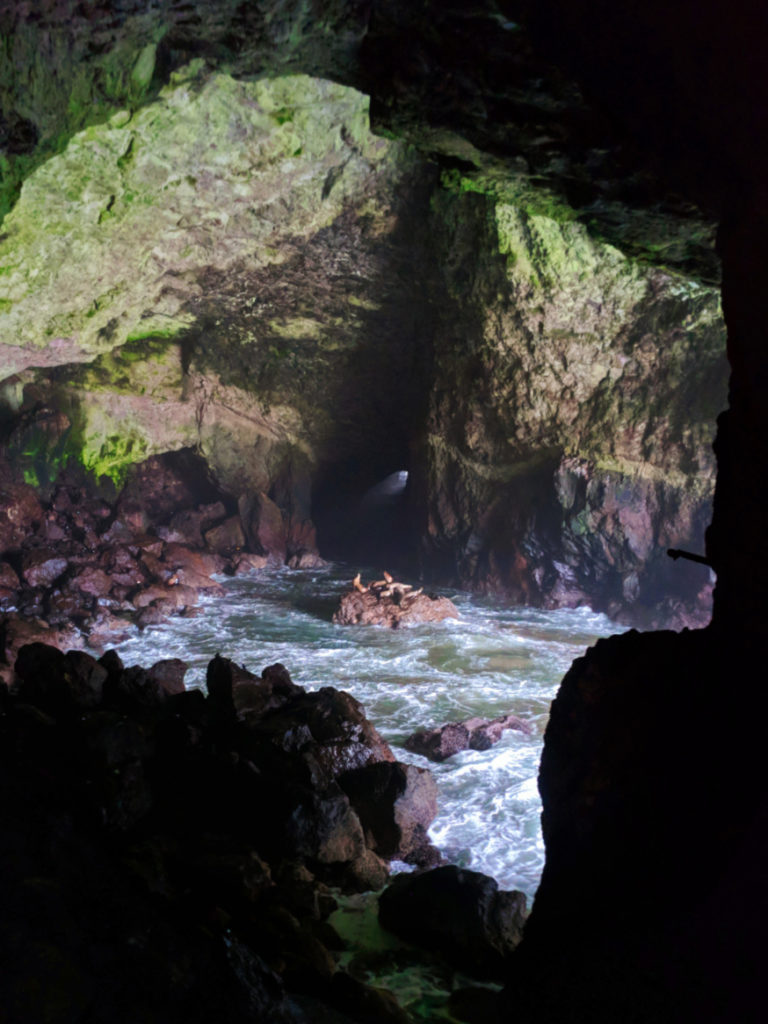 Southern Oregon Coast: quiet towns, jagged cliffs
This part of the Oregon Coast is really special. Over the years it's seen industry come and go, so what's left behind are some awesome quiet towns full of personality. And some FAR OUT THERE gorgeous Oregon beaches. This part of the road trip is where you get to experience enormous crashing waves and then chill out with some fish 'n chips.
Coos Bay for epic coastlines and Lighthouse views
If you're driving Highway 101 down the Oregon Coast you'll have to go through Coos Bay. Upon first look, it might seem like a quiet logging town without much going on, but it's actually a bustling place. Between some of the cool art deco buildings and the coastal themed street art, Coos Bay is a great stop for lunch or dinner as you continue on your road trip.
Coos Bay is also the gateway to some of the most aggressive waves and breathtaking strips of coast. To get to Sunset Bay and Shore Acres State Park, follow the signs to the Cape Arago Highway and head to the beach… or the cliffs. Sunset Bay is a great cove/beach area for picnicking and playing in the water. There's a stream the kids can play in too, and even some tide pools at low tide.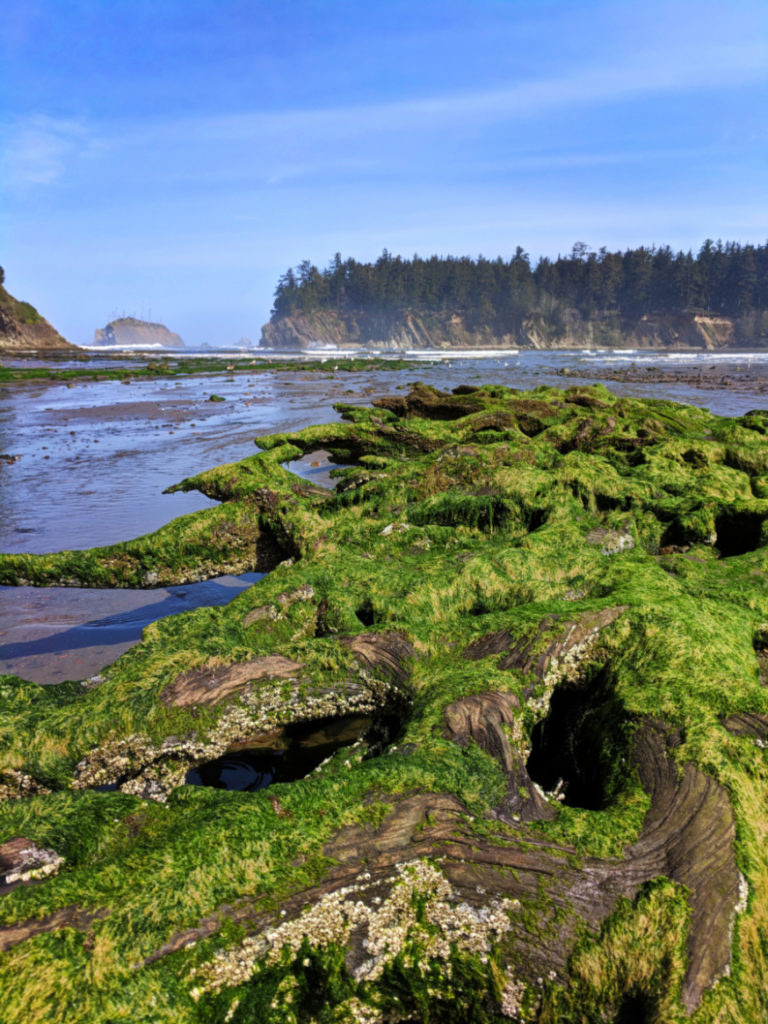 Shore Acres State Park is perhaps the most fascinating place on the coast. The erosion of the coastline over time has formed some interesting features, not to mention that the luxury estate that was once there can still be seen falling into the sea. Also, you can visit the botanic gardens within the park, which do some really cool light displays during the holidays (or so we're told).
Tip: due to its remote location, the State Park entrance fee machines in the area only take cash, so be prepared with some fives or ones, cuz that's cheaper than a citation.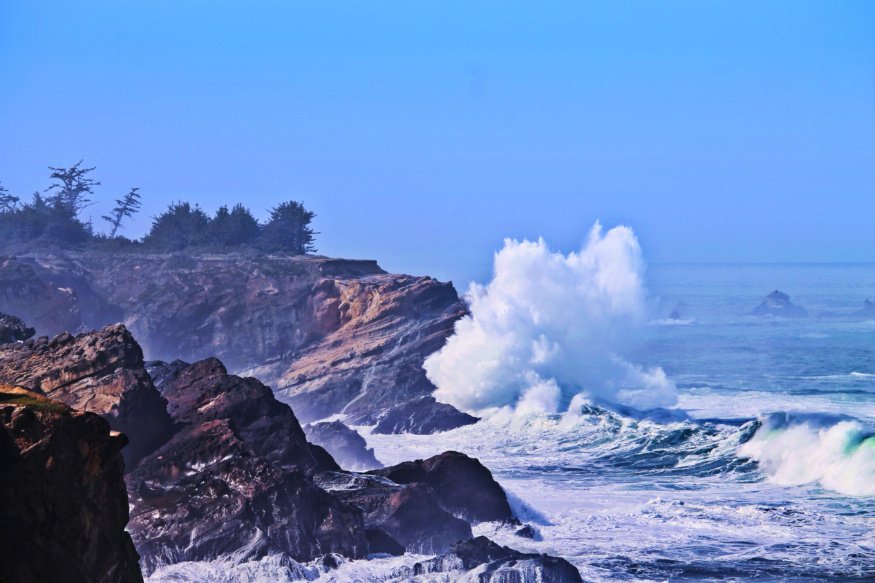 How to see the Cape Arago Lighthouse
The Cape Arago Lighthouse is out in the middle of the water, about three hundred yards off the shore. You cannot access it unless you're doing something coast guard-ish, but you can see it and dream about being an old-timey lighthouse keeper (because that's one of my three wishes in the event I meet a genie). So, how do you see the Cape Arago Lighthouse?
At Sunset Bay, skirt along the base of the cliffs at low tide until you get to the mouth of the bay and can see the lighthouse (slippery tide pool warning)

Pull over when driving between Sunset Beach and Shore Acres and walk down the clearly marked trail to the viewpoint
It really is a beautiful lighthouse and is my favorite to spy on the Oregon Coast road trip route, so take a few minutes to enjoy it.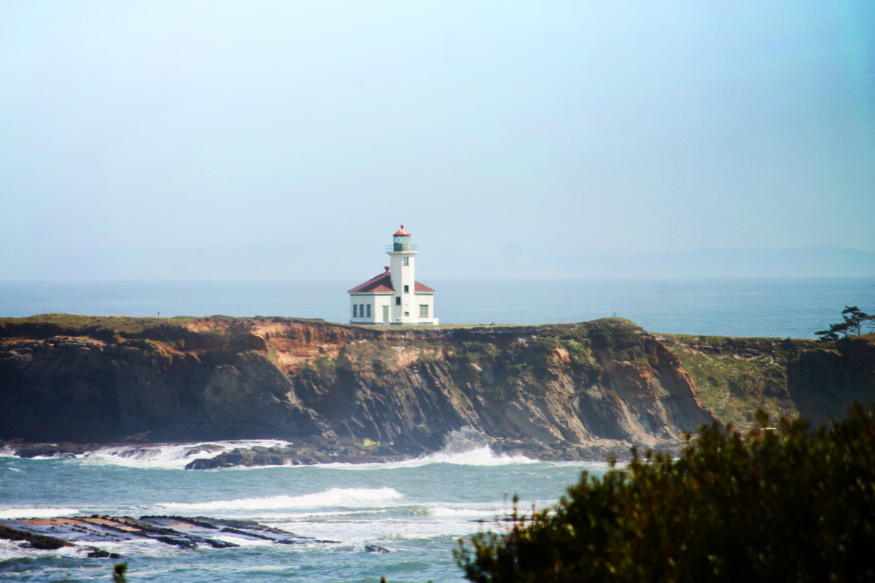 Bonus: Charleston Marine Life Center
A great addition to any road trip is a good museum or science center stop. West of Coos Bay is the small town of Charleston, OR. Here, the University of Oregon has a research and public education facility: the Charleston Marine Life Center. This is a great spot for some hands-on learning, particularly for checking out marine specimens up close! We could've spent all day here. Take a look at our full Southern Oregon Road Trip plan for more great learning opportunities.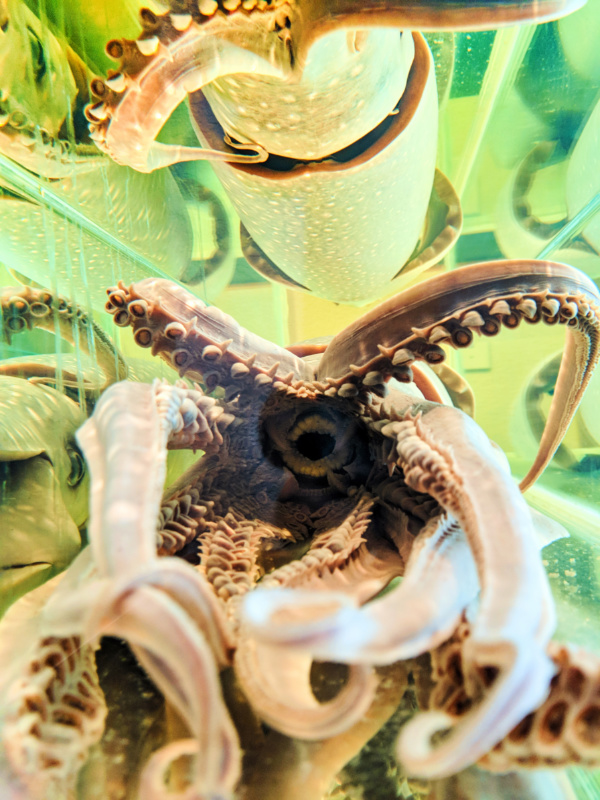 Chillin' out in Bandon, Oregon
Not Brandon; Bandon. Bandon, Oregon is another town that makes for a good homebase while you're doing an Oregon Coast road trip. There are many small inns and even a couple resorts (with world class golf, if that's your thing) that serve for an overnight or two.
Located on a small bay, Bandon has a cute little old town area similar to Florence. Restaurants, galleries and maritime shops dot the area so it's perfect for an afternoon or evening stroll. There are also plenty of beaches on either side of the town, so if the plan is just to relax for a few days, this is the spot.
Tip: there are several options for whale watching out of Bandon, Oregon along the marina if you'd like to plan or go for an impromptu jaunt (depending on the season). Whale season tends to be April through September.
"The Oregon coast is the perfect place to rejuvenate. We loved stopping at places like Bandon and Seal Rock to explore the long beaches, tide pools, and listen to the waves crash. I think we got the best sleep we'd had in months from the fresh air and long walks. I highly recommend finding your perfect Oregon beach." from Corrine of the Roving Vails. For all her world travels she loves Oregon beaches for genuine relaxation (we do too).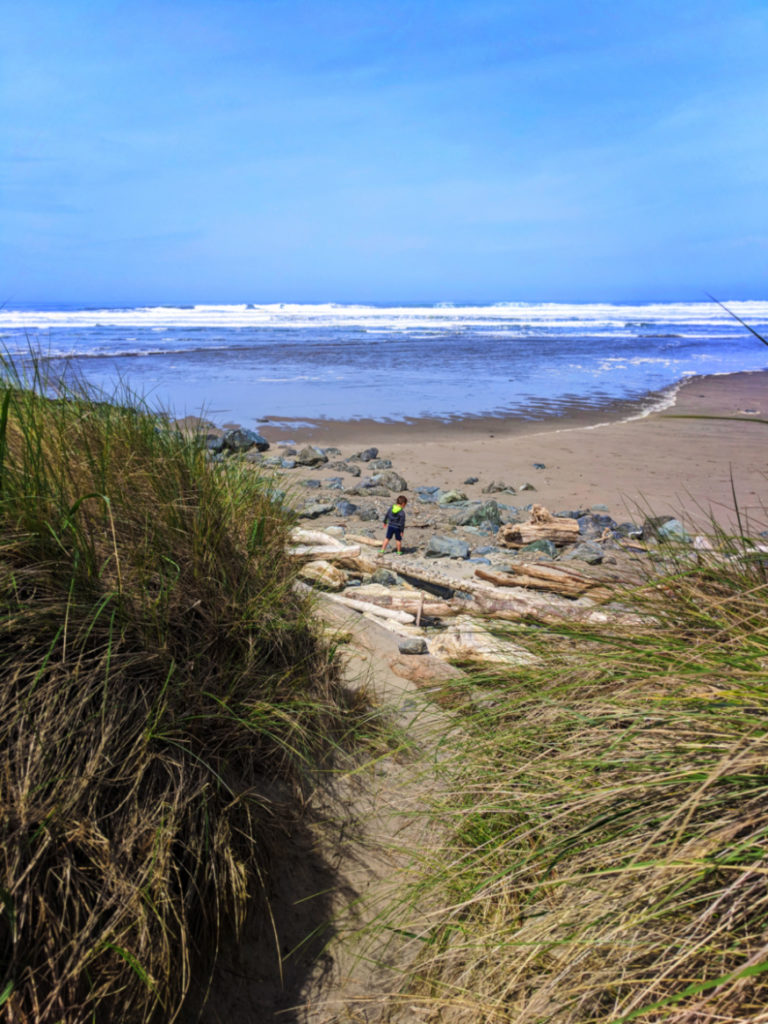 Coquille River Lighthouse
A highlight for us in Bandon was the Coquille River Lighthouse. This lighthouse is particularly interesting because it's located ON the Coquille River instead of on a head or rock. No longer in operation, but still open for tours, the Coquille River Lighthouse is colorful and unique, surrounded by dunes and beaches. It is located within Bullards Beach State Park, so there are plenty of day use sites for picnicking or beach access.
Tip: plan a visit to Coquille River Lighthouse in the late morning so you can grab a picnic table or good beach spot for lunch.
Also, if your Oregon Coast road trip is going to be a camping trip, Bullards Beach State Park has a fair number of campsites. This is a great way to be close to Bandon without staying directly in the town.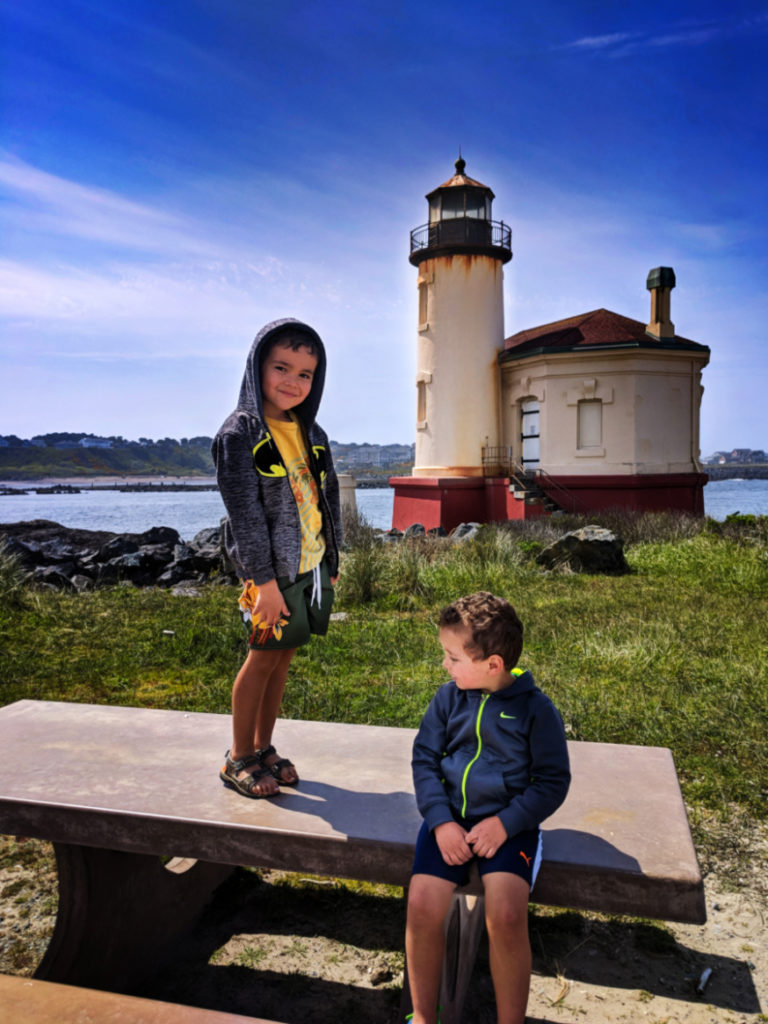 Gold Beach for relaxing to the max
Gold Beach, Oregon is almost to the California border, but not quite. It's a quiet town, very similar to Rockaway Beach, OR or Ocean Shores, WA, so its population and popularity changes with the good weather. While there isn't a ton to do in Gold Beach specifically (except relax and fly kites), there are some cool sites to make for fun day trips. Gold Beach is one of the least crowded Oregon beaches, so it's extra chill year round (IMO).
Cape Blanco Lighthouse is just to the north of Gold Beach. It's a pretty tall lighthouse and there are fun beach activities nearby if you'd like to make a day of it. Also a short drive (about 1.5 hours) from Gold Beach is Oregon Caves National Monument. It's a really cool cave system to go through with an awesome National Park lodge, the Oregon Caves Chateau, where you can have a nice lunch or dinner in the hills.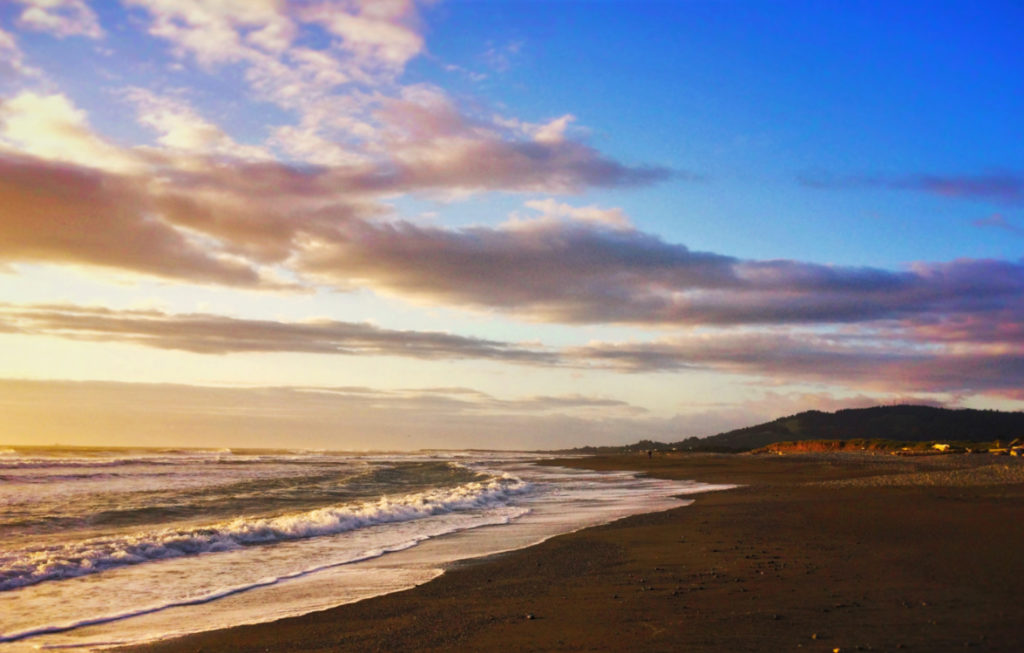 Last Oregon Coast road trip stop: Brookings, OR
I can't believe we're at the end! Brookings is just north of the California border and where are trip ends. The town itself is cute with some cool coastal tourist attractions, including the Ship Ashore Museum and Gift Shop… which is now just a roadside attraction. The highlight of Brookings though is Harris Beach State Park. If you missed the sea stacks up in Cannon Beach you'll find more here! The landscape at Harris Beach is what you hope for with all Oregon beaches. Perfect for having a beach day or doing some easy hiking.
Tip: if you want to continue your Oregon Coast road trip all the way into California, check out our itinerary for a full Northern California coast road trip covering everything from the southern Oregon coast to San Francisco (and actually to the Mexican border).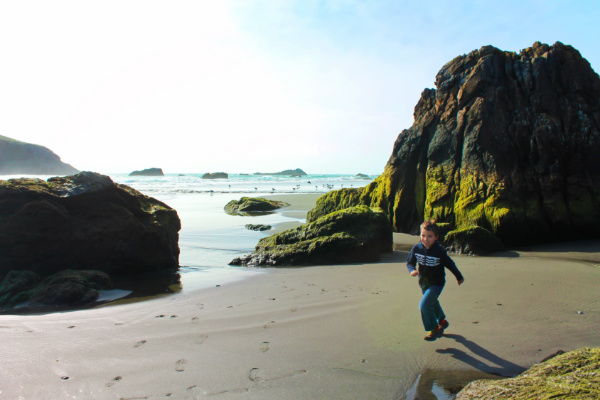 Packing for an Oregon Coast road trip
The Oregon Coast is gorgeous… even in the foggy rain which you might experience any time of year. When you're packing for an Oregon Coast road trip be sure to plan for hot sun as well as chilling wet. As a rule when we're touring around Western Washington or Oregon we always pack equally for rain or sun, erroring on the side of the time of year. This includes activities we bring with us. Here's what our Oregon Coast road trip packing list looks like (clothing is per person).
The logical clothing packing list for the Oregon Coast year-round: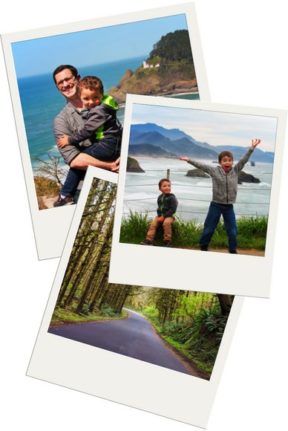 Jacket
Warm hat
Sweatshirt
T-shirts and tanks (3:1 ratio)
Swim shorts and hiking shorts
PANTS
Sandals AND shoes
Equipment you need for a family Oregon Coast road trip (some affiliate links if you want to buy anything):
Kites
Beach gear (including boogie board in summer)
Seat back covers – kick-gaurds – WE HAVE THESE ONES
Cribbage, dominoes and Yahtzee
Camera gear – LOVE this waterproof camera for beach days – HAVE THIS IN YELLOW
Polaroid or Instax Camera – perfect for making vintage memories – WE HAVE THIS IN GREEN
Portable vacuum (the Oregon Coast is sandy and you'll thank us later) – WE HAVE THIS ONE
Portable outlet / power inverter – THIS ONE IS OURS
You know your own travel style and crew, but having done the Oregon Coast road trip thing eight times now, I can confidently say that this list is what will keep you happy and sane all along the coast.
---
Are you totally ready to plan and enjoy your full Oregon Coast road trip?!? We could do this route any time of year and have a blast, but late spring or September are the best times to go. If you have any questions or recommendations, don't hesitate to ask or tell us. Leave a comment below or email us!
Want to pin this for planning your own Oregon Coast road trip? Go for it!!!