The island of Kauai is the only place in the gorgeous state of Hawaii that has navigable rivers besides the Wailuku River in Hilo on the Big Island. In open water, a paddle along the rugged and lush background provides the perfect setting for a day at sea. Turtles, dolphins, and whales may swim alongside you. On land, you have more activities than you can fit on a vacation but having a truly Hawaiian experience may make you want to move here. Kayaking around Kauai is a unique adventure and something to be added to your Kauai vacation!
In this guide to kayaking around Kauai, keep in mind that the rivers and bays can also be wonderful places for stand up paddling (SUP). We've even seen people SUP surf on the eastern shore, so have fun with it! If we didn't include your favorite spot for kayaking on Kauai, please leave a comment or send us a note. We're always happy to share from others too!
Safety Note: the Island of Kauai is in the middle of the Pacific Ocean. There are remarkably strong and unpredictable currents. Only experienced kayakers with the appropriate sea kayak and safety gear should be paddling in the open water. When in doubt, sit it out!
Check out our 5 Day Kauai Itinerary here!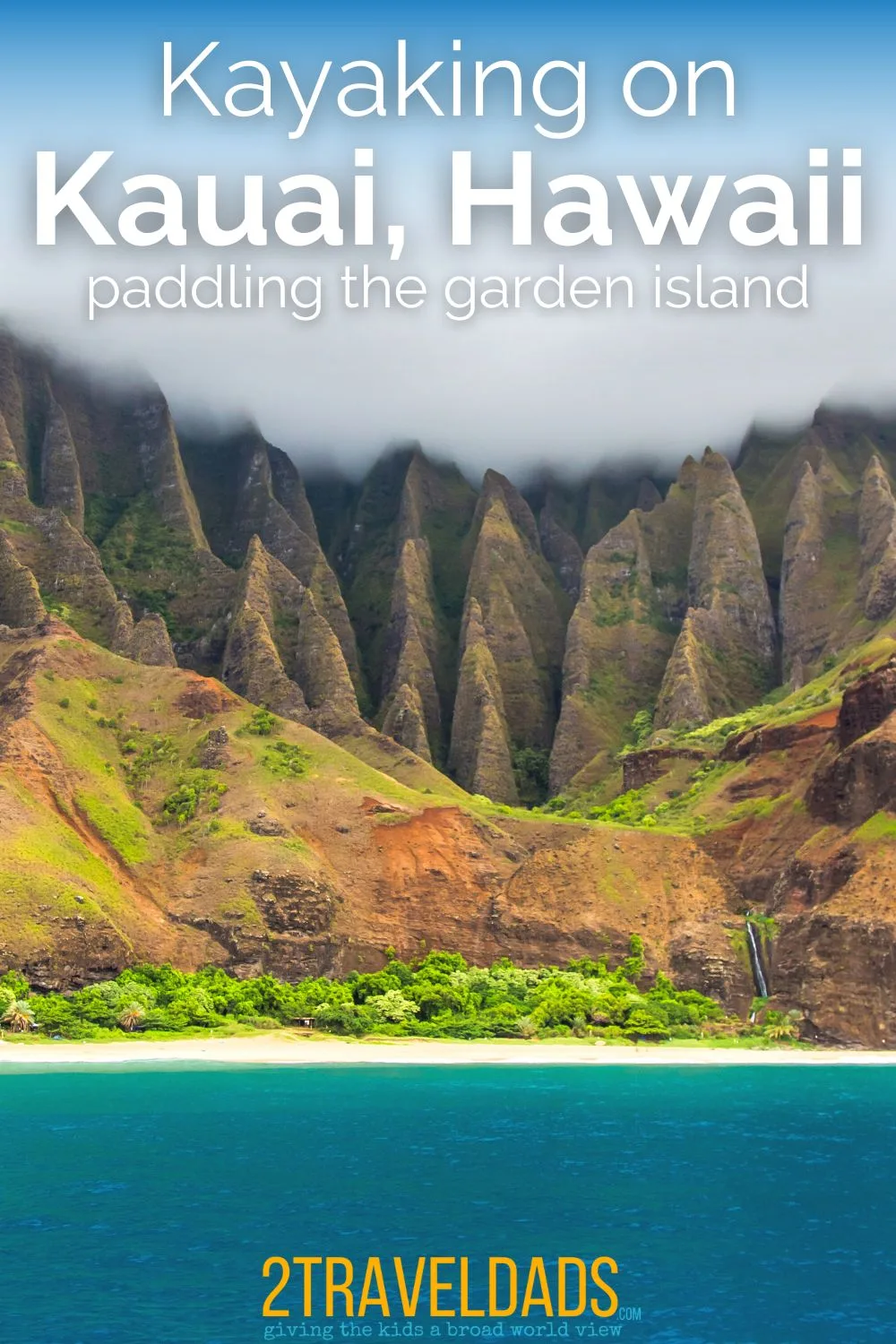 Easy Kayaking Spots in Kauai
With so many activities on the Island of Kauai geared toward tourists, there are tons of spaces to experience a leisure paddle. Whether you're a beginner or intermediate kayaker you won't have any issues finding a place to paddle on an island full of lush rainforest and beautiful beaches. While the paddling in Hawaii may look similar to kayaking in South Florida, the reefs and rivers are VERY different and extra beautiful in their own ways.
Anahola Beach Park
Anahola Beach Park is another gorgeous spot for kayaking in Kauai. The park is located on the east side of the island and offers beautiful views of the ocean. With a reef protecting the bay this is a great place to explore calm waters and jump in for a snorkel. Paddling will allow you to explore the hidden coves and surrounding beaches. There are also several hiking trails nearby if you want to explore the area further.
Where to launch: Anahola Beach Park Anahola, HI 96703 (there are several beach parking areas to launch from)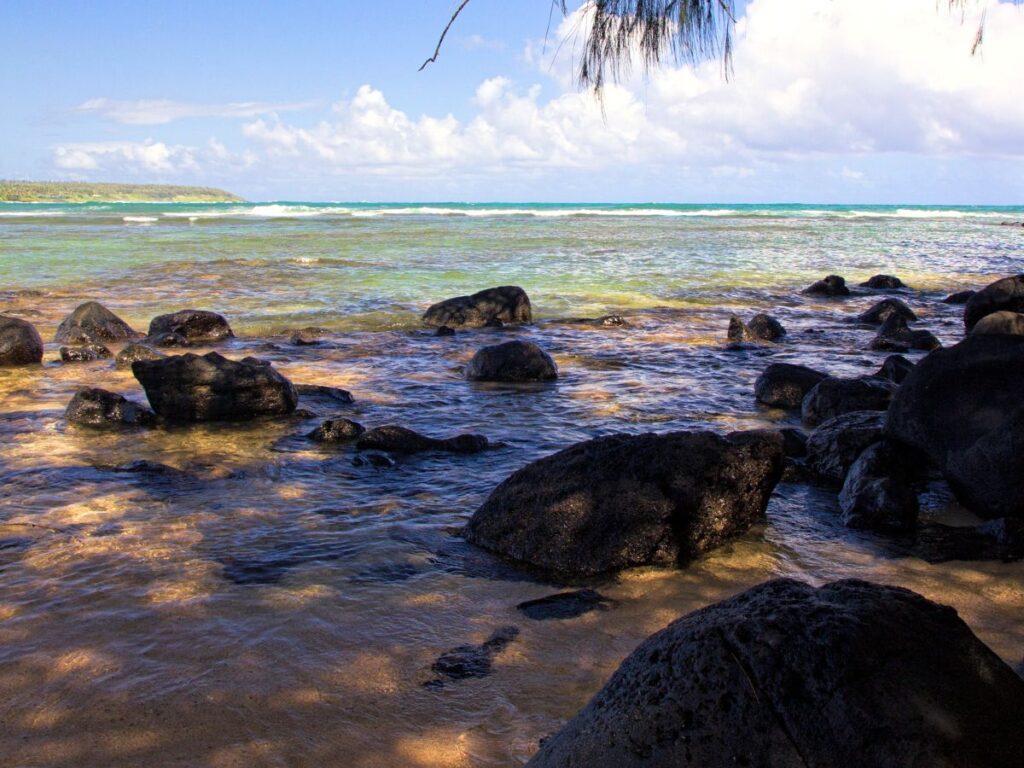 Huleia River in Lihue (Nawiliwili)
Huleia River is an off-the-beaten-path just outside the Huleia Wildlife Refuge. Located on the island's eastern portion it's a popular route for paddlers wanting to experience the natural beauty of Hawaii on the water. Birdwatchers will enjoy the Menehune Fish ponds, a haven for exotic birds.
Where to launch: Nawiliwili Small Boat Harbor Nawiliwili, HI 96766
Wailua River in Kapa'a
The opportunity to float past the thick rainforests of Kauai creates a memorable experience. The Wailua River is the island's longest river starting at Mount Waialeale. The calm waters provide a great paddle for beginner kayakers and take you to the 100-foot Uluwehi Falls. Paddling Magazine created a detailed post on your options in Wailua River.
The most popular attraction on the Wailua River is Fern Grotto, a natural lave rock formation that has hanging ferns and lush tropical foliage, watered and cooled by the nearby waterfall. If you kayak here, don't be surprised if there are tons of tourists as it is a tourist attraction that can be easily accessed by a short boat trip. If you're staying at the Kauai Shores Hotel or anywhere in Kapa'a, this is easy to get to!
Where to launch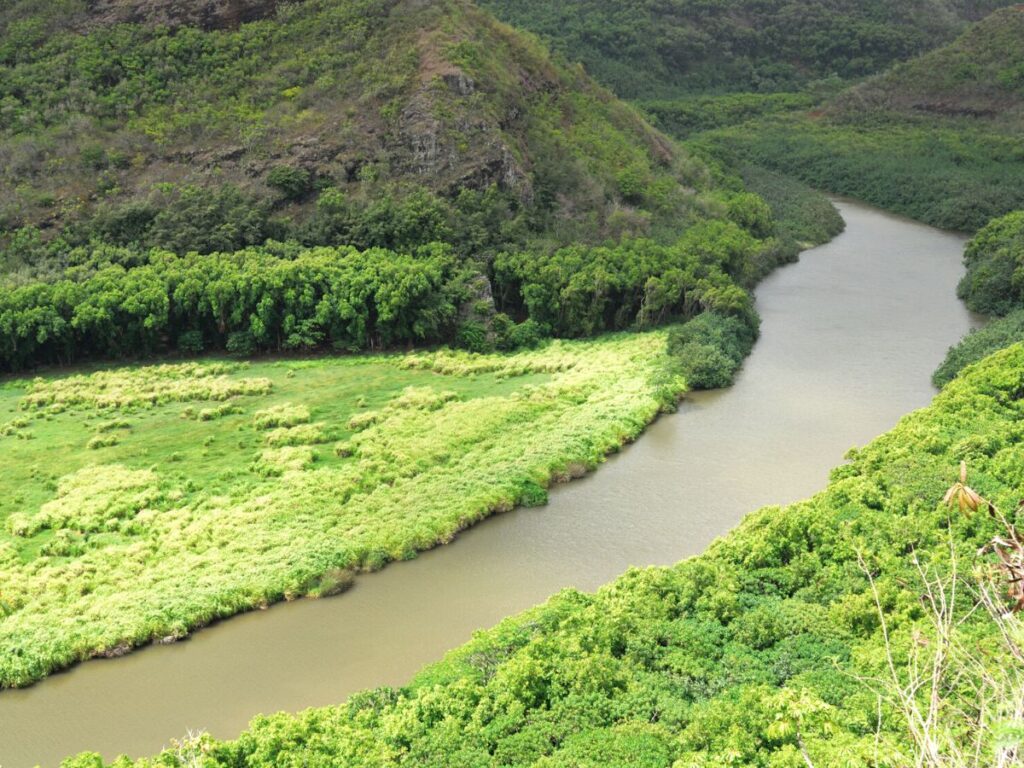 Experienced Kayak Spots on Kauai
The Na Pali Coast and South Shore are your best options if you are looking for a challenging open sea paddle. The weather and surf conditions can change quickly and can prove difficult for even the most season paddlers, especially on the long one-day Na Pali Coast trip. Treat kayaking Kauai on the open water as a dangerous paddling area even when it looks wonderfully calm. Similar to kayaking in the San Juan Islands of Puget Sound, there are strong currents and the proper gear, both proper boat and safety gear, is necessary.
Poipu Beach, South Shore
Poipu Beach is filled with marine life such as turtles. Kauai's South Shore is a contrast in terms of weather, giving drier conditions on land. A paddle through Poipu Beach allows exploration of sea caves and a dramatic perspective of the cliffs facing the Pacific Ocean. Continue east from Poipu for a long sea kayak trip to Ezra's Beach at the Makauwahi Cave Preserve. It's amazing!
Where to launch: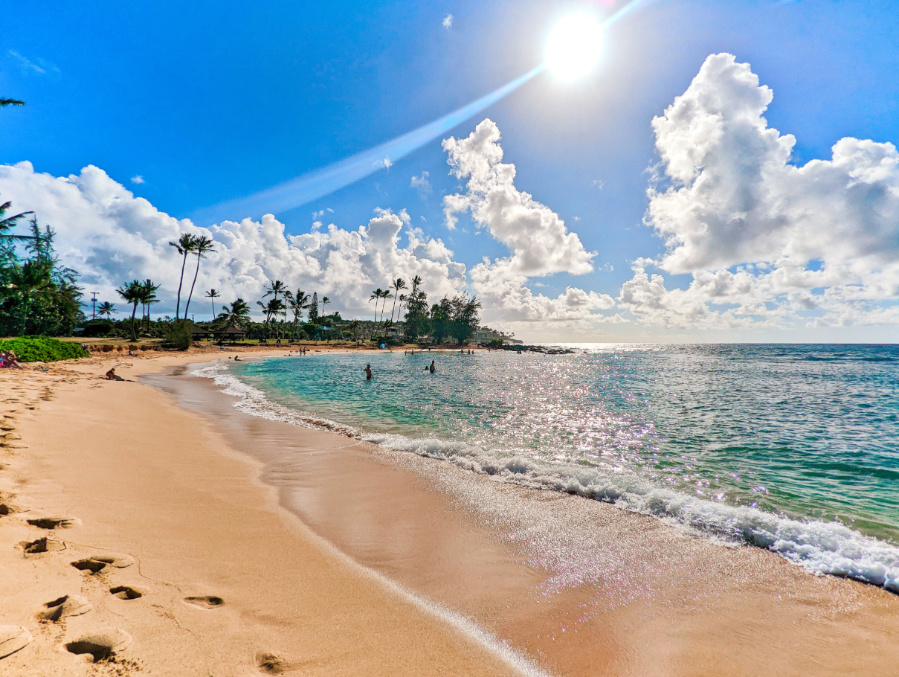 Lawai Bay, South Shore
Lawai Bay is a small inlet just west of the Allerton Gardens and has great waters for swimming but getting there can prove challenging. The area is home to mostly private property and the best access seems to be by a paddle. Launching from Kukuiʻula Harbor Beach a mile away you'll be facing open sea. Check surf and weather conditions if you are going out for a paddle.
To the west of the cove if you launch from the Small Boat Harbor is the Spouting Horn and to the east heads towards Lawai Beach.
Where to launch: Kukuiʻula Harbor Beach Koloa, HI 96756
Na Pali Coast
The Napali Coast State Wilderness Park is on the northwest side of Kauai. Known for its dramatic sea cliffs, steep, narrow valleys, and cascading waterfalls this area is rugged. Exploring the 17-mile coast is no easy feat but is considered one of the most rewarding kayak experiences in the entire state of Hawaii. We've also explored on foot, hiking the Kalalau Trail and doing a doors-off helicopter tour around Kauai.
Expect sea sickness, large waves, and difficult wind conditions, and be prepared for a rough 12-14 hour day of intermittent paddling if you're looking to navigate a solid portion of the Na Pali Coast. You're go-to outfitter will likely be Napali Kayak Tours as it's not recommended to tackle this paddling journey around Kauai on your own.
Where to launch: Napali Kayak Tours OR 5-5075 Kuhio Hwy, Hanalei, HI 96714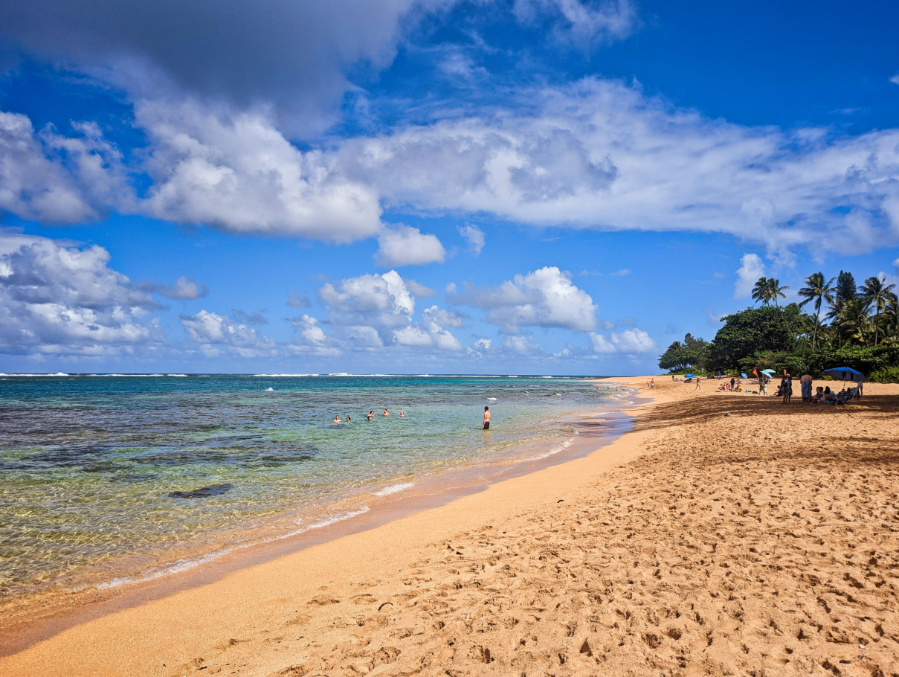 Kipu Kai Beach
Kipu Kai Beach is a large cove on the southeastern coast of Kauai. Tucked in between two ridges that drop straight into the ocean, access is all cut off by land. Most folks explore by private helicopter tours but those willing to paddle out, they'll have a remote, sandy, Hawaiian paradise all to themselves.
Where to launch: Nawiliwili Small Boat Harbor Nawiliwili, HI 96766
State Park Kayaking Spots in Kauai
Kauai also known as the Garden Island has a rich biodiversity. Nature lovers and outdoor recreationists will have a large playground for their next adventure. The state park system is well developed and does a fantastic job protecting the rare beauty of Kauai.
Nu'alolo Kai State Park
Once a fishing village Nu'alolo Kai is now a state park. Nu'alolo Kai State Park is one of the most scenic coastlines in the state and is surrounded by a large barrier reef, perfect for water enthusiasts. The catch to getting here… You'll have to paddle the Na Pali Coast which can be a challenging 2-3 hour paddle. Once here you'll enjoy archeological sites, native monk seals (they're mean, do NOT approach) and breathtaking scenery.
Where to launch: Napali Kayak Tours OR 5-5075 Kuhio Hwy, Hanalei, HI 96714
Polihale State Park
Polihale State Park is located on the west side of Kauai and is perfect for a paddle. The park offers stunning views of the ocean, as well as the nearby mountains. The park receives much fewer visitors than others and is a bit remote. Adventurers will be rewarded with a beach characterized by large sand dunes and the dramatic background of rugged green scenery. For a paddle in the area check out Napali Kayak.
Where to launch: Napali Kayak Tours OR 5-5075 Kuhio Hwy, Hanalei, HI 96714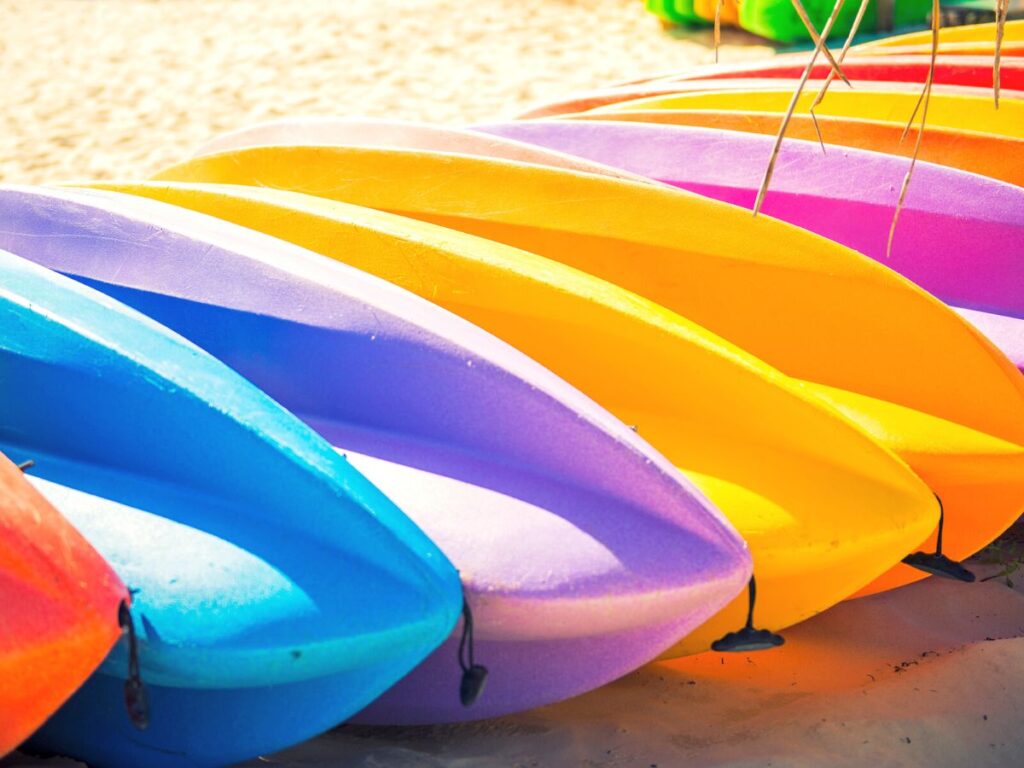 Haena State Park
Haena State Park is tucked away on the north shore of Kauai. Also, known as the "end of the road," this remote park provides tons of adventure with beaches, trails, and sea caves. This trip can be combined with the long-grueling Na Pali Coast trail (the Kalalau Trail as mentioned above) should you wish for the ultimate challenge. You MUST have reservations for accessing Haena State Park on land. MAKE RESERVATIONS HERE
If you want to paddle into Haena State Park, you can launch from Haena Beach Park and head west. Going around the points is a challenging paddle and you need to keep safety in mind AT ALL TIMES. PS: parking at Haena Beach Park can be difficult if you're not there first thing in the morning.
Where to launch: Haena Beach Park HI-560, Kapaʻa, HI 96746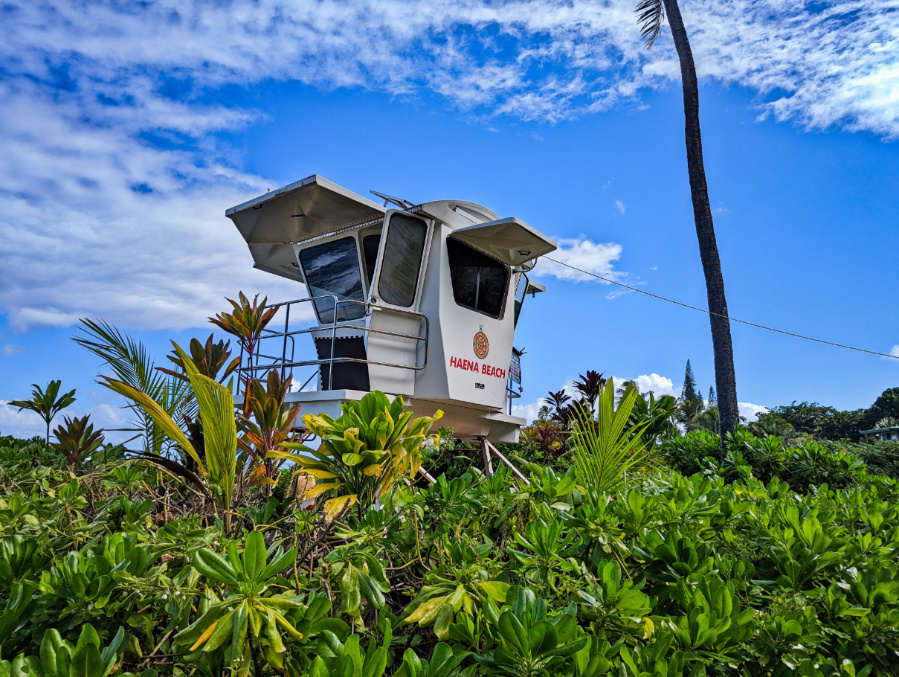 Hanalei Bay, Hanalei National Wildlife Refuge
Kayaking in Hanalei Bay is a must-do while in Kauai. The bay is located on the north shore of the island and is well known for its beauty. Visitors can enjoy stunning views of the mountains and coastline as they paddle around the bay. There are also several beaches to explore and plenty of opportunities to see wildlife. Check out local outfitter Kayak Hanalei for detailed information on the area.
Where to launch: Kayak Hanalei or 5-5070A, Kuhio Hwy, Hanalei, HI 96714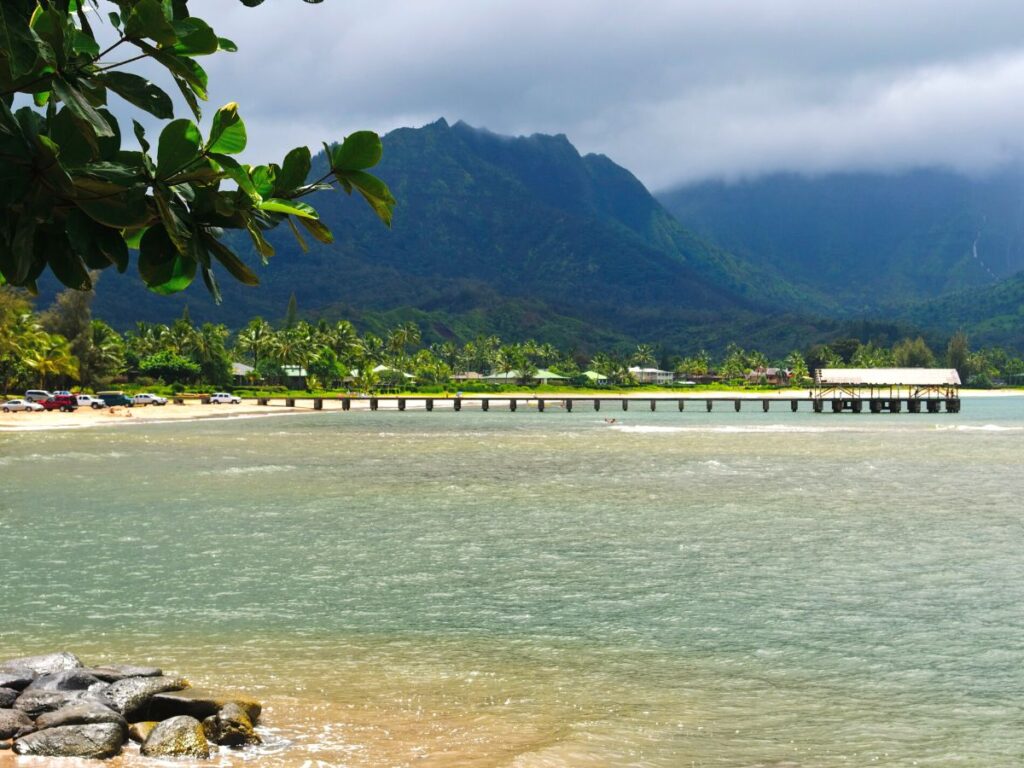 Recommended Kayaking Tours in Kauai
Combining a hike to Uluwehi Falls with a paddle through the Wailua River Valley gives the perfect introduction to the incredibly lush Hawaiian landscape. Book a combo kayaking / hiking tour here!
For those wanting to explore the underwater world of Kapa'a, the Hanalei River Paddle Tour is the perfect combination for paddlers. After paddling down the Hanalei River you'll end up in the Bay Reef Lagoon surrounded by sea turtles and tropical fish. Book a combo kayaking / snorkeling tour in Hanalei Bay here!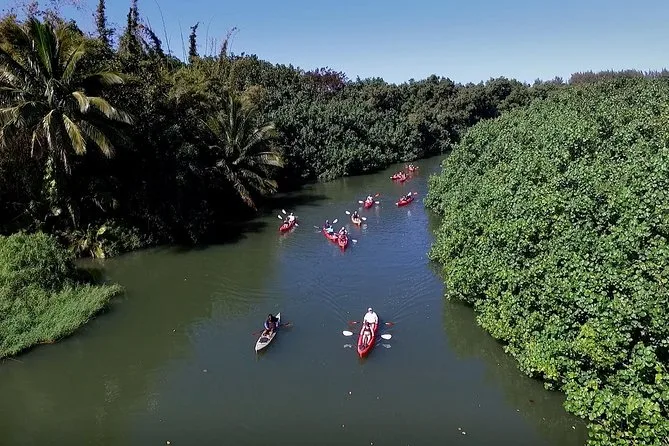 When to Visit Kauai
The most recommended time to visit Kauai is in the fall and spring when the weather is most pleasant and the state isn't completely packed with tourists. The rainy season generally runs from November to March, with January being the wettest.
Summer events in Kauai include the Koloa Plantation Days Celebration, the Kauai Marathon, and Kauai Mokihana Festival. But really, is there ever a bad time to find yourself on Kauai? Especially if you're going to be kayaking and exploring the mountains, Kauai is always amazing.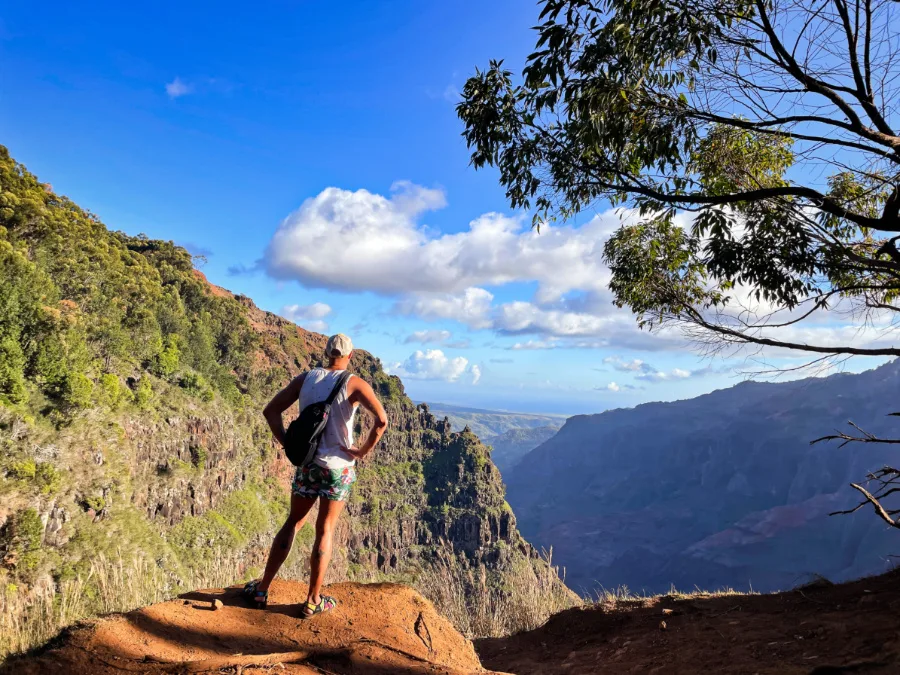 Need to Know for Visiting Kauai
With so much to do you really need a week or two on the island. It's best to rent a car and do so well in advance. Eat local, the food scene is great. Be sure to be safe and swim on beaches with lifeguards, the water conditions can be rough. If you're going to do any of the challenging, open sea kayaking, get a reputable outfitter. We recommend a few above. Most importantly, get out there and take the opportunity to paddle this beautiful state.
---
We love talking about Hawaii and sharing all of our experiences. If you have any questions about visiting Kauai, Maui, Oahu, Molokai or the Big Island, please let us know. By the end of 2023 we'll have been to them all and are happy to share. Leave a comment or send us a note if you need any help planning an amazing adventure!