Southern California kayaking might not be on your travel plan, but it's a thing and it's a fun change to the usual SoCal vacation plan. San Diego County's unique climate and geography make it a must-go for kayakers and SUP users alike. From navigating local harbors to surfing some of the best swells in the country, this county has the conditions to leave the newest paddlers feeling at ease or an opportunity for those with more experience to push their skills to the test (and practice righting your kayak).
Kayaking in San Diego County is very different from paddling up in the Sierra Mountains of California's east side. With over two hundred fifty days of sunshine a year, temperatures averaging 50-77°F1 regardless of the season, and once-in-a-lifetime marine life encounters, it is no surprise San Diego county is a hub for all kinds of paddle sports. Due to its geographical features, largely isolated from large bodies of freshwater, the county provides great salt water paddling experiences. This gives those dipping their toes into the world of kayaking and paddleboarding a well-rounded experience.
We love spending time in San Diego and the rest of SoCal, so if you have any questions, either about kayaking or planning a trip to San Diego, please leave a comment or send us a note. We're always happy to share more!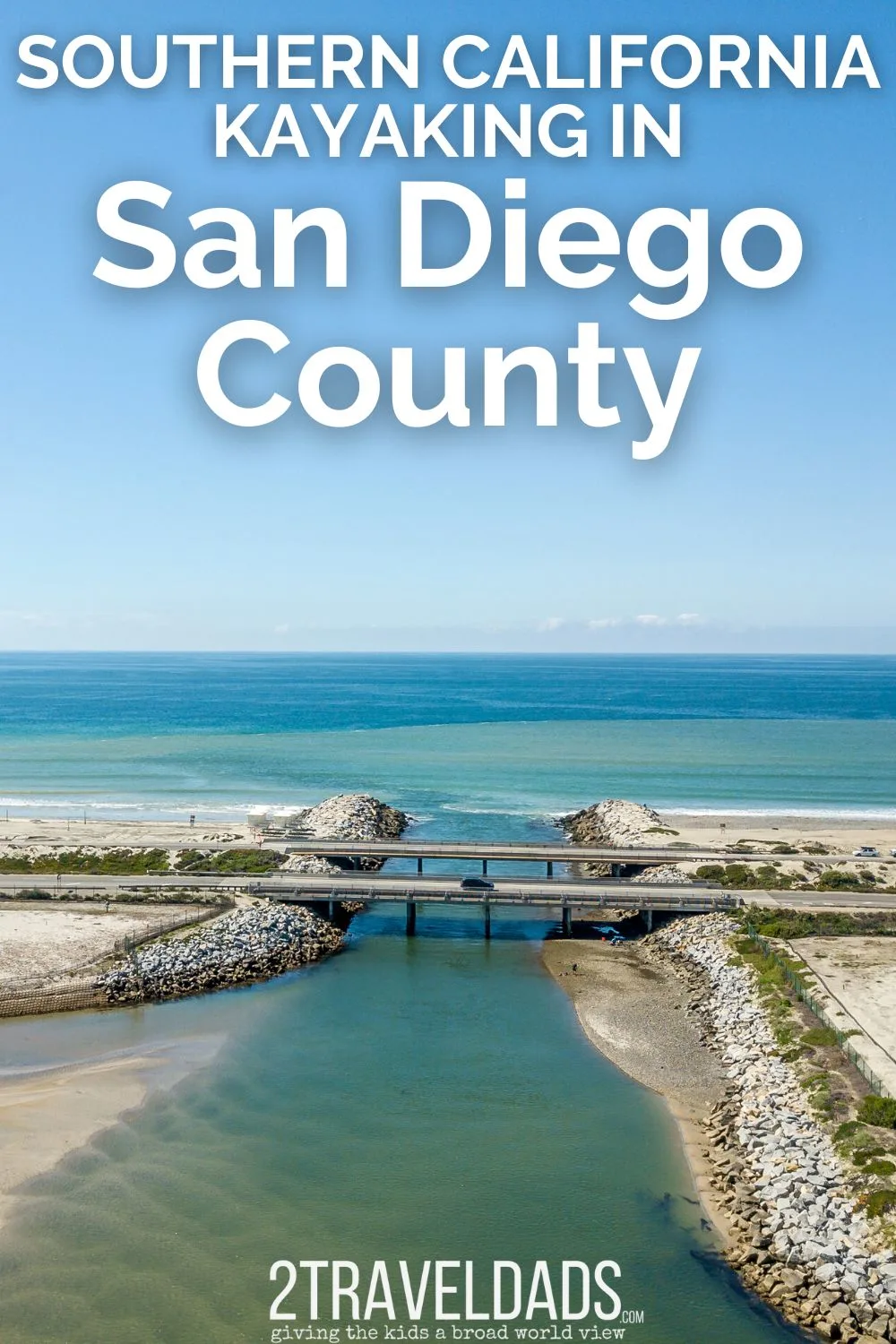 Easy Southern California Kayaking Spots
We're focusing on San Diego County for our Southern California kayaking spots, as is has more natural areas and protected waters than Los Angeles County or inland in the hills of Temecula and Palm Springs. San Diego County is also a surfer's paradise, so you might as well give that a try too!
Kayaking in Oceanside Harbor in Oceanside, CA
Located along the coast as far north within the county as you can go, Oceanside Harbor is one of the best locations for those looking to get into kayaking or paddle boarding. As it is within a protected harbor, there are no waves and minimal wakes in the no-wake zone. This allows one to adjust to the feeling of being on the water, and get used to the sensation of paddling.
Being a local center for fishing boats, it is not uncommon to be able to spot California sea lions sunning themselves on the docks or back of boats. Once you finish up your day on the water, feel free to talk a walk through the harbor shops. Grab a bite to eat at Rockin' Baja, Baja-style seafood3, or maybe a drink to watch the sunset atop the Lighthouse Oyster Bar & Grill4. This is a great SUP friendly paddling destination.
Where to launch: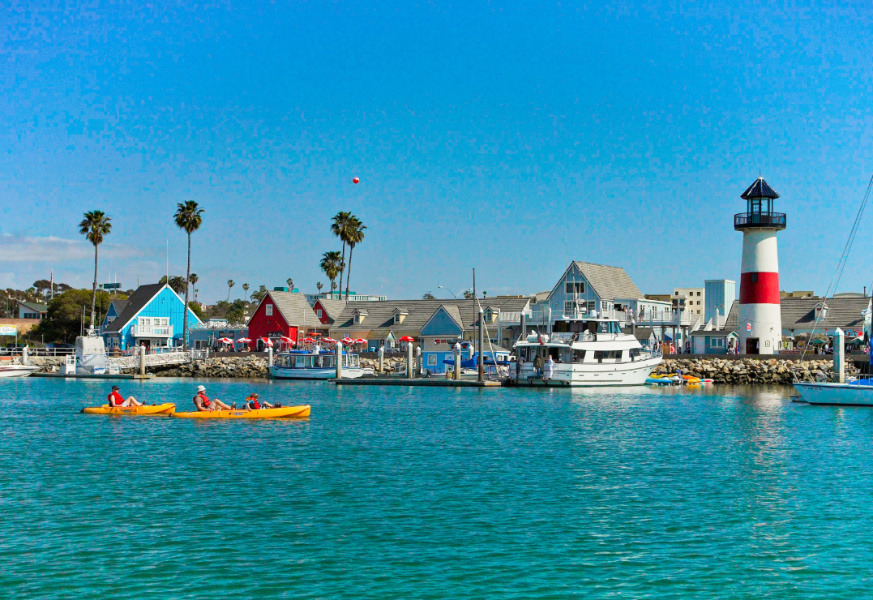 Paddling in Carlsbad Lagoon in Carlsbad, CA
A town just south of Oceanside, along the I-15, there lies one of the last fully recreational estuaries in the US, and the only one in San Diego county. Perfect for Southern California kayaking! Carlsbad's Hedionda and Batiquitos Lagoons are areas of brackish water, known for housing dozens of unique species, though other protected marsh areas in SoCal are more well known for wildlife watching. When the water level is high, you can paddle of the feeder creek a good ways, giving a different view of the lagoon area. Some of the best things to do in Carlsbad fall around the lagoons.
Given this the Carlsbad Lagoon's proximity to suburbs, it is commonly crowded in the afternoon, but the lagoon provides a wide, flat body of water great for families and beginners getting used to paddling efficiently. This is another great SUP friendly paddling location. Visit in the morning for the fewest number of people, and then walk the Aqua Hedionda Lagoon trail afterwards. Paddling rentals are available at the lagoon.
Another beautiful, and very similar option is the Batiquitos Lagoon just to the south. A State Marine Conservation Area, there are lots of migrant birds and wildlife all around. Like with the Hedionda Lagoon, you'll want to plan your paddle with the high tide for the best experience.
Where to launch: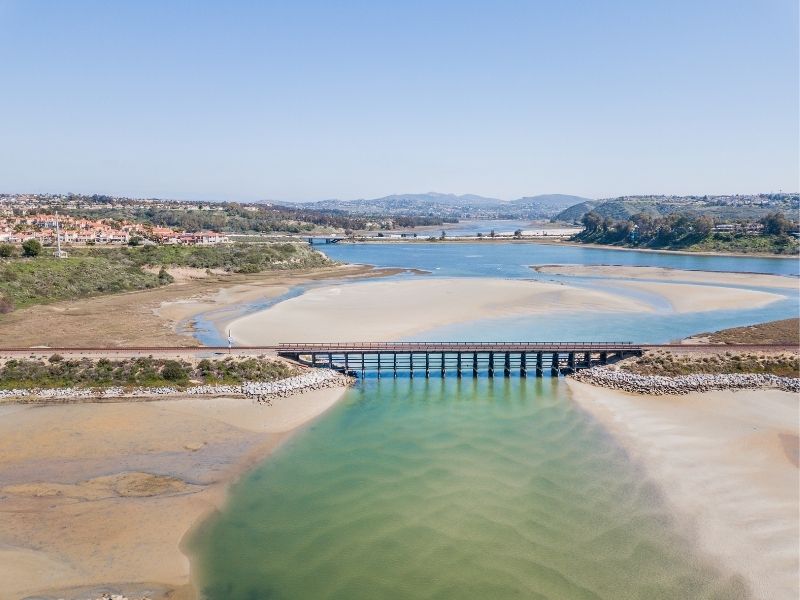 Kayaking at Shelter Island in San Diego
For those looking for a relaxed day of paddling, searching for sea lions while still being able to stop at a moment's notice for a bite to eat, Shelter Island in the San Diego harbor is the place for you and is a great spot for Southern California kayaking. Being close to the open ocean and near a major port, minor wakes are expected but areas surrounding the island should be no issue for beginners.
Take your time touring the docks and yacht clubs, paddling under dock ramps at low tide; keeping an eye out for sea life among the rocks. Once you've tired yourself out, dock up your watercraft outside of the Bali Hai restaurant on their personal dock and enjoy a gorgeous view of the San Diego skyline on the water in a local favorite Polynesian-themed restaurant renowned for their Mai Tais. The BW Plus Island Palms Hotel is right here as well, so it makes for a great place to put launch (they have a marina) or stay overnight.
Where to launch: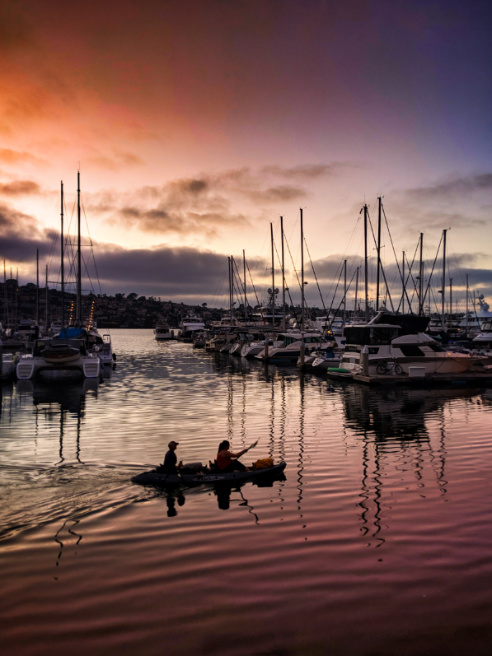 La Jolla Cove in La Jolla (north San Diego), CA
Even among some of the most gorgeous coastlines to kayak along, La Jolla Cove stands above the rest. Located outside of the busy metropolitan area, La Jolla provides a breath of relief from all the bustle that is the city of San Diego. This spot along the coast is known for its gorgeous cliff faces, the constant presence of sea lions, and seasonal sea life. Entry is recommended near La Jolla Beach to avoid needing to carry equipment down long staircases.
If you're lucky enough to go between August and September, there's a good chance you'll see some of the hundreds of leopard sharks who use the area between the main cove and La Jolla's Scripps Pier as a breeding ground. These docile sharks have no issues swimming inches beneath kayaks, almost asking for you to take a dip with them. The shape of the cove helps protect the area from any large swells, making it a wonderful place for beginners. This provides those unfamiliar with paddling the perfect environment to explore sea caves along the cliffs, kelp beds hosting dozens of different species, all within year-round mellow waters. This is a good place to bring a SUP as well.
Where to launch: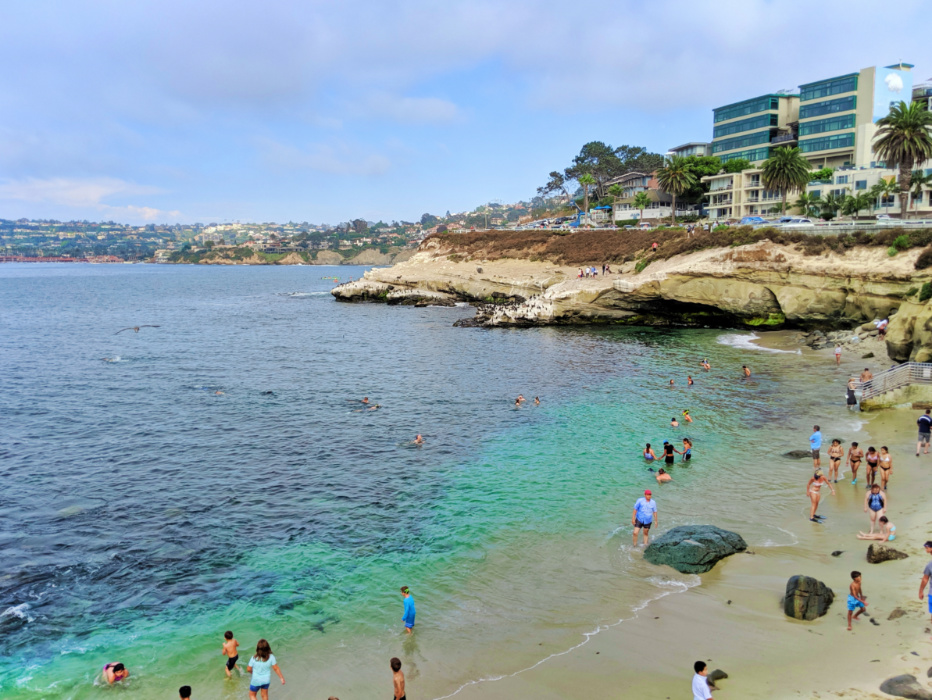 Southern California Sea Kayaking Spots
Compared to the locations listed above, the following locations allow for those looking for a bit of a challenge to push their limits. These spots, while in the same beautiful climate found throughout San Diego county, are for those who aren't afraid to end up flipped the water. Most of these locations, located along the shorefront, allow for some of the best kayak or SUP surfing in the nation.
Providing consistent swells and rolling breaks, giving those looking to try or practice catching waves the optimal environments to do so. Some spots may be a bit difficult to carry a kayak or SUP to, as well as require a commitment to distance paddling in turbulent waters, but they are well worth the effort.
Oceanside Harbor Beach in Oceanside, CA
Located adjacent to the harbor, across a small peninsula with a road running through, the Oceanside Harbor Beachfront area is a fantastic spot for experienced paddlers of all kinds to spend the entire day. With a parking lot allowing for trailers or RVs for $20 a night, but restrictions on pop-ups due to the smaller spaces, one can spend the night falling asleep to the sound of waves crashing on the shore. If you can manage to get up early, particularly during the summer months, you have a decent chance to watch or even join dolphins playing in the surf.
With the beach hugged by two jetty's on either side, there are consistent riptides along them. While this can be a frightening experience for those new to the ocean, these riptides offer a "speed lane" out past the breaking waves. Using this to your advantage can save monstrous amounts of energy otherwise expended forcing yourself through the whitewash and over swell faces. Getting past the break, you'll be met with the beauty of a seemingly endless ocean in front of you with the entire coastline behind. To the north, there is the Camp Pendleton Military Base harbor, making it not uncommon to see air or watercraft testing nearby.
Roughly a mile down the coast to the south, there is the Oceanside pier. Making for an enjoyable trip for those looking to get more of a workout in on the ocean. Compared to the flatwater of a harbor or lagoon, the turbulence of the open water pushes one's stamina to a much further extent, particularly with shorter watercraft, tracking becomes far more noticeable. After a day of paddling along the coastline or trying your hand at kayak or SUP surfing, relax by watching the sunset on the water while roasting marshmallows using the built-in firepits on the sand. You may have to reserve one early in the day, as they are a hot commodity.
Where to launch: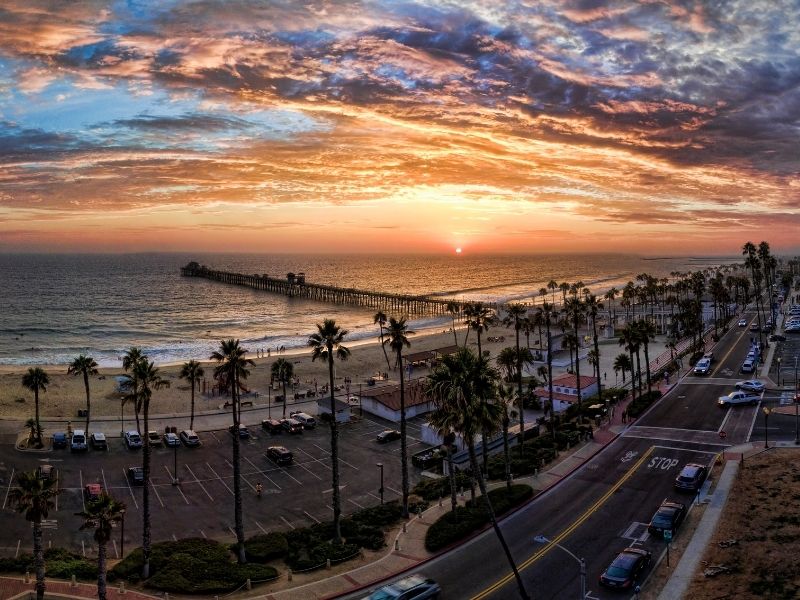 San Elijo State Beach in Encinitas, CA
If you're looking for an RV camping experience on cliffs overlooking the ocean, San Elijo State Beach is the spot for you. The south end of the campground is at beach level, making getting your kayak or SUP down to the water a breeze. There are also several sets of wooden stairs along the cliffs of the campground leading to beach access.
Note: this is also where you can easily access the mouth of the San Elijo Lagoon, which is a protected area that's perfect for more calm kayaking.
Long stretches of cliff faces make for a gorgeous coastline to paddle along, with offshore kelp beds providing fantastic environments for those looking to get some fishing in. On your way back to shore, take your time catching some of the rolling waves breaking over the rocky reef. This is a location where kayak and SUP surfing should be practiced with greater caution due to possible shallow water hazards with rough ground near the close by river's mouth.
If you are in the mood for a relaxed paddle, along the south end of the beach, there's an estuary leading into the San Elijo Lagoon Ecological Reserve. No motorized watercraft are allowed in the lagoon to protect the local wildlife. Twists and turns through the marshes prove a fun course on kayaks as well as paddleboards. This being one of the few brackish water areas in the state to directly explore the ecosystem, it is a must-go for any interested in biological conservation.
The campground being walking distance from the beach town of Cardiff-by-the-Sea, local restaurants such as VG donuts or Besta-Wan Pizza House are sure to satisfy after a long day on the water or help fuel up before heading out just after sunrise.
For those looking to bring their furry friends, dogs are permitted in the campground and outdoor seating of many restaurants in town, but sadly not on the beach. Not to fear though, as the town to the south, Del Mar, has an off-leash dog beach. Great for kayakers wanting to take their pups out on the water or let their pets find friends to play with.
Where to launch: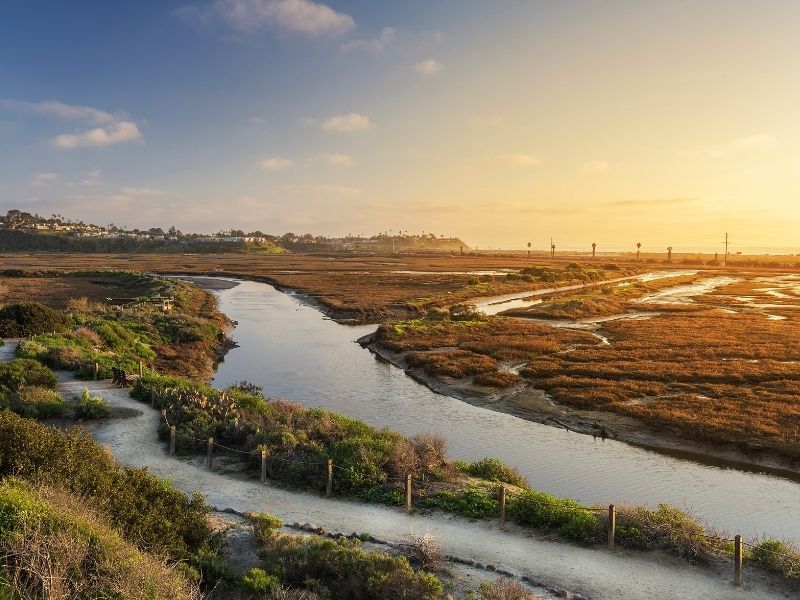 Loews Coronado Bay Resort on Coronado Island
Individuals, couples, or families looking for a getaway to a resort with the options of both casual and intense paddling experiences should look towards Loews Coronado Bay Resort. I know, it's a hotel, but hear me out. Whether preferring the calm waters surrounding Loews and the nearby Coronado Cays Yacht Club, or the intense rough waters off the Silver Strand State Beach, mere miles away from the training grounds of the Naval Amphibious Base, there's a paddling environment for all skill levels.
Being a pet-friendly area, it is encouraged to bring your dogs or pets along with you. Breakfast can be grabbed at the resort but if you're looking to get off the property, opening at 7 am on weekdays, and 8 pm on weekends, Calypso Cafe is a three-fourths mile paddle across harbored waters and offers breakfast, lunch, or dinner options to take out onto the water. Nearby coves and beaches in the bay allow picnicking on or along the waterfront. Many of these spots, such as the Crown Cove Aquatic Center, offer picnic seating and restrooms to the public (and even kayak rentals).
If you're staying at the Loews hotel and want to paddle on the ocean side of the island, the resort offers a shuttle service that uses extended golf carts. It can be a bit tricky, but having customer satisfaction as their priority, the shuttle service drivers are more than happy to load your kayak or paddleboard across the seats to take you the half-mile trip from the lobby or parking garage to the beach. Paddlers choosing to hit the beach side should be ready for challenging paddling conditions, whether intending to surf-kayak or go for distance. Hardcore paddlers looking to work out to their limits can try the four-mile, tumultuous ocean water trip from Silver Stand State Beach to Coronado Beach, home of the famous red-roofed Hotel del Coronado.
Where to launch: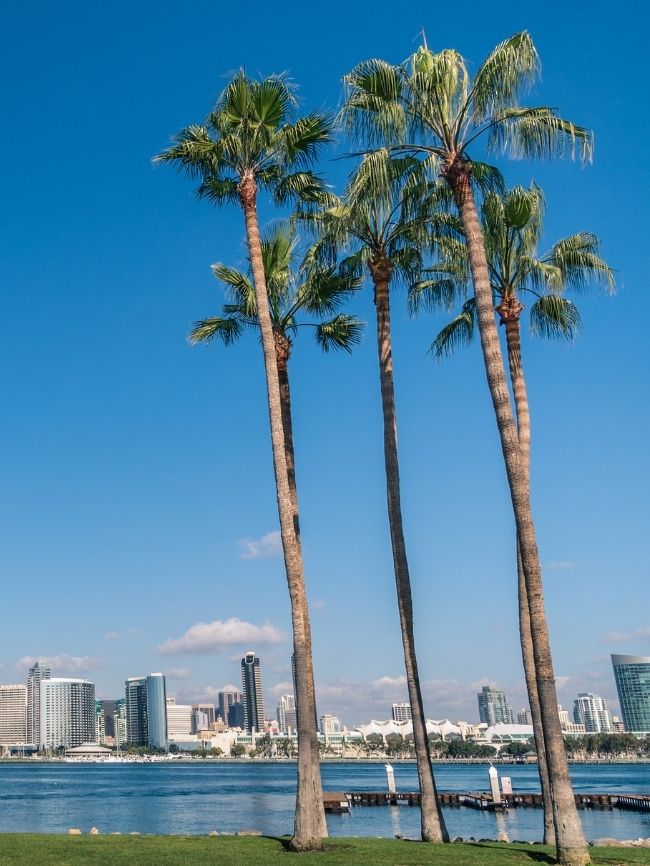 Recommended Southern California Kayaking Tours
Since you might not have been planning on kayaking your way through San Diego County or the rest of Southern California, there are a few options for getting on the water with a guide. Our top pick is to explore the Sea Caves and harbor in La Jolla.
La Jolla Sea Caves Tour in La Jolla, CA – For under $35 per person, take an hour and a half guided tour of the sea caves La Jolla is famous for! Tide permitting, kayak through some of the cave interiors while watching seals, sea lions, and other marine life play in the water.
Sea Kayaking with Whales – from December to March, humpback and gray whales migrate past San Diego County, so kayaking with a guide is a great way to see them up close. Commonly seen wildlife also includes dolphins, sea lions, and even sharks of different sorts.
Another way to both get on the water and see more of San Diego and the surrounding communities is with a Go City San Diego pass.
Go City: San Diego All-Inclusive Pass – Applicable for over 55 attractions throughout San Diego county and starting at $102 per adult, this pass gives you the freedom to experience a variety of San Diego from a single offer. Rent a bike along La Jolla before getting in the water on a SUP or kayak. Then, head off towards downtown San Diego to tour the USS Midway. Wrap up the day with a kayak or SUP trip from Coronado island.
Among the fantastic weather, gorgeous wave conditions, and varieties of environments to paddle through, San Diego is a must-go for any kayakers or paddleboarders. We visit San Diego often, doing everything from kayaking to exploring the museums of Balboa Park. If you need recommendations for where to stay in SD, restaurants or more things to do, please leave a comment or send us a note!