Kayaking in the Tri Cities wine country of Washington State is a fun and VERY DIFFERENT sort of paddling adventure. The cities of Pasco, Richland and Kennewick are at the center of the region, each of which is known in its own right for producing some of the best Washington Wines and other agricultural crops. And there is kayaking all through the Tri-Cities area!
The Tri-Cities region is rich in history where many of these kayaking waterways remain nearly as pristine as when the first paddlers explored this region. The most popular paddle spot in this area is the Columbia River with the Snake and Yakima Rivers also offering plenty of paddle exploration for kayakers of all experience levels.
Kayaking in the Tri-Cities means paddling on grand rivers with epic cliffs beside you, or kayaking past vineyards and through braided streams. It's a very unusual destination to visit in general, particularly because it's farm country for much of the area, but it's truly a unique side of Washington State to explore.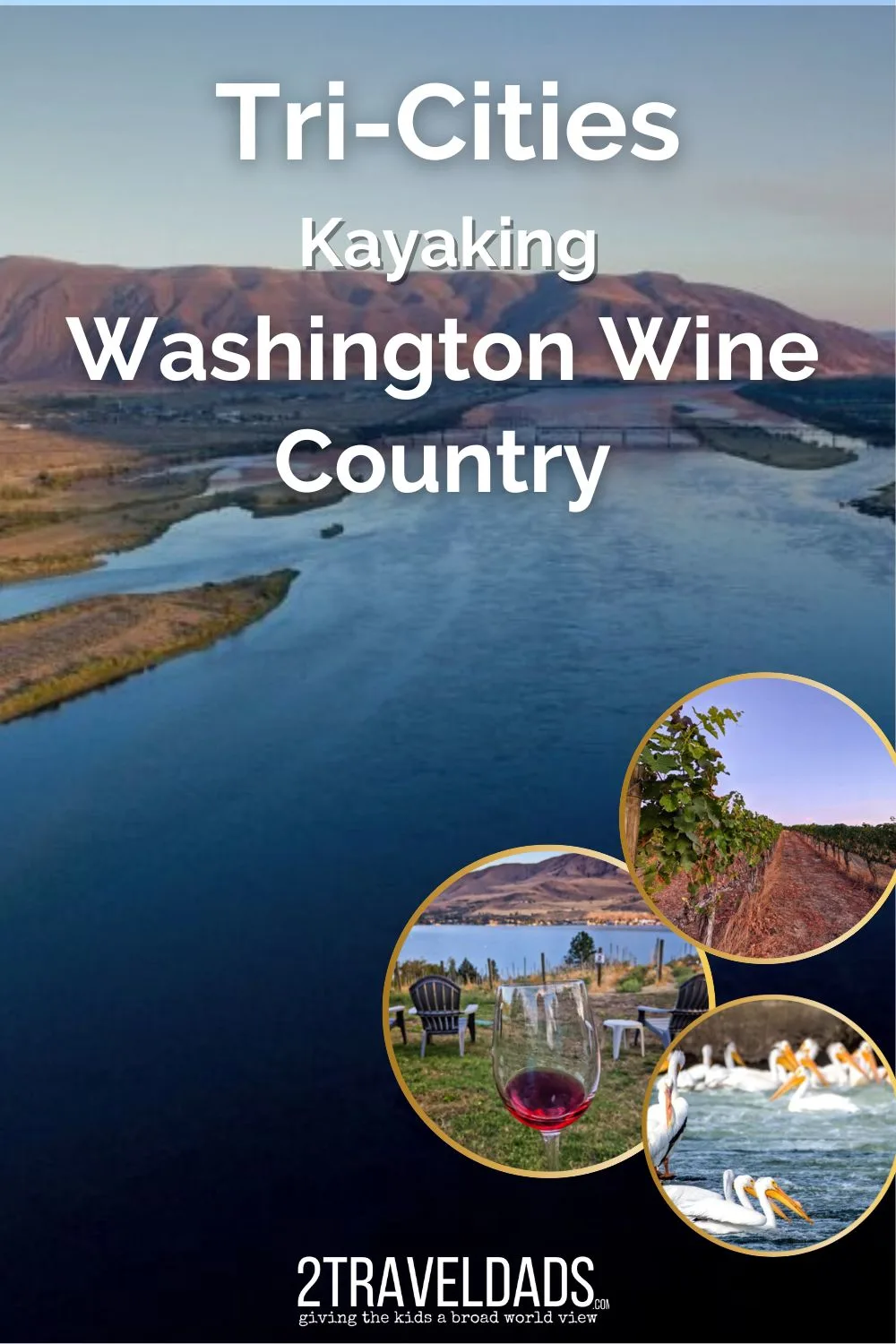 Easy Kayaking Spots in the Tri-Cities region
Kayaking in the Tri-Cities area is generally beginner friendly. To extend one of these shorter trips to a full day trip, a paddler could start at one launch and arrange to be picked up at another launch further down the river. Because the rivers here are so broad, there are very few places you'll need to portage, making kayaking in the Tri-Cities a great starting spot for getting on the water in Eastern Washington.
Howard Amon to Two Rivers Parks
Nestled along the Columbia River, this park has been facilitating multi-use opportunities since 1912. Due to its history and prime location it is often very busy. It is the number one park in the area for water recreation.
Located in Benton County Washington the Two Rivers park is along the Columbia River downstream from the previously listed Howard Amon Park. The park has three sheltered lagoons along its two miles of shoreline. Paddling here offers views of the nearby Sacajawea State Park, which is across the Columbia River from here.
Where to launch:
Clover Island Lighthouse, Kennewick
This launch is located in Kennewick's historic district. Reviving this historical waterfront, this multi use area features a small lighthouse. The public boat launch is located on the northwest end of the small island. This island also has a public marina and may be an busy area to paddle, however the historic island and busy waterways make for excellent viewing along the way.
Going out of the Clover Island Boat Launch, you can either paddle downstream to explore the shore of the Columbia River, or go kayaking upstream towards the confluence of the Snake and Columbia Rivers. In either case, you'll have a strong current and boat traffic to keep you on your toes.
Where to launch: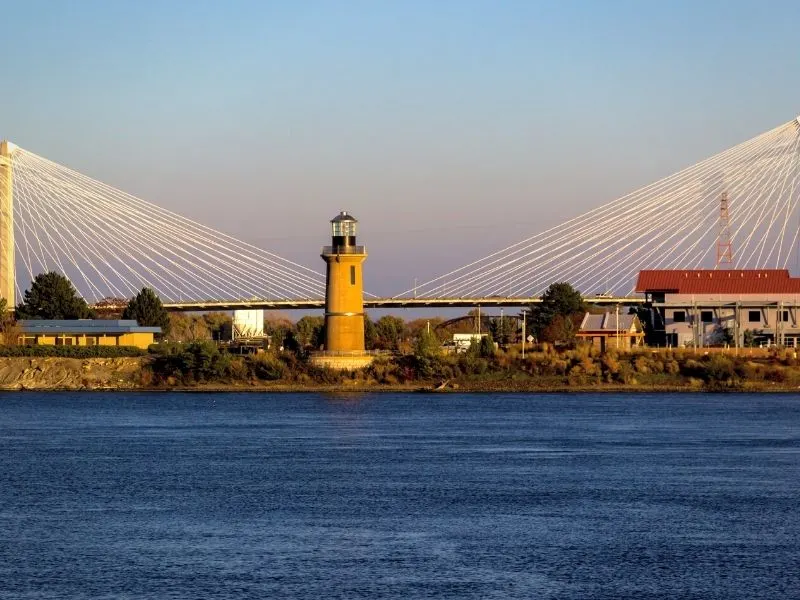 Confluence of the Snake and Columbia Rivers, Pasco
This boat launch is located along the Snake River. Not only is it a boat launch and multi use area, it is also an active campground with the Army Core of Engineers. With boating, swimming, hiking and more this area is an excellent place to visit for families looking to make a weekend out of their experience. The Hood Park Boat Launch and surrounding area make for a great beginning to this Tri-Cities kayaking expedition.
Where to launch: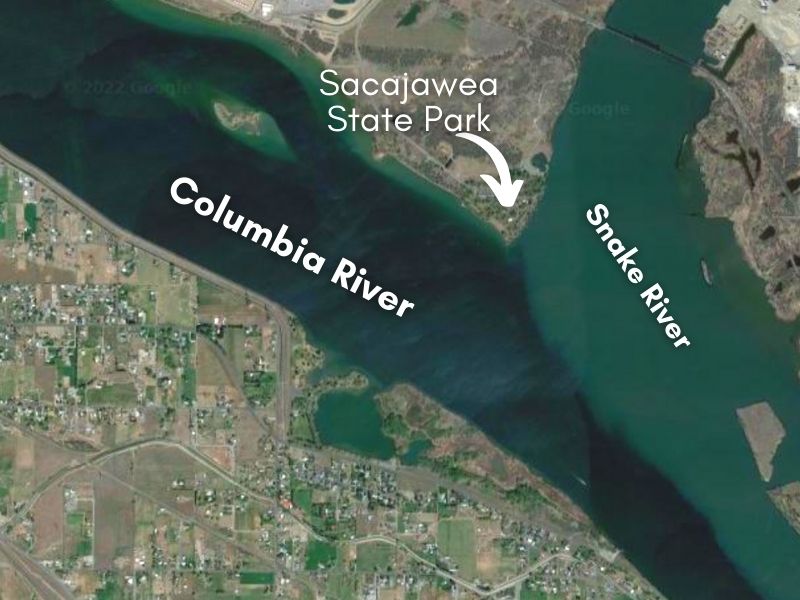 More Technical Kayaking Spots in the Tri-Cities Region
With such a changing landscape and so many rivers and seasonally high water levels, there are so awesome and rather technical kayaking spots in the Tri-Cities area of Washington. It's not all peaceful wine country paddling here, but there are some rapids and haul outs too.
Yakima River's Tapteal Water Trail
The Tapteal Water Trail is an excellent place to spend a day paddling the lower Yakima River. This 30 mile paddle begins at the Benton City Recreation area and boat launch and goes to Bateman Island. For shorter excursions or to make the trip easier, it is possible to shorten this trip. Visiting the map on their site can help decide what the best routes are. This water Trail allows paddlers to view local birds and a landscape that is natural, agricultural, suburban and urban.
Something really remarkable about kayaking in the Tri-Cities an onward into the Columbia River Gorge is the presence of the North American pelicans. These are huge white pelicans that are much larger than what you'll find out at the coast, like if you're kayaking in San Diego county in California or on the Olympic Peninsula of Washington. Very cool and special to see!
Where to launch: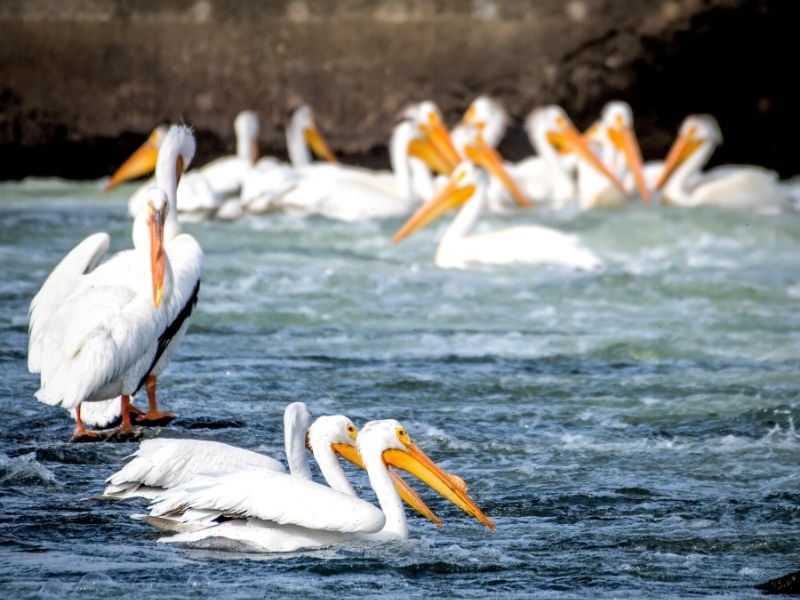 Northwest Discovery Water Trail
For more experienced paddlers seeking a multi-day experience the Northwest Discovery Water Trail offers that opportunity. This 367 mile water trail traverses the Colombia, Snake and Clearwater rivers. With over 150 launches, campsites, and other stops this trail offers plenty of opportunities to Discover the Northwest much like Lewis and Clark did when they explored this region of waterways.
Because the Northwest Discovery Water Trail is so long and expansive, you'll have many options for where to launch, fully depending on if you are doing legs of the trail or intend to camp your way all the way to the Columbia River. This water trail takes a fair amount of planning and preparation.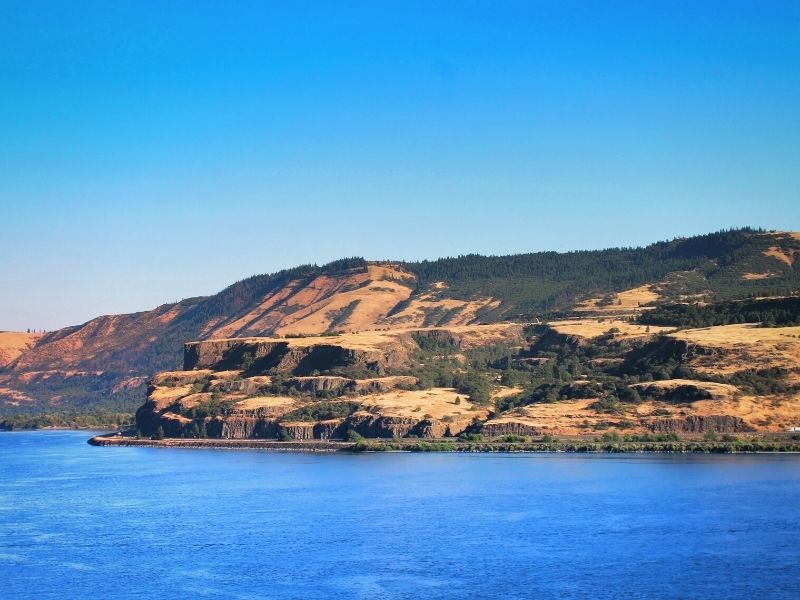 State Parks for Kayaking near Tri Cities Region
Washington State has some wonderful state parks, and in Eastern Washington you'll find that they really focus on the recreational opportunities such as kayaking or fishing, versus what you'll find in Western Washington where hiking is the main goal. You'll need a Discover Pass or a Public Lands permit for many locations, so be sure you have the correct paid access before parking or launching somewhere with restrictions.
Sacajawea State Park
Sacajawea State Park signifies the landscape where the Native American People met Lewis and Clark on their journey. A monument to Sacajawea this park offers plenty for people to explore. Visitors do need an annual launch permit or discover pass to enter and utilize the boat launch.
We mentioned this area previously when talking about the confluence of the Columbia and Snake Rivers. So much of kayaking in the Tri-Cities happens in this relative area because it's such a unique meeting of the waters.
Where to launch: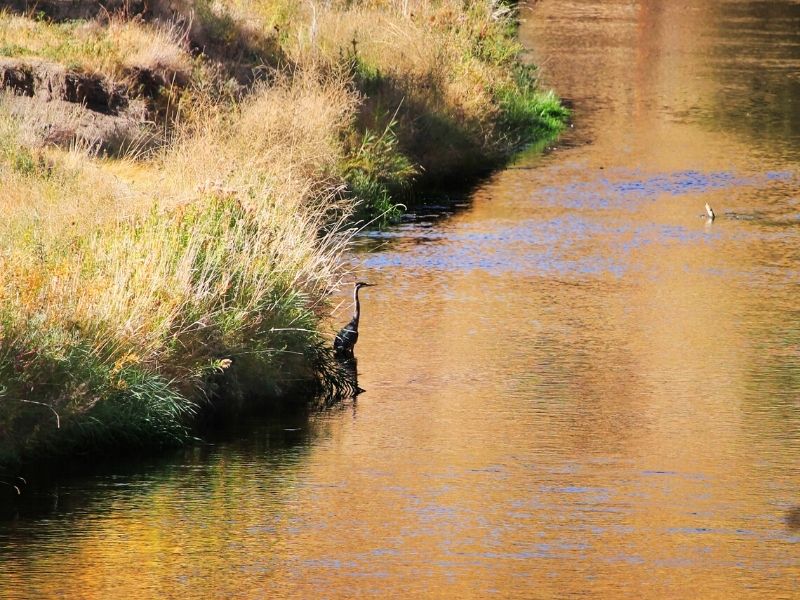 Wanapum Recreation Area
This Recreation area also encompasses the Ginkgo Petrified Forest. Many may not know but petrified wood is Washington's State Gem. This area offers plenty of viewing points of the Petrified Forest as well as boat launch access to Wanapum Lake. Like most state recreation areas, this launch requires an annual launch permit or discover pass to enter. This spot is a bit north of the Tri-Cities, but is a beautiful place for kayaking on the Columbia River.
Launch south of the I-90 bridge in Vantage at the Huntzinger Boat Launch. From here you'll find the waters more calm, the sights beautiful with cliffs and a gorgeous railroad bridge, and much less boat traffic than other parts of the Columbia River.
Where to launch: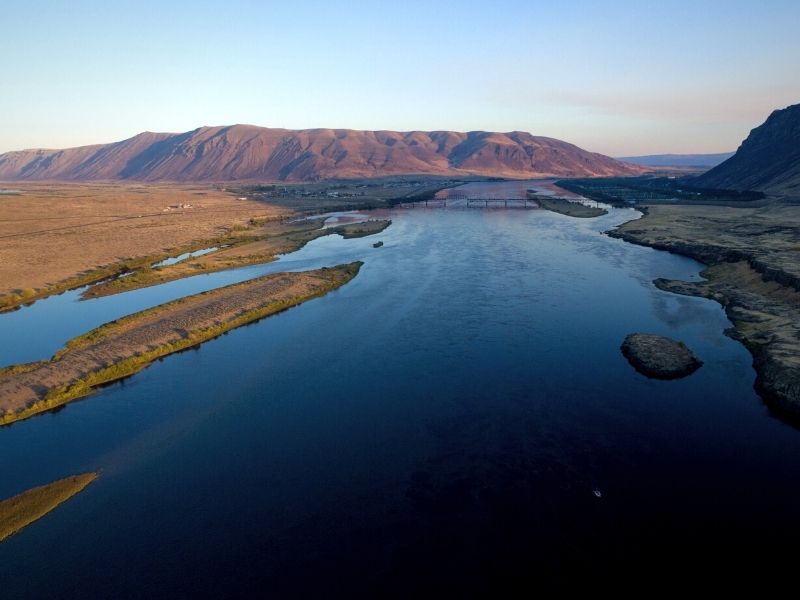 More Places for Kayaking in the Tri-Cities
Of course there are more launches and waterways in the Tri-Cities for you to explore. We haven't paddled all of the routes noted here on this map, a local vendor, Northwest Paddleboarding, has created this map of launch spots for easy access while you're exploring the Tri-Cities area.
Recommended Kayaking Tours in the Tri-Cities Region
There are a number of excellent paddle and gear companies within the the Tri-Cities Region. If you need a guide or would like to rent gear, a few options to check our are:
Northwest Paddleboarding: Offering several tour and rental opportunities along the Colombia River. This outfitter offers a few very unique paddle experiences such as a coffee company tour and a Wine Social Paddle Board experience.
Kayak Bateman: This rental company is more for paddlers who do not need a guide but are looking to rent equipment. Kayak Bateman offers a variety of paddle boat and board options that are sure to fit one's needs. Check them out for hourly and daily opportunities.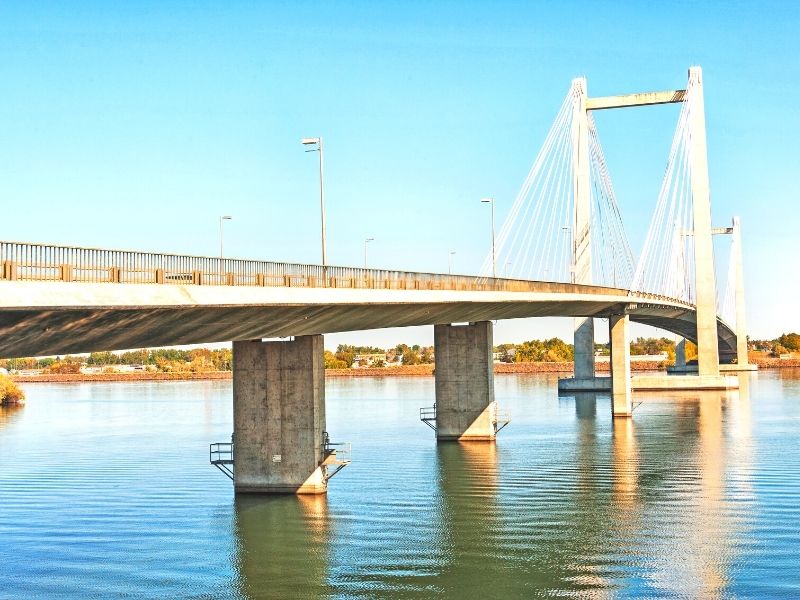 When to Visit Tri-Cities for Kayaking
For visitors from out of the area, mid to late summer may be the best time to visit the Tri-Cities Area. The summer offers an abundance of warm sunny days averaging weather in the mid to high 70s, but it can stay in the 80s into September. Fall is beautiful, with much more kind temperatures, but the water levels can be at their lowest in different areas, particularly upstream from major confluence areas. Kayaking here is very different from the Seattle area or paddling on the Olympic Peninsula.
If you are thinking of planning at kayaking trip to the Tri-Cities in winter or spring, you need to take into consideration the high-desert climate. In winter it gets EXTRA cold and can really be windy as weather blows off the Columbia River. Spring is great, with wonderfully high water levers and many more streams winding through the hills, but between the snowmelt and the onset of summer, you'll still face random cold snaps. Just be prepared.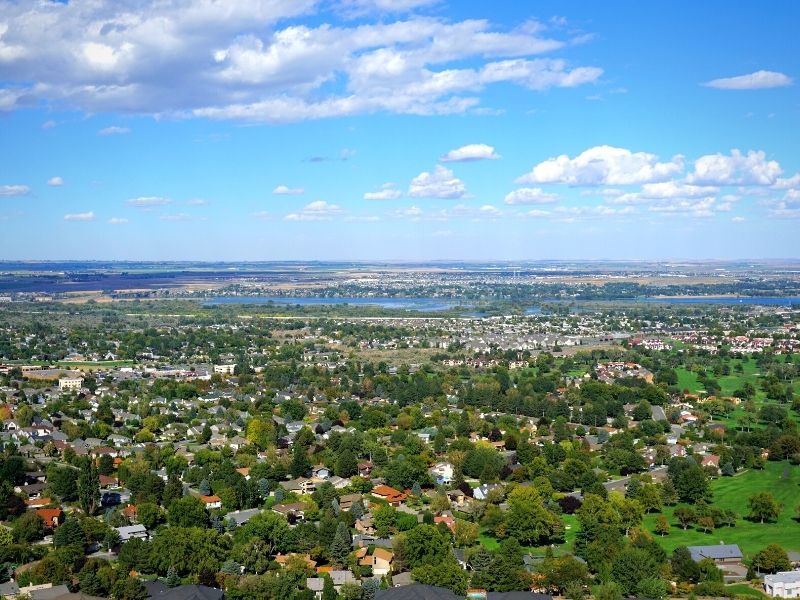 Where are the Tri-Cities?
If you grew up in Washington State you no doubt heard the term "Tri-Cities" all the time but unless you were a frequent visitor to Eastern Washington you may not have actually ever been or even known exactly where they are. If you're planning on kayaking in the Tri-Cities area, you can approach from three different ways:
From Seattle head EAST via I-90 and I-82, 3.5 hours
From Spokane head WEST via I-90 and I-395, 2.5 hours
From Hood River, Oregon head NORTHEAST via I-84 and I-82, 2.5 hours
It's really not difficult to get to the Tri-Cities on a road trip through Eastern Washington, or you could even fly into Pasco (PSC) to make it extra easy.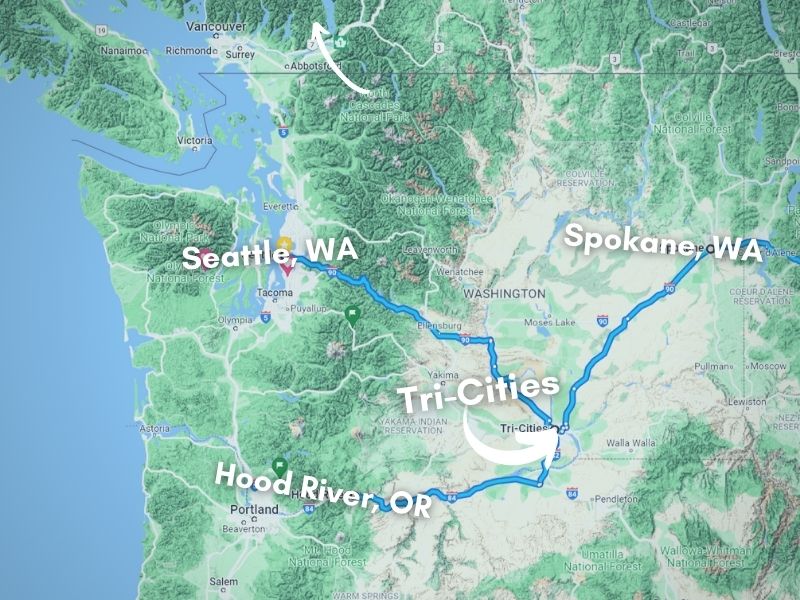 Need To Know about Tri-Cities
The Tri-Cities is often referred to as the heart of Washington Wine Country, for those interested in visiting wineries it would be a perfect pairing to any paddle trip planning. You can even plan your days to be on the water in the morning and then go winery hopping in the afternoon. Richland, Pasco and Kennewick all have wineries both in the town core and along the highways leading into the cities.
With an abundance of recreation opportunities for paddlers, bikers hikers there are endless trip planning ideas. Tri-Cities Washington offers over 300 sunny days a year and should be on everyone's list of paddling destinations.