Guess what we're doing over the Christmas holiday…  We are in New York City!! We've partnered up with Intercontinental Hotel Group to use our IHG Rewards points and have an awesome family trip to NYC.  We've got some big plans, but ultimately, we just want to experience New York and make some great holiday memories.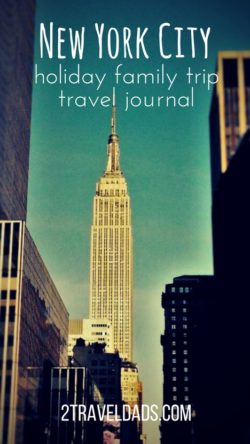 What to expect with our big NYC holiday trip:
a fun hotel in the Financial District – Holiday Inn Financial District
iconic NYC holiday activities – Top of the Rock, the Lion King on Broadway, ice skating, Christmas everything…
NYC National Parks – Statue of Liberty, Ellis Island, Federal Hall, Stonewall
Museums – Natural History, Guggenheim or Met…
Really, we've got a lot to look forward and it'll be great.  Please, if you have tips, ideas or recommendations, let us know. It's been a while since we've been to New York City and we've never done NYC during the holidays. Follow along on our adventure!
Exploring NYC during the holidays with kids
Initially the thought of doing New York with kids felt a bit daunting, and we travel A LOT. Once we started planning and accepted that NYC can't be done all in one trip, particularly with kids, we started to get excited…
More to come once we're actually out and about exploring. Please keep an eye on our Instagram stories (give us a follow!) and via Facebook for some cool live shots of iconic NYC and everything we're experiencing!