Wyoming and Montana are two of our favorite states to explore, and there some some beautiful spots to paddle. Kayaking in Grand Teton National Park in Wyoming is pretty epic and not too difficult to plan for. We've got eight spots that you can enjoy kayaking in Grand Teton National Park, including instructions when where to launch and when you may need to portage you watercraft.
What is the best way to see the grandeur of the Tetons? Kayaking in Grand Teton National Park is the best way, of course, with hiking coming in a close second. The Tetons are full of mountain lakes and when they're still, they have some of the most famous reflections in all of the Rocky Mountains. But where can you kayak in the Tetons? Don't worry, we've got you covered.
Remember whenever you get on the water, SAFETY FIRST. Whether you're in the Tetons or kayaking in the San Juans of Washington State, water can be cold and unpredictable, so always approach with caution. If you have any questions about kayaking in the Tetons or visiting Wyoming, please leave a comment or send us a note. We're always happy to share more!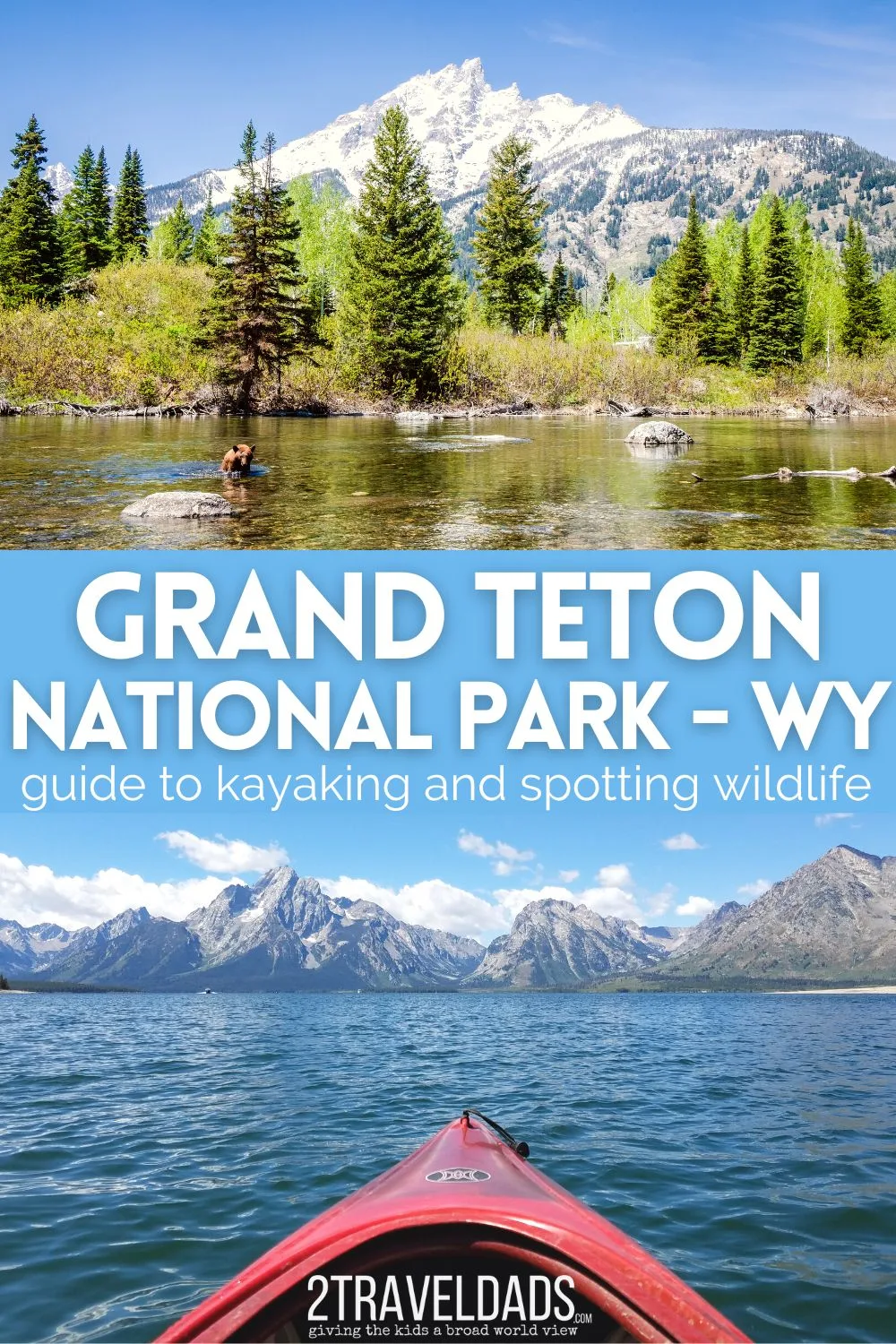 Everything you Need to Know for Kayaking in Grand Teton National Park
Connected to Yellowstone National Park by the John D. Rockefeller Jr Memorial Parkway, Grand Teton National Park has some of the most rugged views in the Rocky Mountains. There aren't a ton of places to kayak or SUP in Grand Teton National Park, but where you can it's gorgeous. Please be sure to read the information about each kayaking spot before launching, and know that there's much more to kayaking in the Tetons than just showing up with your boat.
Regulations for Kayaking in Grand Teton National Park
Kayaking in Grand Teton NP is allowed on Jackson, Jenny, Phelps, Emma Matilda, Two Ocean, Taggart, Bradley, Bearpaw, Leigh, and String lakes. Unlike Yellowstone where you cannot paddle on any of the major waterways, kayaking on the Snake River in Grand Teton is allowed (experienced paddlers). Check out the best options below!
Like with any sort of kayaking or boating in National Parks, there are regulations. If you're kayaking in Florida's National Parks there are rules about interacting with manatees and dolphins for their safety and yours. If you're paddling in Acadia National Park, there are guidelines for the sea cliffs and caves to preserve the environment and keep your safe. The rules for kayaking in Grand Teton National Park are for both wildlife safety and habitat preservation.
Important note: Any kayaking in Grand Teton National Park must be permitted (SUPs and canoes too). You must register in advance or at the Moose or Coulter Bay visitor centers. Expect a vessel inspection to prevent invasive species, so a 30 day quarantine may be required.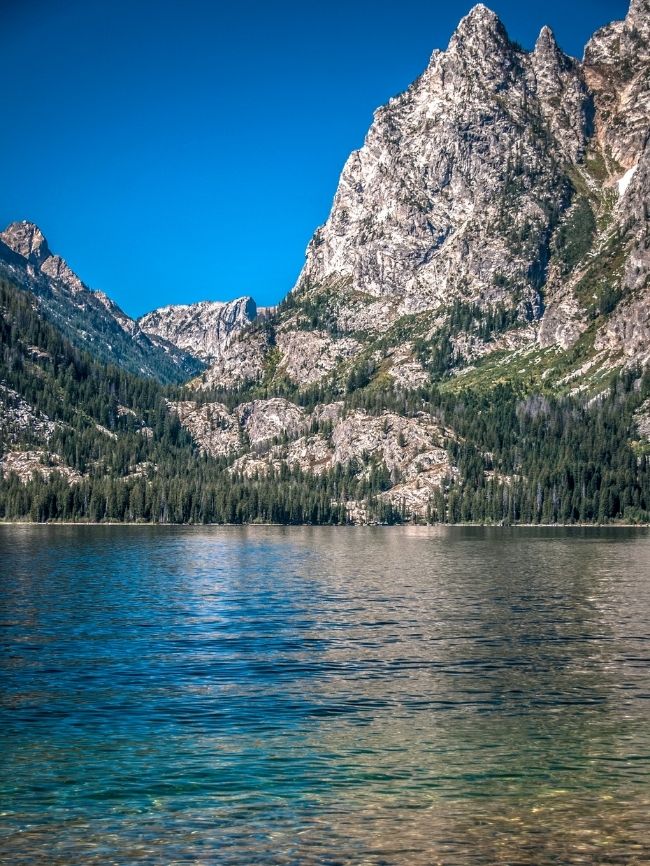 Wildlife to Watch for in the Tetons
Yes, we're going to talk about wildlife safety before getting into where you can kayak in Grand Teton National Park, as there is a lot of wildlife and you DON'T want to have a bad run-in with any of it. While the wildlife interactions will be more limited on the water than on a backcountry hiking trail in the Tetons, you're still likely to see some creatures closer than you might expect.
Here are the major wildlife species you may encounter in Grand Teton NP. We've noted any specific common sighting information for wildlife at each place noted in the kayak launch section below:
Elk
Bison
Moose
Gray Wolf
Mountain Lion
Lynx
River Otter
Black and Grizzly Bears
American beaver
North American porcupine
Wolverine
There are way more species of wildlife in Grand Teton National Park, but these are the most common that you may encounter on a kayaking trip or hiking trail. Of the large mammals in the park, the elk, moose, bears, beavers and porcupines are the most common you'll see. FYI, moose are more dangerous than they may seem.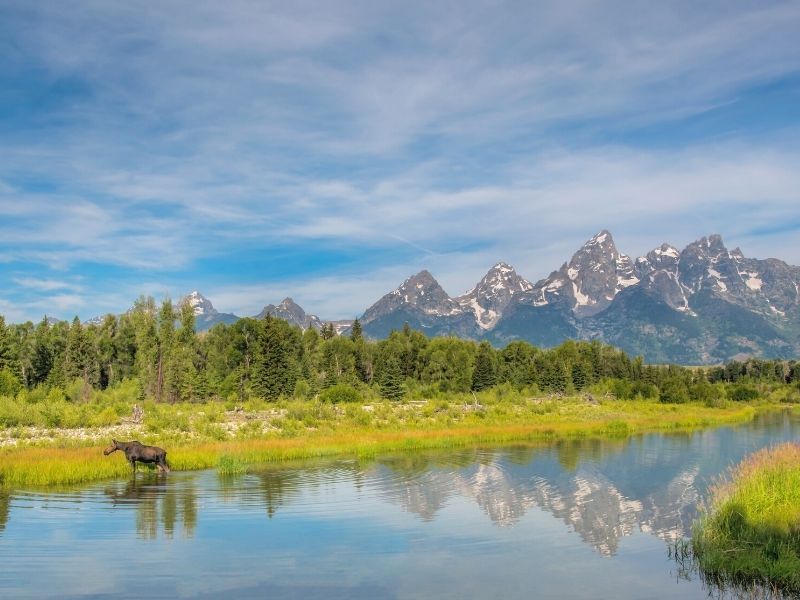 Wildlife Safety Tips for Grand Teton National Park
Kayakers should consider a few things when travelling through Grand Teton National Park. You are in bear country, and bears are often active near rivers and lake shores, so it is important to be aware of your surroundings and make noise to avoid surprising a bear. Beavers are also active near rivers and can create dams that can block the rivers or streams and create dangerous conditions for kayakers.
It's difficult to surprise a moose, but you might be surprised by one. Keep your distance and remember that moose can actually kick forward, so always give as much space as possible if you encounter a moose. We recently encountered five moose in four different bodies of water while up in Glacier National Park and had to change our plans, because kayaking near moose is NOT a good idea.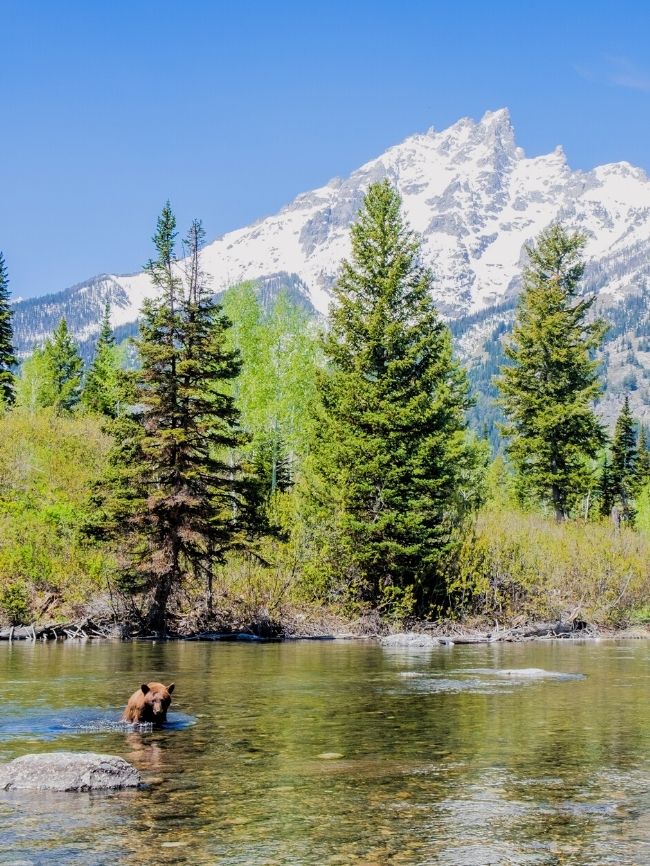 Best Places to Kayak in Grand Teton National Park
We've picked the prettiest, and also most easily accessible places to kayak in Grand Teton National Park. You can paddle on other lakes and ponds in the park, but those mostly require packing your paddling gear on a trail to access them. If you have an Oru Kayak or an inflatable SUP (I love the Goosehill Sailor), you can tote them wherever you need to go, but longer hikes mean planning to expel more energy. Safety first! Paddling is just one of the many fun things to do in the Tetons.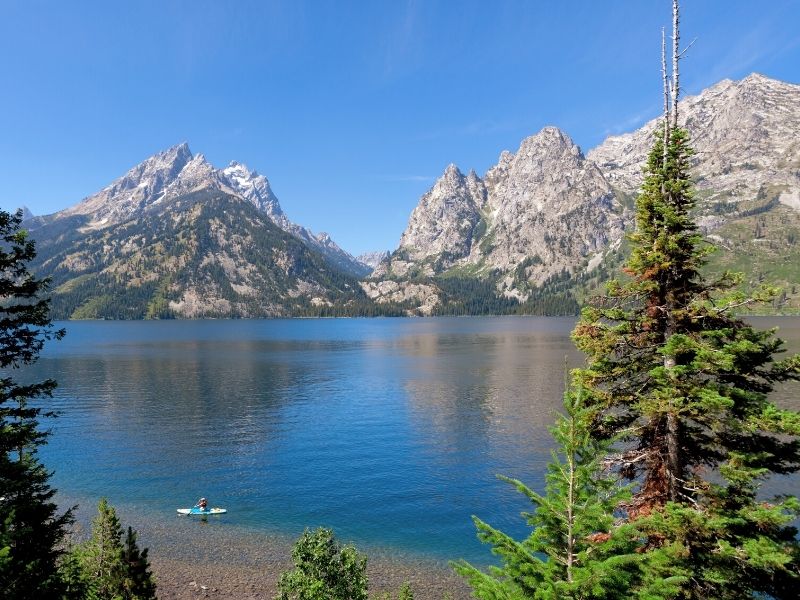 Kayaking on Grand Teton's Jenny Lake
Probably the most iconic sight you can imagine, kayaking in Grand Teton National Park MUST include getting out on Jenny Lake. Jenny Lake is a popular choice for those wanting to SUP, canoes and kayak due to the famous reflections and easy access to the lake. There is a visitor center here as well as boat tours, so yes, it is gorgeous, but it's also busy.
A great way to enjoy kayaking on Jenny Lake is to launch and then paddle northwest toward the West Shore Boat Dock. This is a trailhead for Hidden Falls and Inspiration Point. Paddling, this is about 5 miles one way, so plan it as a full day if you want to get all the way over and do some hiking.
Where to launch:
Wildlife to watch for: Moose, bear, otters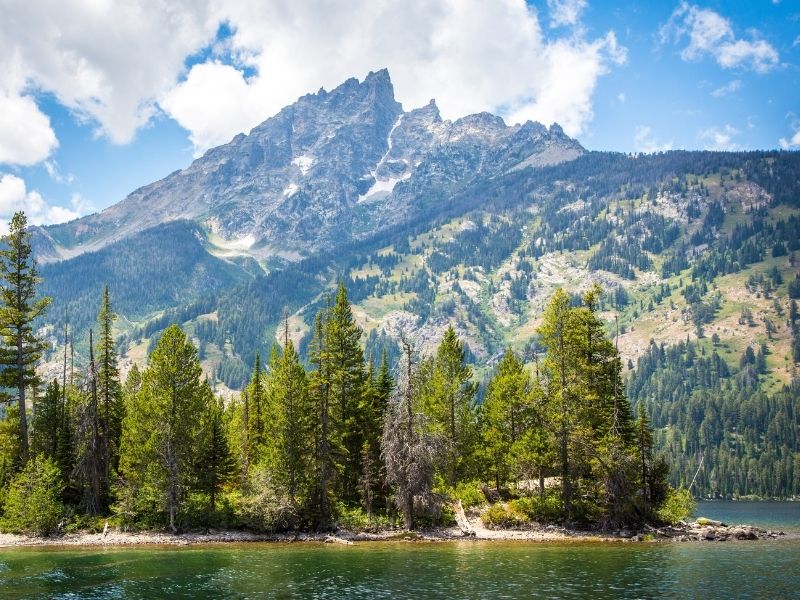 String and Leigh Lakes Kayaking in the Grand Tetons
String Lake is a popular area for swimming and lazy days picnicking. However, the shallow lake provides spectacular views and an excellent chance to see moose. For those spending a few days in the area, combining Jenny Lake or Leigh Lakes in the itinerary is common. This is a place for mellow kayaking and tooling around the shore. Paddling here is reminiscent of kayaking in the Adirondacks of New York… but with more jagged mountains.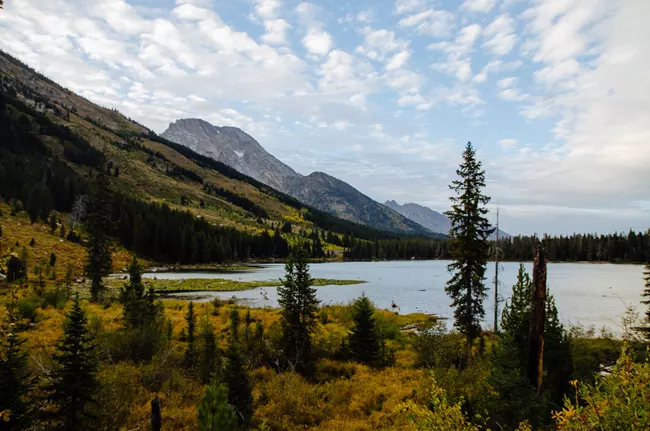 Leigh Lake is accessed by a one-mile hiking trail over flat terrain, so it's best for those planning it for kayaking in Grand Teton National Park to actually start in String Lake. After paddling String Lake and a portage of 100-150 meters, you'll be on Leigh Lake. The extra effort of portage means many would-be kayakers just can't be bothered, but for those willing to expend a bit of extra energy (and load on a large-wheeled kayak dolly), it means a more off-the-beaten-path with the lake all to yourself. Once on the water, it will be hard to complain given some of the best views for Kayaking in Grant Teton National Park.
For further information, check out the National Park Services guide to the area.
Where to launch (portage):
Wildlife to watch for: deer, moose and bears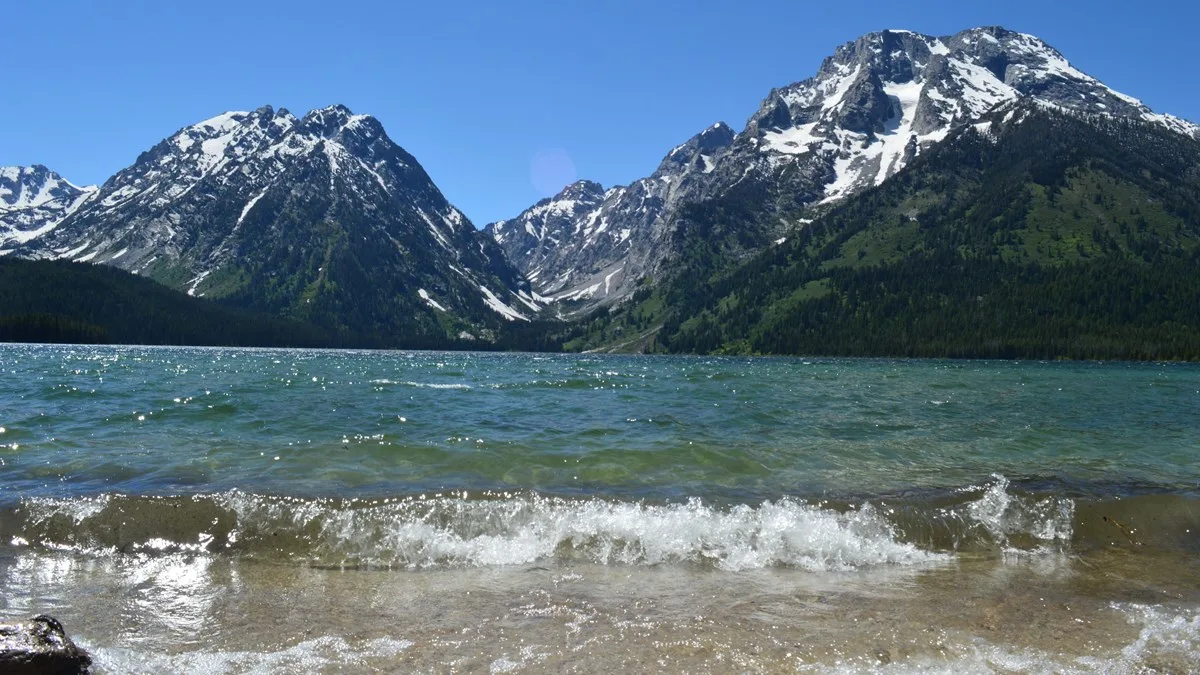 Kayaking on Jackson Lake
I think this is my favorite lake in the Tetons. Jackson Lake is a 15-mile long glacial lake that sits at the foot of the Grand Tetons. This is the largest lake for kayaking in Grand Teton National Park. With 15 islands in the lake, there are plenty of opportunities to camp and make the paddle an overnight trip or multi-day excursion. Finding your next catch won't be difficult as there is a very healthy trout population. Regardless of where you are on the lake, you will view the spectacular peaks that draw so many people in.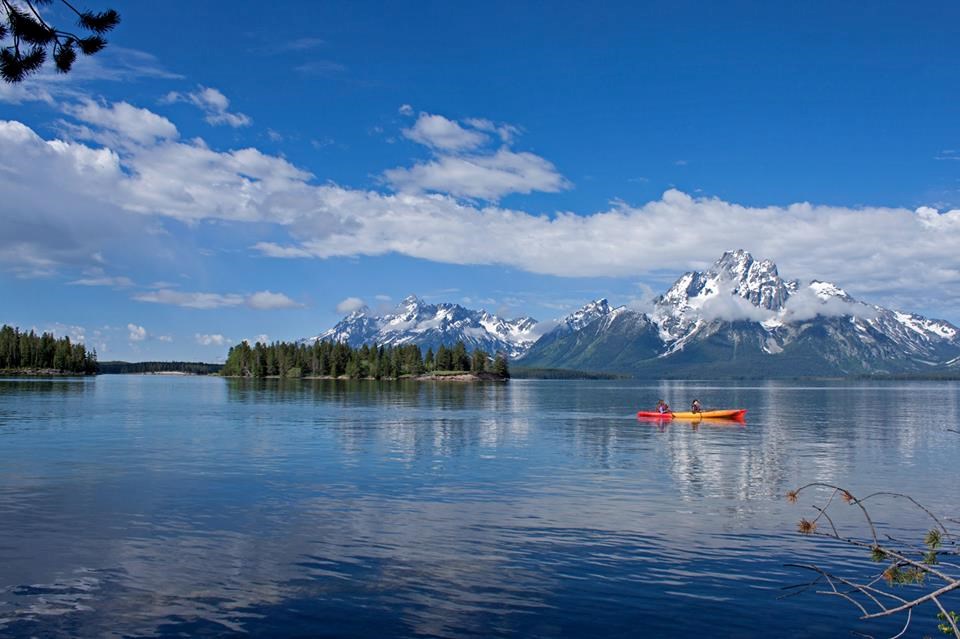 Check out Jackson Hole's official tourism website for the most up-to-date information on camping, fishing, or rentals on Jackson Lake. And also keep in mind that motorized boats are allowed on Jackson Lake, even if they can't go speeding around crazylike, they are an additional consideration. If the weather isn't quite kayaking weather, spend some time in the Jackson Lake Lodge until it's safe to get on the water.
Where to launch:
Wildlife to watch for: Otters, moose, bear, elk, white pelicans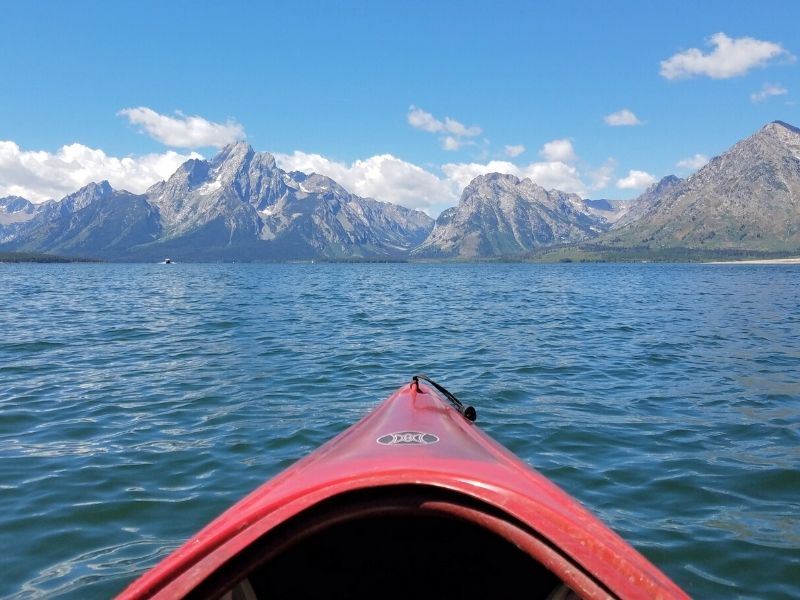 Two Ocean and Emma Matilda Lakes
Kayakers looking to visit Two Ocean Lake will enjoy the views of the Teton Range from around the lakeshore. Spring and summer bring in wildflowers that brighten up the already stunning scenery. Note that given the marshy nature of the shoreline, there are tons of mosquitos. Bring bug spray! This is a spot where the mosquito population is comparable to Mosquito Lagoon where you do bioluminescent kayaking in Florida.
For a personal narrative of a kayaker's experience in Two Ocean Lake, check out Hiking in the Light's blog.
Emma Matilda Lake is another beautiful lake in the middle of the Grand Teton National Park in Wyoming. While it is smaller than others, those who venture out will be rewarded with less foot traffic and more wilderness. To get to Emma Matilda Lake, you'll need to portage your kayak from Two Ocean Lake or from the trailhead. Due to the need to portage between the two lakes, this kayaking adventure will take a fair portion, if not all day.
Where to launch:
Wildlife to watch for: Moose, bear (both black and grizzly), otters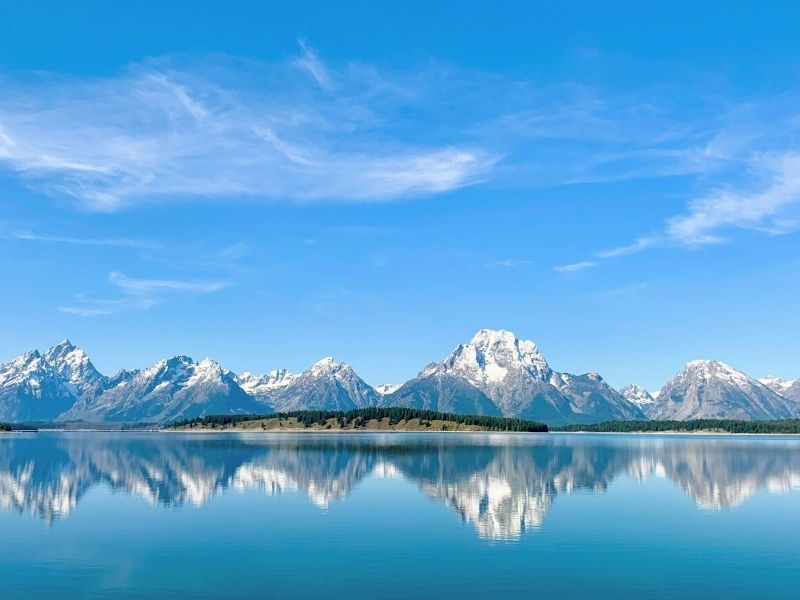 Snake River Kayaking in Grand Teton National Park
The Snake River is over 1000 miles going through Washington, crossing Idaho, and popping into Wyoming. It is a true American gem with waterways perfect for paddling. The river has different sections that allow for various adventures, including lazy floats, leisurely paddles, or adrenaline-pumping rapids. Check out Jackson Hole Traveller's website for an excellent overview of paddling the Snake River in Grand Teton National Park.
Probably one of the prettiest and most calm places to kayak on the Snake River in Grand Teton National Park is at Oxbow Bend. You'll need to transport your kayak from the road to the river, but it's not too far and the water is amazingly calm. Paddle upstream towards Jackson Lake. Kayaking or floating of any sort is prohibited within 1,000 ft of the Jackson Lake Dam, so stop before you're that close.
Remember, mountain rivers are cold, they have strong currents that will surprise you, and they are not for novice kayakers. Always error on the side of being safe and smart when you get onto a mountain river, including the Snake River in Grand Teton NP.
Where to launch:
Wildlife to watch for: Moose, bison, elk and bears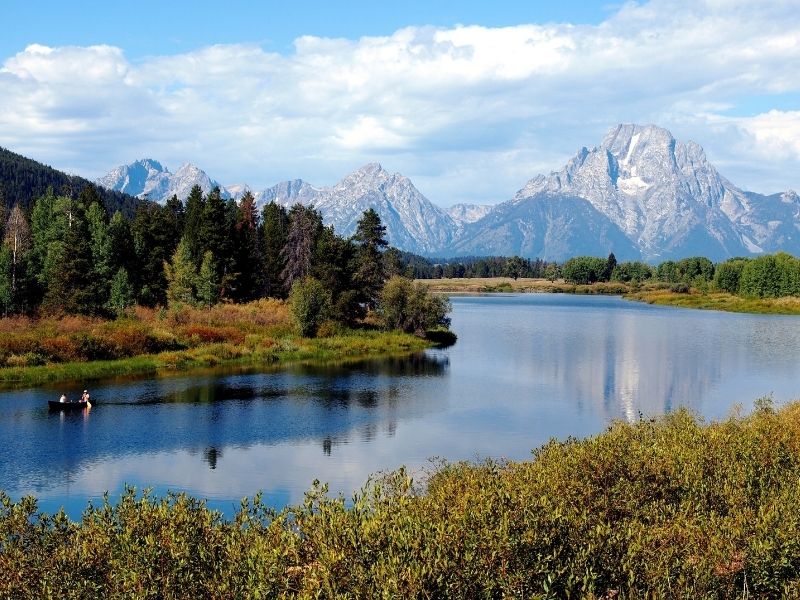 Guided Paddling in the Grand Tetons
While there are some guided kayaking trips in Grand Teton National Park, it's much more famous, in terms of guide services, for white water rafting. It's not like kayaking in Everglades National Park where the opportunities to calmly explore are all around. Rapids and float trips are some of the most exhilarating and beautiful ways to experience the Rockies, and the Grand Tetons really are peak epic for rafting.
There are lots of rafting options in the Tetons, so be sure to book one that suits your needs and your rafting experience level. Find a Grand Tetons rafting trip here!
When to Visit Grand Teton National Park
The best time to kayak in Grand Teton NP is during the summer months when the weather is warm, and the snowmelt is starting to slow a bit. Always be prepared for crowds in active areas, like around Jenny Lake. If you're looking for a more peaceful experience, try kayaking during the early morning or evening hours, which is also when bear and moose are more active along the shores.
Late spring and early fall are also good times to visit the Grand Tetons, as the crowds tend to be smaller. Remember that the weather can be cooler during these months, so dress appropriately. Also, as snow melt picks up in spring, that can cause murky water in places and RAGING water in others.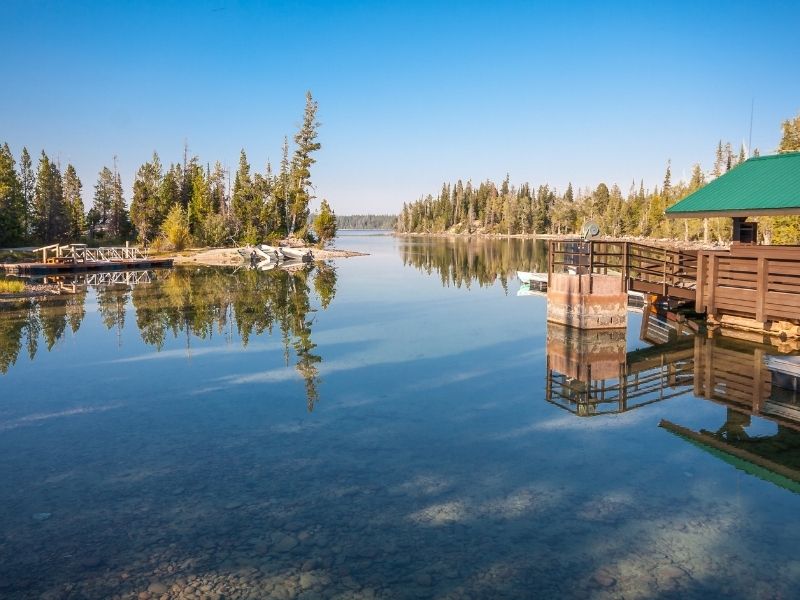 Weather in Grand Teton National Park
The best time to visit the parks for a paddle is June or September. Once you hit the middle of the summer, the park is packed with visitors, but not usually on the water. Just as with any paddle, there will be less wind in the mornings and evenings, but it is still the mountains so the weather may change quickly, even in summer. Pack some light rain gear, as it's common to have an afternoon shower in the Rockies.
With summer highs usually being in the 70s or low 80s, you'll find the weather in Grand Teton National Park to be awesome for kayaking or hiking. You'll love it!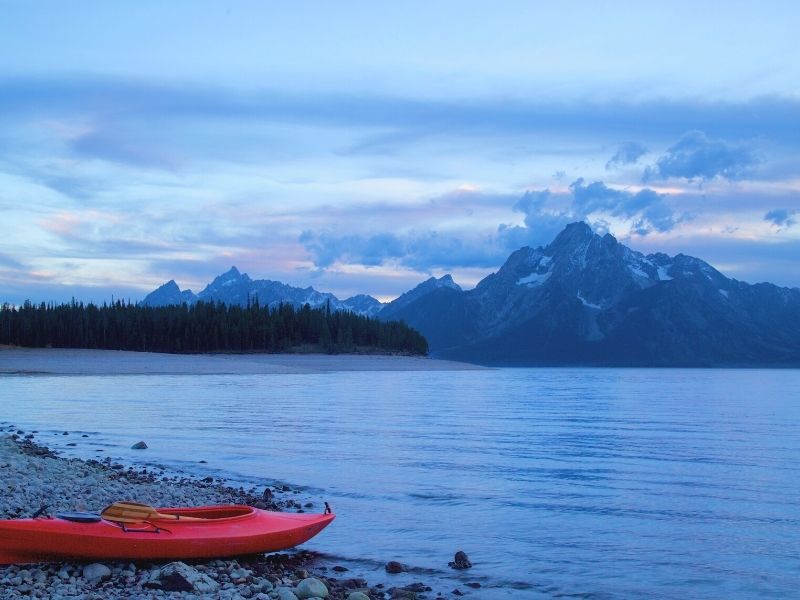 Are you excited to plan some kayaking in Grand Teton National Park?! It's an easy addition to a Yellowstone kayaking and camping trip, or it can be its own adventure. If you have any questions or have some additional suggestions or kayaking information you'd like to share, please leave a comment or send us a note!