Kayaking in the Adirondacks is a special and unique experience to enjoy in Upstate New York. A state known for the Fingerlakes and Catskills, there's so much more to explore when you get on the water. A few hours north of New York City, the Adirondacks are a great escape from city life, and are great for kayaking and canoeing.
Located in Upstate New York are some of the most pristine waters found across the entire US. Created in 1892, the Adirondack Park is the largest park in the whole continental United States and nearly three times the size of Yellowstone National Park. New York's Adirondacks are best known for their 46 high peaks and fall foliage viewing, but are home to the start of the Northern Forest Canoe Trail and more than 2000 ponds and lakes, and 1,200 miles of river to paddle. Kayaking in the Adirondacks is VERY different from paddling in the Sierras of California.
If you have a favorite spot for kayaking in the Adirondacks that we didn't include, please leave a comment or send us a note. We're happy to share more and appreciate the additional recommendations!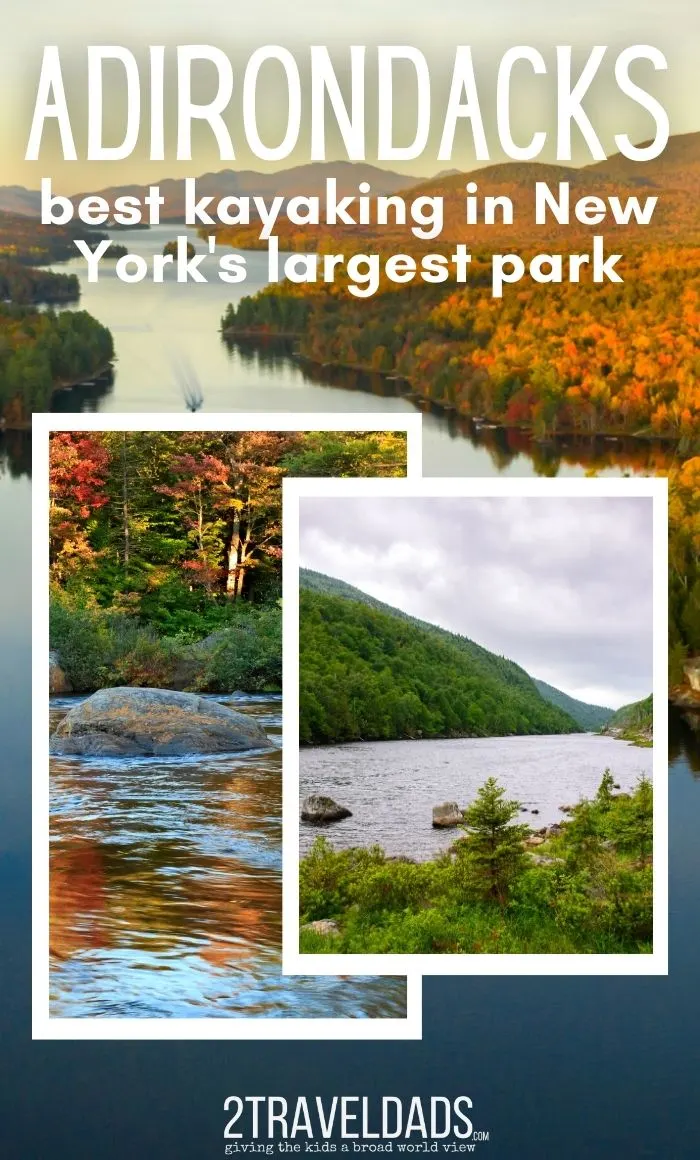 Easy Kayaking Spots in the Adirondacks
If you start googling images of Upstate New York, you'll see some gorgeous falls and winding rivers, mountains and fall colors. There are some beautiful calm places to kayak in the Adirondacks besides the raging streams. These are our top picks for simple and breathtaking paddles here.
Note: the Adirondacks are very popular for canoeing, but wherever you can take a canoe, you can kayak or paddleboard as well.
Kayaking Moose River, Old Forge NY
The Moose River is a lazy paddle with plenty of sandy corners for swimming or a picnic. This scenic paddle starts down a remote forest services road and brings you down the river back into Old Forge. You can get out at Mountainman Outdoor Supply Company. Mountainman also provides a shuttle and rentals as needed.
Something to pay attention to, as you head south on the Moose River, there is a small dam/chute to be careful of. If you're paddling this far, you can either turn around or haul out before you get to the dam.
Where to launch / haul out:
Old Forge and the Chain of Lakes
Another option is to stay out of Moose River proper and plan a lengthy paddle starting on Old Forge Pond and continuing to First, Second and Third Lakes. This will be an all day plan for kayaking in the Adirondacks, but well worth it. Coordinate a drop off at Fourth Lake Kayak Access and go with the flow to the south through the chain of lakes.
After exploring the shorelines and bays, end at the Old Forge Public Beach. There is plenty of parking and hauling out is simple. What a great paddle!
Where to launch / haul out:
Northwest Bay, Bolton Landing
Just north of the town of Bolton Landing is a DEC fishing access point for Lake George. The put-in requires a short carry from the lot to the water. Paddle the quiet Northwest Bay Brook into the Lake's Northwest Bay. The brook is an excellent spot for birders to look for waterfowl. If you continue paddling northeastward, you'll come to a park of Lake George that's full of islands, including some pro
For an added bonus, paddle across the lake to Log Bay and haul out. Head to the Shelving Rock Falls trail and hike to a beautiful cascading waterfall. Trail information here. If you're crossing the lake, be sure you have plenty of snacks and water for your journey. Also, as you cross the lake be smart about watching for larger boats, as they may not be watching for you.
Where to launch:
Black Pond, Paul Smiths Kayaking Spots
A small pond at the end of a short paddle up a brook, Black Pond is a popular spot for both anglers and paddlers alike. The serene paddle starts with a small channel that is a short paddle into the pond. The Pond features two lean-to's for picnicking. There's a small dam connecting it to Lower St Regis Lake, so either haul out to get to the St Regis Portion, or just do the roundtrip paddle on the St Regis.
Note: for a longer paddle, you can continue onto Spitfire Lake and even Upper St Regis. Depending on flow and water level, you may need to haul out.
Another option, not connected to the St Regis Lake chain, is Osgood pond. It has some channel paddling along with a small, quiet pond. Paddlers will experience views of the historic White Pine Camp can be seen (and you can ever book a stay there!). This is where previous United States President Calvin Coolidge had his "summer White House."
Where to launch: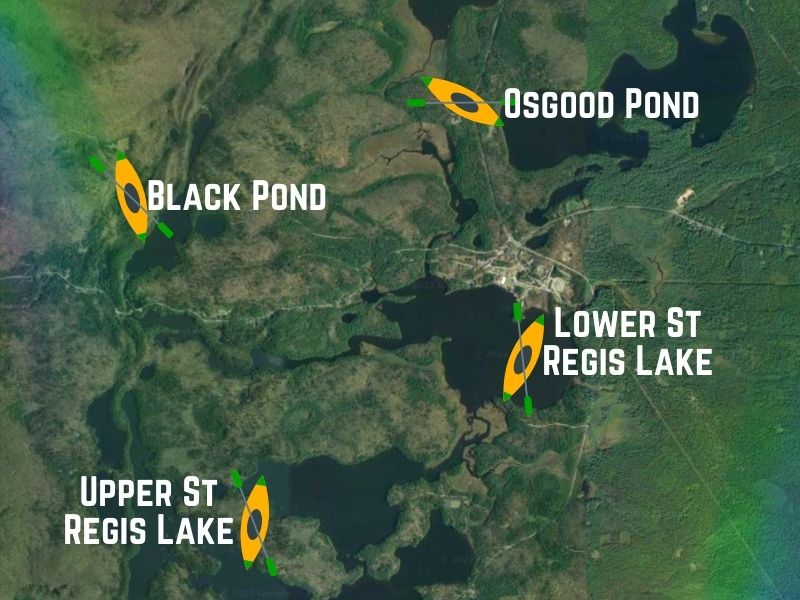 Multi-day Canoe / Kayak Trips in the Adirondacks
Something that makes kayaking in the Adirondacks so unique is the availability of paddling trails, not just day routes, but multi-day kayak trip trails. These four paddling trails in the Adirondacks are great for experienced kayakers and canoers who would like to get away from it all and rough it in the mountains of Upstate New York.
Adirondack Canoe Route/Northern Forest Canoe Trail
Site of the Adirondack 90 miler this route travels from Old Forge to Saranac Lake. Following a series of ponds, lakes, and rivers, this trail can be taken at your own pace and camp at the many lean-tos along the way. Or step up to the competition and join the annual Adirondack 90 miler race along the route. The route also extends beyond Saranac Lake for a total 740 miles along the Northern Forest Canoe Trail to Fort Kent, Maine.
Note: canoe trail maps can be purchased through the Northern Forest Canoe Trail organization. If you're not familiar with the routes or want to have a non-digital backup, we HIGHLY recommend getting the specific maps for a journey like this.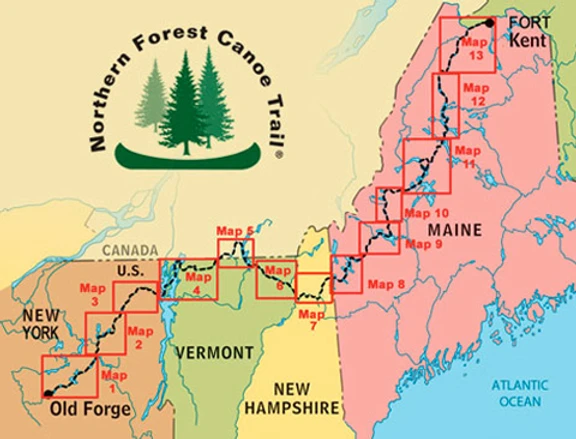 St. Regis Canoe Area
There are more than fifty ponds and 70 primitive campsites in the largest wilderness canoe area in the United States. One of the more popular routes through this area is the seven carries. This route covers Little Clear Pond, St. Regis Pond, Green Pond, Little Long Pond, and Bear Pond. This area is for more experienced paddlers,, and paddlers should be prepared that some carries may be blocked by blowdowns or beaver dams. Much of the St. Regis Canoe Area is backcountry wilderness.
Experiences in the St. Regis Canoe Area can also be created for beginner paddlers not ready to spend time in the back country through shorter day paddles and accommodations available in the Saranac Lake area.
Oswegatchie River Traverse
This trail takes anywhere from 3-7 days. Paddling from the Tupper Lake region on the Bog river into the five ponds wilderness. This entire paddle is 35-40 miles depending on your specific route. The five ponds wilderness area is also full of plenty of hiking opportunities that can be paired along with the paddle. This is some of the most technical kayaking in the Adirondacks and the New York Forest Preserve.
You'll find a few areas that will for sure require portage, like at Bog River Falls, but much of the longer lake stretches will be plenty uninterrupted and the Adirondack views pristine.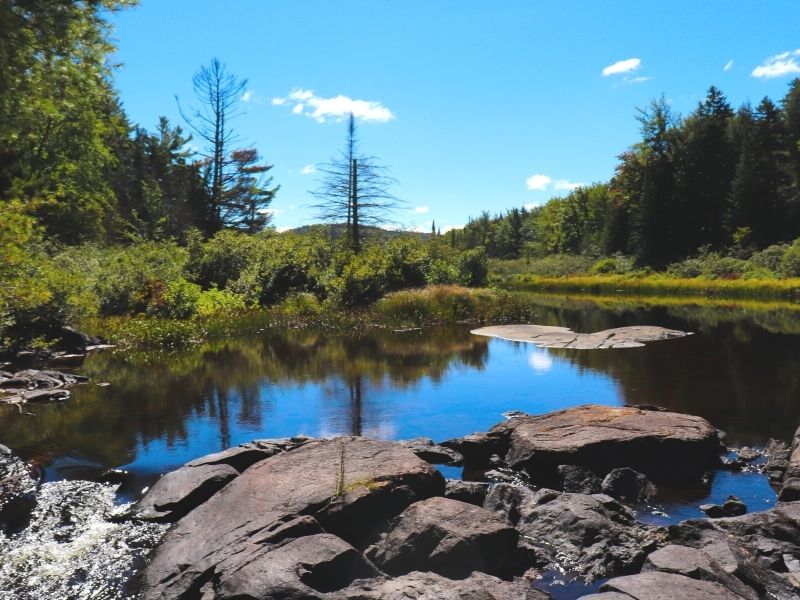 Whitney Wilderness Loop, Kayaking in the Western Adirondacks
This paddle takes 6-7 days and has 17 carries. This strenuous route covers several lakes and travels through the most remote and rugged areas in the region. Several of the carry trails are unmarked. Navigation and good portage skills are absolutely required for this traverse. There are 60 primitive tent sites throughout the Whitney Wilderness.
Start at the northeastern edge of Little Tupper Lake or launch from John Dillon Park. Be sure you have a plan and have shared with others where you're going and how long you'll be gone. You can do this as a loop or arrange a pickup at Bog Lake.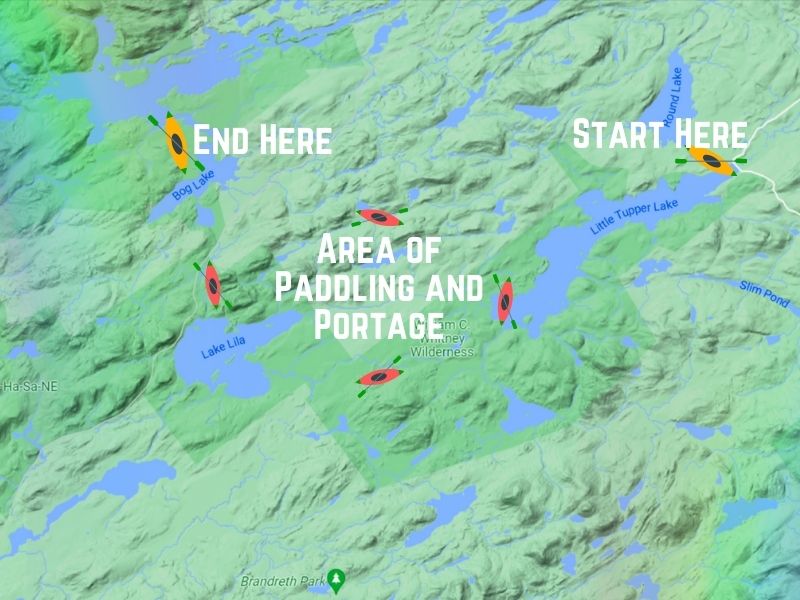 State Park Kayaking Spots within the Adirondacks
New York's Department of Environmental Conservation operates more than 45 campground and day-use areas throughout Adirondack Park. Nearly all of them feature ponds or lakes that are open to paddlers. This is why kayaking in the Adirondacks is so common and accessible!
Rollins Pond Campground
Rollins Pond is very high on many paddlers lists as a place to camp. With 287 camp sites and nearly all of them directly on the water it is the perfect paddlers get away. The 400 acre remote pond offers plenty of exploration, fishing and even hiking on its surrounding grounds. Launch your kayak or canoe directly from you home base each day!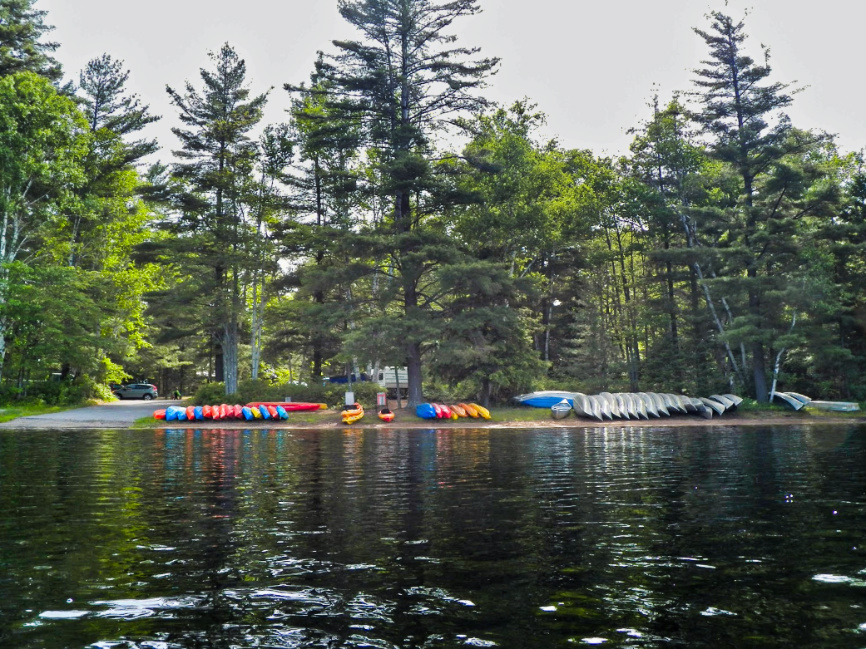 Saranac Lake Islands
This unique campground offers 87 boat in only campsites. For a true Adirondack experience, campers can reserve their own island for paddlers to enjoy. The islands are located on lower Saranac Lake and the waterways offer direct access to four other local lakes. What a fantastic and unique experience, and a gem among spots for kayaking in the Adirondacks.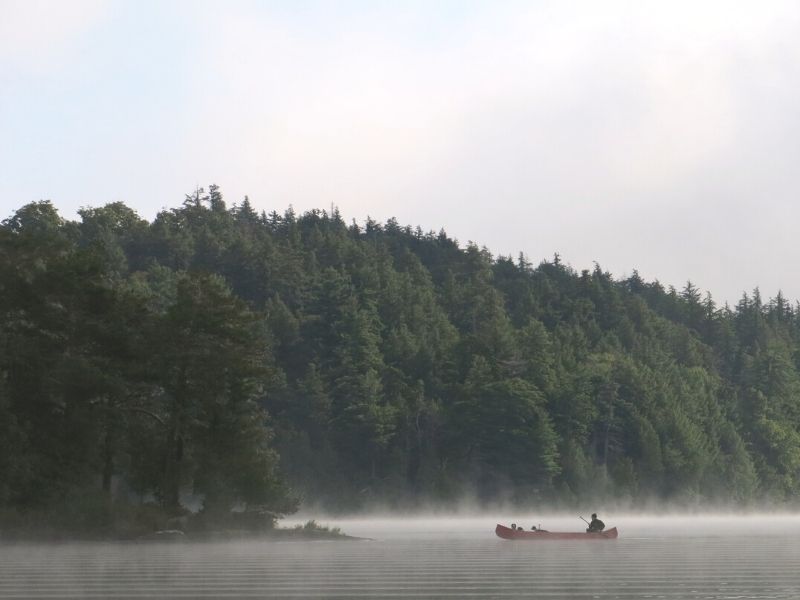 Little Sand Point
Piseco Lake hosts three campgrounds and Little Sand Point is one of the more popular places. Campers are welcome to paddle the lake and its a popular place for fishing. Below you'll see the campground map, and THIS Is why Little Sand Point is such a great spot for kayaking in the Adirondacks. There are so many lakefront campsites AND Piseco Lake is gorgeous, so the combination makes it an incredible New York nature destination.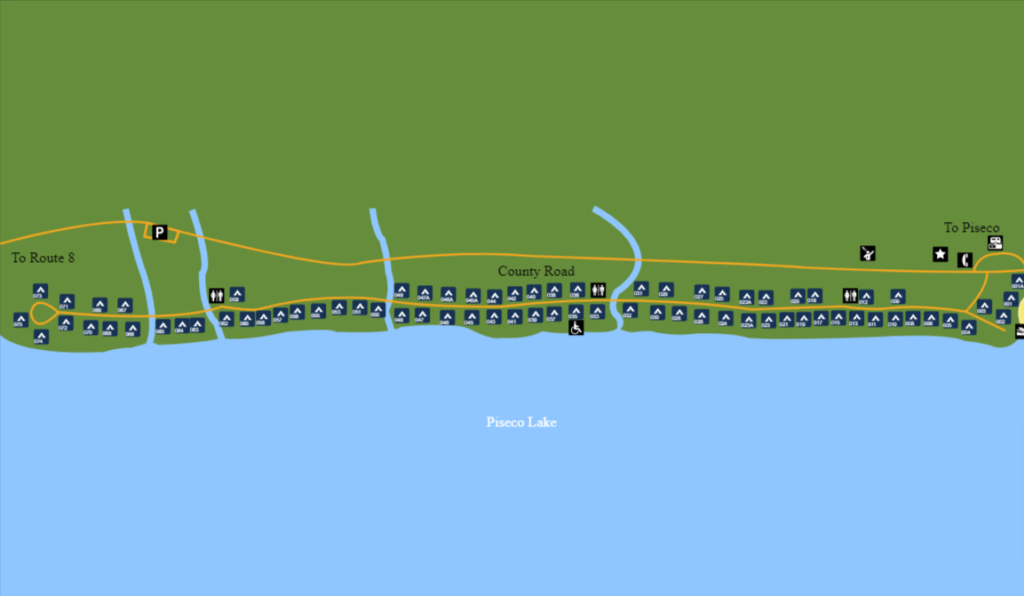 Golden Beach Campground
Located on the shores of Raquette Lake and offering 207 campsites there is plenty to see here. Paddlers can explore the lake, fish or hike in the surrounding wilderness areas. The lake itself is loaded with islands to kayak around or explore on foot. There are also marshy portions of the lake's edge that are great to paddle through when the water is high enough.
Very nearby is a beautiful waterfall too, Death Brook Falls. After kayaking in the morning, plan a hike across the highway in the Blue Ridge Wilderness. There are quite a few trails that are walking distance from the campground. Check out trail maps here!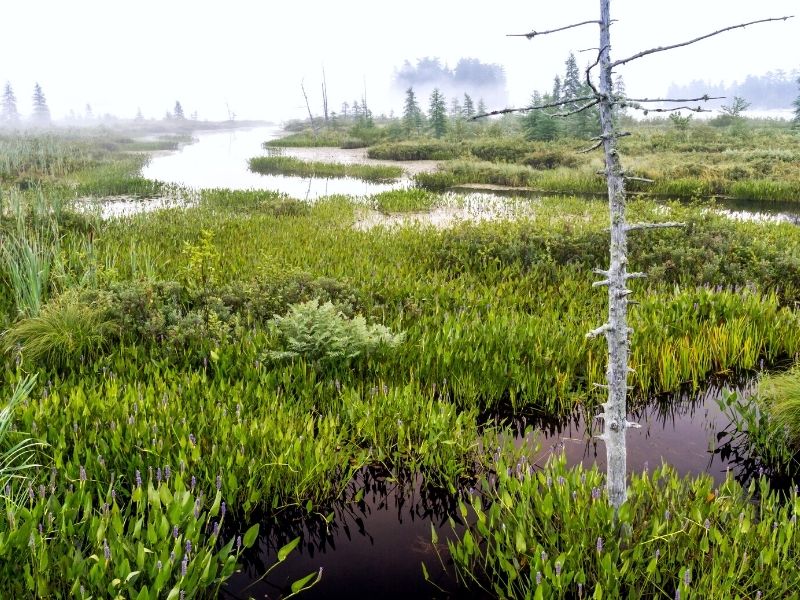 Recommended Kayaking Tours in the Adirondacks
Raquette River Outfitters offers equipment rentals, guide services and shuttles upon request. Their capable staff can help you take care of everything needed from route planning down to providing cook sets for you and your crew. Located in Tupper Lake the outfitter has been providing access to the Adirondack back country for almost forty years.
Located at the center of the canoe wilderness, St. Regis Canoe Outfitters offers day trips, and overnight guided trips. They also offer rentals on camping gear, food packages and more for those who need. In Saranac Lake, this business provides some of the best rental gear and free route guidance in the Adirondacks.
Mountainman Outdoor Supply Company is New York's largest supplier of kayaks and an excellent service for trips and tours. Rent for a half day and launch directly off their dock in Old Forge. Contact them directly for more information regarding longer trips and guide services.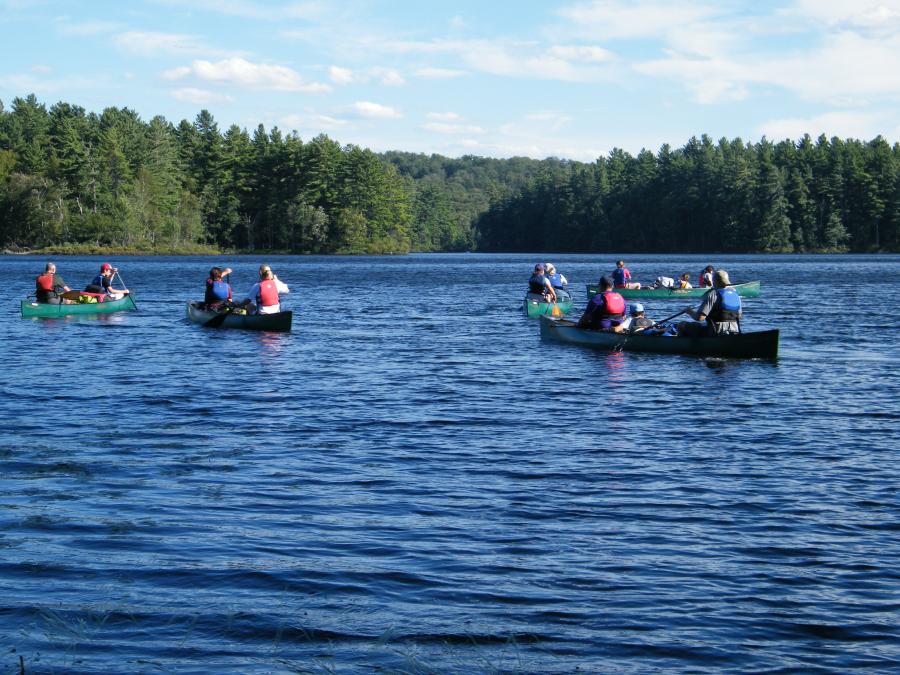 Need to Know for Traveling to the Adirondacks
Since the area is actually rather remote, it is important when traveling to the Adirondacks to have multiple options for navigation. The majority of roads through Adirondack Park and the region are long, winding roads with varying cell phone coverage. It is not unheard of to be without cell service for long periods of time.
Where are the Adirondacks?
Located about 4 hours north of Manhattan (NYC) or 2 hours south of Montreal, Quebec, the Adirondacks are their own trip vs an add-on/day trip to either city. If you're visiting Rochester NY, it's just under 4 hours to the Adirondacks. I-81 and I-87 are the two main highways leading to Adirondacks Park. There is year-round train service to the Adirondacks from New York city.
If you want to fly, getting a direct fly from wherever you are based is nearly impossible, but there are two regional airports that you can fly into: Adirondack Regional Airport (directly here) or Albany International Airport (ALB) is two hours away.
When to Visit the Adirondacks for Kayaking
The Adirondacks are best explored during summer and early fall. May is well known for their black fly season, a very persistent tiny biting fly. Spring should be avoided in general for frigid, high, and swift moving waters from winter snow melt. Ideally, catching the end of summer as the fall colors begin to set in is most ideal
Weather in the Adirondacks
Weather in the Adirondacks during the summer averages 60-80 degrees Fahrenheit. It is known to have some warm days and as well as colder ones, which is nice if you're from the East Coast where summer can really wear on you. While weather is generally favorable, paddlers should be prepared for quick weather changes, particularly passing showers, in EVERY season.
---
The Adirondack Park is truly a unique gem tucked away in Upstate New York. With hundreds of miles of paddling awaiting you it is an excellent place for birding, wildlife viewing and exploration. The Adirondacks is an experience that should be high on everyone's paddling bucket list.