Originally written for the Smart GayLife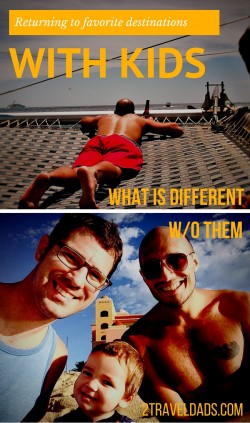 Before we had two kids, we were bold with our travel choices.  We could throw caution out the window and road trip through rural Mexico and get stopped and searched by armed military.  We could visit friends in San Francisco and stay out until 3am.  We could trek through Canada in the frozen winter… but now we don't.  Gay travel was whatever we wanted it to be.  We still travel, but now we really think about the little people that piggyback on our trips.  We don't opt for your typical gay travel choices in general, but now we do think about returning to our favorite destinations with kids and what will need to change when it becomes family travel.  Below are three trips we've done and will do again with kids
AND
what'll be different.
BAJA CALIFORNIA – When I think about trips we did prior to our first son arriving, the one that stands out the most is what I mentioned above:  rural Mexican road trip.
Before:  rented a convertible, borrowed some camping gear, barreled through Tijuana in a monsoon, gambled on finding a place to crash, drank mucho tequila, slept on a beach…got way too sunburned.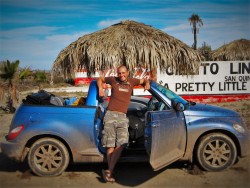 With kids:  we have our minivan, we have quality camping gear.  We'll approach through Tijuana again, heading down the Baja.  We will utilize the internet for research ahead of time, finding a few hotels and finding SAFE camping areas.  We'll still eat tortas from the tiny roadside stand.  We'll still have a little tequila, but we won't get hammered and sleep on a beach.  We'll enjoy the sights of small towns and a few of the missions.  We'll go through the San Tomas valley and show the kids how wine country in Mexico is different from ours in Washington.  We'll wear sunscreen.
Caution:  outside of the major Mexican cities, there aren't flocks of gay families roaming the countryside.  It's important to travel out, but when we head south, we'll be sure to have done the footwork to know where to avoid.  We don't like to proceed in fear, but caution is a must, especially when there are kids involved.
Suggestion:  driving along the Pacific Coast of Baja California is beautiful and fairly well maintained.  There are interesting sights to see, from cactus farms to La Bufadora (the blow hole), from Ensenada all of the way to Todos Santos and Cabo San Lucas.  Prepare and plan, and then go!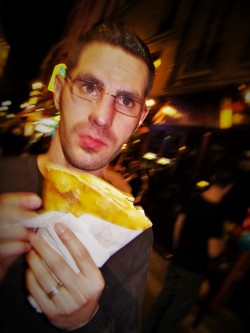 PARIS and BEYOND – France is magical when you've studied it and seen pictures and movies your whole life, all painting it in the most amazing light, and Paris when out roaming the city after midnight…
Before:  took the red-eye alone, had a monstrous backpack, stayed in a "hotel" with wet carpet, stayed out sooooo late doing wine and cheese on the Pont des Arts with strangers, walked for hours on the marble floors of the Louvre, stole seeds out of Parisian gardens to bring home, didn't read the fine print in the Eurail booklet… It was not gay travel at its finest, but we enjoyed every moment.
With kids:  we will still have big backpacks, but we'll pack smarter.  We'll still buy flights for the best price, but maybe we'll spend more to not have three stop-overs.  We can afford an actual hotel now; none of these dingy, dank, pink carpeted flea-palaces.  We WILL still stay out late on the Pont des Arts and enjoy our wine and cheese, and meet people from all over the world, but we won't be out until the sun comes back up.  Yes, we will still go to the Louvre, but this time we will actually do a tour and not wander aimlessly (our feet are old and tired now).  As tempting as it may be, I won't be removing seeds from the gardens at Denfert Rochereau and bringing them back into the US, as that's a bad example to set (and it's totally illegal).  And Eurail, um, no.  We'll be buying individual train tickets and taking advantage of EasyJet.  We learned a lot when we went without kids, so we'll learn more BEFORE going back with them.  Family travel in Europe will be easier and more well planned than gay travel was.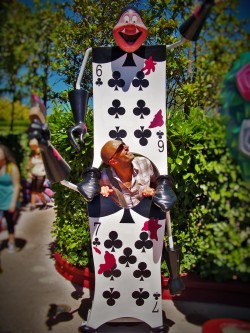 Caution:  kids have a different view of the world and aren't always going to be into the things adults are.  A trip to France should include those one-of-a-kind experiences, like enjoying the international crossroads that is the Pont des Arts, and like seeing works of art the kids will grow up hearing about, but not taking into consideration how boring it is going to be… yeah, no.  It's now a family trip, not just adults.
Suggestion:  when it was just us, we did go to Disneyland Paris.  It is worth it.  If you've been in the US, you need to experience this.  Disneyland Paris is half as crowded, twice as beautiful and a great lens to look at French life vs. American life.  And it gives the kids something to look forward to.  ALSO, if you've been traveling and feel like you're the only gay folk around (not likely though) just go to Disneyland Paris, our people are there.
VANCOUVER and VICTORIA – Canada is so different from the USA.  It seems weird to say that since we share such a long border, but it really is a different world.  Without kids, there's a lot of food and dancing, not so much culture…
Before:  Vancouver in the winter is cold.  Davie Street will warm you up: a great place to get your dance on and waste the night away.  Gay travel at its finest.  And since you'll be "tired" from the dancing, it's a great place to find greasy breakfast.  And being tired, you could take a relaxing drive through Stanley Park later, I guess, but you'll need sunglasses because it's always sunny in Stanley Park.  And Victoria:  so much wonderful food and tasty microbrews.  And the gardens are so beautiful, even in the winter.  And food and beer ward off frostbite…
With kids:  Vancouver is so much more than a weekend of shopping and dining.  When the kids go with us, we'll do the fun things that have always taken the back seat.  Stanley Park is amazing to explore, from the totem poles to the Aquarium.  And Gastown is beautiful with so many fun shops to go in and maple candy to share.  If we bring bikes, we can ride along the seawall and watch the sunset together.  See?  Totally different experience.  Same with Victoria.  We can still enjoy the meals, microbrews and gardens (even in the winter), but why not also go to the castle and tour it?  And we'll go to Beacon Hill park to see the world's tallest totem pole, and they've got the coolest playground we've ever seen anywhere.  Ever.  True, we're not taking the kids to the Empress for high tea, but we'll find a small tea shop so they get a bit of the experience.  Family travel in western Canada:  easy peasy.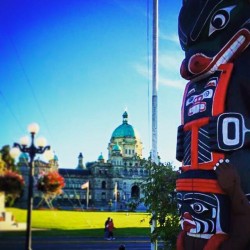 Suggestion:  seaplanes and ferry boats are available to make doing both cities in the same trip possible.  With kids, the ferry is the more affordable option, but if you're visiting from Kansas City, well, when are you all going to get to ride a seaplane again?  Also, with a little planning, you could visit each city for just a day or two, so it'd be silly to not add one if you're doing the other.
The biggest changes in traveling with kids are actually the planning and going out.  Since you need to consider safety and fun, it's worth researching your destination and making a plan that ends the day a bit early.  In our pre-kid years we really enjoyed the nightlife that lasted into the wee hours.  With kids, you just have to reel it in and enjoy each other, and this is where getting a room with a view is a great thing.  Visiting places with such a fun gay scene as Vancouver, well, you just have to change your mind-set about what you want to get out of the city.  It's still worth it to hit the gayborhood, especially to reiterate that there are other families like ours, but that's just not the final destination.
Don't be afraid to travel with kids.  It's worth it.