Holidays are a strange phenomenon. We set aside a day to specifically think about a topic and then gather with people to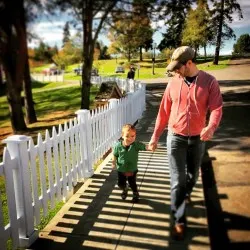 celebrate it, aka cook food we don't normally. Christmas makes sense because clearly you're either celebrating the birth of Jesus or you're celebrating your own sense of how well you know others by how much they appreciate the gift you've given them. Labor Day, um, without getting a history lesson of it right now, what is it for? For Memorial Day people do an even split of remembering their loved ones or those who've lost their lives for others and also launching BBQ season.
What about Father's Day? I'm happy to celebrate my father-in-law because he's awesome (and the kids' favorite person ever), but he'll be working, so nothing going on there. I'm happy to celebrate my husband because he's an awesome father that the kids also just love so much, but we celebrate with a dance party every night when he gets home. Then we add me to it too and I'm like, yeah, I just kind of want a day without people where I sleep. Is that bad? Bad or not, it is what it is. I don't really want to be celebrated. I want a nap (or a new electric sander, either will do).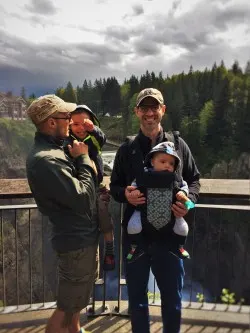 Well, what can you do that is celebratory, dad-centric AND out of the ordinary? Day trip to Hawaii. Done.
Actually, I know that's not happening, so how about a day away from the house as a family playing tourist and celebrating each other. I have been trying to figure out what this means. Here is what I've come up for how to celebrate two people on the same day when the kids are too young to understand the different aspects of being a dad:
Go Somewhere New – We always go on little adventures…to the same places. What if we went someplace completely new? An actual adventure where we don't know exactly what's in store? I'm always home, so getting away will be a present in itself for me. Papa is always gone though, so he's not going to want to travel.
Do Something New – I'm constantly busy and feel like I have a permanent hangover. What activity would I/ME/DAD find fun or relaxing? Papa is gone from the kids and commutes for a long time each day. What could we do that's not going to involve a long drive and will guarantee engagement with kids?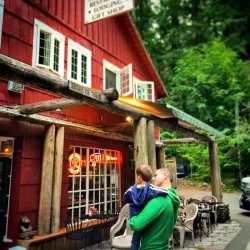 If we can create a plan that isn't tiring AND will be fun for everybody AND is something out of the norm AND that's close by, well then that'd meet the guidelines of how to celebrate Fathers' Day by taking two dads' wants into consideration.
I think that's the goal here: finding something that's not just fun for everyone, but something that's a break from the norm that the DADS can both appreciate.
Like I said, a nap sounds amazing but we can't forget that there's always somebody that needs you, so napping is off the table. What about a hike? Well, that'll wear out the kids and get Papa with the desk job outside, but then Daddy doesn't get rest. How about a boat ride? Daddy would be all up for it, but Papa rides a boat twice a day. What about something that combines a little bit of each of these things? Done.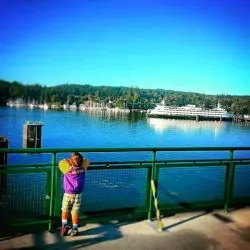 Spend the afternoon on Bainbridge Island. I'm literally looking at it from where I'm sitting, so it's close by. We never go to the island to explore, so it's something new. There are no mountains, so any walk is a walk and not a hike. It's surrounded by water, so it's as good as being on a boat. Perfect plan. Something like this meets each of the Fathers' needs and is a nice way to spend time together. There isn't much else that can be just perfect for everybody on a day like this.
Official Plan: breakfast at home (just us), take care of Sunday morning tasks (feed chickens, drink coffee, Koala naps), pack lunch for a picnic at Fort Ward and then proceed to go on a nature walk and then beach combing, finishing with tired kids taking uninterrupted 3+ hour naps. Nice dinner to follow.
What are other good non-BBQ Fathers' Day options? Leave suggestions below!
What actually happened: we swam in the kiddie pool at home and then walked into town for beer and pizza. FYI: it was perfect!