Visiting Washington DC or Virginia and want to get out on the water? Then you need to plan for kayaking on Chesapeake Bay. If you love crab then you've no doubt heard of Chesapeake Bay, and if you haven't, it's going to be your new sea kayaking destination to plan for. A beautiful East Coast region, the Chesapeake Bay is HUGE and has all kinds of smaller bays, harbors, islands and rivers pouring into it. Kayaking around Chesapeake Bay is very popular and really unique among Mid-Atlantic paddling destinations.
Bordering Delaware, Maryland, West Virginia, Virginia, New York, and Washington D.C., Chesapeake Bay is the largest estuary in the nation. Like for realz, it's huge. The clear, protected waters of the bay provide excellent opportunities for kayaking. Fishing enthusiasts won't be disappointed as the watershed offers ample opportunity to get a fresh catch. You'll also find quite a few rivers for kayaking around Chesapeake Bay, but these are not the rivers like you'll find if you're paddling in Tennessee or North Carolina, but more of the tidal rivers of Alabama or Georgia.
If you want to share your own picks for kayaking on the Chesapeake (or inland) feel free to leave a comment or send us a note. We're happy to share more!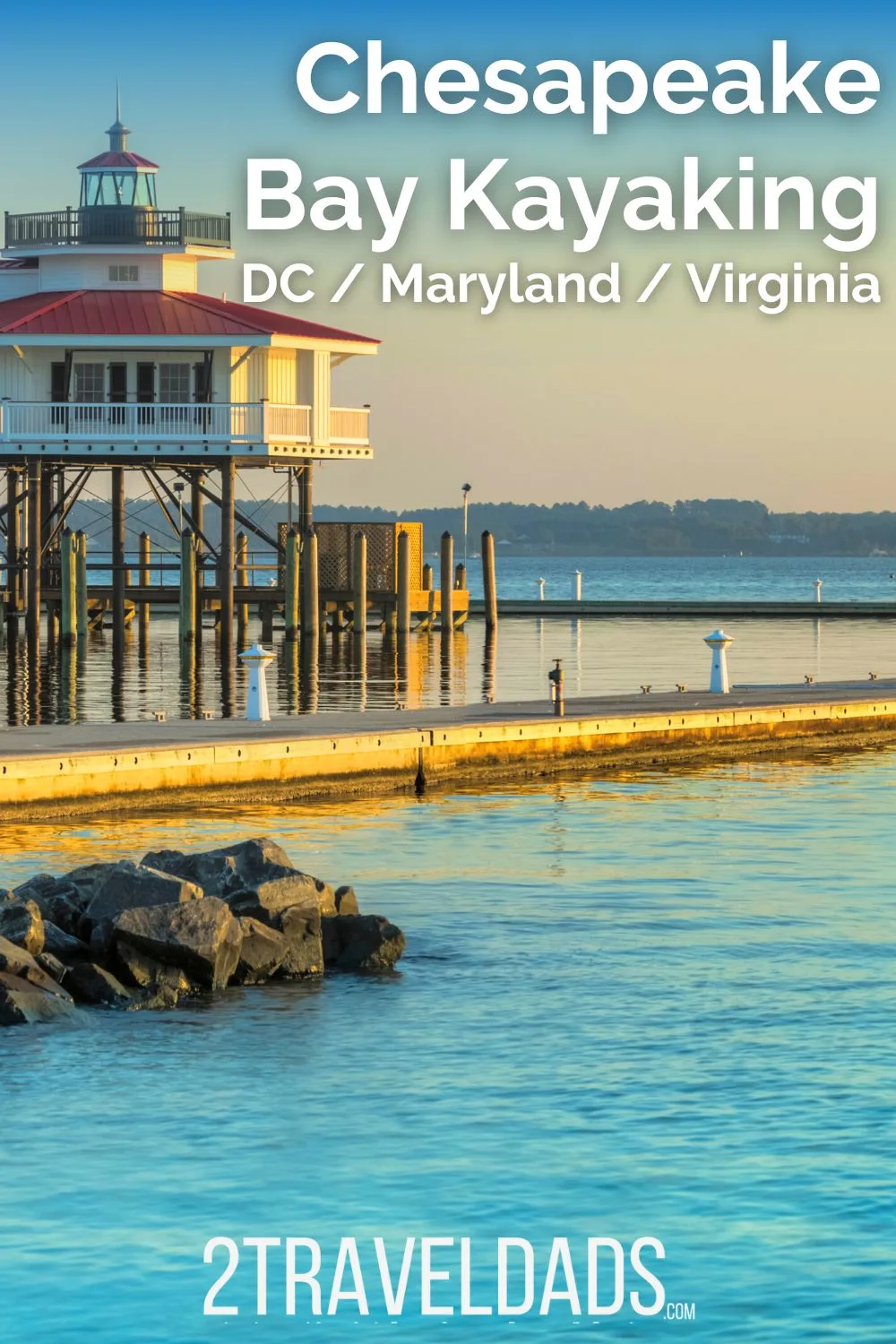 Easy Kayaking Spots in the Chesapeake Bay
The Chesapeake Bay trails are filled with primarily calm, glassy waters. This region is perfect for getting introduced to the sport for novice paddlers. Given the size of the bay, finding a starting point won't be difficult. There are lots of choices too, when it comes to where to stay around Chesapeake Bay. Try to find a spot that's between your primary paddling destinations.
Mathews Blueways Water Trails
Mathews Blueways Water Trails is becoming popular as more kayakers find this gem a quiet haven. The shallow waters mean very few motorized boats. The peninsula provides 200 miles of shoreline and 15 public access areas.
*SUP Friendly
The Mathews County Visitor Information Center gives detailed information, including downloadable maps of the area.
Choptank & Tuckahoe Rivers Water Trail
As the longest waterway on the Chesapeake Bay, the Choptank River is excellent for exploring the historic region. With 80 miles, the Choptank & Tuckahoe Rivers Water Trail has multiple access points and different historical areas to discover. There's even a really unique lighthouse on Chesapeake Bay at the Choptank River outlet.
*SUP friendly
For detailed information on this water, trail visit Find Your Chesapeake's website.
Elizabeth River Trail
Flowing from Virginia Beach to Norfolk, the Elizbeth River is a beautiful area that combines nature and history. The naval shipyards in the background of thick wetlands provide an excellent setting for your next paddle as you see forested shorelines and gorgeous wetlands.
The Elizabeth River Trail gives excellent information on the activities in the area.
Anacostia River Trail
The Anacostia River Trail is an excellent choice for those based out of Washington D.C. Birders will enjoy paddling by Kingman Island, sports fans will appreciate the paddle past the Nationals stadium, and those looking for a bite will appreciate Yards Park access to restaurants. The 9 miles is a great recreational area filled with parks, sporting events, and many places to eat.
*SUP friendly
Experienced Kayak Launches in Chesapeake Bay
Those with some experience will have plenty of options, such as backcountry trails in wildlife refuges like Eastern Neck National Wildlife Refuge. As many of the water trails in the region are tidal water rivers, be sure to check on local tide conditions.
Smith Island Water Trails, Crisfield, Maryland
Smith Island Water Trails is the perfect playground for experienced paddlers. The island is nearly 10 miles from Crisfield, Maryland. Note the island can only be accessed by boat, with ferries leaving two times a day. Paddlers will need to pay an extra fee to load their kayak.
Check out Somerset County's Department of Recreation & Parks website for further planning.
Eastern Neck National Wildlife Refuge – Kent County, Maryland
Birders will love the Eastern Neck National Wildlife Refuge. In 1962 it was established as a sanctuary for migratory birds. Over 200 bird species reside and pass through during their migration. The waters are diverse, ranging from pristine marshes to low-lying swamps surrounded by forests and grasslands perfect for the teeming wildlife. More seasoned paddlers can circumnavigate the island during good weather, which is approximately 9 miles.
Be very aware of the weather due to how it can impact the kayaking on Chesapeake Bay. The combination of currents and wind can make paddling at Eastern Neck National Wildlife Refuge tricky if you leave the sheltered areas.
Paddle the Chester gives excellent local insight into kayaking the area.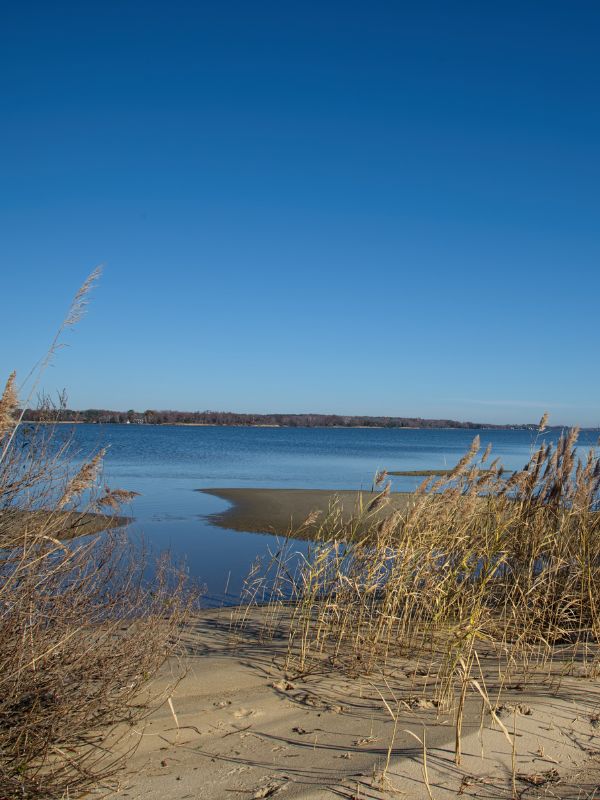 Janes Island Water Trails
Janes Island Water Trails is one of the best paddle trails in North America. With over 30 miles of trail through island saltmarshes, there are opportunities to do some backcountry camping with paddling. The state park consists of seven water trails, beginning in the same spot.
Visit Maryland's Department of Natural Resources for detailed information.
Gloucester Blueways Water Trails
Gloucester County is a beautiful outdoor paradise for paddlers with over 500 miles of shoreline and water trails across five tidal rivers. The area is also known as the Middle Peninsula of Virginia. Historically, it is the site of many of Captain John Smith's adventures in the new world.
As the area is a maze of paddling trails and historic routes, it's best to plan several adventures for a visit to the Gloucester Blueways.
National/State Park Kayaking Spots In Chesapeake Bay
With so many waterways that run through these mid-Atlantic states, a number of water trails are managed by the National Park Service. The Potomac River has five sections of waterways and lots of history. Blackwater Wildlife Refuge is a waterworld filled with birds and swamps. Martinak State Park is an easy family trip. The Chickahominy River has excellent fishing.
Potomac River Water Trail
With over 350 miles of waterway, the National Park Services divided the Potomac River Water Trail North Branch, Upper Potomac, Middle Potomac, Tidal Potomac, and Captain John Smith Chesapeake National Historic Trail. We DO NOT recommend kayaking Great Falls Park, but it's a beautiful stop on a Virginia / DC road trip!
The Potomac is a history buff's dream and pass through sites such as George Washington's famous home and many of places Captain John Smith's explored. Your options on trails include an overnight trip at a historic blockhouse, an option to do a loop around the Western Maryland Rail Trail biking/swimming or swimming/biking, or get some whitewater rafting. Trip ideas here!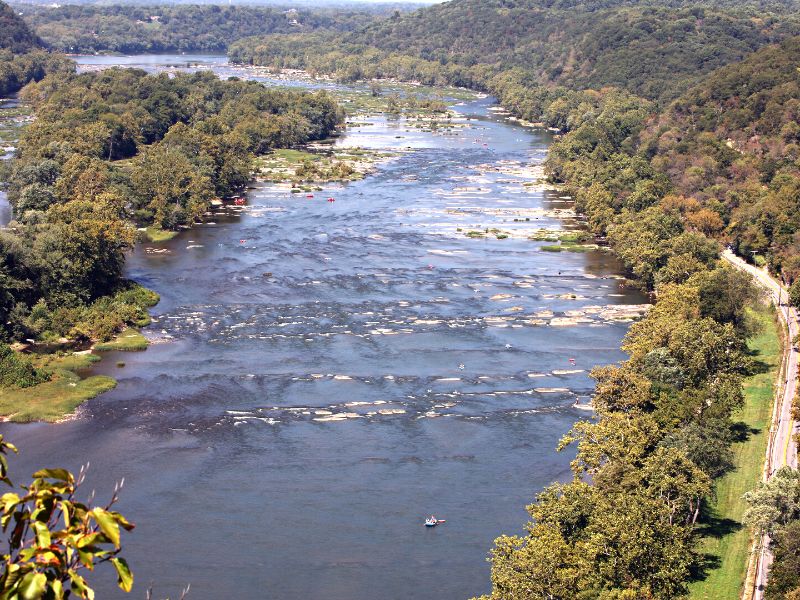 Blackwater National Wildlife Refuge
Blackwater National Wildlife Refuge is a tidal marsh set against a pine forest. It was established as a refuge and is part of the migration path known as the Atlantic Flyaway. The wildlife refuge has three marked water trails that vary in difficulty- beginners will want to try the Green Trail, intermediate level the Orange Trail, and for experienced paddlers, the Purple Trail which has a wide-open water section with heavy winds. Oh Ranger's blog will give you complete options and directions to the different trails. The area is part of the Harriet Tubman Underground Railroad Monument.
Where to launch: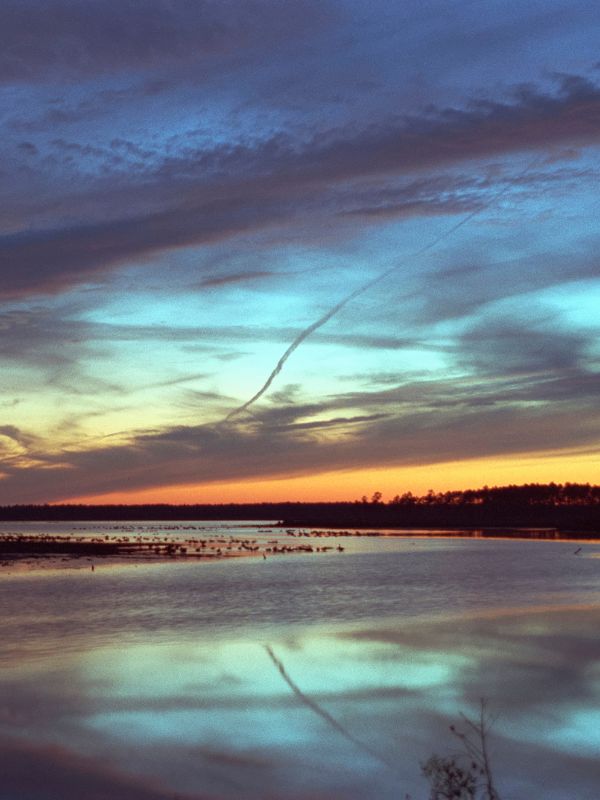 Martinak State Park
Martinak State Park, located in Denton, Maryland, has two great rivers. Canoes can be rented, and there are activities for families with young kids. Camping is a popular choice in the area. Those looking for a peaceful weekend will go back into the week refreshed.
Chickahominy River Water Trail
The Chickahominy River is a rich landscape filled with swamps, marshes, and tons of wildlife. The fishing is excellent in Chickahominy- anglers have a high catch rate of largemouth bass, yellow perch, and black crappie. The trail length is 25 miles of tidal water. Check water conditions at the James River Association.
Recommended Kayaking Tours in Chesapeake Bay
The combination of sunset, dolphins, and a paddle off of Virginia Beach is a great way to experience the Atlantic. Book a Sunset Dolphin Paddle in Virginia Beach here!
Explore the remote areas of Assateague Island, searching for wildlife in the marshlands. Look out for rare birds that are on their annual migration as well as the wild horses this area is known for. Chincoteague and Assateague Kayaking Tour here!
When to Visit Chesapeake Bay
Chesapeake Bay has many beautiful bed and breakfasts with excellent access to marinas and outdoor fun. The most popular time of the year to visit is in the summer. Tourists and looks attending events such as Chestertown Colonial Tea Party Festival, St. Joseph's Jousting Tournament, and Horse Show, the Chincoteague Pony Swim, and many others attract many visitors during the summer month. However, some days can be hot and humid.
Camping is a great option except during winter. Alternatively, paddling and other outdoor recreation can be done as a side trip from the city. Depending on the amount of time you plan to spend you'll want to narrow down exactly where you'll be as the area spans six states.
Weather in Chesapeake Bay
For nature lovers, we recommend springtime or autumn when temperatures are milder. Summers are warm, July is the warmest. August brings rain. Winter has some cold spells but typically moderate weather.
Need to Know for Chesapeake Bay
11,600 miles of tidal waters in the Mid-Atlantic, in the nation's most historical region, with an insane amount of birds coming through an experience in the Chesapeake Bay will be an enjoyable and memorable experience. Whether you're in DC, the Virginia area, Maryland, or other great places that make up the Chesapeake Bay, combine history with exercise and try grabbing a paddle.
Kayaking on Chesapeake Bay is similar to many places you might paddle in Coastal Georgia. Always keep in mind the winds and the tides, just like you would anywhere along the coast, and you'll have a great time.