Over the last several months we've been really fortunate to partner with Huggies and to learn about and share so much regarding caring for families and giving back to the community. As parents, we know the challenges of looking out for our kids as well as providing for them, so we're excited to share some ways that we (and you) can support families in our community. Community organizations are at the forefront of many peoples' minds during the holidays, and after the New Year, they still need support too.
Giving back through community programs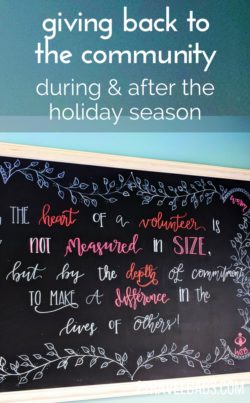 When we shared about
WestSide Baby
in Seattle and who benefits from the many organizations supporting the community, we started to think more about groups within OUR community that might not have the visibility others do. We often hear about victims of domestic violence that can seek support from the YWCA or other groups, or wellknown service organizations that provide job training for the homeless, but there are actually many more people that can use assistance with daily needs.
Refugees often arrive in a new country without their basic needs or employment lined up. They become a part of a new community and need some help getting established. Parents working 40+ hours per week making more than minimum wage often struggle to provide food, diapers or clothing for their families. Kids in the Foster System can bounce from home to home, not having clothes that fit or anything to really call their own. So much need if you only look.
Get involved:  to find service organizations in your area that you can support, check out CreateTheGood.org and see what volunteer opportunities are available in your area.
NICU programs and how to help
A few months ago we shared the stories of a few of our friends who'd had complications with pregnancies and really had to count on the NICU and its nurses to support them and help their family through a very difficult time. Huggies has been able to provide grants to many NICUs across the USA so they can start or grow hugging programs, which address some of the needs that many families face following the arrival of a newborn. Huggies No Baby Unhugged has been a driving force behind supporting families in the NICU. So inspirational!
Get involved:  when you sign up to become a Huggies member, Huggies will donate $5 to No Baby Unhugged grants.
Diaper drives and donations
We keep talking about WestSide Baby… because it's an amazing place. As part of the National Diaper Bank Network (NDBN) WestSide Baby collects and distributes over 2 million diapers to families in need in King County (Seattle area) every year. We recently went back to WestSide Baby for another volunteer day and learned more, both about diaper need and about the gaps that still aren't filled by diaper banks like this.
Because diapers are considered a luxury item by many social service groups and government programs, they are rarely covered by federal subsidies. If you've had children or taken care of a baby for any amount of time, you know how vital diapers are. WestSide Baby is only able to fill around 10% of the diaper need for the area they support.
How can you help? Lead a diaper drive! It's actually a pretty easy method of giving back. Check out the steps from Huggies and the National Diaper Bank Network to create and lead a diaper drive in your area.  Also, volunteering at a diaper bank or distribution center in your area is a great way to support these types of community programs.
Get involved:  Huggies has a great page setup to direct visitors to the resources for supporting both the NDBN and local diaper banks.
Leading a food drive
Again, you never know who is in need and what their need looks like. One of the greatest support systems found in most communities is the local food bank or "pantry". I know that the grocery stores in our area are great about doing food drives to encourage shoppers to donate while doing their own grocery shopping, but what can you do as an individual?
Leading a food drive is actually a lot easier than it sounds.  Food Lifeline is one of the leaders in Washington State for collecting and providing food to individuals and families in need.  Check out their ideas for ways to lead food drives and also volunteer opportunities.  And like any service organization, they are always grateful for financial support.
Get involved:  if you need ideas for leading a food drive to support Food Lifeline or another community organization, here's their guide to get you started.  And for volunteer opportunities in the greater Seattle area, click here.
And we've shared some of Feeding America's links and videos in the past because they're at the heart of the campaign to end hunger in the USA.  If you're outside of the Seattle area, visit Feeding America's site to see what sort of opportunities they offer for volunteering and leading food drives.  They can even point you to your local community organizations to get involved in your own neighborhood.
Community Support Resources
So, now that the wheels are turning and you're thinking about the ways of giving back to your community, here are some great options for national/international organizations that you can partner with to support those around you, that you know of and that you'll never meet.
NICU programs – through Huggies No Baby Unhugged
NDBN – National Diaper Bank Network
Foodbanks – Feeding America
Clothing banks – Washington / Oregon support network  OR  Dress for Success
Supporting foster kids – Together We Rise
Direct Relief – 99% of funding goes directly into disaster relief (such as in the case of Puerto Rico)
The holiday season is a great time for reminding people that there are many families with all sort of needs, but supporting them shouldn't stop just because it's after New Year's. Playing off the high of the holidays is a wonderful way to inspire friends and family to get involved and support the community, giving a hug back to the families around them.
If you have a favorite service community organization, feel free to let us know and we'll see how we can share their mission.
Huggies believes deeply in the Power of Hugs, which is why every diaper and wipe is inspired by a parent's embrace. The Huggies No Baby Unhugged program helps ensure all babies get the hugs they need to thrive by supporting hugging programs in hospitals and donating diapers across the country. Learn how you can help at Huggies.com. #HuggiesCouncil #ad