Having lived several places around Alaska, I know that every day and every experience brings something different. Kayaking on the Kennicott glacial lake at Wrangell-St Elias National Park is one of those unique things to do, and it really it like another world.
If you're heading to Wrangell-St Elias National Park in Alaska, glacial lake kayaking with St Elias Alpine Guides is a low key outdoor adventure anyone of any age and ability will enjoy. The otherworldly rocks and ice around you which can only be described as a moonscape, combined with the stunning mountain scenery all around you are the kind of experience you can only have in remote Alaska and one no one in your group is likely to forget.
Thank you to Jennie Flaming, Ordinary Adventures, for sharing this unique experience in Alaska. Check out Jennie's site for so much more of incredible things to do in Alaska!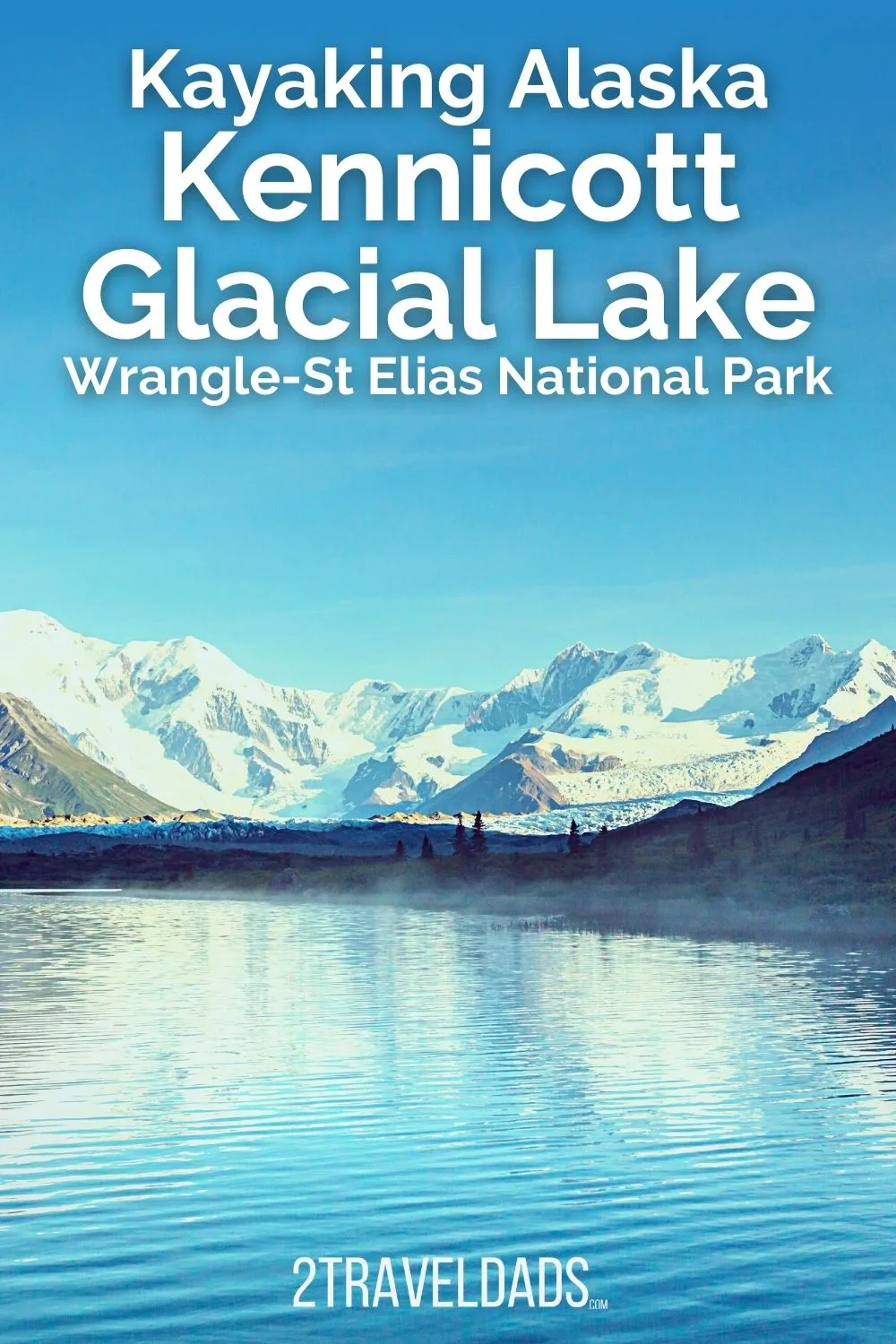 Kayaking in Wrangell-St Elias National Park?
For adventurous travelers who make it to Wrangell-St Elias National Park, kayaking at the Kennicott Glacier is a low key, affordable adventure for almost anyone. With your guide you can safely get close to the wild moonscape of rocks and ice surrounding and in the lake.
You need a guide to kayak here, because realistically most people are not going to make it to this remote location with a kayak of their own. Most travelers will also not want to travel with specialized gear they would only use on a kayak adventure, and when you go with a guide, they provide all that.
I always recommend going with a guide to kayak in Alaska. The water is COLD, the locations are remote and the weather unpredictable. Not only will your guide look out for your safety and provide the gear you can't easily travel with or may not have, a guide makes the trip more fun by sharing stories and information about where you are. St Elias Alpine Guides even brought hot drinks to share when we took a snack break at the glacier!
Another benefit of this tour is it's an adventure you can enjoy no matter what is happening with the weather. A sunny day brings out the epic mountain landscapes, but even if you can't see all the mountains the kayaking in the ice water is still unforgettable.
They provide all the specialized gear you need so don't miss this unique under the radar experience while visiting the park.
Book this tour here (different guide, same destination/gear)!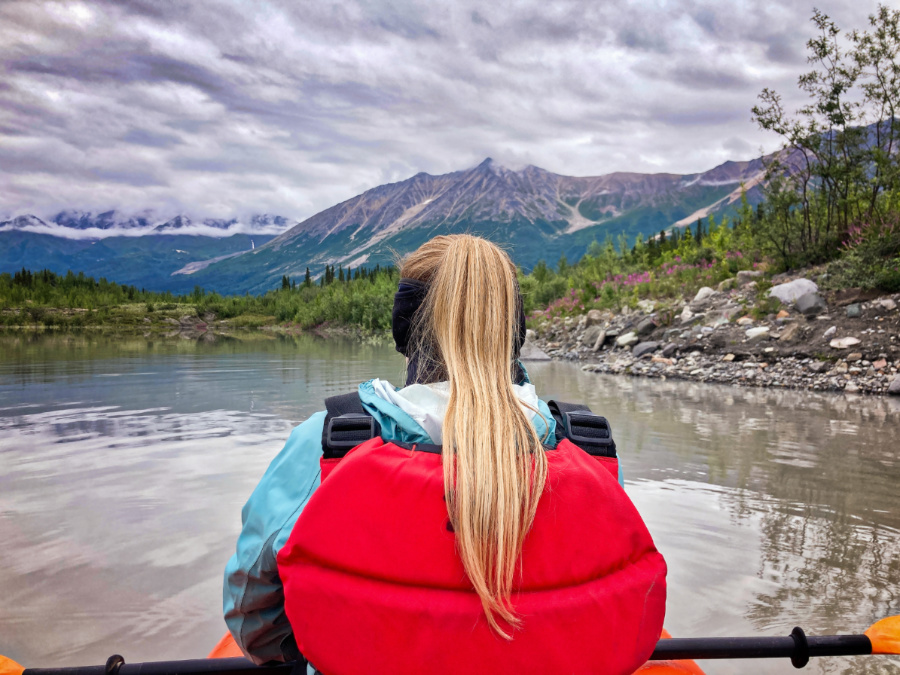 How to Get to Wrangell-St Elias National Park
Getting to Kennicott Glacier in Wrangell-St Elias National Park takes some time and effort, but is well worth it especially for those who love to get to wild places that not many visitors get to see!
You can fly, take a shuttle or drive (note that most rental car companies do not allow you to drive on this road) there from Anchorage or Fairbanks.
Read more about all your options for getting to this stunning remote location here.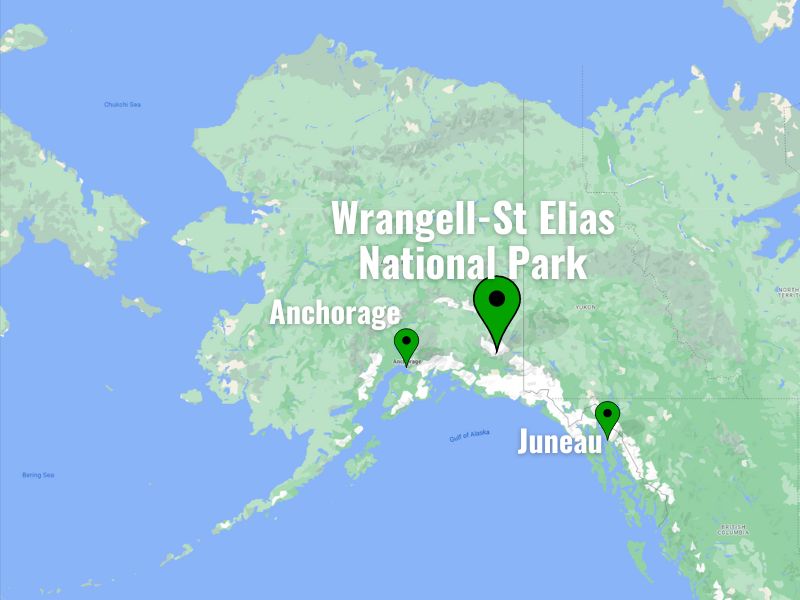 What to Expect Kayaking in a Glacial Lake
Kayaking in Alaska is a bit different than most other places, so it's important to know what to expect on your tour and how to prepare.
When most people picture a glacier, they picture bright blue ice, and the base of the Kennicott Glacier where you can kayak in the lake is rocky and graveled on the surface, creating that wild moonscape that makes this tour so unique. Hundreds of feet of ice lie under the top few inches of gravel and rock, and you'll see plenty of ice floating in the water. An upside of this is that you can get fairly close to the chunks of ice and rock, much closer than would normally be safe.
Speaking of the water, the water is extremely cold. This is not a place to go swimming! If it's a hot day though, you'll get to stop off at the crystal clear McCarthy swimming hole with your guide. The lake is also a milky gray color from the glacial silt. There's so much silt that you won't even be able to see your paddle when it's in the water, or your fingers if you dip them in the water!
This kayaking trip is not just about the water and the rocks and ice you'll paddle through. The views here are stunning of the surrounding mountains including Mt Blackburn towering over 16,000 feet, the 5th highest mountain in the United States. It was too cloudy to see Mt Blackburn on my visit but we were able to see the bottom half of the Stairway Icefall, a legendary wall of ice coming down from the Wrangell Mountains more than 7000 feet to where it meets the Root Glacier and then the Kennicott Glacier. The Stairway Icefall is completely mind boggling with its sheer volume and height of blue ice, stretching all the way into the clouds.
Book this tour here (different guide, same destination/gear)!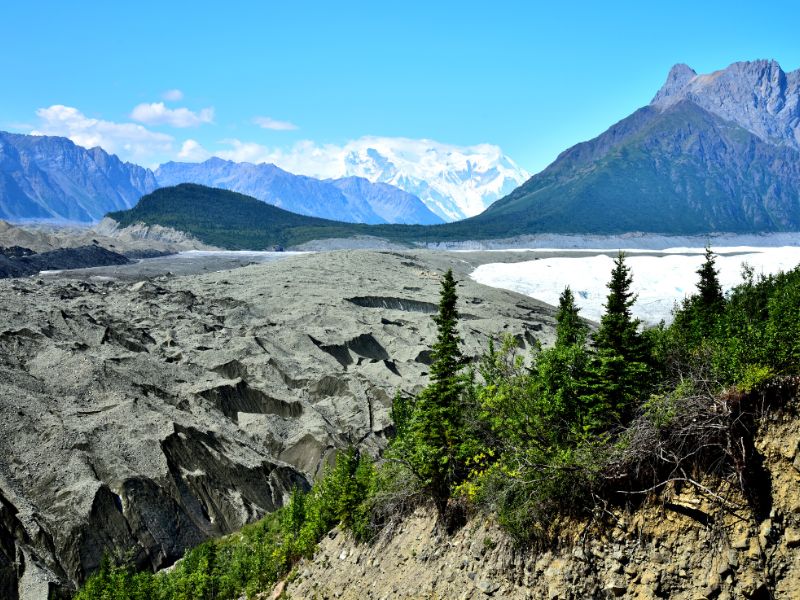 When you start your tour, your guide will pick you up in Kennicott or McCarthy (they work that out with you during the booking process) and give you a ride to their McCarthy headquarters where they get you all geared up and answer any questions. After that, it's a short van ride and then a short walk through the willows to the put in at the edge of the lake.
The inflatable kayaks will be all set up and ready to welcome you! Your guide will help you get settled and comfortable and then you're off to explore the lake. There's not a set route, so your guide will take you to the most interesting places at that particular time. They can easily adapt to all skill and comfort levels without you missing anything.
Part way through, you'll get a chance to get out of the kayak, stretch your legs and explore the fascinating rocks and ice for a few minutes. Your guide will even have hot drinks to enjoy while you're ashore!
Eventually, you'll make your way back to the put in and get a ride back with your guide. They are very accommodating with taking you back to where you are staying, or to McCarthy, Kennicott or to the footbridge if you're leaving the area that day. They work all this out with you when you book, super convenient.
St Elias Alpine Guides take training, safety and comfort seriously. Their guides go through extensive training both in natural history as well as safety. They are easy to communicate with as a company and the guides are super fun to spend time with.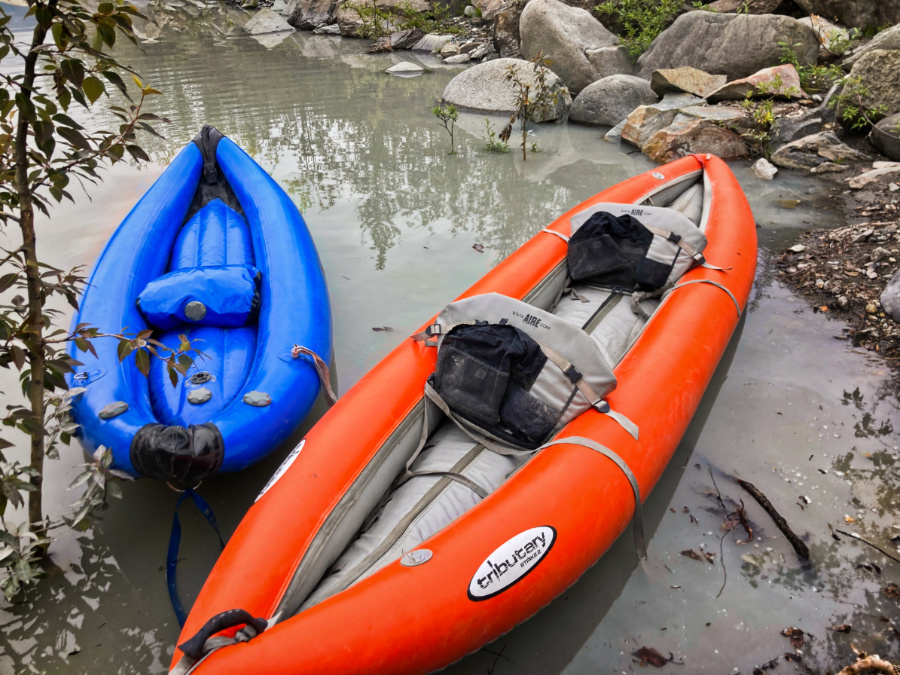 When to go kayaking in Wrangell-St Elias National Park
St Elias Alpine Guides operates the Kennicott Glacier Kayak Tour from June through August. I think July gets a slight edge for a visit to Wrangell-St Elias National Park, since the snow will be fully melted in the high country (if you're not doing a lot of hiking on other days this won't matter) and August tends to be somewhat rainier than July. That said, it was quite rainy during my July visit and it was still a great experience. The weather here is very unpredictable so be ready for anything anytime in the summer!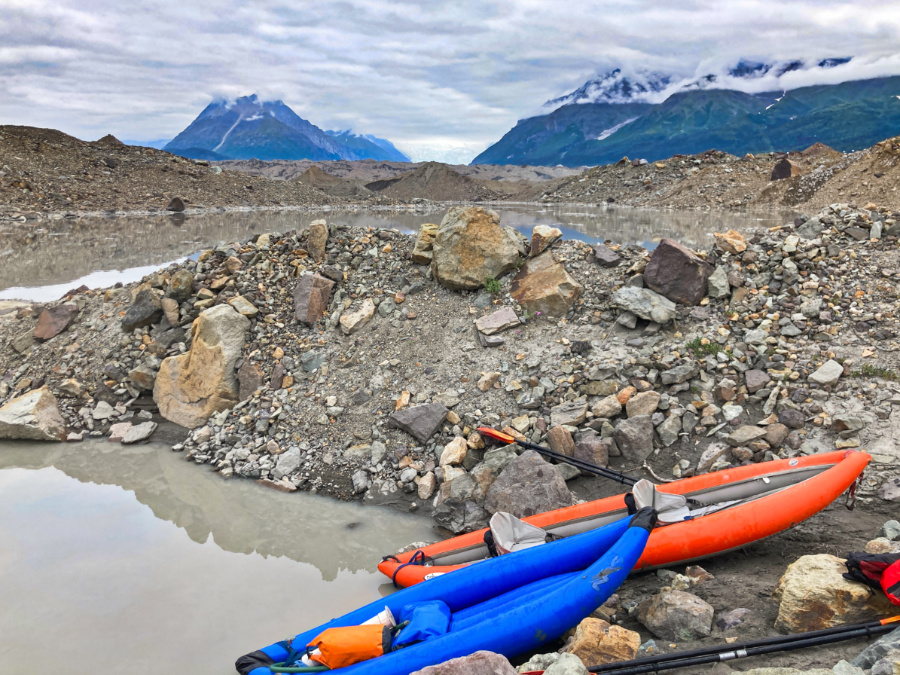 Gear and Packing for Alaskan Glacier Kayaking
Kayaking in Wrangell-St Elias National Park isn't like kayaking in Florida or even kayaking in Seattle. The weather and environment are very different and packing / being prepared for this sort of paddling adventure is a very thoughtful process.
Book this tour here (different guide, same destination/gear)!
What to Wear Kennicott Glacier Kayaking Tour
Great news! St Elias Alpine Guides will start the tour by getting you outfitted and making sure you have everything you need for a fun and comfortable day on the water. Wrangell-St Elias National Park, like all of Alaska, has very unpredictable weather! Regardless of the forecast, be ready for rain, sun and wind any day of the year. My paddling trip was in mid July and it was overcast and in the mid 50s. The previous week it had been sunny and in the 80s for a few weeks and after my trip it rained for a month! The great news is that this is a really fun tour no matter what the weather is doing.
They require you to wear a wetsuit top, since the water is so very cold. They provide this and had plenty of options to fit a wide range of bodies (I'm a curvy, plus size woman and I had no problem). They also require that you wear a life jacket, as all tours do and is an excellent practice all the time.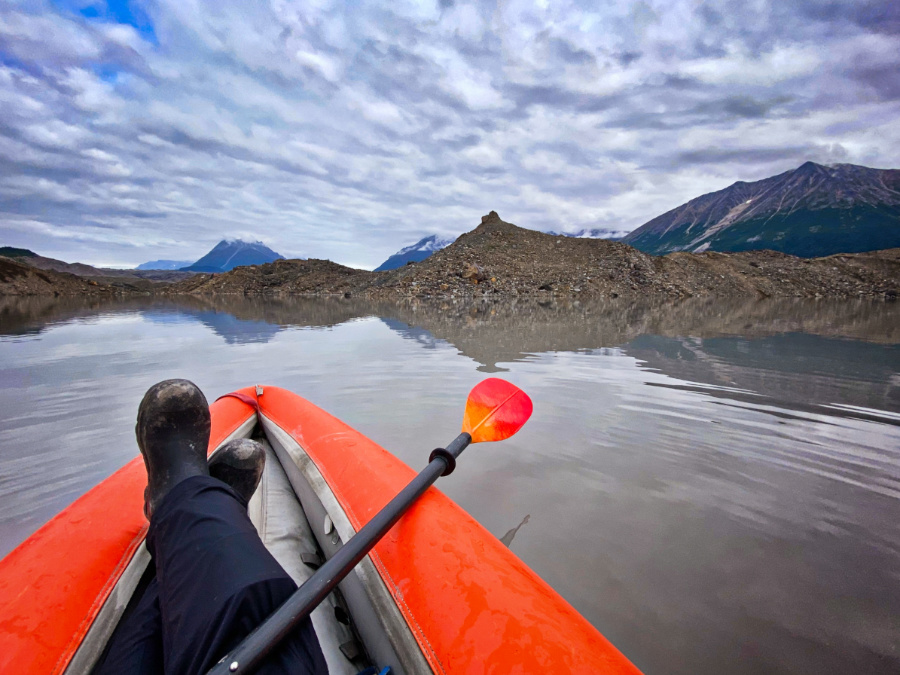 Rain pants and rubber boots are also required, since the inflatable kayaks they use for the tour are designed for some water to flow through them. If you aren't wearing rain pants and rubber boots, you're going to be really wet even if it isn't raining!
They have plenty of rain pants and rubber boots to borrow, though I brought my own (I have big calves and often loaner boots don't fit me). Make sure that the boots are tight around your calves otherwise the water can soak into them while you're paddling since you're sitting in the kayak with your legs flat. Wear wool socks just in case your feet do get wet, they'll stay warm. I got water into my boots (because I had them folded down, not fully up and tight like they warned me about! It was no big deal but I learned my lesson.
I also had my own rain pants (which I always recommend packing for a trip to Alaska anyway) but they had some loaner pairs too.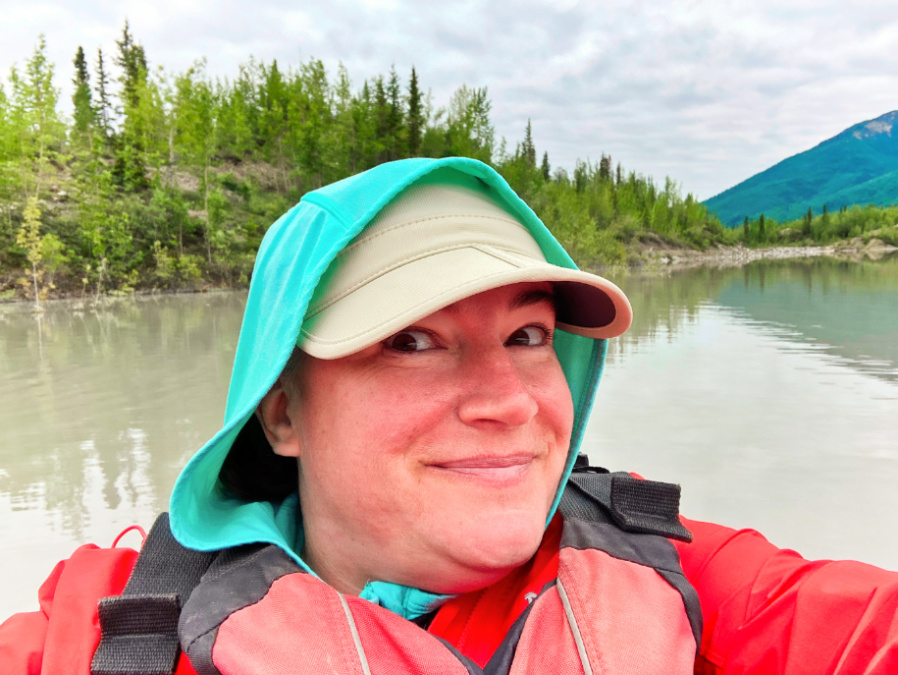 Gear to Bring for Kennicott Glacier Kayaking
I always recommend bringing a rainjacket for any adventure or trip in Alaska, and the Kennicott Glacier Kayaking tour is no exception! Even if it's not raining make sure you at least bring it with you (also can protect you from bugs).
They also have dry bags so if you don't have one or don't want to pack it your can borrow one from them (that's what I did).
Other important things to bring are:
Gloves – I find my hands get sore from paddling and gloves really help with that! I usually wear biking gloves for paddling, but if it's cold you might want something warmer.
Sunglasses – even if it's not sunny, their can be a lot of glare on the water. Make sure to have sunglasses with you to stay comfortable!
Sunscreen and bug spray – a nice thing about kayaking is that most of your body will be covered which has the side effect of bug and sun protection. And, on the lake you get a break from bugs if they're bad! There can be a lot of bugs on the short walk from the van. Don't forget sunscreen anywhere on your head that's not covered by your hat.
Layers – definitely bring some light layers because if you're wearing rain gear and the wet suit top, you want a light layer option so you don't get too hot. I recommend bringing an extra jacket to put on if you get cold, especially if it's windy, which is common (compact, waterproof wind breakers are great)
Snacks – it's a half day tour so you don't necessarily need to pack a lunch (go to the Potato in McCarthy after the trip instead!), but make sure to bring some snacks and water to keep you going
One more thing to think about is taking photos, especially if you normally take them with your phone. I like to use a small, clear dry bag designed for phones that has a cord you can tie to your life jacket. You can also use a ziploc bag to protect your phone from water, though that doesn't stop you from dropping it overboard so make sure to have it secured.
Note: either use a waterproof phone case that is specific to your phone or use a zipper pouch style case. A phone-shaped case that fits a variety of phones may seem cool, but they can give a false sense of defense. A pouch style LIKE THIS ONE is great, secure and effective.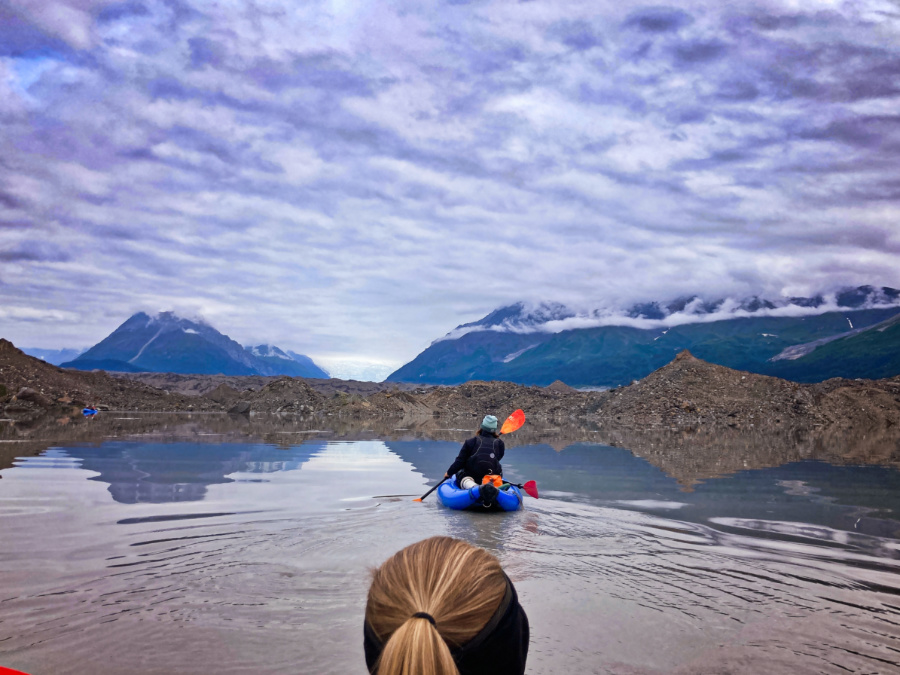 More Amazing Adventures in Wrangell-St Elias National Park Near Kennicott Glacier
While you're in the area, don't miss a guided hike on the Root Glacier! St Elias Alpine Guides can also take you there, or Kennicott Wilderness Guides. Walking on a blue glacier the day before or after kayaking around a very different glacier makes for an amazing pairing. That's what I did on my visit and it was incredible!
If you want a more adventurous paddle, you can join one of the rafting trips offered by St Elias Alpine Guides or you can even do fly-in kayaking at a different, even more remote glacier! Also, sea kayaking on Icy Bay is one of the most unusual National Park kayaking opportunities there is.
Make sure you give yourself time to explore the tiny and quirky town of McCarthy as well as the Kennecott Mine National Historic Landmark. And yes, this "Kennecott" is spelled differently AND correctly.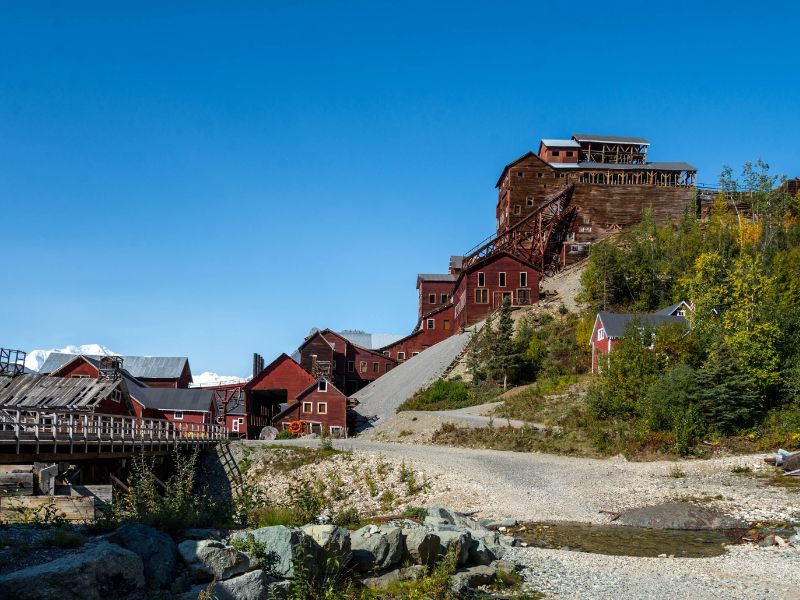 If you have more great ideas for paddling in and around Wrangell-St Elias National Park and Preserve, or if you have questions about glacial lake kayaking, feel free to leave a comment or send us a note. Happy paddling!