Since summer keeps us going going going we are always a tiny bit excited for fall.  Fall is the perfect time to chill for a bit (for at least three weeks straight), prep for the next big trip (usually a warm couple weeks in Mexico) and do our pumpkin thing.  Yes, most families have some fall traditions and ours always include travel and pumpkins.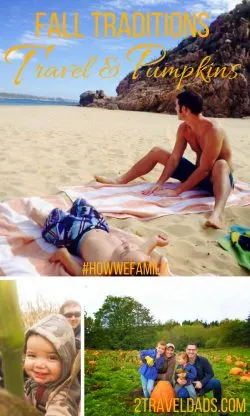 Growing up, I didn't have any sort of fall traditions, so now that we're parents we get to create some fun ones for our family.  A while ago we shared about our struggle to make a decision about putting the kids in school or not, so you know we've still got them with us 24/7, so how do we make all of that time fun when the weather turns?  When we're not heading out on our next road trip what are our travel plans like?  Well here's the low-down on our fall traditions and #HowWeFamily.
Recap of the summer
You know how there are all kinds of activities and photo ops all summer long?  What do you do with those snaps you've been capturing?  Something we started a few years ago is to actually go through our pictures and print them before they just disappear into the endless black hole of online photo storage.
This is a great way to reminisce as well as do a little pre-planning for next summer.  Having fall traditions like going through pictures or calendaring out your upcoming year is a sure way to drum up some motivation that'll get you through the upcoming winter months.  True, not everybody everywhere needs to dream about when the sun comes back, but we sure do.  We're so used to being outside every waking moment that when the cold and rain settle into the Seattle area, we're itching for spring.  That's why we take the time to think back together and enjoy our memories and plan.
Tip:  if you're taking the time to review and print photos, there are all kinds of online photo services that also make cool swag.  My favorite coffee mug just happens to be covered in fun summer pics from our family travels.
Fall traditions of pumpkins and corn mazes
While we know that not every family celebrates Halloween, anyone can enjoy some of the fun that fall throws their way.  Fall is a great time to learn about farming and get out there when farms are open to the public!
Corn mazes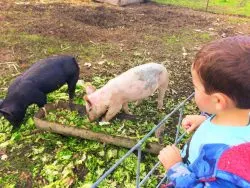 Do they do corn mazes in Florida or Hawaii?  I don't know, but we sure do up here in the Pacific Northwest!!  Before we moved from Seattle to across the Puget Sound, we had a long standing fall tradition of getting a big group of friends together and heading to a local corn maze in Snohomish, Washington:  Bob's Corn.  It's a pretty cool place both for the crazy big corn maze as well as picking out pumpkins and riding tractors… and getting your car stuck in the mud.  Fun though, for sure.
Tip:  corn mazes and the like tend to be a bit soggy after a weekend or two of pumpkin goers, so always bring boots for stomping through the pumpkin patch or corn field.
Pumpkin patches
Since moving across the water and focusing more on the kids, we've stopped doing the corn maze, but instead have sought out local farms that do mainly pumpkins and kid-fun.  The Olympic Peninsula has been the go-to spot until this year, as we found a wonderful pumpkin patch up in Sequim that has pumpkins, pigs, and a rustic playground.  It's also close to other family, so all of the little cousins could play and be crazy together.  Sharing fall traditions with family helps to make loads of fun memories for everybody (and again, awesome pictures happen).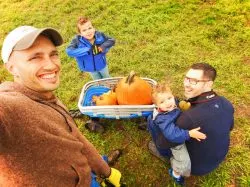 This year we tried something new and went with just the four of us to Bainbridge Island.  We love Bainbridge for being a great local destination in the spring and summer, but we don't spend a ton of time there in the fall.  Yeah, so Bainbridge is covered in farms.  For being an island, it's got more farms than the rest of the county we live in (or maybe not, but it seems like it).
The pumpkin patch we chose this year was Suyematsu Farms on Bainbridge Island.  You can't beat starting a fall tradition that's only fifteen minutes from your house, right?  Suyematsu Farms was perfect for our family.  It was close by, well maintained, TONS OF PUMPKINS and lots of fun.  In the summertime, Suyematsu Farms is home to U-Pick raspberries and more (mental note for next year…) but come autumn it's full of fall color.
If you've not gone pumpkin hunting with two small kids, here's how it plays out:
"Ooh, let's get this tiny punkin!!!"  "Wow! Look at that huge one! Daddy, get the wagon!!"  "Oh, this one is pokey; don't touch it."  "Oh, it's so cute!!  Just one more punkin…"  and on and on.
Really, of all the fall traditions this is kind of our favorite.  The kids have such a great time wandering among the huge gourds and riding in the wheelbarrows or wagons.  They love sorting through all of the bizarre ornamental squash.  It's just fun.
Carving Pumpkins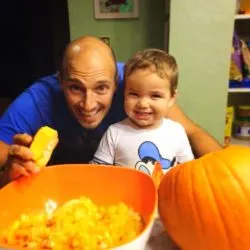 It's great that we are always guaranteed to be home for at least part of October so that we can carve pumpkins.  Usually it's just us carving while the kids do their own thing, pretty much uninterested in the process and outcome.  Now though, hooray!!!  The kids are both old enough to want to help and do some great work!  Elliott, our youngest, did an awesome job scooping out the pumpkins and playing the drums for us.  Oliver, the big dude, he actually got to help carve a face this year.  Oh so carefully and with Daddy's hands holding his, Oliver was able to cut the eyes out of his pumpkin… and then he said "Okay, now you do it."  Pumpkin carving is tough for little kids!
Tip:  carving pumpkins on the floor is much easier than on a table or countertop.  We laid down cardboard so the mess could be contained and quickly cleaned up.
Another new thing this year, while they didn't join us at the pumpkin patch, Grama and Grampa did join us for pumpkin carving!  The kids love having grandparents so close and I'm pretty sure G+G like it too.  Who knows, maybe carving with the grandparents will be added to our fall traditions permanently…
Traveling for sunshine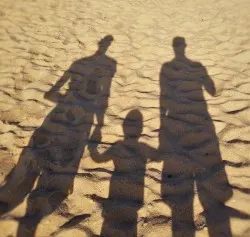 The last of our fall traditions is traveling.  We're all about family travel and the short break we take at the end of summer always has us itching for our fall trip.  Where do we go when fall is in full, freezing-cold-totally-soaking-wet mode?  We go to Mexico!  …or Florida or California or any place that's warm.
It's now been ten years of going to Mexico in the fall and we really love it.  Cabo San Lucas is our main destination, but we like to head to La Paz, Todos Santos and San Jose del Cabo for the less touristy fall excursions.  Having ventured to Mexico in a few different seasons, we can confidently say that our fall tradition of Cabo is a winner.  The water is at its warmest before it starts to cool; we typically have amazing weather for the duration of our stays (except for that one year with the swine flu and hurricane Patricia)…  And then there's the Southeastern US, like Florida and Georgia, that are also great.  Heading to the Southeast in the fall allows us beaches, history AND visiting family, so that's a for-sure winning destination also.
Tip:  traveling in the fall is great for getting that burst of sunshine, but remember that tans have washed off with the start of autumn and kids are more susceptible to sun burns when you're out of practice of keeping them shielded.
Part of the fun of being in Mexico in the fall is celebrating birthdays there.  Until you've had a Tres Leches cake for your birthday you haven't lived (#TrueStory).  We have learned where to get the best ones in all of Baja California and look forward to getting more over the years.  Now that's a fall tradition that is truly unique and that our kids will get to grow up with.  If all goes as planned, when they're all grown up they'll still want to head south with us for our annual fall trip.
So I guess you could say that we have a healthy mix of both standard fall traditions and some that are unique to our family.  We love taking advantage of our climate in Washington State and enjoying the change of seasons, but getting to travel to Mexico for one last stretch of sunshine before the winter hits really is important to us.
Every family is different and ushers in the cold weather in their own way.  As we've built up and evolved our fall traditions over the years, we've come to appreciate the season and don't let it get us down.  Fun at home and fun in the sun, that's #HowWeFamily in the fall!
Disclosure: I have received information about #HowWeFamily from the makers of TYLENOL. The opinions stated are my own. This is a sponsored post.