The Lightner Museum is such a gem for being in our small, beautiful city of St Augustine, Florida. Visiting St Augustine means that everywhere you go, you'll be surrounded by history, color and interesting sights. There are so many things to do downtown and one of the top picks, either on a hot and sunny day or when the rain starts, is to visit the Lightner Museum.
The Lightner Museum is a famous structure at the center of St. Augustine's past which offers a remarkable collection of art and changing exhibits. The Lightner Museum, which is housed in the historic Hotel Alcazar, a Gilded Age luxury hotel built by railroad tycoon Henry Flagler, provides an immersive experience of art, architecture, history, and design.
We love visiting the Lightner Museum every few months and enjoy both seeing new exhibitions and seeing how things have been updated. If you have any questions about the Lightner or things to do downtown St Augustine, please leave a comment or send us a note. We're happy to help as you visit and explore Florida!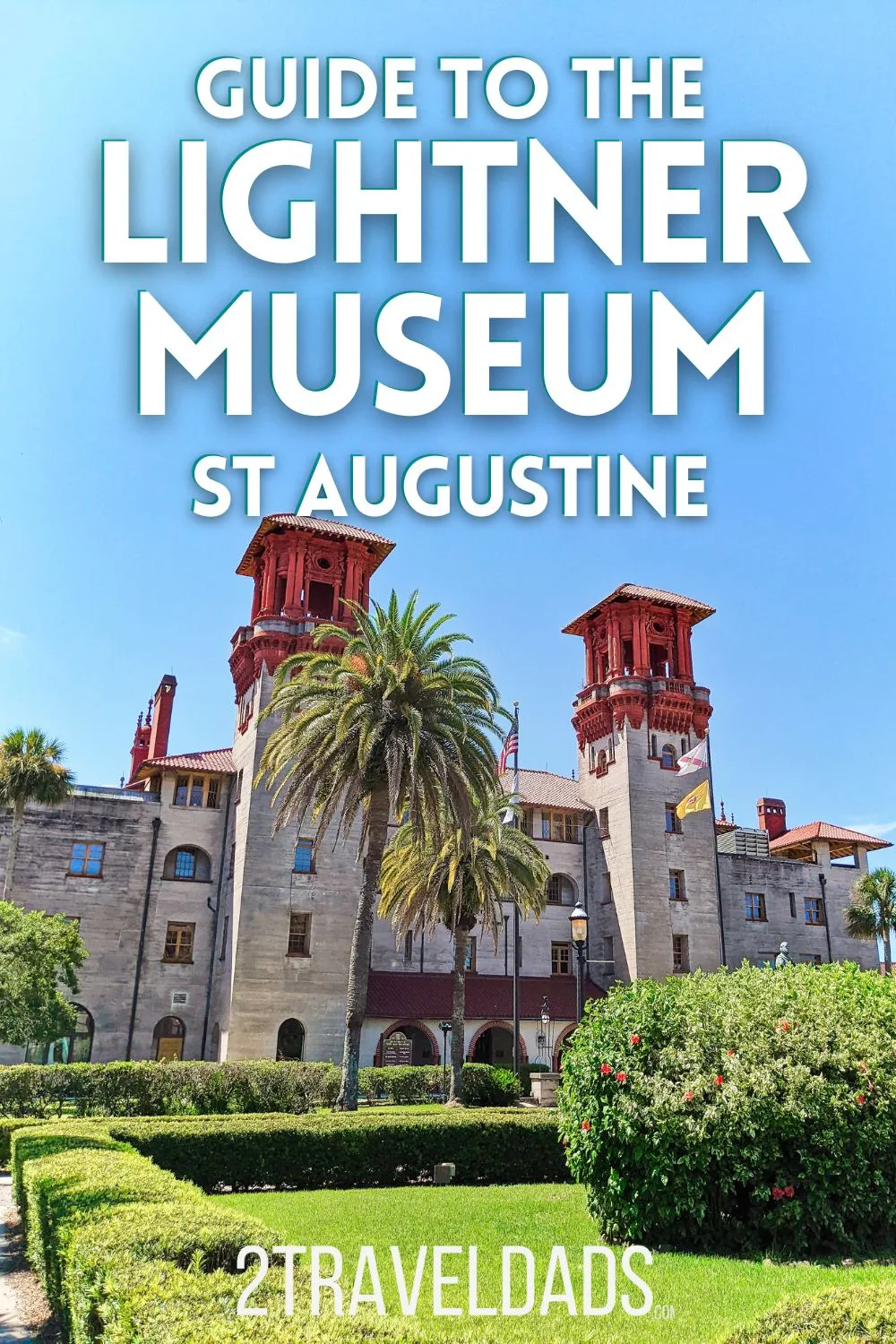 Highlights of the Lightner Museum Collection
The Lightner Museum's outstanding collection, historic structure, and engaging exhibitions and events are all devoted to enhancing the lives of its guests. Otto C. Lightner, a publisher, collector, and professional hobbyist from Chicago, founded it in 1948. The museum provides an entire experience of art, architecture, history, and design. The museum's captivating collections are at the center of its offerings. It's the gem of this beautiful St Augustine neighborhood.
The Lightner Museum's holdings are extensive, diverse, and constantly interesting, ranging from Louis Comfort Tiffany lamps to magnificent shells and geological specimens from all over the world to porcelain made in Sèvres and Victorian mechanical musical instruments. Visit the museum to see beautiful and unique exhibits like Bouke de Vries: War and Pieces and Tom Schifanella: Faces of the Alcazar.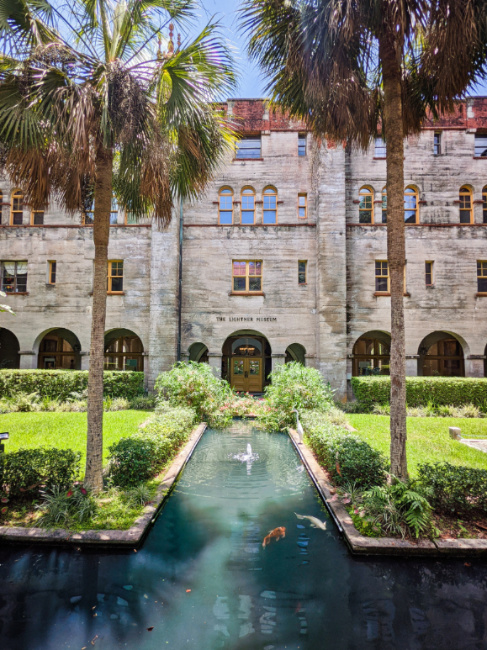 Favorite Lightner Permanent Collection Items
We visit the Lightner Museum often and love bringing out of town guests here. Our favorite exhibits from the Permanent Collection are the vintage musical instruments and the second floor gallery. The instruments are fascinating, as you just don't see mechanical players like these anymore, and if you're lucky, the museum will even have somebody present to operate them for you.
The second floor gallery is really wonderful. A large collection of paintings encircling the balconies and servant paths of the hotel, you'll see everything from great American works of art to St Augustine specific features. There's nothing like looking at a plein-air impressionist painting of a street you walk on daily reflecting a moment from a completely different time.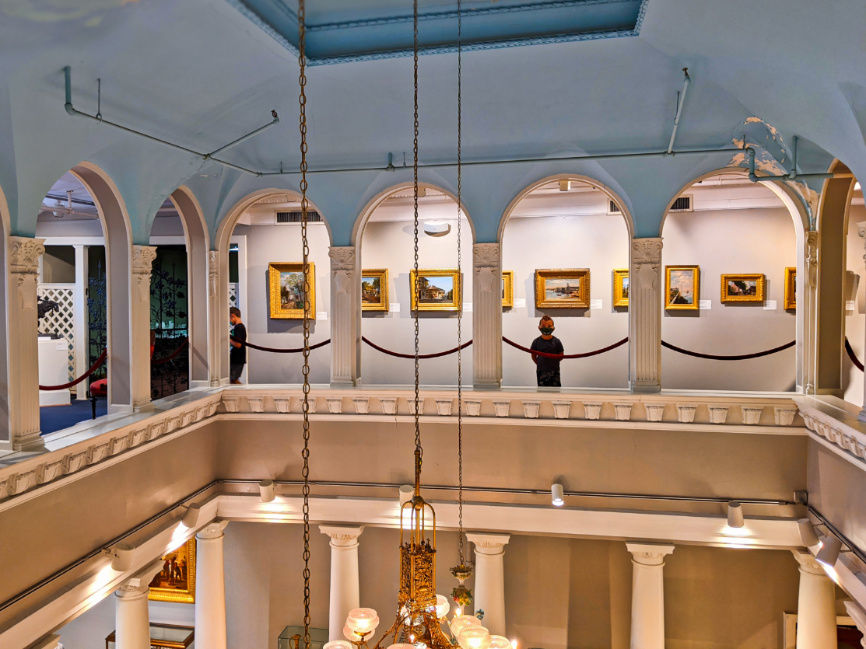 The Lightner as the Alcazar Hotel
A really unusual aspect of visiting the Lightner is going through the old Russian bath area of the former Alcazar Hotel. When the Ponce De Leon Hotel (now Flagler College) was operating during the Gilded Age guests were welcome to cross the street to the Alcazar to use the baths and the indoor pool. This part of the museum features photos from the time, and a good deal of insight into St Augustine life in the late 1800s.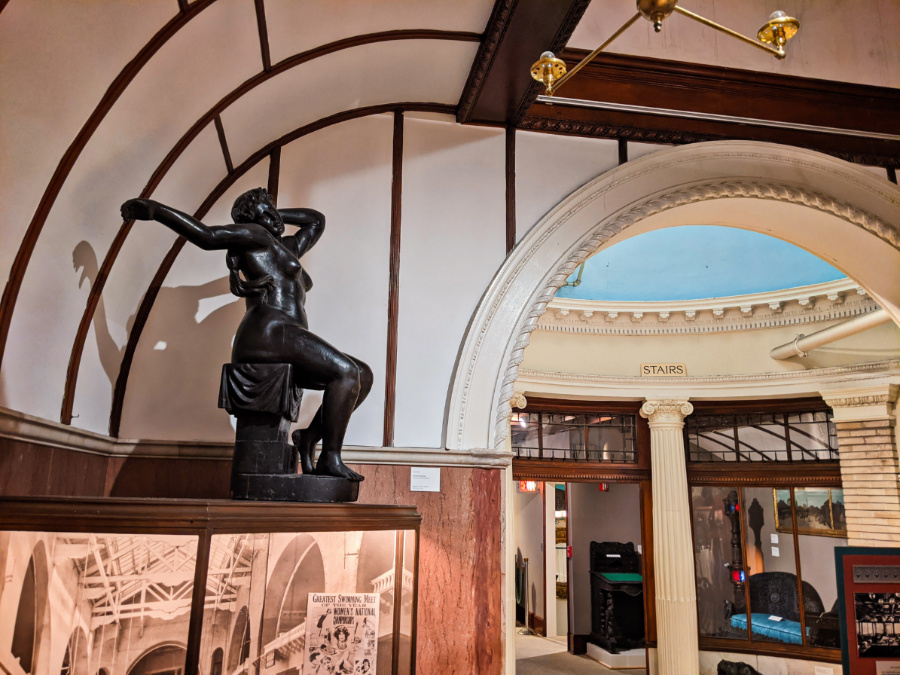 Events at the Lightner Museum
Host or attend programs and events like Yoga in the Garden, Community Open House, 75th Anniversary New Years Eve Gala, 75th Anniversary Celebration. There's always something happening at the Lightner! If you're visiting and want to take part in a special event, either in the galleries or within the Alcazar Pool area, be sure to check with the Lightner to see what public events you can participate in.
The Alcazar Café: Dining in the Swimming Pool
One of the most unique elements of the Lightner Museum is the Alcazar Café. Located in the old indoor swimming pool of the Alcazar Hotel, the Café is open for lunch and special events. Enjoy a meal with live piano music filling the space as you image being one of the Gilded Age guests enjoying an indoor swim, which at the time was truly a unique luxury.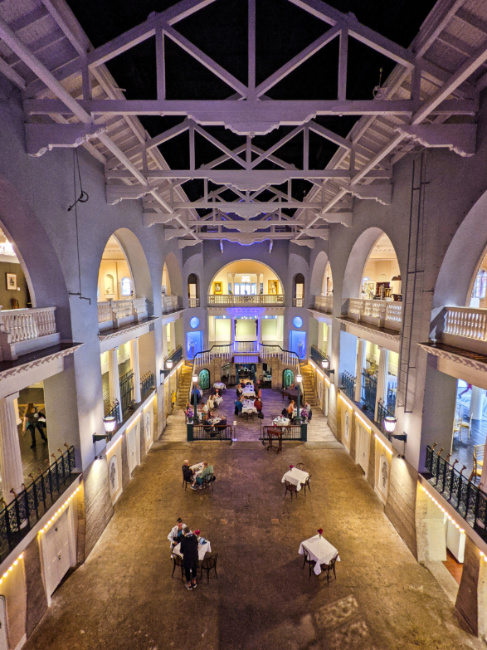 Visiting the Lightner: Hours of Operation
St Augustine's Lightner Museum is open year round except for a few holidays or special events.
Open from 9 a.m. to 5 p.m.
Last admission is at 4:00 p.m. Ballroom Gallery closes at 4:30 p.m.
Seven days a week, 363 days a year Closed Thanksgiving, Christmas Day, and New Year's Day Hours may vary for some holidays, such as Christmas Eve.
Children's and adult group tours are by reservation.
The Alcazar Café is open seven days a week for lunch, from 11:00 am to 3:00 pm. Reservations are not required but are recommended, especially on weekends and during summer months. If you're looking to grab a coffee downtown St Augustine, the Alcazar Cafe is NOT that sort of cafe, but is a nice restaurant.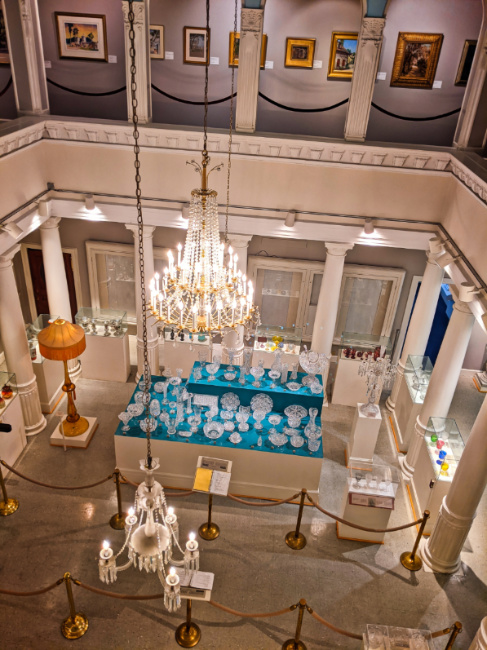 The famous Lightner Museum must be visited to see its remarkable collection of art as part of any vacation to St. Augustine to complete the St. Augustine full experience. Be sure to check the museum's website for current exhibitions, events and even really fancy fundraisers you might enjoy.
If you have any questions about the Lightner Museum, things to do downtown St Augustine or anything else Florida travel related, please leave a comment or send us a note. We're always happy to help other plan exciting trips!