Whether you are an active blogger or you just think that business management is an interesting thing, you probably know about pitching. Or at least you've heard of pitching and you think that it's fascinating. No matter what your background, I'm going to tell you exactly what pitching is, how to do it, and how to move on if you're not successful on the first run. How to pitch a blog is something that takes skill and savvy and truthfully, it can be a bit stressful.
This is my guide to pitching brands and destinations that you want to work with and creating customized pitches to launch successful partnerships and campaigns. We do it continually and are happy to share about successful pitching… and our failures.
Note: this article is a part of our Blogging as a Business series. Take a look at our article on how to start a blog before you read this post.
What is pitching?
Pitching is the process or practice of putting out an idea in hopes of generating new business or leads. If you're a blogger you need to know how to pitch so that you can grow your own brand or site as well as open doors to new opportunities. If you are a traditional copywriter or write for newspapers and magazines, you might need to pitch to be able to sell stories to publications you work for. We're not going to talk about that today but often the process will be similar regarding how to pitch a blog or how to pitch yourself for coverage.
Pitching is equal parts research, communication, and business management. Creating the perfect pitch, no matter what niche you are working in, should be a very thoughtful process and if done properly can be a thrilling way to generate new clients end control the type of work that you do.
Why would a blogger pitch something?
Why would a blogger want to pitch something? Well, a travel blogger like myself may want to pitch to a destination so that we could experience it and create written or visual content for our own website. A travel blogger may need to know how to pitch to a brand, such as a travel brand who works in multiple locations, to establish a relationship and create a stream of work, thus by creating a stream of income.
Other types of bloggers or writers may need to pitch to other types of businesses or firms. Those who run websites about fashion or technology may actually need to know the same skills and pitch the same exact way as a travel blogger would, but their frame of reference and talking points may vary from travel. No matter what your ultimate outlet it is, knowing how to pitch is key to controlling your work and building a good-looking partnership resume.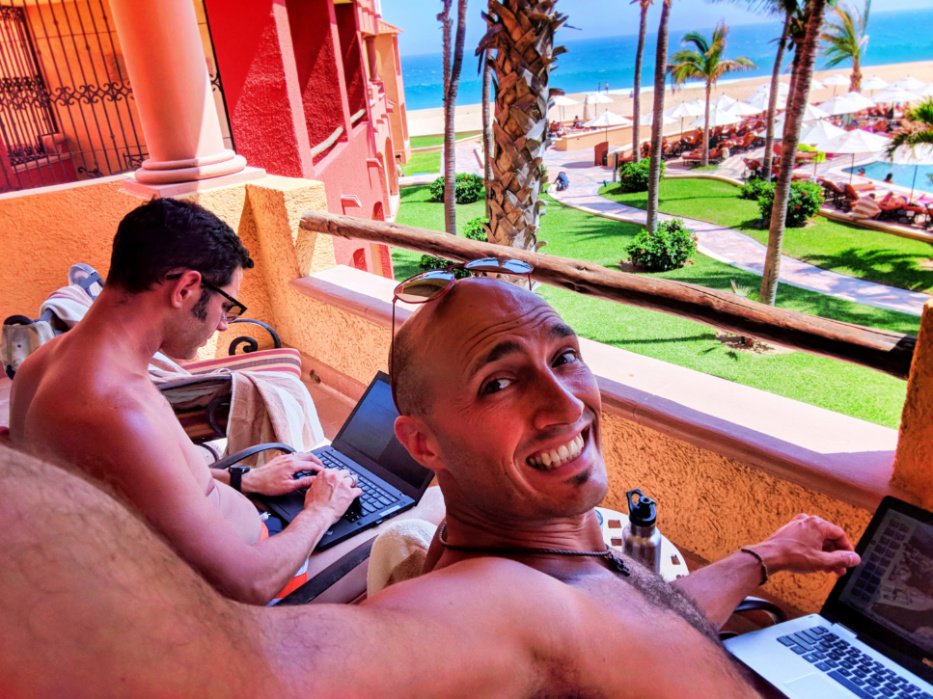 How to pitch to a destination
So let's jump into it: how to pitch a destination. We are going to start here because as a travel blogger it was the very first thing that I ever did in terms of pitching and it is the most common type of pitch that a travel blogger is going to do. While both of the following organization types have advertising AND media/PR, understand that one has the job of driving sales/visitor dollars and the other has the job of getting media coverage and positive press. Although ultimately the goal is revenue in both cases, one comes with a budget (advertising) and the other is much more limited.
Pitching to a DMO: destination marketing organization
If you are a part of the travel blogging community no doubt you have turned the term "DMO". A destination marketing organization is a firm or a collective of people working to market a destination as a whole. Usually this is an advertising agency or an organization that is contracted by the government or Chamber of Commerce of an area. A DMO is typically funded to create public awareness via advertising and marketing campaigns. Those can take the shape of everything from magazine ads to highway billboards. Can also happen in the form of sponsored content on a travel blog. [cue travel bloggers cheering] Knowing how to pitch to a DMO is important.
When you are pitching to a destination marketing organization you want to be able to show that you can communicate their ideal advertising message to your demographic of followers, or to several demographics, depending on what your outlet is.
For example: when I am pitching to a DMO I want to make sure that either one of their goals is to reach the LGBT travel market or that family travel is something they need to actively promote. I take the time to see what sort of advertising or sponsored content I can find before I reach out. If I find a huge gap or see if something could be done better, I will work on a pitch for addressing that gap to present to the DMO.
If you are being direct and cutting to the chase in your pitch, meaning that from the get-go you talk about budget and terms for working with you, be sure that you take a look at this article about budgeting for influencer marketing. This will help you understand some nuanced background to how many organizations manage budgets for project/advertising like this.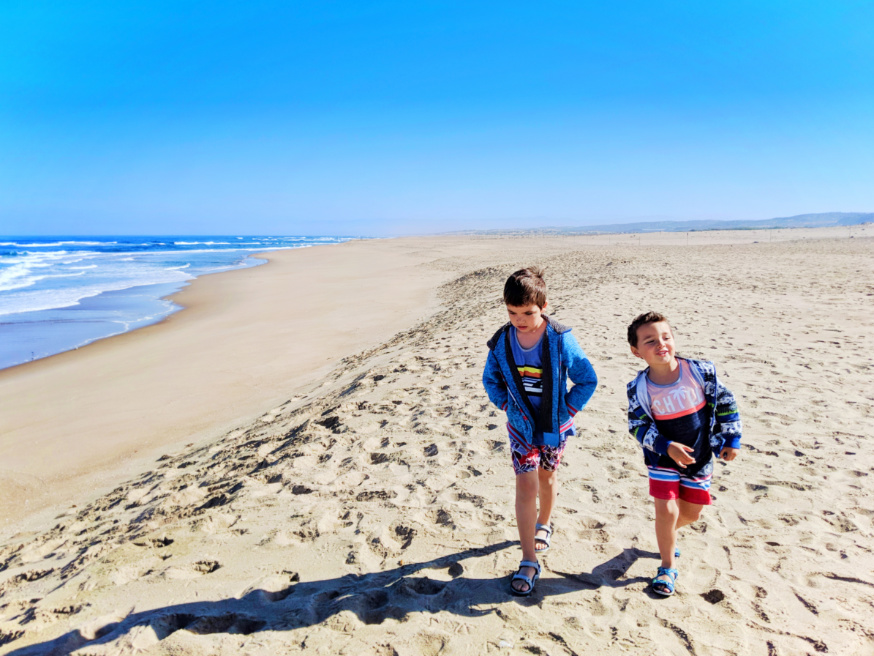 Pitching to a government or community organization
Not every destination has a DMO with discretionary funds. Some places, such as small towns or areas with spread out population, will have either a Convention Visitors Bureau, CVB, or a Chamber of Commerce. Is CVB is usually funded by tax dollars and as such has a fair number of rules and restrictions to how they operate and what sort of marketing and advertising they can do. And those rules apply to how they use funding too.
A chamber of commerce is typically funded through membership dues by local businesses who want to buy in and have a seat in the Chamber. While this is still a type of government organization, many Chambers of Commerce are not run within a city hall or something, but perhaps they run a visitor center and do the work to market their paying business members through promoting them in person as well as through campaigns.
Pitching to a Chamber of Commerce means that you want to promote those who have bought into that organization and see the value of a collective partnership. Pitching to a CVB, you want to be able to communicate the value of marketing or sponsored content through your own channels in terms that can be justified to use taxpayer dollars.
Note: the above statements around how to pitch to different marketing organizations for destination are very general. They are blanket statements based off of our experience working with a variety of organizations in many locations. Different Chambers, CVBs, or third-party DMOs may have very different rules and very different access to funds. Unfortunately, there is not a standard set of rules as to which types of organizations are able to sponsor everything from actual transportation to purchasing ad space or content space on a website. It's kind of the Wild West.
No matter the destination organization you need to know how to pitch to, what's most important is communicating YOUR VALUE and YOUR REACH to them.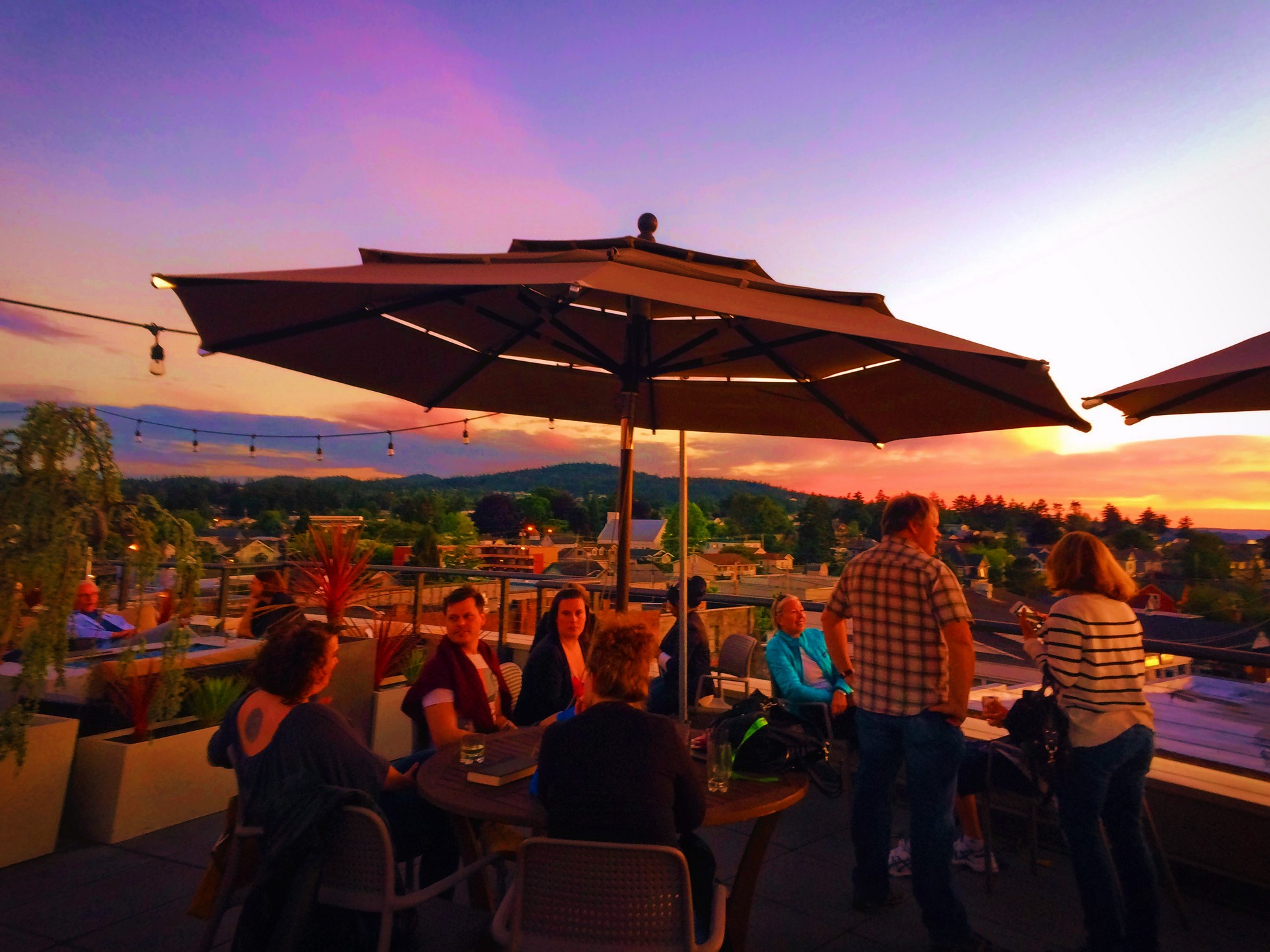 How to pitch to a brand
Pitching to a brand, particularly pitching to a travel brand, is a great way to potentially strike up a long-term partnership which for some bloggers is more appealing than working with an individual destination. Travel brands such as Best Western Hotels and Resorts or Intercontinental Hotel Group (IHG) are central corporate entities who have properties or operators in a variety of locations. While in many cases individually operated properties might manage their own marketing and advertising campaigns, oftentimes a large travel brand will have an overarching advertising team who sources marketing opportunities and is operating more closely on the directive of corporate vs. an individual, smaller operator.
This is one of the reasons we love working with Best Western Hotels and Resorts. They do have a corporate marketing team but then they also breakdown by region and individual operators. And that is the same with many other hotel chains or groups.
Why does a travel brand organization structure matter?
It's very important to research and understand the travel brand that you want to pitch because it can be very nuanced. Oftentimes a larger brand will have smaller properties that on their own would be considered boutique establishments but they happen to carry the larger travel brand association or affiliation. For example, this summer we stayed at the Best Western Plus Island Palms Resort Hotel and Marina. That's a whole lot going on in that name. It's individually owned and operated but it is branded and supported by Best Western. The offerings we're different from other hotels within the brand, but many of the same brand standards were in place. Understanding the difference of what an individual property versus a brand standard might be will help you in developing a pitch for a travel brand.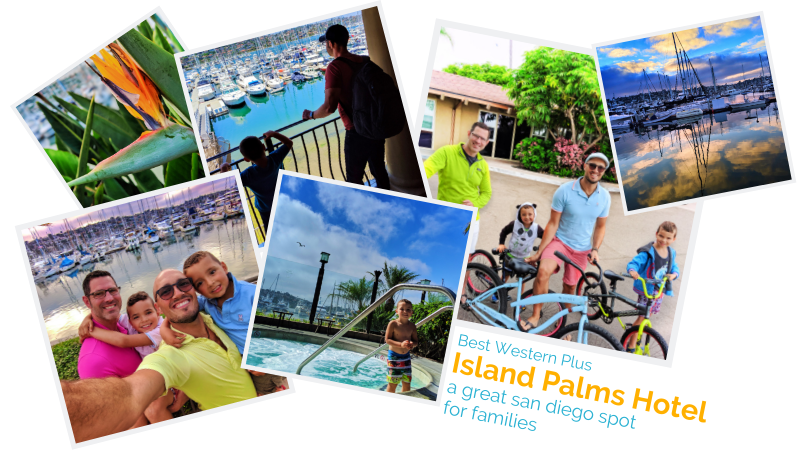 Researching for a travel brand pitch
Much like pitching for a destination, when you are thinking of how to pitch for a travel brand you will want to look and see what the current initiatives are or where the gaps and advertising and marketing coverage are. If your travel blog niche is something that visually is very obvious research can be a cinch. If your primary audience and your own visual presence is that of a minority group or a specific age demographic, as you look over the different aspects of a brand's marketing you will be able to see whether or not visually they are making an effort to have representation of your travel blog niche.
Note: I know upon the first read of that paragraph it sounds very superficial and not professional, but when you consider the idea of advertising and the percentage of people engaging with a brand where they see representation of their own life, it makes sense to hold a lot of stock in how that travel brand is doing in terms of visual representation.
Other ways that you can research what sort of action a travel brand is taking or what sort of campaigns they are working on is through being an active participant in the travel blog community. We all talk. While we might not be sharing the details of upcoming partnerships or contract specifics, many of us are happy to share the projects that we are currently working on or have recently completed. That doesn't mean that we are sharing compensation rates or what sort of assets we are providing to a sponsoring brand, but it can often mean that another travel blogger can advise as to their experience working with the brand and maybe even arrange an email introduction for you.
Half of how to pitch is knowing who to send your travel blog pitch to.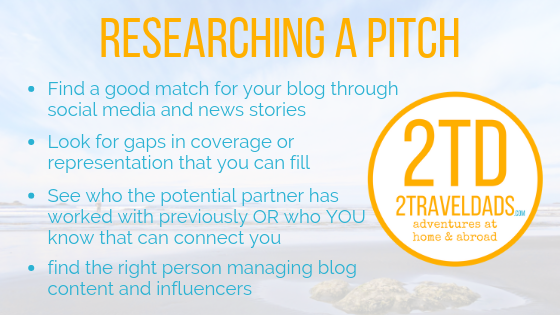 How to pitch to a product seller
You'll notice that I'm rolling out the different how to pitch segments in order of similarity. When you think about pitching to a product seller or distributor, REI for example, the research is very similar to working with a travel brand. You will do your googling and you will see visually who is representing that product or where is that product being featured.
If you're interested in pitching a brand because you think it's a great fit with your travel blog or because you're very interested in the product and would like to try it and share your experience, then the best place to start to build a pitch would be your own relative experience or interest.
Don't: send an email to customer service asking for a free backpack and camera case because yours is worn out. – if that's your MO, you'll never get anywhere and you won't be happy blogging as a job.
Do: look at other blogs and influencer accounts and see if you and your demographic of followers is being represented and specifically marketed to. From there, be honest in that you would like to try the product because you think it is a good fit that your followers would be very interested in it. – be honest, share why you're interested, and explain the value you can offer
Being appropriate and relevant is key in any sort of pitch, especially when you are reaching out cold. Don't 
How to deal with rejection
I know, there are a lot more questions about the how-to of each of the type of pitches that we talked about so far, but I think it's important to jump into understanding rejection and how to deal with that. Once you understand how to pitch and start sending them out, no doubt you will either get a fair amount of rejections or you won't even hear back. PS, that's also a rejection.
So how do you deal with and process that? Just like when you post a photo on Instagram that you think is awesome or adorable and nobody likes it or engages with it, that feeling that you totally missed the boat happens when you are rejected with pitching.
Here's what you do to make sure that this doesn't get you down:
When you have sent a pitch and it's not successful, save that pitch or that thread of emails and look at it later.

Create your next pitch and compare the message that you have communicated and then research you've done before sending that one.

Keep going with that process until you've become concise and effective.

Track all of this in a spreadsheet and see what sort of work you are able to garner. You'll see a pattern between how you pitch and what gets accepted.
Also, when you do get follow-up and it is a rejection, feel good that you actually received follow-up. Save that email and make notes including any important email addresses, and later on you may choose to pitch to that brand for destination again.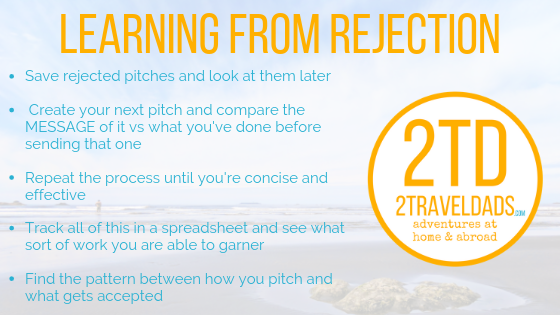 Keeping the communication alive
From start to finish, be sure that you're communicating with the team that manages blogger outreach or marketing and advertising. Without being obnoxious, you should always feel empowered to follow up with a brand or destination that you've pitched to and to ask why the pitch or partnership didn't move forward. Chances are you can get a solid answer explaining why you aren't the right fit.
If you think you should've been successful when you consider how to pitch your blog and when you think you've done it just right, move on and set a calendar reminder to follow up again in a different season. By then, perhaps a marketing plan has changed or budget has freed up. In six months to a year, whoever you've pitched to may have changed their approach to working with bloggers and influencer.
Big takeaways about pitching for a blog
Here's what you should be able to do at this point:
find a potential client you want to pitch to and be able to speak to why YOU are a great fit
be able to figure out who to pitch to (marketing or media relations)
be confident in asking for work even if you are rejected
track and learn from your successes and failures.
I hope this is helpful in considering how to pitch and what steps you can take to be prepared. If you have questions or comments, please leave them at the end of the post or send us a note!