Staying in resorts, you get to eat all kinds of amazing things. You know we love food that's fun, flavorful, unique and something that we're not going to have at home. And you also know that we love it when we can try great things with the kids and expand their palates. We had some great experiences dining at the Inverness Hotel. From snacks to lunch to drinks to brunch, we had lots of deliciousness to enjoy.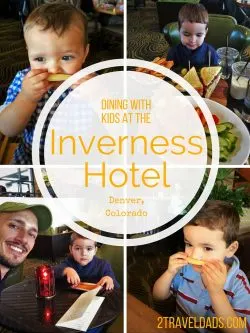 Dining at the Inverness Hotel was also really easy with kids. We've written before about how to make an adult restaurant a kid-friendly dining experience and thankfully we didn't really have to do that here. We had our lunches at the Fireside Bar and Grill and brunch at the Garden Terrace and both we great for our family.
Also, it's always nice when you get to enjoy great beverages that aren't your standard hotel drinks. You know, let's just get to and you can see all of the delicious things we ate at the Inverness Hotel.
Dining at the Inverness Hotel for lunch
When we first arrived at The Inverness Hotel it was just after lunch time… after… lunch time… That means that there were some hangry folks. You know how that is when you're traveling with kids, right? They're a bit cranky because they just need food but then no food sounds good to them because they're cranky… Thank goodness for the following:
Three-cheese short rib grilled cheese sandwich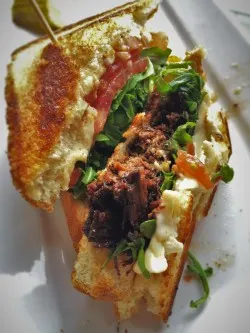 I don't love beef products but Chris always enjoys them. I just had to give this a try because he was going on and on about it. I'll tell you, it was the best grilled cheese sandwich I've ever had. And I'm professional grilled cheese sandwich maker because it's what I make at least three times a week for the kids because it is their favorite. The combo of cheese is melted perfectly to have structure and yet still be gooey. I didn't actually write down what cheeses are used but I should have because that's how I need to make grilled cheese at home.
And then the short ribs on the sandwich: there was no bone, just to be clear, but the meat you could tell was slow cooked with care and seasoned to perfection. I always make grilled cheese sandwiches with turkey in them, but maybe it's worth doing some slow cooking of my own. What made this sandwich even better: arugula, vine ripe tomato, lingonberry jus. So good and now I'll feel like a grilled cheese failure from here on.
Tip: remember what you or your kids enjoyed at a restaurant and emulate it at home. It'll make time in your home-restaurant more fun and tasty.
Sandwiches: the cool kids' club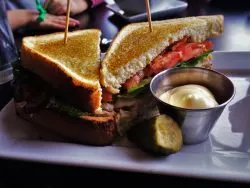 I know, I just pictured middle school lunch tables full of awkward moments and horrible kids. But that's not what I'm talking about. I am talking about well-crafted club sandwiches with good, thick cut bacon. And what better is Jalapeno Ranch that was served on the side. This is the only time you will ever hear me say something positive about any form of ranch dressing. I think that ranch dressing is the downfall of American nutrition, but this was exceptional and clearly house-made.
We enjoyed two different versions of a club sandwich while we were there. both were very well done and the only difference was the order in which they were constructed. Oh, and one had bacon while the other had him. Also I'm always skeptical of french fries no matter where I am. I think french fries are gauche but tasty. These fries were everything that I'd want from steak fries… which was a surprise because we were dining at the Inverness Hotel, not Red Robin. The kids really went to town even though there was lots of other great stuff.
Tip: if you don't want your kids gorging on french fries in any restaurant (or you yourself gorging on fries) restaurants will often substitute veggies or fruit if you ask nicely.
Pesto Hummus and Veggies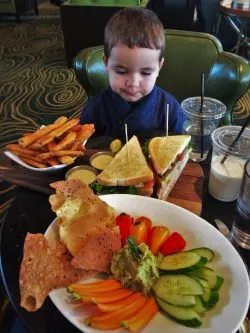 One of the best tips for dining with kids in a nice restaurant is finding things that you know they will enjoy and that are healthy. When you've got a 1 year old you have to be thoughtful about the types of vegetables you give them. Not all little kids are ready to crunch and chew their way through a stack of carrots. It was great to be able to order an interesting type of hummus, a pesto one, and have it be served with a wide selection of vegetables that the kids enjoyed (including baby peppers). I think that's a page out of dining at the Inverness Hotel that other restaurants, both in hotels and outside of them, really should pay attention to.
Tip: if you are dining with kids or just need more room on your table, never hesitate to give all of the cuttlery you won't use back to your server. We end up doing this at almost every meal cuz, well, OMG sometimes there's a lot of silverware on the table.
Hidden Veggie Mac 'n Cheese
Brilliant! Hide vegetables in with cheese and noodles. Why have I never done this at home? It really is genius. And do you know what else? The mac and cheese was not your standard mac and cheese. The sauce I'm pretty sure was designed by an adult for an adult with a well-developed cheese palate. Actually come to think of it, we ate more of the veggie mac and cheese than our son did. He still ate plenty of it because he loved it so much, but it was a hit with the adults. Why aren't kids' meals ever available in adult portions?
Tip: our kids love veggies, but if yours don't, when you see something like "hidden veggie" or "healthy___" you don't have to tell them that it's good for them initially… but then when they like it, be sure to share with your kids that they've enjoyed something good for them.
Brunch at the Inverness Hotel
We don't do a lot of brunches. They just usually fall at that awkward time right when somebody needs to be going down for a nap. But we made an exception to be able to do brunch on Easter and it was a fascinating experience. Do you know what happens when you're dining at the Inverness Hotel with kids and they see a table loaded with Easter eggs and cake and cookies and fruit and ice cream and everything that you should eat after a meal? It acts as a great motivator to get them to eat their breakfast/lunch.
Brunch with a 4 year old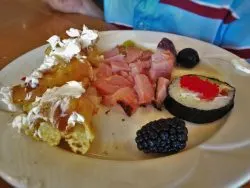 While we adults selected wonderful things like smoked Cod, polenta, crab legs, bison… you know lots of different adult-type foods… Our son made a very different selection. What do you think of 4 year old will pick when they have a very large brunch menu to choose from? Let's just say that sushi and waffles totally go together.
Tip: brunch, or any other sort of free flowing meal, is a great way to learn what your kids like or are willing to try. Who's to say that your kids don't love salmon lox with capers?
Dining with allergies
The brunch spread was actually very impressive. Something we appreciated was how well separated they kept the food, both in terms of genre of tasty goodies and the ingredients of the products. It made it very easy to put together a good selection on a plate and be sure that we were being safe feeding our son, who is extremely allergic to eggs. There was also a full staff to make sure things were well stocked, as well as to answer questions about the individual dishes.
Tip: if you live with allergies and intollerences you probably already know how to approach dining out, but if you're not well versed or have a child with you that has food risks, know that restaurant staff ALWAYS are able to find out what the ingredients in ANYTHING are and they are more often than not willing to do something special to create a great meal for a sensitive eater.
Special touches when dining at the Inverness Hotel
Lunch service that rocked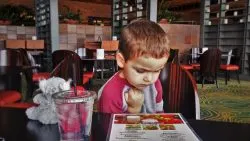 Lunch usually comes on plates, right? Well not when it's a wooden board that makes it fun to eat off of. When our sandwich board showed up, our oldest looked at me like "Why is this on a piece of wood?" and then quickly moved to thinking it was cool and kind of funny. Little touches like that go a long way.
Brunch that brought smiles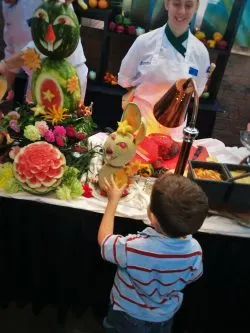 Since we were there for Easter brunch, we go to experience food-art at its finest. From carved fruit and arrangements to huge bunnies made of melons, the Inverness Hotel's Garden Terrace restaurant did a great job bring fun to the table. They made sure to create a fun pathway to the dining area, lined with desserts and eggs full of candy. You know, a little bit of candy before a meal isn't so bad I guess.
The other great touch happened outside of the Garden Terrace restaurant in the lobby. The Inverness Hotel had arranged for the Easter Bunny to make a special stop there, as well as they'd put together eggs for the adults to win prizes from the hotel and its spa. There was also face painting and a balloon artist. Had we not had to go anywhere, we would've stayed for the Easter egg hunt too, but we had to jet. Sadface.
Note: while we were in line for balloon animals, we talked to a few other parents who said that they've made a point of doing Easter brunch at the Inverness Hotel because it's so well done. If we lived in Denver or were visiting at Easter next year, we'd be doing that too.
Tasty Bevies from the Fireside Bar and Grill
This is what everyone has been waiting for. We're not going to share all of the details, but enough to whet your whistle. Hint: one of these drinks we've now made at home and it is awesome.
Lemon ginger up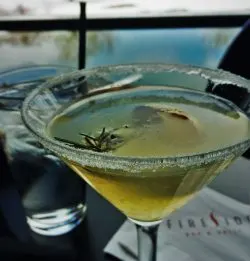 This was one of those drinks that initially I thought would be funky and maybe a little gross. It wasn't though. Since gin already has a bit of a pininess to it, the rosemary wasn't out of place and the lemon perfectly cut through the woodsiness of it. Really, it was a great drink and easy to replicate at home
Tip: this does require a nicer, more dry gin than a bottom or middle shelf, so don't blame us if you attempt it and it's not good.
Upper Manhattan rocks
This cocktail burned my soul initially… and then it smoothed out and was great. I think of any beverage we've had while traveling, few have been characteristic of the environment and locale as the upper Manhattan rocks was. The barrel aged small batch bourbon paired perfectly with the blizzard that just ended. It was classy, top shelf, and not something we would've tried someplace else.
Local craft beers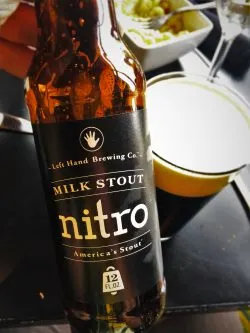 Our bartender was amazing and was willing to share the gambit of Colorado microbrews with us (I think he read our blog before we sat down. Kidding.) We got to try several from the northern part of the state including an IPA that I wish I wrote down what it was. Our favorite though, was from Left Hand Brewing: a milk stout nitro. It was fantastic and was more than a dark beer. Having a lighter body and hints of coffee, it was a great beer to make a good impression on these Pacific Northwest, microbrew lovin' dads.
The Motherload
If you've heard of a red beer, well that's this but it's better. The Motherload is an amazing combo of local IPA, spiced up tomato juice and a shot of vodka. Yes, it's pretty awesome. It's a wonderful brunch or lunch beverage, but like with anything moderation. The Motherload was wonderful to accompany our experiences dining at the Inverness Hotel, so much so that we have enjoyed them at home a few times. Gotta say though, without the vodka is better.
PS: all of these wonderful moments and dishes while dining at the Inverness Hotel all took place in the coolest environment that was comfortable, nice, upscale and with a view. Really, a well done collection of dining experiences.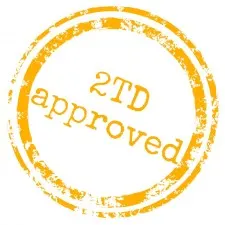 We really did enjoy dining in the Inverness Hotel. It was very refreshing to not have to scramble for great choices for the kids while we were able to enjoy grown up food too. They were extremely welcoming and we can confidently say that dining at the Inverness Hotel is totally 2TD approved!