Did you know that we have a few different vacation rental properties? It's true! We've been very fortunate to be able to invest in two properties that are PERFECT for people looking to visit the Southeast! We have the Buccaneer Bungalow our vacation rental in Saint Augustine, FL and the Forsyth Flat up in Savannah, Georgia. We love getting to host people and help them have memorable vacations with family and friends.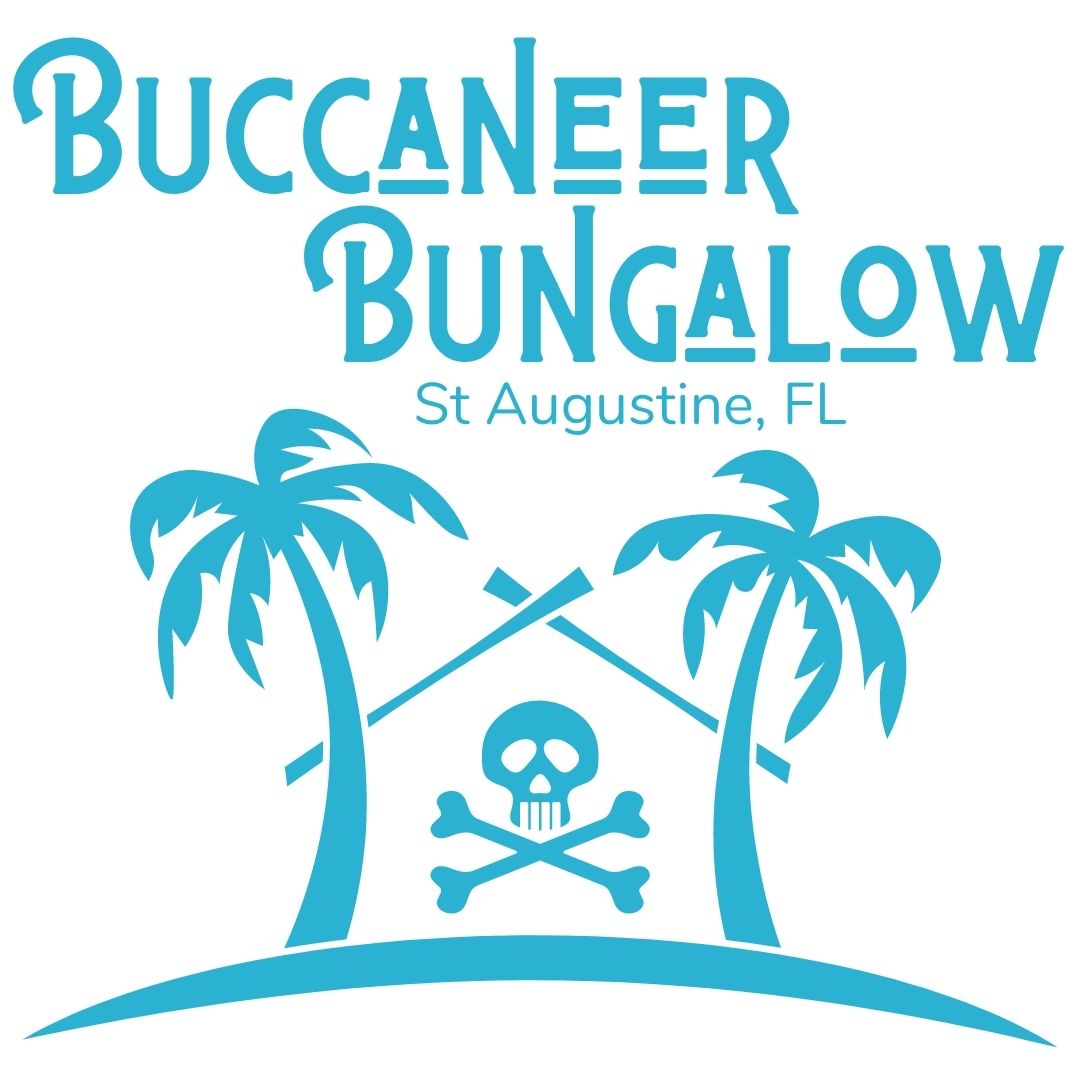 Our Saint Augustine Vacation Rental in Butler Beach
The Buccaneer Bungalow is located in the Butler Beach neighborhood of Saint Augustine, Florida: the nation's oldest city. Just a few blocks off the beach, the Buccaneer Bungalow vacation rental is ideal for a family of 4-6 or anyone looking to book a remote working vacation rental. Anastasia Island (where the vacation rental is) is a great place and includes the communities of St Augustine Beach, Butler Beach and Crescent Beach.
For the outdoor lover, kayaking and the beach are equally close to the Bungalow. If you're into history, ten minutes south is Fort Matanzas National Monument and fifteen minutes north is the Castillo de San Marcos National Monument, and then of course historic St Augustine.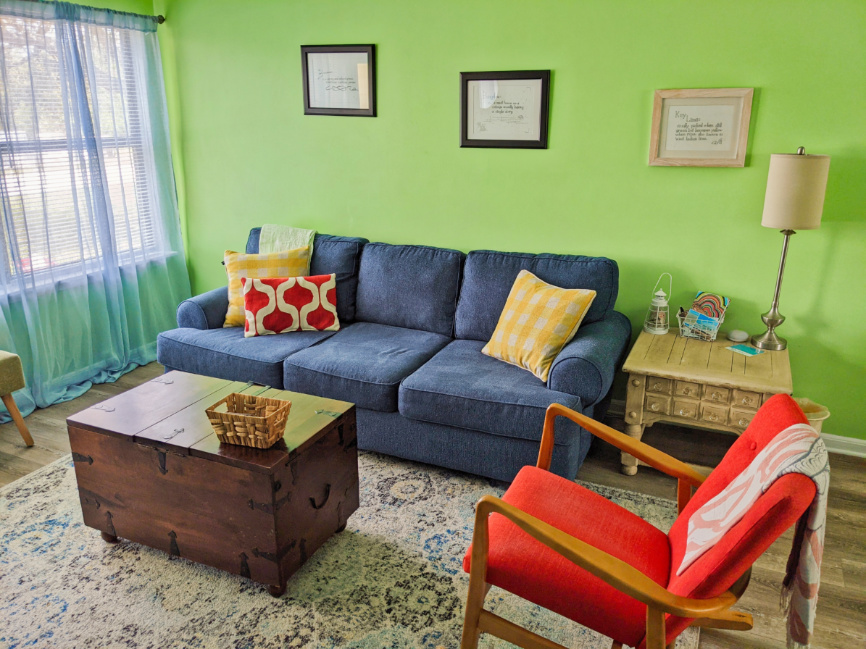 Booking our St Augustine Vacation Rental in Butler Beach
Please either complete the form below (or here) or book the Bungalow through AirBNB. We prefer to book directly with our guests so that we can provide the best experience, but are happy to run everything through AirBNB as well.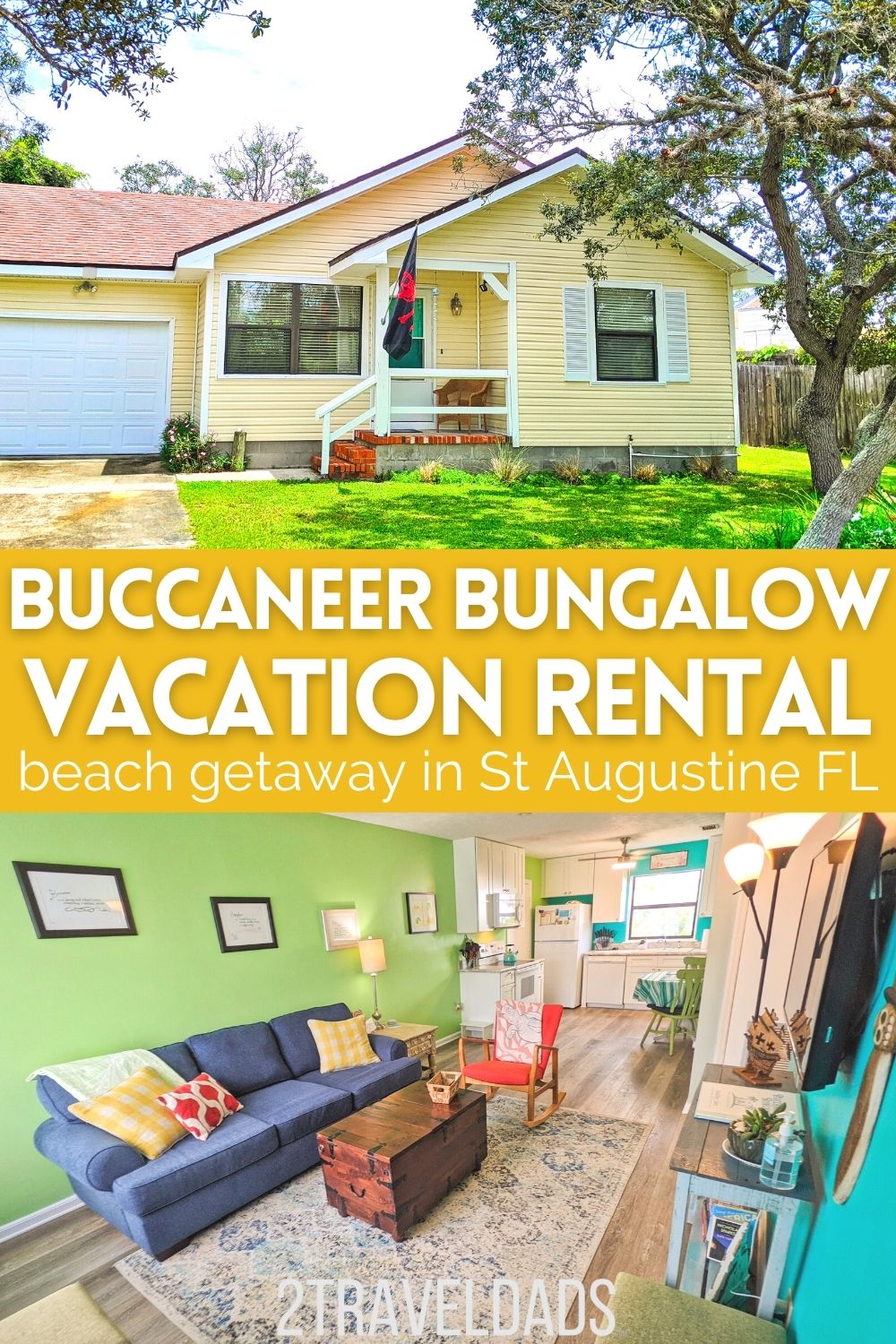 Buccaneer Bungalow Vacation Rental Rates
Ahh, the big question: "How much is your St Augustine vacation rental?" We are glad to offer it up for booking at, what we think is a great deal with an average of $150 USD per night. Rates vary for longer stays or on the busiest weeks of the year. Our tax rate is 6.5% for city/state taxes and 5% for St Johns County. This will be applied to the rental rate.
The cleaning fee per stay is $70. If guests are bringing pets, the pet fee is $25/per/week.
Payment for St Augustine vacation rental reservations can be done through Zelle or via electronic invoice.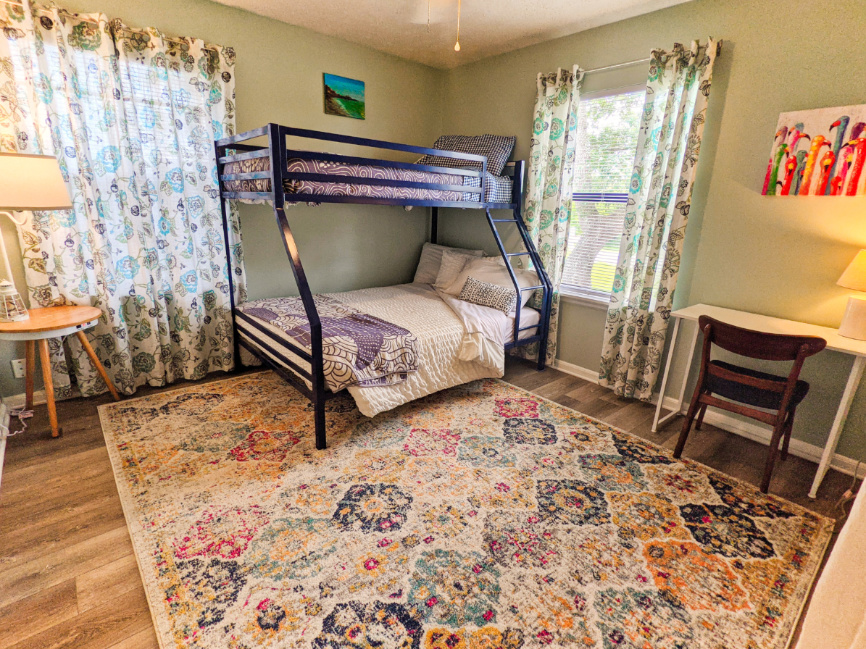 Details About the Buccaneer Bungalow Vacation Rental
Here's the full scoop on our St Augustine vacation rental. We love it and love sharing it with people. Please read through the neighborhood information and house rules before making a booking request.
Vacation Rental Location – Quiet Butler Beach
The Buccaneer Bungalow is ideally located between the white sands of Butler Beach & the Intracoastal Waterway. This St Augustine vacation rental is set in a quiet neighborhood w/ lots of green space, the Bungalow is perfect for having a beach vacation with family/friends. A big fully fenced backyard & outdoor shower allow you to relax and enjoy your time in St Augustine. Subtle touches give hint to St Augustine's historic and piratey past. Great for a weekend, vacay or work escape (2 desks, great wifi). New floors in every room!
Our neighborhood is quiet with lots of dog-walkers. Being so close to the beach, it's an eight minute walk to the Sea Oats entrance of Butler Beach (10-12 minutes if you're gingerly). If you want to kayak or SUP, Butler Park West is a ten minute walk or two minute drive. Two blocks over is Windswept Acres Park with a playground and walking paths. Around the corner on A1A you'll find Red Frog McToads (fish n' chips & beer) as well as a Cuban restaurant (opening soon!). There are great delivery options, including Instacart and DoorDash.
The Buccaneer Bungalow is located between highways 312 and 206 off of A1A. If you're coming from I-95 it's about a ten minute drive to the house. We do recommend having your own vehicle so you can check out historic downtown Saint Augustine and the many other beaches, but if your goal is just a trip to lay low and enjoy the beach or the Intracoastal, both are walking or biking distance.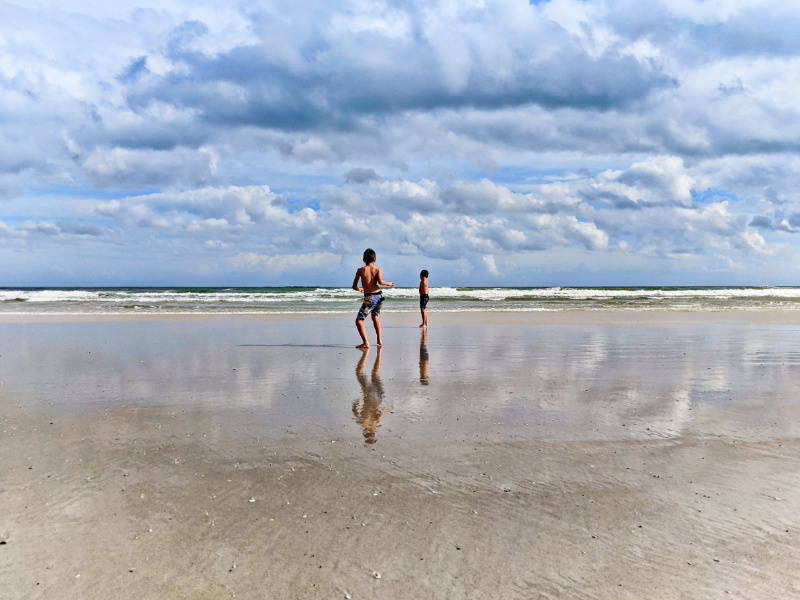 Rules for Staying at the Buccaneer Bungalow St Augustine Vacation Rental
We give our guests space but are available when needed. We are local to Saint Augustine, so should there be any needs or concerns, we are able to assist without trouble. We won't pop by the bungalow unannounced, but we're around. We want your time at our St Augustine vacation rental to be pleasant and stress-free.
Our Vacation Rental Cancellation Policy
Full refund for cancellations made within 48 hours of booking, if the check-in date is at least 14 days away. 50% refund for cancellations made at least 7 days before check-in. No refunds for cancellations made within 7 days of check-in. This is strict.
"What if there's a hurricane on the horizon?" Hurricane season in Florida does run from June to November, and while it's highly unlikely that a named storm will make landfall in Saint Augustine, it could happen. We tell all guests booking during hurricane season that they should be familiar with their credit cards' travel policies or that they specifically look into travel insurance. Because hurricanes are tracked and come with plenty of warning, booking a Florida vacation during hurricane season is a known risk.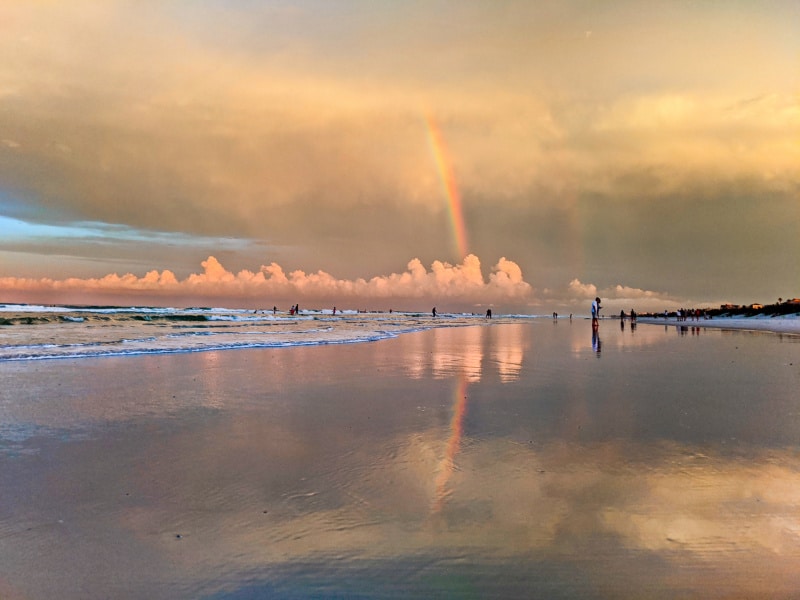 House Rules and Bungalow Need-to-Knows
We want you to have a relaxing and enjoyable time staying with us. That's why we've downloaded our years of hosting experience and area knowledge into this handy guidebook. Take a look and let us know if we can do anything to make your stay more comfortable, and thank you for choosing the Buccaneer Bungalow for your visit to Saint Augustine, America's Oldest City. Everything You Need to Know For an Amazing Stay at the Buccaneer Bungalow The Buccaneer Bungalow is ideally located between the white sands of Butler Beach and the Intracoastal Waterway. Situated in a quiet neighborhood with lots of green space, the Bungalow is perfect for having a quiet beach vacation with family or friends. A big backyard, dedicated parking and even an outdoor shower allow you to relax and enjoy your time in Saint Augustine. The house is all ready to go for you. It's quite self-explanatory. Check in, get onto the wifi (not great cell coverage), and relax! Whenever you leave the house, please lock up…. and don't lose your keys in the sand!
St Augustine Vacation Rental Pet Policy
IF YOU BRING A PET: at no time may the pet be left alone at the property. Should the pet cause damage inside, the full security deposit will be withheld. If the pet spends time outside, it is expected that there will be no digging, that the pet doesn't roam the neighborhood, and that any pet waste will be cleaned up by the guest prior to departure. Although there is a dog entrance on the backdoor, the garage is NOT a place to leave a pet due to heat and safety relating to items stored in the garage.
PET POLICY
Two dogs 25 lbs. or under are allowed for an additional $25 fee each per week (not pro-rated). Please notify us if your pet is more than 25 pounds or for more than 2 pets. Prior approval is required and must be noted on your reservation.
**Unauthorized pets will be charged the full security deposit, no exceptions.**
Pets must be completely housebroken, well-behaved and pest free. Pets are not allowed on furniture or on beds. An additional fee will be applied if there is evidence of a pet being on furniture. Pets should be not be left alone in the Bungalow at any time, including in the garage area. Guests agree to pay for any damages caused by pets. If pets have an accident in the Bungalow, all clean-up will be performed by the Guests. Guests further agree to pick up waste from the grounds and deposit in outside garbage cans. Guests agree that failure to comply with clean-ups of either inside or outside of the Bungalow will result in an additional cleaning charge of no less than $50. Guests agree to be in full control of their pets at all times and take full responsibility for their pets. For your dog's protection, please keep him/her on a leash at all times and be wary of other dogs. Guests acknowledge this agreement and authorize owners to charge the credit card on file for any damages sustained. Should your pet use the furniture or the floor in a way other than directed, we'll assess a professional cleaning fee.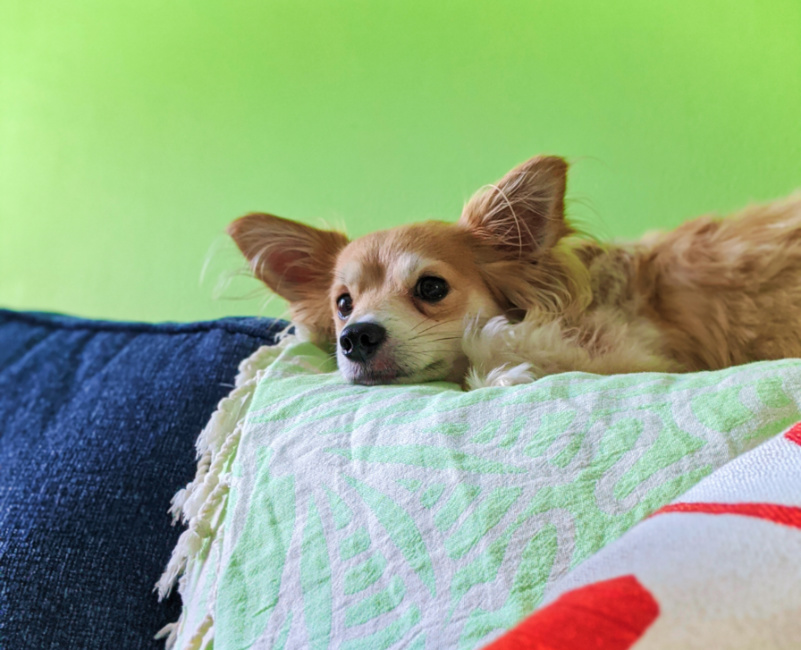 St Augustine Vacation Rental CHECK IN AND CHECK OUT.
Check in is 4 p.m. or later. Let us know if you're getting in late and we'll be sure to leave the light on for you. The house has a keyless entry system to make it simple for your arrival. You will be given a code before you arrive – just message us to let us know you've read and accepted these instructions, and we'll send you a unique entrance code – and you may let yourself into the house at the designated arrival time. If you would like to arrive early we can be flexible as long as there are no back-to-back guests. Just let us know and we will try to work with your schedule and with our cleaning service. When you first arrive, enter via the keypad at the front door. We'll send you the security code the morning of arrival. To lock the keyless entry, just press the button. (IMPORTANT: Don't lock the bottom doorknob or you will be locked out!)
Check out is at 10 a.m. On your way out, please lock the doors and turn off ALL lights as you depart. When it's time to leave, please remove the linens from the beds and place them on the floor with your dirtied towels. If you could please load your dishes into the dishwasher, that'd be delightful (we'll run it), and we'll put the clean dishes away when the house is cleaned.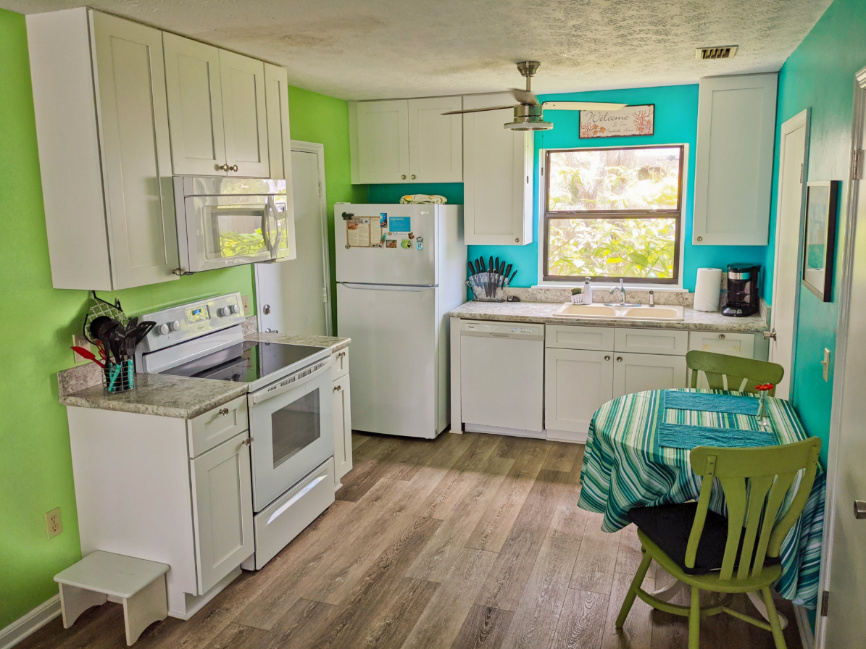 HOUSE GUEST Policy
We have very strict local vacation rental laws, thus only guests and vehicles listed on the reservation are allowed on property overnight. If other guests are seen on property after dusk, you'll be asked to leave without a refund. If you intend to have any day visitors, you must limit the total number of people at the Buccaneer Bungalow to 8 (that includes registered guests and day visitors). No more than 8 people on property. 8. No more. Should a neighbor complain about noise or excess people, you'll be asked to leave without a refund.
DECORATIONS / SIGNAGE: if you feel the need to decorate anything while you're at the Bungalow, be sure to fully remove the decorations and clean up anything associated with the decorations. NO POLITICAL CANDIDATE SIGNS MAY BE VISIBLE FROM THE STREET AT ANY TIME.
QUIET HOURS This is a quiet, residential neighborhood and we have great relationships with our neighbors. We value your safety and ours, so parties and events of any kind are not allowed and ONLY THE GUESTS noted in the booking are allowed on premises after dusk. For real. **Any violation of this house rule will result in the immediate removal of all guests (and any visitors) from property without refund.** We want all of our guests to be respectful of neighbors, and keep noise to a minimum while in back or front yards. Quiet time is 9pm to 8am. Any disturbance triggering a visit by police will require guests to forfeit the remainder of their stay and immediately vacate property without any refund. NO SMOKING Vacation Rental
Smoking is not allowed in the house or on the front porch, however there's seating in the backyard should you like to take a smoke break. Any and all trash / butts must be cleaned up 100% and disposed of in the trash bin OUTSIDE. A $200.00 penalty will be incurred if any sign of smoking or smell of smoke is encountered after departure.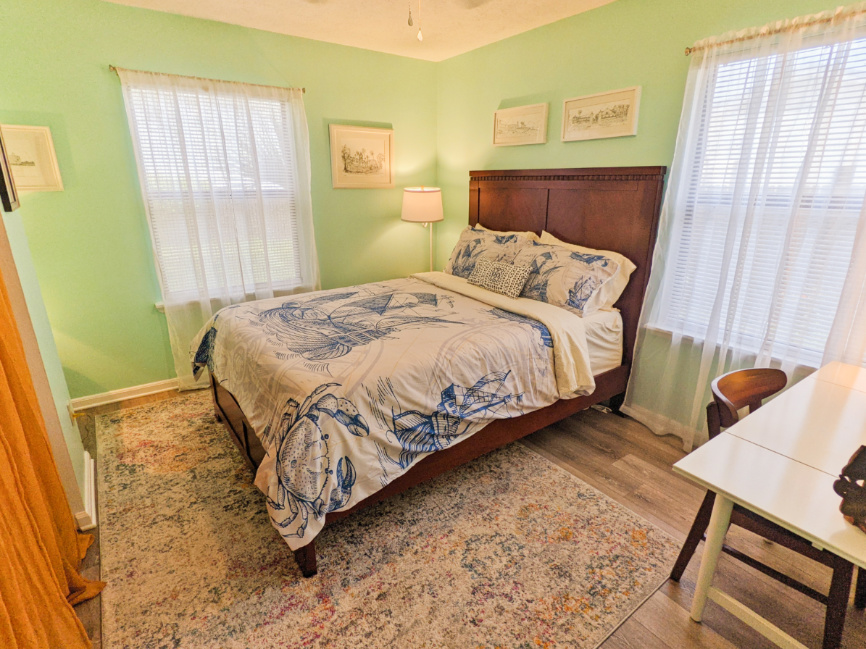 ---
Forsyth Flat in Savannah, Georgia
We've taken great care in restoring our turn-of-the-century flat at Forsyth Park in Savannah, Georgia. Doing the Georgia Coast road trip is such a fun and unique travel plan, and ending in Savannah is the best way to do it! Forsyth Park, which is where our flat is located, is the heartbeat of Savannah and makes for the perfect place to relax and enjoy southern life.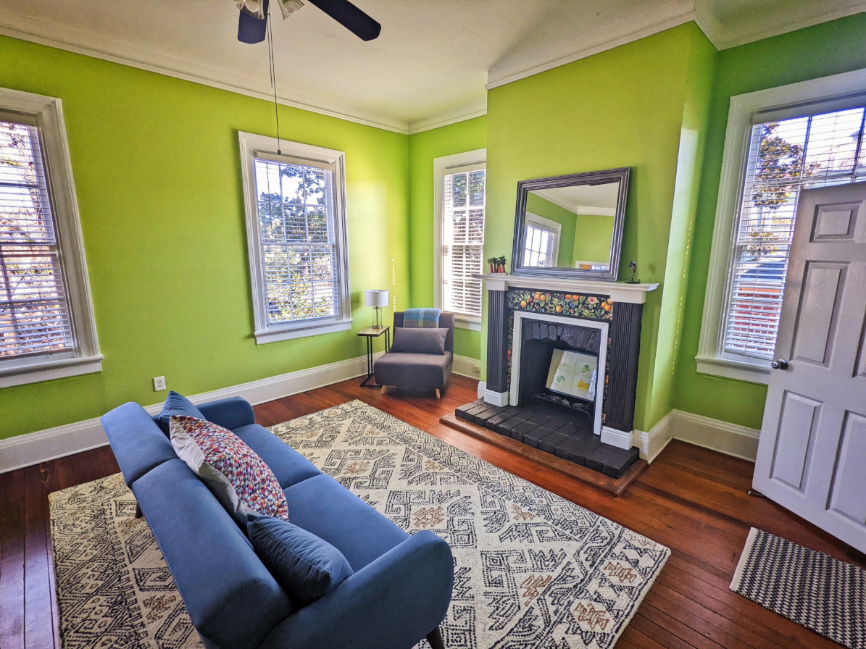 Can I rent the Forsyth Flat in Savannah?
We are excited to welcome visitors to Savannah at the Forsyth Flat, but it's not listed as a vacation rental yet. If you'd like more information about the Forsyth Flat, from booking it to tips for visiting Savannah, please complete the form below (or here). We'll reach out when it becomes available for booking.