We're so excited for our first family trip to Hawaii! We'll be exploring the Island of Oahu, starting with a few days at Disney's Aulani and then moving to the North Shore for some epic hiking, waterfalls, and beach time with the kids.  The goal:  inspire the kids to want to be surfers!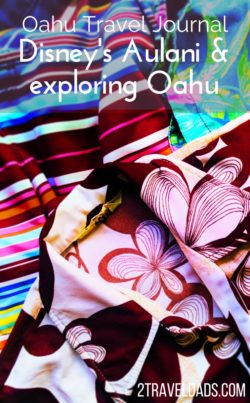 We are really looking forward to this trip.  It'll be some much needed relaxation and sunshine.  Fall hit us hard in the Pacific Northwest, so this is going to give us an awesome recharge before we go barreling into the holiday season.  If you're already shoulder high in snow or just want to get a bit inspired to plan some warm weather travel,
follow our Instagram
story over the next week.  It's going to rock!
Our itinerary at Disney's Aulani
We've been looking forward to coming to Disney's Aulani Restort and Spa for a long time and we're excited to partner with them and share our experience.  We enjoyed the Grand Californian Hotel at Disneyland so much and we know that Aulani is going to be awesome.  While at Aulani, here's what's on the docket:
Beach time and swimming
a Disney Character breakfast (OMG!)
Time at the Laniwai Spa for both dads (excited for the Lomilomi massage)
wonderful meals and cocktails around the Aulani Resort
Catamaran adventure with the kids, including snorkeling
playing in the lagoon and more beach time (maybe canoe races!)
an Hawaiian luau as only Disney can do
Disney created Aulani with the help and guidance of locals and cultural experts. There are endless activities for the whole family and there'll be plenty of down time for the dads.  Keep checking back for pics and fun stories from our time at Aulani!
Staying at Disney's Aulani
What a cool place!  We already love it. We were welcomed with kukui nut necklaces and flower leis so from the start the kids were excited and felt special.  After a quick check-in, we checked out our room and loved it. Our one bedroom is beautiful and full of authentic Hawaiian touches and a little bit o' Disney flare.  The views are beautiful looking our across the gardens and waterpark to the ocean.
We already have had pool time and explored the grounds and know that the next few days will be full of fun.  Oh yeah, and Mickey and Minnie just happened to be at dinner.  And Moana too.  Basically, the kids' three favorite people on earth all in one place at the same time (this was a highlight at Disneyland in June too).
Cute story:  when Oliver saw Mickey and Minnie walk in he made a picture for Mickey immediately.  He just loves him so much that he had to take Mickey his art… to which both Mickey and Minnie were so impressed.  Seriously, Oliver LOVES Mickey.
Fun and relaxation at Aulani!
Something we skipped with the kids on our prior Disneyland trips has been character dining. If you're unfamiliar, it's where you go have a meal and all of your favorite character wander around and share breakfast or dinner with you. Today we had breakfast with Mickey, Minnie, Goofy and Auntie (the heart and soul of Aulani). The food was wonderful with lots of local dishes and everybody had a blast.
After a fun breakfast we hit the beach! Aulani is on a perfect, calm lagoon perfect for a beach day with kids. With ample beach chairs, umbrellas and sand toys, it was just what the kids had been waiting for.
And then the spa.  Us dads got to each have our own spa day at Laniwai Spa and it lived up to what you'd expect from Disney travel. The Laniwai was calm, quiet, beautiful and just what we needed to relax away from the kids.
The kids!  Where were the kids!  Well, in the morning we'd gotten to do the open house at Auntie's Beach House, which is a kids club/day care for kids 3-12.  Oliver opted to check into Auntie's… and was disappointed that I picket him up for dinner.  Elliott stayed with us dads, being handed off between our spa appointments.  Overall, a seamless and perfect day.
In the evening there were some cocktails on the lanai (so Golden Girls of us) and then a nice little walk into the village outside of the resort. Loving everything about Hawaii!
Catamaran up Oahu's west coast with an Aulani naturalist
Whenever we're in a tropical location we try to get out on the water, and particularly INTO the water. We headed out of Aulani bright and early and boarded our catamaran with a goal of seeing some Hawaiian spinner dolphins and doing some snorkeling.  We got way more than we bargained for.  On the drive to the marina, just looking out the window we say manta rays jumping out of the water just off shore. We got to the marina and there were yellow tangs and other fish swimming below our feet.
One on board we had a great time connecting with other traveling families and all the kids making new friends… and then the dolphins showed up and everybody was focused on the nature!!  While we were watching the Hawaiian spinner dolphins, several Hawaiian green sea turtles showed up around us.  It was an awesome experience with the kids.
We moved on and got to our snorkeling. I'd gotten to snorkel in an area with sea turtles before in Akumal on the Yucatan of Mexico, but the rest of the family hadn't. OMG. It was amazing for them!
In addition to the Hawaiian green sea turtles there were tons of beautiful fish just below the surface.  The Aulani naturalist also jumped in and brought up some nature for the little kids to check out. Urchins, sea stars and even a daylight octopus! A wonderful day with the family.  Thank you Aulani!
Disney's Ka Wa'a Luau at Aulani
Everybody says to go to a luau of some sort when you're in Hawaii.  Now that we've done one, yes! It is a must. While at Aulani we got to do the Ka Wa'a Luau they do on property. Going into it, I felt good knowing that it was going to be authentic and all about Hawaii, as Aulani proved to be Hawaii first and Disney second. The luau was just this too.
We arrived and got to make leis, pound poi, get tattoos, do some print making… and then dinner and the luau really began.
The songs and stories focused on the area of Oahu we were in, Ko Olina and Ewa.  The hosts explained some of the local history and legends, the dancers did everything from the hula to drums and fire dancing. It was incredible!  And the food was delicious too.
From the beginning of the Ka Wa'a Luau until the end, we had really wonderful, personal service from one of our favorite cast members, Janet.  She was with us on the first night making sure that Elliott (our youngest) could enjoy everything despite being allergic to most foods, and she was with us at the Luau watching over him and making us all feel special.  Of all of the awesome Disney cast we interacted with in our time at Aulani, we really want to thank Janet on the banquets team for being so kind and thoughtful.
While Disney's Aulani Resort and Spa has welcomed us for this experience, all opinions are our own and sharing is at 2TravelDads' discretion.
Exploring Oahu and the North Shore
When we leave Disney's Aulani we'll be picking up our Alamo Rent a Car and then heading to the North Shore to check into our AirBNB. It'll be nice to have a quite house across from the beach. We'll be in a great spot to watch surfing and get the kids some chill beach time.
Our plan for activities while we're on our own on Oahu include:
the Waimea Valley and waterfalls (and the bay)
Kamehameha Highway for coffee plantations
Maunawili Falls hike
Laniakea Beach and snorkeling…
Of course we'll see what happens and will adjust plans based on weather and the recommendations we get, but these are the prime sights and activities we're thinking about.  But seriously, let us know what YOU think we can't miss.  And POKE!  We need poke!  Tell us where to go!!
If you have more ideas of what to do, where to eat, must-see sights, TELL US!!  We're rolling with the tide and excited to explore.  We have no expectations and a whole island before us.  It's going to be amazing, so check back for updates!
Staying in an AirBNB on the North Shore
After spending several days at a resort, we're mixing it up with staying in a really cool AirBnB on the North Shore of Oahu.  We looked for a property that was REALLY close to the beach and pretty far Honolulu.  Success!  Our AirBnB has two bedrooms, both an indoor and outdoor living room, and an outdoor shower.
They provided us with beach toys, towels and even beach chairs and an umbrella.  It's been great to have loads of space and an ever-blowing breeze through our quarters.
Chilling on the beaches of the North Shore
Even though we've been to the beach three times since arriving on the North Shore, we've only been to two of them. We're staying right by Sunset Beach so naturally that was the first place to go. The waves were small enough to enjoy with kids…. with caution. And at sunset it really is amazing.
The other beach we've been to and love so much we returned to it was Shark Cove. It's a grouping of small lagoons with lots of lava rocks all around and then tidepools, but it's also got sand around its edges. We didn't have snorkeling equipment with us, but we were able to see and check out all kinds of beautiful tropical fish. And urchins and nudibranches too!
And there were wells in the rocks for plunging and sandy bottoms for jumping onto; small caves for peeking into and tiny canyons full of fish too! Shark Cove on the North Shore was awesome!
Waimea Valley and Falls
You know when you want to find a spot that encompasses everything you picture in a place but you're not quite sure exists? That was the Waimea Valley for us. It's a managed park, but totally cool and worth the visit. The Waimea Valley is both a botanical garden and a hiking spot. At the end of the valley trails you find Waimea Falls.
Waimea Falls is a cool spot to get in and swim to the base. Since the Falls is a part of the park there are lifeguards on duty (most days) and they even provide you with life jackets. It's awesome.
The kids most enjoyed the crazy flowers, actual banana trees and find coffee cherries on the ground. The botanical garden aspect of the Waimea Valley was really the big draw. It was amazing and exactly what we wanted to find in Hawaii.
To check out prior travel journals, click here!