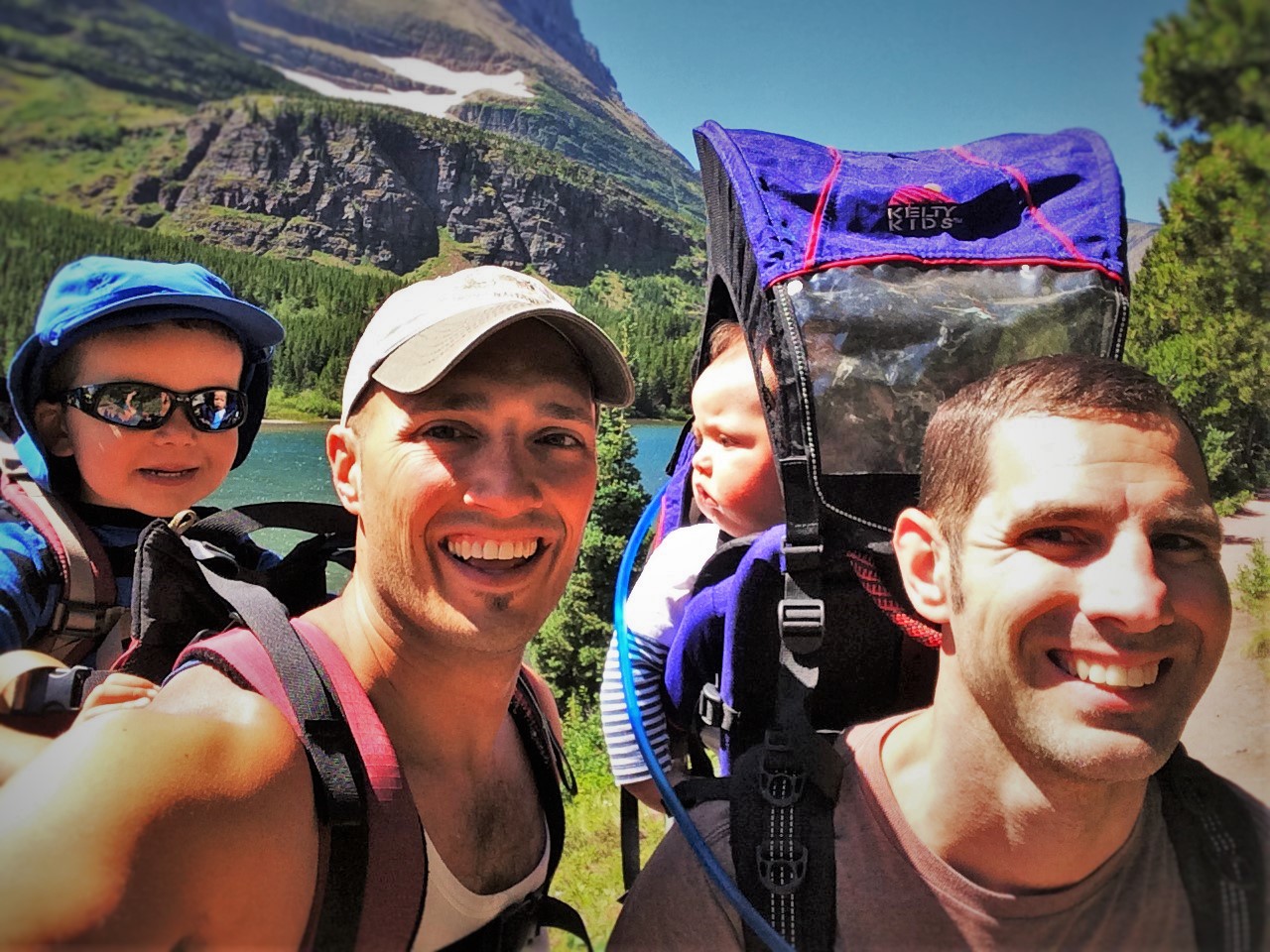 Hiking in Glacier National Park: Many Glacier with kids
Previously, we told the story of being stuck in just one portion of Glacier National Park (blog post here).  The great thing about being "stranded" in Many Glacier was the ample opportunities to hike.  The Many Glacier Valley is very unique in that it's the crossroads for several small rivers and streams, which just happen to make great causeways for hiking with kids.  Knowing our limits, considering our own strength when it comes to having to carry children, we kept our hikes mellow.  Many Glacier offers much more than what we did on this trip, but here's what we did tackle (and then see below for recommendations from prior trips).
STRONG SUGGESTION:  invest in or borrow a kid-pack.  A hiking pack that holds a child is worth having for the first few years of life.  We have two boys that go with us everywhere.  One is less than a year and the other is almost four.  Both need the pack sometimes.  Our oldest son, Oliver, is such a trooper on the trail and always starts out strong, but he poops out and needs to be carried sometimes.  We like to start him out walking on his own and one of us wearing an empty pack, as it is inevitable that at some point he'll need to be carried.  Don't be fooled if a kid says that they can make it to the end and back.  Be prepared.
Now, hiking trail recommendations WITH KIDS
Fishercap Lake – such an easy hike…yeah, it's a walk, actually.  Leaving from the parking lot in front of the Swiftcurrent Inn, you simply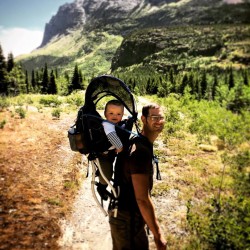 take the low trail, which is the flattest path, and then stroll through the aspen forest for a few minutes.  There's a wee little sign to direct you down a small hill (you turn left to follow the trail) and then you're there.
Tip 1:  this is a great hike to get kids excited about more adventures.  It's quick, easy and pretty.  The lake is beautiful and the habitat is ideal for moose.  Check out the video below of the mother and baby moose we got to watch at Fishercap Lake.

Tip 2:  keep a safe distance from wildlife.  ALWAYS.  You don't know when you'll spool a mama moose and then get charged and injured.  Also, it's just respectful to nature to allow animals some privacy and distance.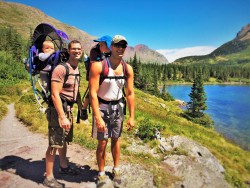 Bullhead Lake – when picking a hiking trail, we always make sure that there's something exciting or breathtaking to see at the end, and when there are kids with us, that the trail is relatively easy to conquer.  Bullhead Lake was just that.  The trail was very gradual with a variety of settings.  Just after the start (same trail as Fishercap), you get to cross and stream filled with green and red shale, and then you're in the woods. From there you can spur down to Fishercap Lake or you can jaunt up towards the hillsides, or just continue through until you're at Red Rock Falls and Lake.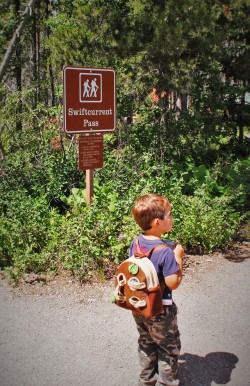 Beyond the falls, you have more exposed hiking with plenty of resting spots along the way, each with stunning views of the sheer-cliffed mountains around you.  At the end of the four mile trail, you're at Bullhead Lake.  We took time to bask in the sun and enjoy lunch here.  The water was so still and perfect, like a painting.  The only sounds were the birds and ground squirrels…and the helicopters flying overhead fighting the wildfires on the other side of the mountain.  Still peaceful though.  Mt. Grinnell and Swiftcurrent Mountain are quite towering and won't disappoint in the "wow" category.
Tip 2:  if it's a hot day, take advantage of shade when you get it, as most of the trail is rather exposed, as is common with alpine hiking.

Tip 3:  do the two minute walk off of the trail to see the various levels of Red Rock Falls.  They are really beautiful, accessible to play in *with caution* and a real treat to relax by.  Take a look at the video below of the Falls.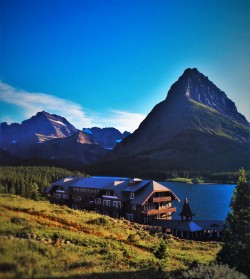 Swiftcurrent Lake – again, this is an exceptionally easy walk.  You start at the Many Glacier Hotel (MGH) and just stroll along the lake.  The trail is very easy and is well maintained, making it perfect for almost every type of person wanting to get into the woods.  There is a beaver lodge just off the path that's been there for 50+ years and moose frequent the area.  It's well worth an afternoon if you or the kids just need to burn some energy but not get worn out.
Tip 4:  the trail leaves from the MGH, but so do many others.  If the trail looks too easy, ask for a recommendation for a more difficult trail from the same departure area, as you may head east down into the valley or head up one of the surrounding mountains, all from the same spot.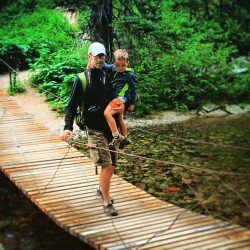 Grinnell Lake – this is a great option for families for three reasons:
it crosses some fun streams so there is a suspension bridge and platform walkways to keep it interesting;
there are things to see and learn about along the way, including waterfalls and…pit toilets;  and
WE WERE ABLE TO USE A STROLLER ON IT.
That's right.  We took the boat tour through Glacier ParkBoat Co and they helped us wrangle the stroller on and off the vintage boats.  The trail from Swiftcurrent Lake up to Josephine lake was a bit rough (needs maintenance) but it was doable for the savvy stroller driver.  Once up to Josephine, we took another short boat ride to the Grinnell Lake trail head.  It was well maintained and full of interesting sights. Once at the lake, it's a perfect resting spot.  You won't be tired from the hike, but kids might be… or they might just be fussy because they had to walk a few easy miles.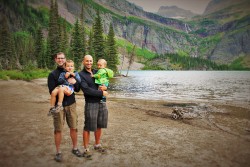 **Disclaimer:  due to the natural forces in the mountains, there are places where the trail gullied and streams even changed course, so it's not perfect, and you MUST have mad stoller skillz.  ALSO there is a small suspension bridge you must cross; it's safe, but you must carry the stroller, so be sure you're using one that one person can carry safely.
Tip 5:  take advantage of the destination to explore.  The lake is beautiful with a perfect backdrop for a family photo.  The geology is fascinating and there's even a gorgeous waterfall.  This is an easy piece of paradise to get to.
Trail recommendations for ADULTS
Swiftcurrent Pass – it's not a crazy tough trail, and is actually the continuation of the Bullhead Lake trail.  It'll take you up Swiftcurrent Mountain and eventually over through the pass to one of the chalets, and on further to Logan Pass.  If you do the whole thing through to Logan Pass, you'll need to be well prepared with food, water and jackets, and have arranged transportation back to the Many Glacier area.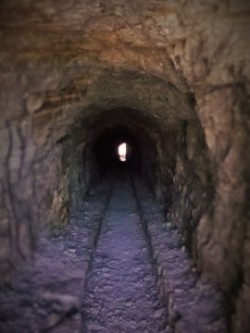 The Ptarmigans – we say Ptarmigans because there are three destinations on this path:  Ptarmigan Falls, Ptarmigan Tunnel and Iceberg Lake.
The falls are beautiful with a resting place at the top just shy of the drop-off. **Disclaimer:  you can't see the falls from the front, only the top. The trail is a medium strenuousness and good for kids that are older and ready to up their hiking game.
Going to the tunnel is tough.  It's a really good hike for the in-shape adult.  The trail is rough and the last part of it is a never-ending series of switchbacks, zigzagging the goat paths up the cliff.  At the top is a startling view of the valley below and then…the tunnel.  It's a 240 foot long tunnel through the mountain opening up to a sweeping valley.  The views from every part of the trail are out of this world.
The reason we love this trail is for more than the falls or the tunnel.  It's because of the spur trail to Iceberg Lake.  The lake is exactly as it sounds:  full of icebergs.  If you're bold, you can jump in the 32 degree F water and swim onto a berg…because it's fun to freeze your whole body just to sit mostly naked in the snow.  It really is amazing though.
There are many other amazing hikes for both kids and adults in Glacier National Park.  These recommendations are just what's accessible from the Many Glacier area.  What are your favorite Glacier hikes?  Add them in the comments and share why you love them!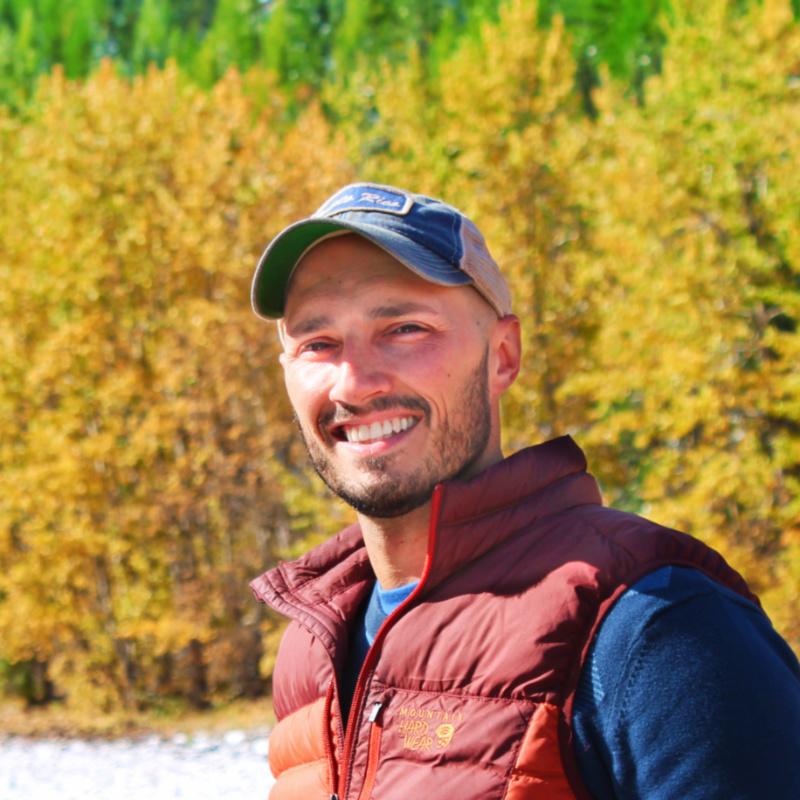 Rob Taylor is the founder of 2TravelDads, the original LGBT Family Travel blog. Focusing on ecotourism and education, 2TravelDads inspires LGBT families (and traditional families also) to go beyond their usual getaways and use travel to learn about and be part of a bigger world. "Traveling the globe and giving the kids a broad worldview."