Disclosure: I have received information about #HowWeFamily from the makers of TYLENOL. The opinions stated are my own. This is a sponsored post.
Last year Father's Day was a struggle to figure out.  We were both worn out from life, with Chris working bunch over in Seattle in the week before, and me being here at home managing the chaos of a 6 month old and a 3 year old.  We wanted to do something special, but just couldn't muster the energy to plan anything… and that was okay.  Being two dads, we each get to make the other feel special for being a parent every day, and that's #HowWeFamily.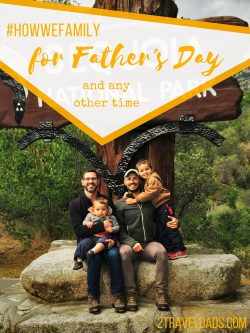 Like we said about celebrating Mother's Day, Father's Day too is a day to celebrate the work and contributions parents make in raising kids.  For us, it just so happens that we're both dads and that there is also a grampa and great-grampa to celebrate.  
We all have weird schedules and lives and don't all live next door, so specifically getting together to celebrate Father's Day doesn't always happen.  Chris is really good about ensuring that we do something to specifically say thank you to the grampas of our family, but it doesn't always fall of Father's Day itself.
So what do we do on Father's Day?  
Time apart
In the last two months we've had a lot of time apart; much more so than normal.  Chris had some stuff in Seattle that he had to stay in the city for.  I spoke at a conference in Jacksonville and then had to do some work in the Caribbean (sans family).  In a 60 day period we actually had more than 20 days where the four of us weren't all together.  So strange.  That's not normally #HowWeFamily.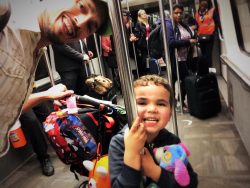 What that meant though was that we got really good at paying attention to each other's time and schedule to ensure that we could all still connect.  Thank goodness for FaceTime and Google Hangouts, right?  Unlike ever before, we were trying even harder than normal to carve out time together while apart.  When each of us returned home, we hugged a bit longer than normal.
All of this time apart also made us each realize just how important the other person is, both for daily tasks with the kids and for having the support of another adult.  I think the time that stood out most for me in realizing how valuable that support was was when I traveled to Atlanta with the kids.  Just me.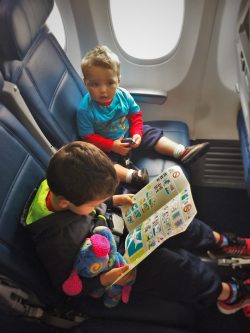 There's nothing quite like a 6 hour flight with two small children to make you realize how important the other parent is.  And that's a big reason we need to celebrate each of us dads on a daily basis:  we are supporting and helping each other in ways we don't even realize… until it's just one dad doing it alone.  It's #HowWeFamily.
Big take-away from this:  kids will be fine when one parent is not around, although it may be more of a challenge for the parent.  Life is definitely more difficult, but kids are tough cookies.  I learned that I had a more difficult time being away, even when I was lying on the beach in Haiti, than they had with me being gone.  I guess I need to chill a bit.
Father's Day last year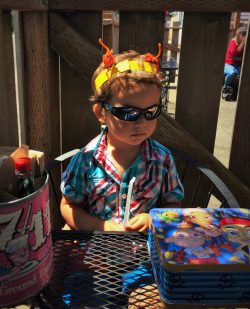 Like I said, last year was a struggle to do anything for Father's Day because we were all so spent on life.  We literally went for a walk to the pizza place in our little town of Suquamish, WA and sat in the shade sharing slices… and Oliver, our oldest, was wearing bug antennae.
We'd had grand plans of hiking locally or doing a fun day trip, but we found much more value in just spending Father's Day relaxing as a family: no distractions, no busy schedule.
Note:  there's nothing wrong with relaxing.  I say this now because I know that I'll be reading my own writing over and over and I know that I need to hear myself say this.  I need to be okay with relaxing.
Father's Day this year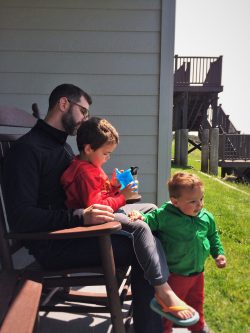 Oh no!  It's this week! I need to plan something!… or just listen to my free advice I just gave myself:  it's okay to just relax and enjoy the day as a family.  
Being travel bloggers it's tough to sit still or just enjoy the view from our own deck.  The weekend is the time we get to take our little trips or go camping for a few nights.  Father's Day weekend is the perfect time for this.  We can celebrate our dad-ness by packing up the kids and heading to the mountains for two nights of sleeping on the ground.  Or we can learn from last year and go for a walk here; enjoy the sunshine here; play in the sprinkler here.  Just the four of us.
After being apart so much in the last two months, this is what we're going to do.  We don't need to throw a BBQ in our own honor.  We don't need to stress other people in our family about coordinating a big get-together for the six dads.  We all know that we appreciate each other and that we'll all show each other that in our own way and time.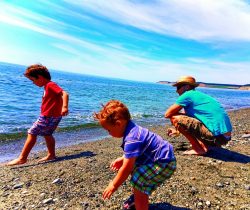 For us, celebrating Father's Day is an everyday practice.  #HowWeFamily is by being present and enjoying each other.  We'll get to spend time with the grampas over the next few weeks and maybe sooner than later, but we're not going to stress.  
I think that's one of the wonderful things about our family.  We don't stress or fret the small stuff.  We try to impress that upon the kids and we try to remind ourselves of that all the time.  Father's Day is a great example of a time that we can just appreciate each other vs wigging out about the details.  
We'll review our approach to this over the years, but for now, relaxing and enjoying being together, just our little family with two dads and two kids, that's #HowWeFamily on Father's Day and we love it.
FYI:  Tylenol asked us about this and we're more than happy to share.  We're all about sharing our stories, both our travels and our everyday life, so shedding some light on how 2 dads celebrate Mother's Day with their kids, yes, we're here to give a look into our world.